Alfa Romeo 159 Sportwagon (2006 - 2011) review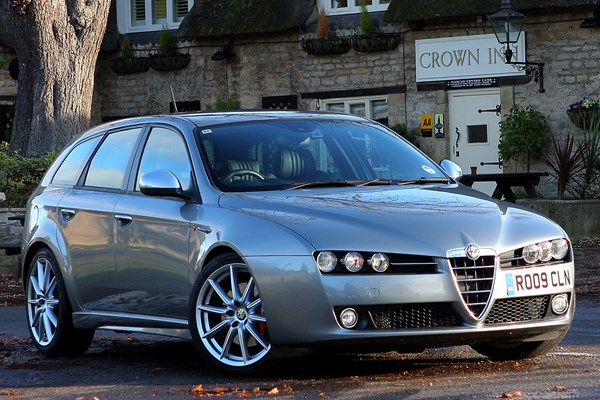 PROS
Wonderfully distinctive styling, wonderful cabin, strong diesel line-up, great handling
CONS
Not very practical for an estate, tight space for passengers in the back
PROS
Wonderfully distinctive styling, wonderful cabin, strong diesel line-up, great handling
CONS
Not very practical for an estate, tight space for passengers in the back
Alfa Romeo 159 Sportwagon rivals
The Alfa 159 Sportwagon is a far more effective estate than its predecessor the 156. The earlier car was an afterthought, that appeared three years after the 156 saloon - but the 159 Sportwagon was developed alongside its saloon counterpart, launched in 2006. The Sportwagon is much stiffer than the old model, making it feel better on the road but one of the biggest improvements is to its load carrying ability. It also looks very attractive, but list prices set it against rather prestigious competition, which have a greater depth of ability. Its primary rivals include the Saab 9-3 Sportwagon, the BMW 3 Series Touring and the Audi A4 Avant.
Engine choices
Confusingly, there have been many engine changes to the 159 Sportwagon since its inception. A 1.8-litre petrol was offered and replaced a 1.9-litre, which was then dropped in 2009. There was also a 2.2-litre petrol and a range-topping 260bhp 3.2-litre V6. In terms of diesel engines, there was a 1.9-litre and a 2.4-litre JTDM, both of which were upgrade in 2007. Then in 2009 an ECO model was introduced for those looking for lower running costs. Two more engines were introduced at the same time; 1.7-litre petrol and a 2.0-litre turbodiesel. There was also a choice between five- or six-speed manual gearboxes or a six-speed automatic version.
Stylish interior
Sharing its interior with the firm's Brera and Spider models, the interior of the 159 Sportwagon is a nice place to find yourself. Thanks to that all-important Italian fashionista culture, the interior boasts a far more attractive ambience than rivals from other parts of Europe. There were six trim levels available over the period of manufacture – Standard, Turismo Sport, Turismo, Elegante, Lusso and Ti. A high level of standard kit means the 159 Sportwagon could be a peach of a used car buy as you'd be letting the person who bought it new absorb much of the depreciation. To find out if you should choose the 159 over rivals from Ford, BMW or Saab, read on for our full and comprehensive Alfa Romeo 159 Sportwagon review.