View all Audi A4 reviews


Audi A4 Saloon
Review
Current Model
Evolutionary looks for a superb compact executive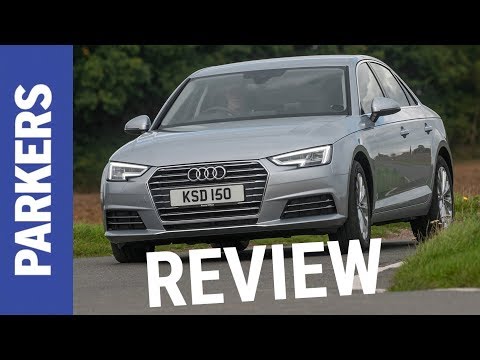 Enlarge
1

videos
Enlarge
75

photos
PROS
Exquisite interior quality
Impressive cruising refinement
Efficient performance
CONS
Understated looks aren't exciting
Front-wheel drive handling a little leaden
Expensive to purchase outright
PROS
Exquisite interior quality
Impressive cruising refinement
Efficient performance
CONS
Understated looks aren't exciting
Front-wheel drive handling a little leaden
Expensive to purchase outright
Verdict

You're looking at the latest-generation Audi A4 Saloon. If that wasn't immediately obvious, blame the understated, evolutionary looks that look barely different to the model it ousted.
This is a deliberate ploy by Audi – the A4's success is absolutely crucial for the firm, so why change a popular recipe?
Once again it battles the excellent BMW 3 Series as well as the Mercedes C-Class Saloon, in addition to class pretenders in the forms of the Jaguar XE and Lexus IS Saloon. It's one of the most competitive areas of the new car market, and where profit and loss are concerned, the A4 is make or break.
Extensive and efficient engine range
With so many cars of this type bought for company use it's no surprise efficiency is a key denominator for choice in the segment and it's why this generation of Audi A4 Saloon is up to 24% more efficient than the model it replaces. This despite its engines boasting up to 25% more power.
There's no shortage of choice, with a range of petrol and diesel engines, alongside the option of six-speed manual or seven- and eight-speed automatic gearboxes – the former a dual-clutch system.

Highlights include the 2.0-litre four-cylinder diesels, badged Ultra, generating 150hp and 190hp depending upon which you choose. The best bit? The fact that the 150hp edition manages to emit just 99g/km of CO2 and claims an average fuel economy of over 74mpg. Of course, it's unlikely to achieve that in the real world, but close to 60mpg should be eminently possible.
More power for top-line Audi A4s
Other engines of note include the 3.0-litre V6 TDI diesel with 218hp and a 6.3 second 0-62mph time – all combined with 61.4mpg and 119g/km. There's also a 272hp edition if you want to go even faster.
Even the petrol engines make a nod to efficiency, with the 1.4-litre TFSI producing 150hp and emitting 126g/km with over 50mpg on the cards. The pair of 2.0-litre TFSIs (with 190hp and 252hp) return between 51.4mpg and 45.6mpg, with CO2 emissions of 127g/km and 141g/km respectively.
Those seeking even greater performance should take note of the S4 Saloon introduced in summer 2016. Powered by a new 3.0-litre turbocharged V6 petrol, 354hp is on offer, propelling the S4 from 0-62mph in 4.7 seconds and onto a governed top speed of 155mph.
Well-equipped at all trim levels
There are four equipment lines available, ranging from SE, through Sport and S Line with the S4 sitting as a standalone flagship.
Regardless of which you choose, each Audi A4 Saloon is well-equipped, and even the entry-level cars come with 17-inch alloy wheels, xenon headlights, three-zone climate control, keyless start, Bluetooth connectivity and cruise control.

Sport models gain more aggressive alloy wheels and figure-hugging seats, plus sat-nav and an upgraded stereo is fitted. Choose an S Line and your Audi A4 Saloon gains 18-inch alloys, LED headlights, 20mm lower suspension and subtle body styling upgrades.
Understated styling works well
There's a subtle aggression about the S4 with its unique bumpers and grilles, a discreet rear diffuser and exterior accents picked out in various shades of pale grey.
Of course, the options list is vast, and your pockets will need to be deep should you wish to personalise your Audi A4 Saloon. Choices include 14 colours of paint, various alloy wheel designs and diameters, a choice of suspensions (standard and adaptively damped), differing headlight technologies, seat upholsteries and interior trims, plus a variety of technology and safety packs.
Exemplary interior quality
There's no change here for Audi, with a cabin quality that betters all of its competitors' and sets the new benchmark for materials, fit, finish and restrained design. Elements of the firm's other cars are evident, from the full-length air-vent strip borrowed from the Q7 to the Virtual Cockpit display first seen on the Audi TT.

There are other elements to delight, with the inductive toggle-style switches used to control the climate settings, the driver-focused centre console and the tablet-style screen atop of it – which looks far slicker with a high-quality magnesium surround – than some rival systems.
The Parkers Verdict
The big question that needs answering first is whether you'd buy this over a BMW 3 Series or Mercedes-Benz C-Class. The answer is surprisingly complex – in terms of residual values, interior quality and motorway refinement, the Audi takes the class spoils.
But if you're after a car that delivers a finely-nuanced driving experience, you may want to look elsewhere – probably in BMW's or Jaguar's direction. But for most drivers, the Audi A4 doesn't just hit the mark, it smashes it.

Read the full Audi A4 Saloon review to find out if this is the compact executive car to covet.