Browse thousands of new BMW i8 cars for sale with Parkers. Use our search filters to pick out the best discounts and deals on new BMW i8 cars.
No matching results found.
What is the BMW i8?
Developed as a halo model to the firm's ever-expanding electrified range, the BMW i8 is a radical plug-in hybrid supercar, the production model proved remarkably close in design to the Vision EfficientDynamics concept car of 2009 that preceded it.
Featuring lots of carbonfibre and a drivetrain that combines a high-output turbocharged petrol engine driving the rear wheels with a powerful electric motor driving the fronts, BMW's i8 still has no direct rivals, years after its launch, but is worth considering as an eco-conscious alternative to an Audi R8, Mercedes-AMG GT and Porsche 911.
Top-speed: 155mph
0-62mph: 4.4-4.6 seconds
Fuel economy: 128.4mpg
Emissions: 42-46g/km CO2
Boot space: 88-154 litres
Which versions of the BMW i8 are available?
BMW offers it's PHEV supercar in two guises – the original i8 Coupe, which arrived in 2014 was joined from 2018 by the soft-top i8 Roadster. There are no engine options and no model choices, meaning the only variations are cosmetic choices and equipment. Several tech upgrades are available, including BMW's Laserlights, but most of the options otherwise relate to paint, trims and wheels; even these are restricted, though, with a choice of just four exterior shades: Sophistio Grey as standard, E-Copper, Crystal White or Donnington Grey as options.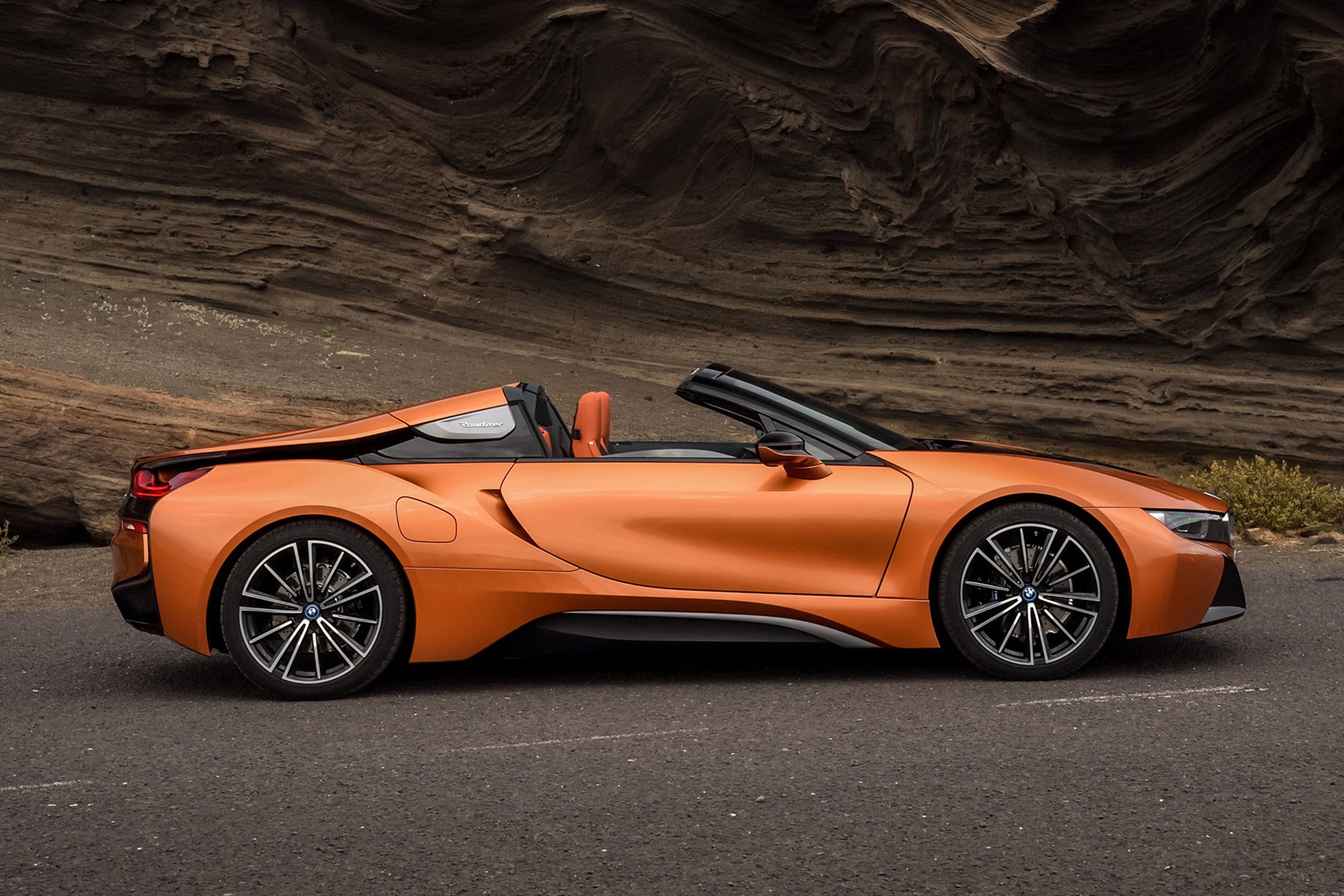 As a performance car from the firm's 'i' range, which also includes the i3 electric city car, it's not to be confused with the iPerformance range that is a separate line, focused on plug-in hybrids. The i8 is also a PHEV, but BMW categorises it differently due to its bespoke flagship nature. While it's not the fastest or highest-performance car in the firm's range (the M5 is far more powerful and quicker against the clock), the i8 is still a fast car.
We've yet to see a higher performance iteration and it's arguable whether BMW would make one, given the i8's environmental credentials.
Styling and engineering
Plenty of innovative engineering can be found in the BMW i8. It is a mid-engined car that packs a 1.5-litre three-cylinder TwinPower Turbo engine paired with a six-speed automatic gearbox. This engine produces 231hp and drives the rear wheels. In the front, a 143hp electric motor lifted from the BMW i3 powers the front wheels; they combine to make the i8 an all-wheel-drive supercar.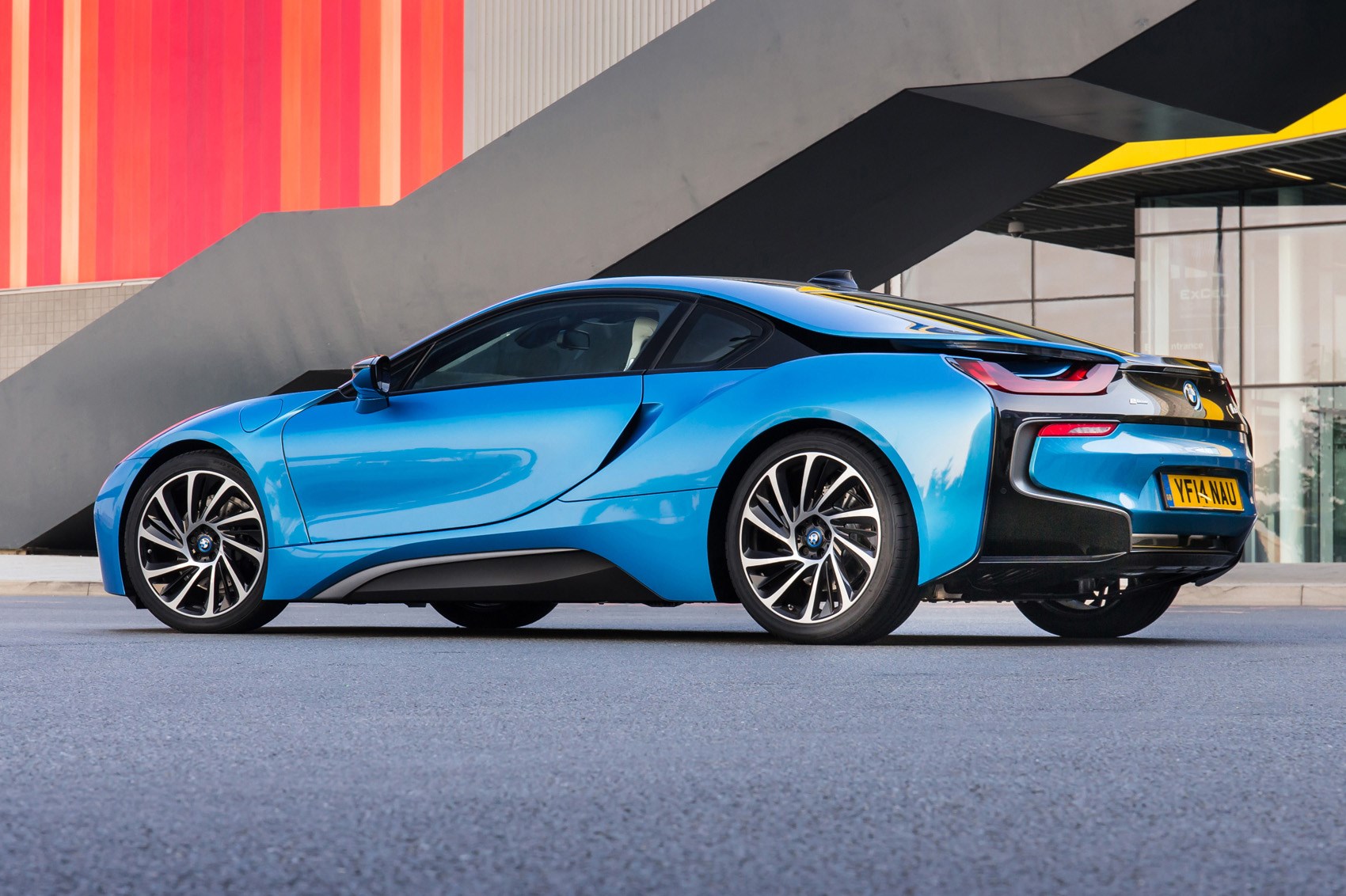 The car features an architecture dubbed 'LifeDrive', which refers to the car's passenger cell and the chassis and hybrid underpinnings on which it rides. The bodywork is made from a mixture of lightweight materials and clothes a clever carbonfibre-reinforced plastic passenger cell that sits on the drive module – a lightweight aluminum structure that supports the body and contains the i8's running gear. All in, the i8 weighs some 1.5 tonnes; that might sound hefty but it's not bad for a performance plug-in hybrid electric car.
While the Roadster is a two-seater only, the coupe squeezes in a small pair of rear seats that are ideal for children. Both versions use dramatic dihedral doors, which look stunning, particularly on the Roadster when the roof is down. Just don't park too close to the car next to you…
How does it drive?
The BMW i8 isn't an out-and-out supercar and lacks the focus and intensity of something like an Audi R8 or Porsche 911. But, as a taste of the future, it is an appealing look at the supercar of tomorrow; it combines grin-inducing performance, a fairly convincing engine note and sophisticated zero-emissions electric drive capability. Zero to 62mph in 4.4 seconds, combined with the instant torque of an electric motor, makes it feel lively and the way BMW blends the combination of petrol and electric motors is effective.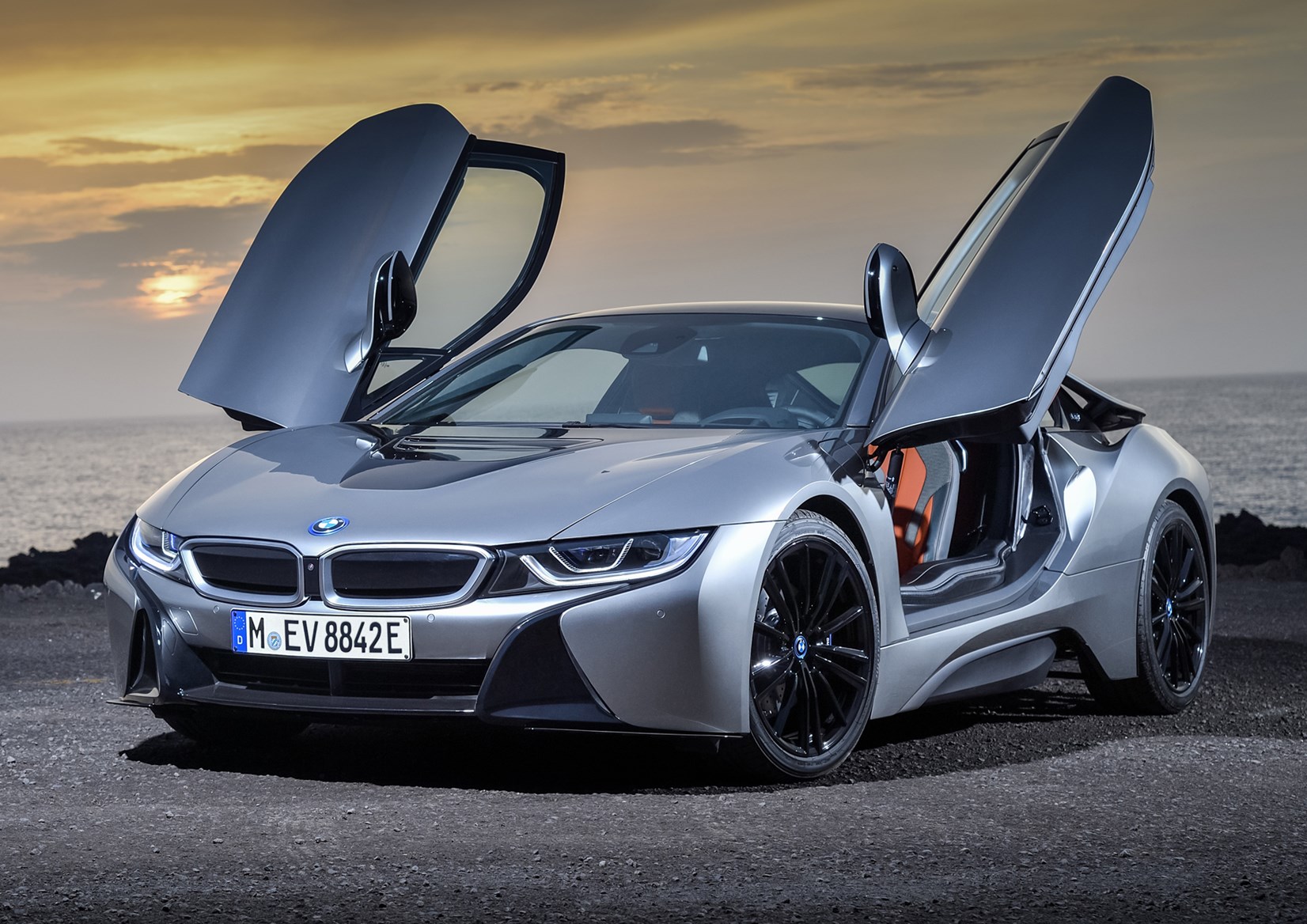 The total system power output is a stout 374hp, too. If you can restrict your driving distances to less than 30 miles, you can even use the i8 as a full EV, making it a supercar that eases your conscience as well as raising your heartbeat.
How much does the BMW i8 cost?
There's nothing quite like the i8 but, because of its high price, you've really got to want one to justify a purchase. Its lack of poise and outright punch compared to conventional alternatives may leave you wanting, for example – and practicality can be an issue.
If you love the looks and the capabilities of the technology, though, then the i8 will prove a gratifying choice. Depreciation can be heavy, that said, so be mindful of buying a new example.
Roadsters cost more than the standard coupes but, in either case, both are well equipped – featuring adaptive LED headlights, metallic paint, perforated leather trim, BMW's Digital Cockpit and 20-inch alloy wheels.
Find out what i8 drivers think of their cars with our user-generated owners' reviews.
Parkers has thousands of new BMW i8 cars for sale in our new cars for sale listings section – many with great discounts on the recommended retail price (RRP). Find a great deal on BMW cars for sale, everything from family cars and crossovers to executive saloons and sports cars. Use our filters to find the right new BMW i8 car for your needs and budget. You can search by price, postcode, bodystyle, gearbox, model spec, trim level, fuel type and even colour.