BMW reveals i3 and i8 concept cars
Pair of BMW concepts will form 'i' sub-brand
All-electric city car i3 is packed full of tech
i8 Hybrid sports car is fast and economical
BMW has announced a pair of electric concept cars that ushers in the manufacturer's eco-friendly future.
Launched under a new sub-brand called 'i', the two cars are set to hit roads in 2013. They're unlikely to look quite as striking as the models you see in these pictures, but the designs give you a taste of things to come from the German company.
Concept one: the city car
Known as the i3, the first model is an all-electric city car. It is powered by an electric motor sitting over the rear axle and generating 125kW (equivalent to 168bhp). It'll also make 249Nm of torque, which will enable the car to get from zero to 62mph in 7.9 seconds.
A single charge is expected to take six hours and should get you between 80 and 100 miles before you have to plug back in again.
BMW promises seating for four adults, a boot of 'around 200 litres' and apparently thanks to the naturally tanned leather, a 'lounge-style ambience'.
In fact, the German manufacturer will be using several renewable raw materials in the cabin, which it says offers passengers further means to 'experience' the sustainability of the vehicle. Whatever that means.
Opposing 'coach' doors are another distinctive feature, meaning the rear seats will be easily accessible thanks to rear hinged doors - something we've seen on the latest Vauxhall Meriva model.
Similar to Nissan's LEAF, the i3 will make use of smartphone applications to communicate with the car. You'll be able to use your phone to find your vehicle, set charging times, warm up or cool down the car prior to getting in, find the nearest charging point or view information on the current status of the car.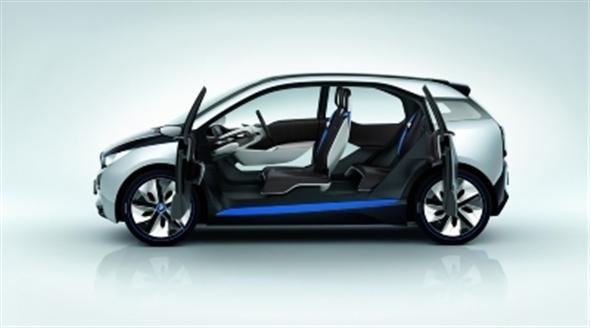 Concept two: the sports car
The more striking of the two concepts, the i8 is a plug-in hybrid petrol/electric sports car. The design has definite echoes of contemporary BMW, yet is unmistakably futuristic and also rather distinctive - thanks in no small part to those 'butterfly' doors.
It uses a similar drive system to the i3, but fitted over the front axle and producing 129bhp. It is coupled to a 1.5-litre three-cylinder petrol engine driving the rear wheels and making 220bhp.
Performance is fairly impressive. It'll do 62mph in 4.6 seconds, hit 155mph but just wait until you hear the economy it'll do on the combined cycle: 104mpg. Tailpipe CO2 emissions are 66g/km, which means it'll qualify for just about every tax break going.
There are fewer batteries on the i8, meaning it'll only manage 20 miles in full-electric mode. However, a full charge will take 1 hour and 45 minutes, so what you lose in range you gain in usability.
Although BMW states the i8 is a 2+2, don't expect much room for four normal-sized adults; or their luggage for that matter. The boot is only 150 litres, which means practicality is not one of this car's major attributes.