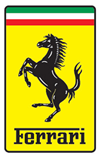 Ferrari 348
The Ferrari 348 went on sale in the UK in 1989 and is available in coupe and convertible forms. It's priced between £73,878 and £84,875 and there is a total of 2 variations to choose from.
The Ferrari 348 is priced from £73,878, and in its most expensive form costs £84,875.
If you want to get the latest view of the 348 PCP and PCH finance deals, check out our car finance section and also our used cars for sale section where you will find a wide choice of cars like this to buy.