View all Ford Focus reviews


Ford Focus Estate (2011 - 2018)
Review
An entertaining estate but rivals offer more convincing packages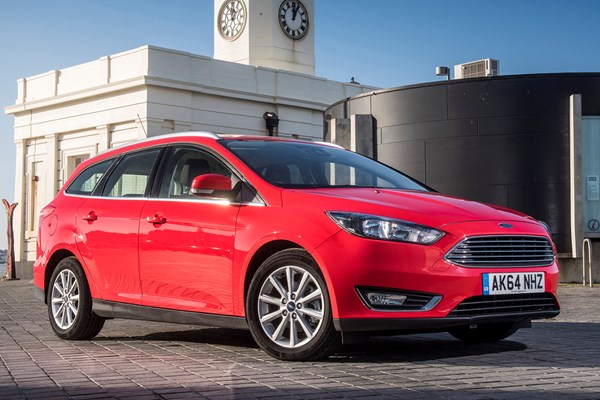 PROS
Comfortable and compliant ride
Good kit levels
Practical all-rounder
Performance of the ST version
CONS
Steering lacks feel
Residual values aren't fantastic
Rivals more space efficient
PROS
Comfortable and compliant ride
Good kit levels
Practical all-rounder
Performance of the ST version
CONS
Steering lacks feel
Residual values aren't fantastic
Rivals more space efficient
Other Ford Focus (2011 - 2018) models:
Verdict
Few mid-sized family estates are as entertaining to drive as the Ford Focus Estate.
Launched alongside its third-generation hatchback sister in 2011, the capacious wagon is pitched directly against the likes of the Vauxhall Astra Sports Tourer and Volkswagen Golf Estate – together with its SEAT Leon ST and Skoda Octavia Estate cousins.
Plus there are roomy rivals in the forms of the Hyundai i30 Tourer, Kia Ceed Sportswagon, Renault Megane Sport Tourer and Peugeot 308 SW to name but a handful.
Major mid-life refresh in 2014
Three-and-a-half years after its arrival, a major reworking of the Focus Estate was introduced. While it shared its more elegant nose – all the bodywork forward of the windscreen was new – with the hatchback, the rear end was largely left untouched, save for a tweaked bumper.
Inside the changes were more obvious, with an uplift in quality of the plastics used, as well as a larger 8.0-inch screen for the Sync2 multimedia package. The instruments and switchgear were also upgraded, making the Focus feel a little bit more special, albeit still lagging behind its VW rival.
No changes were made to the 476-litre boot capacity – it's certainly more spacious and flexible than the Focus hatch, but the rear seats still don't lie completely flat when folded.
Broad line-up of petrols and diesels
Unlike the hatchback, there's no electric Focus Estate or a pumped-up RS model, but there are a brace of sporty STs among the selection of mainstream petrol and diesel choices.
Turbocharged petrols – or EcoBoost in Fordspeak – come in 1.0-, 1.5- and 2.0-litre capacities producing between 100hp and 250hp depending upon the model you choose.
That higher power output belongs to the ST models where the estate will reach 154mph, clocking a 0-62mph time of 6.5 seconds along the way.
Diesels are significantly more popular due to their efficiency: 1.5- and 2.0-litre TDCis are available with between 95hp and 185hp.
Opt for the 105hp Econetic version of the 1.5-litre for claimed economy figures of 83.1mpg and CO2 emissions of 88g/km, matching its hatchback equivalent.
Generously-equipped trim hierarchy
There's a hierarchy of seven trim levels in the Focus Estate line-up, ranging from the entry-level Style model that does include air-con but not alloy wheels, through to the sporty ST-2 and ST-3.
Ford encompasses a large degree of relevant, everyday technology that makes the Focus safer and easier to use, with many of them standard. The blind-spot monitors indicator works effectively while the self-parking function and autonomous emergency braking are some of the easiest to use.
Ford Focus Estate model history
January 2011 – Estate version of the third-generation Focus on sale with first deliveries expected in May. Petrol engines consist of the 1.6-litre Ti-VCT in 85hp and 125hp, with a turbocharged 1.6-litre EcoBoost producing 150hp. Four diesels are expected to be more popular: 1.6-litre TDCi with 95hp and 115hp, and the 2.0-litre TDCi in 140hp and 163hp forms. Trim hierarchy mirrors the hatchback's Edge, Zetec, Titanium and Titanium X structure.
February 2012 – Turbocharged, three-cylinder 1.0-litre EcoBoost engines introduced in 100hp and 125hp guises, available across the trim level hierarchy except on entry-level Studio models. Sporty Zetec S trim introduced with the estate body following the hatchback's arrival late in 2011.
June 2012 – Performance-oriented ST-1, ST-2, ST-3 models available to order for September delivery, all powered by a 2.0-litre 250hp EcoBoost engine.
July 2013 – Power for petrol-engined ST models increased to 275hp thanks to an aftermarket Mountune kit.
August 2013 – Revised range structure with new models fitted with sat-nav: Zetec Navigator sells alongside the regular Zetec, while the former Titanium and Titanium X trims are replaced by Navigator versions.
September 2014 – Facelifted range available to order with deliveries from November. Tweaked engine range – joined by a 182hp 1.5-litre petrol – is more efficient than before, with a mix of petrols and diesels paired with Style, Zetec, Zetec S, Titanium and Titanium X specifications. Estates feature the hatchback's new interior and nose design, but changes to the rear are much more modest.
October 2014 – Sportier ST-1, ST-2 and ST-3 models reintroduced with a more aggressive look based upon the facelifted range, with deliveries from February 2015. Two 2.0-litre powerplants are available: a 250hp petrol and a 185hp diesel.
October 2015 – Aftermarket Mountune performance upgrade available for the petrol-engined ST models, now producing 275hp.
November 2015 – PowerShift twin-clutch automatic gearbox is available to order in conjunction with diesel-engined ST derivatives.
June 2016 – Previous Zetec S trim level replaced by equally sporty looking ST-Line specification.
February 2017 – Zetec Edition replaces previous Zetec grade, while ST-1 trim is dropped. Multimedia package upgraded to Sync3.
Read the full Ford Focus Estate review to find out whether it combines entertaining handling in a practical package.