Skoda Superb Estate long-term review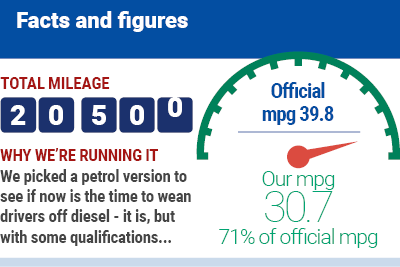 Parkers runs 4x4 high-power petrol Sportline
Did it make sense without an economical diesel engine?
How reliable was it, and how economical is the 280hp version?


The story of our Skoda Superb Estate...
Update 1: Welcome to the fleet

A Skoda Superb Estate joins the Parkers fleet...
Since its launch in 2015, the Skoda Superb Estate has been winning plaudits. Its combination of space, usability and sharp, good looks make it a compelling choice. And that's before you factor in its value pricing and great finance deals.
In a market littered with talented opposition, the Superb is a stand-out proposition. Its enormity ensures it can be regarded as a legitimate rival for the likes of the Audi A6 Avant, Mercedes-Benz E-Class estate and Volvo V70 in terms of carrying capacity, while still competing against the Ford Mondeo estate and Volkswagen Passat estate on price.
With that in mind, it feels like a very Parkers car to us. So, it makes perfect sense to run one on a longer basis – to see if what promises to be a too-good-to-be-true combination really is.
Diesel vs petrol: why we chose the Superb Sportline 2.0 TSI
When it came to speccing our ideal Superb, we decided that it would be good to go down the petrol route. There's a lot of buzz about the whole petrol vs diesel argument at the moment, and it seems timely to run this large car with its most powerful TSI power unit.
And in the Superb, it's the 280hp version, which is very similar to that fitted to the Volkswagen Golf R – in other words, it's quick. And driven sensibly, it's possible to get good fuel consumption out of it. Whether it'll get the 39mpg that the official figures suggest it will is another matter. You can see more on our specs page.

We went for the Sportline, and were strategic with the options in order not to jack up the value base price too much. Here's the standard kit roster:
19-inch Vega alloy wheels
Alcantara sports seats
Bi-xenon headlights with AFS (adaptive front light system), headlight washers and LED daytime running lights
Black roof headlining
Columbus navigation with Wi-Fi (including HDD, DVD, Apple CarPlay and Android Auto)
Drive mode selection including HMI Sport
Electrically adjustable driver's seat with memory and lumbar support
Exterior gloss black sports styling
Keyless entry
LED rear light package
Rear exhaust diffuser with two visible exhaust pipes
Sport chassis including two-level electronic stabilisation control (ESC)
Three-spoke leather 'super sport' multifunction steering wheel with silver stitching (includes gear paddles for DSG)
Adding even more...
At the time of writing, the list price of the Superb was £35,615, although after checking out the Parkers Cars For Sale page, we managed to get that down to less than £30,000.
Our options are limited to:
Dynamic Chassis Control Lane assist and Blind spot detection (£850)
Black Magic Pearl effect paint (£555)
Rear-view parking camera (£350)
Temporary space saver spare wheel (£100)
This little lot brought the price up to £38,220. Which in real terms is still £20k less than the equivalent Audi A6. You pays your money and takes your choice.
We'll be running it over the next few months to see how it goes – and to see whether the excellent performance (0-62mpg in 5.8 seconds and 155mph limited) is enough to offset the additional tax and fuel consumed over a more sedate 190hp 2.0 TDI version.

By Keith Adams
---
Update 2: more miles, more impressive
The odometer ticks up on the Superb

The Skoda Superb Estate has proven to be a popular addition to the Parkers fleet. Any time that I put my key down, one of the guys is on me almost immediately, asking if they can borrow it for the night. Some of the excuses they're coming up with to justify their choice of car for the night are quite amusing.
For instance, when our young staff writer James Dennison says he has a load of furniture to move for his friends, I have to smile. All I can say is that he must have a lot of friends moving house. When deputy reviews editor Adam Binnie says he needs to go on yet another tip run, I sigh inwardly... You get the idea.
280hp equals popularity
Of course, the main reason for its popularity among our young team members is simple – it has 280hp and four-wheel drive, and is probably the ultimate wolf-in-sheep's-clothing. You can make rapid progress in a very understated way. What's not to like?
What indeed?
The first couple of weeks with the Superb have flown by in an absolute blur. I've been up and down the country, putting miles under its gorgeous 19-inch Vega alloy wheels, and in doing so, have quickly come to realise that it fits me like a glove, and is one of the easiest new cars to live with that I've encountered in a very long time.
So, what are the downsides?
It's usually about here in a long-term test that I'll start to list the annoyances and faults that are racking up, but the Skoda is coming up short in that department. Huge boot notwithstanding, the enormous interior hasn't really been put to the test.
Nor has its huge performance – I've run it to the other end of the country, but relied pretty much exclusively on its excellent adaptive cruise control to stay relaxed.

I've been moving a lot of my own stuff recently. And so far, none of it's been taxing the Skoda. For instance, it swallowed my collection of 50-years' worth of CAR magazine without any indigestion (above).
Given how much that lot weighed, it's impressive how little the handling, ride and performance was affected. I'm used to Citroens with self-levelling suspension, so am happy transporting bulky stuff like this, but even so, I had no complaints at all.
So, is it guzzling fuel?
On the long runs, and driven sensibly, my 155mph Skoda really isn't too bad on petrol, either. The computer reports that a typical motorway run will deliver around 38mpg, although when totted up the old-fashioned way, it's averaging 31.1mpg, when my daily commute is factored in. Not bad, considering.
Okay, that's a little way shy of the 39.9mpg we got from our much-missed and similarly rapid diesel Audi A4 Avant long termer, but given that was some way above £50k, I'm sanguine about that. The £10k-plus difference will buy an awful lot of fuel...
Stay tuned for more rational Parkers-style updates – assuming I ever get it back from the younger members of the team!
Mileage: 1,954
Fuel consumption: 31.1mpg

By Keith Adams
---
Update 3: 280hp and making friends
Our Superb squares up to an Octavia Estate

The Skoda Superb Sportline Estate continues to rack up the miles, and it feels as though it's beginning to loosen up nicely now. With more than 4,000 miles on the clock, the engine is smoother than ever, it pulls eagerly to the redline, and most importantly, the fuel consumption is improving nicely.
It's an encouraging development – a few people on the team have said that they think the Superb is thirsty for what it is. But in my mind, a car that car cover 0-62mph in 5.8 seconds can't be expected to crack 50mpg day in, day out.
Fuel economy: how important is it?
Recent fill-ups have seen the tank-to-tank mpg crack 33mpg, although, admittedly, that's during congested motorway driving, where speeds struggle to crack 60mph.
For 2.0 TDI drivers, that fuel consumption would be a bit of a rude awakening, but the way I see it is this – petrol is still (marginally) cheaper, and the Superb sounds so much better in petrol form. Sorry.
That has been brought home to me most recently following a drive of the facelifted Skoda Octavia Estate in 190hp 2.0-litre TDI form. The car, which looks similar to my Superb Sportline, is in Laurin & Klement form, so is packed with kit that missing from my daily driver.
But you fire it up, and at no point can you forget it's a diesel. It clatters angrily at idle, and in queues, when the stop-start system kills it at rest, it's almost a blessed relief. If that sounds like an exaggeration, it isn't – the fact is, I'm getting used to petrol's silky refinement.
Having said that, on my commute, the Octavia TDI averaged a cool 55mpg. And that's a long way ahead of my Superb. Decisions, decisions.
Living with it...
One thing driving the Octavia brings home is that as nice as the Superb's interior is, it's not that special. Functional is a good way of describing this – it's blessed with a great driving position, brilliant front seats, and simple, effective ergonomics, and good build quality.
The two cars are very similar inside – good if you're an Octavia driver, but maybe less so, if you're paying for the flagship experience. Also, as the models currently fall, you get the latest generation of infotainment system in the Octavia, while you're stuck with the older set-up in the Superb.
If that matters to you – maybe wait for the next raft of updates to the Superb.
But this is a minor niggle – and bear in mind what you get for your money with the Superb, it's a forgivable one. We'll keep you posted.

By Keith Adams
---
Update 4: All aboard for the pasty run
A long drive to Cornwall...

The Skoda Superb Estate has long legs. In true Parkers style, we like to properly stretch our long termers to find out more about the true capability of each car, so what better a task than to take the Skoda Superb Estate fully loaded with four adults and plenty of luggage on a long weekend break to Cornwall.
Deciding that a swift overnight run was the better option, we left the Peterborough area at 2.00am Friday and decided to take the Torpoint Ferry from Plymouth Hoe to Torpoint. This was a restful change to driving over the Taymar Bridge, and going from Devon to Cornwall is free of charge with ferries every 10-15 minutes.
By 4.00am it was starting to get light and the Skoda was indeed making a superb job of the journey, munching mile after mile with ease. The spaciousness of the cabin was excellent, as was the caverrnous boot, which looked like it would hold a warehouse full of suitcases. As everyone seemed so relaxed and chilled out, I pushed on and was standing at the ferry departure point in Plymouth by 6.30am.
Entering Cornwall
A quick 10-minute crossing and we entered Cornwall at Torpoint. By 07.30 we were parked up in Looe ready for a pasty breakfast. After pasties at 08.00 and again at 11.00 (we were peckish!), we made headway for Bodinnick. Our trip already seemed as if it was going to be a pasty challenge in disguise – seeing who could find the best one.
The narrow Cornish minor roads were quite challenging at times but the Skoda didn't seem overly wide – more long. Most drivers on these roads realise that you might frequently have to manoeuvre your vehicle around some tight spots in order to pass - so everything was quite orderly.
As we headed west we again decided on the small vehicle ferry from Bodinnick to Fowey.
The quick blast home
Coming off the ferry at Fowey we joined the A390 and continued on to Truro and Mevagissey. While on better roads I experimented using the wheel-mounted paddle shift. It worked well.
Possibly due to the additional weight in the car I found that the occasional shift down a gear helped on inclines, although at no time did the Superb feel really flexed. It just brought the revs up slightly and helped continue the momentum.
Asking my travelling companions on their views, they all agreed that it was an excellent choice for a long-distance journey in comfort. Everyone said how extremely comfortable it was and how it seemed to eat the miles with little or no effort.
The boot is enormous and took four large suitcases with ease, plus extras. The ride is excellent and you have three options on ride quality. We originally settled for the Normal setting, but on the minor roads a swap of settings to Comfort was a good move. Now it was like driving a sofa!

Various trips were arranged over the weekend including Penzance, Land's End and St Michael's Mount, but on all of the four days the Skoda's performance was faultless - not ever missing a beat and handling everything we asked of it.
Returning to Peterborough the car carried about 30kg more weight than it originally left with. This was down to a few souvenirs and some occupants who had put on more than a few kgs with all those pasties, Cornish cream teas, beers in the 'Fish' in Looe and the hottest Thai meal outside of Bangkok that I've ever eaten!

The Parkers Verdict: Highly Recommended.
And that goes for the Skoda, too!

By Percy Lawman
---
Update 5: Superb for a big family?
Does the Superb work for dad-of-three?

We lent our Skoda Superb to colleague John Temple, who is dad to triplet five-year-old boys. During his two weeks with the Superb, he tested the Multimac car seat as well.
Here's what family man John thought to the Superb:
'The Superb is very aptly named – I loved it, and so did my three boys. It was brilliant to drive – super comfortable, with loads of practical mod-cons.
'I normally drive a Citroen Picasso so this was a big change for me and the children. It was slick, super powerful, and great to look at.
'We tested the Multimac car seats for most of the time I had the Superb, which meant all three boys fitted in the back, plus a passenger in the front; however, once the Multmac was removed, I had trouble fitting everyone in – it's not a family car if you have more than two children.
'I had two car seats in the back, plus one in the front, but it meant my wife had to stay behind as she couldn't squeeze in the middle in the back. But we anticipated this!
'The Sport function made the car really powerful, perhaps not a function I would use on the school run, but great to accelerate confidently.
'The air-con was very welcome, and kept the children happy.
'I would definitely plump for the option of the rear parking camera – it was very useful and clear. Plus, watching the screen was the children's favourite part of our journeys – the best 30 seconds – they fought over who got to sit in the middle seat so they could watch as I reversed, and loved to shout "watch out for the dustbin daddy!" at me!
'I'd also recommend the Lane Assist option – it takes that little bit of stress out of your journey.
'The boot was a great size and could cope with all the junk that you end up taking everywhere with you when you have children.
'It was a real shame to go back to my Picasso!'
By John Temple
---
Update 6: making a splash
Is Skoda the new Saab?

After a flurry of loans to various members of the Parkers team, and a test of its ability to cart around a family of triplets, it's been good getting the keys back for our Skoda Superb Estate. There's nothing better than jumping in the alcantara-trimmed sports seat, settling in, and heading off for an easy few-hundred-mile drive.
The main purpose of our long-term test is to ascertain whether our Superb makes sense in petrol form instead of the more popular diesel choice. And as the miles roll on, I can't help but think that we have – even if our updated real-world fuel consumption figure of 31.1mpg falls someway short of the 45mpg-plus you'd expect from a 2.0-litre TDI in 190hp form.
The reason I am still convinced I've made the right decision probably comes down to how the Superb drives. There's bags of power, for sure, and it accelerates very smartly indeed, thanks to its 280hp engine – but in slow speed traffic, it's refined and smooth, a massive contrast to the rattling diesels around me.
Meeting the ancestor (sort of)
The concept of a big, understated, turbocharged car isn't lost on me. It's a genre that's flicked my switch for as long as I've had enough driving experience to build up some no-claims bonus. Back in the 2000s, I went through a lasting love affair with tuned Saabs.
In many ways, this Superb evokes memories of my Saab 9000s of old.
Speaking of which, rather irrationally, I bought back one that I originally owned (and had many happy times in) a decade ago. It was then restored it to its former glory.
After months in the garage, and the application of copious amounts of paint and TLC, my old Saab 9000 Aero is back on the road – ushering in a number of inevitable comparisons with the similarly powerful Skoda.
Let's get one thing out of the way first: the Saab is faster in a straight line than the Skoda. In its day, the Aero was lauded for having more mid-range acceleration in top gear than a Ferrari Testarossa. Even today, it's rapid.
But – get the car on a twisting road, and you can see where 20 years of progress has been made.
Superb in the corners?
In comparison with the Saab, absolutely. Where the Saab torque-steers on straights and ploughs on in bends, the Skoda points and squirts accurately. If you want to crack on in the Superb, you'll need to stick it in Sport mode, otherwise it lacks body control – but then, why wouldn't you?
The combination of four-wheel drive and super-powerful brakes means that the Skoda feels safe and secure in all conditions. On the other hand, the 20-year-old Saab will have you tip-toeing in the rain, despite being in finest fettle. That's progress.
This unofficial comparison left me thinking more about the now-defunct Saab. Where have the Swedish company's customers gone? What are these exemplars of fine taste buying now?
I suspect more than a few ex-Saab 9000 and 9-5 owners might well now be in Skoda's camp. If not, they should be. If that's the case, and you're in that position, please let me know by dropping me an email at keith.adams@parkers.co.uk.
By Keith Adams
---
Update 7: Autonomous future? We're already there
We test the Superb's autonomous driving tech

Over the past few weeks, I've been a busy boy, sampling the forthcoming autonomous vehicles from Honda and Hyundai. Well, I say, forthcoming, I mean prototypes that won't see production reality until 2020 and beyond. Except that in the Skoda Superb, it feels like I'm already there, as I'll explain…
Autonomous driving is a technology that excites me – and following the launch of the new Audi A8, and its standard-fit autonomous tech, whether we love or hate the idea, we're all going to start finding out sooner or later.
The Skoda isn't that advanced. But I have to hand it to those clever engineers who programmed the systems that run its Lane Assist System. Considering it's part of the optional £850 combined Dynamic Chassis Control, Lane Assist and Blind Spot Detection system, I reckon it's a bit of a bargain.
I've waxed lyrical about Lane Assist systems before. Our recently departed Mercedes-Benz GLC long-termer boasted a very impressive system, which made mincemeat of a 600-mile day driving in the UK. Skoda's system is as good as this – and it costs considerably less money.
So, tell me about Lane Assist…
To use the Lane Assist function, simply accelerate to a speed that works for you, and press the button at the end of the control stalk to activate the adaptive cruise control. It's exactly the same in operation as a standard cruise control system – but unlike those, your speed will decelerate and accelerate to match the car ahead. Right down to a standstill.
In addition to maintaining your speed (up to whatever you choose), the Lane Assist sytem will lock on to the lane you're in and gently turn the wheel to keep it on track. From personal experience, some of these systems work better than others – and with the Skoda, we're looking at one of the nicer systems to use.
Just make sure you tick all the options (below), otherwise you'll miss out. And the car defaults to it being switched off.

You do have to get used to Lane Assist. First-timers can find the experience shocking – especially when you introduce them to it from the passenger seat! And when they drive it for the first time, the feeling that the steering wheel is doing its own thing is disconcerting – especially if they don't signal before changing lanes.
But does it work?
Oh, yes. Very much so. And it's as close as you'll get to autonomy right now.
Don't think for a moment that when engaged you can switch off and start snoozing. For a start, it'll only operate with driver intervention. Don't think you can take your hands off the wheel and leave them off – you'll be nagged after 20 seconds.
Besides, the camera-based system isn't infallible, and it's good to keep hold. Instead, look at it as a driver aid. The sneeze factor that this system introduces is phenomenal – if you wander, it will gently bring you back in line.
The combined Lane Assist and Adaptive Cruise do very well at traffic jams. Sit back, and let the car drive for you. All you really need to do is touch the throttle if the car ends up stationary for more than a few seconds. Definitely money well spent.
The way these systems affect your driving, and how you approach it, are far more relevant than the 0-62mph time of 5.8 seconds. Or at least it feels that way on the M25 on a Friday afternoon!

By Keith Adams
Photography by Alan Kenny
---
Update 8: Outdoorsy adventure north of the border
We go full-lifestyle in our Superb

I'll let you into a secret: the key holder to a big estate car like our Skoda Superb is your best friend when it comes to vacation planning. With a week's summer holiday in Scotland booked and a fast-growing family of four to transport, there was one candidate that stuck out on the Parkers fleet: this was a job for the omni-accommodating Superb Estate.
I've driven plenty of big Skoda wagons over the years and was intrigued to see how the high-power petrol version would fare with a long journey likely to end up tipping into a four-figure mileage.
Wouldn't we miss the long range of a turbodiesel? Would the Superb 280's sporting bias make a mockery of its family sensibilities? And would the ride hold up on remote Scottish moorlands, rolling on our Sportline's generously-spanned 19-inch alloy wheels?
Happily, the Skoda Superb yet again proved its family-friendly credentials over the course of nine days. Its on-board computer showed a promising 470 miles when brimmed, and the 66-litre fuel tank meant we had to fill up three times over 1,083 miles.
Fuel economy: how efficient is the Skoda Superb 280?
We averaged 35mpg, according to the trip computer; that proved a tad optimistic - our three refuels managed an actual 32.5, 31.8 and 33.9mpg. This is a more profligate car and picking a diesel would have added another 10 or so miles per gallon.
Read more Parkers long-term test reviews
But what a family wagon! It's famously huge inside, with lashings of interior space for both rows of passengers and the world's biggest boot. We packed with wanton abandon and still got everything in, while hidden boot cubbies meant we could snick in extra food and drink supplies without the kids realising.
It rides reasonably on those big rims, but I found myself wondering about the 280hp output. This is quite a portly car, at 1,575kg, and performance never feels as punchy as the promised figures.
Better to treat this as a long-distance cruiser, enjoying the comfy seats, the slick (if darkly austere) suede-lined comfort of Sportline trim and the excellent VW Group infotainment system to keep all four of us entertained as we ploughed up the M6.
The radar-assisted cruise control works a treat here, keeping a set distance from the car in front (though my wife hated the huge cladding around the rear-view mirror, caused by extra cameras and sensors), the 2.0-litre turbo a distant hum at cruising speeds.
There's certainly no arguing with traction; the 4x4 on the badge confirms that this is all-wheel drive and the big Skoda never once chirruped its tyres as we pulled out of damp junctions or crept up stoney tracks to go loch-side fishing.

Glitches? DAB radio signal is patchy, even when in the English shires, let alone once we ventured into the more remote Highlands. The DSG's automatic gearlever is very easy to slot straight to Sport, past Drive, by mistake. And the screen wash reservoir is a pain to refill, with its bottle hidden at an awkward angle near the bonnet hinge (see above).
Okay, okay - we're nit-picking. Our Skoda Superb Estate 280 proved excellent holiday transport. It's a curious combination of high-performance engine and family-friendly bodystyle - but it can't dent the Superb's inherent practicality. It got a big thumbs-up from the Pollard family, even if the logical part of me wished we were in the nearly-as-fast yet more frugal 190hp 2.0 TDI.
By Tim Pollard
---
Update 9: We say it's good value: here's why
We examine our Superb's value-for-money

Ever since we picked up the Superb Estate in April, we've been singing its praises. The combination of power, poise, performance and space make it a compelling proposition – even without taking price into account.
Checking the Parkers specs pages, you could buy the same car as this one for a cool £35,740 (at the time of writing). Sounds pretty good – especially compared with Gareth's rather ostentatious Audi A6, which weighs in at a rather less cool £52,060.
Except that if you shop around, you can demolish that list price – we clicked on Buyanewcar.com, and immediately, that price drops to £28,628. I realise it's a very different thing, but that's less than my 110hp Renault Scenic. Or maybe a MINI Countryman SD Auto. As they say, 'you do the maths'.
Superb offers on PCP
Of course, you need to examine your finance options. And here again, Skoda seems to do very well. Putting £5,000 down and before negotiating any discount with a dealer, you'll pick one up for £492 per month over three years. Compare that with the (admittedly very good) Volkswagen Arteon, which weighs in at £506 per month over the same period with the same deposit.
Don't get me wrong, I think the Arteon would attract a different buyer. And in that case, the £14 a month between them isn't that bad. But let's consider the Kia Optima Sportswagon, which must be on most Skoda Superb Estate buyers' shopping list.
The example we have on long-term test has half the power of my Skoda, and still comes in at £445 per month (on the same deal with the same £5,000 deposit) – which, frankly, rules that out of the equation. Unless that seven-year warranty is essential to your piece of mind.

So, is it really Superb value?
Oh yes. The ideal scenario would be to buy at a huge discount from a broker, and source your own finance at the very best rate you can find. The Superb is a brilliant car all round, without taking into account what it costs.
Add in the low purchase price and great finance packages, and it's utterly compelling. Apologies if that sounds like an advertisement – it isn't meant to. But in terms of value for money, it's hard to think of any family car that offers so much for (relatively) such a small amount of money.
By Keith Adams
---
Update 10: Lapping the M25
How does the Superb fare on a long motorway schlep?
You have to pity our poor Skoda Superb Estate. Because it's so roomy and so capable on the motorway, any long and grinding drive that comes into the office seems to be thrown in its direction.
And few come more grinding than anything that involves the M25. On a weekday. At rush hour. But editorial director Tim Pollard and I elected to do just that in an attempt to hand out our 2018 Parkers New Car Awards to the manufacturers that won in their respective categories over a three-day period.

Our Superb-bound trip involved visiting the press offices or Volkswagen, Vauxhall, SEAT, Skoda, BMW, Kia, Ford, Renault, Mercedes-Benz and Nissan over the period of three days. The respective companies' head offices are based in a cluster along the M1 corridor from Milton Keynes to Watford, with the rest spaced around the M25, from Essex to Hampshire, via Surrey. In other words, my vision of driving hell.
Scheduling masterplan. Not…
In a scheduling masterplan, I decided to take the worst of the pain at the beginning of the first two days. So I planned a couple of 5.30am starts in order to get from our East Midlands base to the HQs of BMW and Kia, which are in Hampshire and Surrey respectively. That would mean hitting the M25 between 7.00-8.00am, perfect rush-hour grind.
Setting off early in the Superb is always a pleasure. It might be the performance model in the range, but running it in my favoured Eco mode, it wafts along beautifully. The seats are supportive and comfortable, the ride is pliant, and on the motorway, the 70mph cruise is dispatched masterfully - especially when using the excellent adaptive cruise control.

By the time, we hit the M25, the DSG six-speed auto and adaptive cruise take all of the pain away from the grinding drive. Unlike much of the rest of the Parkers team, I like leaving the lane-keep assist switch on for motorway driving – it takes the strain, and encourages you to indicate every lane change. What's not to like?
I have to say that despite the extensive criss-crossing of the south east, the Superb held its head up high, and thanks to a combination of comfortable ride, seats, and smooth-shifting DSG gearbox, the first couple of days – which included an entire lap of the M25 passed by calmly and without incident.
Day three - and the DSG comes into its own...
For the final – and most intense – day of our three-day adventure, we ended up hitting the inevitable traffic problems. There'd been an accident on the northbound carriageway, and despite us heading southbound, we ended up being delayed by a good half hour.

The adaptive cruise and DSG really were a godsend in this grinding stop-start motorway snarl-up, taking away all of the pain. Despite the delays, we handed out all of our awards, and aside from a final traffic jam on the way back to Peterborough at the end of day three, I came away from the experience, stress-free, and even more in awe of what the Skoda can do on a day-to-day basis.
It may not be the most exciting of conveyances (until you deploy all of its 280hp), but it lapped up the three days' cut and thrust in a most unruffled way. Considering its bargain cost per month or outright purchase price, this surely makes this a perfect can for Britain's hard-working professional drivers…
…who I have an undying respect for in the way they put up with our snarled up roads on a daily basis. Fair play to you all!
---
Update 11: Superb show schlepper
We drive to the Frankfurt motor show in our Superb

As Parkers Editor Keith Adams alluded to in his last update, his long-term Skoda Superb Estate is the go-to car for long slogs, so when it came to deciding what should be the chariot of choice for 1,200 round-trip to Frankfurt, the Czech wagon was something of a no-brainer.
Driving duties for the motor show jaunt would be shared by friend-of-Parkers, CAR Magazine's Jake Groves (hello) and I, with the European blat being our first experience of Keith's 280hp sports car-by-stealth.
Isn't it just a Skoda-badged Passat?
Back in 2016 I ran a diesel-engined Volkswagen Passat Estate for six months so expected the Superb to feel very similar. Yet the differences between them are more than subtle – they feel intrinsic. Shared platforms and componentry, yes, but the two load-luggers have their own appeal.

Most obvious when I sat in the Superb was that for all it was well-finished and robust, it didn't feel as plush as my old Passat did.
The surfaces are simpler, with fewer design elements to spruce up the Skoda's cabin; it feels a tad dull, probably not helped by its monochrome colour scheme.
In particular the door cards feel too plain – as though the Superb had been decontened a little for no other reason than to emphasise VW-badged products are further upmarket.

It's noisier too – despite having a quieter TSI petrol engine – meaning a greater degree of tyre roar and other ambient sounds percolate into the Skoda's passenger compartment. Again, there's more of a din than I remember the Passat suffering – although my example did have double-glazed side windows – but I suspect the Volkswagen enjoyed more by way of sound-deadening materials, too.
Pace and space
But that can be forgiven if it's a hoot to drive, right? Exactly, and who doesn't like a car that puts a smile on their face, even if it does so in an unconventional way?
See those SportLine badges – this is as near as we're likely to get to a Superb vRS (boooo) – which clear bodes well.
I'm not going to suggest this is the best-handling estate car money can buy, but nevertheless the Skoda – aided and abetted by its traction-enhancing four-wheel drive package – is an assured, relatively rewarding companion.

Point it along a ribbon of B-road asphalt and it'll faithfully trace every curve and corner without any errant twitches, woeful understeer or intrusive braking from an over-nannying electronic stability system. Does it excite? Hmmm, well, not exactly, but it permits the rapid covering of ground in a way that few large estates permit.
Where it really comes into its own is on motorway stretches, or more specifically, long schleps along derestricted sections of autobahn, where Jake giddily sat for much of the time at an indicated 140mph.
One thing we did discover – not possible in the UK for obvious reasons – is that the excellent adaptive cruise control system only works up to speeds of 160km/h (or 99.4194mph to you and I) so pacier runs have to be managed with manual control of the accelerator. And brake pedal when a numpty – all too often driving a car on UK plates – pulls out in front of you with barely any notice.

Of course, driving with such alacrity doesn't do much for fuel consumption, as evidenced by an average of 28mpg for one particular tankful.
Comfy seats, firm ride
Few cars could have shortened the 11-hour drive as effectively as the Skoda, regardless of the changeable weather conditions and onset of dusk.
Those scalloped, high-back sports seats up front are fabulously comfy, as testified by the six hours plus that I snored away merrily as Jake plunged deeper into Europe.

Was it all plain sailing? More or less. One fuel stop was elongated by the need to top-up the coolant (schoolboy oversight for not checking the level pre-trip), while a lack of 50 cent coins to pay for toilet access meant there was no peeing in Belgium, but those niggles aside it was all smooth running… Until we reached the centre of Frankfurt.
Unexpectedly rutted road surfaces and multiple strassenbahn tracks to navigate across in torrential rain highlighted the firmness of the Superb's ride in Sport mode. Even scrolling through to the softer Comfort option was a tad too firm for my taste – I suspect I'd be more at home in a Laurin & Klement example.
Still, as distance-shortening cruisers go, the Superb's still the pick of the Parkers long-term fleet.

By Keith WR Jones
---
Update 12: Making our choice?
Skoda Superb: petrol vs diesel

Way back at the beginning of my time with the Superb Sportline Estate, I asked the question – are we ready to move from petrol to diesel without tears? Before I get into my own personal preferences, let's do some number crunching.
With 18,000 miles on the clock, we've so far averaged 31.1mpg out of the Skoda Superb Sportline. If we say that during the time we've owned the car, petrol has averaged 119.5p per litre. Acording to the Fleet News fuel calculator, that means that in total, we've spent £3,147.83 on petrol in the time we've had it. If we extrapolate that to 25,000 miles per year, and that rises to £4,371.94.
We reckon that a diesel Skoda Superb Estate 190 4x4 DSG is likely to achieve around 42mpg in the same set of circumstances. Over the same amount of miles and at the current 122.9p per litre, the total spent on fuel would be £2,385.91 or £3,313.79 over 25,000 miles. And it's indentical in terms of practicality (including limo-like rear room) and equipment.

Case closed for diesel, then?
The gulf widens taking finance into consideration
Of course, there's more to the overall running costs of a car than simply what you pour into the tank. There's the monthly leasing or PCP costs to consider, too. In the case of PCP, it doesn't look that good for the 280 either, despite good residual figures.
Our finance editor Chris Lloyd has been crunching the numbers, and came up with the following deals based on a two-year deal, a £3,000 deposit and 25,000 miles a year (which equates to what I'm doing in the 280).
For the 280, you're looking at £818.62 per month, compared with £720.87 per month for the 190 TDI 4x4 DSG Sportline. In other words, £185.93 in total per month extra on fuel and PCP finance. So, in this case, there really isn't an economic argument for taking petrol over diesel.
Is it a fair comparison?
Probably not. The Superb 280 has 90hp more than the diesel we've chosen to compare it with. There's no equivalent high-powered diesel Superb, which seems a shame to me. The idea of a Superb powered by the wonderful V6 diesel in our recent long-term Audi A4 Avant would be quite a thing.
Be that as it may, the 280 is on a different planet in terms of performance. We know that the 0-60mph time of 5.6 seconds is rather quicker than the 8.2 seconds quoted in our Skoda Superb specifications page, and those who are in the market for a diesel might not really be looking for a weapon's grade Audi botherer like this.
But there's no other way of saying it – if you're considering buying a Skoda Superb 280 as cost-based diesel alternative, then you may well be disappointed.
There is an alternative though...
If you're not after the last word in performance, if you go down a rung in the Superb range, the case for petrol becomes so much stronger. We say that, but the front-wheel drive 2.0 TSI 220hp has what is effectively a Volkswagen Golf GTI engine under the bonnet, and puts in a set of figures (0-60mph in 6.9 seconds) that should get those looking at the 190hp diesel in a very different light.

On that same (two-year, 25,000-mile, £3,000 deposit) PCP deal, it comes in at £644.11 per month, which compare exceedingly well with £684.55 for an identically-equipped TDI 190. Looks like you can head down the petrol route, and still most definitely win.
*Deals are correct at time of publication. Everyone's financial circumstances are different and credit is not always available – Parkers cannot recommend a deal for you specifically. These deals are indicative examples of some packages available this week.
By Keith Adams
---
Update 13: Taking the Skoda back home
We go long-haul to Prague in the Superb
Ordinarily, our long-term tests run to 12 reports over six months, and are a fairly dispassionate, and completely objective look at living with the car we're running. Although I can remain objective about the Skoda Superb Estate in 280hp Sportline form, it's impossible to remain dispassionate about a car that has fit my life so perfectly.
A very long drive seemed like a fitting end to my time with this car, and what better place to take the Superb than to its home country. With that in mind, I arranged to visit the Skoda Museum, and take a whistle-stop tour of the Skoda factory in Mlada Boleslav, near Prague.

Given that the factory and museum are 900 miles, a ferry ride and a number of de-restricted autobahns away, this was a journey perfectly suited to the long-legged Skoda. It's already been on a couple of long trips (below) in the hands of Tim Pollard and Keith WR Jones, but this would be my first chance to see if the Superb was as, er, superb as I'd hoped it would be.
Leg one: UK Midlands to Aachen Germany
As always, the Superb was at its most poised on the motorway. Striding down the M11, around the M25 and along the M20 towards Dover, it never put a foot wrong.

Ticking over at around 2,500rpm at the UK legal limit left it not even breaking a sweat, the adaptive cruise control making mincemeat of the typically claggy drive around the busiest part of the south east.
Northern France passed in the blink of an eye, and it was down to Belgium to provide an interesting early test. Its motorway surfaces are noisy and uneven, testing the Superb's suspension quite sternly at times, despite its low 75mph speed limit. It's here that I'm reminded of the Superb's road and wind noise – it's less hushed than a Volkswagen Passat, but more composed than a comparable Vauxhall Insignia Sport Tourer or Mazda 6 estate.
Despite those reservations, and a little bit of long-distance backache from the firm driver's seat, we arrived reasonably fresh and alert in Aachen. Impressed with the Superb after a ferry-punctuated 400-mile drive, we arrived in the pleasant German city in time for a beer and currywurst despite not leaving the UK until mid-morning.
Leg two: Aachen to Prague, Czech Republic
If the Superb managed to impress in the UK, France and Belgium, that's nothing compared with Germany. Blessed with great weather and light traffic, we hit the autobahn after a mid-morning start with the san-nav reporting we'd be looking at a 500-mile slog to Prague.

Imagine that drive in the UK, and you might be looking at a 12-hour-plus drive – if you're lucky – but in the land of great motorway lane discipline and the magic de-restricted sign, our infotainment screen reckoned we were looking at around seven hours on the road. Amazing.
At the first opportunity – traffic and conditions – we planted the throttle. You know, just to see how fast. And it was a very interesting experience. From 100mph, the Superb hunkered down, its engine note hardened, and it pulled impressively and comfortably to the sort of speeds that a few years ago, you'd have spent a lot of money with a sports car manufacturer to see.
Superb, and at home on the autobahn
If you're looking for a sleeper of a car that goes well without attracting attention, this really is the car for you. And it's here on the autobahn that the Superb's German roots are undeniable – and although we drove quickly, often cruising at more than 100mph for long periods of time, it always felt comfortable at home and with plenty in hand.

We stopped for petrol and tallied up – our average fuel consumption had taken a knock, dropping to 25mpg for the time on the motorway. It would have been worse, save for the annoyingly regular roadworks between Cologne and Frankfurt. Mind you, the Germans manage to keep their motorways open at night – watch and learn, Highways Agency.
Germany was a driver's dream. Notwithstanding the skilled motorway driving and the enlightened approach to speed limits there, the roads are smooth and quiet, and it's easy to navigate around. The Czech border arrived all-too-quickly, and with it, the re-imposition of speed limits (this time, 81mph), and indifferent road surfaces…
Leg three: Prague to Mlada Boleslav
The previous day's run from the German border to Prague was little over an hour, and despite being in darkness and in sub-zero temperatures, the Superb managed the trip without a wobble. The LED headlights are excellent, although it's a sign of first-world problems that I find myself missing auto-dipping functionality. Oh dear.
Prague was a cinch, too. It's well-mapped on the sat-nav, and well signposted on the streets. Getting out of Prague in rush-hour traffic the following morning was also rather easy - it trickles along in traffic, and given we were now in the home of Skoda, it merged into to the scenery perfectly (something you want as a Brit driving abroad).
The drive to the Skoda museum was a 45-minute breeze – I think there's a pattern forming here – and by the time we arrive at the museum and factory for the tour, we feel like we could do it all again tomorrow. I'll share some photos of that trip over on the CAR website, but needless to say, as a confirmed Skoda Superb fan, I rather like this Vision C concept from 2014. See any likeness?

Stay tuned for our Skoda Superb conclusions…
By Keith Adams
---
Update 14: Skoda Superb Estate does petrol stack up?
It's the end of days for the Superb - does it live up to its name?
So, here we are – after nine months and 20,500 miles, we're about to wave goodbye to our Skoda Superb Estate, with some very fond memories of it.
But beyond the glamour of trans-European trips to Prague, and long-distance drives across the UK, have we finally answered the question posed at the beginning of our test – does the Superb stack up in petrol form, compared with its excellent diesel cousin?
Before we answer that, let's take a little time to consider the pros and cons of the Superb Estate – overall. Does it work as a family car? Does it work as a company car? And would we recommend one to Parkers readers?

Does the Superb work on finance?
Yes – we've already concluded that the Superb is great value, which ever way you decide to purchase it. If you're a cash buyer, it's well-priced out of the box, but once you factor in generous discounts available from brokers this is even more compelling.
For those who finance monthly, be it lease or PCP, the Superb is also well priced. Stick £5,000 into a monthly deal (detailed below), and you'll pay less than any of its rivals – even the value-oriented Kia Optima Sportswagon.
We've also done the maths comparing it with the 190hp diesel version and concluded that our 280 is not the one to have; the 220hp Superb is no slouch, and significantly cheaper to run. If you're interested in knowing more on that, please scroll down.
As family cars go, does it stack up?
Oh yes. In terms of leg- and boot-room, the Superb is at the head of the class, with only the significantly more expensive Mercedes-Benz E-Class estate offering a larger, more usable luggage area. Impressive, although no surprise considering Skodas usually have larger interiors than their similarly-priced rivals.
We've managed to happily move house in it, shift a large family with triplets, and go on holiday in it with ease – therefore we can say that the Superb passes the family car test with ease.
Although the smaller Skoda Octavia is also pretty commodious, and agreeably cheaper, the additional size of the Superb (assuming it fits on your drive or in your life) is certainly worth the money.
So... why would I buy a Skoda?
Why indeed. The old negative image they have is fading away, but there's still a lingering doubt with certain parts of the buying public. Having said that, its lack of premium kudos is a positive aspect, and there's a chunk of society that completely gets where Skoda is now.
Early in this car's time with us, I asked whether it's the sort of car that former Saab owners, for instance, would approve of. I was surprised by the response. A few Octavia and Superb owners had 9000s and 9-5s and have made the jump to Skoda, and not looked back. But one or two remain to be convinced.
Former Saab owner John Carver told us: 'I had a long term love affair with Saabs, Starting with my Father who bought a Saab 99 Combi Coupe. I would have loved to have had another Saab after my 9000 and 9-5, but the latter models were just shadows of their former brilliance. I'm seriously looking at Skoda Superbs. A concern I have is tending to do short urban journeys. As the ECU frequently puts the engine in to DPF regeneration mode, I am seriously looking at petrol or even hybrid, which Skoda do not yet have one out.'
Peter Moston wasn't so sure: 'I had five Saabs in a row – two 9000s, two 9-5s ending with a 9-3 TTiD, which cost me an arm and a leg as the twin turbo unit failed and although I got it fixed was never the same again. My favourite probably being a 9000CS special edition with two tone leather and sunroof. Thought hard about Skoda Octavia or Superb but could not get over the badge thing.'
So, it's not premium, but that seems to be a positive for a lot of buyers.
And in conclusion?
I have made no bones about the way the Superb fits my life. It's big, unpretentious, and just does what it says on the tin – and far more besides. The enthusiast in me loves it, but the rational Parkers editor also finds a stack of reasons to buy the Superb.
Yes, it did 155mph in Germany, and constantly surprises in its excellence. It's not perfect, though – wind and road noise are higher than average, and if you buy the 280, you'll struggle to better 33mpg. But those caveats aside, it's an excellent car, and one we'd happily recommend.
Would we recommend it over a diesel version? Yes, but not the 280hp version if costs are your overriding consideration. We'll be sad to see it leave the fleet.