View all Suzuki Baleno reviews


Suzuki Baleno Hatchback
Review
Current Model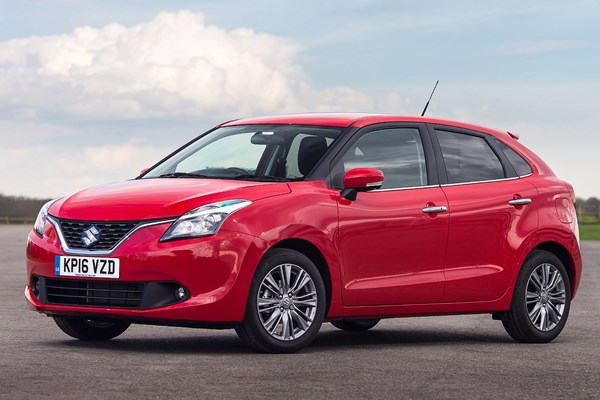 PROS
Great build quality
Good to drive
Practical
Well-equipped
CONS
Pre-production cars driven
Pricing to be confirmed
Some cheaper cabin plastics
PROS
Great build quality
Good to drive
Practical
Well-equipped
CONS
Pre-production cars driven
Pricing to be confirmed
Some cheaper cabin plastics
Verdict
This is the Suzuki Baleno review, written some six months before the car goes on sale in spring 2016. We were invited out to Spain to try some pre-production cars and form an initial evaluation. As you can see from our star rating, we came away impressed - both with its cabin design and the way it drives.
Third small car in Suzuki's range
It's a rival to the Honda Jazz and Nissan Note – cars which have a small footprint (roughly Ford Fiesta-sized) but maximise their interior and luggage space with clever packaging. They're grown-up vehicles for a grown-up crowd, which goes some way to explaining why Suzuki is going to sell it alongside the similarly-sized Swift hatchback and the smaller Celerio city car, both of which appeal to younger audiences.
The Baleno represents a more premium offering too, and while pricing and equipment levels haven't been set in stone yet, we've got the inside line from Suzuki on the likely kit on offer. It makes for interesting reading, with a seven-inch touchscreen sat-nav and reversing camera even at the base specification. No word yet on what trim levels will be called, either, but check the equipment section of this review for the low-down on what we know so far.
Hard-wearing cabin
It's not perfect, though: the cabin does feature some cheaper-feeling plastics that appear of a lesser quality than some rivals. The flipside to that point is they feel incredibly hard-wearing, so they're likely to stand the test of time even if they're not the last word in aesthetic grandeur.
We were impressed with the engine line-up too, with an all-new 1-litre 'Boosterjet' turbocharged engine joining a 1.2 in the all-petrol line-up. You've got manual or automatic gearboxes too, and in typical Suzuki fashion they're all decent to drive.
Practical, big boot for Baleno
While the handling feels set up more for comfort than fun – the latter taken care of by the Swift instead – another highlight is the interior space on offer. Four adults will easily fit, and the 355-litre boot is one of the biggest on offer for this type of car.
Until we've got full precise pricing information we're unable to comment on the Suzuki Baleno's value for money against its rivals, but with a list price expected at around the £12,000 mark it would seem a strong entrant in the sector.
Read on for a full evaluation of this brand new car.