Fiat E-Ducato electric van review (2021)
Large electric van that offers excellent choice and 175 miles of driving range
PROS
Available in lots of variants
Impressive claimed driving range
High payload ratings
Cheap to run
Five-year warranty and servicing package
CONS
Diesel easier to refuel
Some quirks in the cab
Limited top speed
Not super powerful
Expensive to buy
Summary
The Fiat E-Ducato is the 100% electric version of the Fiat Ducato large van. Like its long-established diesel-powered counterpart, the electric Ducato is available in a wide range of body sizes and variants. But what's really likely to make it attractive is the impressive claimed driving range, which is up to 175 miles per charge, and the possibility of carrying up to 1,885kg in payload.
The E-Ducato is also nicer to drive than diesel versions, and though – like all electric vans – it's rather expensive to buy outright, running costs are potentially very low, and the amount of choice Fiat offers in the specification means you should be able to get a version that exactly meets your requirements.
Lots of choice from the Fiat E-Ducato
You can buy the E-Ducato as a panel van and chassis cab, and as a passenger carrier / minibus.
The E-Ducato panel van comes in three lengths and three heights, while the chassis cab comes in four lengths. The passenger version comes in one size only but is available with six or nine seats.
With the option of two battery sizes, two gross vehicle weights (GVW), and two trim levels, there are around 400 different E-Ducato versions available in total.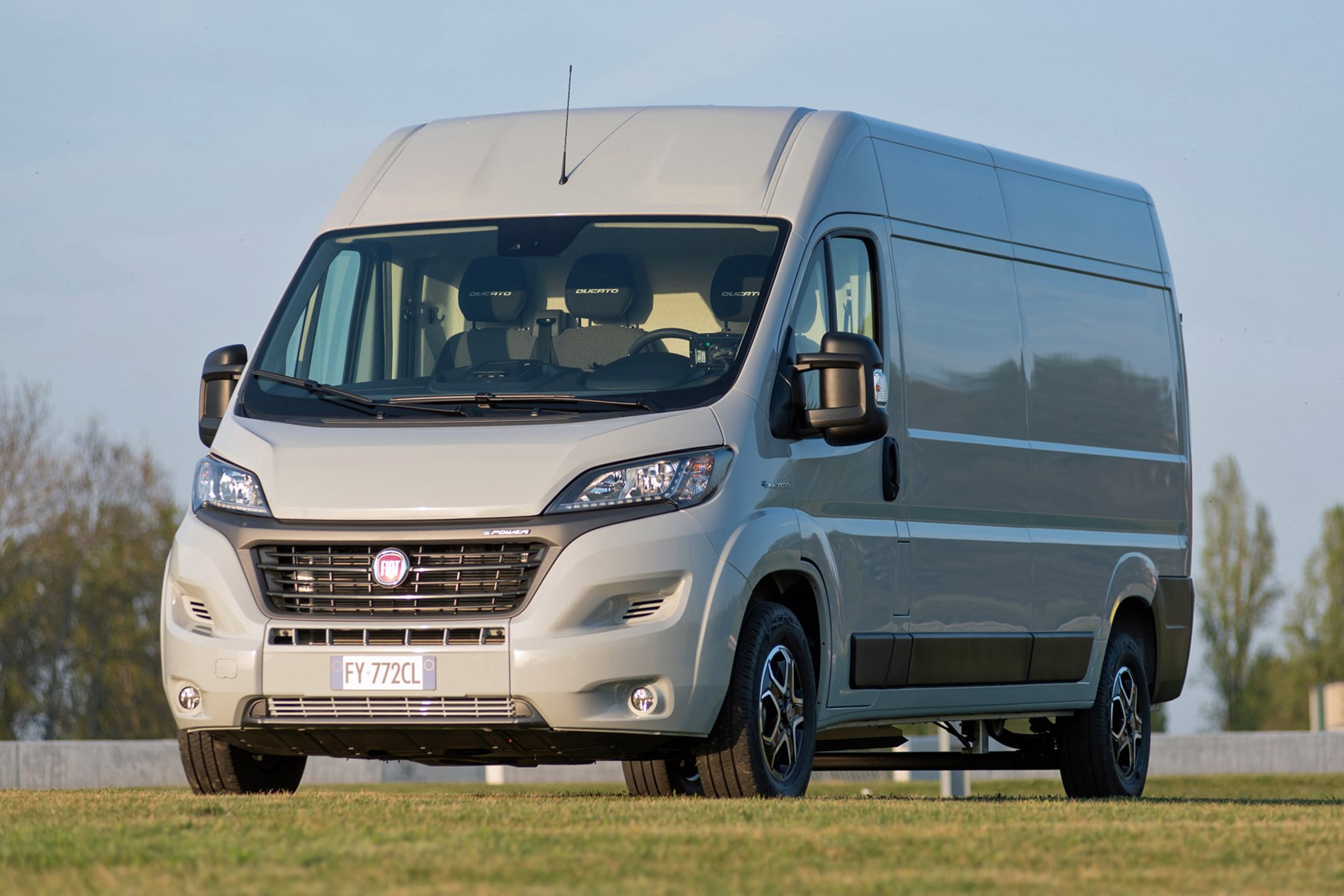 All are powered by the same 90kW electric motor – equivalent to around 122hp – so they aren't exactly rocketships. But 280Nm of instant torque helps them feel peppy enough at town speeds.
What's more, thanks to special rules for alternative fuel vehicles, you can currently drive the 1,885kg payload version on a standard UK car licence under certain conditions. A diesel van with that capability would require a Category C1 licence.
You can find out more about load capacity and payload on our dedicated Fiat E-Ducato dimensions page.
Fiat E-Ducato battery packs and driving range
There are two battery sizes – a smaller 47kWh battery pack and a larger 79kWh battery pack. They mount under the van, so whichever you go for it won't have any impact on the load space, which is exactly the same as what's available from the diesel models.
The smaller 47kWh battery promises a WLTP riving range of 88-108 miles per charge, while the larger 79kWH battery is reckoned to do 147-175 miles per charge – all depending on exact variant.
Stick to city driving, and Fiat says you might even get 230 miles out of the big battery, which ought to be more than enough for a daily courier or parcel delivery route.
Fiat E-Ducato charging time
Using a 50kW DC rapid charger of the type found on the public charging network, it will take 30 minutes to add 60 miles of driving range.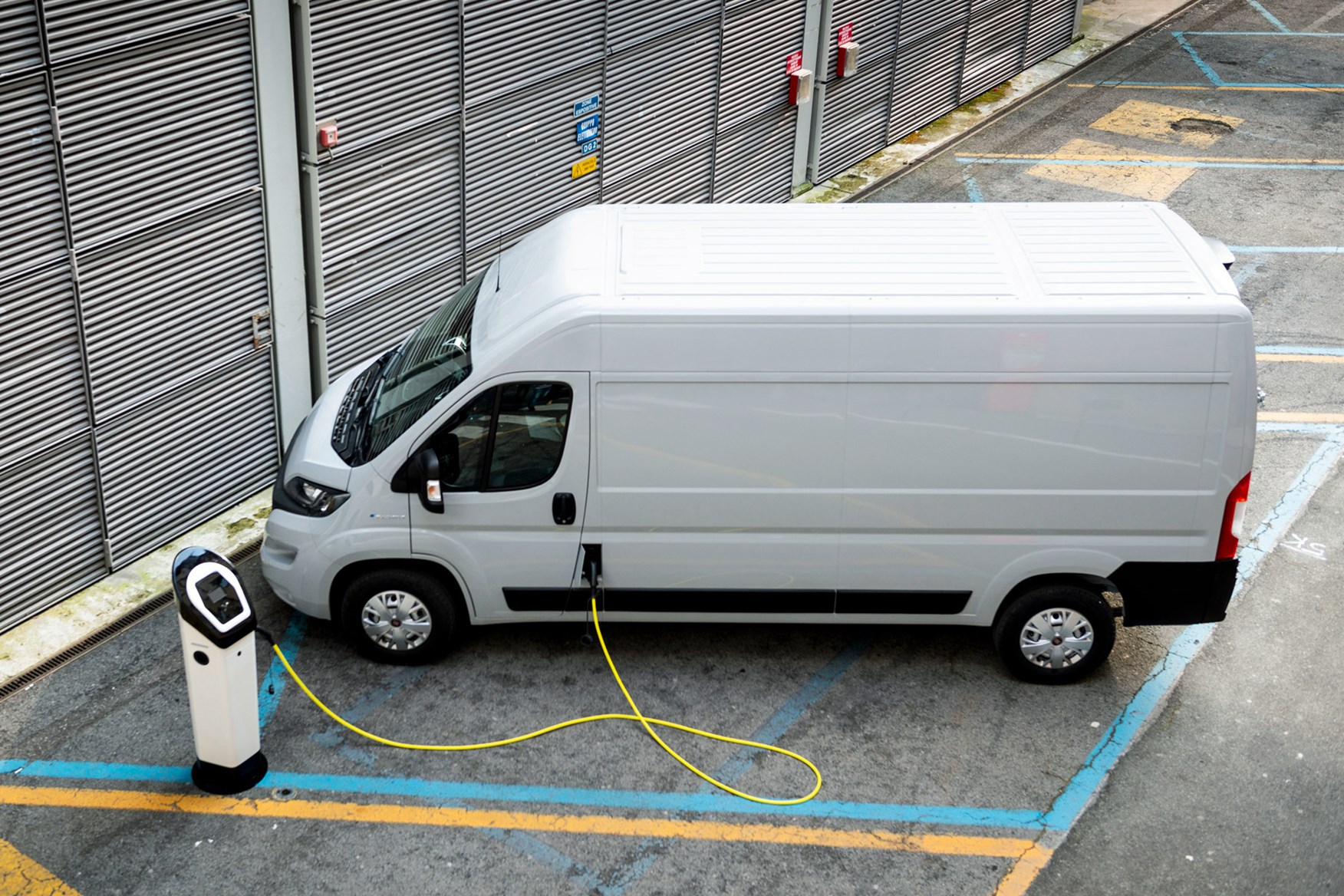 These vans are more likely to be recharged overnight on a less potent AC charger, however, with options 7kW, 11kW and 22kW available onboard the E-Ducato. These will deliver a full charge in eight hours at their slowest, though on a 22kW supply the smaller battery will need just two hours 25 minutes to fill up.
Fiat E-Ducato rivals
The amount of choice available from the E-Ducato makes a mockery of many rivals. The Mercedes-Benz e-Sprinter, for example, only comes in a single variant, has a maximum claimed driving range of just 96 miles and a payload rating of just 774kg.
And while the Renault Master ZE does give buyers plenty of versions to choose from, its official driving range is just 124 miles – and Renault reckons around 75 miles is more realistic in actual use.
There are plenty more large electric vans on the horizon, though, including the Ford E-Transit, which is promising a 217-mile driving range and comes with a 269hp motor…
>> The best electric vans you can buy now
---
Verdict: is the Fiat E-Ducato electric van any good?
As far as large electric vans go in 2021, the E-Ducato is an excellent choice. While it's not cheap to buy, the pricing isn't at all outrageous for an electric van of this type, and in terms of specification and capability you are getting good value for your money.
At the moment, we feel this makes it the best large electric van of the bunch – though competition is bound get hotter when the Ford E-Transit arrives in 2022.
Skip to our full verdict on...
Electric motor makes for smooth, easy-going driving experience
Not that fast, but choice of driving modes helps manage performance
Stable in the turns, and more comfortable than a diesel Ducato
While basically similar to driving a regular Ducato, the electric version has its quirks. But though it will take longer to refuel than a diesel, used in the right way you'll avoid range anxiety and enjoy a generally nicer driving experience.
Fiat E-Ducato electric motor and performance
The only motor option for the E-Ducato is a 90kW / 122hp unit that powers the front wheels via a single-speed transmission.
Performance is not startling – top speed is restricted to 62mph to maximise driving range (56mph on heavier models), and it takes around 6.0 seconds to reach 30mph. With 280Nm of torque available instantly, it responds a little more quickly than that suggests, but if you're planning to make the most of the payload capacity you shouldn't expect to get anywhere in a hurry.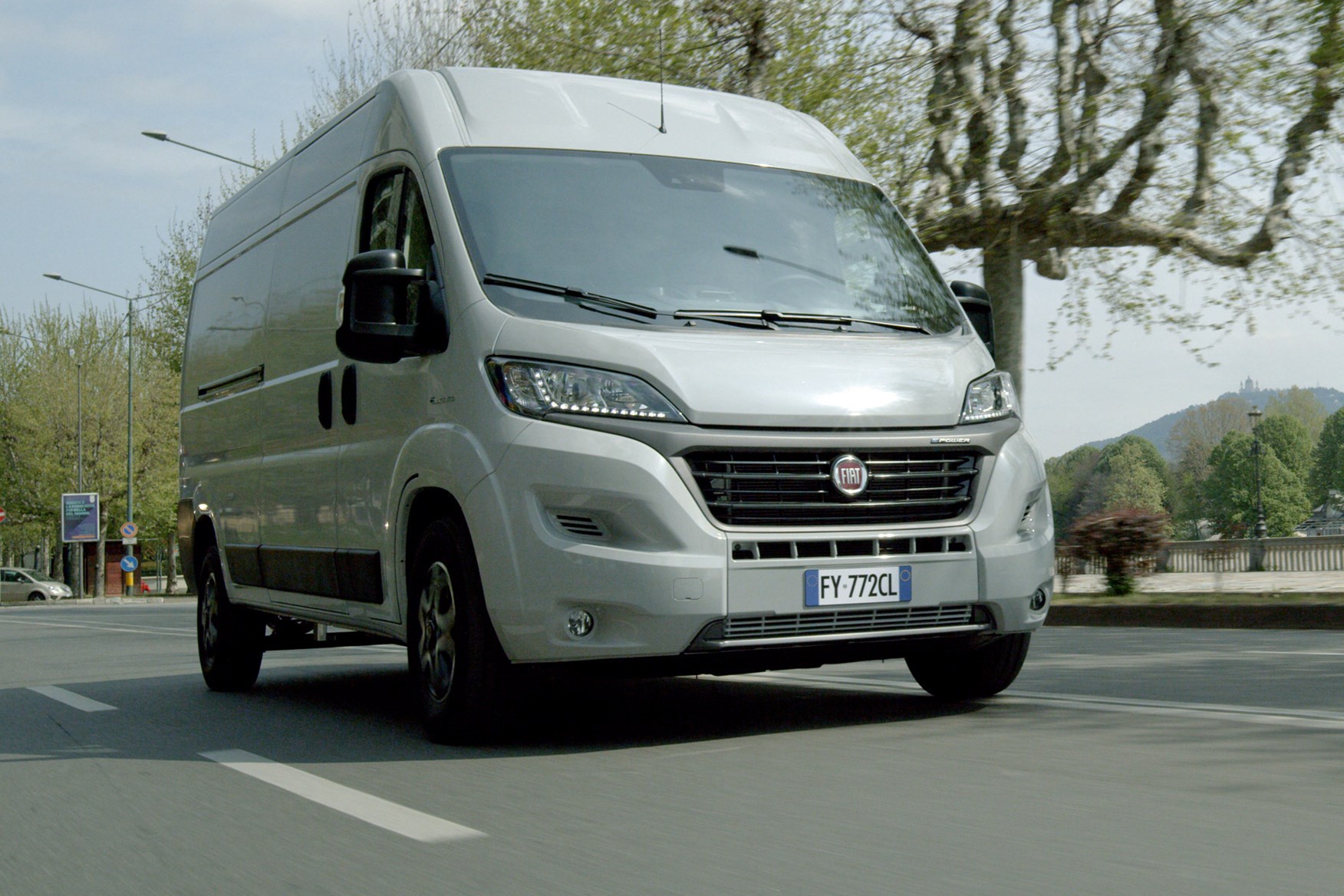 To start the E-Ducato you need your foot on the brake and the gear selector in the right position. This would seem obvious, but as with some Fiat cars, it's not a conventional automatic gear lever that has to be left in Park when you switch the van off – so you might find it's been left in Drive.
A message appears in the instrument display when it is all ready to go, which is actually handy, because it's so quiet at a standstill you wouldn't otherwise know that it's started.
This silence continues until the speed rises enough for tyre roar and wind noise to become audible in the cabin. Compared with a diesel Ducato, it remains remarkably quiet even going full speed, but the real bonus is the near total absence of vibration, making the E-Ducato a far more pleasant experience overall, if you can cope with the lower top speed.
Fiat E-Ducato driving modes
To help you manage battery life and optimise performance, the E-Ducato comes with three selectable driving modes and a special automatic 'Turtle' mode should that battery life become critical.
The selectable driving modes are split between Normal, Power and Eco, which perform as their names suggest – Normal being ideal for ordinary operation, Power intended for heavy payloads and steep hills, Eco for extended driving range.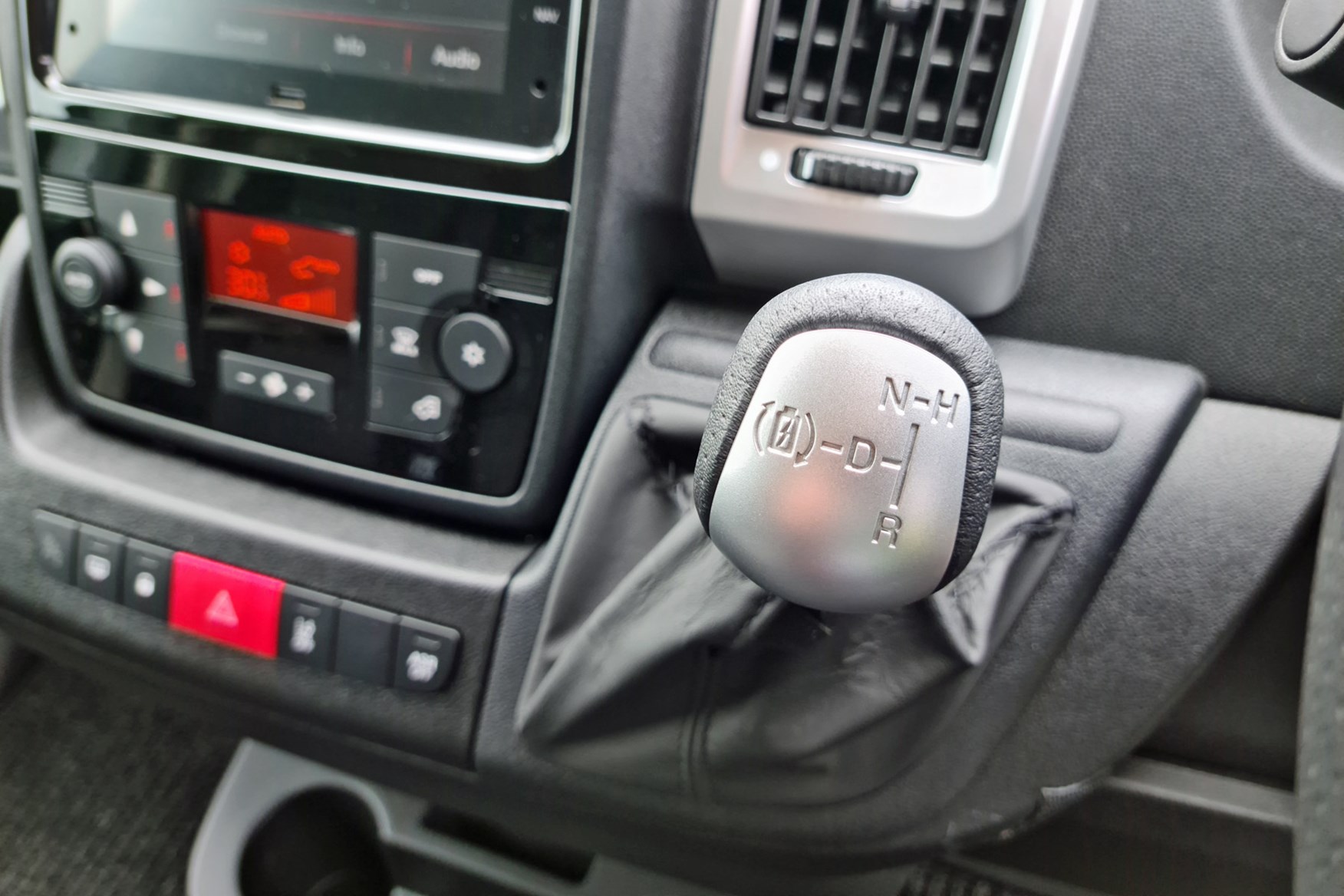 An 'e-Braking' setting is also available. Similar to the B mode in other electric vehicles, this uses 'negative torque' from the electric motor to slow the van more quickly, recuperating energy back into the batteries in the process. This saves wear and tear on the mechanical brakes and increases your driving range.
Fiat E-Ducato cornering and comfort
Having the big lithium-ion battery pack mounted under the floor of the van dramatically lowers the centre of gravity, giving an empty E-Ducato greater cornering stability than a conventional model.
This will change as the van is loaded, but that low-down weight is still an advantage to the electric models. This is not the same as saying it doesn't lean in the turns – you'll find it does, and considerably, if driven hard – rather that it clings on to the road more convincingly than a diesel equivalent.
The heft of those batteries also helps the ride comfort, which means that an unladen E-Ducato rides bumps better than a diesel, too.
The steering and turning circle is ok for a large van, though it will require plenty of wheel-twirling in tight urban manoeuvres, and doesn't the have the car-like directness or feel of a more modern van design, such as the Volkswagen Crafter.
Standard Ducato interior adapted for electric van use
Includes built-in connectivity and central touchscreen
Solid construction and (mostly) sensible design
The interior of the E-Ducato is regular E-Ducato with a subtle twist. It's tough and practical rather than plush, with plenty of useful storage options around the cab.
The E-Ducato comes in two trim levels: standard and eTecnico. Both come with a built-in touchscreen infotainment system, though the eTecnico's is a 7.0-inch unit rather than a 5.0-inch, and includes useful extras such as Apple CarPlay, Android Auto and satellite-navigation – not to mention a rear-view camera (there's more on fitted kit in the Costs section below).
Any changes inside for the electric Ducato?
The main instrument panel has been mildly modified to show important electric van stuff, such as remaining battery level and driving range.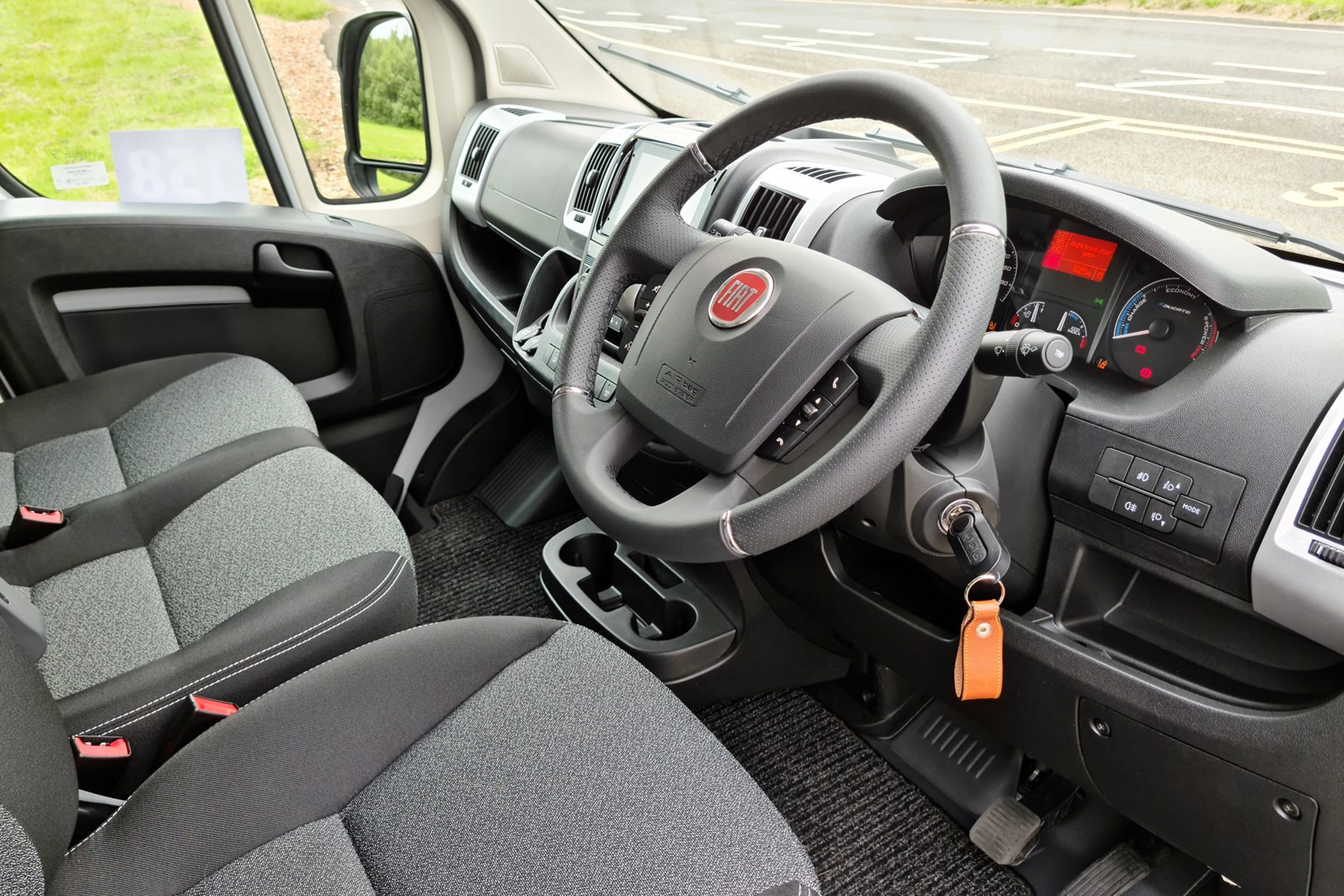 All versions of the E-Ducato also come with a small additional 'Mopar Connect' screen on the top of the dashboard in the corner by the driver's windscreen pillar.
This gives you specific electric van info and functions as a connectivity hub between the van, smartphone apps and fleet management tools. A 12-month Mopar Connect subscription included in the price of the van; you'll have to pay an extra fee to continue with the services after that.
Is it easy to get used to?
It's all very straightforward – and though the gear selector is a little unusual, as we've mentioned, this isn't likely to cause you any difficulties.
Forward visibility is good, thanks to the high seating position and relatively low dashtop, while the available blindspot monitors and parking aids (both standard on the eTecnico) help reduce the intimidation of the E-Ducato's size.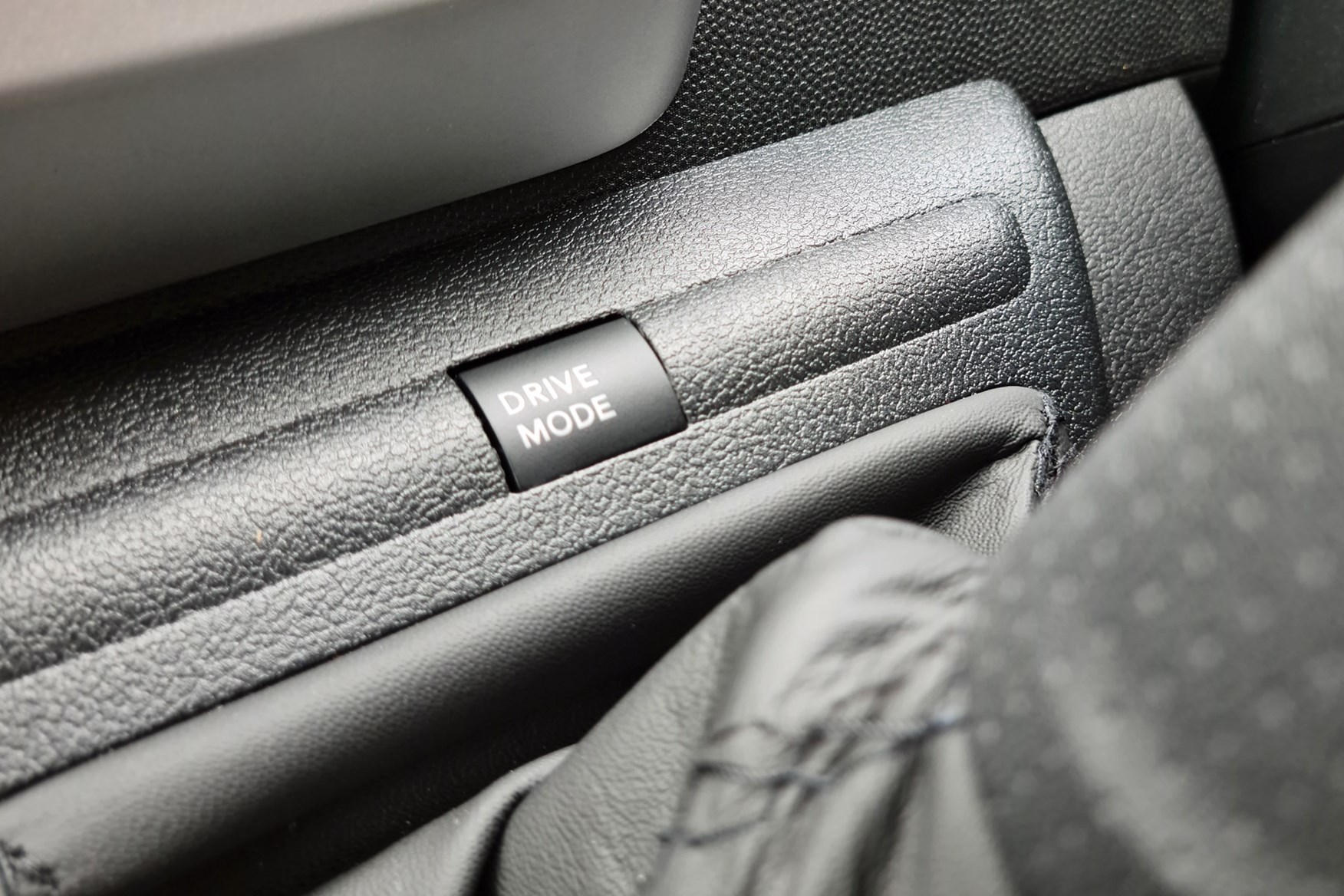 The oddest thing in the cabin is probably the position of the drive mode switch, which is hidden away behind the gear lever rather than falling easily to hand.
Potential for big savings in running costs
Five-year warranty and servicing package
Two trim levels with plenty of standard kit
As with all electric vans, the E-Ducato is not a cheap purchase. However, Fiat claims that due to the lower cost of electricity compared with diesel, your 'fuel' savings could be as much as £13,000 over 95,000 miles.
Now, as with all manufacturer running cost claims, you should take that with a pinch of salt. But, if you charge sensibly – which means avoiding expensive public rapid chargers as much as possible – it is true that the cost-per-mile of an electric vehicle is much lower than a diesel equivalent. Go for an electricity tariff that's designed with electric vehicle charging in mind to make the most of this.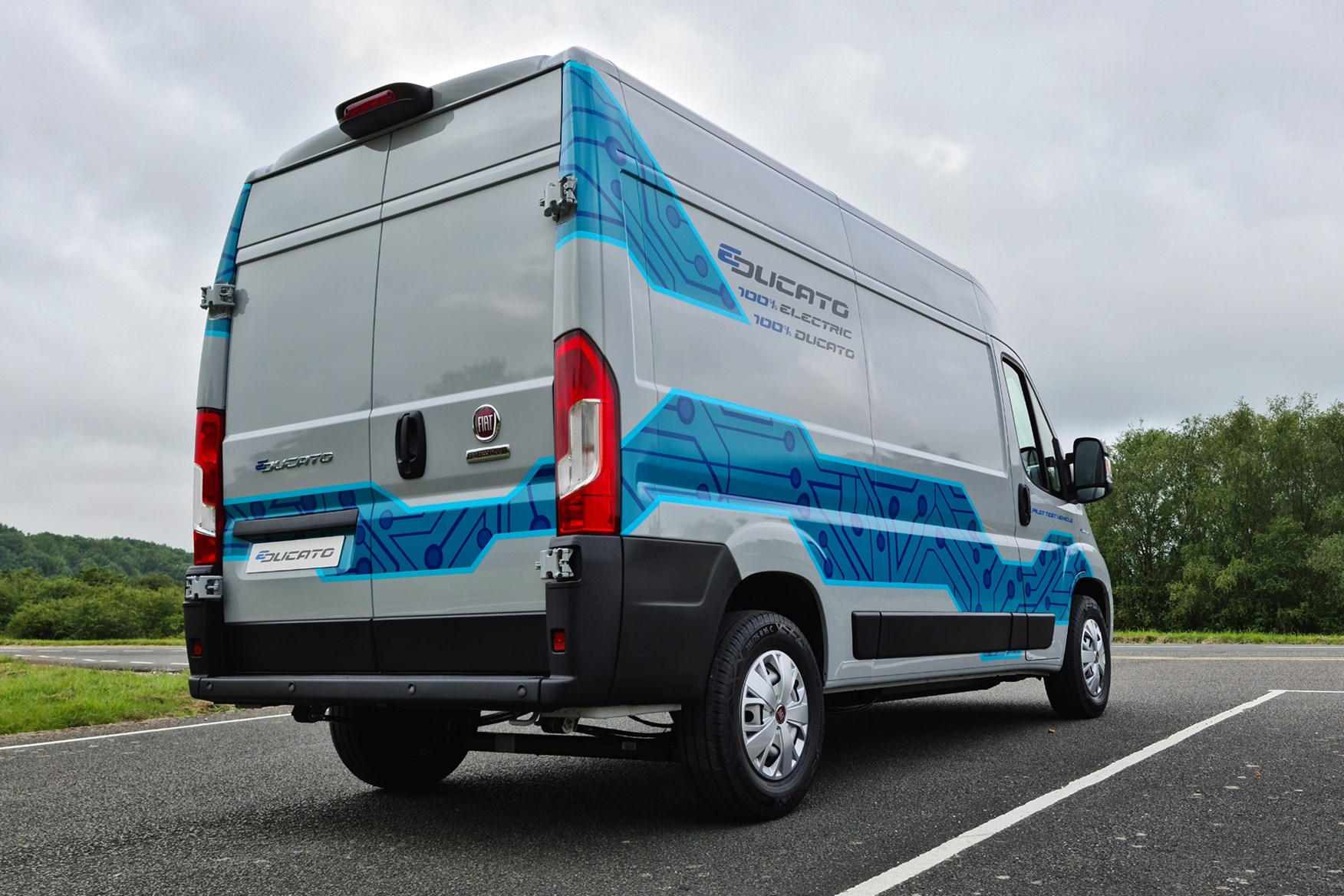 In the future, Fiat will also make the E-Ducato compatible with 'vehicle-to-grid' systems, which means electricity stored in the van could be fed back into the electric grid in order to support periods of high demand.
This might sound strange, but if you were to fill the batteries at off-peak electricity prices and then sell the electricity back during peak time, you could theoretically run the van at a profit. File that under 'believe it when you see it' for now, but this is another potential advantage of electric vehicles.
How much does the Fiat E-Ducato cost?
At the time of writing, the Fiat E-Ducato is priced from £55,675 excluding VAT for the cheapest 47kWh version. That's more than a Mercedes-Benz eSprinter but the Fiat comes with considerately greater capability. That's before the application of the UK government Plug-in Van Grant (PIVG), too.
Want the 79kWh version? Then you're looking at a minimum of £68,175 without the PiVG. Upgrading from the standard 3,500kg gross vehicle weight (GVW) to the higher 4,250kg GVW costs £2,800.
Fiat E-Ducato warranty and servicing
The E-Ducato gets the Fiat 5-5-5 package – which includes a five-year warranty, five years of free servicing and five years of roadside recovery.
The 47kWh battery pack is covered for eight years, while the 79kWh battery is covered for 10 years.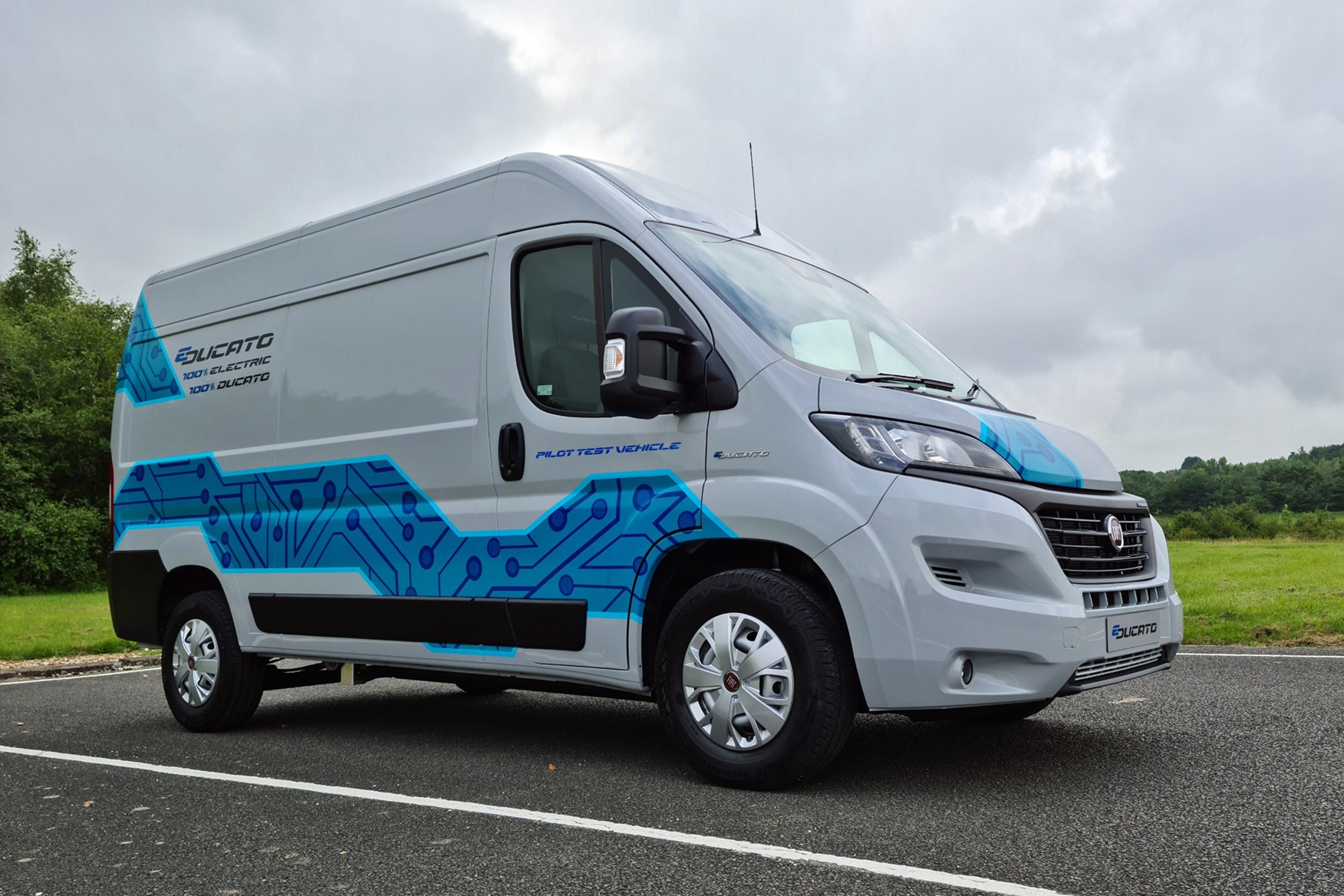 While you don't need to worry about the cost of the first five services, it is also good to know that Fiat says the E-Ducato should be 40% cheaper to maintain than a diesel model. This is thanks to the reduced number of moving parts, there being no oil to change, and less wear and tear on items such as brakes.
Fiat E-Ducato standard equipment
The E-Ducato comes in two trim levels, standard and eTecnico. These are the highlight items of standard equipment.
Fiat E-Ducato standard equipment highlights:
Driver's seat armrest and lumbar support
Dual passenger seat
Heated door mirrors
5.0-inch touchscreen infotainment system with DAB and Bluetooth
Automatic climate control
Tablet holder
USB charging port
Mopar Connect with 12-month subscription
7kW on-board charger for 47kWh battery models
11kW on-board charger for 79kWh battery models
Mode 3 charging cable
LED lighting in load area
Sliding side loading door on passenger side
Full steel bulkhead
Convertors plug
Fiat E-Ducato eTecnico standard equipment highlights:
7.0-inch touchscreen infotainment system with Apple CarPlay, Android Auto and sat-nav
Rear camera
Reversing sensors
Ducato embroidered headrests
Front foglights
Electric folding heated door mirrors
LED daytime running lights
Leather steering wheel
'Techno' dashboard with chrome trimmings
11kW on-board charger for both battery sizes
For details of safety and security equipment, see that section below.
The Ducato hasn't graced our top 10 list of the most reliable vans in the last several years, but Fiat has been building it a long time – and the Peugeot Boxer that's based on the Ducato was ranked seventh in 2020.
We'd expect most of the fundamental mechanical kinks to have been worked out by now. But the electric drivetrain the E-Ducato uses is new in 2021, which makes it something of an unknown at this stage.
On the plus side, electric motors have few moving parts and are fundamentally more reliable than diesel engines. On the negative side, lithium-ion batteries are heavy, placing continuous strain on the chassis.
The Fiat 5-5-5 warranty, servicing and roadside-recovery package should serve as some reassurance, regardless.
We'll keep our eyes peeled for all the latest reliability info on the E-Ducato, and report back here. If you've got one, let us know how reliable its proved via the Parkers feedback email address.
Plenty of modern safety kit for electric Ducato
No alarm as standard on the entry model
Although the underlining Fiat Ducato is one of the oldest van platforms on sale, the E-Ducato has been loaded with an impressive amount of safety equipment.
Fiat E-Ducato safety equipment
All of the following is fitted as standard:
Lane Departure Warning system
Advanced Emergency Braking (autonomous emergency braking)
Traffic Sign Recognition
High Beam Recognition (automatic main beam activation)
Automatic lights and wipers
Electronic stability control
Driver's airbag
However, it's possibly worth noting that Fiat only includes a 'Fix & Go' tyre repair, rather than a proper spare wheel.
All versions of the E-Ducato are fitted with a fixed speed limiter. This restricts 3,500kg GVW versions to 62mph, while the heavier 4,250kg GVW models are limited to 56mph.
The 4,250kg versions come with a Smart Tacho as standard.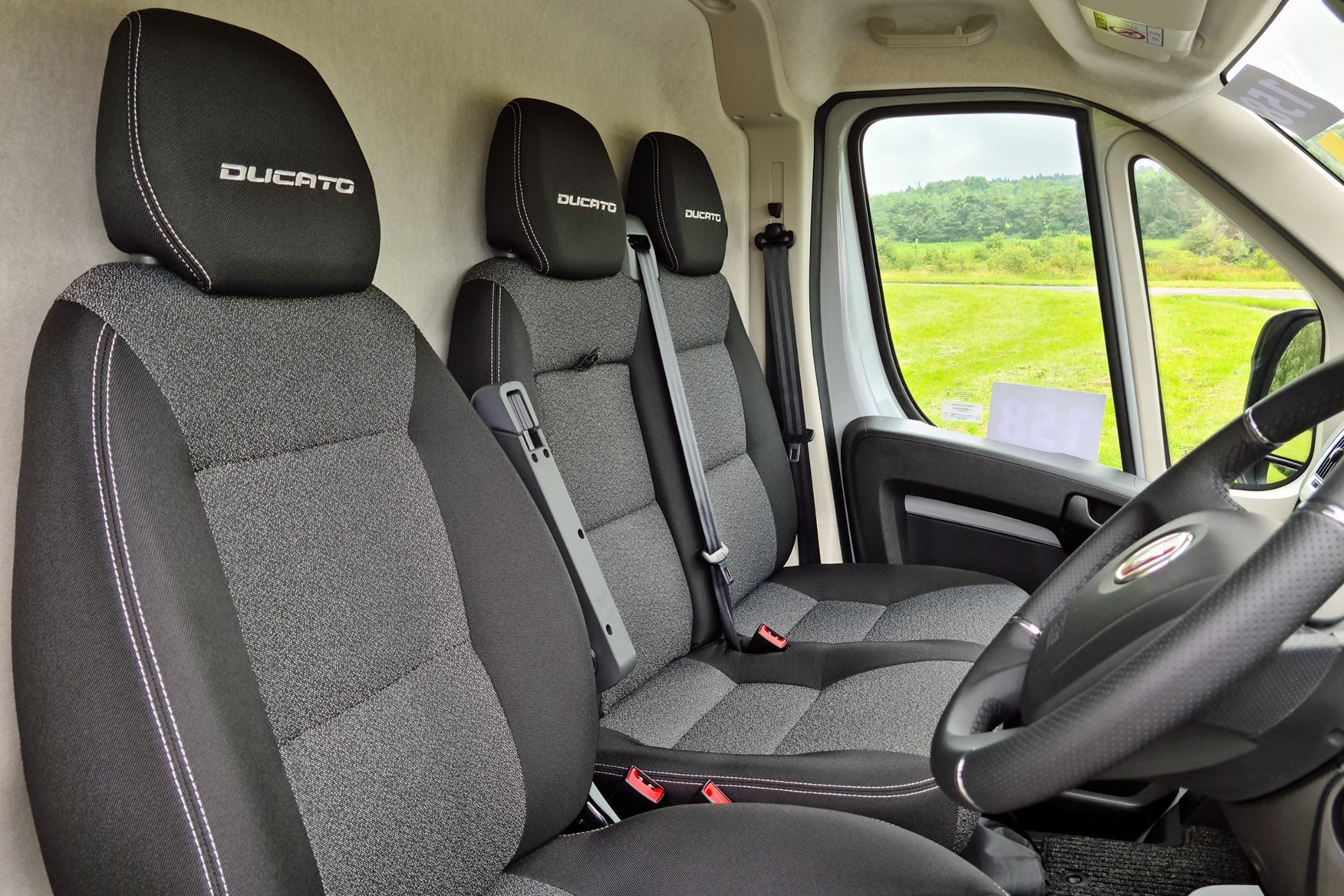 E-Ducato panel vans in the higher grade eTecnico specification also come with blindspot monitoring and rear cross-traffic alert (Fiat calls this Rear Cross Path Detection); the latter detects approaching vehicles and people when reversing, helping you to safely back out of parking spaces.
Fiat E-Ducato security equipment
Standard models come with deadlocks, but you'll have to upgrade to the eTecnico to get a factory fitted alarm.
As ever, we'd recommend upgraded security anyway – check out our van security guide for more info.
Which Fiat Ducato E-Ducato is best for me?
With only one electric motor to choose from, figuring out which E-Ducato is best for you comes down the size you need, combined with whether payload or driving range is a priority.
It will go further per charge with the bigger battery pack, of course. But it will also carry substantially less payload, so it's a question of how much you really need the reassurance of that extra driving range versus a realistic consideration of your loading requirements.
Fiat has web tool and app called Pro Fit, which can help you work all this out by analysing the kinds of journeys your existing vans are doing.
Also read:
>> Fiat E-Ducato dimensions, payload and load area information
>> The best electric vans you can buy now
>> Future electric vans coming soon