Ford Transit Custom review (2020)
The best medium van all-rounder on sale? We think so
PROS
Comfortable and easy to drive
Modern looks and features
High tech inside and under bonnet
Lots of dealers, strong value
Impressive payload ratings
CONS
Cab not that practical pre-2018
Some security concerns
Oil service issues on Euro 6
Injector issues on Euro 6
Bouncy ride when unloaded
Summary
The Ford Transit Custom is the UK's bestselling van and the winner of the 2020 Parkers Medium Van of the Year award. This review deals with the whole Transit Custom range, including the 2018 facelift and the 2019 engine upgrades. Changes for 2020 include the introduction of two new specialist models - the Transit Custom Trail and the Transit Custom Active (see below).
However, for extensive details and driving impressions of Ford's unique petrol-electric PHEV van see our separate Transit Custom Plug-In Hybrid review.
What's new for 2020?
In June 2020, Ford launched two interesting new versions of the Transit Custom, the Trail and the Active.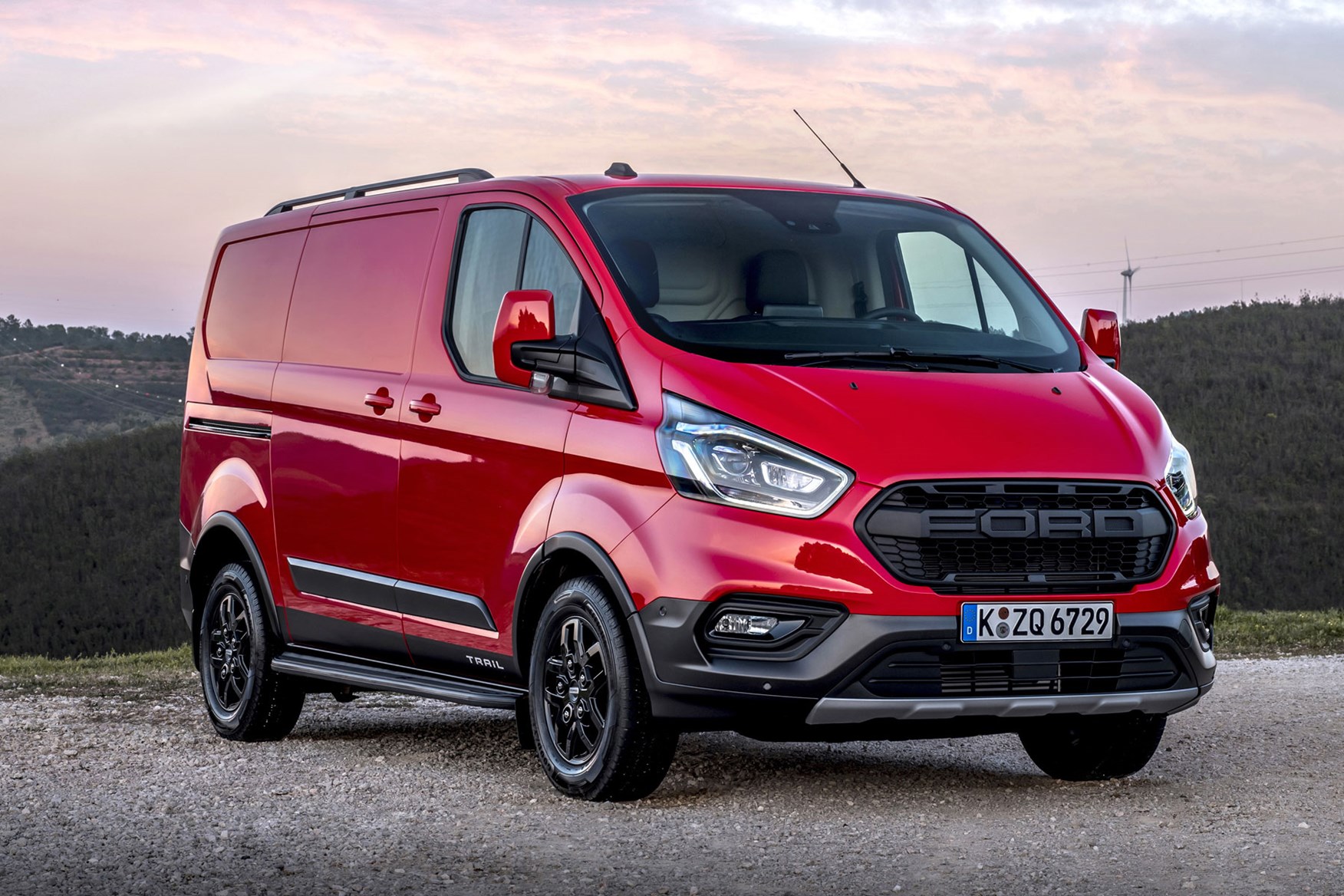 The Transit Custom Trail (pictured above) is aimed at working operators who need a tough van with greater traction capability than a standard model. To this end it's fitted as standard with a mechanical limited slip differential (mLSD) as well as upgraded bodywork - including that bold FORD grille - and an easy-clean leather interior.
The Transit Custom Active (pictured below) is aimed more at adventurous lifestyle buyers, and features SUV-inspired styling that Ford hopes will appeal to mountain bikers, wind surfers and the like. The mLSD is optional on these. You can also get a Tourneo Custom Active that seats up to eight.
What's more, in June 2020 Ford announced it would be making the FordPass Connect on-board modem system standard equipment, allowing more people to take advantage of the FordPass Pro app. There is a security-increasing Guard Mode coming later in the year as a free update to this, too.
With substantial updates to the engine line-up in 2019, there are unlikely to be any changes under the bonnet in 2020. However, you should soon also be able to order a sporty-looking MS-RT model direct from any Ford dealer as well. The Transit Custom truly is a van for all kinds of customers.
Ford Transit Custom 2019: more powerful engines and new EcoBlue Hybrid tech
Following swiftly on from 2018's major facelift (detailed below), Ford brought in more updates to the Ford Transit Custom for 2019, focused on further improving the engine range.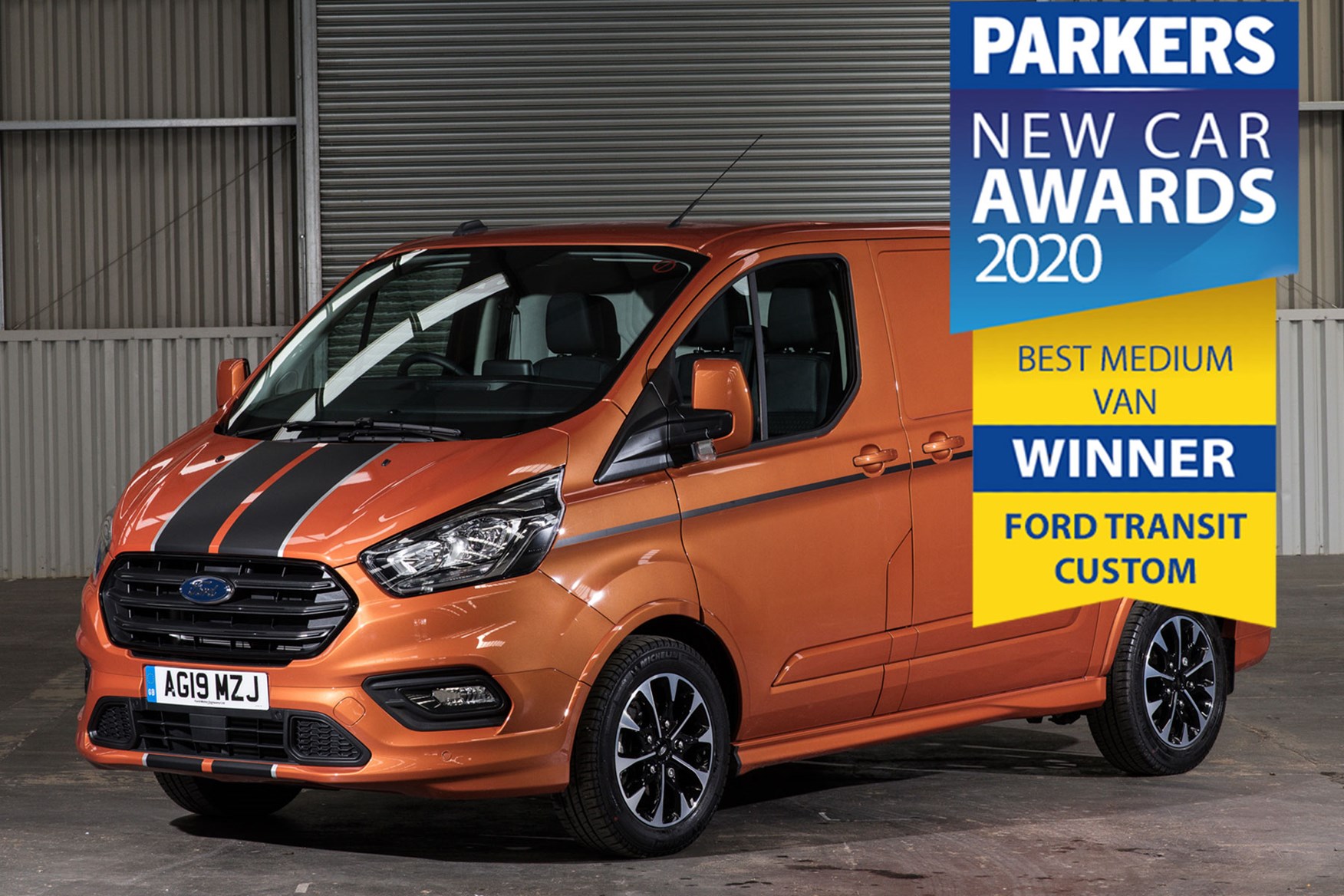 The headline news here was the introduction of an even more powerful 185hp / 415Nm version of the 2.0-litre EcoBue diesel. But in fact every Transit Custom got an upgrade, thanks to new turbochargers that deliver greater torque, plus improved injectors, new pistons and an on-demand oil pump.
This should result in better real-world fuel economy, according to Ford.
On top of this, there's a new Transit Custom mHEV 'mild Hybrid Electric Vehicle' package, an option on some engines that adds a clever starter-generator system and a small lithium-ion battery pack in an effort to save even more fuel. When fitted, these vans are badged EcoBlue Hybrid.
The 2019 Ford Transit Custom is also available with FordPass Pro connectivity including on-board Wi-Fi, and some enhanced safety systems.
What is the Ford Transit Custom?
Introduced in 2012 (as per the image below), the Custom effectively split Ford's traditional Transit van range in two – with the Custom taking on the medium or 'one-tonne' van segment, leaving the full-size Transit to concentrate on the large van or 'two-tonne' market.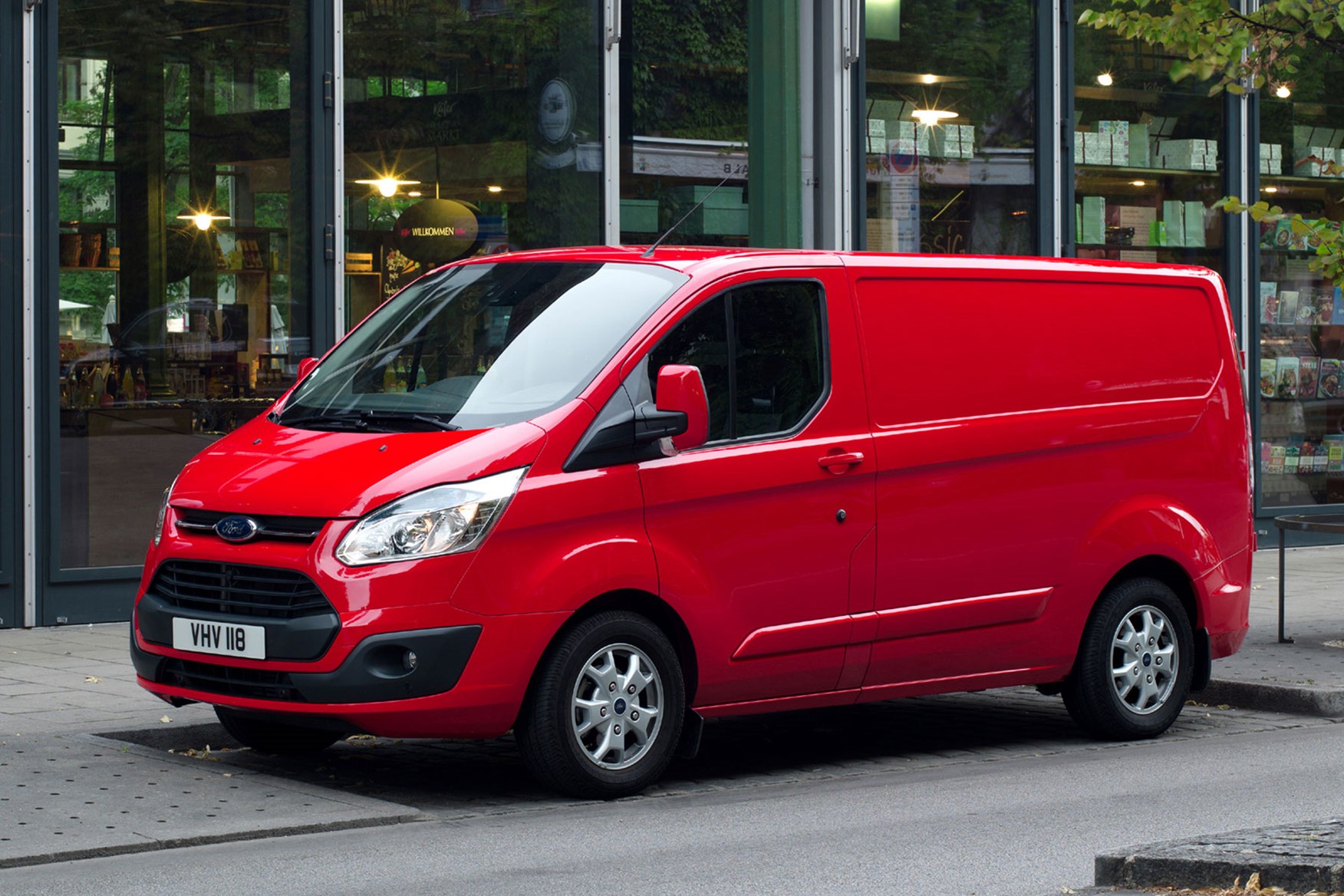 This means that from the smallest to the largest, the Ford light commercial vehicle (LCV) range now looks like this:
Major rivals for the Transit Custom include the Volkswagen Transporter, Vauxhall Vivaro, Renault Trafic and Mercedes-Benz Vito.
Described at launch by Ford of Europe CEO Stephen Odell as 'A stylish, modern van that customers will be proud to have on their driveway, with the hard-working attitude they expect from a Transit,' the Custom excels as a complete all-rounder.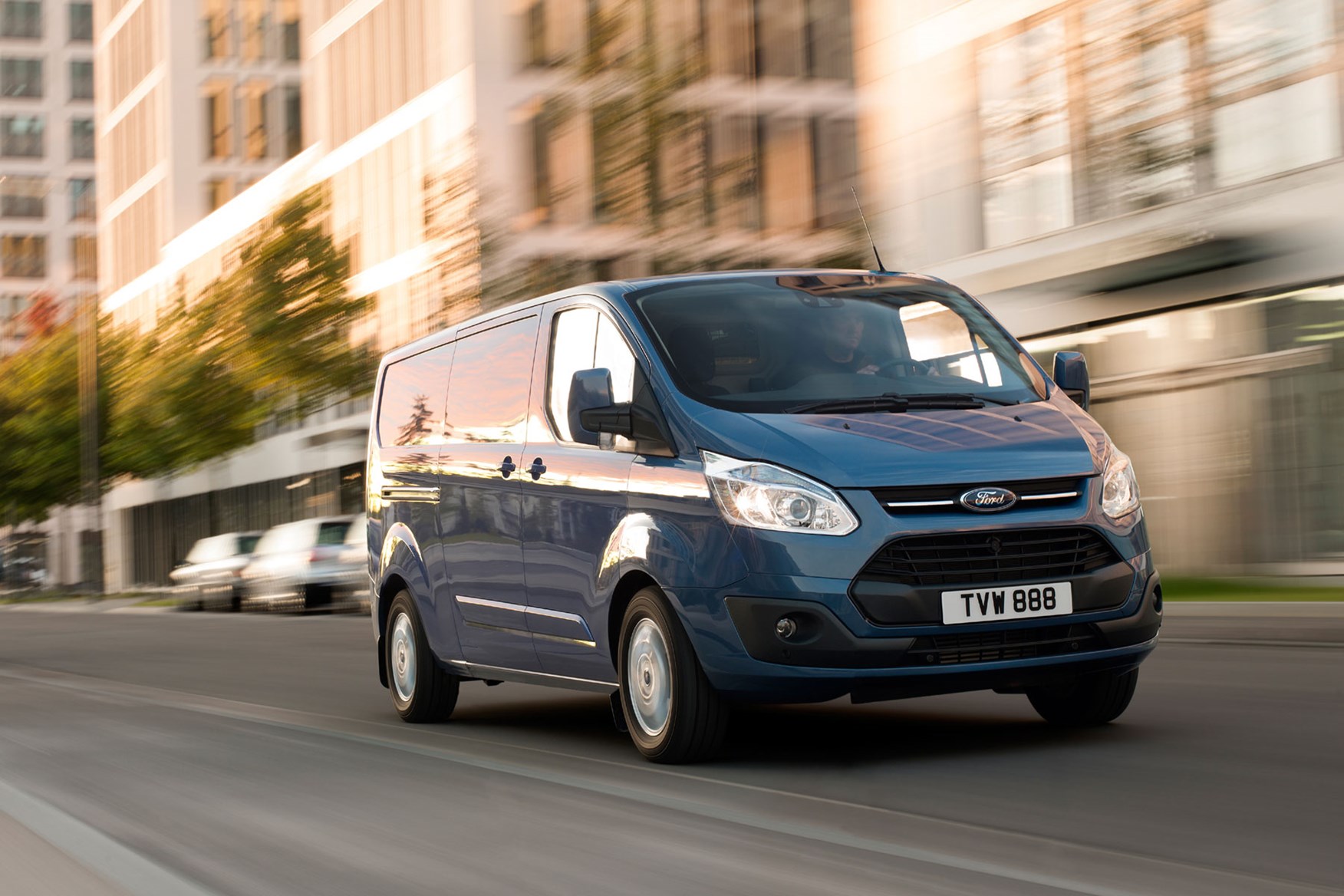 Not only does it have one of the highest payload ratings in the medium van class and great availability through Ford's large Transit Centre dealer network, the Custom also looks and feels far more modern inside and out than most vans. It is even rather good fun to drive.
Ford Transit Custom 2018 facelift review details
As a total package, the Transit Custom has always been tough to beat. But while the original 2012-2017 cab design is okay to look at, it is not especially practical, with small, fiddly buttons and limited storage space.
The 2018 facelift – or MCA (mid-cycle action) in Ford-speak – resolved this issue with a full interior redesign, which now offers class-leading amounts of in-cab storage and updated infotainment options.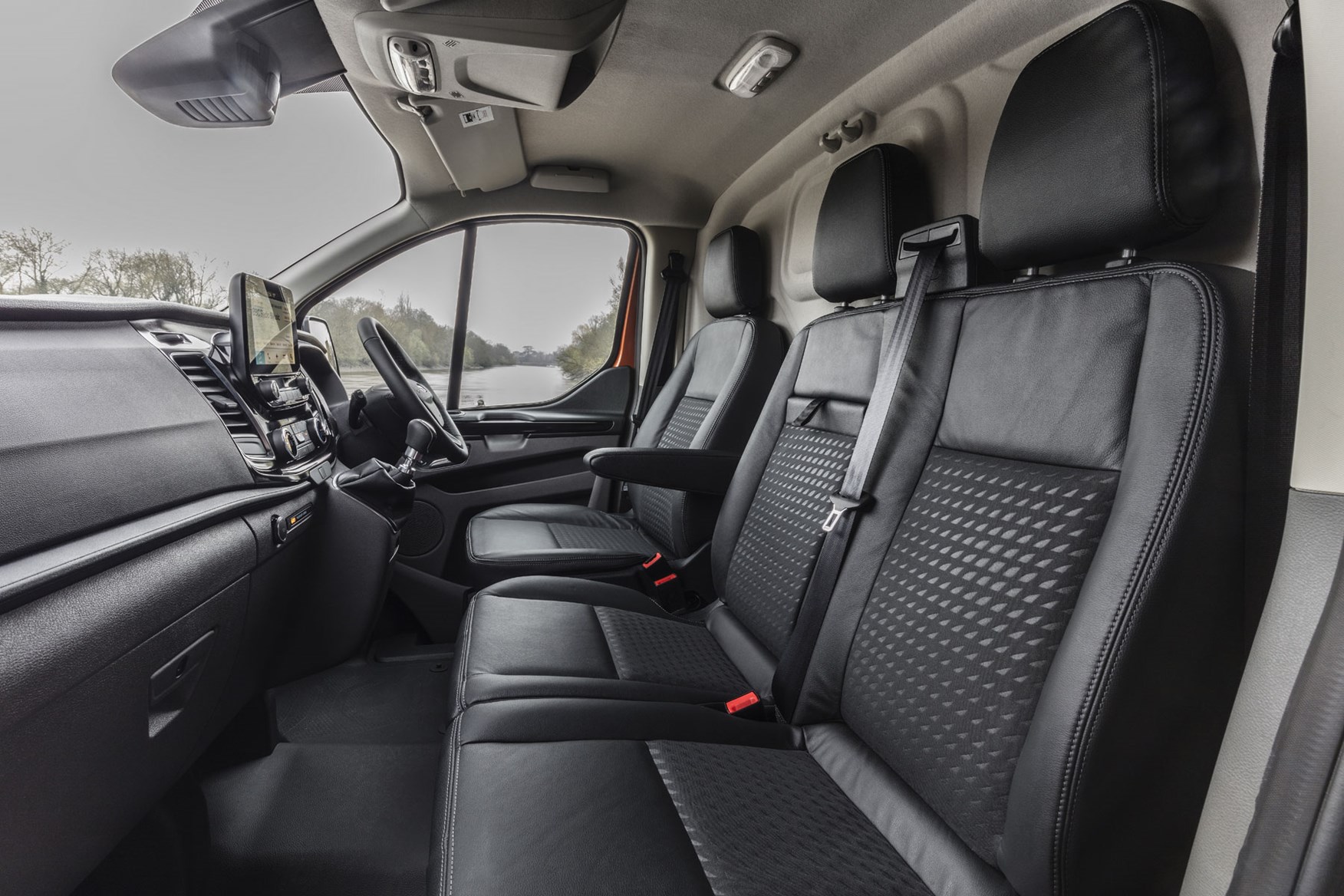 It also still avoids looking too much like a commercial vehicle, something Ford knows is important to Transit Custom buyers.
On top of this, the 2018 refresh brought a new front-end design on the outside that more closely matches the latest Ford car design language. Key elements include the high-mounted three-bar grille and slim headlights with distinctive LED dayltime-running lights on most models.
You might also have noticed that the lower centre section of the front bumper is unpainted now; it's also easily replaced, a design detail intended to solve the occasional grounding damage these can be subject to on building sites or when brought into contact with high kerbs.
Other changes include flush-mounted rails for the side doors - these previously stood proud of the body sides - and a revised bodykit and stripes for the range-topping Transit Custom Sport models.
The rear of the van and the fundamental engineering carry over from before, aside from a slight increase in structural rigidity to improve refinement and the re-introduction of a fuel-saving Econetic diesel variant.
Ford Transit Custom body variants and trim levels
In addition to the regular panel van, the Custom is also available as a Double Cab-in-Van (DCiV) and a Kombi. There's a Tourneo Custom passenger version, too.
The DCiV features a second row of seats, meaning space for up to six people with a separate load area complete with full-height bulkhead, while the Kombi has up to nine seats like a basic minibus.
All versions are available in two lengths (L1 and L2, also known as SWB and LWB for short- and long-wheelbase) and two heights (H1 and H2). Full details of these can be found on our dedicated Ford Transit Custom Dimensions page.
Ford Transit Custom trim levels are:
Leader (also known as Base)
Trend
Limited
Sport
Each version is comparatively well-equipped as standard, including remote locking, Bluetooth, dual front passenger seat, eight-way adjustable driver's seat and metal bulkhead (on the regular panel van and the DCiV).
There are plenty of cutting-edge options available as well, including Pre-Collision Assist and Active Braking autonomous emergency braking (AEB) technology (introduced in 2016).
Further high-tech safety aids were made available as part of the 2018 update, including Intelligent Speed Assist and blindspot monitoring with Cross Traffic Alert (see the Safety and Security section of this review for more details).
The eye-catching Sport (above), which features racing stripes, a bodykit, lowered suspension and large alloy wheels, was initially only available as a single model, but choice was expanded to six versions in December 2016.
A limited run of distinctive Colour Edition Transit Customs was announced at the same time.
Ford Transit Custom engine choice and history
From launch in 2012 until late 2016, all Transit Custom were powered by a 2.2-litre TDCi turbodiesel engine, available in three power outputs: 100hp / 310Nm, 125hp / 350Nm and 155hp / 385Nm.
This Euro 5 engine was officially replaced when the Euro 6 emissions regulations were introduced in September 2016 – though you will likely find Euro 5 registrations continued well into 2017 as dealerships worked through their stock.
Newer Euro 6 Transit Customs are powered by a 2.0-litre TDCi EcoBlue turbodiesel, known internally as the Panther engine.
Despite its smaller size, this new motor offers more power with less noise. It too came in three versions initially – 105hp / 360Nm, 130hp / 385Nm and 170hp / 405Nm – but what's particularly impressive is the 20% increase in torque (pulling power) at lower revs, making it easier to get heavy loads moving.
In late 2019 these engines were overhauled for further improvements to efficiency, and a 185hp / 415Nm version was added at the top of the range.
A six-speed automatic gearbox was also introduced for the first time alongside the 2.0-litre EcoBlue engine.
---

Ford Transit Custom verdict
From the way it drives to the amount it carries and its outstanding appearance, the Ford Transit Custom works hard for the success it's achieved in the showroom, and has established a loyal following among working operators and lifestyle buyers alike.
We see it as the place to start if you're in the market for a medium-sized van – every rival should be compared with this when considering which van best-suits your business needs.
Watch our video review of the Ford Transit Custom below, or keep reading for the full details about the Ford Transit Custom medium van on Parkers
Skip to our full verdict on...
All Transit Customs good to drive, Sport model best
2.0-litre engines are more responsive and powerful
Ride can be bouncy when van is empty
There's a school of thought that suggests it shouldn't really matter what a van is like to drive – since carrying stuff in the back with as little fuss as possible is the primary purpose of any LCV.
But ask Transit Custom owners and operators, and they'll all tell you that one of the things they like the most about Ford's medium van is how good it feels from behind the wheel.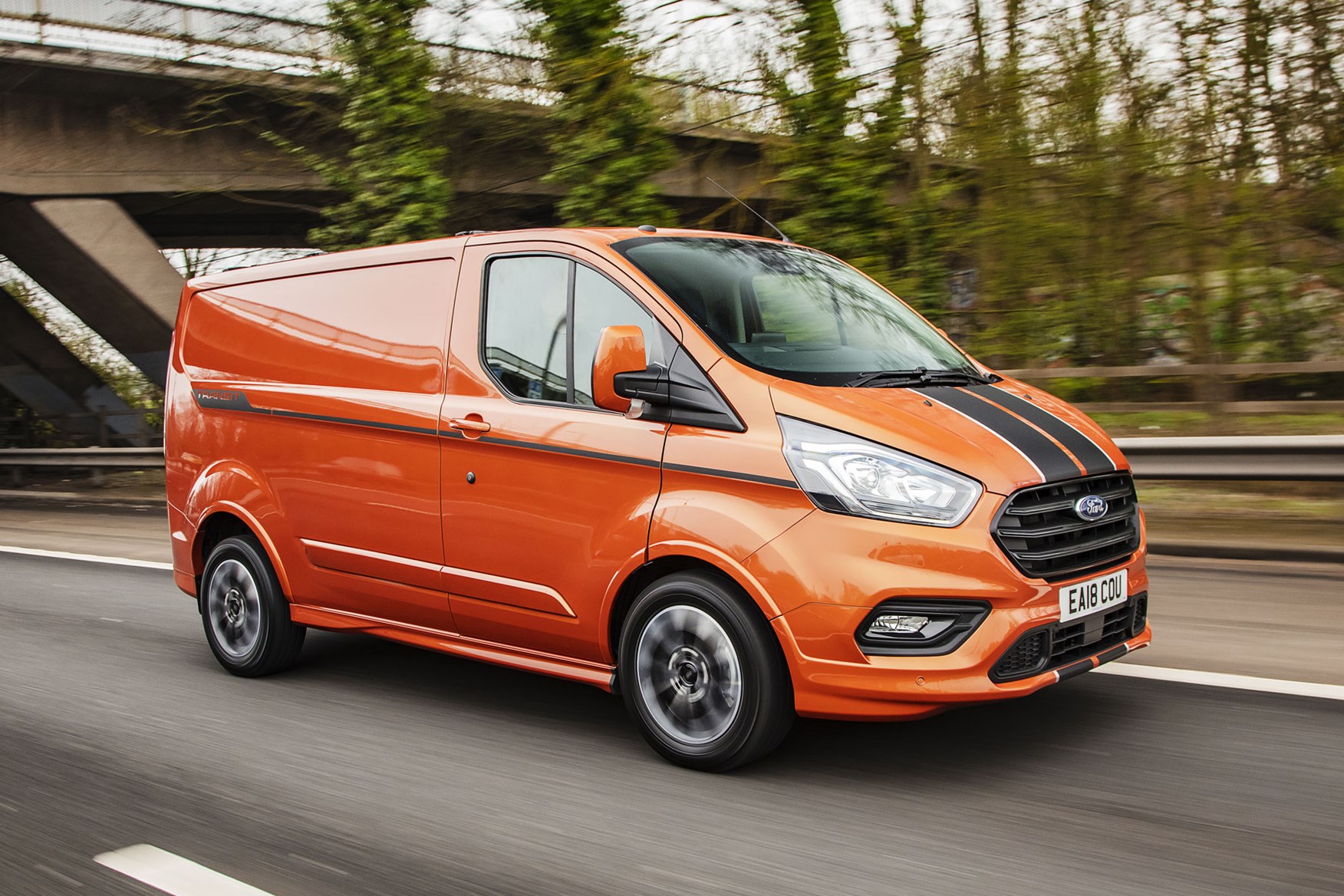 Basic competence in this area is obviously essential – a van that's easy to drive reduces driver fatigue. But the Transit Custom is actually fun.
What are the Ford Transit Custom engines like?
The engines help. There was nothing particularly wrong with the performance of the older 2.2-litre units, so if you're considering one of those don't be concerned. But the newer 2.0-litre motors develop more torque much earlier, so feel more energetic and smoother while also being quieter.
Most buyers go for the middle power output – so the 125hp 2.2-litre or the 130hp 2.0-litre – but if you can afford a punchier model with either 155hp (2.2-litre), 170hp or 185hp (2.0-litre) you won't regret it.
The less potent 100hp and 105hp models will cope with their stated weights ok, but expect them to be slow and thirstier for fuel when fully laden.
Alongside the addition of the 185hp engine, late 2019 also saw the introduction of mild hybrid (mHEV) technology. This EcoBlue Hybrid system available as an option on select models as means of further improving fuel economy.
We found it made little difference to the driving experience – to such an extent you'll be hard-pressed to know if the van you're in has it fitted.
Is the Transit Custom automatic gearbox worth buying?
The manual gearbox Ford fits as standard on all Transit Customs works just fine for a van. It's not the most precise thing in the world, but nor is it so vague that you need a map to find the next ratio.
In 2016, Ford added an optional six-speed automatic to the range - attractive to both lifestyle buyers and operators who do a lot of miles, especially where they might get stuck in traffic.
Again, this works fine, but it's nothing like as sharp or positive as the DSG autos that Volkswagen uses in the Transporter. In addition, the design of the gear selector means you often find you've accidentally stuck it into manual mode instead of drive when setting off, which gets rather annoying after a while.
Ford Transit Custom handling and ride comfort
Where the Custom particularly impresses is in the corners. It isn't quite on par with a car, but in van terms it's properly agile, resisting body roll like a champ while soaking up most bumps without complaint. In fact, when you've got a bit of load in the back, they actually ride very nicely, though they can be rather bouncy when empty.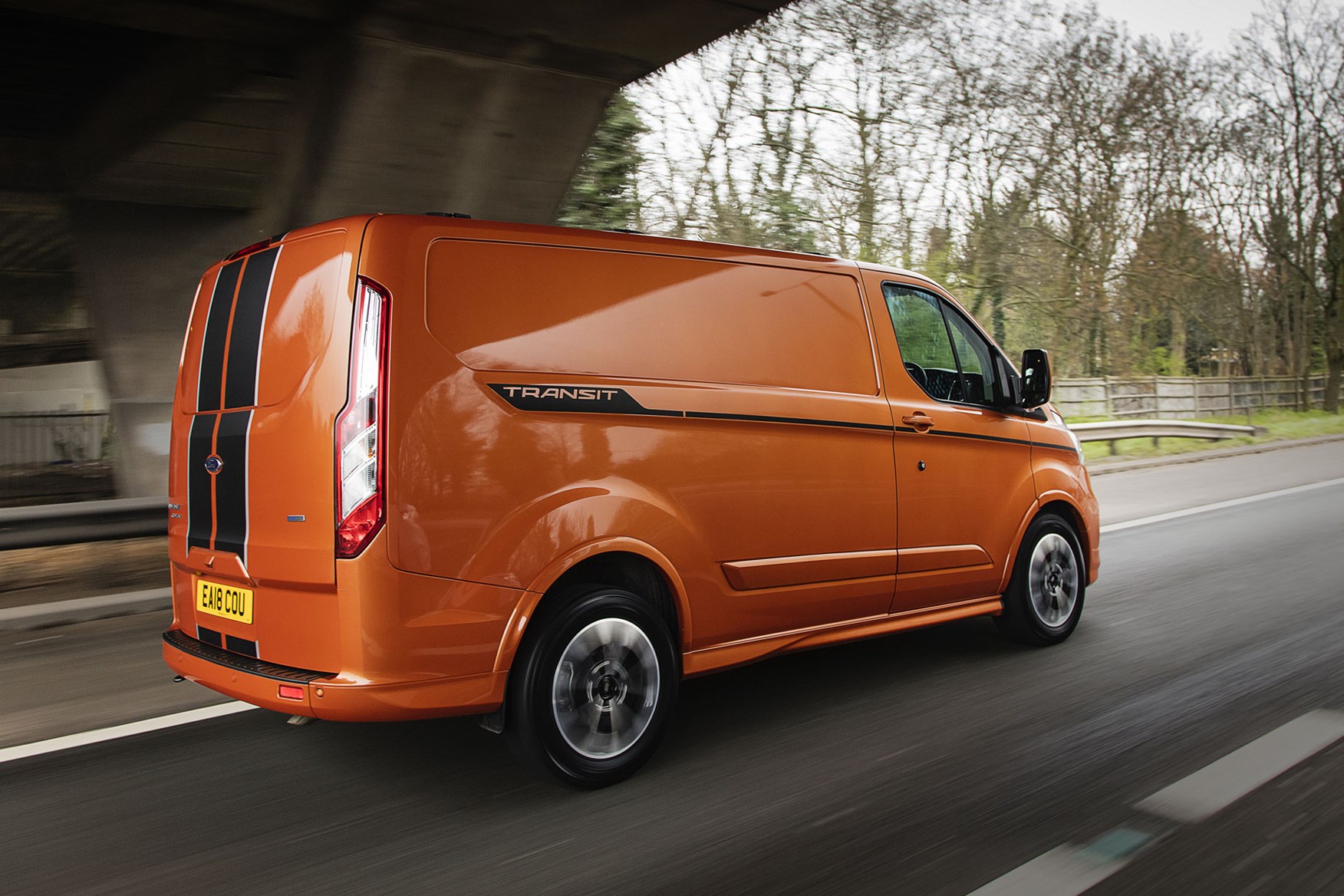 The Sport models take cornering a stage further, with upgraded suspension that is very effective at reducing the amount the van leans over in corners. Again, add some payload, and the ride is good in these, too, even with big wheels and stiffer springs and shock absorbers.
Is the Ford Transit Custom quiet inside?
This is a reasonably quiet van, which means you should reach the end of most journeys relatively fresh. The 2.0-litre models are generally more refined than the 2.2-litre models, though the revised 2.0-litre engines fitted from late 2019 do seem to have gotten a little noiser again, perhaps due to the higer-pressure injection system.
Regardless, noise from the tyres and road surface is well-suppressed. Although you will find high-roof H2 models produce more wind noise that probably won't be a surprise.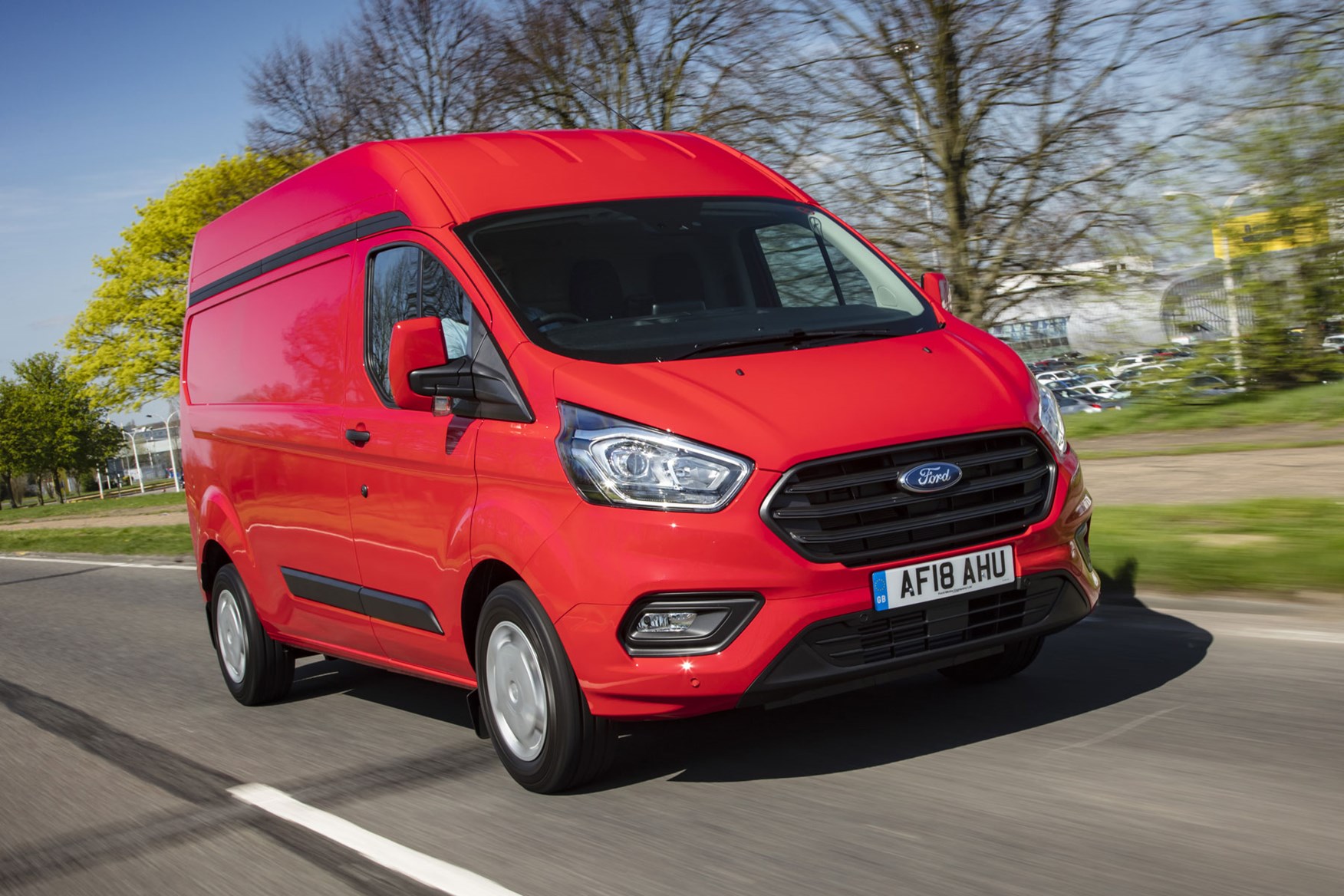 It's not entirely free from vibrations in the cab, which you may feel through the pedals and in some cases the steering wheel.
Still, in van terms it really is pretty good. Certainly less noisy than the VW Transporter, if not as polished as posher versions of the Mercedes Vito.
High quality, car-like interior on all versions
But much improved for storage after 2018 facelift
Lots of high-tech kit available, if you're prepared to pay for it
Ford has elected to give the Transit Custom a more car-like interior than you'll find in many other vans – this is part of a deliberate attempt to appeal to a wider market, including lifestyle buyers.
As such, even if you've never driven a van before you should find yourself at home here. Depending on the exact model, there is plenty of technology, while the quality of the materials is higher than you'll find in many rivals.
Forward visibility is good, and the large, two-part door mirrors ensure you get a reasonable view to the side and rear of Custom, too.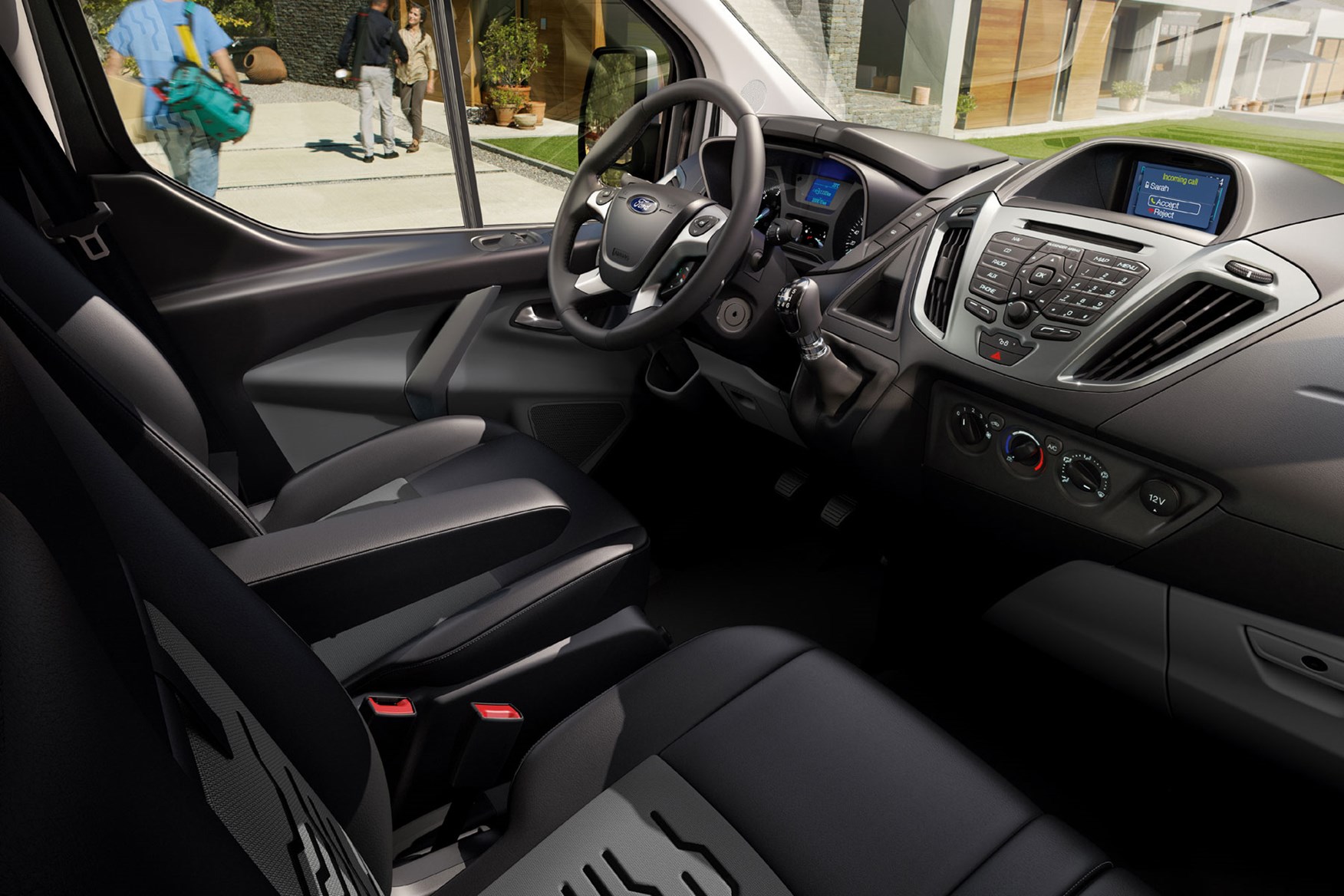 As for the driving position, even the entry-level Base model includes eight-way adjustment for the driver's seat in addition to reach and rake adjustment for the steering wheel – which is in turn covered with buttons, putting many secondary controls at your fingertips.
However, putting the heating and ventilation controls – including those for the air-conditioning where fitted – on the far side of the gearlever pod is a bit of a fail from an ergonomics perspective.
And pre-2018 facelift models (above) suffer from fiddly radio controls and limited in-cab storage.
Significant interior improvements for the Transit Custom facelift from 2018
The Transit Custom's cab has always looked smart, but it's never been the most practical – or the easiest to use. For the 2018 facelift Ford completely turned this around, boosting the functionality of the interior with what it claims is a 'class-leading' amount of in-cab stowage.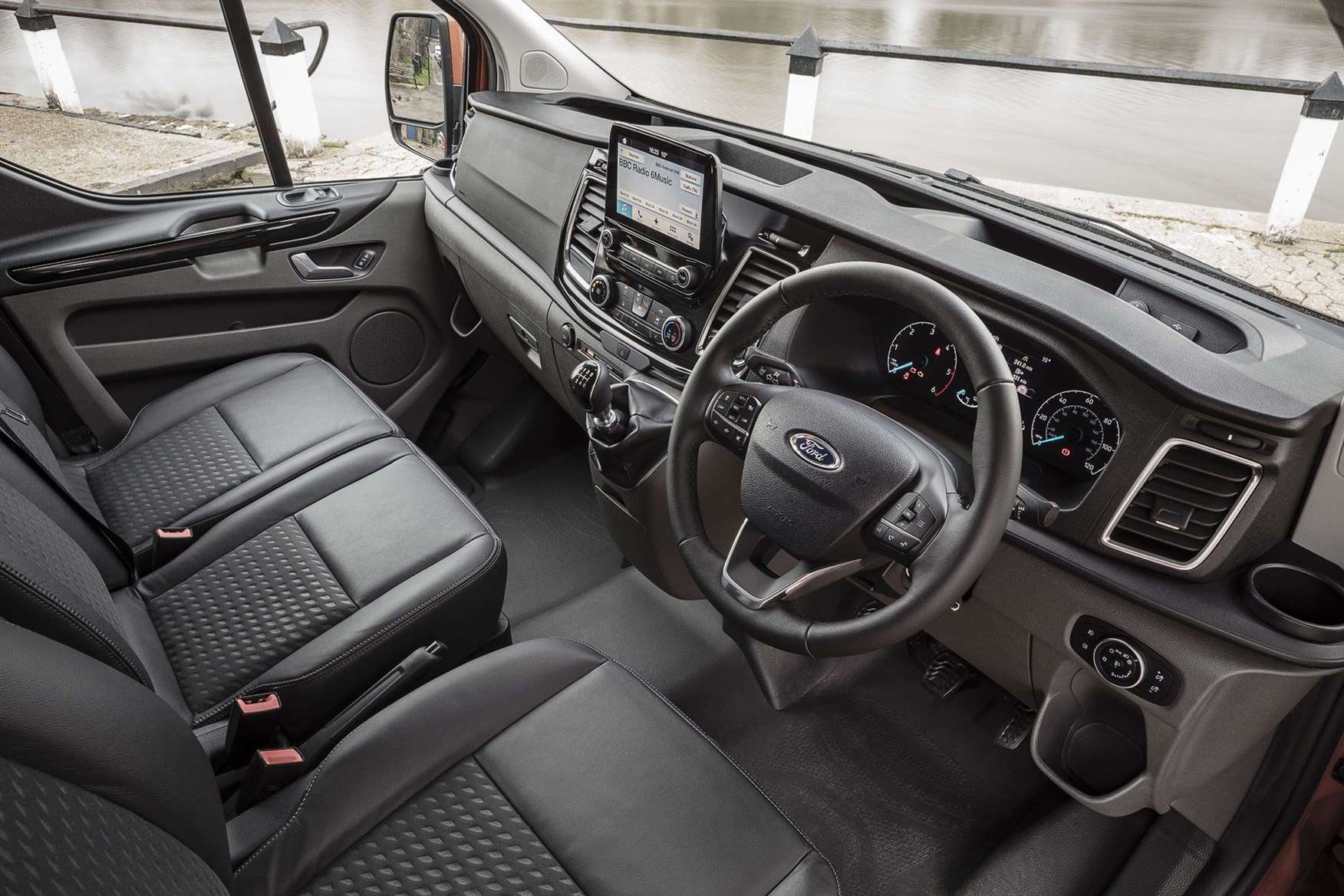 It's also entirely revamped the way the Transit Custom looks inside the cabin, while fitting what it says are much harder-wearing materials, especially in critical areas such as the seats. The seats themselves have been redesigned to be more comfortable as well.
As a result of all these changes, not only are there 25 litres of storage space in the instrument panel alone, but higher-specification versions also get a 'floating' touchscreen infotainment system like the latest Ford Fiesta.
Additional storage
While we applaud the additional storage, it is a shame the three new bins on the top of the dashboard don't have lids, meaning everything in them will be on display (and reflecting in the windscreen). They're also not that easy to access when driving.
The new interior door trim design is a triumph, however. Now offering three levels of storage and a sensibly placed grab handle, we think most owners will appreciate this added practicality, even if the lowest level is only accessible when the door is open.
2018-onwards Transit Custom radio and infotainment options
Running Ford Sync 3, the new Fiesta-style 8.0-inch tablet-style screen upgrade is a vast improvement over the pathetically pokey little offering available in pre-facelift Customs – though perhaps still not as user-friendly as the system fitted in the VW Transporter.
Sync 3 includes logical voice control – you can literally press a button and say 'I need fuel' or even 'I need coffee' and it'll give you a list of the nearest options – and features both Apple CarPlay and Android Auto connectivity.
Can't stretch to the 8.0-inch screen? There's also a lesser 4.0-inch screen running what's been dubbed Sync Light; this does without touch control, Apple CarPlay and Android Auto, however, and can't be paired with built-in sat-nav (which remains only optional on the full-fat Sync 3 system).
Given that, if the full Sync 3 set-up isn't available to you, we'd probably stick with the entry-level DIN-slot sized radio, paired with the new MyFord Dock accessory. This sits on top of the dashboard and has been designed to flexibly mount all kinds of smartphones, tablets and sat-navs safely.
Taken as a whole, this interior upgrade plugs the only significant chink in the Transit Custom's armour. Now there's finally somewhere to put stuff in the cab, there's one less reason to consider any of the Ford's rivals…
FordPass Pro and other fleet management tools
In-line with other van makers, Ford is busy trying to increase the level connectivity inside its light commercial vehicles. To this end, the Transit Custom is now available with FordPass Connect on-board Wi-Fi and late 2019 saw the introduction of FordPass Pro.
Then in June 2020, Ford announced that FordPass Connect would become standard equipment on all its compatiable vans and pickups, including the Transit Custom.
An evolution of the regular FordPass tool for car buyers, FordPass Pro is a free smartphone app designed to help small business with up to five Ford vans on their fleets.
Intended to be as simple and straightforward as possible, this instantly displays infomation about any maintenance issues and whether the van is locked or unlocked. If the alarm sounds you get a notification.
You can also check the fuel level, the remaining oil life and other vehicle health items, plus remotely lock, unlock and - on automatic models - even start the van, useful for de-icing in the winter.
What's more, you can view all of the vans in your fleet on a single map screen, which will be handy if you need an off-site colleague to help you complete a job, as it will show you which of them is nearest.
There are more features to come, too, which can be added via Over-The-Air (OTA) updates that don't require a dealer visit, thanks to the on-board modem.
Ford is also working on tools and software for larger fleets (Ford Telematics and Ford Data Services), but aside from the accuracy of the data provided by the on-board connection, this isn't yet much different to the third party software that most large fleets already use.
Lots of dealers, well-priced parts
Good range of trim levels and options
Fuel economy not as great as some rivals
With a wide range of trim levels, all offering quality levels of standard equipment, the Transit Custom represents good value for money.
And although fuel economy isn't the best in the medium van class, service intervals are lengthy and there are plenty of dealers around, which should help minimise downtime.
Ford Transit Custom running costs
Ford has always aimed for competitive running costs, and the Transit Custom should be no different. Parts are well priced and dealer servicing is the same.
Ford even has mobile servicing vans that can come to you now, avoiding the added inconvenience of a trip to the dealer, while the lastest conectivity helps you keep track of upcoming maintenance and potential downtime issues.
Ford Transit Custom service intervals
The move to the 2.0-litre EcoBlue Euro 6 engines initially saw official service intervals extended to once every 36,000 miles or two years - whichever came sooner.
However, in 2018 this distance was slashed back to 25,000 miles or two years, following 'real-world experience' with customer oil life.
Even this distance is technically variable depending on usage, meaning that while lightly driven vans may make it two years between dealer visits, it's more likely the on-board systems will request an oil change service much sooner than that.
As such, Ford not only says an annual 'safety inspection' is recommended, but that heavy-duty operators might need a service every 10,000 miles or one year.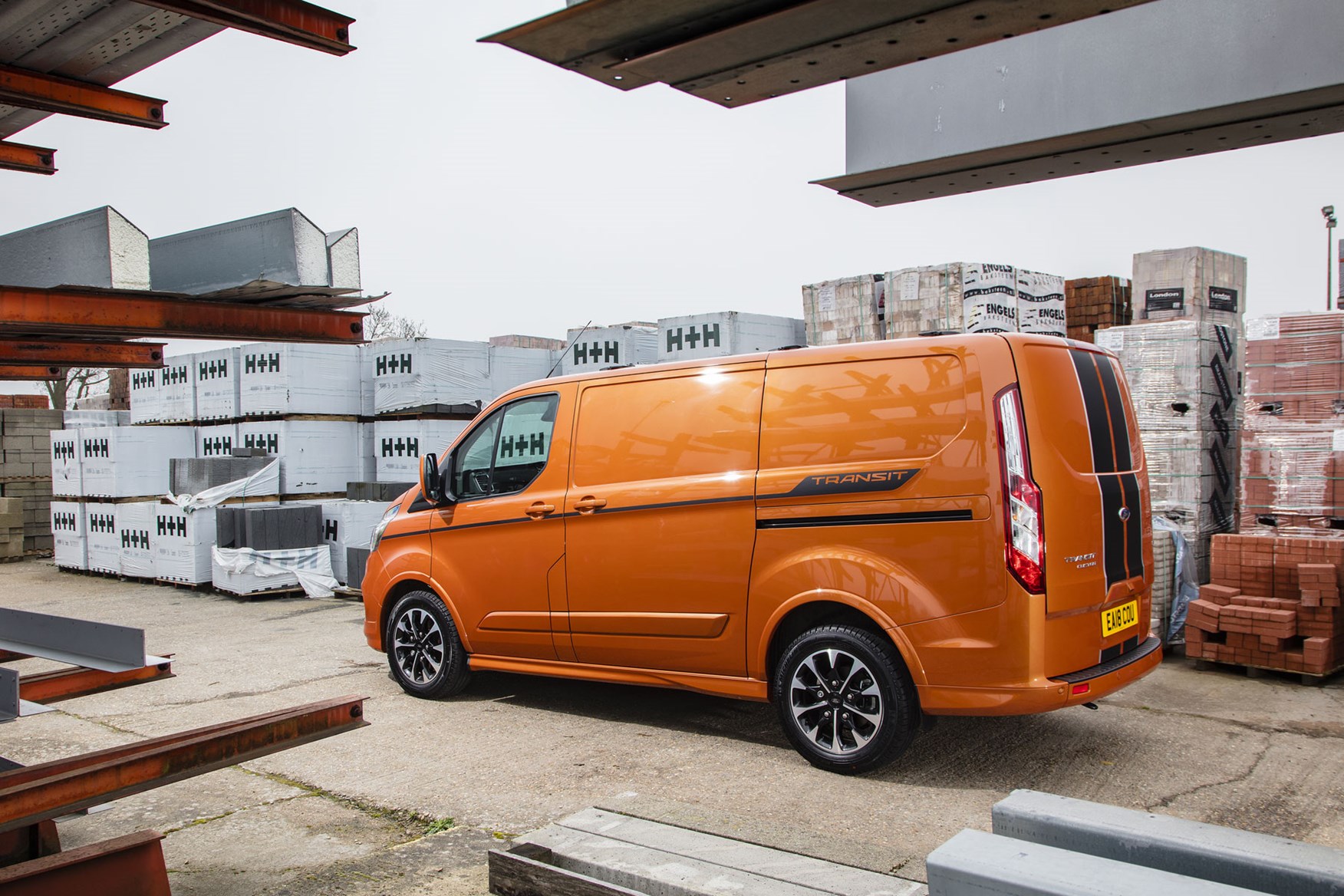 The 2.2-litre Euro 5 engines fitted prior to this require a service every 30,000 miles or two years, according to the official schedule. But again, if you use your van hard, maybe see the dealer or at least get the oil changed more often than that.
Ford Transit Custom mpg
General fuel economy is okay, rather than spectacular, with the Transit Custom ranking behind the best for mpg in the medium van sector. If you top 40mpg in real-world driving you're a saint, and most are lucky if they see mid-30s.
This kind of thing is very dependent on driving style, journey type and load, however.
As with most Euro 6 vans, the 2.0-litre EcoBlue Transit Customs also have an AdBlue tank for exhaust gas after-treatment. This is 21 litres in size and will need refilling every 5,000 miles or so – again depending on how and where you drive – adding to your running costs.
Fuel-saving Ford Transit Custom Econetic, EcoBlue Hybrid and PHEV
The 2018 facelift also saw the return of the Transit Custom Econetic, a variant specifically engineered to reduce emissions and improve fuel economy.
This offers a claimed 49.6mpg using a special engine calibration, low rolling resistance tyres and a system to manage acceleration for maximum fuel savings. Driving it was something of an exercise is self-flagellation, and it has now disappeared from pricelists again.
From late 2019, 130hp and 170hp models can be upgraded to EcoBlue Hybrid status, with a mild hybrid (mHEV) package which replaces the alternator with a 'belt-driven integrated starter-generator' (BISG) and a small lithium ion battery (which sits under the passenger seat) in an effort to save more fuel.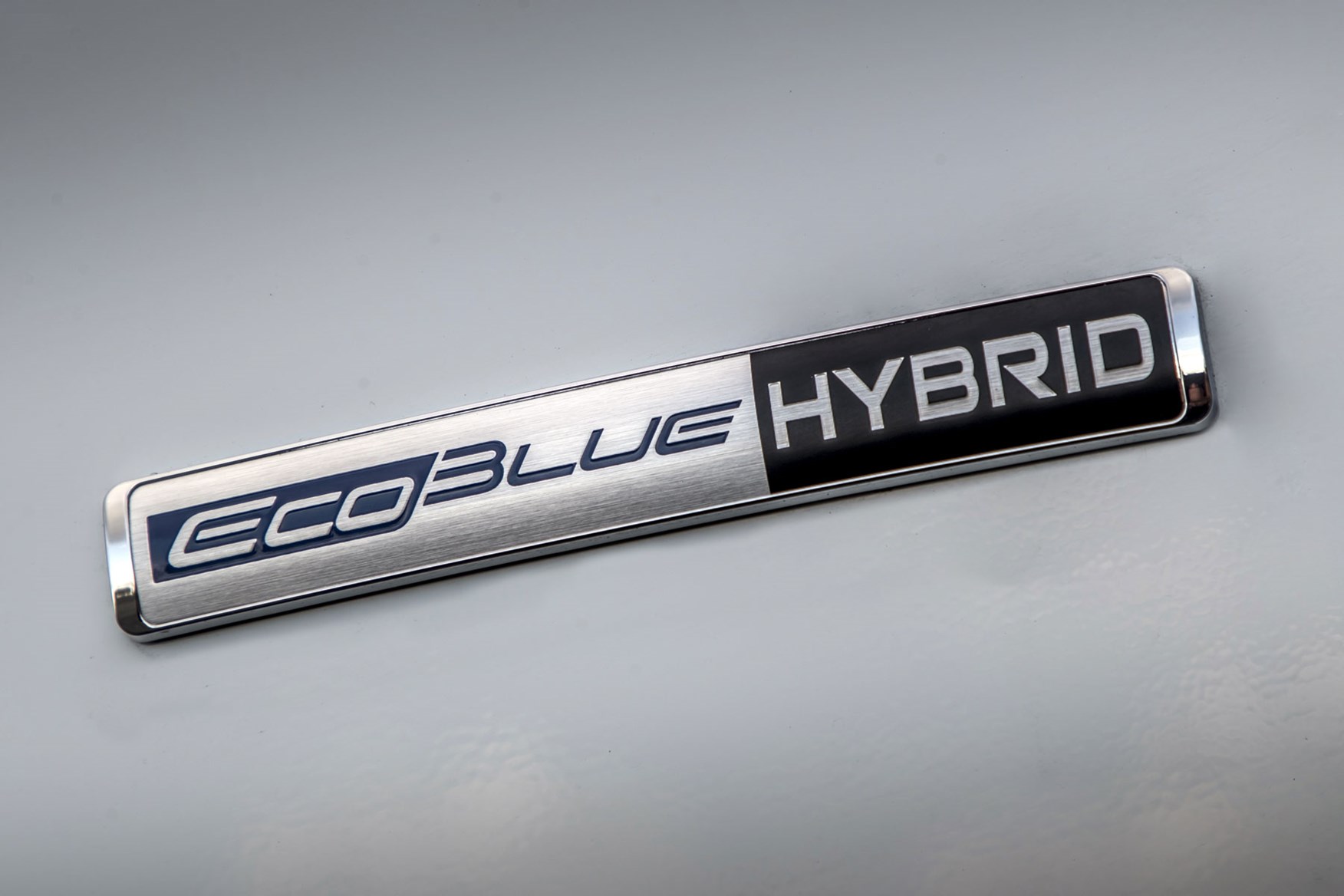 The extra battery is used to store energy that would otherwise be lost under braking. This can then be used to power some electric items, taking the strain off the engine; the starter-generator functions as a more advanced stop-start system, switching the engine off earlier and starting it again more quickly, and even helping assist the engine at low speeds.
The fuel savings are said to be in the region of 8% if mostly driving around town (but more like 3% in more mixed driving).
At the 8% level the mHEV pack should pay for itself after 80,000 miles. This seems a long time to us; but what's worse is that there's no instant feedback to the driver when it's working, so unless you're tracking fuel economy very carefully, it may be difficult to derive any satisfaction from having it fitted.
If you're looking for a really eco-friendly solution, there is also the pricey-to-buy but cheap-to-run Plug-In Hybrid version - whcih you can read more about in our full Transit Custom PHEV review.
Ford Transit Custom warranty and insurance
All Transit Customs get a three-year, 100,000-mile warranty as standard.
You also get a 12-year anti-corrosion warranty; make sure the inspection for this is recorded during every visit to the dealer, however, or you may find it difficult to claim.
Ford has considered the cost of body repair after minor accidents. The rear bumper, for example, is made from multiple pieces rather than as a single part, so if you accidentally reverse into something you will hopefully only need to replace the area that's damaged, rather than the whole thing.
After an insurance quote for a Ford Transit Custom? Try van insurance comparison site mustard.co.uk.
Ford Transit Custom standard equipment
Here's a basic rundown of the key items of kit you get as standard with each of the Custom's trim levels; all items are in addition to the trim level before unless otherwise stated.
Ford Transit Custom Base (later known as Leader) standard equipment:
Remote locking
Bluetooth with steering wheel controls
Dual front passenger seat with underseat storage
Eight-way adjustable driver's seat
Reach-rake steering wheel adjustment
A4 file storage in the glovebox
Ford Transit Custom Trend standard equipment:
Body-coloured front bumper
Power-adjustable and power-folding door mirrors
Front and rear parking sensors
Automatic lights and wipers
Cruise control with speed limiter
Driver's seat lumbar adjustment
Dual passenger seat with fold-out table
Quickclear heated windscreen
Leather-trimmed steering wheel
Map lights
Lockable glovebox
Ford Transit Custom Limited standard equipment:
Body-coloured side moldings, rear bumper, door handles and mirrors
16-inch alloy wheels
Heated seat for the driver and outer passenger
Leather-trimmed gearknob
Front passenger airbag (with deactivation switch)
Air-conditioning
Alarm
Ford Transit Custom Sport standard equipment:
Sport styling kit, including lower front bumper, side skirts, rear bumper, bonnet stripes and front and rear wheelarch extensions
17-inch alloy wheels
Tyre pressure monitoring
Partial leather upholstery
Rear-view camera
Lane Keeping Assist (lane departure warning)
Newer 2.0-litre Euro 6 engines have yet to prove long-term reliability
Older 2.2-litre Euro 5 engines have a dependable reputation
Ford has loads of dealers to help keep you moving
At launch in 2012, Ford revealed it had done the equivalent of three million miles of testing with the Transit Custom prior to sending it to the market – 250,000 of those were undertaken with customers.
And generally speaking, this appears to have worked – this van has a reputation for being tough and dependable.
However, the Custom has blotted its copybook somewhat in the transition to the new Euro 6 2.0-litre engines, and this has been reflected in its performance in the FN50 van fleet reliability survery.
Ford Transit Custom Euro 6 reliability - oil service issues and injector problems
The 2.0-litre EcoBlue engines are more powerful, refined and smoother than the 2.2-litre motors they replaced. But many owners have experienced issues with the oil service intervals and the injectors.
Despite official service intervals of 36,000 miles at launch in 2018, many of these vans began requesting fresh oil after just a few thousand miles – an issue some owners experienced more than once. Revised engine software and changes to the dipstick seem to have resolved this, but it took some time.
Ford also went on to change the official maximum service intervals for the 2.0-litre engines to 25,000 miles or two years. It also recommends an annual safety check. See the Costs section above for more details.
Meanwhile, one of the major issues with the injector faults is getting hold of replacements. It would seem that supply is rather erratic, leading to costly extended periods of downtime for some owners.
Ford acknowledged these injector problems in 2019, and responded by undertaking a service action to replace all the potentially faulty injectors in these vans - regardless of whether they had failed or not. It also increased its courtesy vehicle fleet in order to better support customers who need their van to continue working.
The injector issue was caused by a problem with the manufacturing process at a third-party parts supplier, and should now have been resolved.
However, this service action only dealt with injector issues on 2019 vans. Our understanding from owners and other sources is that the Euro 6 Transit Custom has been experiencing injector problems since its introduction. Hopefully Ford is now on top of the failures, but if you're still experiencing issues do let us know.
Ford Transit Custom brake booster field service action
In late 2018 Ford issued a 'field service action' (similar to a technical service bulletin or TSB) about a potential brake booster fault with some Transit and Transit Custom models.
Since the brakes are very much a safety item, if you're concerned your Transit Custom might be affected by this issue contact your local Ford dealer as soon as possible.
Ford Transit Custom recalls
There has only been two official recalls for the Transit Custom in the UK, according to the government's official vehicle recall website.
The first one issued in 2019 was to do with an incorrectly torqued seatbelt bolt on vans built in 2017, and involved just three vehicles. The second was issued in 2020, concerned a battery cable and 151 vehicles.
This is an incredibly small number of actions, let alone vehicles (compare it to some rivals, such as the latest Peugeot and Citroen models, for example...). Testament to the quality of the Ford factory that builds them, we think.
Over-The-Air updates
Transit Customs fitted with the FordPass Connect mobile Wi-Fi modem can receive a software update wirelessly, without the need to physically visit a dealer. This is not only convenient for reducing downtime, it also promises the possibility that in the future some minor faults may be fixable remotely as well.
Lots of safety kit available, including latest active aids
Five-star Euro NCAP crash-test rating (2012)
Poor security against theft may be a concern
The Ford Transit Custom places a great deal of emphasis on safety.
Ford carried out over 4,500 simulated and 30 real-world crash tests during the Transit Custom's development – resulting in a five-star Euro NCAP crash safety rating when it was tested in 2012.
Ford Transit Custom safety equipment
Euro NCAP's standards have gotten stricter, but even so up to six airbags are available in the Transit Custom, and there's a good selection of active safety electronics as well.
For example, in addition to load-adaptive electronic stability control (ESC), since 2016 the Transit Custom is one of few vans to get crosswind assistance technology (what Ford calls Side Wind Stabilisation) as standard. All models also get a Roll Stability Control system and Trailer Sway Stabilisation.
Optional extras include autonomous emergency braking (AEB) and a forward distance monitoring system that alerts you to dangers ahead, handy should your attention start to wander at the end of a long day.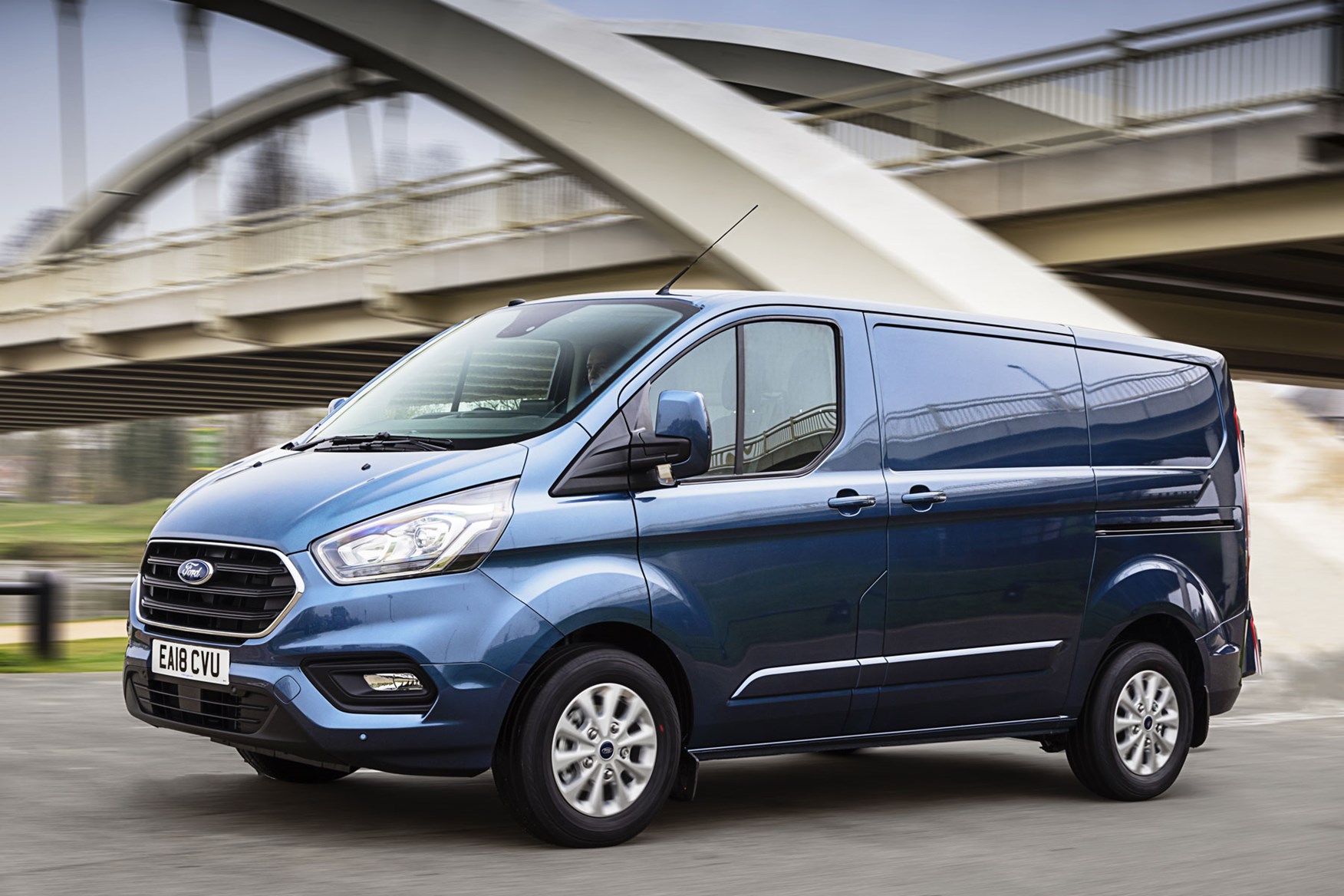 The 2018 facelift added further safety options, including Intelligent Speed Assist – which can automaticaly adjust the speed limiter to make sure you stay legal (protecting your livelihood in the process) – and a new Blind Spot Information System with Cross Traffic Alert.
Both of these latter systems are particularly helpful in vans, where rearward visibility is limited. Upgraded sensor technology means they can also judge the speed of other vehicles more accurately for further improved safety.
The 2018 AEB system has also been upgraded, including the ability to spot pedestrians in the dark using the reflection from the headlights.
Ford Transit Custom security: concerns, updates and FordPass Pro Guard Mode
While safety levels have generally been highly commended, Ford has faced some criticism about the Transit Custom's security.
A spate of thefts from these vans has shown the original door locks to be relatively easily compromised. This subsequently led to a factory update in 2017 to change the way the central locking functions, making it more difficult for would-be thieves to access the load area from the cab.
In 2020 vans fitted with the FordPass Connect on-board modem will be offered a further boast when a new Guard Mode is added for free via the FordPass Pro smartphone app. When activated, this will alert you to attempted break-ins - including not only the doors but the bonnet - and warn you if the engine is started, even if someone uses a genuine key.
Security upgrades such as reinforced locks and doors, and comprehensive alarm systems are always recommended, whatever the van. Ford's own Trade Vehicle Locks (TVL) range includes upgrades for all aspects of Transt Custom security, at extra cost.
Nothing will stop the power cutting tools that some thieves are now using, however. So our advice is still to not leave anything of value inside if you can avoid it.
Which Ford Transit Custom is best for me?
The Ford Transit Custom has sold so well it is easily the most widely available medium van, and whether you're shopping new or used, you'll certainly find there are plenty to choose from.
>> New Ford Transit Custom vans for sale
>> Used Ford Transit Custom vans for sale
The range is also broad enough to cater to a variety of uses, so whatever you want a mid-size van for, there is likely to be a Transit Custom to suit you. Here are some examples.
Best Ford Transit Custom for running costs
The smaller (and therefore lighter) the van, the further it will go on a tank of fuel; however you may find picking the cheapest engine a false economy, as you also need a bit of muscle to get the load moving easily.
Though do note that the entry-level 105hp Euro 6 engine has more torque than the middle-ranking 125hp Euro 5 engine, so for newer versions of the Transit Custom this rule isn't so clear cut.
Euro 6 2.0-litre engines are supposed to be more fuel-efficient than the earlier 2.2-litre Euro 5 engines, regardless, and they also have longer service intervals. But don't be too put off if Euro 5 is all you can afford, as these have proven reliability, which should mean less downtime.
Neither age of engine is likely to get better than late-30s mpg anyway.
The fuel economy focused Transit Custom Econetic introduced in 2018 promises nearly 50mpg on paper, however, and there was an earlier Econetic version available at launch in 2012. But neither version lasted long in the pricelist.
The EcoBlue Hybrid models with the mHEV system introduced in 2019 should prove moderately more fuel efficient than regular vans. But if you work around town the Plug-In Hybrid should be even better - as long as you can make the most of the batteries.
Best Ford Transit Custom for payload
If it's maximum payload you're after, look for a Transit Custom 340 – the number signifies a gross vehicle weight (GVW) of 3,400kg – or 3.4 tonnes.
This gives the Transit Custom one of the best payload ratings of any medium van.
You can find more payload and load capacity details on our dedicated Ford Transit Custom Dimensions page.
Best Ford Transit Custom for value / standard equipment
The Transit Custom is relatively well-equipped on even the most basic Base or Leader model, but the upgrade to Trend brings a number of useful extras for not much extra cost. Trend is our best-value choice.
However, you'll need to upgrade further to Limited to get air-conditioning, alloy wheels and an alarm as standard.
Since doing so also nets you Sync 3 infotainment with 8.0-inch touchscreen, heated front seats, a passenger airbag and more body coloured exterior elements as well, Limited is also strong value.
Best Ford Transit Custom for lifestyle / image
Go for the Transit Custom Sport Van, complete with bodykit and stripes, part-leather trim and the maximum amount of standard equipment.
Want a Transit Custom with even more visual impact? Then try an MS-RT version. Built by one of Ford's approved converters this is a very distincive looking van with fit and finish that is officially Ford endorsed.
Most popular Ford Transit Custom engine
The bestselling Ford Transit Custom engine is always the middle output version.
In Euro 6 terms that's the 130hp / 385Nm 2.0-litre variant.
For Euro 5 it's the 125hp / 350Nm 2.2-litre engine.
---

Ford Transit Custom individual model reviews
Still looking for the perfect Ford Transit Custom? We also have the following individual model reviews for you to consider (click the name to jump straight to the review):
We've also got several reviews of modified M-Sport and MS-RT Transit Customs, which are dealt with on a separate pages. Click the links below to view these reviews (open in a new window):
---

Ford Transit Custom SWB low roof 2.0-litre TDCi 170 (Euro 6) Sport automatic review
Tested April 2017 by CJ Hubbard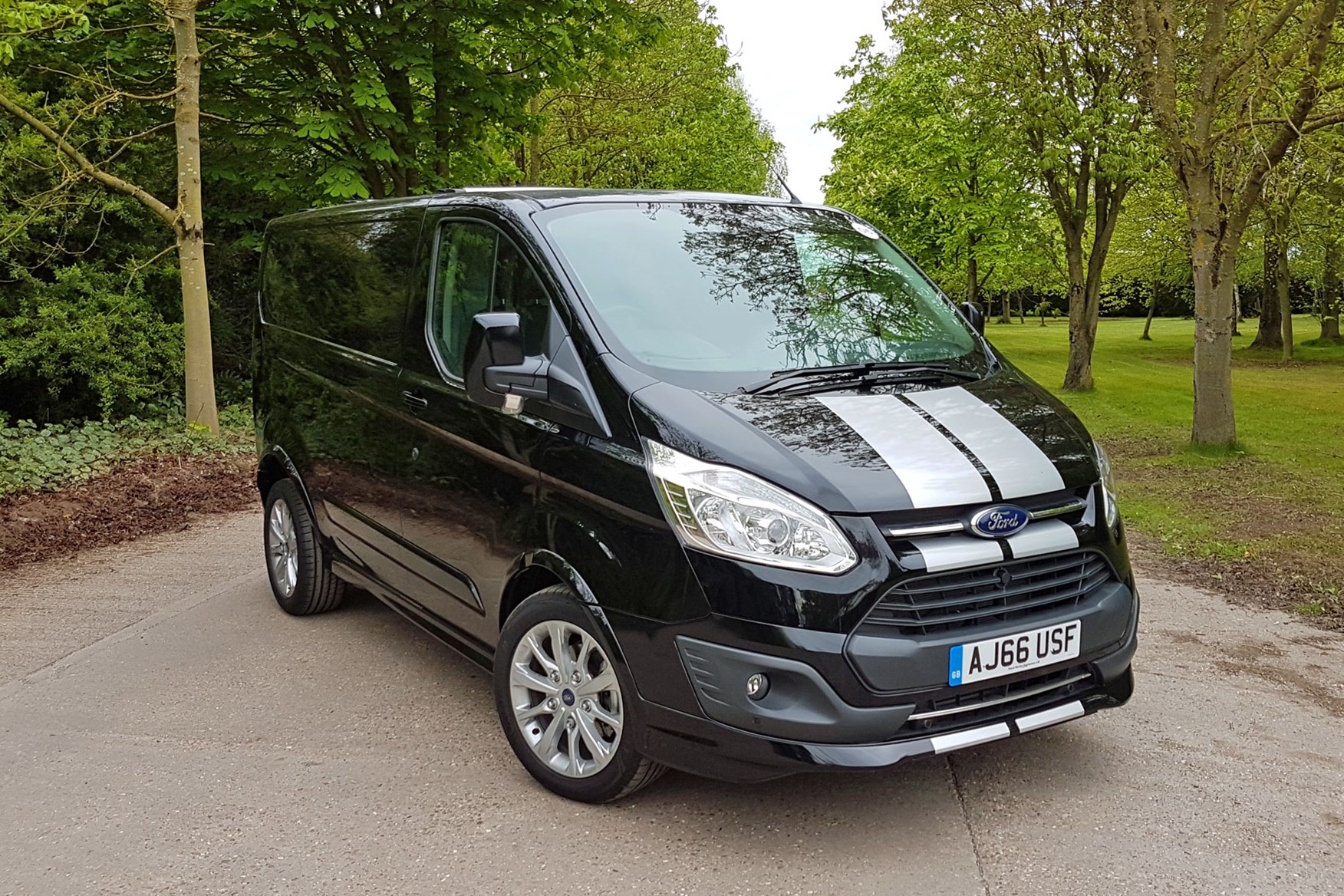 New Ford Transit six-speed auto driven
Tested in Transit Custom Sport with 170hp
Snappy performance, improved ease of use
The first new Transit auto we've been able to test – the day before the official UK launch at the CV Show 2017 – is this Custom Sport, powered by the latest 170hp 2.0-litre EcoBlue engine.
This new model is part of the expanded Custom Sport range for 2017, which has gone from one variant to six in response to the seemingly ever-increasing demand for sexier-looking medium vans – demand driven both by lifestyle customers and businesses who want a light commercial vehicle (LCV) that helps them stands out.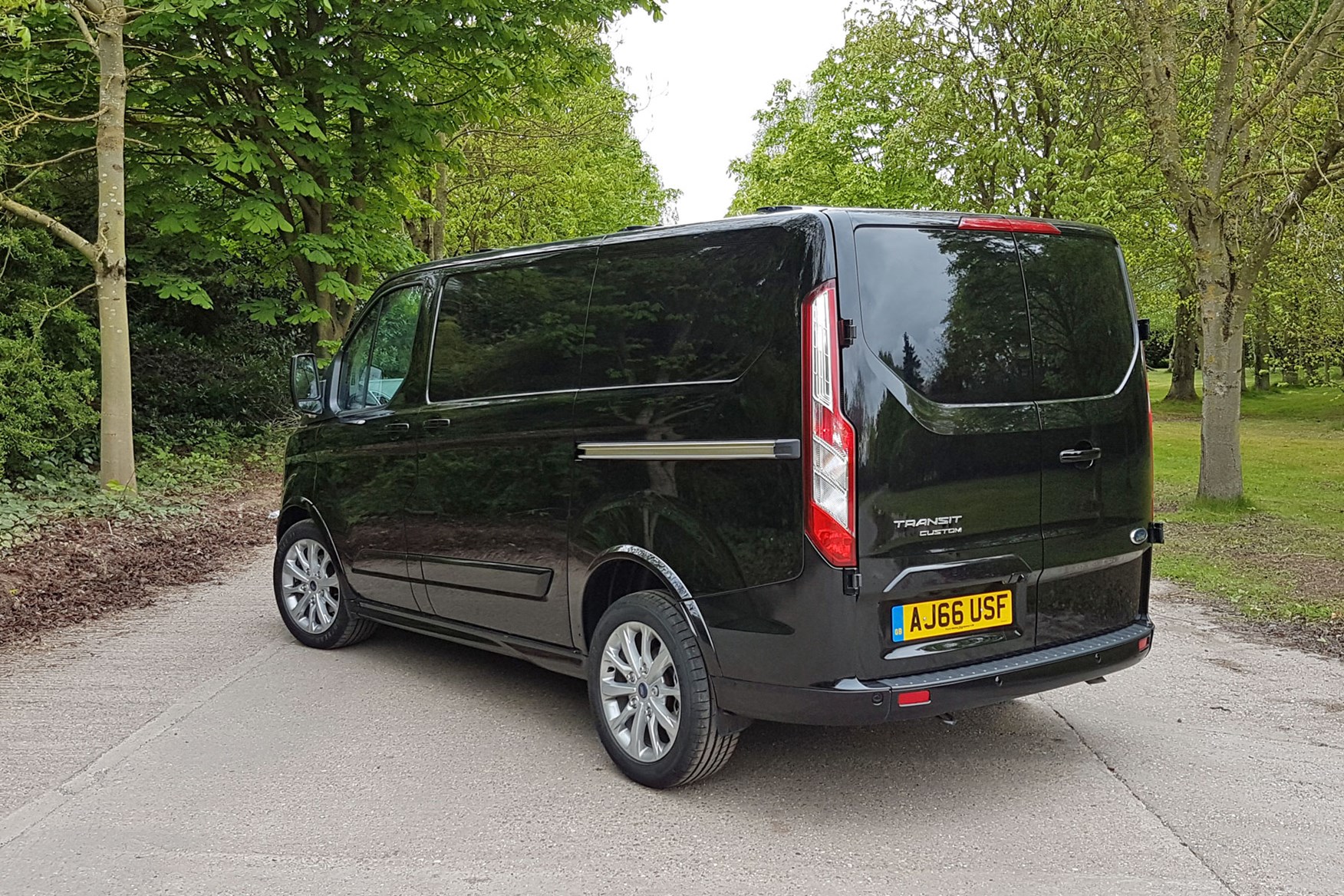 The integration of the Euro 6 (or Stage 6, as Ford often has it) 2.0-litre EcoBlue engines, in place of the old 2.2-litre Euro 5 (or Stage 5) units, means that the Transit Custom Sport is now available with the go to match the show.
Combine this potent ­– and refined – motor with the new quick-shifting six-speed auto, and the result is an exceedingly punchy, front-wheel drive mid-size van.
Tested here in the shorter L1 body length with the standard H1 roof height, it's almost a match for the performance of VW's pokiest Transporter Sportline models; the contest between Ford's in-yer-face stripes and Volkswagen's extra-aggressive bodykit is probably only won on personal preference.
Although given the steep price of the VW, your bank manager may also have something to do with it…
What's the Ford Transit Custom Sport SelectShift automatic like to drive?
Keen – almost to the point of over-excitement. The new 2.0-litre engine produces 20% more torque at 1,250rpm than the old 2.2-litre, and this 170hp version wallops a full 405Nm into the road at its peak. To say that's enough to get you out of busy junctions in a hurry is an understatement. This is a quick van.
The beauty of the SelectShift transmission – which is making its way into European-market LCVs after a decade-long apprenticeship in Ford's larger vehicles in the USA – is that this performance becomes a point and shoot affair.
No need to worry you might fluff the gearchange into second and get rammed by that on-rushing artic lorry as a consequence; in the auto you simply plant your foot and go, and the 'box does its absolute best to wring the maximum oomph out of the engine.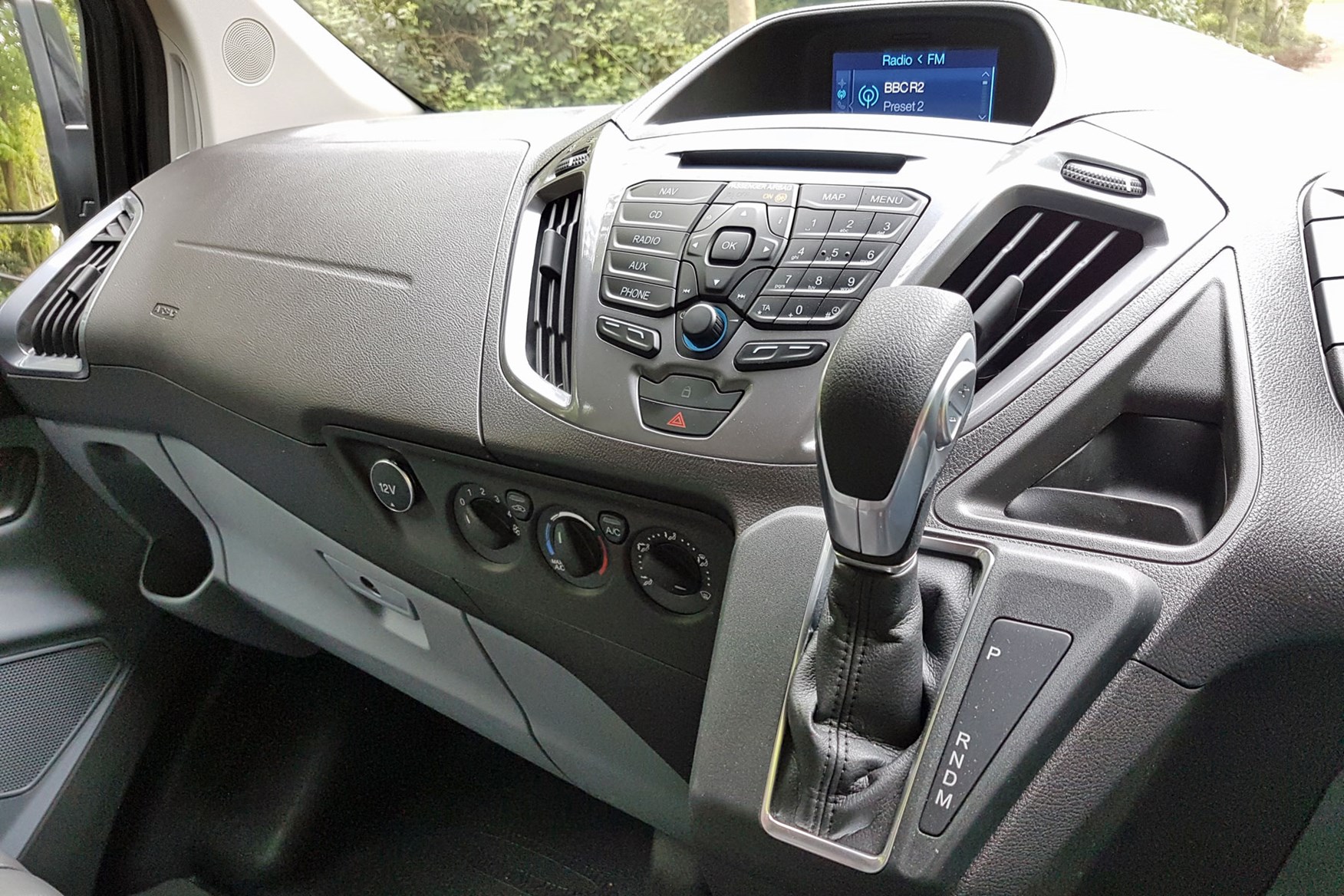 The downside is it swaps cogs so fast that it sometimes forgets to add any finesse into the action – banging through the next ratio with a jolt. And it does like to make the most of its faculties, often changing down to a lower gear when all you wanted was a little more gentle acceleration from the current one.
Nit-picking, we'd also mention it's all too easy to select Manual mode when setting off instead of regular Drive, due to the design of the dashboard-mounted shifter.
But with manual changes easily activated by the flip switches on the side of the shifter when required, and the promise of reduced maintenance costs (automatic vans generally have a far lower appetite for clutches than thrashed manual equivalents, even if their thirst for fuel may be higher), the SelectShift feels like a very successful adaptation on this initial experience.
How's the rest of the Transit Custom Sport package?
Pretty sweet.
In addition to the obvious bonnet stripes, all Custom Sport models get a full colourcoded bodykit, including redesigned wheelarch extensions, plus 17-inch alloy wheels, part-leather seats and the latest Ford Sync infotainment system (which is tolerable, if little more).
More significantly, they also get an upgraded chassis. The Sport is the only Transit Custom with a factory-fit rear anti-roll bar, which works together with a thicker front anti-roll bar to reduce cornering lean.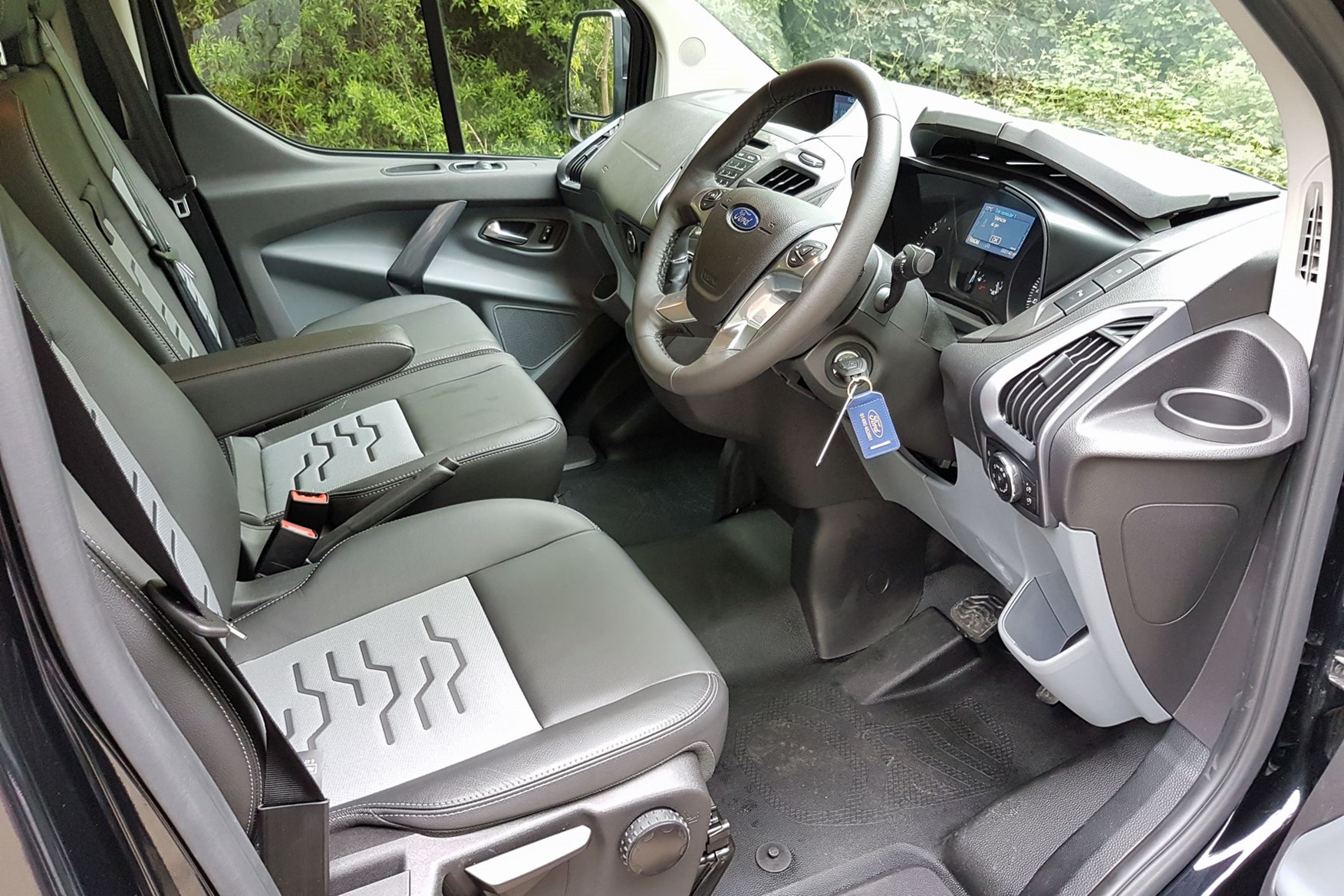 Plus you get firmer rear shock absorbers for sharper handling, combined with softer rear springs to improve the unladen ride – Ford's way of acknowledging that many of these vans are bought to look good rather than carry stacks of kit.
The changes are largely successful. Although we still found the ride quality somewhat fidgety at the rear, and the Transporter Sportline rolls even less through roundabouts, this is a van you can drive both quickly and safely, and enjoy yourself while doing so.
On top of which, in-cab refinement is far better than the VW's, with a greater sense of solidity about the Custom's whole structure. It feels genuinely quite premium inside.
Should I buy a Ford Transit Custom Sport automatic?
Overall, this is an impressive addition to the Transit Custom line-up. Crucially, the SelectShift automatic works very well; coupled to the most powerful engine in the range it's arguably a touch too aggressive, but most importantly it is far more of an enhancement to the driving experience than it is a hindrance.
If you're one of the many who've been eagerly awaiting the Transit auto's arrival we don't think you'll be disappointed.
And as ever, the Transit Custom Sport remains one of the most characterful, fun-to-drive vans available – that you can now get one with 170hp and 405Nm only adds to the appeal.
---

Ford Transit Custom LWB low roof 2.0-litre TDCi 170 (Euro 6) Trend review
Tested September 2016 by CJ Hubbard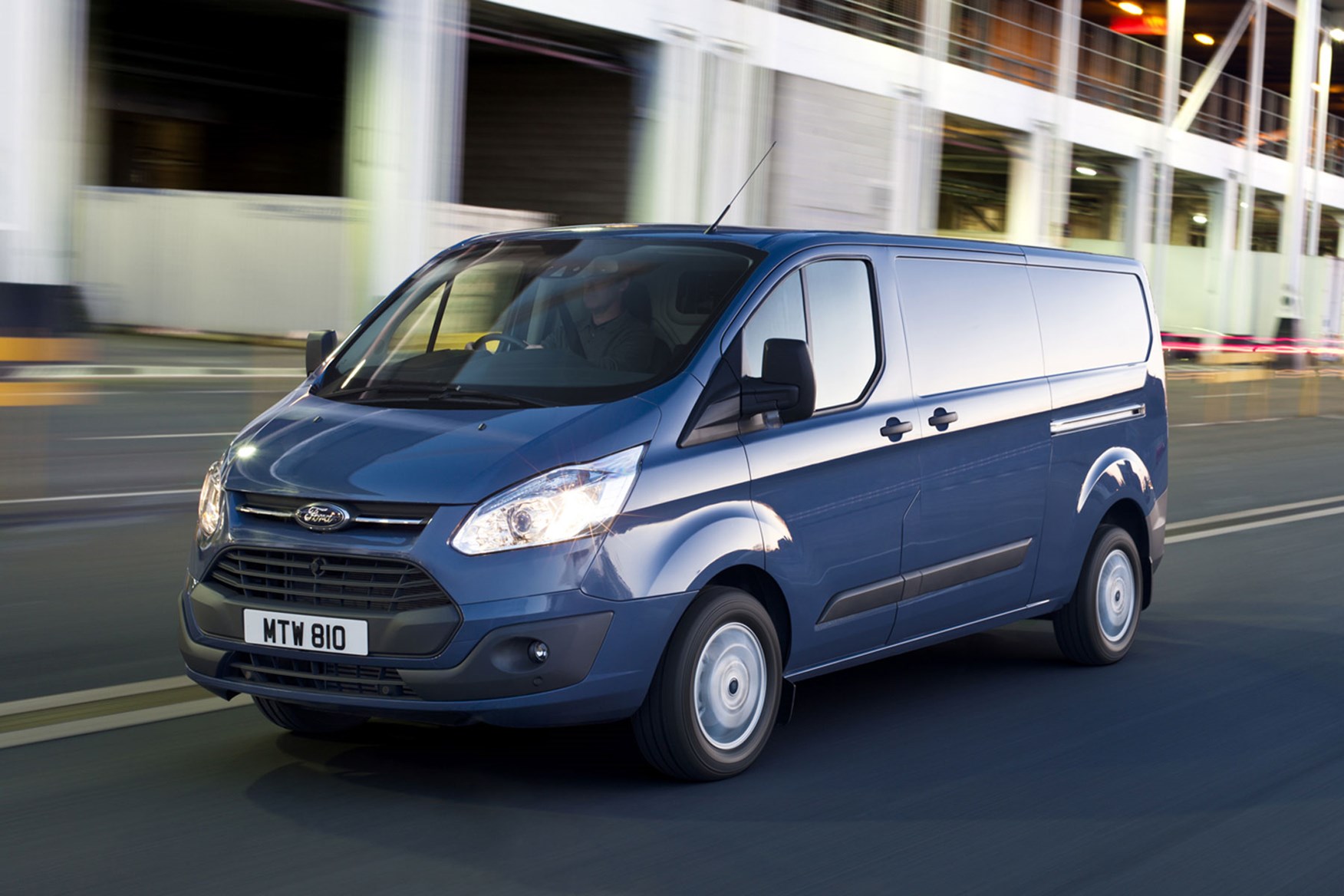 Efficient and quiet new 2.0-litre EcoBlue engine tested
Brings more power with up to 13% increase in mpg
1,392kg payload in 170hp low-roof, long-wheelbase guise
The Ford Transit Custom was the UK's best-selling van in 2015, and it's not showing any signs of slowing down in 2016.
Ford has an enormous dealer network, which helps, but the Transit Custom is also one of the most user-friendly vans on the market – and that goes for everything from the way it drives to the thought that's gone into its load-carrying capability.
Now the old 2.2-litre TDCi turbodiesel engine that powers the Transit Custom (and the larger Transit) has been replaced by an all-new 2.0-litre TDCi turbodiesel badged EcoBlue.
Designed to comply with the latest, more stringent Euro 6 emissions regulations, you might expect the new 'downsized' engine to have strangled performance and dulled responses.
But in fact it brings increased power, 20% more torque at 1,250rpm for improved driveability, and promises 13 percent better fuel economy to reduce your running costs. On top of which it's also less noisy.
We've put the most powerful 170hp EcoBlue engine to the test in a Trend specification long-wheelbase Custom with the standard roof height.
New EcoBlue diesel in the Ford Transit Custom
You probably don't want to dive too deeply into the technical details of the new 2.0-litre EcoBlue engine, but it is worth noting that Ford has spent a great deal of effort reducing friction to improve efficiency, and fitted a 'low-inertia' turbocharger for improved response. The turbo uses rocket-grade materials, apparently.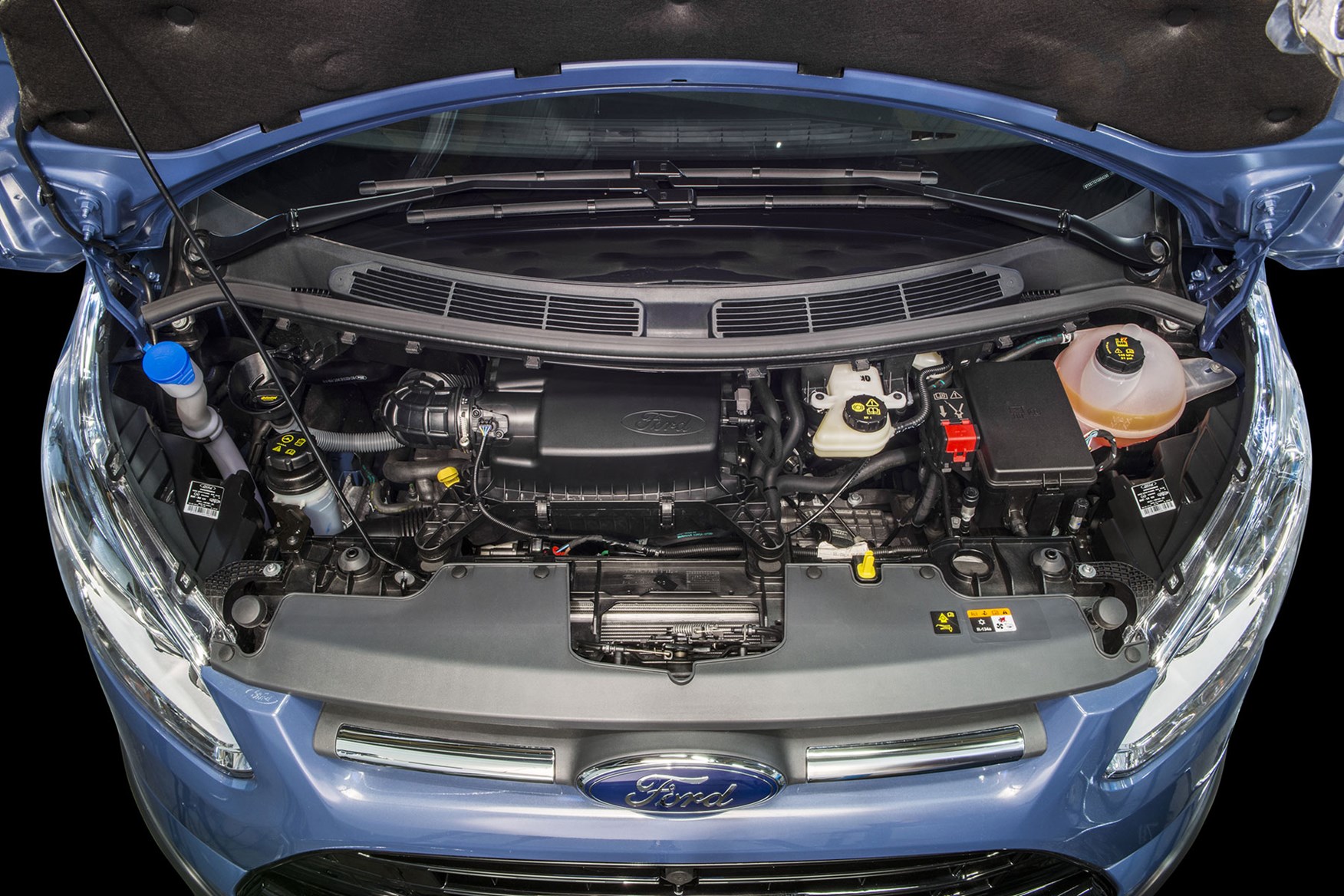 Out on the road, the first thing you notice is that the 20% increase in torque at not much more than idle makes a useful difference. Pulling away from a standstill is smoother, and you can creep along in traffic with much less concern that you're going to be caught out if the cars in front suddenly start moving quickly again – the new engine really does respond very quickly.
But it's the smoothness that really stands out. Compared with the previous 2.2-litre engine – we tried one back-to-back with the new motor – the 2.0-litre is far more linear and much less gruff.
As quiet as a car?
Together with enhancements to the sound deadening under the bonnet, Ford reckons the new engine matches passenger cars for refinement; while we wouldn't go quite that far, we have to admit that vibration and harshness are very well suppressed, and the EcoBlue motor is both much quieter and more pleasant to the ear.
Of course, with 170hp and 405Nm this is by far the most powerful version – it's also 15hp and 20Nm more powerful than the old 2.2-litre equivalent. But we're confident that even if you opt for the lesser 105hp/360Nm (up 5hp and 50Nm) or the 130hp/385Nm (up 5hp and 35Nm) alternatives you'll be able to appreciate the improvements. After all, the torque gains are even greater on these EcoBlue variants.
EcoBlue fuel economy and AdBlue consumption
Claimed fuel economy for the 170hp engine is between 43.5 and 44.1mpg, which is impressive for a van of this size and power. We'll need to spend a longer period with the new engine to find out how close it gets to these figures in real life, however.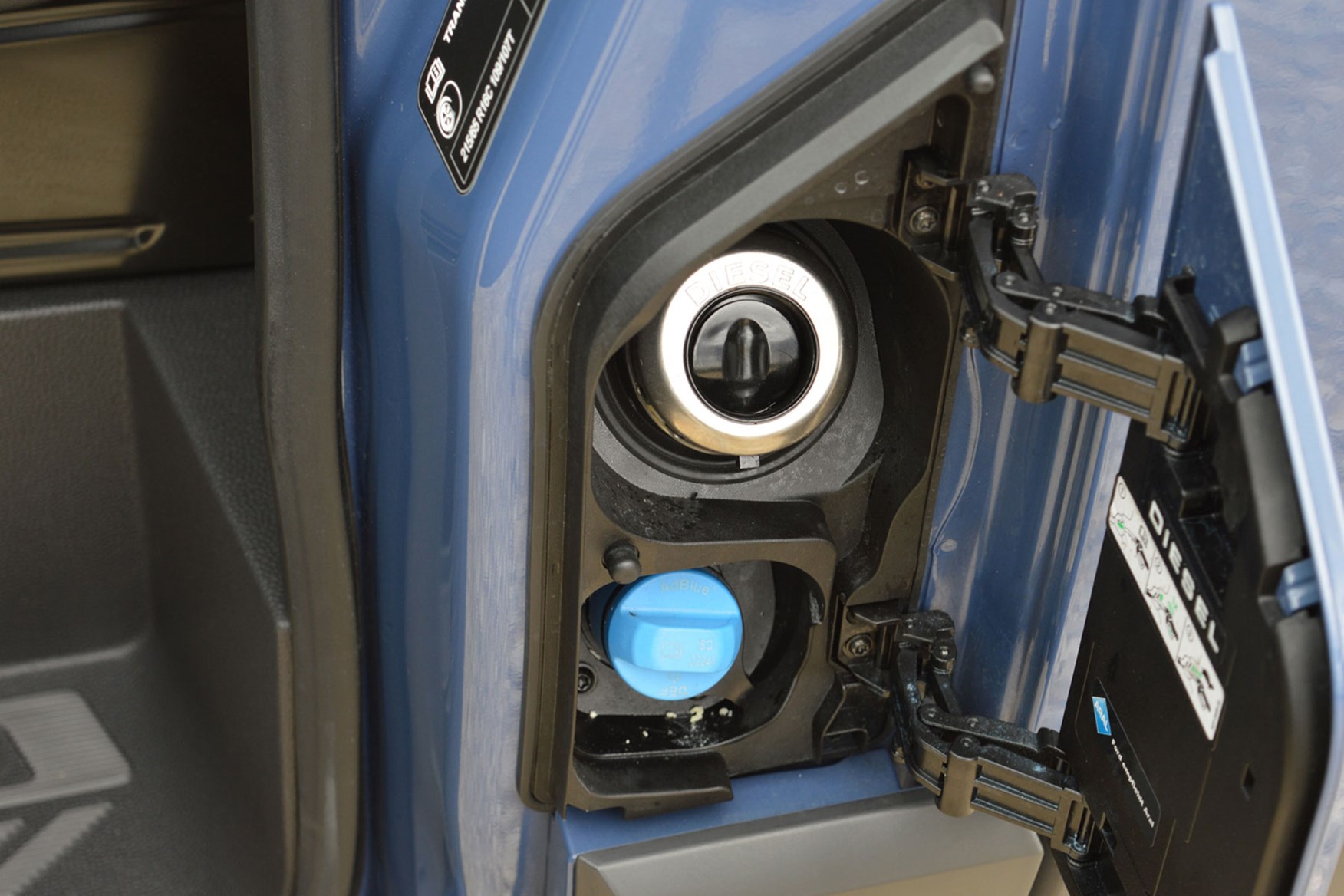 As with most Euro 6 vans there is an AdBlue tank you need to keep topped up; this is a huge 21 litres in the Transit Custom, large enough to last around 6,000 miles. The filler is located next to the diesel neck for convenience, while Ford's EasyFuel system should prevent you from putting the wrong stuff in the wrong hole…
Interior comfort and driving experience
There are no changes inside the cab to accompany the new engine – but that's hardly an issue.
This is a comfortable van, and it's easy to drive with very nicely-weighted controls that give you plenty of confidence behind the wheel. There's even room for the middle-passenger's knees thanks to the height of the mounting position for the gearlever, which is also close to the steering wheel for further ease of use.
Should I buy a Ford Transit Custom Euro 6?
Ford's new 2.0-litre EcoBlue engine gets the thumbs-up from us – it's smooth, powerful and relatively silent (for a van), making an already great product even better.
While we still need to test the real-world consumption claims and the lower-powered variants, on the evidence of this 170hp model it further strengthens the Transit Custom's already well-rounded appeal.
---

Ford Transit Custom SWB low roof 2.2-litre TDCi 155 (Euro 5) Sport review
Tested June 2015 by Liam Campbell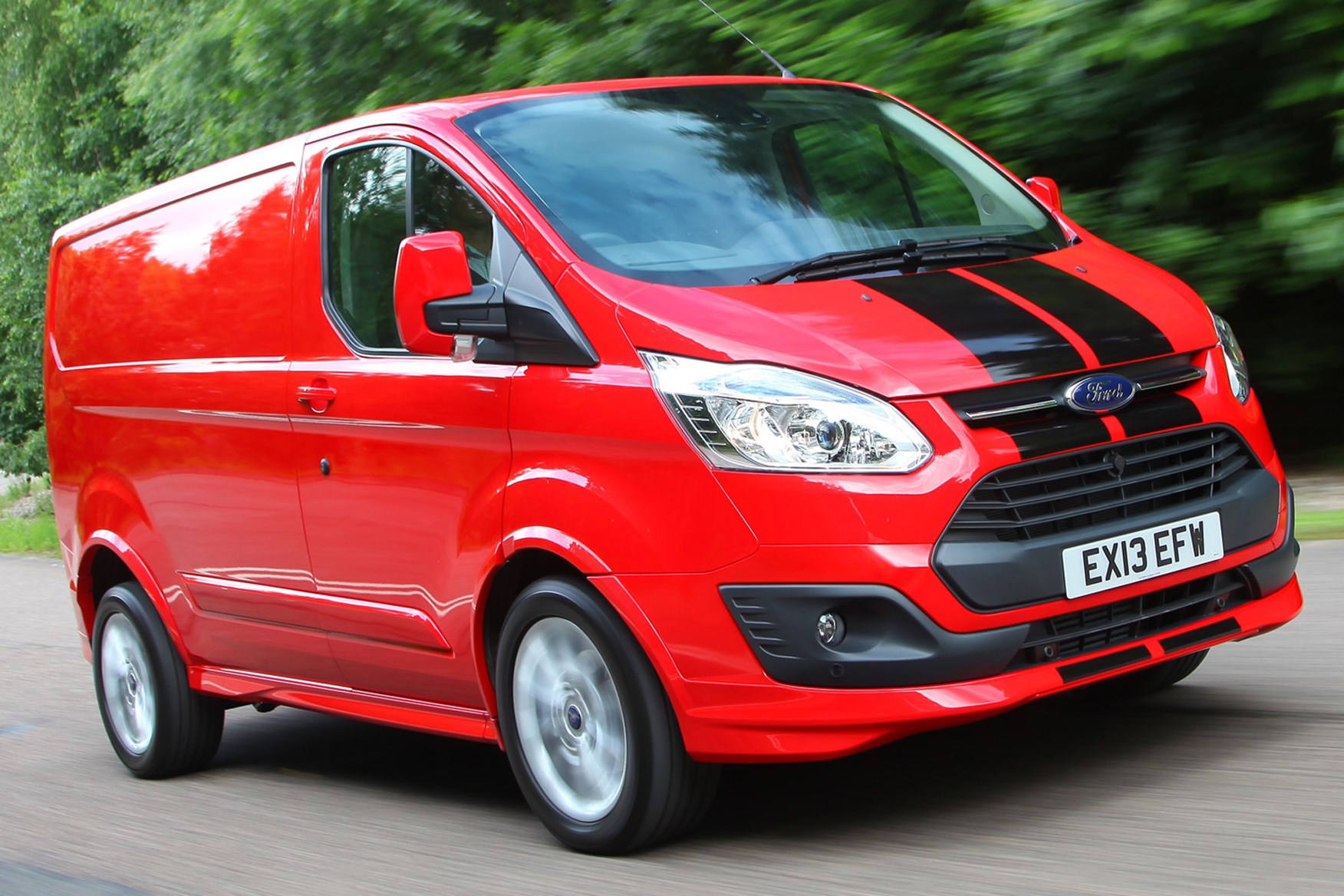 Sport model gets big wheels and a bodykit
Powered by the top 2.2-litre diesel engine
Available as short wheelbase, single cab only
We're driving the new Ford Transit Custom Sport Van on a test route through Essex. Coming the other way in slow-moving traffic, a shirtless man in an older Transit winds down his window and motions that we do the same.
Stopping alongside he leans forwards. 'That's pimped, mate,' he grins, gives us a thumbs up and drives away.
Not the typical reaction you might expect to a short wheelbase Transit, but then the Custom Sport Van is a bit of a head-turner. With 18-inch alloy wheels, a body kit and, most noticeably, a pair of racing stripes across the bonnet, it definitely stands out.
History of the Transit Custom Sport Van
The 2013-on Custom Sport Van is the latest in a line of limited-run Sport models that goes back to the larger two-tonne Transit Sport Van first launched back in 2006.
They've all followed a similar formula: take the short wheelbase, low roof bodystyle Transit, give it the most powerful engine of the range and top it off with extra equipment, more aggressive styling and, of course, stripes.
It's a formula that's been incredibly successful, with all previous Sport Van models selling out fast. Now it's the turn of the smaller one-tonne Transit Custom, launched last year, to get the Sport treatment.
What is the Transit Custom Sport Van based on?
The Custom Sport Van is based on the existing Custom Limited model, but gets part-leather seat trim and a couple of extra bits of equipment: a reversing camera incorporated into the rear-view mirror with Trailer Hitch Assist (which helps guide you up to the tow ball of a trailer); and a Lane Keeping Alert system, which vibrates the steering wheel if you cross a white line without indicating.
This system is useful if you're feeling very tired during a long drive but can be turned off if you find it irritating on a short trip.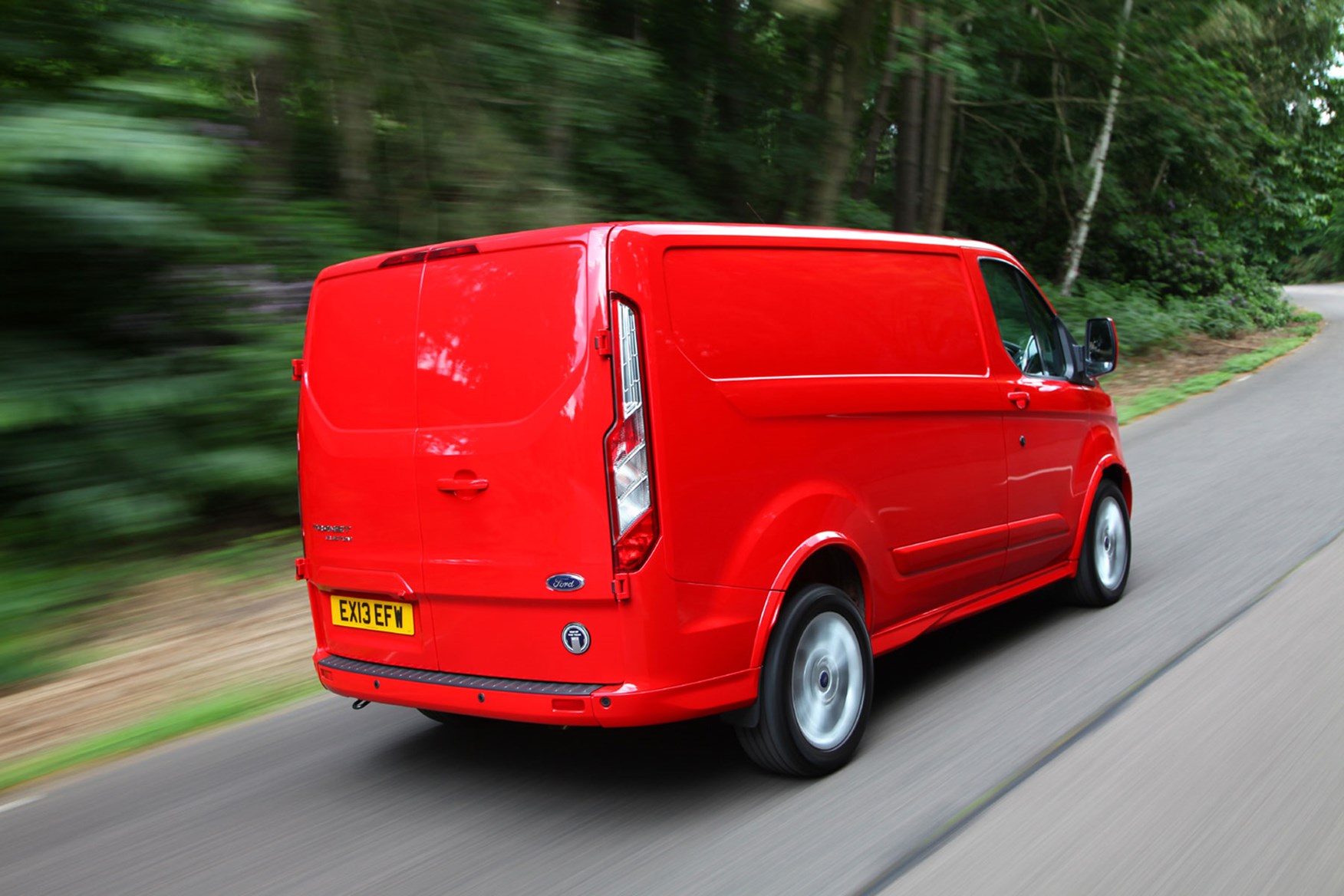 Under the bonnet is the most powerful engine available for the Transit Custom, a 155hp 2.2-litre TDCi turbodiesel unit with a six-speed manual gearbox. There are no mechanical changes under the Sport Van's skin: this van is all about styling and image.
That exterior body kit includes an extra spoiler lip on the front bumper, side skirts, an extension to the rear bumper and wider wheelarches.
Everything's body-coloured (except the stripes), including the mirrors and rubbing strips. There's a choice of colours: white with black stripes, black with white, or a Dennis the Menace-tribute red with black stripes.
What's it like?
Just like the regular Custom, it's a nice machine to drive on the road. The manual gearbox is a highlight, with a short, snappy shift that feels more like the sort of gearchange you'd find in a Fiesta than a large-ish van.
The interior feels car-like too, with a dashboard design that looks smart and engaging but still feels hard-wearing.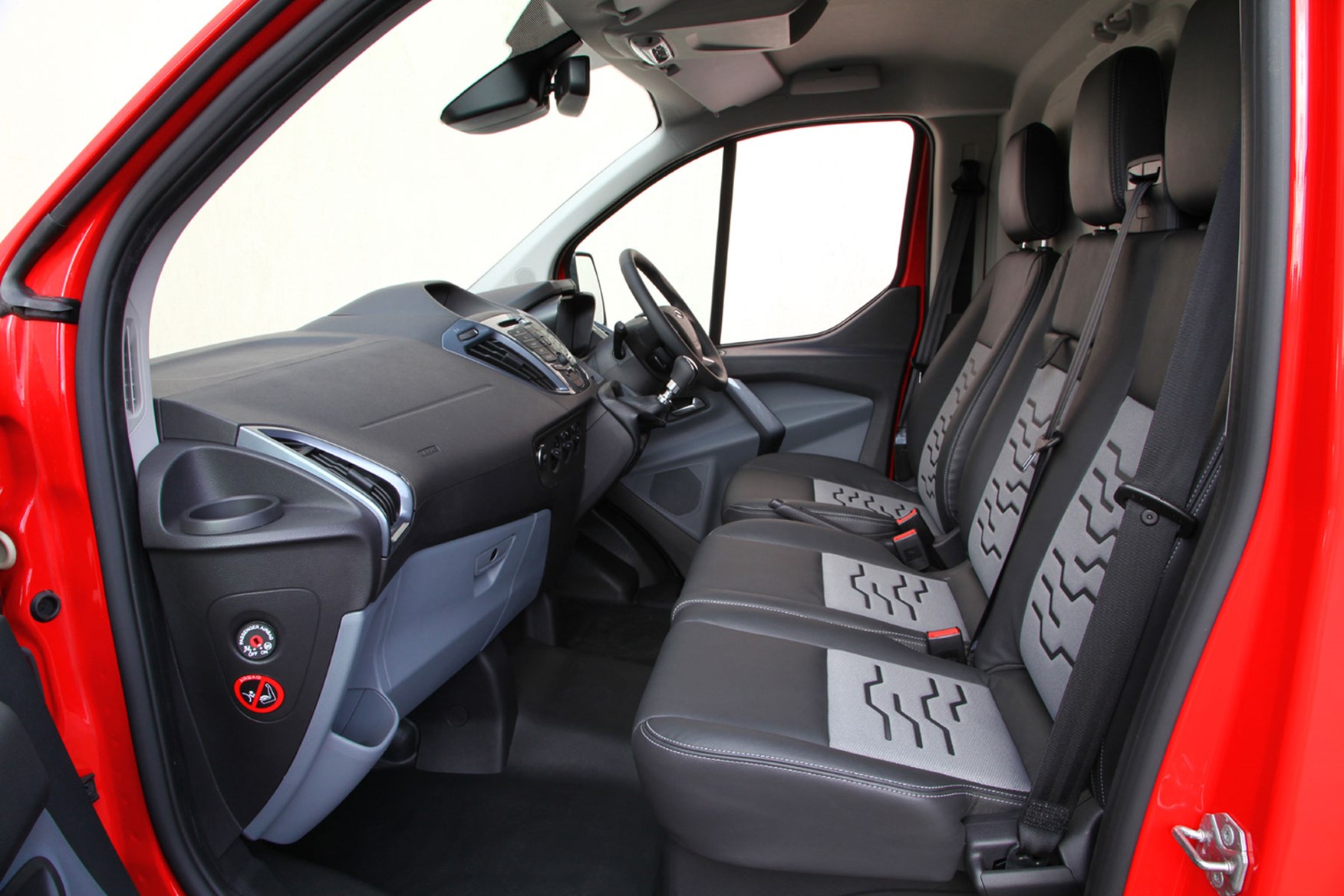 Like the regular Limited version, it comes with DAB digital radio and the Ford Sync connectivity system, which enables you to access functions on your phone on the move.
The 2.2-litre TDCi engine has plenty of torque and moves the vehicle along fairly swiftly. Unladen, the Sport Van can get a move on well enough to justify the 'Sport' bit in its name.
On the economy front, Ford says it'll manage average fuel consumption as high as 42mpg.
Should I buy a Ford Transit Custom Sport Van?
It's hard not to like the Custom Sport Van.
It has all the good points of the regular Transit Custom – of which there are many – and it's extra equipment over the Limited makes it a vehicle you'd be happy to spend time in and live with every day.
That body kit takes an already good-looking van and gives it an extra dose of personality – it's characterful.
Some might even say it's 'pimped'.
---

Ford Transit Custom SWB low roof 2.2-litre TDCi 100 (Euro 5) Econetic review
Tested June 2015 by Liam Campbell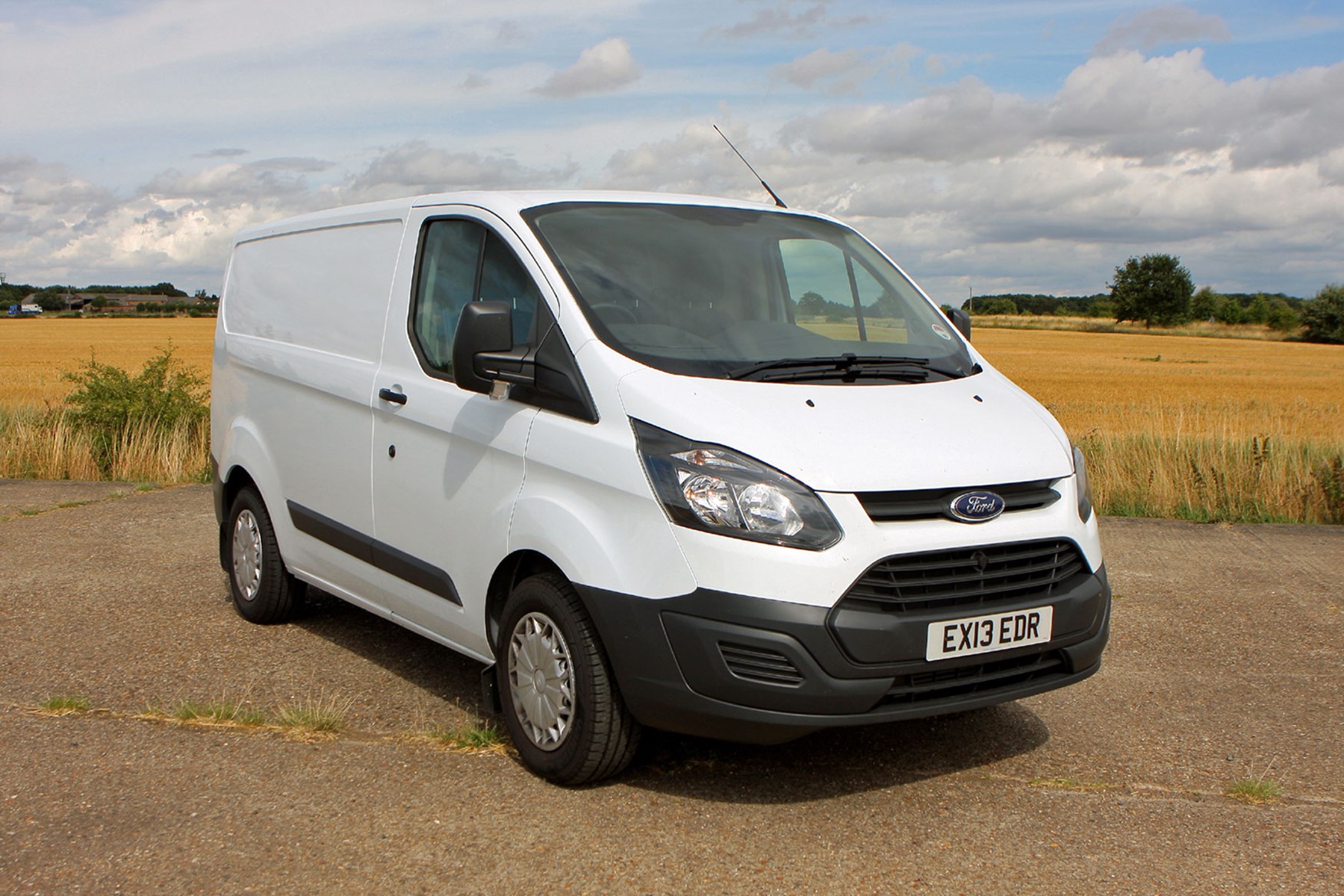 Frugal-focus for Transit Custom Econetic gives 44.8mpg
Stop-start and other systems reduce thirst for diesel
Version tested cost £20,470 excluding VAT
In today's economic climate, where many businesses are starting to nurture shoots of growth, fuel-saving vans like the Ford Transit Custom Econetic appear to make sense.
At least they do on paper - but does it equate to an advantage in the reality of the Transit's life as a workhorse?
Practical and spacious workhorse
Externally the Econetic model looks similar to other basic versions of the latest Transit Custom. Short and long wheelbase versions are available with a range of three payloads, priced from £18,695 to £20,395 before VAT.
We tested the short wheelbase '310' model which has a payload of up to 1,295kg in its 5.36 cubic metre cargo area. In layman's terms even this shorter Transit Custom can still accommodate three wooden pallets and their loads.
Carrying long items doesn't faze the Ford either – a flap low down on the passenger side of the bulkhead opens to allow materials up to 3.08m long to be transported - an additional 53cm over the main cargo area.
Our test van had optional LED lights (£80 plus VAT) in the load space area which were dazzlingly effective when rummaging around at night time. For the relatively low outlay, this is one extra we'd recommend.
In basic specification, much of the exterior mouldings are rugged, unpainted plastic, designed to take a bit of rough and tough over the van's lifetime. That said, front and rear parking sensors look a tempting extra at £295 plus VAT, especially when they come with front fog lights.
More efficient than ever
Under the Econetic's bonnet is a revised version of the 100hp 2.2-litre diesel found in other Transit Customs.
Assisting with the frugality crusade is a stop-start function, a system that charges the van's battery more efficiently, and an 'Acceleration Control'. This latter reduces the accelerator pedal's effect when the van's empty, promising a fuel saving of up to 15%.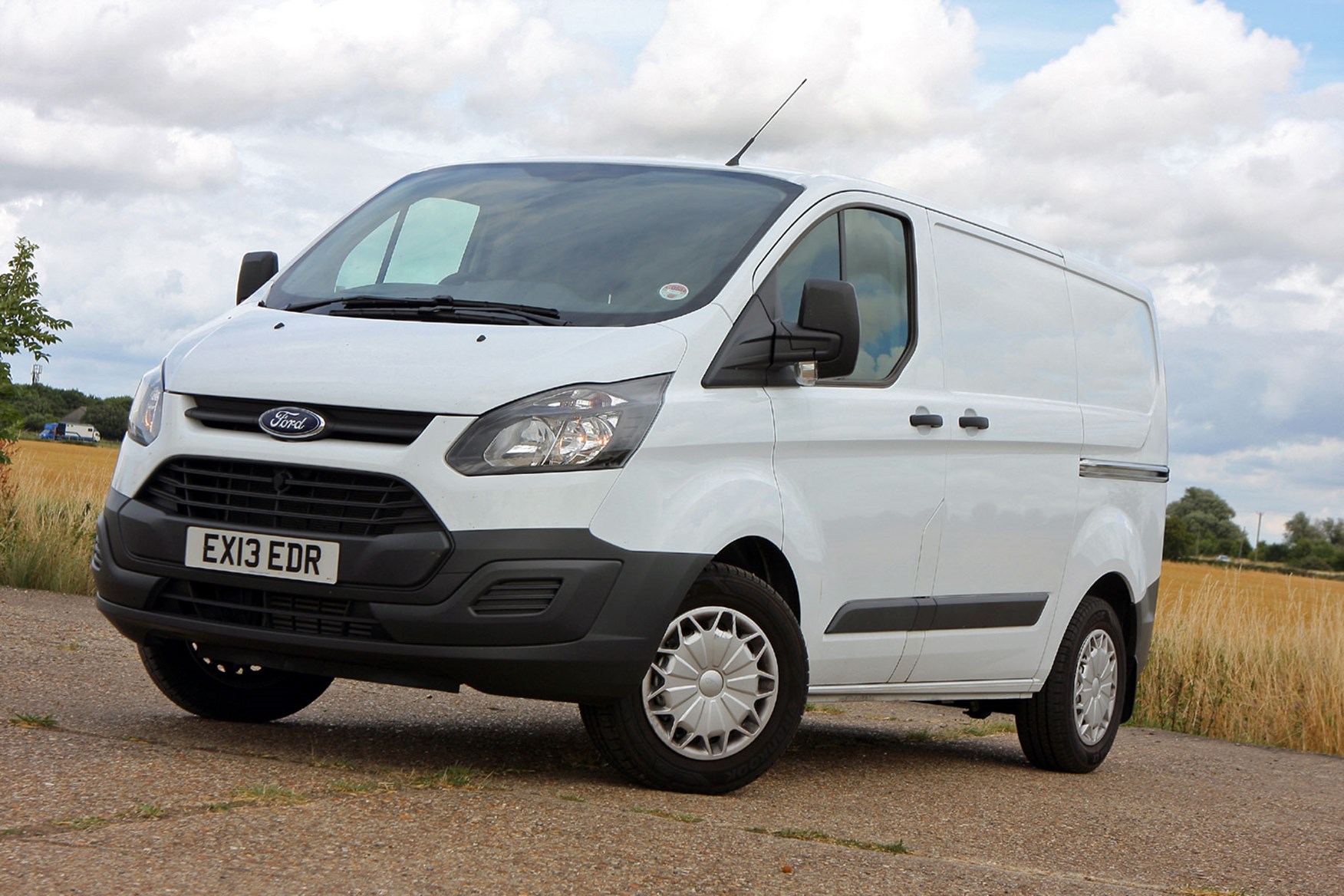 Although the engine produces a useful 310Nm of torque at just 1,300rpm the surge of power soon drops off, requiring much changing between the Transit's six gears to make any sort of comfortable progress.
It can be disconcerting on motorways where overtaking manoeuvres feel glacial unless two gears are dropped.
Positively, all these techniques improve the Econetic's average fuel economy to 44.8mpg, improving on the standard equivalent's figure of 42.2mpg. This gives a theoretical range of 788 miles in the Econetic versus the regular Transit Custom's 742 miles between refills.
With differences that small it means the Econetic will have to be driven 2,347 miles further before it pays for itself.
Reality will require a greater distance though: factor in that on test our Econetic managed a best of 36.7mpg, with a mixture of urban crawls and motorway cruising, and the range dropped to 645 miles.
Should I buy a Transit Custom Econetic?
With the Transit Custom Econetic, Ford is targeting a very specific demographic of business users where the vans would predominantly have a working life in slower speed, urban areas.
Here the fuel saving measures and stop-start function would come into their own.
But if you regularly transport heavier loads or commute greater distances, you would be far better served with an admittedly thirstier 125hp or 155hp-engined version.