Mercedes-Benz Sprinter dimensions (2013-2018)
There are a huge number of combinations when it comes to Sprinter cargo capacity.
You can choose between short, medium, long and extra-long wheel bases, and three different roof heights - plus chassis cab, crew cab, lowframe chassis cab and even the Traveliner minibus.
Every new panel van gets a full bulkhead and twin rear doors as standard, and, as you can imagine, the list of optional extras for payload space is absolutely huge.
Highlights includes electric sliding side doors, uprated axle weights, various bulkhead options, an enlarged fuel tank, myriad heating and lighting options, several load-securing options, a reversing camera, towing solutions and a wide range of extra safety kit.
Ready for full details of the Mercedes Sprinter panel van's load area dimensions? Brace yourself.
All models have a maximum load width of 1,780mm, with a width between the rear wheelarches of 1,350mm (except on twin wheel rear axle versions, which are narrower).
The other critcal dimensions are detailed in the table below.
| | | | |
| --- | --- | --- | --- |
| Mercedes Sprinter model | Maximum load length (mm) | Maximum load height (mm) | Maximum load volume (cu m) |
| Short bodylength, standard roof | 2,700 | 1,650 | 7.5 |
| Short bodylength, high roof | 2,700 | 1,940 | 8.5 |
| Medium bodylength, standard roof | 3,365 | 1,650 | 9.0 |
| Medium bodylength, high roof | 3,365 | 1,940 | 10.5 |
| Medium bodylength, super-high roof | 3,365 | 2,140 | 11.5 |
| Long bodylength, high roof | 4,400 | 1,940 | 14.0 |
| Long bodylength, super-high roof | 4,400 | 2,140 | 15.5 |
| Extra-long bodylength, high roof | 4,800 | 1,940 | 15.5 |
| Extra-long bodylength, super-high roof | 4,800 | 2,140 | 17.0 |
Note that the maximum load length is measured at the floor, and that the bulkhead extends 100mm further into the load area at its most obtrusive.
The side doors on all models except the Short bodylength have an opening of 1,300mm; on Short models this is reduced to 1,040mm.
The Sprinter is available in gross vehicle weights (GVW - the maximum weight of the van and everything on board) of between 3.0 tonnes and 5.0 tonnes, though remember that 3.5 tonnes is the greatest GVW you can legally drive on a standard UK car driving licence.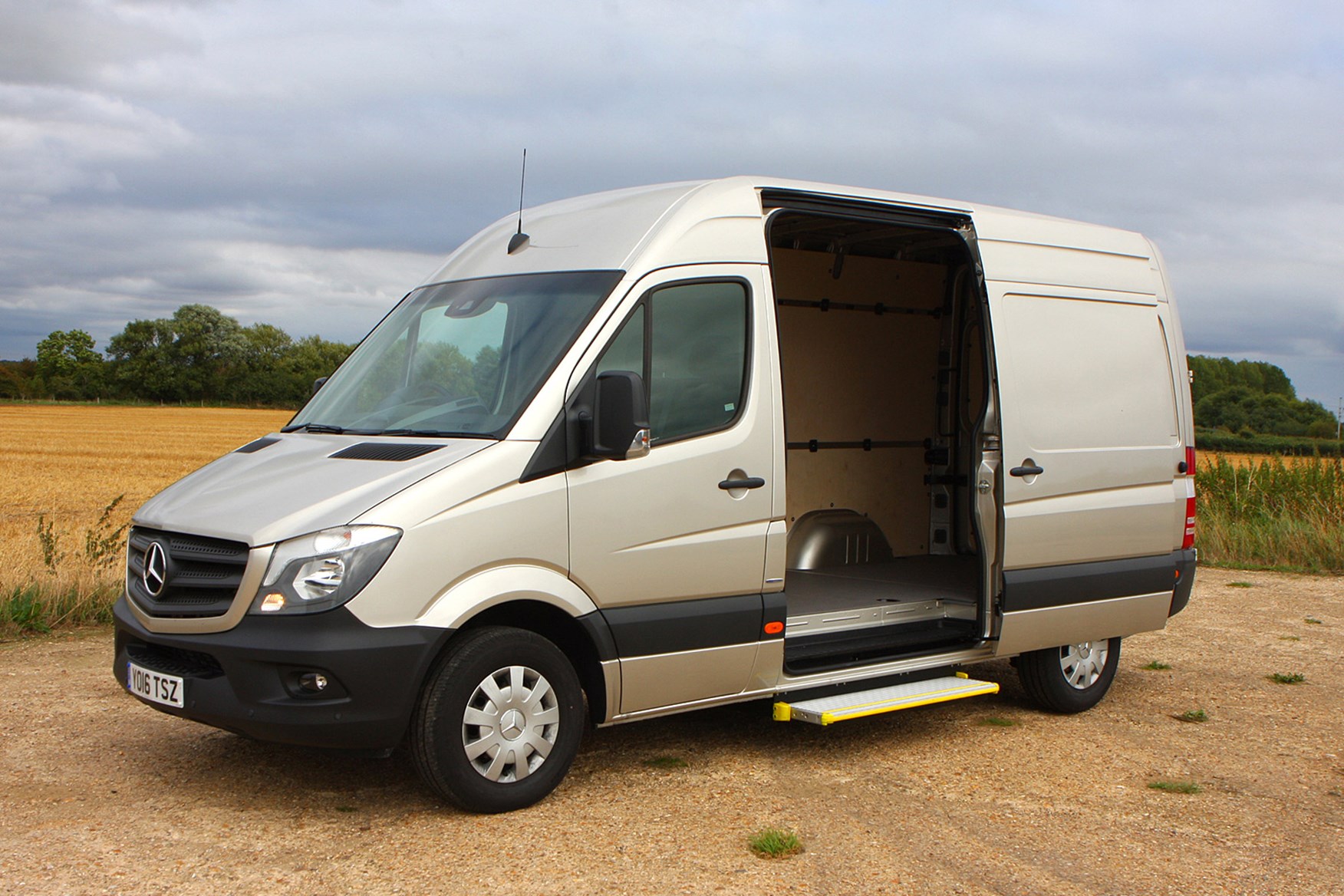 Mercedes Sprinter payload capacity
Payload varies between model; the larger the variant, the more it weighs and the less room left within the GVW rating for payload.
As such, the Short, standard-roof variant offers the highest payload for a 3.5-tonne GVW model at a maximum of 1,408kg (according to the latest technical details at the time of writing in April 2018).
This is fairly modest for a modern, large 3.5t van.
The highest payload rating overall for a 5.0-tonne GVW variant is 2,321kg.
All of these figures are for rear-wheel drive models; four-wheel drive Sprinters are quoted as having a payload 130-165kg lower than their less complex equivalents.
>> Best large vans for payload
Mercedes Sprinter towing capacity
The standard towing capacity for this Sprinter is 2,000kg - though this can be upgraded to 3,500kg if you purchase the correct towing upgrade when buying new.
Also note that fuel-economy maximising BlueEfficiency Plus versions are not designed for towing at all.