UPDATE: we've now driven the impressive new 2017 Renault Kangoo ZE 33 – click here to read the Parkers Vans review
Renault Pro+, the French brand's commercial vehicle arm, has released details and pricing for the 2017 update to its Kangoo ZE electric van.
The changes, which include a new electric motor and battery package, mean the Kangoo ZE 33 – as the new model is called – can now travel 50% further between top-ups. It also charges faster, too.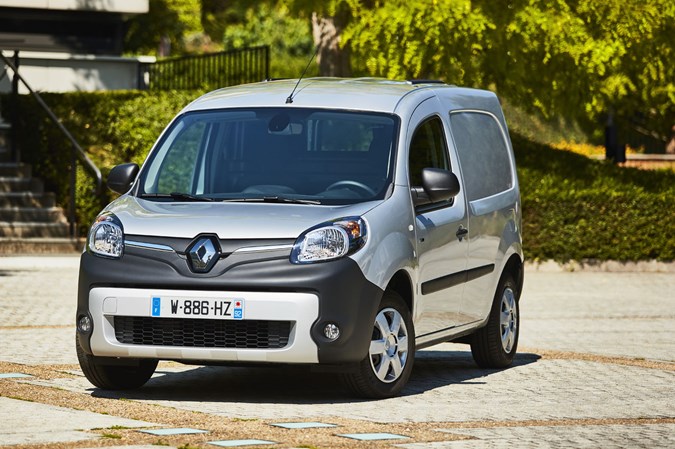 Helping these drivetrain upgrades, the Kangoo ZE 33 also becomes the first electric van to incorporate heat pump technology into the air-conditioning system. This should enable it to operate more effectively in low temperature conditions.
The revised model made its debut at the 2017 Brussels motor show, alongside the new Renault Master ZE electric large van in January. Parkers Vans drove it in July, pricing was announced in September and it finally goes on UK sale in November 2017.
Renault Kangoo ZE 33 prices start at £14,195 (including Plug-in Van Grant, excluding VAT).
Renault Kangoo ZE 33 review – the longer-lasting electric van
The Parkers Vans guide to electric vans
New technology foir 2017 Renault Kangoo ZE
The main improvement for the Kangoo ZE 33 is the new 33kWh battery pack, which uses Renault's latest power-dense technology to fit 50% more energy storage into the same space (the previous Kangoo ZE battery was 22kWh).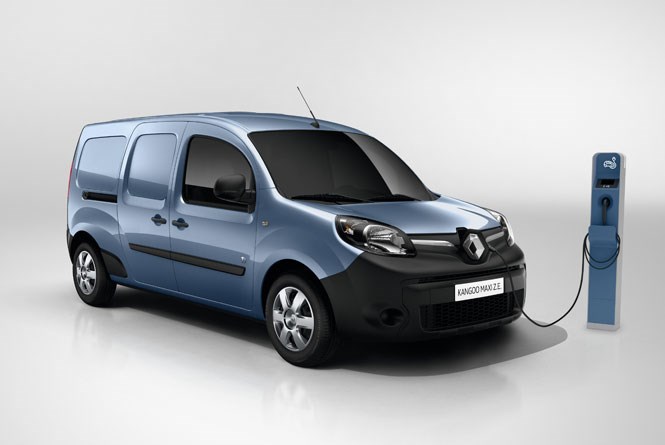 Working alongside this is a new R60 electric motor. Derived from the R75 motor fitted in the latest Renault Zoe electric car as well as the forthcoming Master ZE, the R60 produces the same 44kW (equivalent to 60hp) as the previous motor, but should do so with greater efficiency, consuming less energy in the process.
The heat pump also consumes less energy than traditional heating technology, hence this also improves how far the Kangoo can travel when it's cold.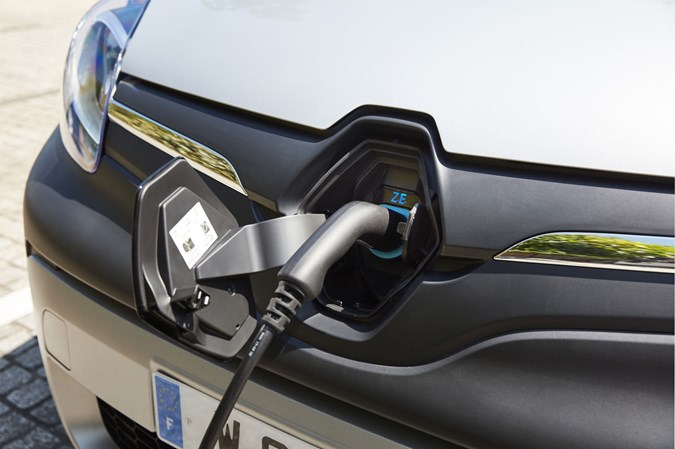 Finally, a new 7kW charger means this little electric van can be fully charged in six hours when attached to the matching – and also new – 7kW wallbox. An hour's charge using this system adds 21 miles, so you could conceivably top-up during lunch ahead of a second delivery run in the afternoon.
What's the range of the 2017 Renault Kangoo ZE?
Renault says the new components give the 2017 Kangoo ZE an official driving range of 170 miles – a significant increase over the previous version's 106-mile range.
How realistic is that driving range claim?
We all know diesel and petrol vans struggle to match their official fuel economy figures, and electric alternatives are no different – with the added bonus that they're less convenient to 'refuel', requiring access to a charge point (or at least a plug), and quite a bit of time.
To this end, electric van manufacturers like Renault have realised that it's much more helpful to potential customers if they also publish more realistic range calculations.
As such, Renault believes the new Kangoo ZE should be capable of 75-124 miles 'in real world driving conditions'. The lower figure is a worst-case-scenario kind of deal when driving in winter; electric vehicles are typically compromised by cold weather.
Either way it should go further than any other electric van currently on the market.
Renault Kangoo ZE 33 pricing and specification details
The Renault Kangoo ZE 33 comes in four versions:
Kangoo Van ZE 33 – with two seats and a 3.6 cubic metre load area
Kangoo Maxi Van ZE 33 – longer-wheelbase version with two seats and a 4.6 cubic metre load area
Kangoo Maxi Crew Van ZE 33 – five-seater version with no fixed bulkhead and 1.3 cubid metre load area
Kangoo Maxi Crew Van Cab ZE 33 – 'multipostional' bulkhead means this five-seater can be converted to safely carry a load up to 3.6 cubic metres capacity
All versions are sold in a single Business trim only, and maximum payload is 650kg, as with the previous version.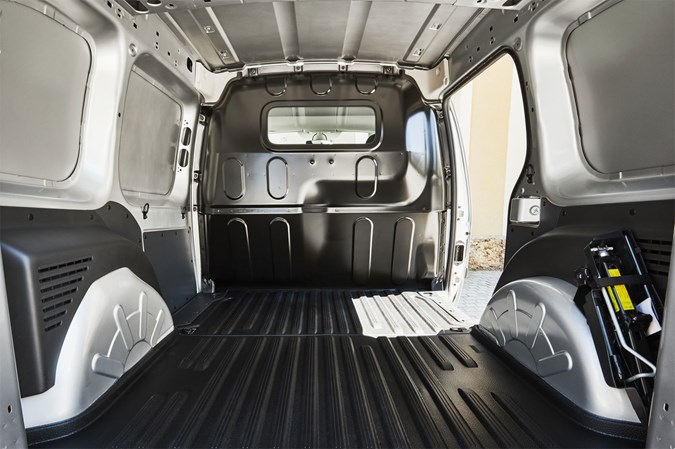 Similarly, Renault is persisting with its battery leasing model – meaning that you can buy the van but lease the battery separately. This is supposed to be reassurance against any battery failure issues, as the battery will be a costly item to replace.
However, the batteries don't typically go wrong, and we understand that most UK customers prefer to go for the complete van.
Prices start at £17,741 for a complete purchase in this manner (after the Plug-in Van Grant and before VAT).
The equivalent battery-lease version costs from £14,195 (ditto), with monthly battery lease rates starting at £49, depending on mileage.
Any interesting options on the Renault Kangoo ZE 33?
In addition to the aforementioned heat pump, another unusual optional extra is the 'permanent' Eco mode.
While all Kangoos come with an Eco mode switch, having it permanently engaged on the ZE 33 can apparently increase the driving range by 10%. You may find it struggles more with hills, though…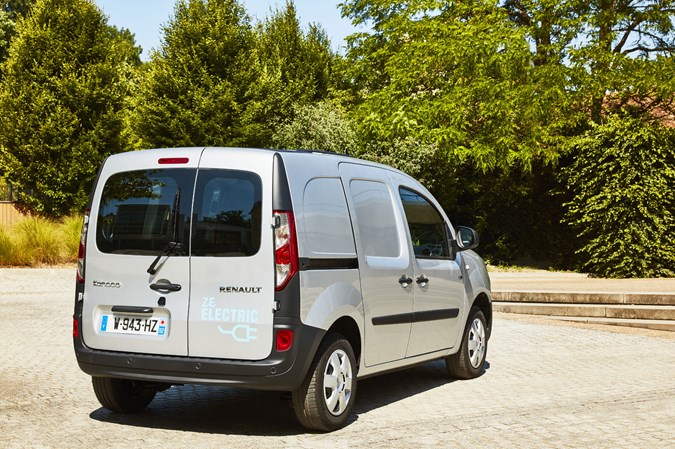 The rest of the options list is taken up with more familar items, including parking sensors, a reversing camera and cruise control, though there are some special connected services as well.
New Renault connected services
Renault has also been working on two new connected services for electric vehicles, in addition to the selection already available on the Kangoo ZE.
The new pairing are ZE Trip, which helps you locate compatible charging points (of which there are no more than 80,000 in Europe, apparently), and ZE Pass, which is a dedicated smartphone and tablet app to provide payment for these chargers. Both will be rolled out during 2017.
New Renault fleet management tools
Beyond this, Renault is also working on two new general connected services tools for all types of LCV fleets, not just electric ones: Fleet Management and Predictive Maintenance.
Fleet Management is a telematics service that automatically uploads data about fuel economy, range, tyre pressure and the mileage to the next scheduled service. Renault claims this can help fleet managers to lower costs and improves safety, as well as manage their vehicles better.
Predictive Maintenance is exactly what it sounds like – a predictive vehicle analysis that aims to head-off mechanical failures by spotting when they might occur. This is not only intended to help fleet managers plan ahead but also prevent 'incidents linked to a lack of maintenance'.
If you think this sounds like a licence to avoid servicing until the vehicle really needs it, you might be right. Renault says it could 'maximise vehicle availability to increase productivity.'
Renault plans to make both new connected services available in 2017.
Also read:
The Parkers Vans electric van guide