Peugeot Expert dimensions and specs (2016-on)
On this page you'll find Peugeot Expert van dimensions information, including details on the load area, payload capacity and towing capability.
To read more about driving impressions, running costs and value, check out our main Peugeot Expert review page.
We also have a separate Peugeot e-Expert dimensions page for the electric version of this van. 
The Peugeot Expert medium van offers three body lengths, one roof height, and has one of the highest payload ratings of any mid-size van, making it a great choice if you need to carry heavy goods or equipment.
Practicality and size
Traditionally, medium vans come in two body lengths and two roof heights; like an increasing number of modern mid-size vans, the Peugeot Expert comes in a choice of three body lengths but only a single roof height.
The Expert is closely related to the Citroen Dispatch, Toyota Proace and Vauxhall Vivaro - though the Vauxhall doesn't offer the shortest body. All four vehicles are built by Stellantis.
The unrelated Mercedes-Benz Vito is another medium van with three lengths and one roof height.
Note that the Compact version of the Expert is particularly short. Making up in maneuverability what it loses in load space - though you may find a long-wheelbase small van from the sector below suits you better if that's a major concern.
Peugeot Expert exterior dimensions:
 Peugeot Expert
 Compact 
 Standard 
 Long 
 Exterior length
 4,609mm
 4,959mm
 5,309mm 
 Exterior height
 1,910-1950mm 
1,899-1,940mm
 Exterior width without mirrors 
1,920mm
 Exterior width with mirrors
2,204mm
 Wheelbase 
 2,925mm
3,275mm
Note that although there is only a single roof height, that roof height is not quite the same across all three bodylengths.
The height given is for an unloaded van, and also varies depending on the payload rating, which those Expert vans rated to carry around 1,000kg sitting a little lower than those rated to carry 1,400kg (due to the additional strength of the rear suspensions for the latter).
Regardless of version, the relatively low height makes the Expert (and its cousins) ideal if you regularly need to fit a van under car park height restrictors.
However, if you need to transport taller objects that can't be placed on the their side you will need to look elsewhere. We'd suggest the Ford Transit Custom, as it's available in payload rating almost as high as the Peugeot Expert, and is a multiple winner of the Parkers Medium Van of The Year award.
Peugeot Expert load area dimensions:
 Peugeot Expert
 Compact
 Standard 
 Long
 Maximum load length
 2,162mm 
 2,512mm 
 2,862mm 
 Load length with Moduwork

 3,324mm

 3,674mm

 4,024mm

 Load length at mid-height

 1,835mm

 2,185mm

 2,535mm

 Maximum load height
1,397mm
 Maximum load width
1,628mm
 Width between wheelarches
1,258mm
 Maximum load volume
4.6m3
5.3m3
6.1m3
 Moduwork max load volume  
5.1m3
5.8m3
6.6m3
 Number of Euro pallets
2
3
Note: if viewing on a phone, you may need to turn the screen sideways to see the whole table
The Moduwork load-though bulkhead comes as standard on all but the entry-level versions of the Expert, and includes not only a gate that allows you to pass longer items through the bulkhead, but also an outer passenger seat that folds out of the way to maximise space.
As you can see, this adds 0.5 cubic metres of load space.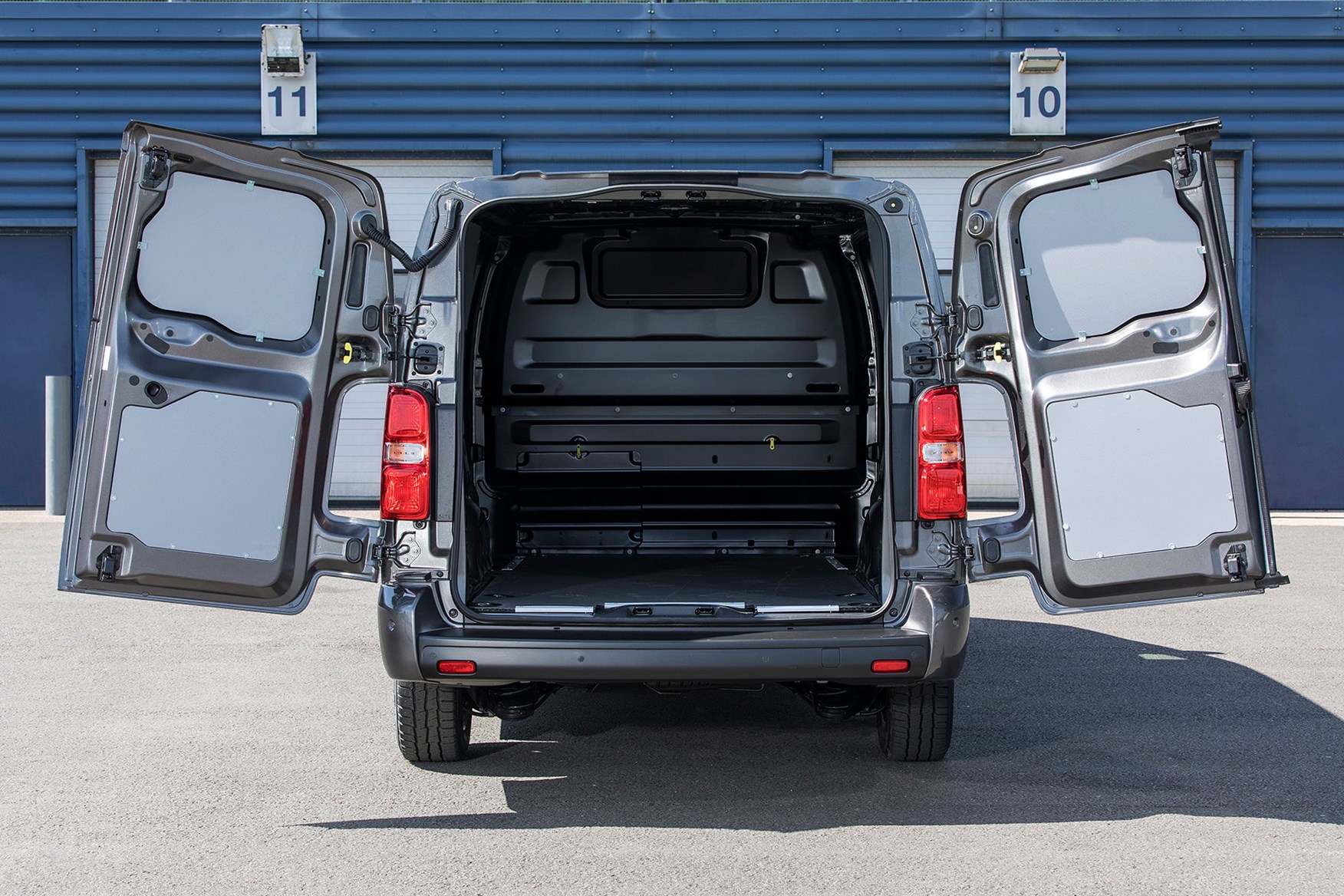 All versions of the Expert come with at least six load lashing points and an internal light in the back. Usefully, there's a 12v socket in the load area, too.
Peugeot Expert Crew Van load area dimensions:
 Peugeot Expert Crew Van
 Standard 
 Long 
 Maximum load length
 2,017mm
 2,365mm 
 Load length at mid-height
 1,352mm
 1,700mm
 Maximum load height
 1,337mm
 1,339mm
 Maximum load width
1,618mm
 Width between wheelarches 
1,258mm
 Load volume
3.2m3
4.0m3
 Maximum number of seats
6
 Max height under row 2 seat 
232mm
 Load volume under row 2 seat 
73 litres (0.73m3)
The Expert also comes as a six-seater Crew Van, which is available in the Standard and Long body sizes.
Peugeot Expert door dimensions:
 Peugeot Expert
 Compact 
 Standard 
 Long 
 Side door max width 
 745mm
935mm
 Side door max height 
1,238mm
1,241mm
 Rear doors max width 
1,282mm
 Rear doors max height 
1,220mm
All Expert panel vans come with twin sliding side doors as standard, and a full steel bulkhead.
The side doors can be motorised as an optional extra, including an automatic opening system that works when you wave your foot under the rear bumper. Clever, but we've found it doesn't always work reliably.
At its very best, the Peugeot Expert can transport nearly 1,450kg of payload - making it the joint best medium van for payload at the time of writing November 2021).
Peugeot Expert payload rating:
| | | | |
| --- | --- | --- | --- |
|  Peugeot Expert  |  Compact max payload  |  Standard max payload  |  Long max payload  |
|  BlueHDi 100 |  1,154kg |  1,109kg |  1,160kg |
|  BlueHDi 145 |   |  1,446kg |  1,408kg |
|  BlueHDi 145 auto  |   |  1,412kg |  1,408kg |
The Expert's maximum payload varies with engine, body size and fitted equipment - so although the above represent the maximum for the avaialble variants at the time of writing, the maximum payload allowed for a specific van will change with the trim level and any extras that increase the kerb weight.
Peugeot Expert towing capacity:
| | | |
| --- | --- | --- |
|  Peugeot Expert  |  Unbraked towing capacity  |  Braked towing capacity  |
|  Compact BlueHDi 100  |  750kg |  1,800kg |
|  Standard BlueHDi 100 |  750kg |  1,800kg |
|  Long BlueHDi 100 |  750kg |  2,000kg |
|  Standard BlueHDi 145  |  750kg |  2,500kg  |
|  Long BlueHDi 145 |  750kg |  2,500kg |
Also read:
>> Our main Peugeot Expert review page