Renault Trafic review (2014-on)
A clever, comfortable medium van choice
PROS
Smooth, punchy engines
Robust construction
Good to drive
Real-world fuel economy
Clever interior features
CONS
Dual passenger seat narrow for two
Lots of painted bodywork
Rivals offer higher payload
Cab lacks storage
No high-power engine choice
Summary
The Renault Trafic is a medium van that competes against the likes of the Ford Transit Custom and the VW Transporter. Hugely popular in Europe, it's consistently the fourth best-selling mid-size van in the UK, and has plenty to recommend it.
Particular strengths are the impressively comfortable and car-like driving experience, a selection of smooth 1.6-litre turbodiesel engines that always seem to go better than their modest power outputs would suggest, and good real-world fuel economy.
A 2019 update sees most of these 1.6-litre engines replaced with new 2.0-litre units - see below.
You will find that many rivals are available with higher payload ratings, however, and pretty though the cab is to look at, it doesn't offer the most practical storage – despite some clever features including a built-in phone holder and middle seat cushion that folds down to form a desk.
Full details of the Trafic's load area capacity are listed on our separate Dimensions page.
>> Best medium vans for payload
Renault Trafic bodystyles and variants
The Trafic comes in two lengths and two roof heights, making a total of four body variants:
SL – short-wheelbase, low roof
LL – long-wheelbase, low roof
SH – short-wheelbase, high roof
LH – long-wheelbase, high roof
It's sold as a panel van, a crew van (with second row of seats) and a passenger van (essentially a compact minibus with up to nine seats). A platform cab for conversions is also available.
A load-through flap in the bulkhead means items such as pipes up to 4.15m in length can be accommodated.
The Renault Trafic is also the basis of the Vauxhall Vivaro, Fiat Talento and Nissan NV300 – and all but the Vauxhall are built by Renault in France (the Vivaro is built by Vauxhall in Luton).
Renault Trafic engines
The Trafic has been available with a choice for four power outputs since launch, and up until September 2019, these are all based around a modern 1.6-litre dCi diesel engine. The more powerful versions use twin turbochargers, while the others use a single turbo.
Exact output varies with the level of emissions regulation the engines comply with. The original Euro 5 Trafic range was offered with 90hp and 115hp single-turbo engines or 120hp and 140hp twin-turbo engines.
When the Trafic was brought up Euro 6 emissions standard in 2016 every engine variant got a 5hp boost, meaning 95hp and 120hp for the single-turbos, 125hp and 145hp for the twin-turbos.
Performance is strong and efficiency is good across the range – though the twin-turbo models have the edge in both areas, and the 90hp is best suited to light duty only.
Renault Trafic 2019 engine update and minor facelift
In April 2019, Renault annouced the Trafic would be receiving an update to bring it into line with new Euro 6D Temp (or Euro 6.2) emissions regulations.
As such, as well as a minor change to the way it looks (pictured above), all but the entry-level 1.6-litre engine will be replaced with new 2.0-litre engines. These offer up to 170hp, and the option of an automatic transmission for the first time.
There are also minor changes inside the cab, including new infotainment systems.that finally offer Apple CarPlay and Android Auto.
The updated Trafic is set to go on sale in 2019, though we should be driving it somewhat earlier than that.
See our seperate news story for more details.
>> 2019 Renault Trafic - new engines for facelifted medium van
Renault Trafic trim levels
The Trafic comes in three standard trim levels: Business, Business+ and Sport. All are well equipped.
Sport models can be upgraded with a Sport+ pack, which adds a mild bodykit and some stripes.
In late 2017, Renault also introduced the Trafic Formula Edition; celebrating the link between Renault vans and the Renault Formula 1 racing team, these are exclusively finished in black and yellow. Striking, but certainly not subtle.
>> Renault Trafic Formula Edition review
---

The Parkers Vans verdict on the Renault Trafic
The Renault Trafic is a great choice of medium van if you don't need to maximise your payload capability.
Comfortable over long-distances and easy to drive it, it should also prove easy to live with, and Renault's extensive light commercial vehicle expertise is evident throughout.
Skip to our full verdict on...
The Transit Custom is generally thought of as the gold standard for medium van driving enjoyment, but the Renault Trafic and its extended family push the Ford hard. This is a really nice van to drive.
Comfort and handling
With suspension supposedly similar to Renault's MPV passenger cars, the Trafic rides bumps well, is quiet at speed and doesn't go all wobbly in the corners. In fact, you can drive it surprisingly quickly, thanks to the sharp, accurately weighted steering and lack of body roll.
Yet, the steering is still light enough to make city traffic a doddle, and the level of control gives you confidence when positioning the van on the road. The six-speed manual gearbox feels positive, too, meaning you're unlikely to slot the wrong ratio by accident.
Does any of this matter in a van? Maybe not. But when the driving experience is this sorted, it's less tiring – and you might even find you enjoy it.
Smooth, powerful engines
The Trafic comes with 1.6-litre engines, in a class where many rivals still use 2.0-litre motors – but go for one of the more powerful options and won't give this a second thought.
The best choices are certainly the twin-turbo models. Offering 120hp or 140hp in Euro 5 guise and 125hp or 145hp when upgraded to Euro 6 from late 2016 onwards, alongside 320Nm or 340Nm of torque (regardless of emissions standard), these are smooth, refined and easily grunty enough to shift their maximum payloads.
The cheaper single-turbo versions come with either 90hp or 115hp at Euro 5 levels, 95hp or 120hp at Euro 6. With a relatively slight 260Nm, the very entry-level models are going to feel a little overwhelmed in some circumstances, but the more powerful ones have a useful 300Nm so should do most jobs well.
What they won't be is as refined, effortless or economical. We'd definitely go twin-turbo given the option.
The Trafic has an appealingly car-like interior. Materials feel high quality throughout, managing to appear both hardwearing and resilient at the same time.
Some thought has clearly gone into making the cab of this van an attractive design, and many of the components have been borrowed wholesale from the Renault car range.
The driver's seat is very comfortable and packed with adjustment – so longer journeys shouldn't be a chore. The dashboard is relatively low-slung, giving a good view of the road ahead, and the cab has a spacious air, so you're unlikely to feel cramped.
That is unless you're two-up on the dual passenger seat, which some may find a little narrow; there's not much knee room for the person in the middle either.
Controls for the audio player are handily located on a stalk below the right-hand side of the steering wheel; within easy reach of your fingertips it quickly becomes second nature to use these to adjust the volume or change the radio station.
The ventilation controls are also within easy reach (unlike in some rivals *cough* Transit Custom *cough*).
Shame that the steering wheel controls for the optional cruise control aren't illuminated, however, as it makes this tricky to use at night.
An office on wheels?
Renault describes the Trafic's interior as an office on wheels.
Not only can you get a passenger seat with a centre section that folds down to form a desk, cradles for smartphones and even tablets are available to attach to the top of the dashboard. It seems to us that the phone cradle may struggle with the size of the latest models, however.
Renault also says there are 14 stowage areas with a total of 90 litres of internal space.
But to us it always feels that looking good has been prioritised over practicality in the Trafic, and finding suitable places to stuff things doesn't come as easily as it does in the latest Transporter and facelifted Transit Custom. The Trafic is better than the Citroen Dispatch and Peugeot Expert in this respect, though.
Renault Trafic standard equipment and options
If you want satellite-navigation, no problem – top-spec Sport models get a basic MediaNav setup as standard, there's an R&GO app for use with phones and tablets on other models, or you can option a fully-integrated R-Link infotainment system like that fitted to Renault's cars.
Equipment is generous on every model, with useful items such as DAB radio and Bluetooth fitted as standard.
For a full breakdown of what you get with each trim level see the Costs section of this review.
Will the Renault Trafic be cheap or expensive to run, and is it good value? Find out here.
Renault Trafic mpg
With official claimed fuel economy figures of up to 47.2mpg with the latest Euro 6 engines, the Trafic has got anything but a raging thirst. And while many rivals now offer better on-paper mpg, out in the real world Renault's 1.6-litre engines typically prove genuinely efficient.
So the Trafic is a good choice if you're looking to minimise your per-mile fuel costs. Stop-start technology comes on nearly every version, and there's a button-activated Eco mode reduces power and softens the accelerator in an effort to help you save fuel.
Renault Trafic warranty and service intervals
Until February 2018, other positives include the standard four-year, 100,000-mile warranty and the four-year roadside assistance package. However, this has now been dropped in favour of a more conventional three-year package.
On the plus side, Renault is now offering servicing from just £99 instead, via it's EasyLife Plan scheme.
Good news, as the 25,000-mile service intervals are starting to look a little slim versus rivals such as the Ford Transit Custom, which claims to go 36,000 miles between dealer visits now.
Click here for a Renault Trafic insurance quote via mustard.co.uk
Renault Trafic standard equipment
The Trafic also comes comprehensively equipped right across the range, adding to its sense of value.
Renault Trafic Business standard equipment highlights:
Height- and lumber-adjustable driver's seat with arm rest
Reach and rake adjustable steering wheel
Electric front windows
Heated, electric door mirrors
Passenger bench seat
Steel bulkhead
Sliding side door on the passenger side
Twin rear doors that open to 180 degrees
Remote locking with alarm and immobiliser
16-inch steel wheels
Renault Trafic Business+ standard equipment highlights (in addition to Business):
Air-conditioning
Mobile Office – fold-down middle passenger seat with detachable A4 clipboard and laptop storage
Smartphone cradle
Underseat storage for passenger bench
Body-coloured front bumper, door rail and rear light surround
Load-through flap in bulkhead
Wide View Mirror blindspot mirror in passenger sunvisor
Rear parking sensors
Renault Trafic Sport standard equipment highlights (in addition to Business+):
Automatic lights and wipers
Leather steering wheel
Premium dashboard with closeable upper storage
Metallic paint, including body-coloured door mirrors
17-inch alloy wheels
Front foglights
Cruise control with speed limiter
After a long and rigorous development process, reliability should be a strong point of the latest Renault Trafic. While it doesn't typically get outstanding results in reliability surveys, neither does its customer satisfaction get slated.
All the fixtures and fittings inside and out have a robust, quality feel to them, with none of the cubbies or lids on the storage bins feeling flimsy.
Renault has a comprehensive nationwide dealer network, including dedicated van centres called Pro+.
As most of the mechanical parts are shared with other models in the Renault range, keeping your Trafic roadworthy should a component fail, shouldn't prove difficult.
Renault has a reputation for building very safe passenger cars, so it is a little disappointing that the Trafic only received three out of five stars when tested by independent crash safety body Euro NCAP in 2015 – scoring just 52% for adult occupant safety in the process.
Child occupant safety was a much more reassuring 91%, but it's the lack of standard safety equipment that really lets it down overall – though this is hardly unusual for a van, having just one airbag fitted (for the driver) doesn't help.
And while a further three airbags can be optioned, the Trafic also misses out on some of the latest driver aids – such as autonomous emergency braking (AEB) – which are starting to be made available on rival models. VW, for example, began fitting this as standard across its entire van range in mid-2017.
Renault Trafic standard satety and security equipment
You do get a steel bulkhead included on all Trafic panel vans, plus an alarm system for security, and electronic stability control (ESC) with Grip Xtend function to help keep you on the road in tricky conditions.
Hill-start assist and Renault's simple yet clever wide-view blindspot mirror in the passenger sunvisor are also standard.
Which Renault Trafic is best for me?
Looking for more information about individual Renault Trafic models? We've driven the following variants extensively:
---

Renault Trafic Formula Edition review
After a distinctly different sporty looking van that still comes with a bit of a proper pedigree image? Then the Renault Formula Editions could be for you. Biggest seller is likely to be the Renault Trafic Formula Edition in the medium van sector, which we've got for review here – but matching versions of both the Kangoo small van and Master large van are also available.
Just one thing, though: you'd better like black and yellow…
Renault prices sporty new Formula Edition vans
Whoa. The Renault Trafic Formula Edition is certainly striking to look at
Yep. Finished in Pearlescent Black with Sirius Yellow detailing, it sure does stand out – so it'll be pretty easy to find again in the carpark.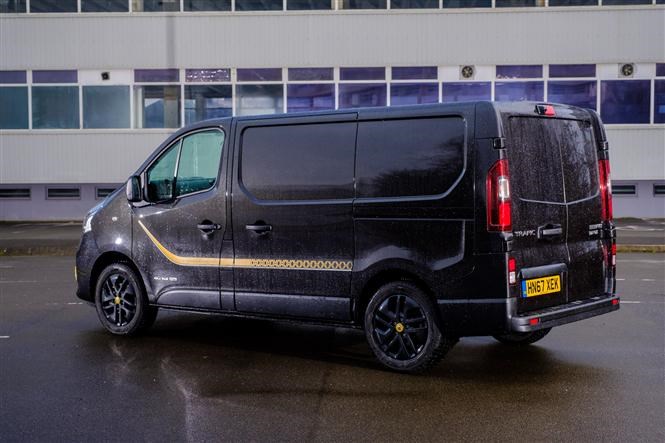 Neat details include the blacked-out Renault badge, grille and 17-inch alloy wheels; we're not so taken with the yellow foglight surrounds. On the inside there's a standard-fit Luxe pack (more details below) and special Formula Edition mats.
How the looks compare to the likes of the Ford Transit Custom Sport or the VW Transporter Sportline is probably a matter for personal preference. And how much you like yellow.
Ford Transit Custom Sport vs VW Transporter Sportline twin-test review
Beyond the eye-catching colouring, you might argue Renault hasn't actually gone far enough in the transformation. Compared to both the Ford and – especially – the VW, the Trafic's physical alteration is really rather mild.
But then, you might also be glad it lacks a ground-hugging front bumper the next time you're faced with a particularly aggressive sleeping policeman.
What was that about the Renault Trafic Formula Edition having proper pedigree?
The clue is in the name – these vans celebrate the link between the Renault Pro+ light commercial vehicle (LCV) business and the Renault Formula 1 team.
Tenuous, maybe. But Renault F1 does use Renault vans as support vehicles.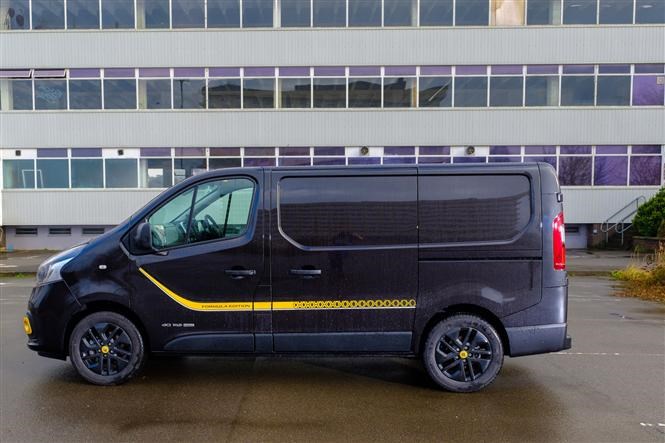 In terms of the Trafic range, the Formula Edition sits alongside the regular Sport model as an upgrade to the Business+ specification. And unlike those rival sporty vans, its added bells and whistles are available on all Trafic engine options as well as both short and long wheelbase lengths – though only the standard low rather than high roof.
Is the Formula Edition faster than a regular Renault Trafic?
Sadly, no. This is a van in a fancy suit, not an F1 car in disguise. The best you can hope for is the top-spec 145hp twin-turbo version of the Trafic's regular 1.6-litre diesel engine, which we're testing here.
There's no particular shame in this – it's a smooth, surprisingly potent engine.
And for all that it's significantly out-gunned on paper by those Ford and VW rivals, which boast 170hp and 204hp respectively, in isolation you're rarely going to find yourself wishing this Renault was faster: 0-62mph is quoted at just 10.9 seconds.
So the Renault Trafic Formula Edition is good to drive?
Really good. Not that this should be a surprise – the Trafic was already one of the best vans to drive, and there are no changes to the Formula Edition that might ruin this.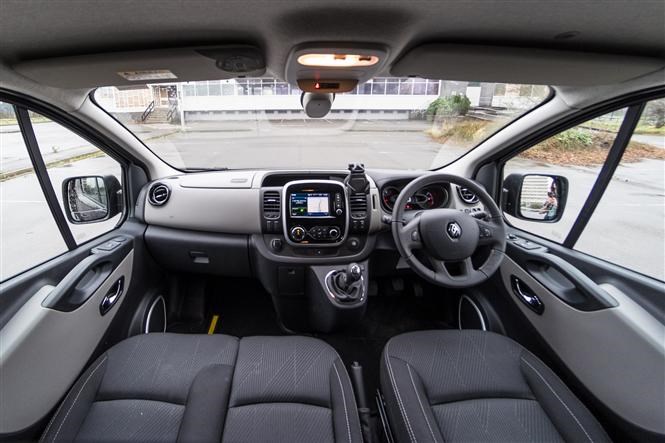 A nicely mechanical and pleasingly quick-shifting six-speed manual gearbox puts most of Renault's car transmissions to shame, helping to make the most of the impressive engine – which really does go very well for just 1.6 litres in a sector where the best rivals have 2.0-litre power.
With 340Nm of torque it should still cope with the Formula Edition's modest maximum payload capacity just fine, while typically delivering real-world fuel economy to shame most medium rivals. Great motor.
Better yet is the Trafic's tidy handling. Not only does it ride bumps well – despite the 17-inch wheels, and even when unladen – bodyroll is limited, predictable and controlled, while the keen steering provides an unexpected level of detail and feedback for a van.
This makes the Trafic fun on a B-road, and the driver confident in the throes of city-centre, uh, traffic.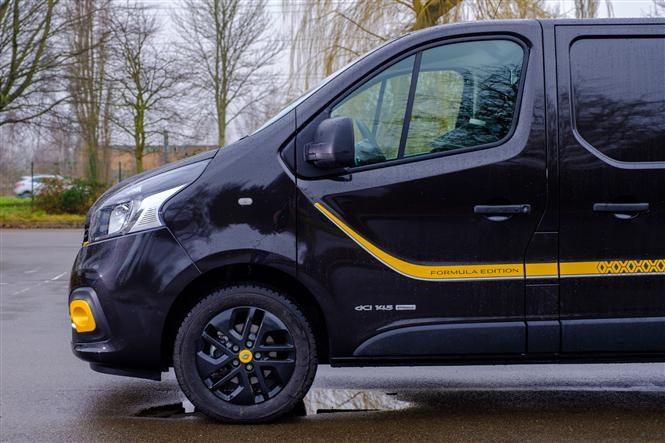 The standard-fit electronic stability control system also features a Grip Xtend function, improving traction in slippery conditions such as snow and ice as well as mud. Don't expect to go off-roading, but it could get you out of trouble.
What's the Renault Trafic Formula Edition like in the cab?
The test van was awash with optional extras – including the car-like R-Link infotainment console with sat-nav, a climate control system, keyless go and handy reversing camera, not to mention additional curtain and passenger airbags – but even so, the Formula Edition is a comfortable place to spend time.
Supportive, comfy seats and clear dials cover the basics, while the Luxe pack standard on this model adds a touch of extra quality with its leather-finished gearknob, satin radio and speaker surrounds, gloss black air vents, chrome detailing and closed upper glovebox area.
If you're not familiar with Renault's control layout it might take you a short time to get used to the position of things such as the steering column-mounted audio controls – and it's a shame the buttons on the steering wheel for the cruise control aren't illuminated, making them tricky to use at night – but otherwise everything is very user-friendly.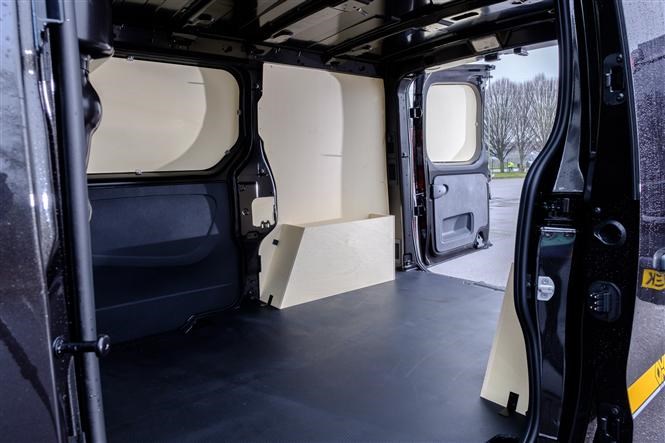 In fact, we'd argue Renault's designers have gone a little too far in making the Trafic homely, as one of our routine criticisms of this van is the lack of useful storage in the cab.
Having a fold down middle passenger seat that converts into a desk and space under the passenger bench is all very well – but day-to-day stash cubbies are sadly lacking, and the door pockets aren't very practical. The clever phone cradle has been out-grown by most smartphones now, too.
DAB radio, Bluetooth and a USB connection are standard, and the subtle colour-coded gearshift indicator might just save you money by helping you drive more efficiently.
Renault Trafic Formula Edition load area dimensions and payload
The Renault Trafic Formula Edition we're testing is an SL27 model – which is short-wheelbase (SWB) and the lower gross vehicle weight (GVW); you can have a Formula Edition LL29 instead which is long-wheelbase (LWB) and a higher GVW. The GVW is worth considering because impacts the amount of payload you can carry – and this is an area where the Trafic is typically limited.
These are the Renault Trafic Formula Edition SL27 dCi 145 load area dimensions:
Maximum load length: 2,537mm
Maximum load height: 1,387mm
Maximum load width: 1,662mm
Width between the wheelarches: 1,268mm
Maximum payload: 1,077kg
This is one of the lower payload ratings in the medium van sector – and needs to be considered in light of all the Formula Edition's standard equipment, which will eat into it slightly.
The load area on this example is ply-lined at extra cost (£630 at the time of writing), and it has an additional sliding door on the driver's side (£280; the passenger-side sliding door is standard equipment).
A load-through flap in the bulkhead extends the maximum load length to 2,950mm.
Renault Trafic Formula Edition running costs
Like almost every van that meets Euro 6 emissions regulations, the Trafic has an AdBlue tank, which needs to be topped up – usually every 5,000 miles or so, depending on the sorts of journeys you do.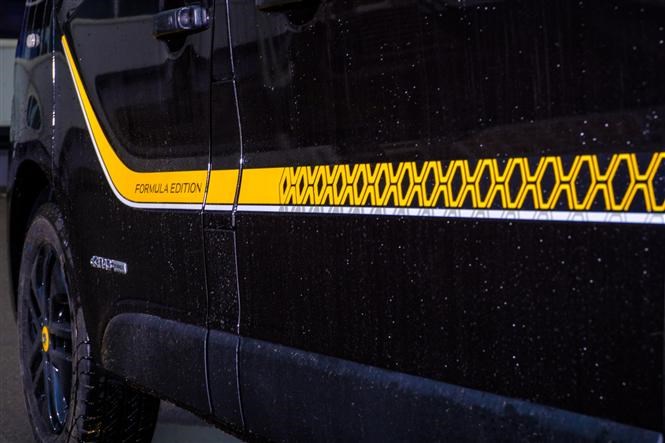 Claimed fuel economy is a reasonable 46.3mpg according to the official figures – a way off the top mpg for the medium van class on paper, but the Trafic's engines are impressively efficient performers in the real world.
Renault also gives you a four-year warranty and four years' of roadside assistance as standard.
Verdict
One of the nicest driving vans around, the Renault Trafic is certainly a top choice for those who do lots of miles over lots of different types of road – but aren't worried about maximising payload capacity.
Priced from £25,850 (ex-VAT) with this, the most powerful engine option, the Formula Edition is good value, and the attention-grabbing looks could be a great way to promote your business.
On the other hand, if you're not sold on the black and yellow, the regular Trafic has all the same strengths with added subtlety.
Rivals to consider:
Vauxhall Vivaro Limited Edition Nav
Also read:
The best medium vans for payload
---
Renault Trafic Sport Nav review
This is our first crack at the Renault Trafic medium-duty van with a Euro 6 engine. The Trafic was the seventh best-selling van of 2016, and the new engine range – which brings more power and improved fuel efficiency at the expense of extra weight – should see this success continue into 2017.
Renault has also been the best-selling commercial vehicle manufacturer in Europe for the past 18 consecutive years, so it's fair to expect it to know what it's doing.
This at least partially explains why three other manufacturers sell their own version of the Trafic: the Fiat Talento and Nissan NV300 are both built by Renault in the same factory in France, while the Vauxhall Vivaro is assembled in the UK at Luton.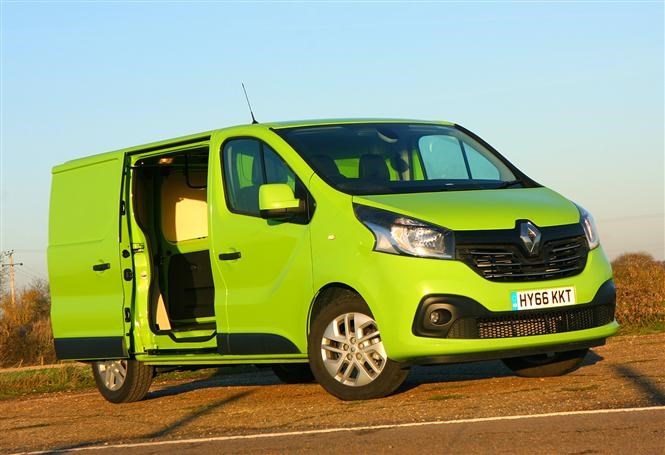 The key competitor in this sector is the Ford Transit Custom, which outsells all other vans in the UK by at least two to one. The Volkswagen Transporter and Mercedes-Benz Vito are the premium benchmarks, and in an area of the van market where we're starting to see an increasing number of 'lifestyle' sales, this is becoming important.
Though as we'll see, the Trafic is hardly shabby when it comes to quality in the cab.
Which Renault Trafic is on test?
In this instance we're testing the Renault in SL27 Energy dCi 125 Sport Nav specification. That means it's the Short body length, Low-roof version with the smallest gross vehicle weight (GVW) rating, powered by a 125hp twin-turbo 1.6-litre diesel engine.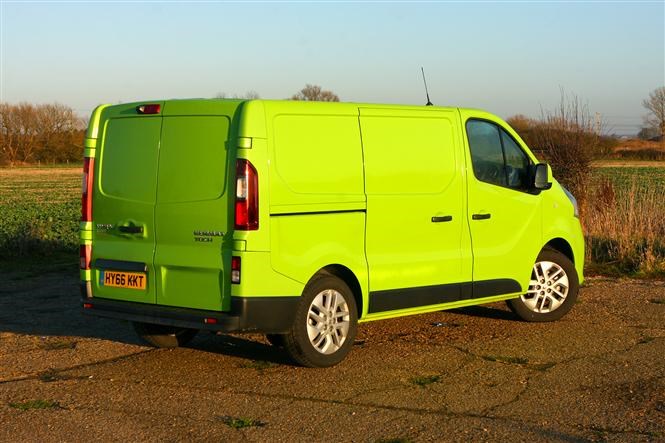 Sport is the top trim level, above Business and Business+, while Nav means satellite-navigation is fitted.
The Trafic is also available with a longer body, a high roof, and a higher GVW denoted by the number 29 at the end of the badge. Three other 1.6-litre engines are also offered: two single-turbo and one twin-turbo - the extra blower brings a little more power but also improved fuel economy spec-for-spec.
What's the Trafic's new Euro 6 dCi 125 engine like?
The entire engine line-up gains 5hp over the old equivalents, so there isn't a massive leap in performance. Fuel economy for the dCi 125 is a claimed 47.2mpg – which is a mere 0.1mpg more than the old twin-turbo dCi 120 engine.
So it hardly seems worth the expense of the newly fitted AdBlue tank, which is now needed to make the Euro 6 emissions control systems work. Although it is some 3.6mpg better than the single-turbo dCi 120 Euro 6 engine also offered in the Trafic.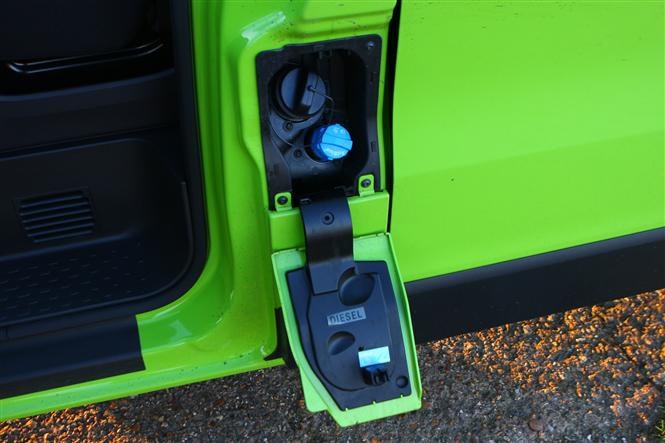 Fortunately, the extra heft of these items has been counterbalanced on most Trafics by increasing the gross vehicle weight; this particular van is up to 2,820kg GVW, leaving room for a 1,077kg payload.
On top of which, AdBlue helps reduce those nasty NOx emissions, which are physically harmful to the environment. The Energy badging means this Trafic is equipped with start-stop, which works seamlessly.
More importantly to most operators, this is an excellent engine. With 320Nm of pulling power this is smooth and powerful – so much so that you can actually use the (supposedly) fuel-saving Eco driving mode without feeling like someone's added an anchor to the back – and incredibly refined.
There are few quieter van choices in any area of the market. Genuinely: excellent.
Driving experience
In fact, we'd apply the word excellent to the entire driving experience. Renault has made no secret of raiding the parts bin of its car division here, and with suspension components derived from its people carriers, the Trafic is direct and confidence-inspiring from behind the wheel.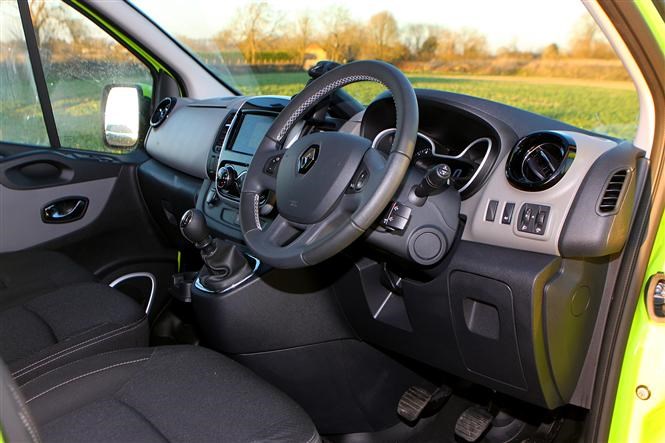 Steering assistance is very well judged, being light enough to make tight manoeuvres easy but with enough substance to ensure the Trafic feels superbly stable at motorway speeds. The shift action for the six-speed gearbox is mechanical and precise, and it's easy to find a comfortable driving position.
What's more, the ride quality is exceptional for a van – particularly when travelling unloaded, which usually results in a harsh and bouncy rear. You will be able to cover big distances in one of these with very little complaint.
Renault even includes a low-traction mode as standard in addition to the usual electronic stability control, helping you get a grip on slippery surfaces such as gravel and light snow.
Car-derived mobile office
There are more car-derived elements in the cab. The entire centre console area with air-conditioning controls and sat-nav infotainment screen looks like it could have been lifted directly out of a Clio, and the rubber-trimmed adjustment dials are again of the very highest quality in van terms.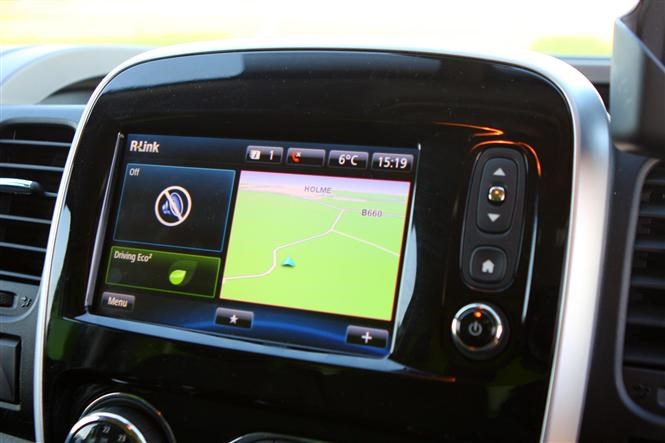 The infotainment takes a bit of figuring out, but this comes with time, and the major instruments are clear and modern. Renault has also incorporated a number of mobile office elements: the middle seat back folds down to form a desk, there are laptop and tablet holders available, plus a built-in clipboard. Great, functional stuff. Most of the cubbies have covers, too.
However, nothing is perfect and the Trafic is no exception. The built-in mobile phone holder is too small for a Samsung Galaxy S7 – which means it will be too small for plenty of other modern smartphones, too – the door trims are more style than substance with limited storage space, and the fixed steel bulkhead of our test example rattled continuously.
Sport Nav is top of the current range, so standard equipment is generous, with all of the following included:
Renault Trafic SL27 dimensions and payload
There's good and bad news when it comes to the Trafic's load area.
The bad news is that the Trafic is among the very worst for payload in the medium van sector. Try the '29' series if you need more, but you'll likely find that equivalent rivals carry much more weight.
See the Parkers Vans list of the top medium vans for payload by clicking here
On the other hand, if what you want to carry is just big rather than heavy, the Trafic has one of the most commodious medium van load areas. These are critical dimensions of this SL (Short length, Low roof) variant:
Maximum load length: 2,537mm
Maximum load width: 1,662mm
Width between rear wheelarches: 1,268mm
Rear door opening width: 1,391mm
Rear door height: 1,320mm
Maximum side door opening: 1,030mm
Load volume: 5.2 cubic metres
Payload: 1,077kg (for SL27; 1,237kg for the SL29 equivlent)
The interior wood panelling was finished to an extremely high standard on our test van, and there were no fewer than 16 load lashing points in the back, not including the optional internal roof rack that was also fitted. This comes with a reinforced panel to protect the bulkhead from damage.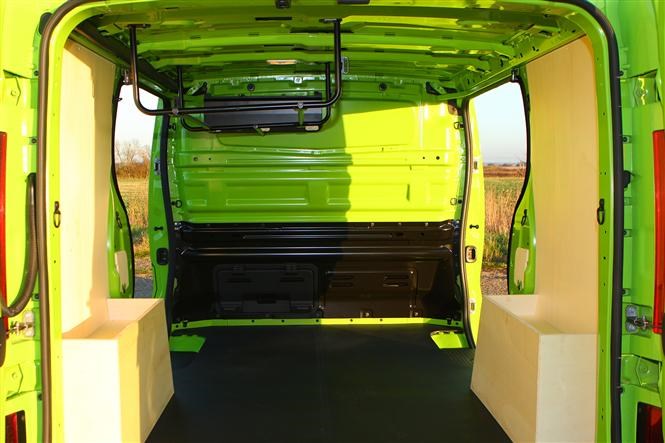 Renault also offers full racking solutions.
Servicing and warranty
The Trafic comes with a four-year warranty; the first two years cover you for unlimited mileage, but there's a maximum 100,000-mile limit for all four years. You also get four years of roadside assistance cover, should the worst happen.
Service intervals are every 25,000 miles or two years, whichever comes first. Not bad, but the Euro 6 Ford Transit Custom with 2.0-litre EcoBlue engine stretches the gap between services to 36,000 miles. The Ford only comes with a three-year warranty, though.
Verdict
Shopping for a medium van? The Renault Trafic isn't the best option for those seeking the heaviest possible payload rating, but in all other respects it should be right near the top of your list. And the dCi 125 engine is a great choice – more efficient than the lesser alternatives, powerful enough to make the pricey dCi 145 at the top of the range seem an unnecessary extravagance.
That said, it's also worth checking out the Nissan NV300, because it's a very similar van that comes with a five-year warranty. We'll bring you a UK road test of this alternative model very soon.
Find a deal on your next van in the Parkers Vans for sale section
Read the full Renault Trafic van review by clicking here
Also consider