With sales growing 63 percent since the current Vauxhall Movano's introduction in 2010, conversions are one of the Luton-based manufacturer's fast growing sectors. Around 2,000 conversions will be registered by Vauxhall this year with the wider offering likely to significantly increase the number being registered.
In addition to the three factory-fit conversions (the tipper, dropside and box body built by Scattolini) off on the Vauxhall Movano, there are also 50 retro-fit, or 'Approved', conversions for more specialist operators.
The lead times are longer and there's often additional paperwork as they are made to order, and the bodybuilder needs to be certain of the customer's requirements. However, these conversions are always carried out in the UK and can be tailored to the customer's requirements.
Despite most manufacturers offering a recommended conversion program, Vauxhall has the advantage in having the joint-lightest chassis on the market, meaning it can offer more payload at 3.5t, which is better than any other manufacturer except Renault which matches it.
Low Loading Luton – Maxi-Low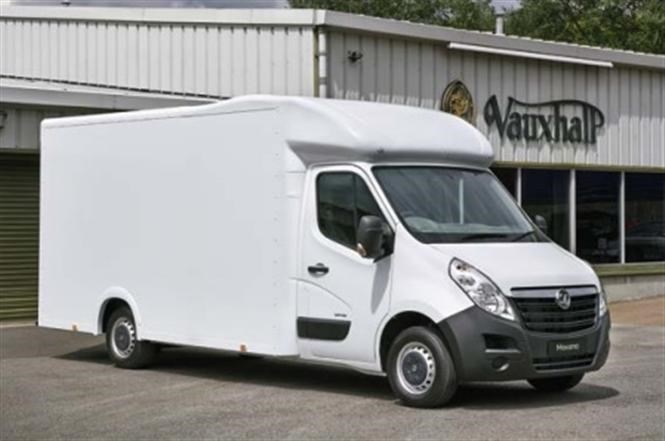 Leicestershire-based Maxi-Low has been manufacturing bodies for just three years, but already has a portfolio of type-approved Luton vans. The Movano Low Loader is built onto a platform chassis so it can benefit from a loading height of just 600mm; around half of the standard Box Van.
The load area is also much bigger thanks to the low floor, offering two load volumes of 20 and 26 cubic metres. Thanks to the durable and lightweight polypropylene material, the payload is rated at an impressive 1,496kg at 3.5t.
Refrigerated van – Cold Consortium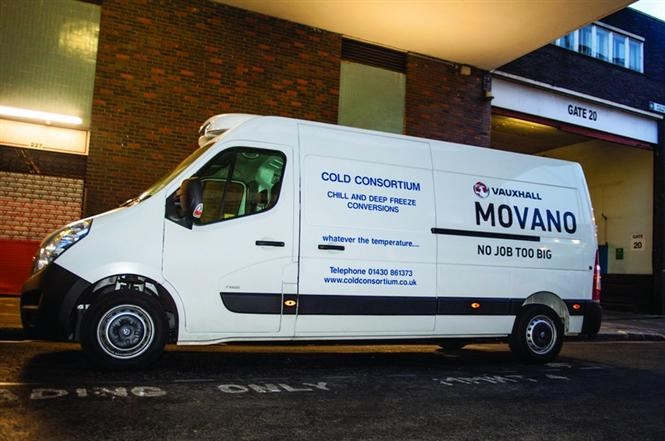 For those transporting fresh produce, medical supplies or meat and fish, Vauxhall has appointed the Cold Consortium as its chosen bodybuilder. Established in 1994, the Yorkshire-based firm insulates and lines the load area for the handling of food products, before fitting Webasto-Diavia and Hubbard refrigeration systems.
The insulation panels are made from an easy-clean epoxy resin, which has been impregnated with bactericide to reduce to risk of contamination. There is an eye-level, in-cab digital display for monitoring load area temperature which can be specified by the operator; chiller (0 to 8-degrees), low temperature (down to –18-degrees), deep freeze (down to –25-degrees) or multi-temperature.
Minibus – GM Coachworks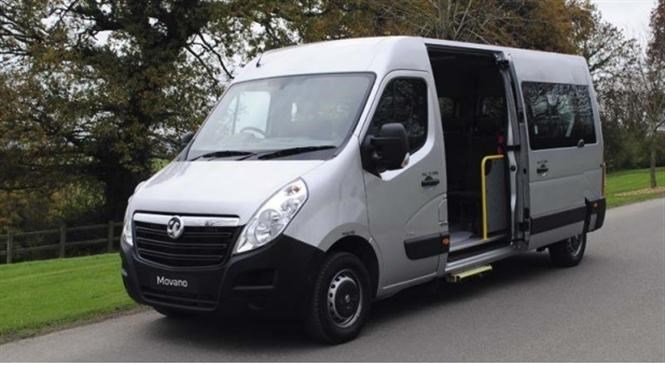 The management at GM Coachworks spotted a number of opportunities, with regards to vehicle licensing, and have developed a 17-seater minibus that can be driven on a conventional UK standard car licence.
They say that, because car licencing weight limits are extended to 3.9 tonnes under certain conditions, and the lightweight Vauxhall Movano is the only vehicle where carrying 16 passengers is possible.
Welfare Vehicle – Clarks Vehicle Conversions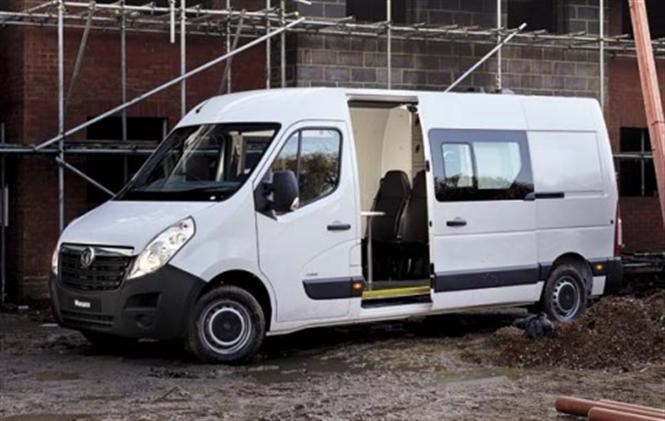 Welfare Vehicles are required for companies for a transient workforce in remote areas, like power-line installers, road repairers, civil engineering companies, etc. Clarks has been specialising in these type of conversions for 30 years, and are small-series type approved for the Vauxhall Movano.
As well as providing shelter, the Movano welfare vehicle offers stationary seating for up to seven people, separate heating, hand wash and eating facilities. This is also the ability to provide a hot water boiler for tea or coffee and a built-in microwave for the preparation of hot food and snacks.
Luton van – Ingimex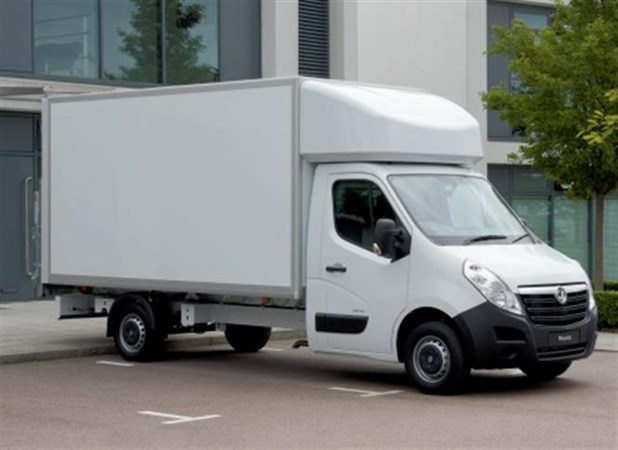 Ingimex is the largest bodybuilder in the UK, having been established in 1972. The Ingimex Luton is made from glass-reinforced plastic (GRP) and weighs just 630kg, returning an impressive payload of up to 1,163kg at 3.5t.
There is an 18 cubic metre load volume (excluding the Luton head area over the cab) and the loading height is 980mm, although a grab handle and rear foldout step are provided. The rear shutter door has a 1,951mm aperture and there is an ooptional 200kg tail-lift.
Parcel van – Pullman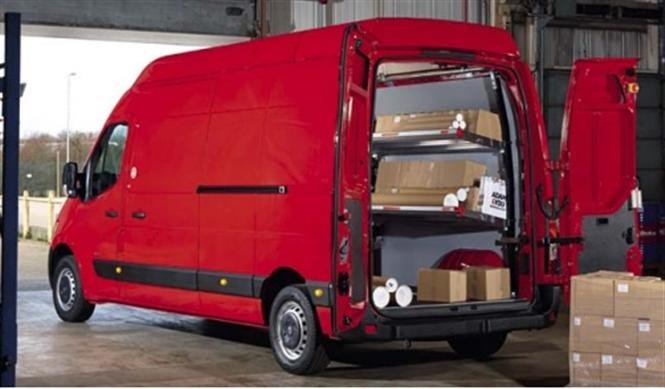 Doncaster-based Pullman are better known for providing commercial vehicle maintenance and fleet management, but are able to offer an innovative parcel van conversion through a special relationship with German bodybuilder Sommers.
The lightweight yet robust construction of the foldable shelving system provides an approved working load of up to 200kg, while the 550mm width of the shelves ensures there is a wide central gangway.
Low Floor Luton – Trucksmith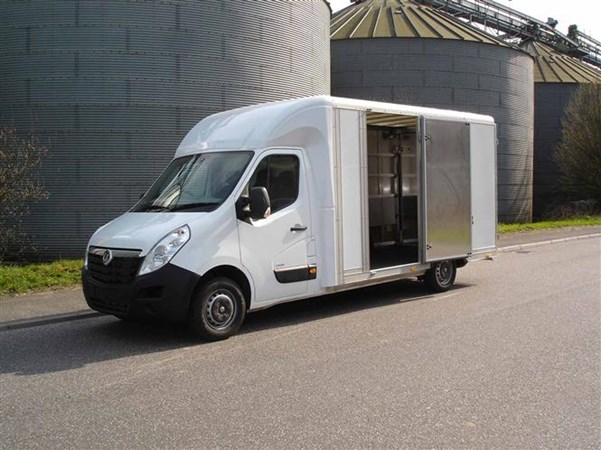 In addition to Maxi-Low, Trucksmith are also an Approved low-loading Luton bodybuilder for the Movano. The payload of 1,310kg and load volume of 18.5 cubic metres are lower than the Maxi-Low, and the loading height is only marginally lower.
The Trucksmith body, however, is cheaper, has 270-degree opening rear doors (instead of a roller shutter), has a side loading door and a longer option list so can be more suited to individual requirements.
Overview
To order a Vauxhall Movano Approved conversion, customers much visit one of the 100 Premier Van Centres and speak to the LCV specialist.
Approved conversions aren't in dealer stock, so the dealer has to order a chassis cab, and they arrange the logistics to the bodybuilder and back, and invoicing (in some circumstances there are two invoices; one for the dealer and one for the converter).
Prices vary depending on the specification, but they are typically more expensive than the factory-fit conversions direct from Vauxhall.