Ken Block's £50,000 Ford Transit Custom a bit too rich for your blood? Ford's got your back – it's just announced a big extension of the regular Transit Custom range that seems hell bent on making the typical plain white van a thing of the past.
The updates include a new Colour Edition that comes in four two-tone paint schemes as standard, a much wider choice of bodystyles for the massively popular Transit Custom Sport trim level, and a new Sport package for the Tourneo Custom people mover.
New Ford Transit Custom Colour Edition
The Transit Custom Colour Editions (pictured below) arrive in spring 2017, which seems appropriate given their bright and bold appearance.
Built to help your business stand out from the crowd, and influenced by the design of the Black and Red editions of Ford's Fiesta and Focus passenger cars, the Colour Edition Transit Customs are available in a choice of four striking two-tone colour schemes.
Choose Race Red, Deep Impact Blue or Frozen White and get Jet Black contrast elements – which include the wheels, door mirrors and special side graphics – or Shadow Black with Race Red contrast elements.
This is a limited edition – not only because they're exclusively based on the short-wheelbase, standard roof height 290 Trend model with the 170hp 2.0-litre EcoBlue turbodiesel, but also because just 400 will be available to buy in the UK. Given the Transit Custom is Britain's best-selling van by some considerable margin, demand is sure to outstrip supply.
And that's before know the actual pricing, which isn't likely to be revealed until the start of 2017.
More bodystyles for Transit Custom Sport
Meanwhile, the Transit Custom Sport is now available to order in six bodystyles – a substantial increase over the original single, short-wheelbase model (pictured below).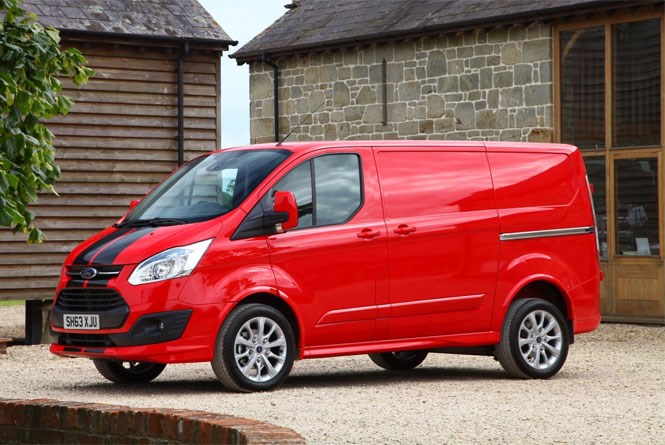 The new versions include not only long-wheelbase variants, but also Double-Cab-in-Van (DCIV) versions so you can carry more crew. Or even your family; it seems that lifestyle vans are now as much of a thing as lifestyle pickups – check out our reviews of Van-Sport's Ford M-Sport range for more evidence of this.
Standard equipment on all Ford Transit Custom Sport models includes:
Full colour-coded bodykit, including colour-coded bumpers, door handles, door mirrors, side-mouldings and newly redesigned wheel-arch extensions
17-inch two-tone alloys, with optional silver 18-inch upgrade
Contrast colour bonnet stripes
170hp EcoBlue turbodiesel and six-speed manual gearbox (six-speed automatic optional on three versions)
Part-leather interior – including the rear seats in DCIV models
Ford Sync infotainment system
What's more, all Transit Custom Sports get upgraded driving dynamics as well, thanks to:
Thicker front anti-roll bar and the addition of a rear anti-roll bar
Van models get softer rear springs for improved unladen ride comfort, but firmer rear dampers for improved handling
DCIV models have different spring and damper settings again, for improved rear passenger comfort
Prices are yet to be confirmed for the new additions to the range, but you should be able to order them before the end of 2016, ready for first deliveries the following spring. Transit Custom Sport sales are up 52% compared to 2015, so no wonder Ford is keen to expand the selection.
Ford Tourneo Custom Sport
Finally, if you're after a large people mover with plenty of character, the Transit Custom Sport's looks inside and out are coming to the eight-seater Ford Tourneo Custom (standard version pictured below).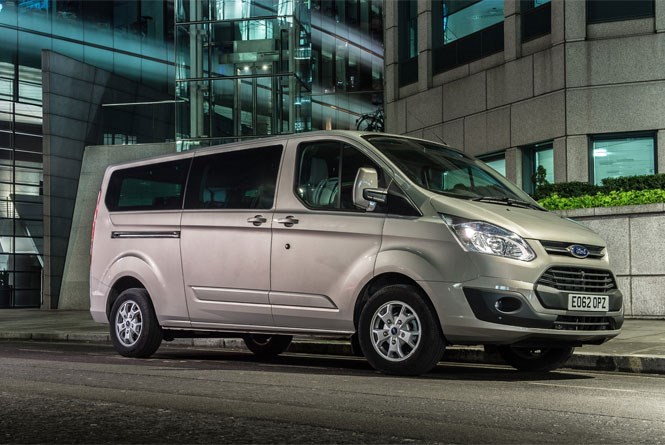 As with the van, the Tourneo Custom Sport comes with the 170hp EcoBlue engine, and is available in both short- and long-wheelbase versions with a base specification similar to the existing Titanium range-topper. Combined with the Tourneo's unique-in-sector rear air suspension for the best possible ride.
Click here for our round-up of all the sporty vans for 2016-2017
Read a review of the Ford Transit Custom with the 170hp EcoBlue diesel engine
Find a deal on the Ford Transit Custom vai the Parkers vans for sale section