UPDATE! We have now driven the Ken Block Transit Custom – click here to read the review on Parkers Vans!
You've probably heard of Ken Block. After making a fortune as the co-founder of DC Shoes, he's gone on to make a huge name for himself roasting tyres and going sideways in a series of gymkhana driving videos.
Styling himself Hoonigan-in-chief, he's at least partially responsible for the rising popularity of drifting as a motorsport – though he's also competed in the World Rally Championship and currently campaigns in the FIA World Rallycross Championship, too.
Anyway, this is his van – a specially modified Ford Transit Custom M-Sport, which has just gone into limited production. This means it could be yours, too – although at £49,995 plus VAT and road fund licence, you're going to need a reasonale fortune yourself…
What's special about Ken Block's Ford Transit Custom M-Sport
The Ken Block Transit is based on the Transit Custom M-Sport (click here to read our review), but with a number of unique touches.
As the kids were saying back in 2007, this Transit has been "murdered out" –meaning it's got a black on black on black colourscheme. The extended M-Sport bodykit is black, the OZ Racing alloy wheels are black, the Ford badges are black, and on the inside there's Alcantara everywhere; ok, so this looks to be dark grey, but it covers every conceivable surface, including the dashboard, givingthis Transit a much more luxurious air.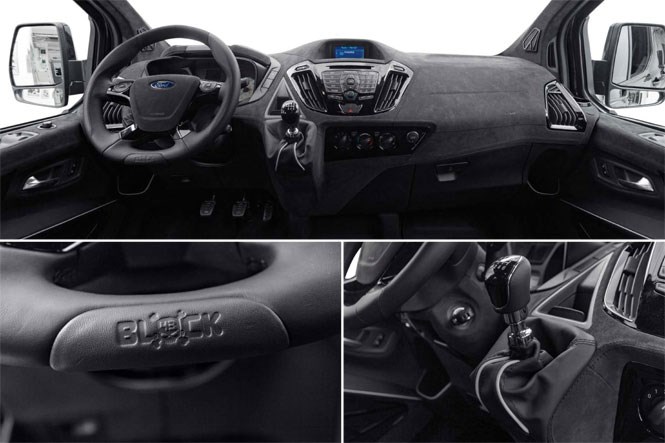 We understand that Van-Sport – which build the M-Sport Fords – has also increased the amount of interior sound deadening to improve refinement as well.
More to the point, there are a number of bespoke Ken Block details throughout the design. This includes subtle – honestly! – decals replicating the livery of Block's 2016 Ford Focus RS RX rallycross car in the side rubbing strips and the Ken Block 43 skull logo embossed on the steering wheel and embroidered into the seat headrests.
There's a limited edition badge on the rear door, too.
Any performance upgrades?
The 17-inch wheels are complemented by Eibach lowering springs, reducing bodyroll and increasing cornering grip – without ruining the ride comfort, if our experience in the standard M-Sport Transit Custom is anything to go by. Van-Sport also fits a different exhaust, although this is largely for cosmetic reasons.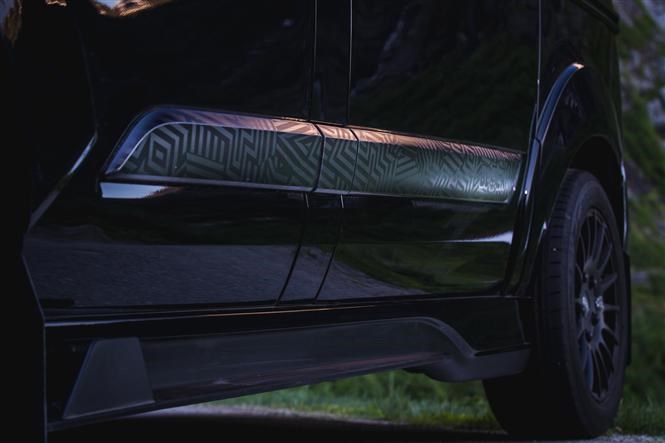 This aside, the Ken Block edition has the same performance as any other Transit Custom. Keeping in mind that Ford offers a 170hp / 405Nm version of the newly introduces 2.0-litre EcoBlue turbodiesel engine in this model, that doesn't mean this van will be slow.
Plus given Van-Sport has previously fitted a rally car engine in a Ford Transit Connect, we're sure that if you want to go faster it can help you.
What does Ken Block think of his new van?
The model shown in the pictures is a Double Cab van – an option that gives you three extra seats, enough for the whole family. Including Block's, as it turns out, since he  used this very vehicle to drive them all around Norway for a couple of weeks over summer.
"I'm really stoked with how this collaboration turned out," he said. "It's super practical for me since I have a wide and three kids and we travel a ton. This Ford Transit has the look and styling that I like, is fun to drive and manages to hold us and all of our stuff."
We've confirmed that Van-Sport will build 500 examples of the Ken Block Transit – not that limited a number, but goes some way towards explaining the price. But at over £20k more than non-Ken Block Transit Custom M-Sport, nice as it is, you're really going to need to be a serious fan. Following an official production debut at the Oslo motor show, it's on sale now.
Review: Ford Transit Custom Ken Block limited edition
To read more about Ford M-Sport commercial vehicles click here
Read a Ford Transit Custom EcoBlue 107 review on Parkers Vans
Find a Ford Transit Custom for sale near you on Parkers Vans