Update: Parkers Vans has now driven the Nissan e-NV200 WORKSPACe concept – click here to read our hands on review.
Nissan has turned its e-NV200 electric van into a mobile office, as a one-off vision of what "hot desking" might look like in the in future.
The Nissan e-NV200 WORKSPACe, as the project is called, has been designed and built in collaboration with UK-based "eco design agency" Studio Hardie, and is described as the world's first all-electric mobile office. Although we can't imagine there were too many contenders for that title.
What has Nissan done to the e-NV200 WORKSPACe?
Instead of space for parcels or other goods, the load area of the e-NV200 WORKSPACe is home to a number of common office essentials – plus a few items that are a little more out of the ordinary.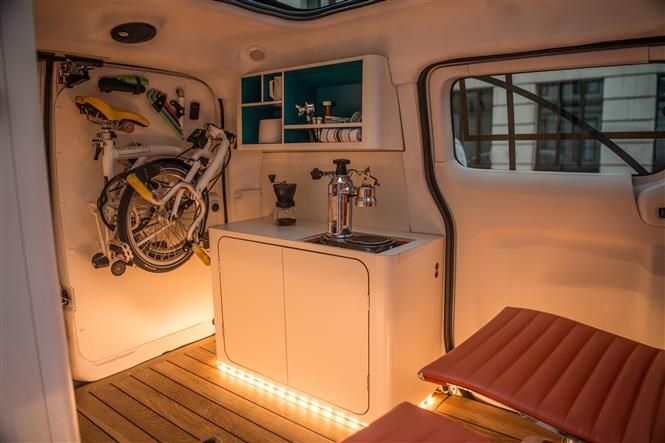 The obvious office accoutrements include a fold-out desk, touchscreen computer and wireless internet connection – although the built-in wireless phone charging is also a nice notion. Little touches of luxury that help make a van-based office a home include a Bluetooth sound system, mini fridge for brain-cooling refreshment and LED lighting controlled by smartphone.
The proper, my-goodness-does-Google-own-this-van/office? extras are the "barista quality" coffee machine and the Brompton fold-up bicycle that's stored on one of the rear doors – ideal for adding fresh air into that blue sky thinking mix, or completing the so-called "last mile" of your journey once you've tucked up the e-NV200 into a parking space or charging bay.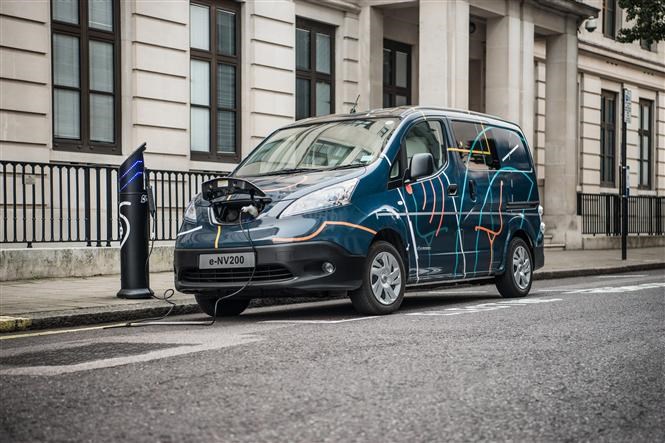 Since the van has no tailpipe emissions, if you're able to charge it using electricity generated by renewable energy sources, it will also turn your office into a zero-emission working environment. You can do your own jokes about avoiding baked beans for tea.
Why has Nissan created the e-NV200 WORKSPACe?
While it's tempting to say "because it can", Nissan is actually using it to not only demonstrate its electric vehicle technology at a time when several other van makers are seriously starting to sniff around the idea – Volkswagen is promising an electric version of the new Crafter in 2017, while Mercedes says it will bring a new electric van into production in 2018 – but also to make an observation about changing working practices.
Quoting statistics from the first global coworking survey, undertaken by Deskmag in 2015, Nissan claims that co-working (where small businesses and individuals share space rather than maintaining their own) and hot-desking (where offices have downsized and replaced permanent desks with a smaller pool of communal desks that staff share on the basis that not all of them are in the office at the same time), increased 36 percent last year, and is likely to continue to rise.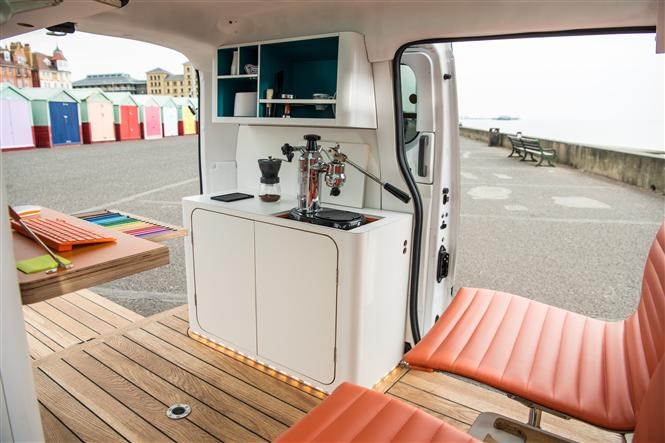 Add into this Trades Union Congress stats about the cost of commuting to work (£358 a month on average in the UK) versus what Nissan claims are running costs for an e-NV200 that are as low as 2p per mile (depending on electricity tariffs, etc, etc), and perhaps the idea of a mobile electric office that can cheaply go where it's needed does begin to make sense. Especially since the Government has recently announced plans to invest £7.5m creating more workplace chargers for electric vehicles.
But probably it was mostly "because it can".
What will it be like to work in the back of the e-NV200 WORKSPACe?
We're actually hoping to find out for ourselves shortly, but from the pictures it looks nice. There's 4.2 cubic metres of space in the back of an e-NV200 for starters, and with twin sliding doors the WORKSPACe version offers plenty of easy access – not to mention light, thanks to panoramic glass roof.
The floor is finished in oak decking, and if the weather's nice you can even take your work outside – using a "floating deck" that pulls out at the rear. On the inside there's a pair of chrome and leather chairs and a wooden centre console that serves as home for all the gadgets bar the coffee machine, which has a console all of its own.
The touchscreen computer is mounted on another fold-down console, and the whole interior has been given a clean white makeover – including the front seats – with orange accents throughout.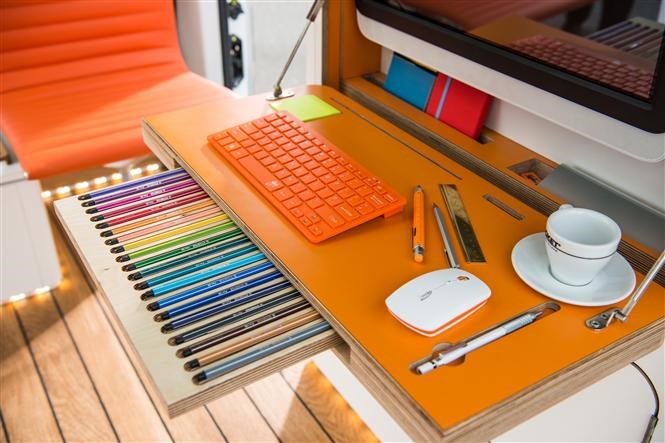 It is quite the masterpiece of packaging, and just goes to show what you can do with a van; even a small one that requires plugging into the mains every 106 miles or so; not that this is a particular strain in this instance, since an 80 percent charge for an e-NV200 takes as little as thirty minutes using a rapid charger.
NEW: Read the Parkers Vans review of the Nissan e-NV200 WORKSPACe concept
Parkers asks: should you be driving an electric van?
Read a road test of the e-NV200 on Parkers
Find Nissan vans for sale near you in the Parkers for sale section