The Ford Transit Guy Martin Proper Edition is exactly what it sounds like – a special edition version of Ford's large van, modified to meet the lorry-fixing, bike-racing and world-record-breaking TV legend's precise specifications. We've driven it.
What's Guy Martin got to do with Transit vans?
Aside from racing one at 150mph for his Speed TV programme on Channel 4? According to the man himself he's been driving Transits for the last 15 years – typical racking up 40,000 miles behind the wheel each year.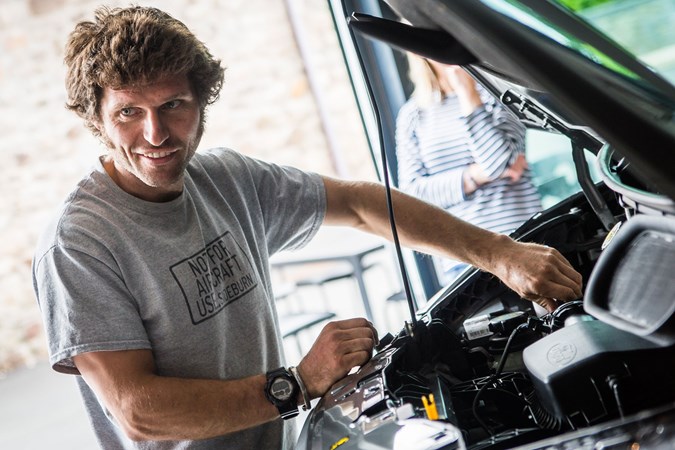 This is also a man who still puts truck mechanic as his premier job description – with the corresponding 5:30am starts to actually carry out that work.
As a result of all those miles, Martin had a pretty good idea of what he'd do to improve Ford's big van, if given the opportunity. The Proper Edition is the result.
What is the Ford Transit Proper Edition?
The Proper Edition is built by serial Ford light commercial vehicle (LCV) customisers, Van-Sport. But it differs from the firm's usual racy MS-RT models in a number of key respects.
For starters, Martin wanted to specifically avoid creating a van that offered more show than go.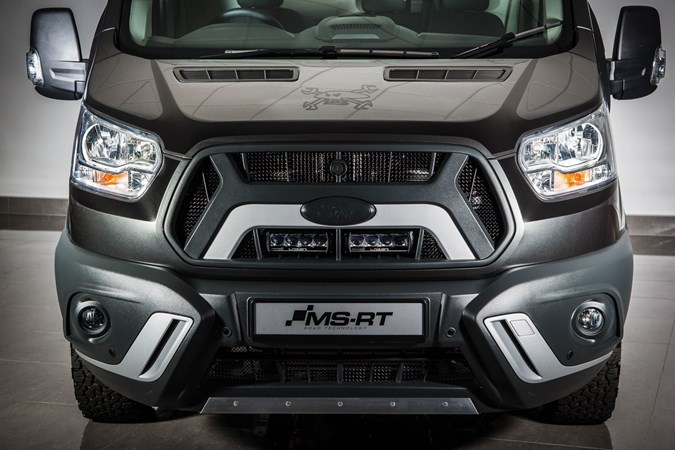 Exterior modifications are therefore limited to a new front bumper and grille arrangement, specifically designed to add functionality, plus chunky all-terrain tyres, wrapped around a set of standard (but powder-coated) Ford alloy wheels.
Oh, and the Guy Martin skull and crossed-spanners logo.
Martin also didn't want the Proper Edition to be overly exclusive. So although it's limited to a maximum of 500 units, the conversion is available on any variant of the full-size Ford Transit, and can be ordered through any participating Ford dealer in the UK.
What does the Ford Transit Guy Martin Proper Edition cost?
Priced at £6,995 plus VAT, the conversion is still not what you'd call super cheap. But as ever with Van-Sport, that is not the same as saying it's poor value. There is quite a lot going on here.
What's included?
Let's start with the changes to the front end.
Offered with a choice of highlights in black or silver, as well as giving the Guy Martin Proper Edition a distinctive appearance, the 'A-frame' grille also features a pair of mainbeam assistance lights from Lazer Lamps, improving visibility in the seriously dark.
Below this the bumper contains a step to make it easier to clean the top of the windscreen, and an aluminium underguard to protect the radiator from damage when travelling over rougher ground.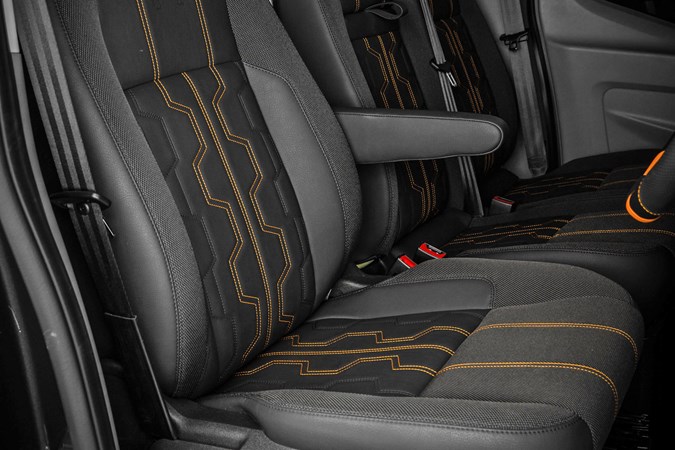 Even before you get in the cab you'll spot the seats. These have been completely retrimmed in combination of artificial eco-leather and extra-durable fabric, to make them harder-wearing and easier to clean. More importantly, they include orange stitching – immediately giving the Transit a more luxurious air.
There's more orange on the steering wheel, gearlever gaiter and any grab handles that are usually yellow, as well matching dial faces for the instruments. The limited edition plaque is a piece of the wall of death Martin road at record-setting pace on television.
Is the Ford Transit Guy Martin Proper Edition still practical?
If anything, even more so. Not only are those new seat covers designed to cope better with mucky action, the load area gets a tougher lining and a new load-through hatch in the bulkhead – allowing you to stash longer items on board.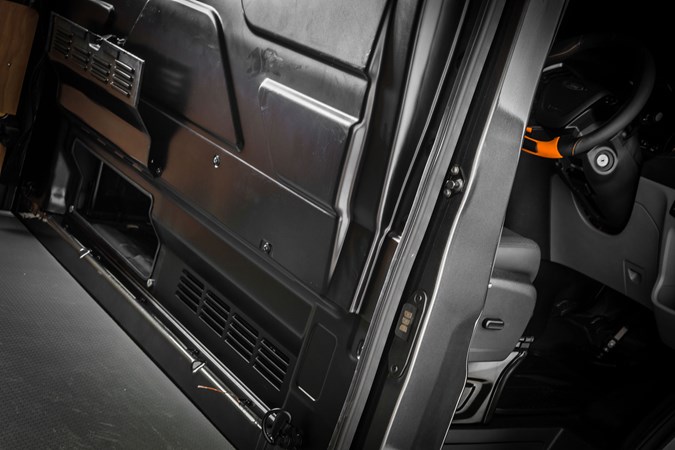 You'll probably get a slight payload reduction due to the additional weight of all the bits, but we're talking just a few kilos really, and the Transit isn't exactly the heaviest lifter in the large van segment anyway.
Who is the Guy Martin Proper Edition Transit aimed at?
It ought to appeal to anyone who's after a more individual example of the Transit, particularly if they constantly find themselves on slippery surfaces – such as scuzzy building sites and muddy farm yards.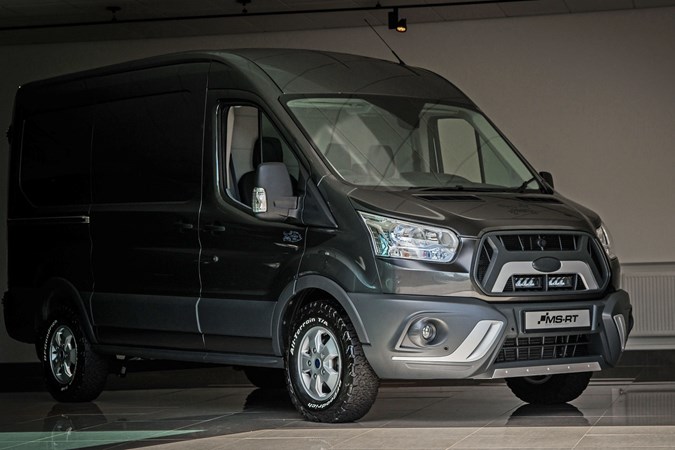 That said, Van-Sport's boss Edward Davies reckons it should especially appeal to motocrossers looking for a safe and secure means of transporting their bikes.
The Guy Martin Edition's tyres should ensure you won't get stuck in the paddock after the event, while the reinforced load-area lining should better resist accidentally being punctured by handlebars or toolboxes.
What's the Ford Transit Guy Martin Proper Edition like to drive?
We were expecting the all-terrain tyres to make the steering and general road behaviour feel a little squidgy and vague compared to a standard Transit.
But in reality we could barely detect any difference – the Guy Martin Proper Edition stops and steers in the same confident manner we've come to expect from Ford's large van.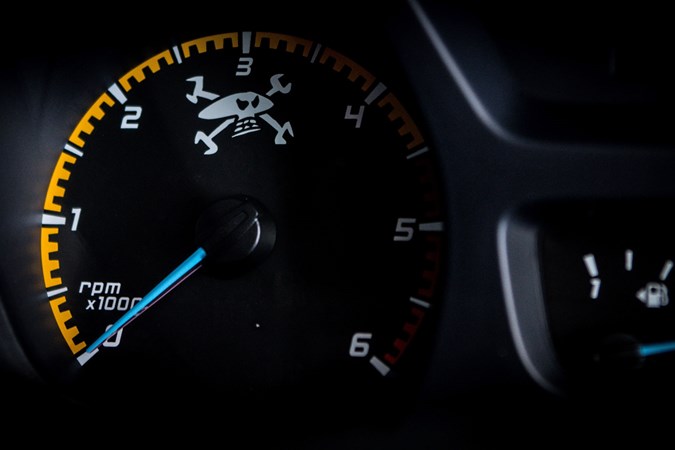 There are no other changes to the chassis or suspension, so it retains the Transit's usual blend of nimble handling and higher-speed stability. Comfort and refinement is also very good, helped by the improved quality of finish for the seats.
As the upgrade is available on any version of the Transit, you can also choose from any of the latest Ford EcoBlue 2.0-litre TDCi turbodiesel engines, which offer 110hp, 130hp or 170hp, and the option of a six-speed automatic transmission in place of the standard six-speed manual gearbox.
Verdict
It's great to see a large van getting some of the love that's more often lavished on mid-size models, and we reckon the Guy Martin Proper Edition is very nicely judged.
The visual mods on the outside won't be to everyone's taste – go for the black accents rather than the silver if you want to tone it down – but as with all the other changes, they have been done with practicality in mind.
So while the price certainly makes this an indulgent purchase, being indulgent doesn't also come at the cost of functionality here. Rather, buyers will be treating themselves to a Transit with just that bit more of a personal touch, while also getting what should be a harder-wearing, working machine.
Also read:
>> Ford Ranger VR46 review – the pickup designed by Valentino Rossi
>> Ford Transit Custom MS-RT R-Spec review – a 208hp van with the handling to match
>> Ford Transit Custom Sport vs VW Transporter Sportline twin-test review