UPDATE: we have now driven the Mercedes X-Class pickup – click here to read the full Parkers Vans review
The Mercedes-Benz X-Class pickup is finally here, folks – these are the first official pictures and details of the production version of the new premium lifestyle pickup so many have been waiting for.
Unveiled at a no-expense-spared worldwide media event in South Africa that involved revolving walls and Mercedes boss Dr Zetsche dressed in a variety of outfits, the Mercedes X-Class might not be quite as rambunctious in production form as the excessively muscular concepts that confirmed its arrival in October 2016. But it is still a great-looking truck.
And one that's sure to shake-up the established order in the current one-tonne pickup segment.
You can read full details below, but ahead of our first chance to drive the new X-Class pickup Mercedes released the first full-length TV advert. Watch it in action right here:
Mercedes X-Class full review on Parkers Vans
Mercedes X-Class launch pricing announced
First details of the new Mercedes X-Class
So let's get a few critical elements out of the way before we dive into the details.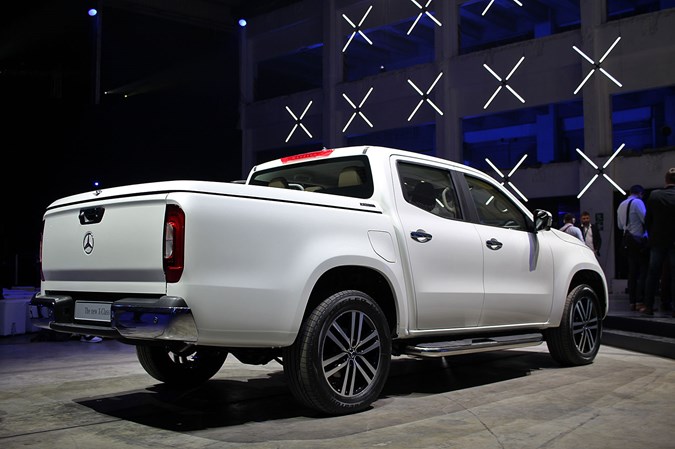 The new X-Class will go on sale in the UK before the end of 2017, and some of the earliest customers – mostly likely those who've already reserved one – will get their keys and be on the road before Christmas. Most, however, will have to wait until 2018 before the Mercedes pickups start arriving properly in dealers.
The X-Class will be available as a double cab only – meaning four full doors and seating for five – and shares its underpinnings with the Nissan NP300 Navara, though Mercedes says it has made significant modifications to improve the driving experience. We've got details of the differences in a separate story here.
What's the difference between the Mercedes-Benz X-Class and the Nissan Navara?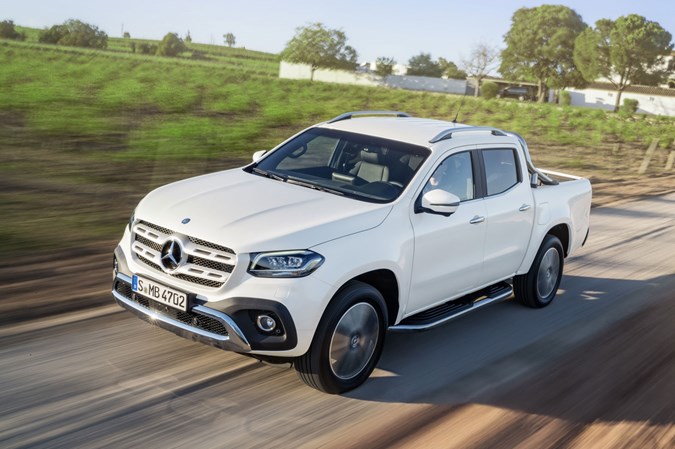 Nissan will also build the X-Class for Mercedes in its factory in Spain, much as Renault builds the Citan small van for Mercedes in France.
The new pickup launches in three trim levels – Pure, Progressive and Power – and the X-Class will be available with a choice of three turbodiesel engines in the UK.
What engines are available in the Mercedes X-Class?
The first of pair of engines will be rebranded versions of the Navara's 2.3-litre four-cylinder motor: 163hp/403Nm in single-turbo X 220 d guise, and 190hp/450Nm as the X 250 d twin-turbo model. These come with a six-speed manual gearbox as standard, with an optional seven-speed automatic available for the X 250d.
In mid-2018 the four-pots will be joined by a 3.0-litre V6 turbodiesel badged X 350 d. This is a proper Mercedes-Benz engine from the firm's passenger car range, and is set to deliver 258hp – comfortably more than anything else in this pickup truck sector.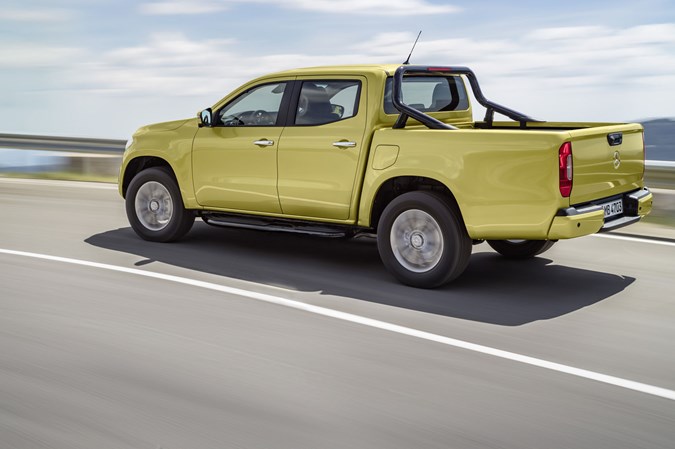 It also produces 550Nm of torque, so should have no trouble towing its rated maximum of 3.5-tonnes. A seven-speed automatic transmission is standard.
All UK X-Class models will be four-wheel drive, labelled 4Matic as is typical for Mercedes.
In other parts of the world the X-Class is offered with rear-wheel drive and a petrol engine; suffice to say this combo won't be available in Britain.
What makes the Mercedes X-Class special?
Mercedes claims the X-Class is the first true premium lifestyle pickup. Only five exterior body parts are carried over from the Navara.
This is not to say it won't sell you a more basic version – that's the Pure trim level – but really the X-Class is all about bridging the gap between commercial vehicles and traditional passenger cars, rather like the original M-Class did with SUVs some two decades ago.
Obviously, Volkswagen is going to have a few words to say about this claim, since it's been building the decidedly premium Amarok since 2011 already, and has just upgraded to V6 engines itself.
But it is fair to say that not even VW has an image quite on Mercedes' level – so if you want a pickup that makes an impression in the boardroom as well as the builders' yard the X-Class should go immediately to the top of your list.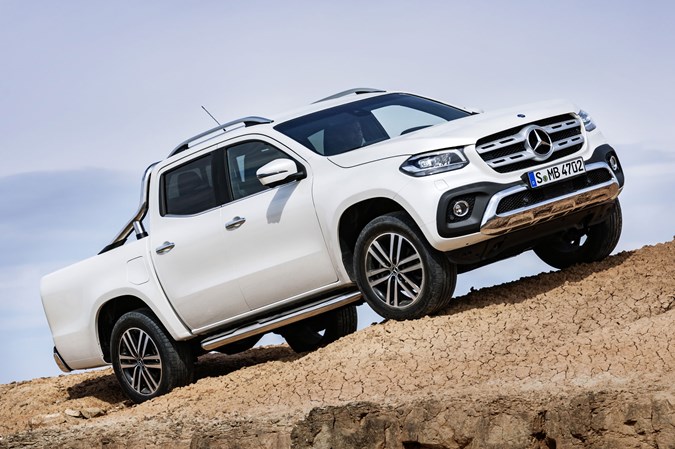 To this end, Mercedes is promising to combine traditional pickup truck strengths – practical utility, off-road capability – with an on-road driving experience well beyond the bouncy, unrefined experience most competitors still offer.
On top of this, the level of quality – and personalisation – inside the cab is well beyond anything we've ever seen from a pickup before.
How does Mercedes plan to make the X-Class better to drive?
Part of the trick here is starting with a good base. The current Nissan Navara is one of only two current pickups that features car-style coil spring suspension all round – combined with double wishbones at the front and a five-link multilink arrangement at the rear.
Even with a solid rear axle, it should be possible to tune this for both comfort and off-road capability. The X-Class 'will drive like a Mercedes,' the firm says.
Riding shotgun in the Mercedes-Benz X-Class – our experience from the passenger seat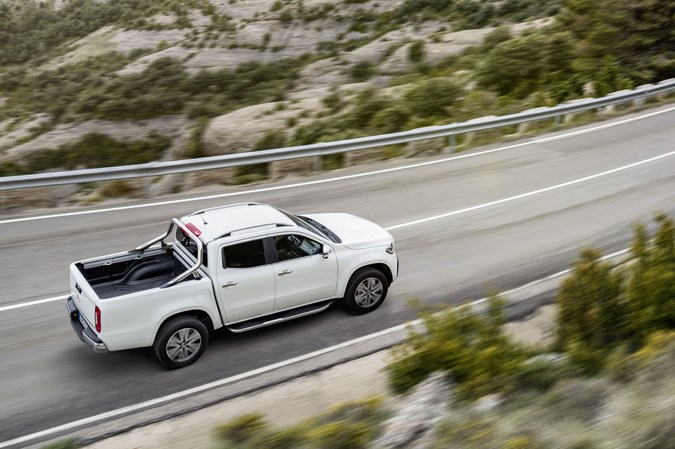 Mercedes has also widened the track width between the wheels on each axle to 1,632mm at the front and 1,625mm at the rear – that's up to 62mm wider the widest versions of the Navara, a move Mercedes says helps give the X-Class greater cornering stability.
As you'd expect, the X-Class's bodywork is wider than the Nissan's as well.
It's perhaps worth noting, however, that in both bodywork and axle terms, the Amarok is wider still…
What's the interior of the Mercedes X-Class like?
It'll vary slightly with trim level, but simply put: excellent.
The dials come from the C-Class, the free-standing central display comes from the V-Class, and there are high quality Mercedes-Benz elements everywhere – right down to the touchpad infotainment interface available for the centre console.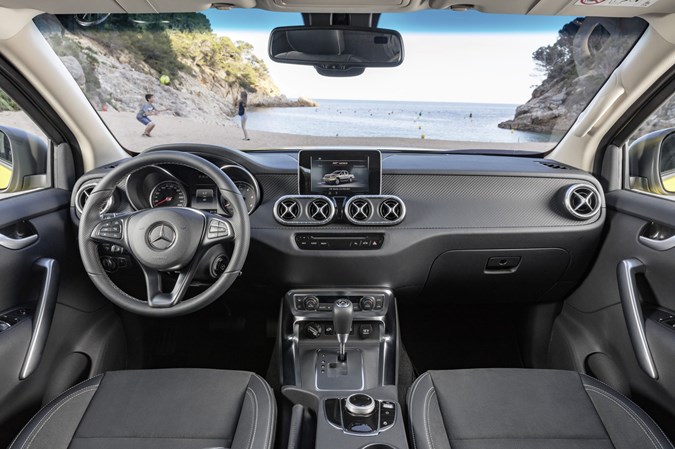 There are six choices of seat cover – including two contrast-stitched leathers – three trim finishes and even two headliner colours. The standard screen size is 7.0-inches, while the optional COMAND Online sat-nav upgrade pushes this to 8.4-inches, the largest in the pickup sector.
Other high-tech options include connected services that work using a built-in SIM card and Dynamic Select for the V6, which gives you access to Comfort, Eco, Sport, Manual and Off-road driving modes.
It's not easy to spot any relation to the Navara in here – although those especially familiar will note the similar positioning of the vents and some of the controls. Mercedes has previously claimed that everything you see and touch would be new, but that's not strictly true; the keys and the heated seat switches are 100% Nissan.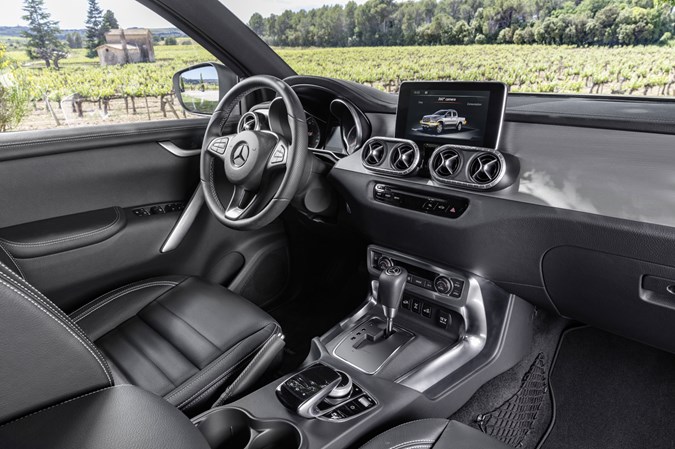 On top of which, the steering wheel is only height adjustable, with no means of changing the reach, a limitation carried over from the Navara.
What are the X-Class trim levels?
Three options: Pure, Progressive and Power. Make your own mind up about the names, but most UK buyers are likely to opt for the range-topping X-Class Power, and probably won't be unhappy about it.
These are the highlight items.
Mercedes X-Class Pure (the working version, below) standard equipment: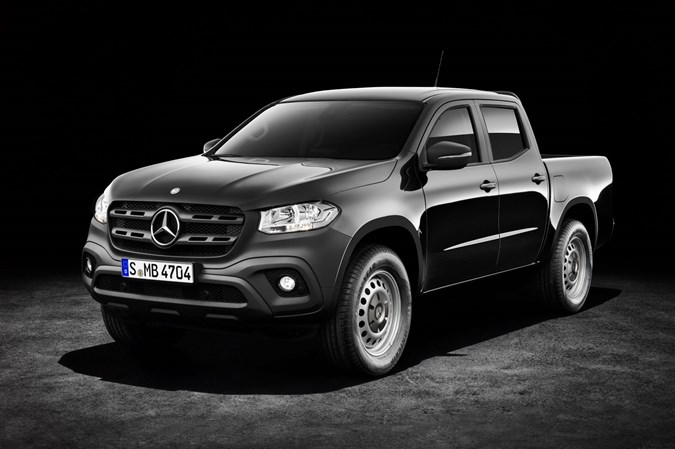 Unpainted front bumper (so scuffs won't show)
Black painted rear bumper
17-inch steel wheels
Electric door mirrors
Plastic floor coverings
7.0-inch infotainment display
Four speakers
Air-conditioning
LED-lit load area with 12v socket
Four load lashing eyes in the load bed
Seven airbags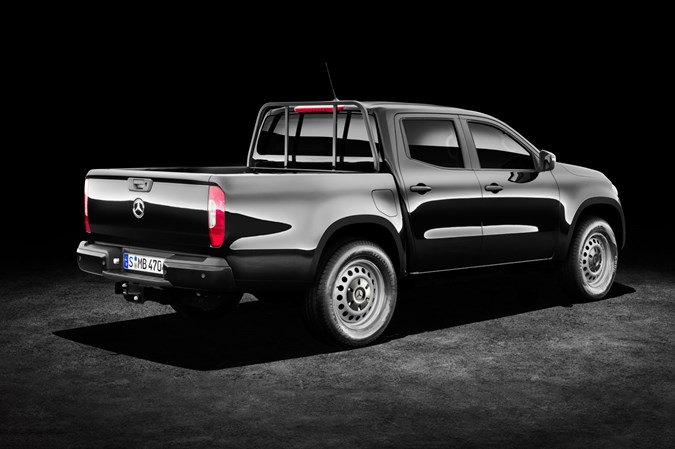 An optional Plus Package for the Pure adds parking sensors and load lashing rails in the sides of the load area.
Mercedes X-Class Progress (below) additional standard equipment: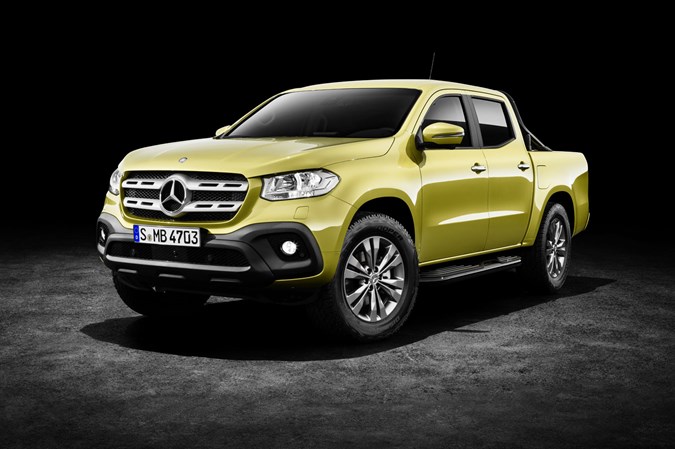 Body-coloured bumpers front and rear
17-inch alloy wheels
Heated, electric door mirrors
Heat-insulating windscreen
'Silver shadow' interior trim elements
Fabric floor covering
Leather steering wheel, gearknob and handbrake
Automatic wipers
Eight speakers
Aluminium door sills and footwell lighting
Load securing rails on the side of the load area
An optional Comfort Package adds electric front seat adjustment with lumbar support, climate control, Artico faux-leather upholstery and a stowage net in the front footwell.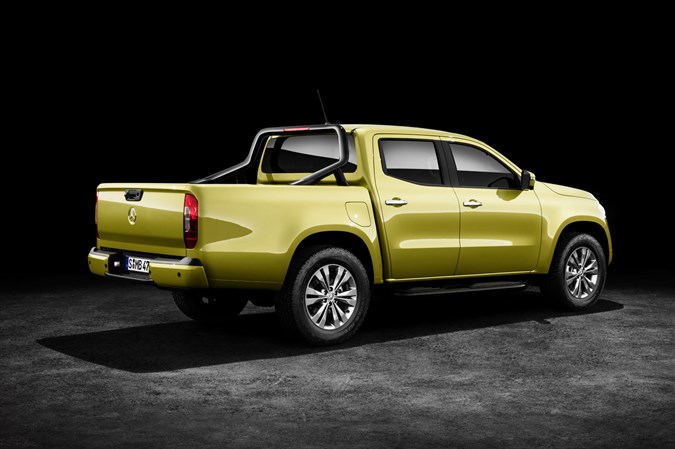 An optional Style Package adds full-LED headlights, part-LED taillights, electrically opening rear window, running boards on the side, roof rails and 18-inch alloy wheels.
Mercedes X-Class Power (below) additional standard equipment: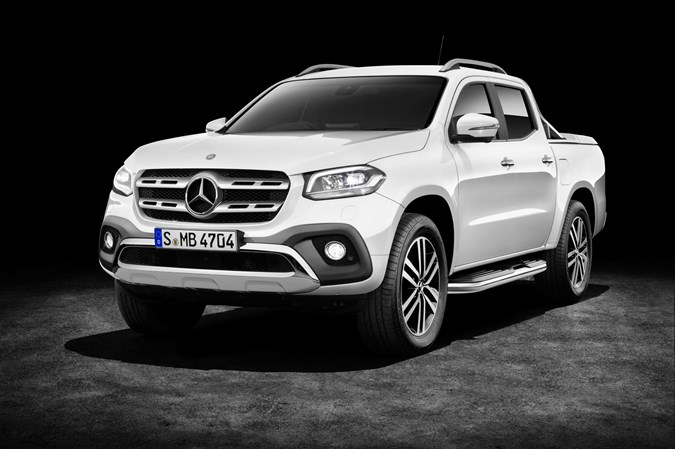 Body-coloured front bumper with chrome underbody panelling
Chrome rear bumper
18-inch alloy wheels
Full-LED headlights
Electric, heated, folding door mirrors
Artico-topped dashboard with contrast stitching
Artico upholstery
Electrically adjustable front seats with lumbar support
Footwell stowage net
Auto-dimming rear view mirror
Upgraded eight-speaker infotainment
Climate control
The X-Class Power Style Package adds the opening rear window, running boards, roof rails and 19-inch alloy wheels.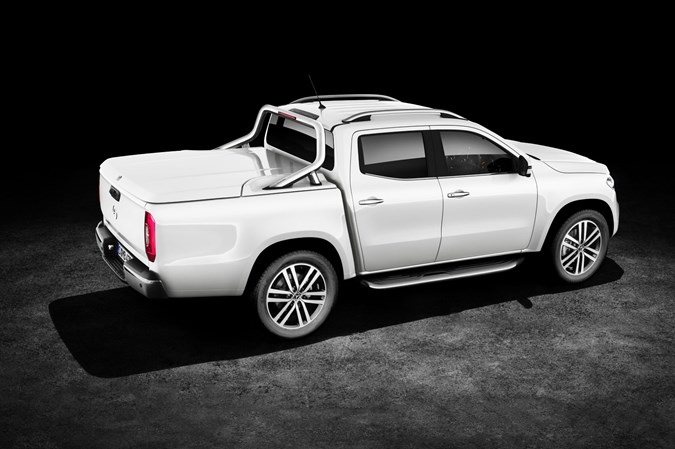 Any interesting X-Class options?
Loads, if you'll pardon the pun.
From leather seats to a rear bumper delete – allowing the tailgate to open 180 degrees instead of the standard 90 degrees – there are stacks of ways to customise your X-Class. Probably more than any rival, as Mercedes claims.
Additional option packs available right across the range include a Winter Package (heated front seats and windscreen washer nozzles) and a Parking Package (self-parking assistance and a 360-degree camera system).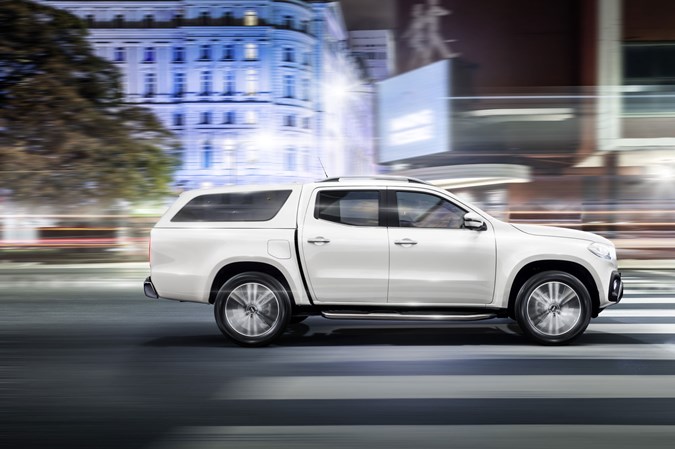 Perhaps more excitingly, there's a whole selection of Mercedes-designed accessories including both Style and Sports bars, a load area canopy specifically designed to make the X-Class look like an SUV, and three different types of tonneau cover.
In addition to the bed liner you can also get a bed divider made of anodised aluminium, plus floor-mounted load-lashing rails to match the side-mounted ones standard from Progressive trim upwards. A lockable waterproof storage box is offered, too.
Will the Mercedes X-Class be any good off-road?
The standard ground clearance in Europe is 202mm – because all European versions of the X-Class will be fitted with Comfort suspension at the factory.
This gives a front approach angle of 28.8 degrees, a rear departure angle of 23.8 degrees and a breakover angle of 20.4 degrees, all stats that are far from the top of the pickup class.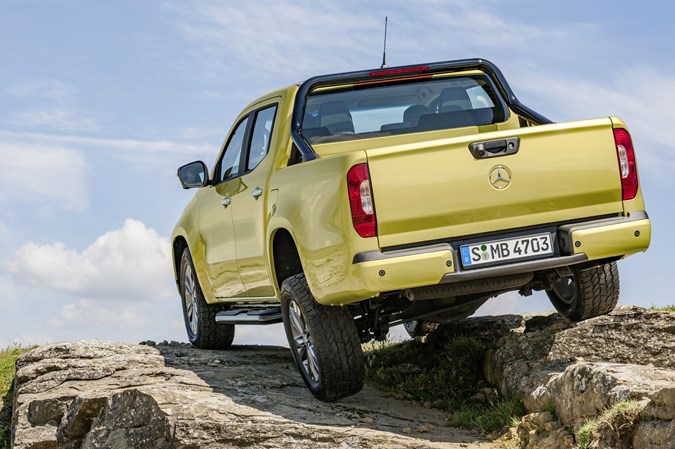 However, there is an optional off-road suspension setup that raises the rear ground clearance to 221mm (note that still isn't all round), and improves the ramp angles to 30.1, 25.9 and 22.0 degrees.
On top of which, all versions can wade up water 600mm deep and have a 49-degree tilt angle. A full locking rear differential and a technical underbody protection option made from 2-3mm stainless steel are also offered, so Mercedes is prepared for people to get adventurous with its butch new baby.
There will also be two four-wheel drive systems; four-cylinder models get a switchable setup similar to the Navara, while the V6 will come with permanent four-wheel drive, complete with centre variable differential.
Both variations have a low-range setting, too, as well as electronic aids including hill descent control and off-road anti-slip control.
Mercedes-Benz X-Class load area dimensions and payload
The X-Class is available only as double cab pickup, so there's only a single load bed option – and unsurprisingly, the dimensions of this almost exactly match the Navara, although the X-Class is slightly longer.
These are the dimensions:
X-Class maximum load length: 1,587mm
X-Class maximum load width: 1,560mm
X-Class load bed sidewall height: 474mm
X-Class maximum payload: 1,037kg
X-Class maximum towing capacity: 3,500kg
The X-Class's load area is large enough for a Euro pallet, but is still dwarfed overall by that of the Amarok.
The payload rating is the lowest in the double cab pickup truck class.
Parkers Vans ranks double cab pickups in order of payload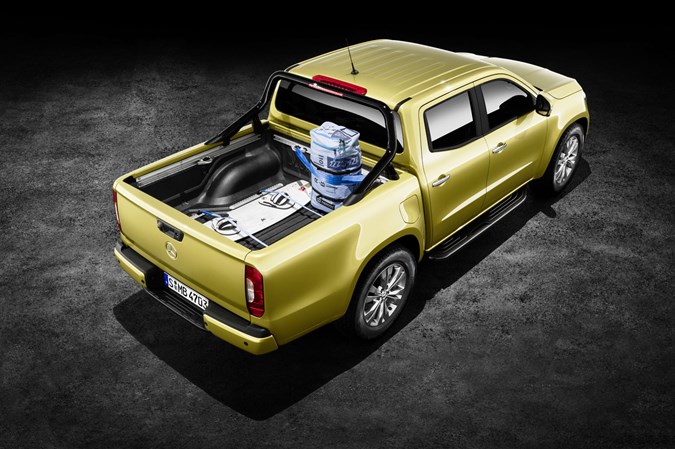 The load-lashing options appear high-quality – with the multiple rail options particularly impressive. We also like the standard LED load bed illumination, which is built into the bottom of the high-level third brake light.
The 3.5-tonne towing capacity matches the very best in class, while the standard rear bumper has a built-in step; the bumper can be deleted entirely if you want the tailgate to open to 180 degrees.
Mercedes-Benz X-Class price and on sale information
UK pricing was announced in October 2017, with the entry-level model starting at just over £27k – click here for full details
Mercedes X-Class launch pricing
This is, as you might guess, a little more expensive than rivals, but we strongly suspect people will be happy to pay a premium for the Mercedes-Benz badge.
Unless you're one of the 600 or so who've already reserved an X-Class via the dedicated website, don't expect to be driving one until 2018 – and make that mid-2018 if it's the V6 you're after, as that won't be ready until then.
Read more:
Read the full Mercedes X-Class review on Parkers Vans
Riding shotgun in the Mercedes-Benz X-Class – our experience from the passenger seat
What's the difference between the Mercedes-Benz X-Class and the Nissan Navara?
Mercedes-Benz X-Class concepts revealed at last
Mercedes launches reservation service for X-Class pickup
Read more about new pickups coming soon on Parkers Vans
The Parkers Vans pickup group test – every major model compared
Look for deals on pickups near you using the Parkers Vans for sale section