It's hard to miss the Peugeot stand at the CV Show 2017 – what with the Royal Mail and police vans livening up the place. But alongside these colourful characters, Peugeot is also showing off a number of Expert variants, a massive Boxer and the Partner Electric.
Peugeot Expert at the CV Show 2017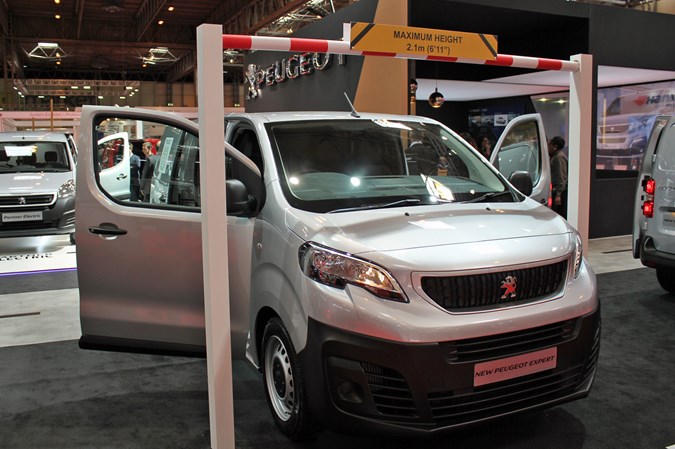 The Expert is still a relatively new medium van, so no wonder Peugeot is keen to make a fuss – an there's an example of every type on the stand, including the Crew Van passenger carrier.
This features two rows of seats to carry five passengers plus the driver, and you get twin sliding doors as standard (take note VW, which sells the Transporter Kombi with a single sliding door).
We were rather more taken with the Compact model on display in the NEC – since not only is this an example of the unusual short bodystyle available for the Expert (and its Citroen Dispatch and Toyota Proace cousins), it's also fitted with Grip Control.
Grip Control is Peugeot's answer to minor off-road requirements. It's still front-wheel drive only, but uses electronics with a choice of modes and set of mud-and-snow tyres to improve grip on slippery surfaces. We haven't tried it on the Expert yet, but it works well on other Peugeots.
And since we're giving the Expert love, that police livery is hard to ignore…
Read the full Peugeot Expert review on Parkers Vans
Peugeot Partner Electric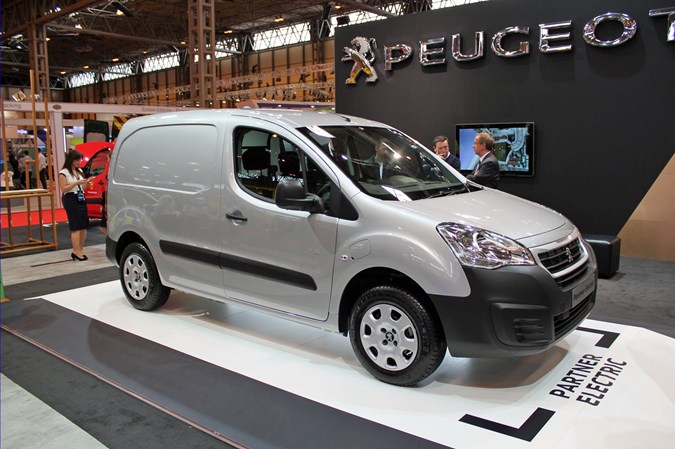 Oddly, Peugeot has only brought the original L1 bodylength version of the Partner Electric to the 2017 CV Show – odd because it's just announced a new, longer L2 variant for extra load space.
To be fair, there is an example of the Berlingo Electric L2 on the adjoining Citroen stand, and since these small electric vans are basically identical bar the styling details – they even cost the same price – at least having both an L1 and an L2 on hand means potential customers can make a direct comparison.
Click here to read more about the Peugeot Partner Electric L2 in our original news story.
Longer Peugeot Partner Electric L2 now on sale
What's with the Royal Mail van?
Peugeot is showing this very red Partner because it's one of no less than 20,000 vehicles it's supplied to the Royal Mail since 2009.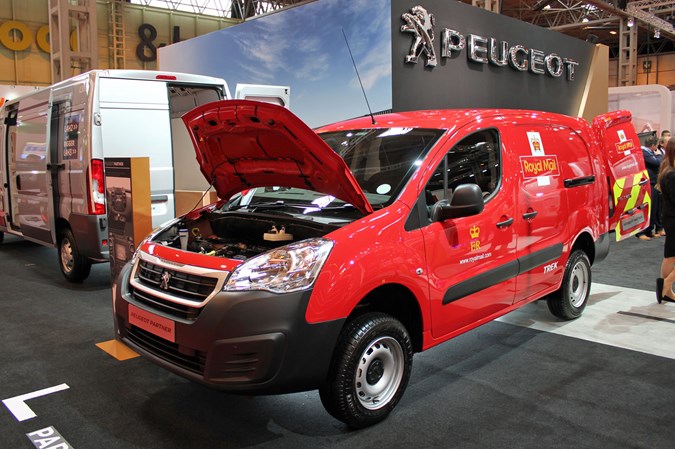 Read the full Peugeot Expert review on Parkers Vans
Peugeot launches Partner Electric L2