Renault has confirmed recent rumours and announced that it is to build and sell an electric version of its largest van, the Master. The new model – which comes in three van variants plus a flatbed cab – will be badged as the Renault Master ZE, and is set to go on sale in the UK in late 2017.
ZE stands for Zero Emissions, and follows the naming convention of Renault's other electric vehicles, including the Kangoo ZE small electric van. The Master ZE makes its public debut at the 2017 Brussels motor show, alongside an updated version of the Kangoo ZE, which now has a 50% extended driving range.
First specs and details of the Master ZE electric van
The Master ZE becomes the first large electric van confirmed for sale in the UK; Volkswagen is putting its e-Crafter rival into production this year, but this is likely to be limited to European availability initially. Mercedes-Benz hasn't yet confirmed the exact size of electric van it's committed to building in 2018.
In this respect, the Master ZE is effectively setting the bar for this burgeoning sector. Intended to support last-mile delivery services in emissions-sensitive urban areas, it's clear that Renault has undertaken a balancing act that juggles range and carry capacity.
So while the claimed 124-mile range – as measured to a European testing cycle; expect it to be lower in real life – doesn't seem that great, it should be enough for daily delivery rounds in a city centre. Even taking into account recent research that suggests electric van range is dramatically impacted by the load on board.
As Parkers understands it, Renault has specifically developed the Master ZE in response to this kind of urban demand, after businesses fed back that the existing Kangoo ZE was too small for their purposes.
What powers Renault's new large electric van?
The Master ZE is powered by Renault's R75 electric motor, which produces 57kW (equivalent to 76hp) and is powered by a 33kWh battery pack. Again, that doesn't sound like much power, but electric motors deliver all of their torque instantly, and it's this that helps get heavy loads moving swiftly and smoothly.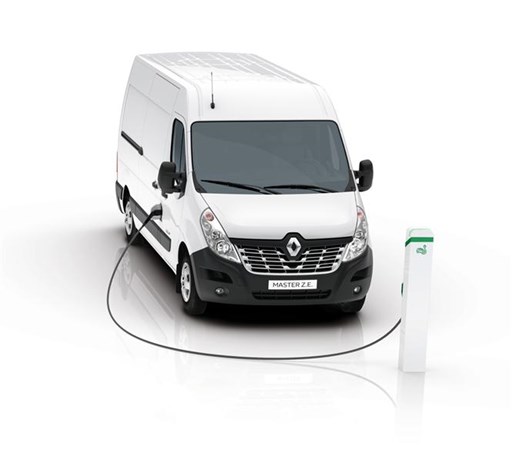 Recharging the batteries takes six hours using Renault's latest 7kW wallbox charger. Top speed is 71mph, but this can be limited if a customer prefers.
Renault Master ZE: dimensions, payload and variants
Renault is keen to stress that this isn't just one additional Master model, but a whole new ZE range.
As such it's launching in three body lengths (L1, L2 and L3) and two roof heights (H1, H2), though limited to three specific combinations: L1H1, L2H2 and L3H2.
There will also be an L3 flatbed cab variant, which Renault is anticipating will be mostly used to create particularly large vans with up to 22.0 cubic metres of space inside. The smallest L1H1 Master ZE will swallow 8.0 cubic metres.
A disadvantage to electric vans is that the batteries are heavy. Despite using the very latest power-dense technology, adding them to the Master eats into the payload, with the ZE able to carry between 1,000 and 1,100kg in van form.
The flatbed will carry 1,400kg, but the add-on body has to be accommodated within that.
The batteries are fitted under the Master ZE's body, but it maintains a low 557mm sill height. The rear doors continue to open up to 270 degrees to ease access.
On sale date, cost and other Renault ZE news
Renault is yet to be drawn on exactly when the Master ZE will go on sale, but it has confirmed to Parkers Vans that is set to reach the UK 'in late 2017.'
There is no pricing information at this stage, but you can expect to pay a premium over equivalent versions of the conventional diesel-engined Master.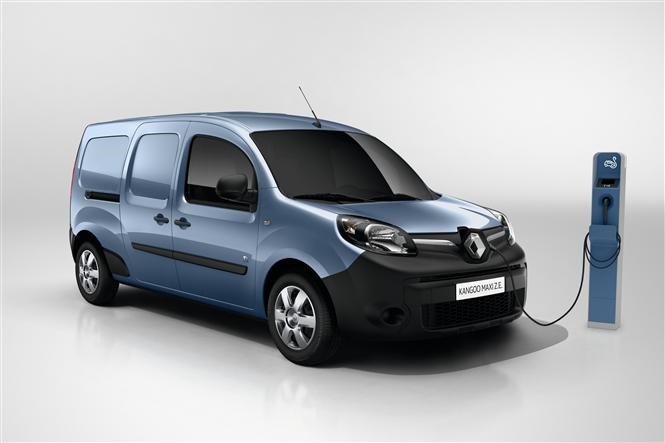 In other Renault ZE news, in addition to the Kangoo ZE upgrade – which should help continue to make it the best-selling small electric van in Europe, as it has been for the past six years – the firm has also announced a new range of so-called 'connected services'.
You can find out more about this in our 2017 Renault Kangoo ZE news story.
Read the full Renault Master review on Parkers Vans