Volkswagen has announced the pricing and specification details for its all-new Crafter large van.
Entry-level Startline specification costs from £23,920 basic, with the better-equipped Trendline priced from £25,270 basic, and top-spec Highline starting at £29,220 basic. All prices exclude VAT.
Replacing a previous model that was essentially a rebadged Mercedes-Benz Sprinter, the 2017 Crafter has been developed entirely in-house by VW. It's powered exclusively by a choice of equally new 2.0-litre TDI turbodiesel engines, and comes in three body lengths and three roof heights.
Parkers Vans reviewed the new VW Crafter on its international launch late in 2016, and came away generally impressed. UK road tests will follow soon.
Read the full Volkswagen Crafter (2017 onwards) review on Parkers Vans
Pricing and specification of the new VW Crafter: what you get for your money
The Crafter comes in three trim levels: Startline, Trendline and Highline.
Standard equipment on the Crafter Startline includes:
Additional standard equipment on the Crafter Trendline includes:
Top spec Crafter Highline goes further with the following standard kit:
As you can see, VW is placing a high emphasis on safety – but this still leaves plenty of tasty extras on the options list. Highlights of this include:
What about running costs?
Good question. Although we know you will be able to buy 102hp, 122hp, 140hp and 177hp versions of the new 2.0-litre TDI turbodiesel – which can be paired with both manual and automatic gearboxes, and a choice of front-, rear- and all-wheel drive – VW is yet to reveal the Crafter's official fuel economy figures.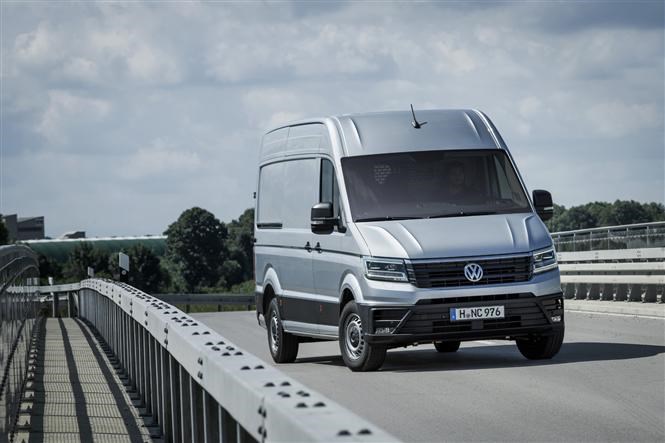 VW had initially promised a 15% mpg improvement over vehicles such as the latest Ford Transit – but we're not sure how that related to Ford's latest EcoBlue engines.
Similarly, VW is yet to confirm the service intervals for the new Crafter.
Read the full Ford Transit review on Parkers Vans
Available to order now
We should finally receive all this info – alongside other critical technical info such as payload ratings – by the time of the 2017 CV Show in April, where the Crafter will make its UK debut.
The new Crafter, which actually costs slightly less at the entry-level than the outgoing model, is on sale now. First deliveries are expected in May 2017.
Read the full Volkswagen Crafter (2017 onwards) review on Parkers Vans