Ford has an even bigger stand at the CV Show 2018 – and it's filled every square foot of it with an extensive range of vans, most of which are either heavily updated since last year or altogether new.
Key van exhibits include the facelifted Transit Custom – making its UK show debut alongside the also revised Transit Connect and Courier, plus a surprise appearance from an all-new Fiesta Van and a new top spec Ranger Wildrak X pickup.
Beyond this, however, Ford is also exhibiting a lot of technology – from the latest news about its plug-in hybrid electric van project to connectivity services and last-mile delivery solutions.
What is Ford showing at the CV Show 2018?
Ford's got some important new vans to display at the 2018 Commercial Vehicle Show – starting with the facelifted Ford Transit Custom.
Ford Transit Custom facelift at the CV Show 2018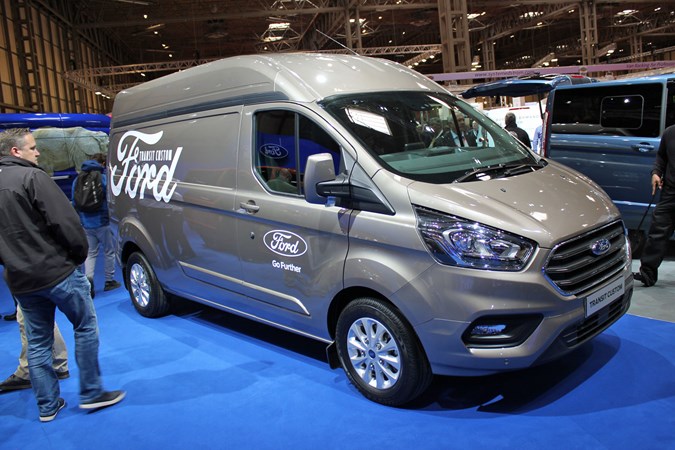 We've driven it already, and it's everything you'd want an update to the UK's bestselling van to be. Appearing at the CV Show five years after it made its original UK debut, the Custom has now sold over 206,000 examples in the UK.
Ford Transit Custom full review on Parkers Vans
All-new Ford Fiesta Van at the CV Show 2018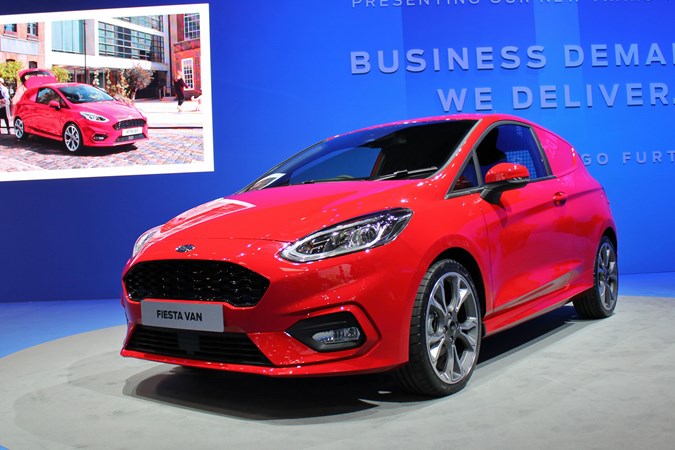 But while the Transit Custom was expect, the new Ford Fiesta Van certainly wasn't – for full information on this new car-based, city-friendly light commercial vehicle see our dedicated Fiesta Van story by clikcing here.
New Ford Fiesta Van launched at the CV Show 2018
Ford Transit Connect and Transit Courier facelift at the CV Show 2018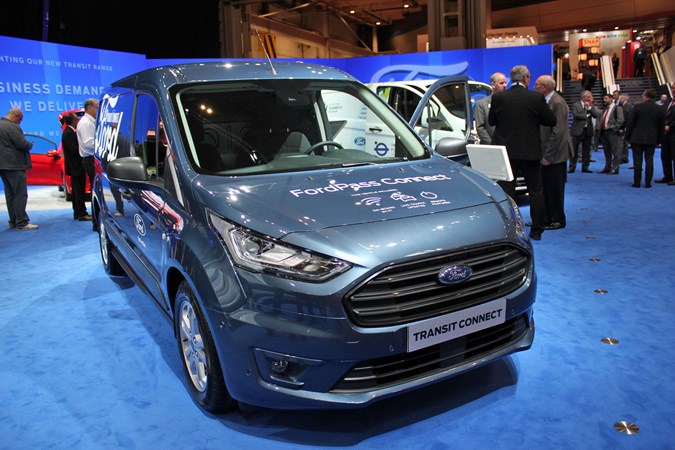 Not quite as new as the Fiesta but more recent than the Transit Custom are the revised versions of the smaller Transit Connect and Transit Courier. Both get new looks inside and out, while the Connect gains a new 1.5-litre EcoBlue diesel engine and the Courier is upgraded with a six-speed gearbox.
Ford Transit Connect and Transit Courier 2018 facelift – big changes for small vans
Ford Tourneo Custom facelift at the CV Show 2018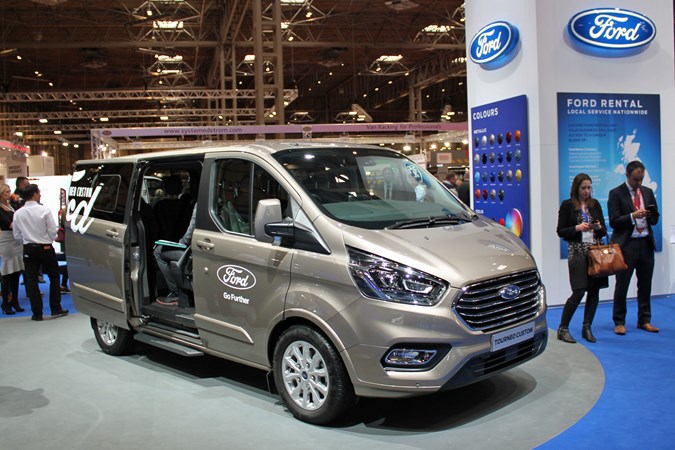 The facelifted Ford Tourneo Custom is also be appearing at the show – giving potential buyers the chance to poke about in its heavily reworked interior, which is now available with a conference seating arrangement. Over 1,000 parts have been changed versus the pre-facelift version.
Ford Wildtrak X at the CV Show 2018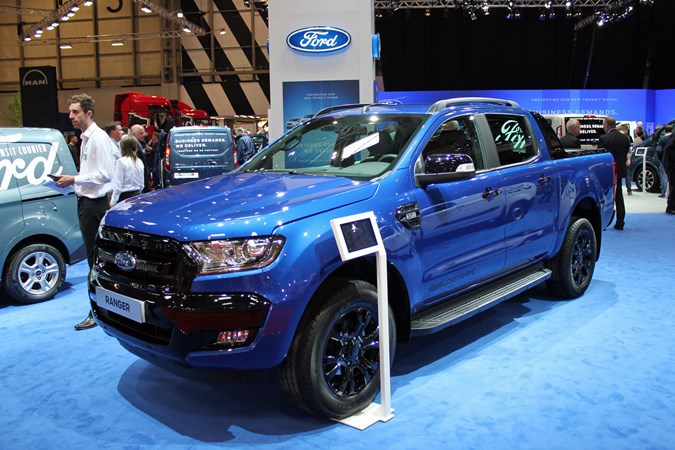 There's still no sign of the Ford Ranger Black Edition, but Ford has turned up with the Ranger Wildtrak X, which makes Ford Performance Blue paint available on the popular pickup for the first time. Add the blacked-out exterior detailing and full leather interior, and you've got a good looking truck.
Offered exclusively with the 200hp 3.2-litre engine, deliveries of the Ranger Wildtrak X will start in August.
New Ford Ranger Black Edition says no to chrome
What new technology is Ford showing at the CV Show 2018?
Ford's major tech story is the FordPass connectivity service, which is going to be available in the new Fiesta Van and Transit Connect.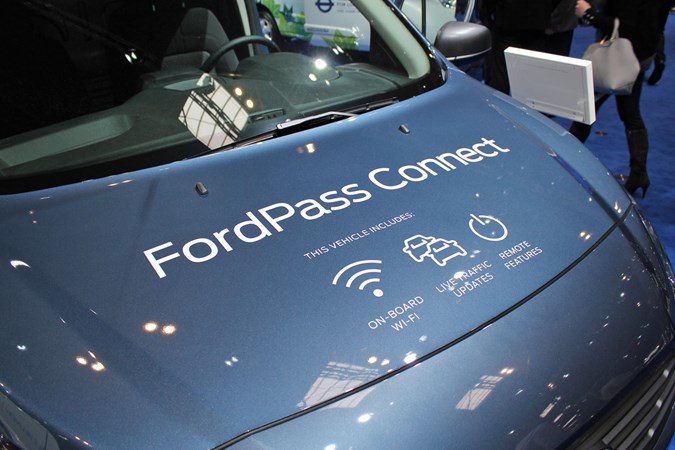 FordPass Connect is essentially a mobile app that, like other similar services, allows you to see all sorts of vehicle information on your smartphone – it's also only just launched in the latest generation of Ford Focus, so it's good to see commercial vehicles following so hard on the heals of cars for once.
To make it work, a special FordPass modem is installed in the van, which also handily turns it into mobile Wi-Fi hotspot that can connect to no less than 10 devices.
We've more details on FordPass Connect in our Fiesta Van story.
Beyond this there are more conventional displays demonstrating the latest Ford Sync 3 infotainment, Ford's sector-first intelligent speed assist (which automatically adjusts the cruise control to changes in the speed limit) and the 'pre-collision assist with pedestrian detection' autonomous emergency braking system.
Ford last mile delivery Smart Hub at the CV Show 2018
Ford also has a fun concept on the stand – a full-size Transit that's kitted out with folding bicycles and designed to function as a 'Smart Hub' for last mile delivery in cities.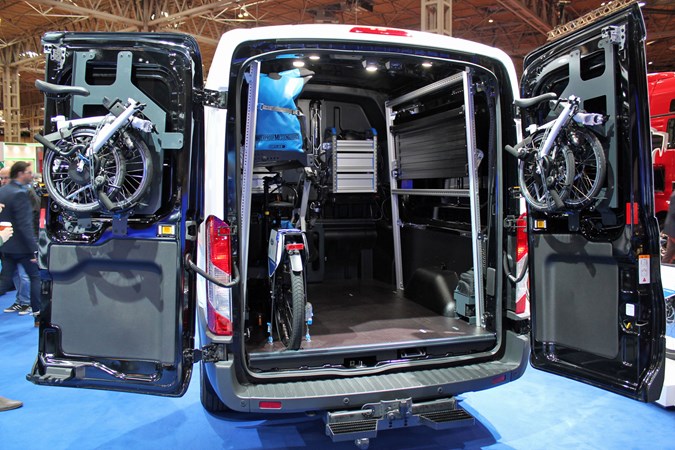 The idea is that as the loaded van progresses through a town it could distribute goods to last-mile couriers who would carry out the actual deliveries on bike or foot, depending on what was appropriate for the van's location and the delivery address.
Seems far-fetched, but as air quality concerns only continue to grow it could well be a clever solution.
Ford Transit Custom PHEV plug-in hybrid at the CV Show 2018
Finally, there is an actual working example of the Ford Transit Custom Plug-in Hybrid Electric Vehicle (PHEV) on the stand – it was only there in spirit and pictures in 2017.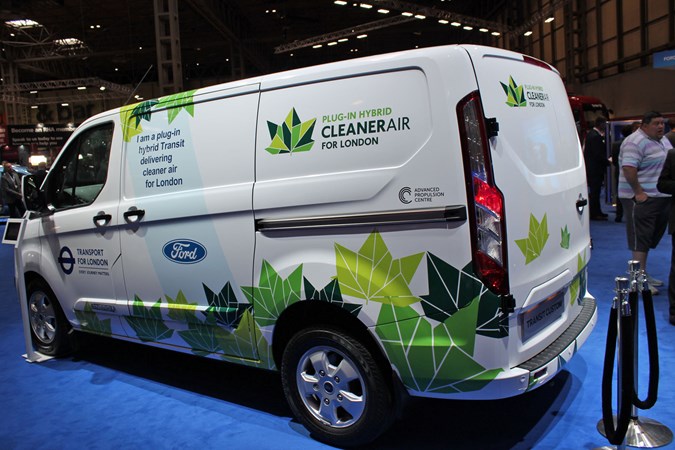 This one has been borrowed from Transport for London. We understand the trial of this vehicle is going very well, and Ford is close to finalising the specification for the 2019 production version.
Ford Transit Custom PHEV – everything you need to know
Also read:
A-Z of the CV Show on Parkers Vans
Ford Transit Custom full review on Parkers Vans