One of the most widely talked about electric pickups could finally be making its way to customers as Tesla has announced that it has made the first production version of its Cybertruck.
The angular Cybertruck was first revealed in 2019, with the launch date having been pushed back several times since then, but it looks like 2023 might finally be the year for it to take the next step. Tesla used its official Twitter account to show off the first production model, surrounded by employees at the company's Giga factory in Texas.
Will 2023 finally bring the first Cybertrucks on the road?
It looks very much like 2023 will be the year when Tesla finally comes good on its promises to make a road-going version of the Cybertruck. It was 2019 when we first saw the all-electric truck, which wouldn't a long time to be waiting between first announcement and production were it not for the fact that Tesla has shifted the Cybertruck's on-sale date several times.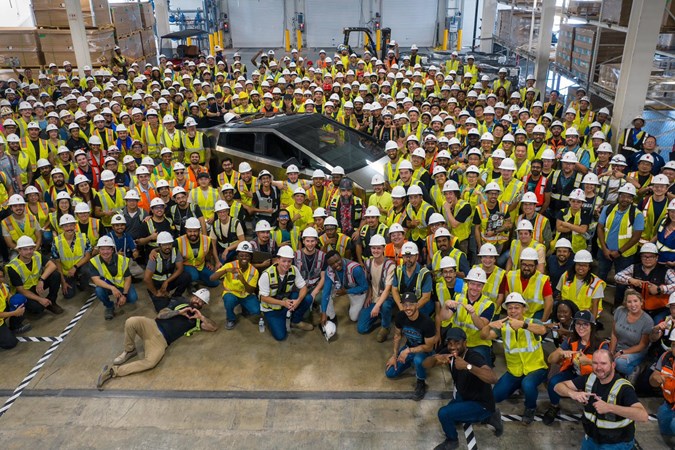 We were first promised it in 2021, then 2022 but the most recent pronouncement was that it will be on its way in 2023. Tesla boss Elon Musk said as such at an annual Tesla shareholders' event.
'Cybertruck is a hard truck to make. You can't just use conventional methods of manufacturing,' he said. 'We had to invent a whole new set of manufacturing techniques in order to build an exoskeleton car rather than an endoskeleton car so it is clearly not trivial, but we are making good progress on that.
'Sorry for the delay. We're finally going to start delivering production examples of the trucks later this year and the product is, if anything, better than expectations. Cybertruck is the car I will be driving on a day-to-day basis.'
Are there any technical details of the Tesla Cybertruck?
The Cybertruck's final production specifications remain a slight unknown, as Tesla has yet to announce any confirmed details on the vehicles that will make it to buyers' driveways. Earlier pronouncements have claimed that a 0-62mph time of 2.9 seconds, a range of more than 500 miles and a payload of 1,588kg are all possible, but we've yet to have any of this finalised.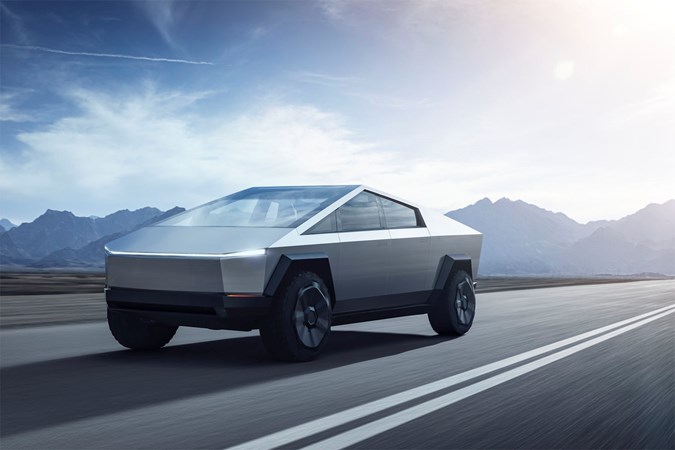 Granted the range and performance figures are in the same sort of ballpark as Tesla's other models, so it could well be possible. The laws of physics suggest that you won't be able to get that top range and maximum acceleration while taking advantage of such a notable payload, though.
Earlier reports have also said that even the most affordable one should be able to tow over three tonnes (3,000kg), reach 62 mph in under seven seconds, and achieve a range over 250 miles.
The earlier concept cars also came with some handy off-road tech such as air suspension that provides adjustable ground clearance, up to 400mm. Off-road performance is further bolstered by approach and departure angles of 35 and 28 degrees respectively.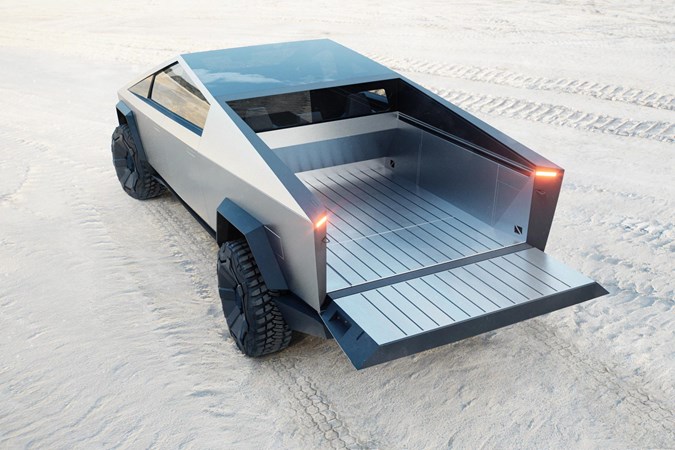 There's no word on gross vehicle weight, though, so that top carrying capacity might not be available to UK drivers with a standard Category B licence.
Inside, there are two rows of three seats, meaning you should be able to fit six people in the cabin. The rest of the cabin promises to be minimalistic in Tesla's usual style, with a simple, 17-inch portrait-style central screen and the yoke-type steering wheel.
What is the Tesla Cybertruck made of?
Unsurprisingly, the Cybertruck is not exactly like other, more conventional trucks. It uses an exterior exoskeleton and features materials designed for strength and durability – stainless steel for the body panels and armoured glass for the windows.
Musk has previously said that it will come with solar panels to help boost the range, while it is likely to come with Tesla's latest autonomous driving capabilities.
When can I buy a Tesla Cybertruck in the UK?
The news is less promising for UK buyers, though. In the early stages of the Cybertruck's story, you were able to put down a £100 deposit if you were interested in buying one. However, that page on the company's site no longer exists, and there is no word on if or when it will be coming to these shores. We'd expect it to make it here eventually, though, given that the rest of the brand's range is sold over here in right-hand drive, but it doesn't bode well for it to be available early on in production.
We'll bring you more news on pricing and specification and a likely UK arrival when we have it.