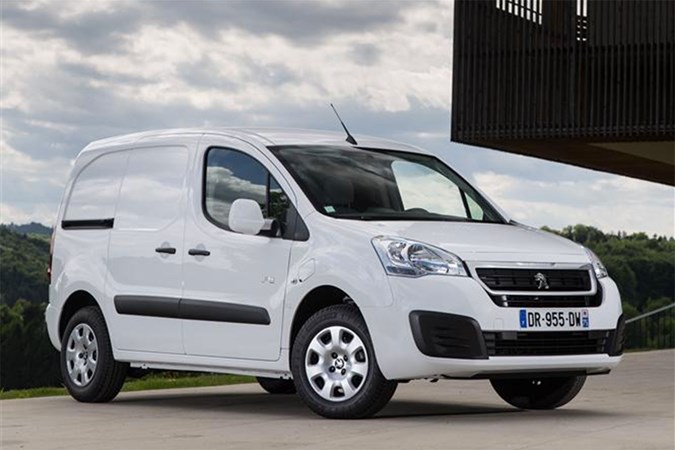 There was a time when the only payload you could transport using electric power was a couple of golf bags.
However, rechargeable vans are now well and truly among us, and thanks to VED tax exemption and low running costs, they could be a sensible choice for a city-based operator.
One such van is the Peugeot Partner Electric, which has undergone a facelift along with the rest of the range and, as a result, looks like an even better prospect.
Practicality unaffected by powertrain
The biggest perceived problem for an electric vehicle is range, so much so that the expression "range anxiety" – used to describe the specific terror of running out of charge – has entered the motoring vocabulary.
There's no such worry with the Partner though, which promises 105 miles between recharges. Just like a petrol or diesel engine, this is affected by driving style and the power drain of auxiliary systems like the heating or radio, but even so it is a respectable figure.
Included in the price of the van, rather than leased separately, is the battery, which can be charged in 12 hours using a standard three-pin domestic mains connection. This comes with an eight-year or 60,000-mile guarantee.
However, if you have a dedicated car charging point this time is reduced to eight hours, perfect if the van is left parked up at a depot overnight. Find a special rapid charging station and you can get to 80% capacity in 35 minutes.
The loadspace is unchanged at 3.3 cubic metres, big enough for two Euro pallets, and payload is broadly similar to the entry-level petrol and diesel engines at 636kg. You get six tie-down hooks, a left-hand sliding side door and 180 degree-opening rear doors.
What's the Puegeot Partner Electric like to drive?
Eerily quiet, producing only a slight hum that increases in volume as you accelerate. Other than that, it feels almost exactly the same behind the wheel as the conventionally-powered Partner. You start it with a key and select either park, neutral, reverse or drive as you would in an automatic. It is easy to see out of and benefits from the same big mirrors as the standard van.
Battery level is displayed using a traditional fuel gauge and a power dial takes the place of a rev counter. It works in the same way but has a 'charge' section to let you know when the Partner is clawing back electricity using its regenerative system.
The only stand-out difference in the drive is the instant power delivery. There is one gear and you get all 200Nm of torque as soon as you press the accelerator rather than waiting for the revs to rise like with a traditional internal-combustion engine.
As a result it's a really relaxing thing to drive, especially around town, and feels more powerful than its 68hp would suggest.
Verdict
Only available in SE trim, you get all the standard features such as deadlocks, electric windows and mirrors and a CD radio stereo, plus air-con and cruise-control.
We didn't find the air-con to be as effective as in the conventional Partner, but it was a very hot day and the system only had a short time to get up to speed.
On the road the Partner Electric costs £26,224 [at the time of writing] but it is eligible for a 20% government grant, taking the price down to £20,979. It's still the most expensive in the range but bear in mind it is VED tax-exempt and costs pennies per mile to run.
The Partner Electric is an accomplished van and providing you don't need a huge daily range, will slot into your business with very little compromise.
Also read:
>> The Parkers Vans guide to electric vans