Ford has announced an engine update for the Ford Transit Custom at the 2018 IAA Commercial Vehicles show, which brings more power, hybrid drivetrains and other improvements aimed at delivering better fuel economy and increased drivability.
The new engines, which are also fitted in the revised 2019 Ford Transit large van, include a diesel-electric mHEV mild hybrid system – a first for any medium van – and follow after the much more comprehensive 2018 Transit Custom facelift.
The Ford Transit Custom PHEV (plug-in hybrid electric vehicle) is also being shown in full production form for the first time – but we've got that covered in a separate story.
>> A-Z of the 2018 IAA Commercial Vehicles show
More power and efficiency for the Ford Transit Custom in 2019
As before, the 2019 Transit Custom is powered by a range of 2.0-litre EcoBlue turbodiesel engines, offering 105hp, 130hp and 170hp – but these will now be joined by a new 185hp variant, which also offers 415Nm of torque.
Revised turbochargers on all versions are said to broaden the spread of torque too, which should make for an even better driving experience.
The entire 2019 engine line-up also benefits from new fuel injectors running at 2,200 bar, new steel pistons (in place of the old cast aluminium design) and an on-demand oil pump – all of which should help the Transit Custom use less fuel in real-world driving, according to Ford.
What is the Ford Transit Custom mHEV?
In addition to the conventional diesel engine range, the Transit Custom gets a new mHEV model as well.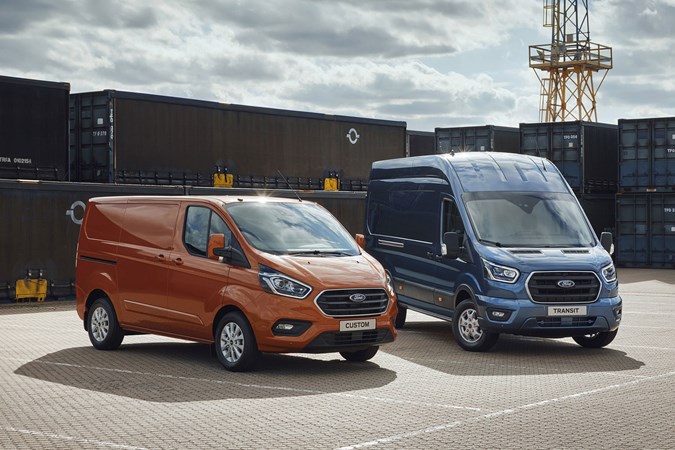 This technology is shared with its full-size Transit big brother, and brings diesel-electric hybrid technology to the medium van sector for the first time.
This system recovers energy that would otherwise be lost when the van slows down and stores it in a small lithium-ion battery, where it can then be used to power the Custom's electrical components.
While intended as a means of saving fuel – Ford's given no figures for the Custom but reckons the big Transit saves up to 8% in stop-start traffic and 3% in regular driving versus an ordinary EcoBlue diesel – it's also said to deliver better engine response.
How is the Transit Custom mHEV different to the Transit Custom PHEV?
While the mHEV is essentially just a diesel Transit Custom with clever energy management – hence being described as a mild hybrid – the PHEV's wheels are turned exclusively by an electric motor.
Much bigger lithium-ion batteries feed this motor, giving it an electric-only range of around 31 miles; when the batteries run out a tiny 1.0-litre petrol engine kicks in to function as a generator to provide more electricity, boosting the total driving range to over 300 miles.
You can find full details of the Transit Custom PHEV in our dedicated story.
>> Ford Transit Custom PHEV – official details and pictures
Any other new technology for the 2019 Ford Transit Custom?
The FordPass Connect on-board telematics and 4G Wi-Fi modem system is being added, alongside a number of enhanced safety systems, including:
Active Park Assist – autonomous parking capability
Intelligent Adaptive Cruise Control – automatically adjusts to speed limits
Lane Keeping Aid – actively steers the van to keep you in lane
Blind Spot Information System with Trailer Tow – extends blind-spot monitoring to include trailers up to 10m in length
Expect to pay extra for all of them when this latest Transit Custom revision goes on sale in 2019.
Also read:
>> Ford Transit Custom full review on Parkers Vans
>> Everything vans and pickups at the 2019 IAA Commercial Vehicles show
>> Ford Transit 2019 facelift – official details and pictures