The new Vauxhall Combo has made its public debut at the 2018 IAA Commercial Vehicles show – where it was shown with the Opel badging of its European sister brand.
The new Combo also received the 2019 International Van of the Year award at the show, together with its Citroen Berlingo and Peugeot Partner platform-mates.
We've got full details of the new small van, including UK pricing and load area info below – so keep reading – and we'll bring you our first review of the new Combo in October 2018.
Quick links for quick navigation:
Introducing the all-new Vauxhall Combo
This is the 2018 Vauxhall Combo – an all-new small van that takes full advantage of Vauxhall's new relationship with PSA Peugeot–Citroen.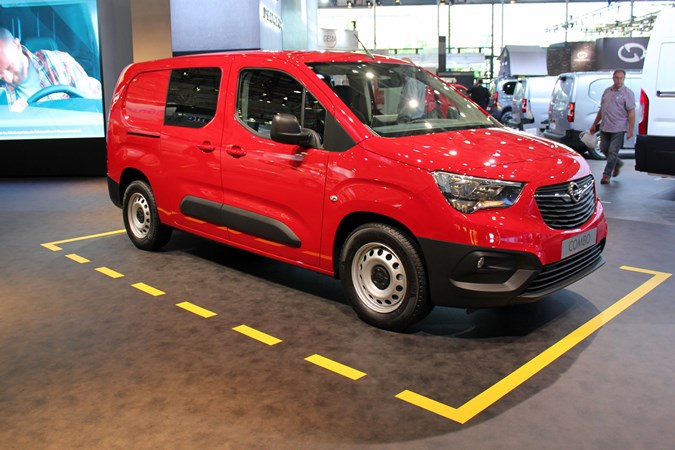 Capable of carrying more than 1,000kg (1.0 tonne) – giving it what's claimed to be the greatest payload capacity in the small van sector – and packed with high-tech features including a system that warns you if the van is overloaded, Vauxhall has high hopes for the new Combo.
With load volume and fuel economy that also aims to impress, could this be the Combo to finally take the small van fight to the Ford Transit Connect?
What is the 2018 Vauxhall Combo based on?
The old Vauxhall Combo was based on the Fiat Doblo Cargo, but the 2018 model shares its platform, technology and much of its design with the similarly brand new Citroen Berlingo and Peugeot Partner vans.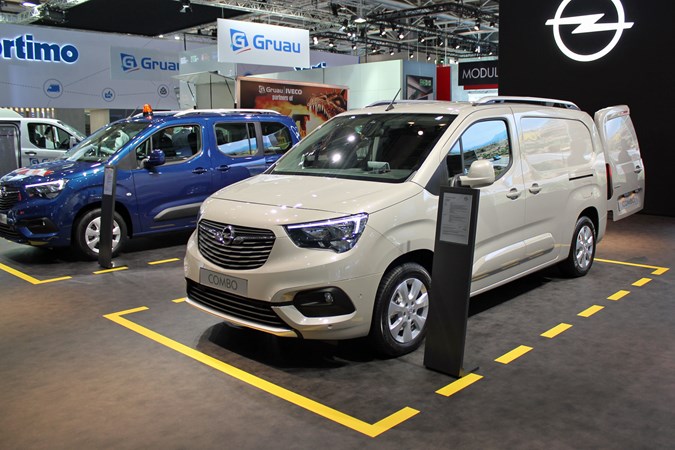 Built from aluminium and steel, and using a mixture of Peugeot-Citroen car and van parts, this gives the new Combo compact dimensions for its carrying capacity and modern fuel-saving features such as electric power steering, not to mention access to a whole host of active driver aids and other clever features.
There is also a passenger car version of the Combo, called the Vauxhall Combo Life.
The new Vauxhall Combo van comes in two body lengths – short-wheelbase (SWB) L1 and long-wheelbase (LWB) L2 – but only a single roof height (labelled H1).
New Vauxhall Combo price and standard equipment
The new Vauxhall Combo is off to a strong start before we've even driven it – because it costs less than the old one.
There are four trim levels: Edition, Sportive, LE Nav and Crewvan. Here are the standard equipment highlights for each one.
All prices shown exclude VAT.
Vauxhall Combo Edition standard equipment
With a starting price of £15,630, the new Combo Edition costs £495 less than the entry-level version of the outgoing Combo (which was priced from £16,125). For that you get the following standard kit:
Four-way adjustable driver's seat
Under-seat storage on the passenger side
15-inch wheels
Fixed steel bulkhead
Sliding side door on the passenger side
Overhead storage
One-touch electric windows
Electrically adjusted heated door mirrors
Vauxhall Combo Sportive standard equipment
The new Combo Sportive costs from £17,703, which is £967 less than the old one (which started at £18,670). All of the following is included over the Edition – with air-conditioning and an improved driver's seat the key items for us:
Six-way adjustable driver's seat with lumbar support, armrest and storage
Four-way adjustable passenger seat
16-inch wheels
Air-conditioning
Metallic paint
Body-coloured bumpers front and rear
Rear parking sensors
Cruise control with speed limiter
Alarm
Vauxhall Combo LE Nav standard equipment
Priced from £18,905, the LE Nav trim echoes similar models previously available on the Vivaro and Corsavan, and as the name suggests it includes satellite-navigation as standard. It also features a more premium exterior appearance, with all of the following items included in addition to the Sportive:
Vauxhall Combo Crewvan standard equipment
The Combo Crewvan is a bodystyle rather than a trim level, only comes in LWB form, and its major feature is a second row of seats.
But it also features a fold-flat passenger seat and a movable cage-style bulkhead that has two positions – and what's described as a 'protective bag' to prevent damage to the interior and dashboard when longer loads are being carried.
Pricing for the Combo Crewvan starts at £18,605, and it's available in Edition and Sportive specifications.
The full pricing for the Combo is as follows:
L1 Edition
2000 1.6 (75PS) Turbo D £15,630
2000 1.6 (100PS) Turbo D Start/Stop £16,355
2300 1.6 (75PS) Turbo D £15,980
2300 1.6 (100PS) Turbo D Start/Stop £16,705
L1 Edition
2000 1.5 (130PS) Turbo D Start/Stop £17,105
2000 1.5 (130PS) Turbo D Start/Stop automatic £18,255
2300 1.5 (130PS) Turbo D Start/Stop £17,455
2300 1.5 (130PS) Turbo D Start/Stop automatic £18,605
L2 Edition
2300 1.6 (100PS) £17,605
L1 Sportive
2000 1.6 (100PS) Turbo D Start/Stop £17,705
2300 1.6 (100PS) Turbo D Start/Stop £18,055
L1 Sportive
2000 1.5 (130PS) Turbo D Start/Stop £18,455
2000 1.5 (130PS) Turbo D Start/Stop automatic £19,605
L2 Sportive
2300 1.6 (100PS) Turbo D Start/Stop £18,955
L1 Limited
2000 1.6 (100PS) Turbo D Start/Stop £18,905
2300 1.6 (100PS) Turbo D Start/Stop £19,255
L1 Limited Edition Nav
2000 1.5 (130PS) Turbo D Start/Stop £19,655
L2 Limited Edition Nav
2300 1.6 (100PS) Turbo D Start/Stop £20,155
L2 Edition Crew Van
2300 1.6 (100PS) Turbo D Start/Stop £18,605
L2 Sportive Crew Van
2300 1.6 (100PS) Turbo D Start/Stop £19,955
Choice of petrol and diesel engines for new Vauxhall Combo
At launch, the new Vauxhall Combo will be available with a choice of three diesel engines – two older 1.6-litre units and a new 1.5-litre motor.
Later in 2019 a pair of 1.2-litre turbo petrol engines will also join the range.
Vauxhall says that compared with the old Combo, the new model is at least 16% more fuel efficient, which in turn means it's 8% more economical than 'the closest relevant competitor' (which is a cute way of saying the functionally identical Peugeot Partner and Citroen Berlingo are likely to achieve similar mpg).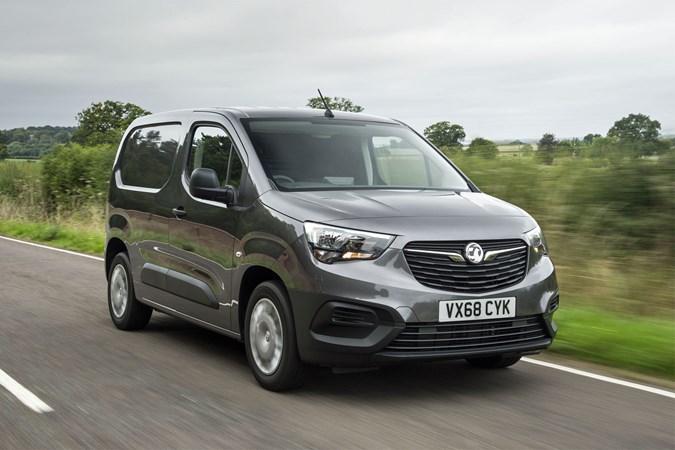 The 1.6-litre turbodiesels come with either 75hp/210Nm or 100hp/250Nm. Both are fitted with a five-speed manual gearbox and have 16,000-mile service intervals.
Only the 100hp model has stop-start as standard, however, which helps it achieve marginally higher official fuel economy of a claimed 67mpg; the 75hp engine claims 66mpg.
The new 1.5-litre engine – which meets the very latest Euro 6D Temp emissions regulations well ahead of the September 2019 deadline for vans – provides 130hp and 300Nm of torque.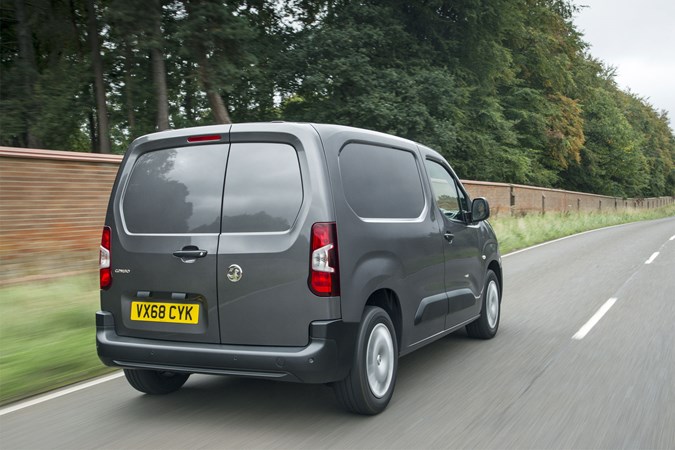 The 1.5 is available with either a six-speed manual gearbox or an optional eight-speed automatic transmission, both of which claim 64mpg. Service intervals are extended to 25,000 miles, which means lower mileage drivers will only have to visit the dealership once every two years.
The 1.2-litre petrol engines promise 110hp / 205Nm with a six-speed manual gearbox or 130hp/230Nm with an eight-speed auto.
Claimed fuel economy is 52mpg for the 110hp model, and is still to be confirmed for the 130hp version. Both require servicing every 12,500 miles.
What are the dimensions of the 2018 Vauxhall Combo and how big is the load area?
Vauxhall is keen to big-up the new Combo's cargo area – saying it offers 'segment-leading capability'. This despite not being as long, wide or as tall inside in standard SWB and LWB form as the old version.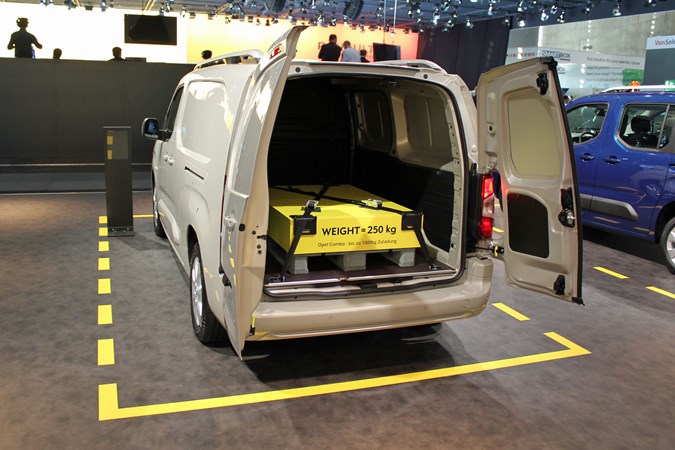 However, one of the key options for the new Combo is likely to be the FlexCargo front passenger seat. This replaces the single seat with a dual bench that can fold down to extend the maximum load length via a handy flap in the bulkhead (pictured) or fold up to safely store cargo in the cab. Full details are listed in the table below.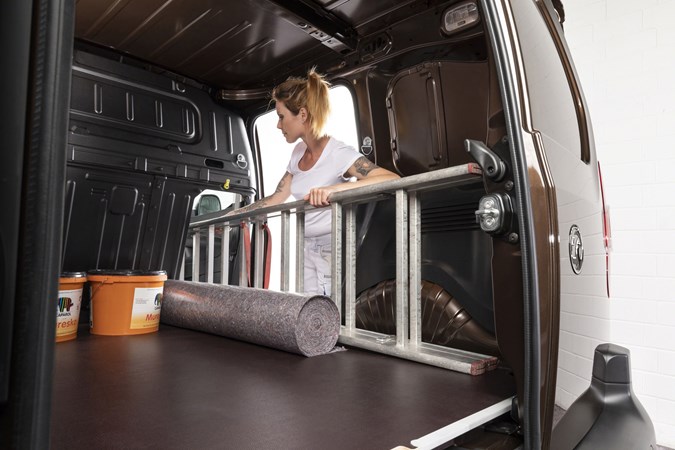 The FlexCargo package also includes an electric handbrake activated by a button, allowing the dual seat to be wider since there no longer needs to be space for a handle – giving passengers a welcome bit of extra room.
New Vauxhall Combo load area dimensions and payload with comparison to old Combo:
SWB L1H1
LWB L2H1
 
New Combo
Old Combo
New Combo
Old Combo
Maximum load length (mm)
1,781
1,820
2,131
2,170
Load length with FlexCargo (mm)
3,090
n/a
3,440
n/a
Maximum load height (mm)
1,236
1,305
1,243
1,305
Maximum load width (mm)
1,630
1,714
1,630
1,714
Width between wheelarches (mm)
1,229
1,230
1,229
1,230
Maximum load volume (cu m)
3.3
3.4
3.9
4.0
Load volume with FlexCargo (cu m)
3.8
n/a
4.4
n/a
Maximum payload (kg)
1,050
1,018
1,050
1,018
As you can see from this, not every area of the new Combo is an improvement over the old one – and the rear sill is higher on the new model as well, meaning you'll have to lift items further up to get them inside.
There's no disputing that the 1,050kg payload rating will go straight to the top of the class for a small van, though.
A Euro pallet will slot between the Combo's rear wheelarches, and there's enough load length to carry two of them. The arches don't appear to protrude very far into the load space, but that looks like an angled panel above them, making the picture slightly deceptive.
Still, the new model comes with wide-opening rear doors and vertical taillights that allow the door opening itself to be as large as possible. It's also worth noting that the rear doors have 'hidden hinges', a design feature intended to boost vehicle security.
Maximum towing capacity is up to 1,500kg. A factory-fitted tow bar option also adds Trailer Stability Control for added peace of mind.
New Vauxhall Combo exterior dimension with comparison to old Combo:
 
SWB L1H1
LWB L2H1
 
New Combo
Old Combo
New Combo
Old Combo
Length (mm)
4,403
4,390
4,753
4,740
Width not including door mirrors (mm)
1,848
1,831
1,848
1,831
Height (mm)
1,796
1,845
1,812
1,880
Wheelbase (mm)
2,785
2,755
2,975
3,105
While the load area dimensions have tightened, most of the Combo's exterior dimensions have increased. The lower roof may be handy for accessing some carparks, however.
How does the 2018 Vauxhall Combo's Overload Sensor work?
This is an absolutely brand new feature in the van sector, coming to market on the Combo, Berlingo and Partner at the same time.
It's intended to prevent you accidentally breaking the law by unknowingly overloading your van.
As such, the system boots up automatically whenever you start the Combo's ignition. If you've gone over 80% of the allowed payload, a white LED comes on to warn you that you're approaching the limit.
If you exceed the payload limit altogether an orange warning light with an exclamation light comes on.
You can also press a button in the load area to activate the sensor, so you can check how close you are to the limit while loading, hopefully saving you from having to take things back out.
What other technology is available on the 2018 Vauxhall Combo?
The new Combo is not short of high-tech options.
Highlight features include a system that combines cameras at the rear and under the passenger side door mirror to eliminate blindspots and aid manoeuvring in tight spaces.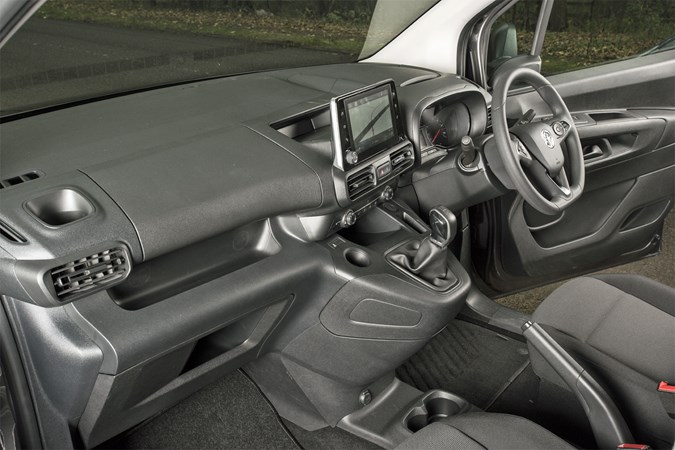 The rear camera can be displayed permanently, giving you a 'digital rear view mirror' while driving; the door mirror camera comes on when you activate the indicator on that side of the vehicle.
In addition to this, a new Flank Guard system uses the front and rear parking sensors to detect and remember objects that might be lurking out of sight to the side of the van, helping you to avoid accidental damage.
Other driver assistance features include:
Something else to consider is the Intelligrip system; the Vauxhall version of PSA's Grip Control feature, this is an enhanced traction control system designed to deliver better traction on slippery surfaces.
It's usually combined with raised suspension ride height (+30mm) and additional protective panels, but Vauxhall hasn't mentioned this yet.
Heated seats and steering wheel are also available. Toasty.
When does the new Vauxhall Combo go on sale?
The new Vauxhall Combo is set to reach UK dealers in November 2018.
We will bring you more info and the first review of the 2018 Vauxhall Combo very soon.
Also read:
>> 2018 Citroen Berlingo van – first official details and pictures
>> 2018 Peugeot Partner van – first official details and pictures
>> Ford Transit Connect and Transit Courier 2018 facelift – big changes for small vans