Fiat Doblo Cargo review (2021)
A versatile, flexible small van with outstanding capacity and payload
PROS
High payload
Lots of choice
Plenty of cab storage
Reliable
Efficient diesel engines
CONS
Cab feels old-fashioned
Poor refinement
Lacks modern safety equipment
Inferior warranty for base models
No DAB or infotainment
Summary
The Fiat Doblo Cargo is a small panel van that's getting on in years now – this version was launched back in 2010. But as a testament to how well it was designed, it is still competitive with much more modern vans.
This is mainly thanks to an impressive payload, large load space and plenty of options in terms of bodystyles.
There are short- and long-wheelbase models, high and low roofs, a pickup and a chassis cab, and a Combi version for carrying passengers. That's a range that even our favourite vans such as the Citroen Berlingo or Ford Transit Connect can't match.
But it is starting to show its age, particularly in terms of the driving experience and the cab. Is it still worth a look? Read our full 2021 Fiat Doblo Cargo review to find out, or check out our best small vans top 10 to see where the Doblo fits in.
A sturdy and practical van
The Doblo's proved reliable and dependable over the years – drawing on Fiat's considerable experience in the world of commercial vehicles. It feels built to last and should stand up to a considerable degree of punishment from the user.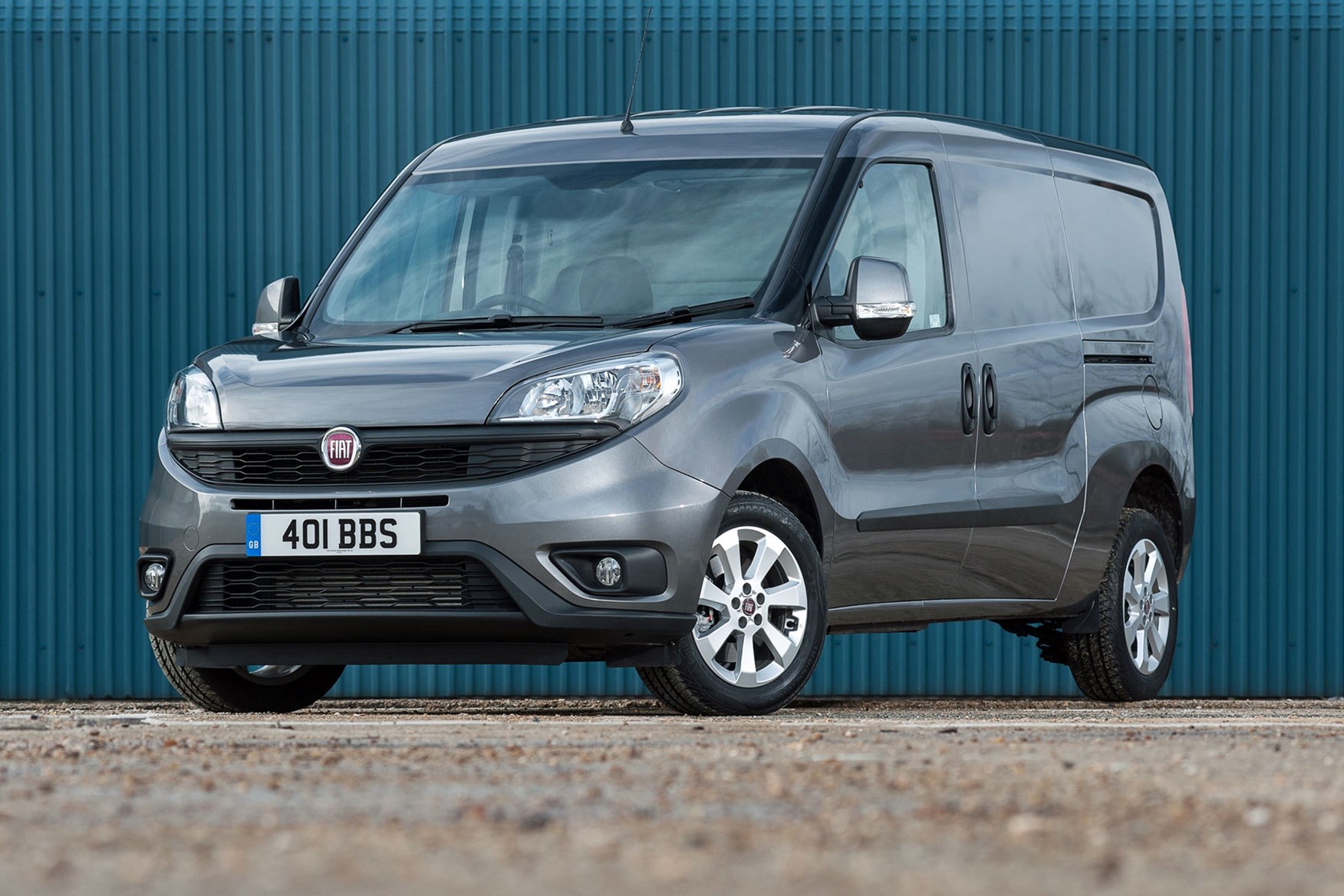 It's also one of the most practical vans around. Though its maximum payload is no longer top of the class (beaten out by the aforementioned Berlingo and its sister vans the Peugeot Partner and Vauxhall Combo Cargo; the previous version of the Combo was actually based on this Doblo, but that changed in late 2018), it's very close – and in terms of overall capacity, few vehicles can match the Doblo. Especially in its vast long-wheelbase, high-roof format.
Range of efficient engines
The current Doblo Cargo is powered by a pair of diesel engines, each available with a choice of two power outputs:
1.3-litre MultiJet, 80hp
1.3-litre MultiJet, 95hp
1.6-litre MultiJet, 105hp
1.6-litre MultiJet, 120hp
These are good engines, but those after a petrol engine or an automatic gearbox will clearly have to look elsewhere - although you might find a secondhand example with a petrol engine, as this has been offered previously. As have larger diesel engines.
Trim levels and body sizes
There are three options for body size. Short-wheelbase (SWB) variants are the most common, but there's also the Doblo Cargo Maxi – which has a long-wheelbase (LWB). A high-roof can be added onto this, maximising load capacity under the name Doblo Cargo Maxi XL.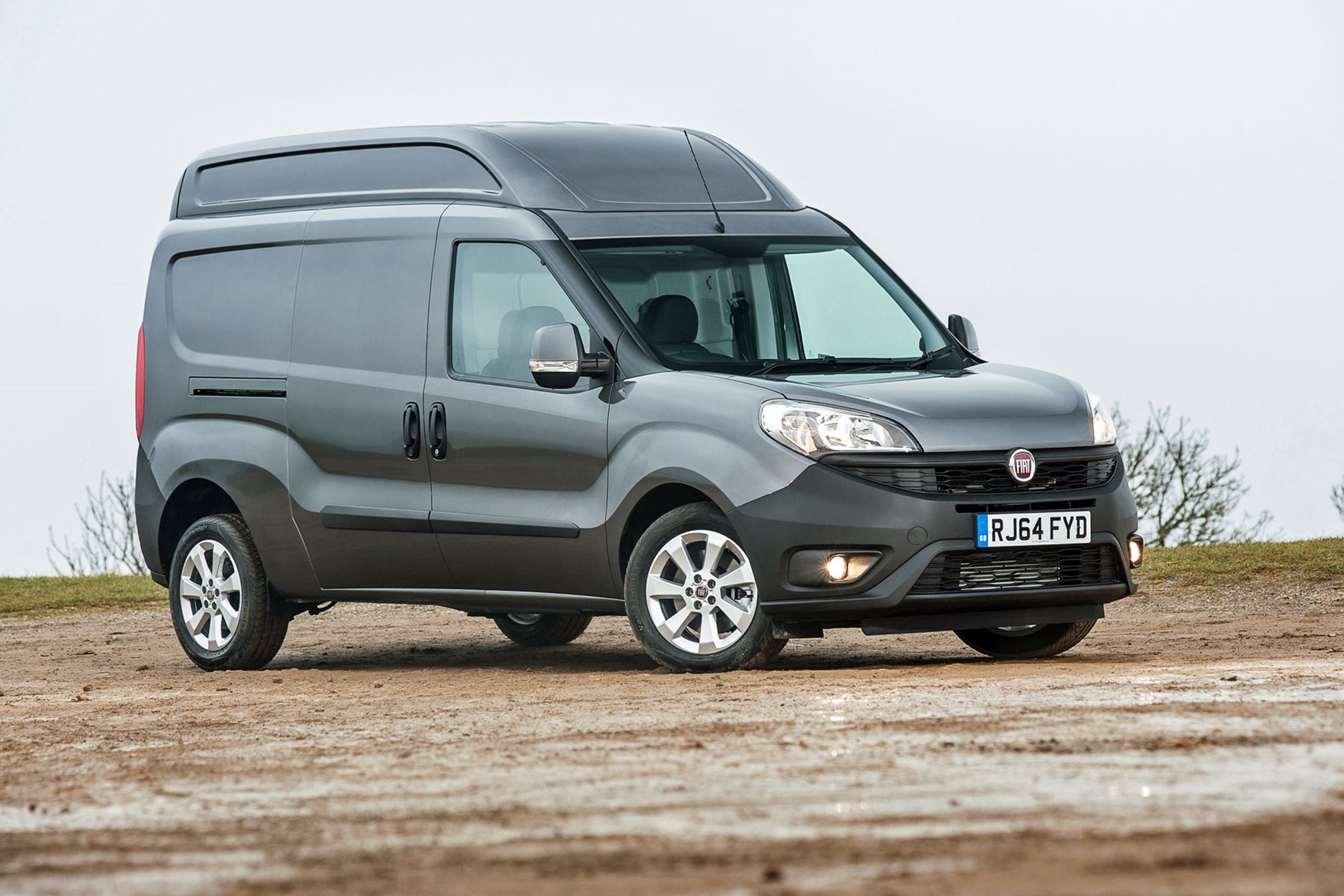 There are currently four trim levels available, too: Standard, SX, Tecnico and Sportivo. Base models come equipped with most of what you'd want, but opting for one of the higher packs can also net a great-value servicing package.
Read on for the rest of the Fiat Doblo Cargo review, or view our dedicated Fiat Doblo Cargo Dimensions page.
Skip to our full verdict on...
1.3 or 1.6-litre diesel engines
Light and easy to drive
Not the most refined van around
The Doblo Cargo was previously offered with a petrol engine and larger diesel engine – but the range has been rationalised and now Fiat offers a choice of just two engines with four power outputs.
The entry-level is a 1.3-litre Multijet, familiar from Fiat's range of small passenger cars. It's offered with either 80hp or 95hp, both paired to a five-speed manual gearbox.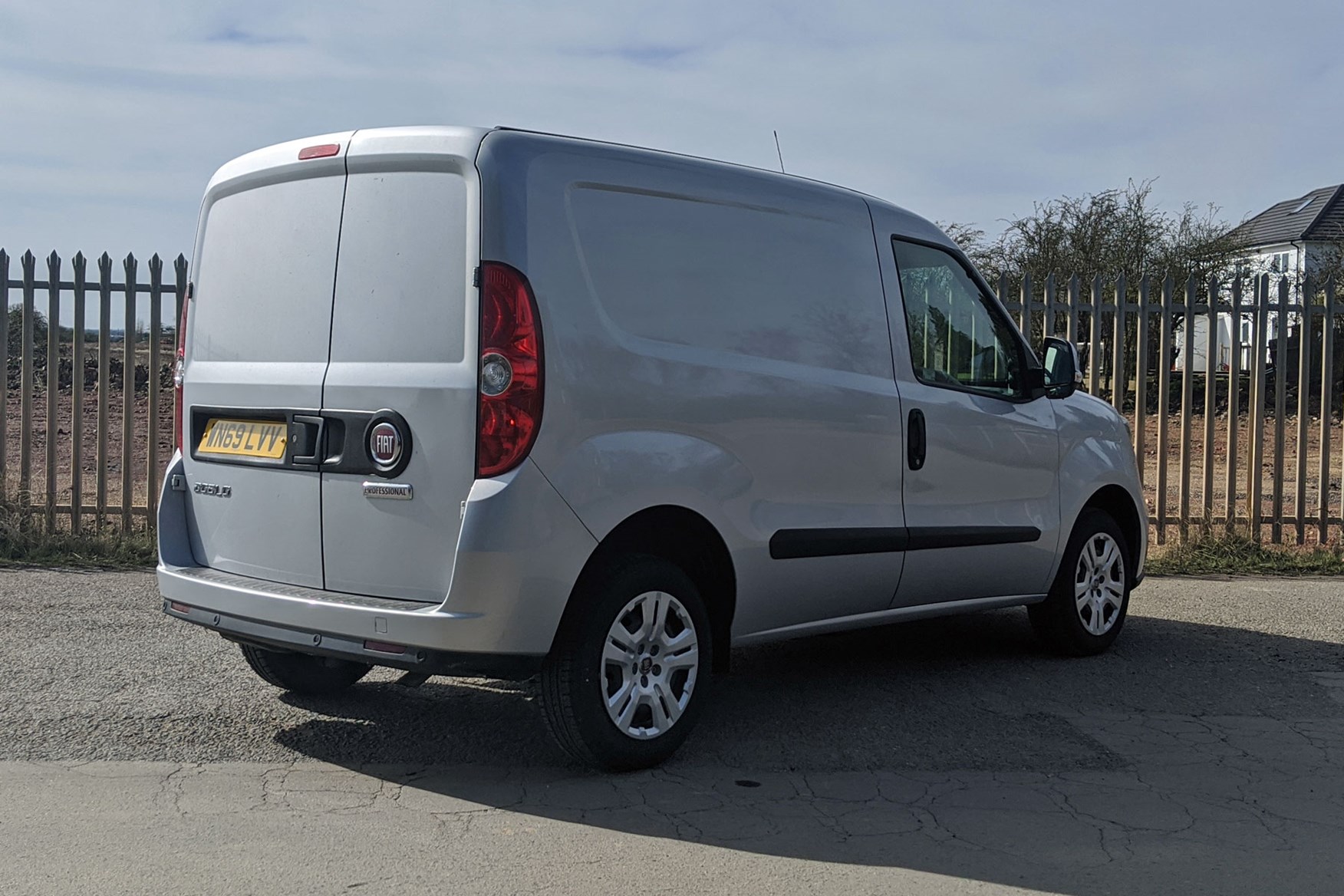 We'd advise against the 80hp model unless you do the majority of your work in town, or simply have very lightweight requirements. It's fine at low speeds but you'll certainly feel that lack of grunt on motorways and faster roads. The 95hp model doesn't suffer this to the same degree – it's certainly not quick but it's more flexible than the lesser model.
The five-speed gearbox, meanwhile, has a curiously satisfying if slightly rubbery action.
Those needing more power can also opt for a 1.6-litre MultiJet with either 105hp or 120hp. These models get a six-speed gearbox making them better suited to high-speed, long-distance work, though the price is increased accordingly. You'll want these if you're planning on making the most of the Doblo's payload, or opting for a long-wheelbase or high-roof model.
Those wanting to buy a new Doblo petrol or an automatic gearbox are out of luck – these niche customers would do better looking towards the PSA trio of Citroen Berlingo, Peugeot Partner or Vauxhall Combo Cargo vans instead.
>> We lived with a Vauxhall Combo Cargo - read the long-term test here
Handling and comfort
The Doblo's suspension setup is fairly comfortable and forgiving, and the rear of the van doesn't skitter about too much even when unladen.
It rolls about a bit in the corners, though, and doesn't have as smooth a ride overall as the Citroen Berlingo family. The steering's light and accurate, even if the rough plastic steering wheel does a better job of exfoliating your hands than any other we've tested recently.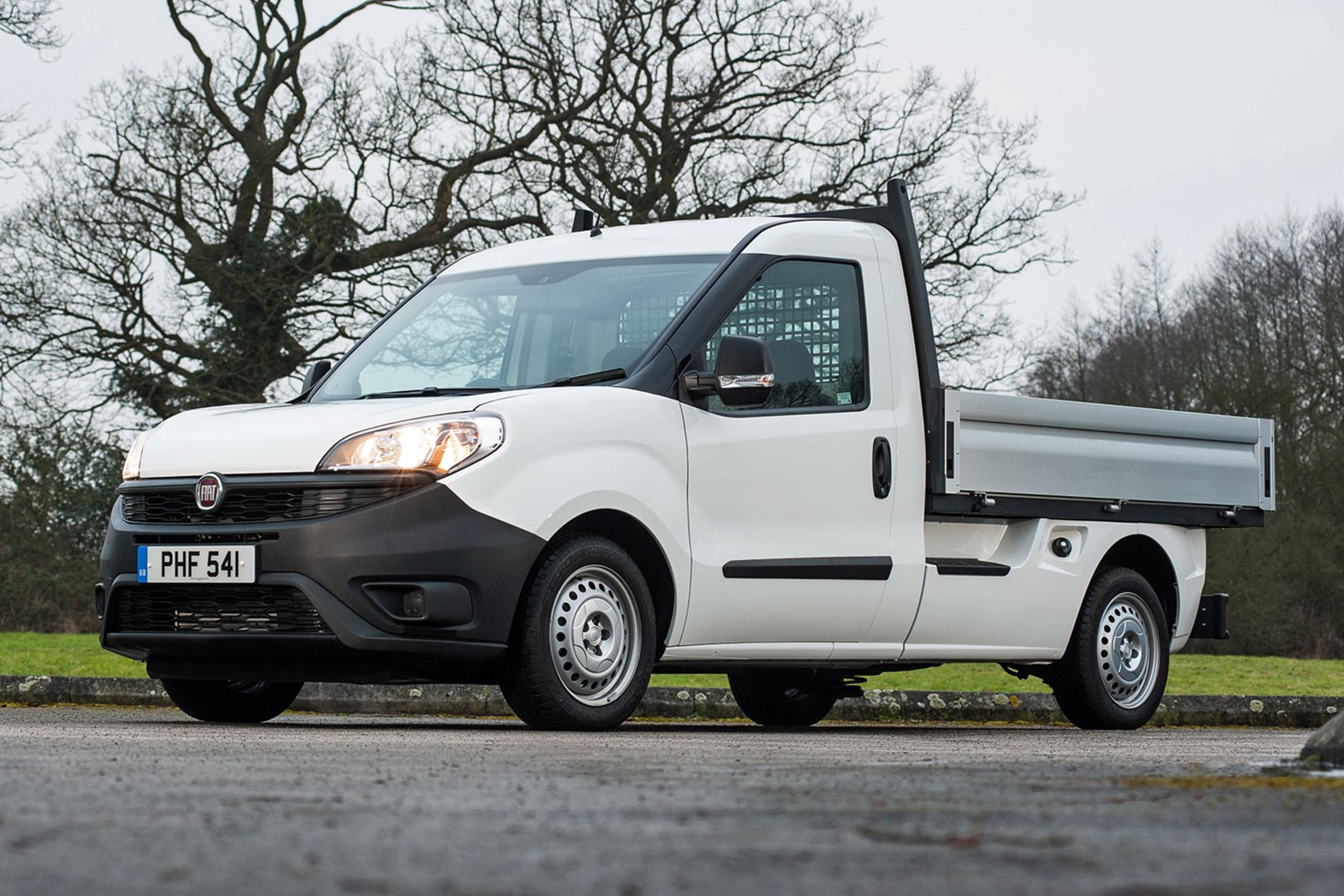 Refinement, too, is an area where the Doblo Cargo falls behind compared to more modern vans. Wind noise around the large mirrors is noticeable, and the engines don't really settle down. Again, if you want a quite van, the PSA models are exceptional in this area.
Well-finished and durable
Lacking in storage for smaller items
Outdated infotainment annoys
The Fiat Doblo Cargo's cab feels very light, airy and spacious. That's due to the low seating position and high roof – the van itself isn't low to the ground, but you sit down into the interior rather than hoist yourself up as in many rivals.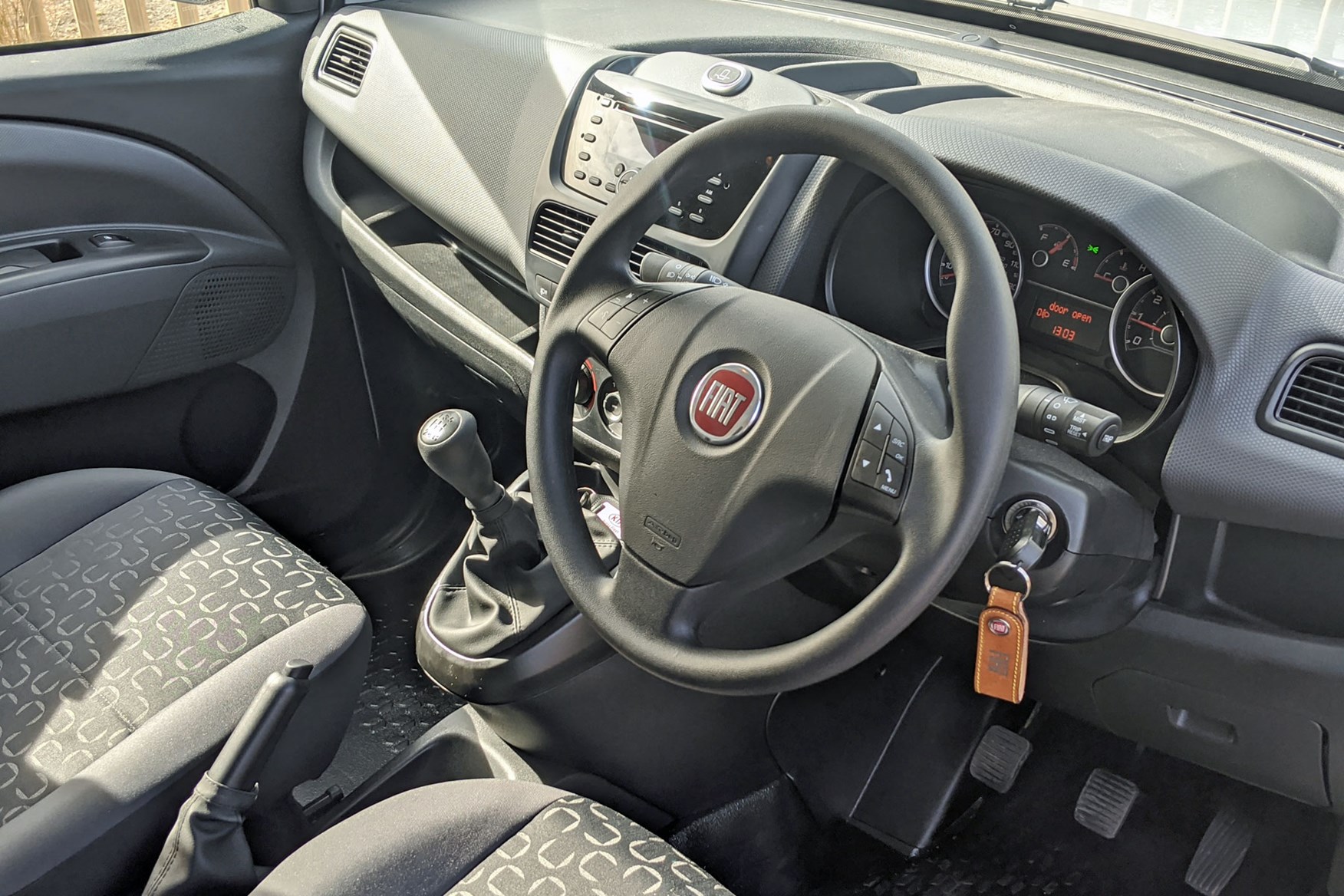 This means headroom is plentiful, and there's lots of space in the overhead storage bins. Storage elsewhere is a mixed bag, however.
In-cab storage
The door bins will accommodate a litre of water and an A4 folder with ease, and the glovebox is large and lockable – far better than the half-sized cubby you get on the PSA Group vans.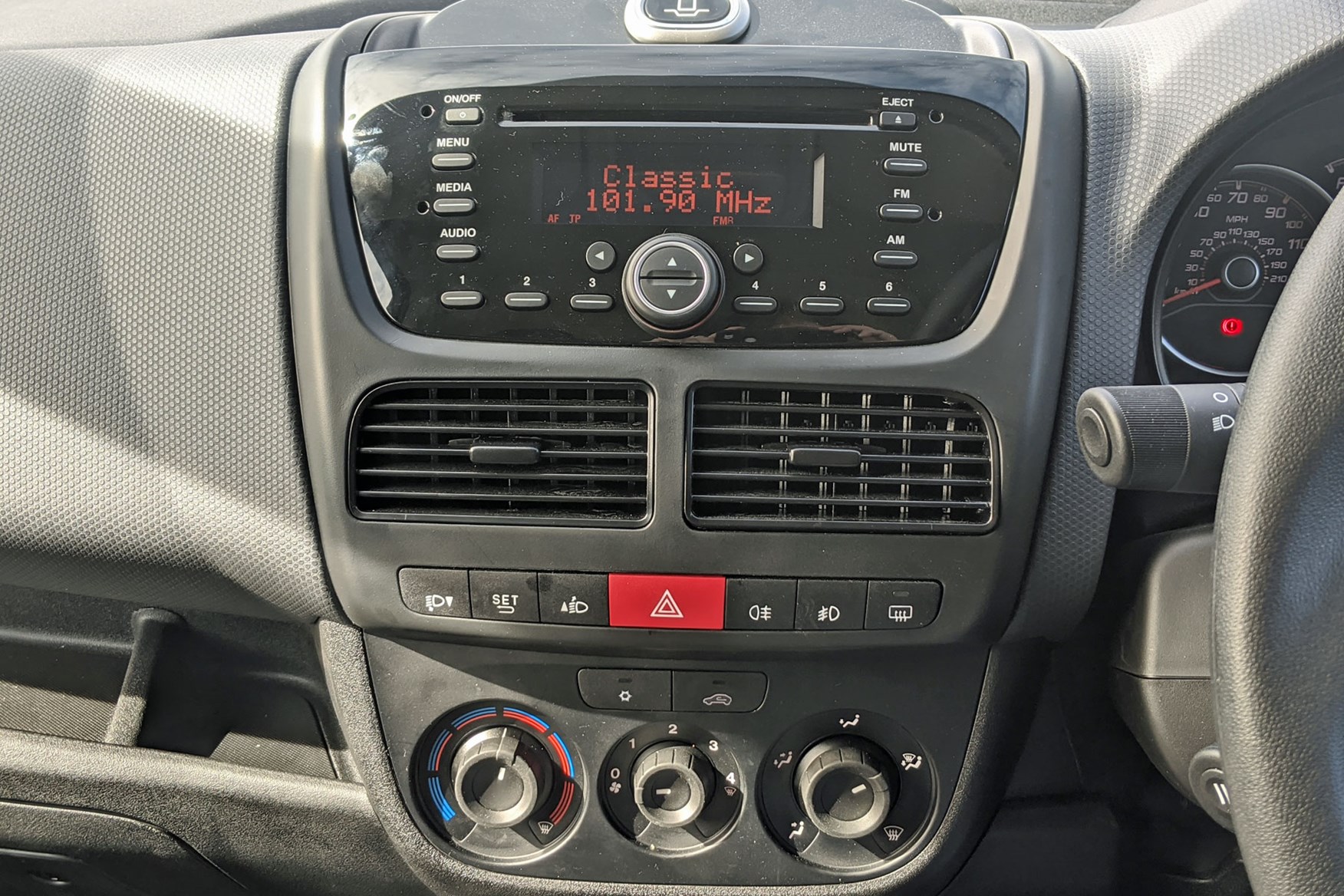 That said, there's no covered storage for smaller items such as keys, and the tray in front of the gearlever is too small to accommodate a large, modern smartphone. The cupholders, too, are something of a joke – much better suited to a tiny Italian espresso than to a litre of McDonald's finest.
Driving position and build quality
There is loads of adjustment to the driving position – so people of all shapes and sizes should be able to get comfortable with ease.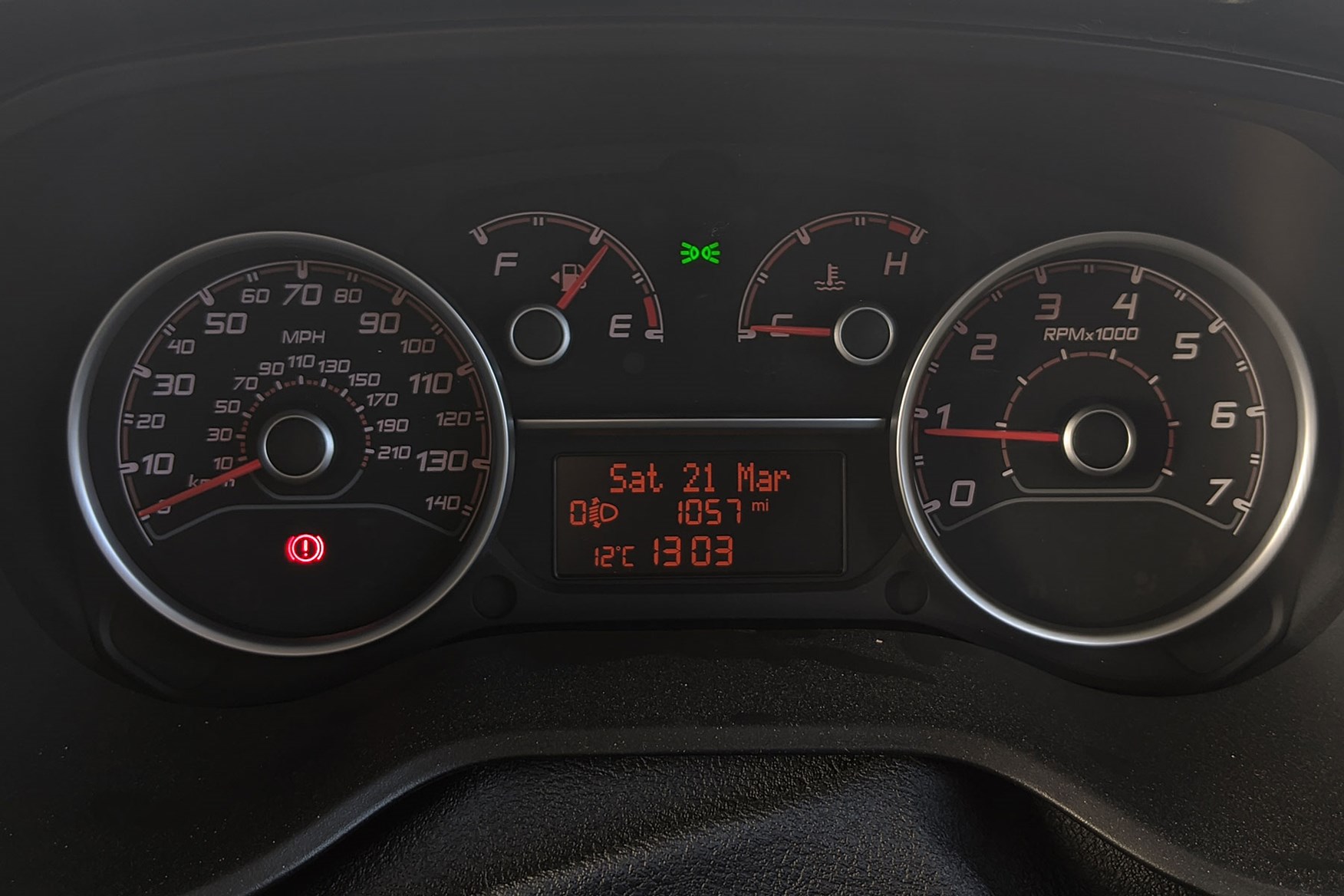 The rest of the cab feels built to last with tough materials that seem well screwed-together. The design is a trifle old-fashioned, however, with small dials, gauges that aren't particularly easy to read, and a basic trip computer.
There's also no provision for a sophisticated infotainment screen like you'll get in the Ford Transit Connect. Though the top-end stereo does get Bluetooth, USB and a CD player, DAB radio is only available as a third-party addition.
Basic standard equipment covers most needs
Good fuel economy from every model
Lack of high-end tech could disappoint
The Doblo should be a cheap van to run. It returns good fuel economy, parts are generally inexpensive and the servicing intervals are lengthy. Some models even come with a five-year warranty.
Fiat Doblo mpg
Every Doblo Cargo claims to return more than 50mpg on the combined WLTP cycle, which is pretty good going. It's better than the PSA Group vans can manage, for instance, and they are the newest small vans on the market.
Fiat quotes figures of 53.3mpg and 139gkm of CO2 for all 1.3-litre, short-wheelbase models, regardless of whether they're the 80hp or 95hp engine. Opt for the 105bhp 1.6-litre in this bodystyle and Fiat claims 52.3mpg and 144g/km.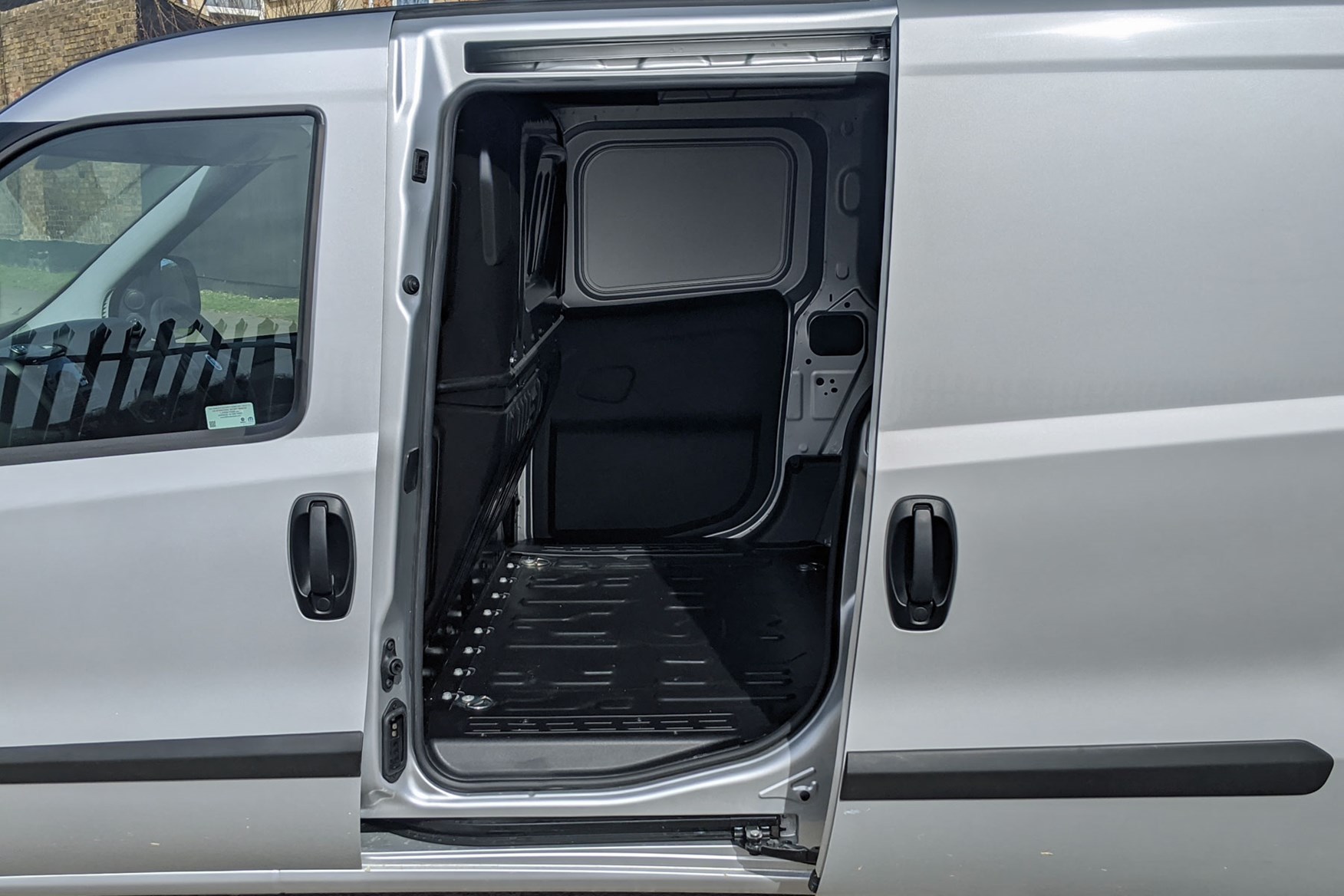 Go for the long-wheelbase Maxi and the 1.3-litre 95hp engine returns 52.3mpg and 143g/km, and the 1.6-litre engine – both 105hp and 120hp models – return 51.3mpg and 147g/km.
The thirstiest of the bunch is, unsurprisingly, the high-roofed Doblo Cargo Maxi XL, available exclusively with the 120hp 1.6-litre engine and returning a claimed 50.4mpg and 150g/km of CO2.
Fiat Doblo service intervals and warranty
Service intervals for all Doblos are the same – two years or 21,000 miles.
Warranty coverage depends on which models you choose. Standard and SX trim levels have a three-year warranty, the first two of which have no mileage limit.
As of July 2019, opting for a Tecnico or Sportivo model opens up Fiat's 5-5-5 package though, which not only extends the warranty to a total of 5 years and 100,000 miles, it also adds in 5 years of free servicing and 5 years of roadside assistance to the mix. This makes the extra cash for the higher trim level well worth it.
Fiat Doblo trim levels and equipment
Nowhere does the Doblo Cargo feel its age more than on the specification sheet. While all the basics necessary for making deliveries and such like are covered, there are few creature comforts and almost no clever safety or tech additions.
As standard, all models get:
Radio/CD player
Electric windows
Panelled bulkhead
Remote central locking
Twin rear doors
Overhead storage in cab
Single side sliding door (long-wheelbase only)
Upgrade to an SX and you also get:
Height-adjustable drivers seat
Foglights
Lift-up passenger seat cushion with storage
Upgraded CD radio
PVC lining in load area
Electric mirrors
Bulkhead soundproofing
It's not until you reach Tecnico that you get some items we'd consider essentials, though – particularly air-conditioning.
Air-conditioning
USB and Bluetooth connectivity
Parking sensors
Stereo controls on steering wheel
Finally, there's Sportivo, which adds:
Heated door mirrors
Alloy wheels
Black metallic paint
Leather steering wheel and gearknob
This utilitarian kit list is unlikely to win over owner-operators, that's for sure. Notably lacking are safety features we're seeing on more and more modern vans, such as a reversing camera, autonomous emergency braking, lane-keep assist or driver attention alerts. There's also no provision for a touchscreen infotainment system with Android Auto or Apple CarPlay, which is a shame.
No major reliability issues reported
Only a single official recall, too
The Doblo gives every appearance of being a reliable little van - Fiat does have a lot of experience building commercial vehicles, and the engines the Doblo uses are well-proven throughout the firm's car range as well.
There's only been one official recall in the UK - for a brake vacuum pump issue - which would seem to be testament to its build quality, too.
There have been reports of some electric issues, those these are typically related to minor earthing issues, easily resolved. Wiper issues aren't uncommon, either.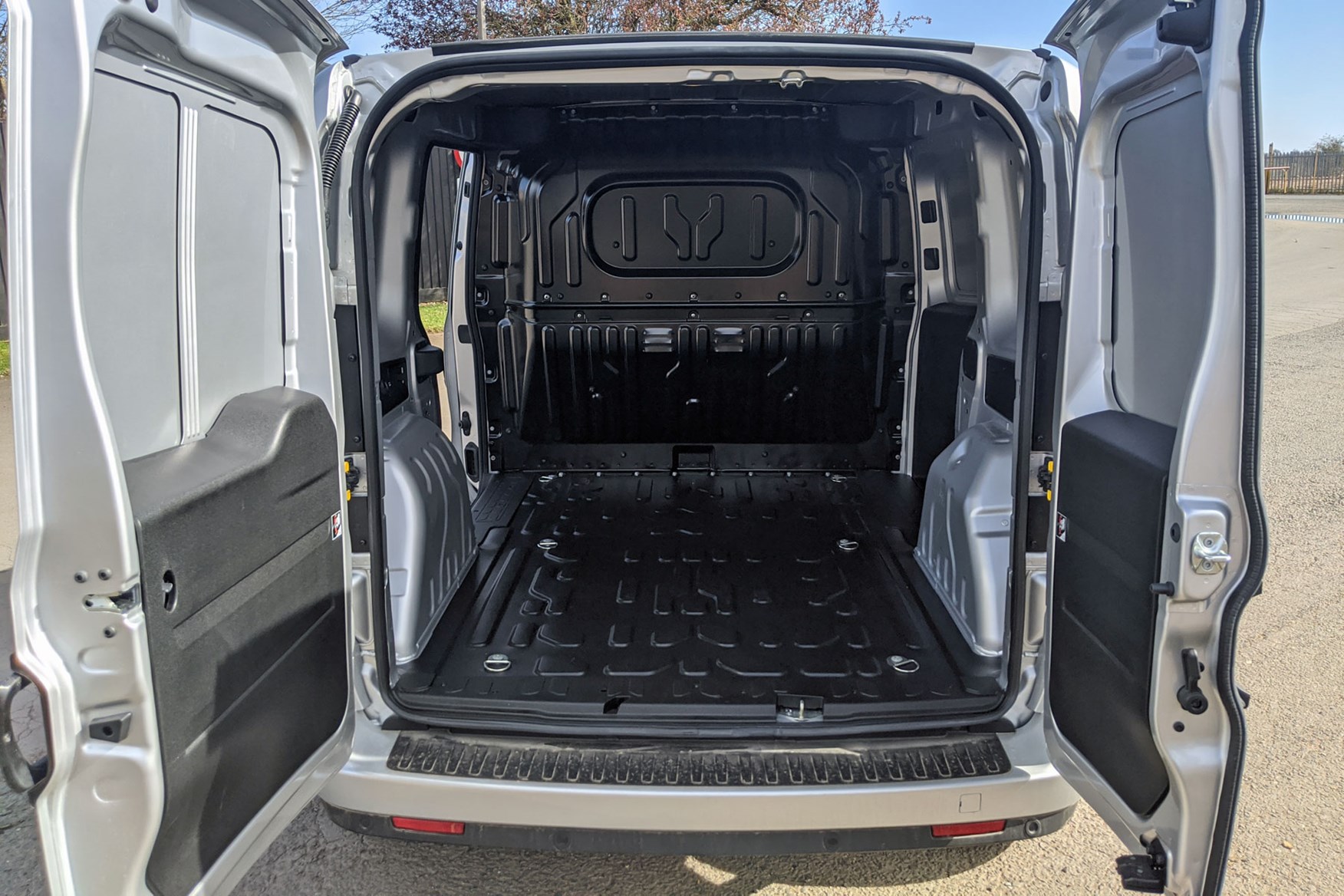 A plastic part in the rear central-locking mechanism can fail, causing that to stop working and sometimes preventing the doors from opening. Advice is to make sure doors are fully shut before trying to lock them, and try and avoid loading against them.
If buying used, pay particular attention to the rear suspension - as you should do with any van, really. The Doblo works its rear bumpstops rather hard, and if they are worn out or missing it will become loud over bumps and potentially develop some handling issues,
Remote central locking is standard across the range, and the cab and the rear lock independently – so you can unload the van while keeping valuables locked safely in the front, for example.
A driver's airbag is standard but side and curtain ones are relegated to the options list. There's also no trace of sophisticated safety aids like lane-keep assist or autonomous emergency braking. Parking sensors are about your lot, and even they don't make an appearance until Tecnico grade.
Which Fiat Doblo Cargo is best for me?
The Doblo Cargo range is pretty simple to understand, and there should be an option out there for most operators.
Best Fiat Doblo Cargo for payload
This one's really simple. All the latest Doblo Cargos are rated for 1,005kg of payload, regardless of their body dimensions - though short-wheelbase models do require an option box to be ticked to upgrade from their standard 750kg payload.
Best Fiat Doblo Cargo for maximum capacity
The option of a high-roofed version is quite rare in the compact van sector, and makes the Doblo Cargo Maxi XL not just a large name, but a huge van - ideal for lightweight but bulky cargo.
Best Fiat Doblo Cargo for running costs
It's the smaller 1.3-litre engines that win out here, returning a claimed 53.3mpg. However, if you're travelling loaded most of the time, you might find one of the 1.6-litre units returns better real-world numbers as it won't have to work so hard to shift that bulky payload.
---
Fiat Doblo Cargo individual model reviews
Fiat Doblo Cargo SWB 1.3-litre review - tested August 2015
Fiat Doblo Cargo Work Up dropside pickup 1.6-litre review - tested August 2015
Fiat Doblo Cargo Maxi XL 2.0-litre review - tested June 2015
Fiat Doblo Cargo SWB 1.3-litre review
Tested August 2015 by Liam Campbell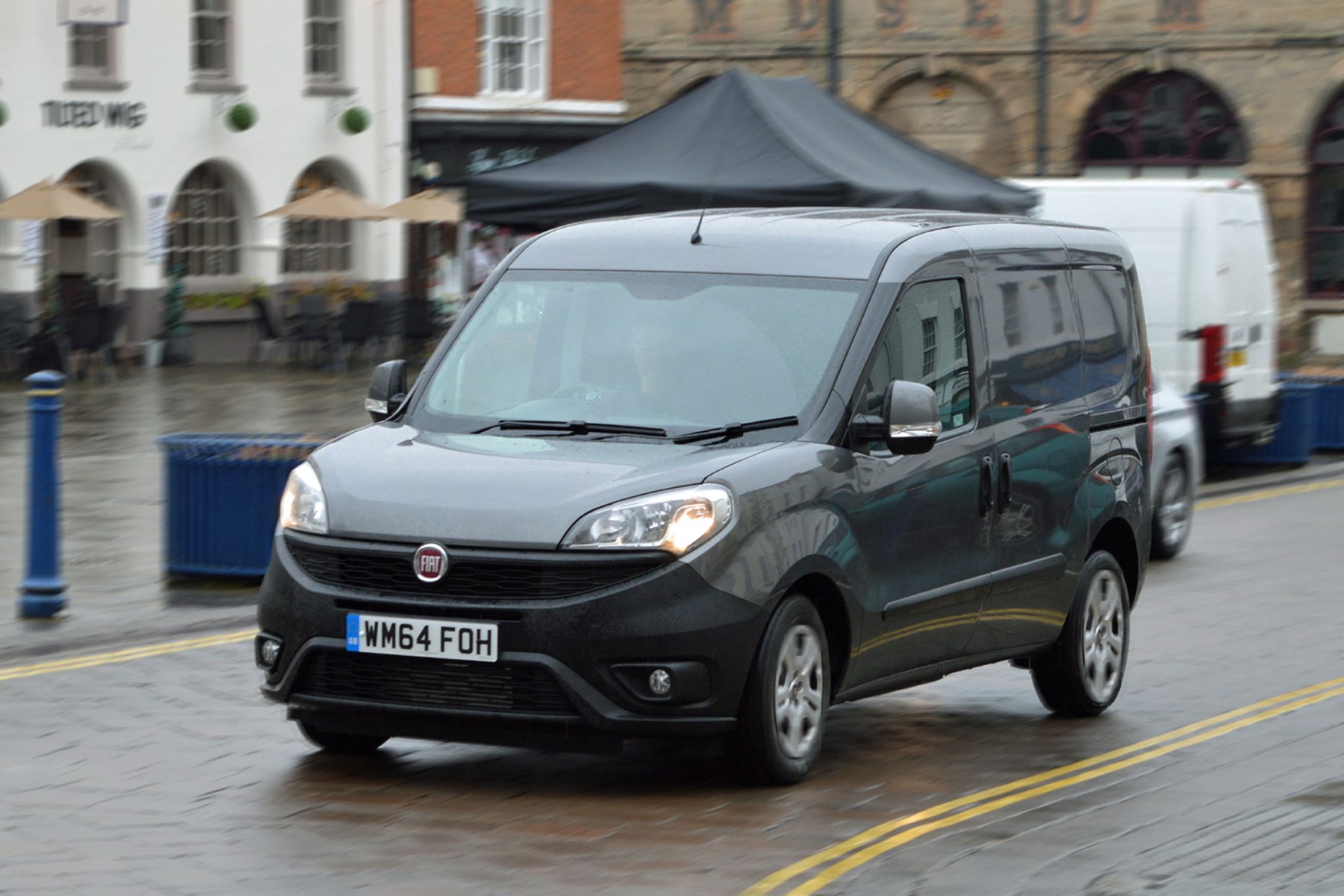 Smallest version of the Doblo tested
750kg payload and 3.4 cubic metre volume
Efficient and quiet 1.3-litre engine
Launched in 2010, the second-generation Fiat Doblo Cargo was a complete transformation from its predecessor; offering much improved productivity, fuel economy and driving characteristics. A facelifted version was launched in early 2015, so we put it to the test to see how many alterations were carried out.
Facelift in 2015
From the exterior, it seems there has been at least one radical change. The distinctive and almost 'goofy' face of the previous generation has been replaced by more casual and formal front lights, grille and bumper, while the sunken air intakes and fog lights hint at more car-like characteristics.
In the cab
On the inside, however, the Fiat Doblo retains the same dashboard and interior as the previous generation, unlike the left hand drive models. There was never anything wrong with the interior; it's tidy and functional, even if it did lack style.
The cab is very spacious and feels particularly, and the seats and steering wheel are fully adjustable to suit drivers of all shapes and sizes. There is also a respectable number of storage spaces, including an overhead storage shelf, an open compartment just above the glovebox and a central cubby.
Being the entry-level standard specification, our test vehicle only comes electric windows, central locking, full bulkhead and a radio with a CD player, auxiliary and USB inputs, a built-in MP3 player and Bluetooth connectivity.
On the road
Under the bonnet is Fiat's fabled 1.3-litre Multijet engine, which has featured in dozens of cars and vans over the years. It's the smallest of the Doblo's three engines, but has been tuned to achieve 90hp, and 200Nm of torque for heavy loads. It's been re-worked for extra throttle response, but the power and torque output haven't changed.
Although it may not be the quickest off the mark, it certainly feels a lot more lively and responsive than before, particularly when applying acceleration between 1,500rpm and 2,000rpm. During the facelift, additional soundproofing was installed around the cab which means both the engine and road noise are suppressed.
The Fiat Doblo Cargo also has very good driving manners; the multilink rear suspension helps maintain composure going into the corners. The steering is precise and provides ample feedback, but it's also easy to throw full lock on at low speeds.
Load capacity
Even the smallest and lightest of the Fiat Doblo Cargo derivatives is capable of carrying up to 3.4 cubic metres of load in the back. At 1,820mm long and 1,230mm between the wheelarches, the load area can accommodate two ISO1 pallets, but only one Euro-pallet.
Another advantage of the multilink suspension is its carrying capacity; the rear axle is capable of supporting a class leading load of up to 1,450kg. The payload, however, on the basic van is reduced to 750kg with the weight of the body.
An offside sliding side door and asymmetric rear doors provide access to the load area, and inside there is a PVC panelled floor with six load-retaining hooks, a light and an inspection plug.
Summary
With a recommended price of £13,995 plus VAT, the Fiat Doblo Cargo represents huge value for money considering older and less efficient competitors, like the Citroen Berlingo and Peugeot Partner, are similarly priced.
The Doblo Cargo is a comfortable and productive little van but we'd recommend pushing the boat out £1,000 further. For £14,995 plus VAT, the Maxi variant can be specified, which can carry 250kg more and boasts an extra 0.8 cubic metres of space in the back.
Fiat Doblo Cargo Work Up dropside pickup 1.6-litre review
Tested August 2015 by Liam Campbell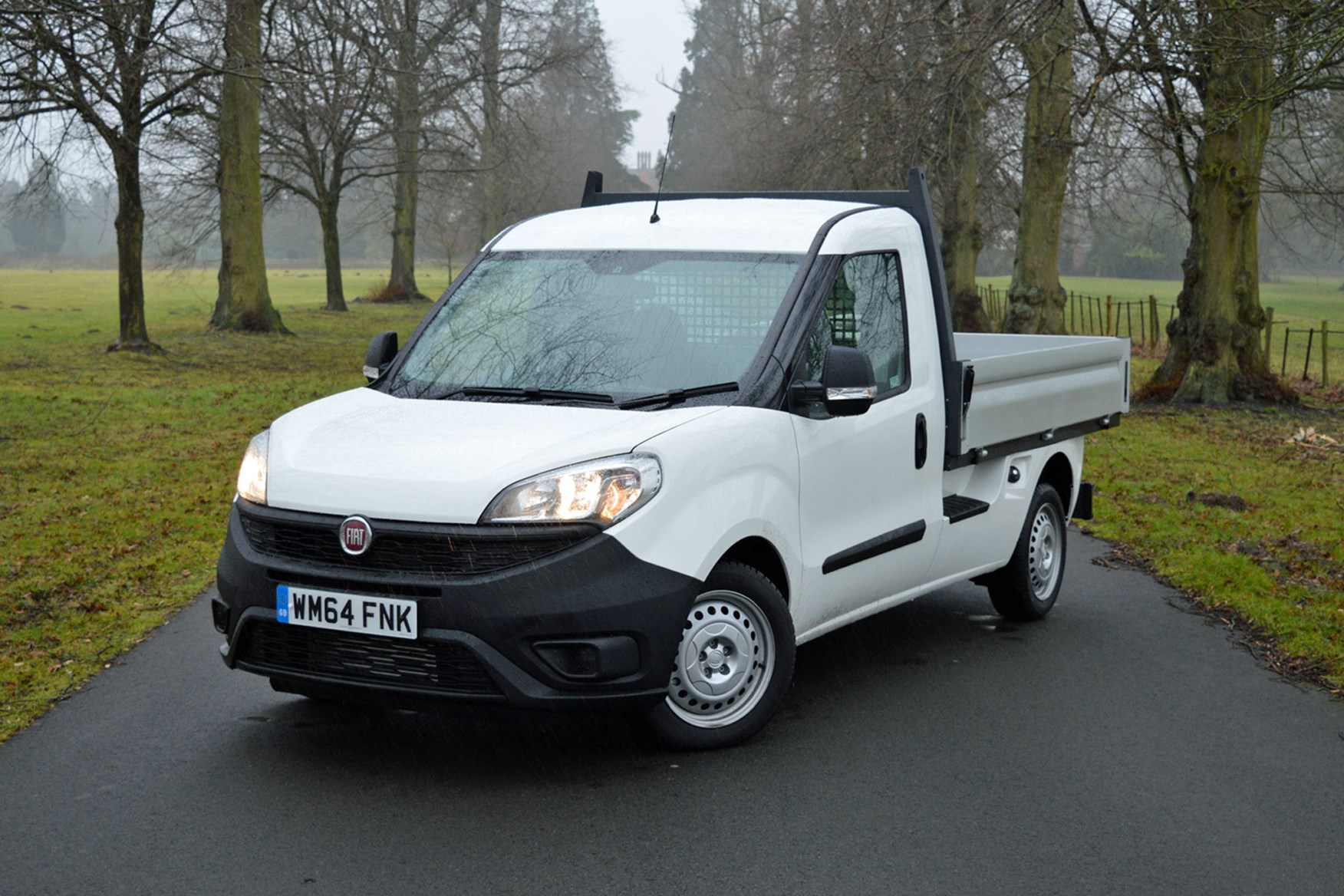 Only small van dropside on the market
Extremely practical for a small pickup
Standard kit is rather sparse
First launched in 2011, the Fiat Doblo Work Up is the only small dropside pickup on the market and although it sells in small numbers, it has been well received by customers. The 2015 Fiat Doblo facelift gave us chance to re-familiarise ourselves with Fiat's quirky little truck.
Background
Despite the majority of sales coming from large fleets and local authorities, the Fiat Doblo Work Up is also appealing to a number of smaller construction firms who are looking for a more fuel-efficient alternative to the 3.5-tonne van conversions and pickups.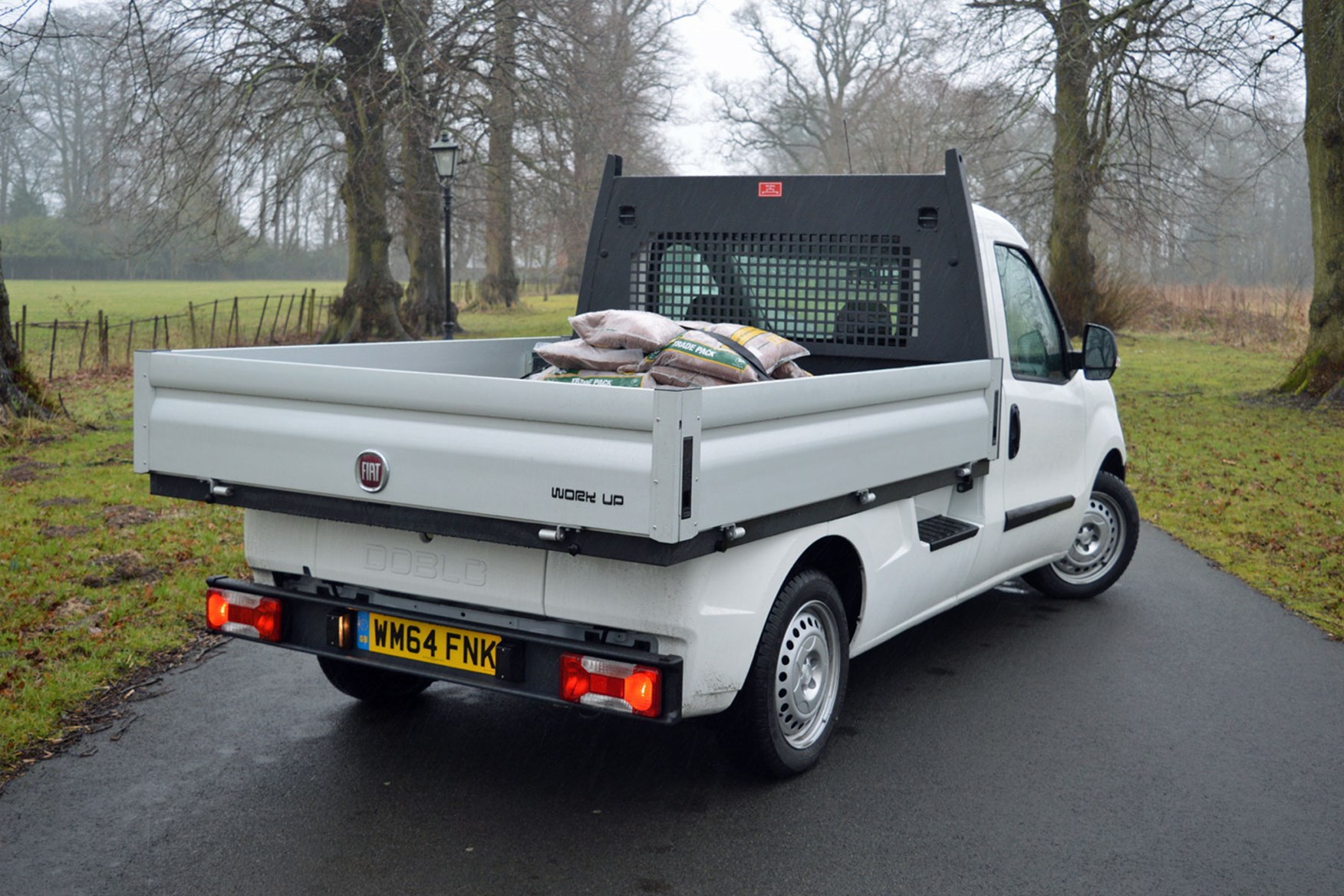 Total life costs, like for most Fiat vehicles, are one of the biggest selling points. Our test vehicle was powered by Fiat's economical 1.6-litre Multijet (there is also a more efficient 1.3-litre Multijet), which achieves 47.1mpg on the combined cycle (according to Fiat's claimed figures) and service intervals are set at 21,000 miles or two years.
In the cab
With large windows all round, including the rear, the familiar spacious cab of the Fiat Doblo seems a lot brighter. The seat and steering wheel are adjustable and, although lacking in style, the dashboard is tidy and functional.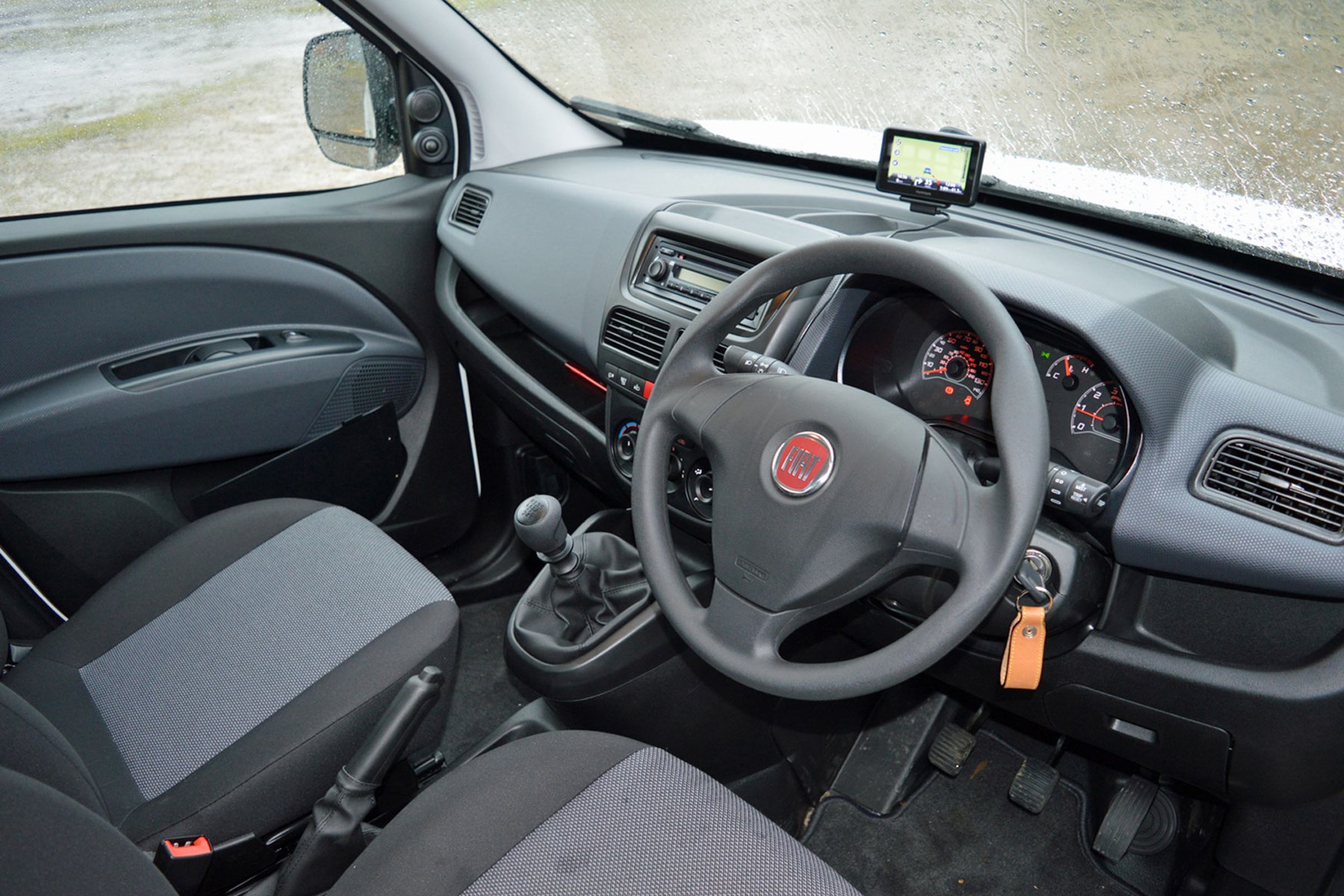 Only the standard trim is available on the 'no-thrills' Fiat Doblo Work Up, which means there are no steering mounted controls, Bluetooth or USB ports, but there is a trip computer, CD player, electric windows and central locking.
Cargo Area
The dropside body has been built by renowned Italian bodybuilder Scattolini and measures 2,300mm long by 1,818mm wide, which equates to a total load area of 4.2 square metres. That's big enough to fit three Euro-pallets - or 33 boxes of fruit, apparently.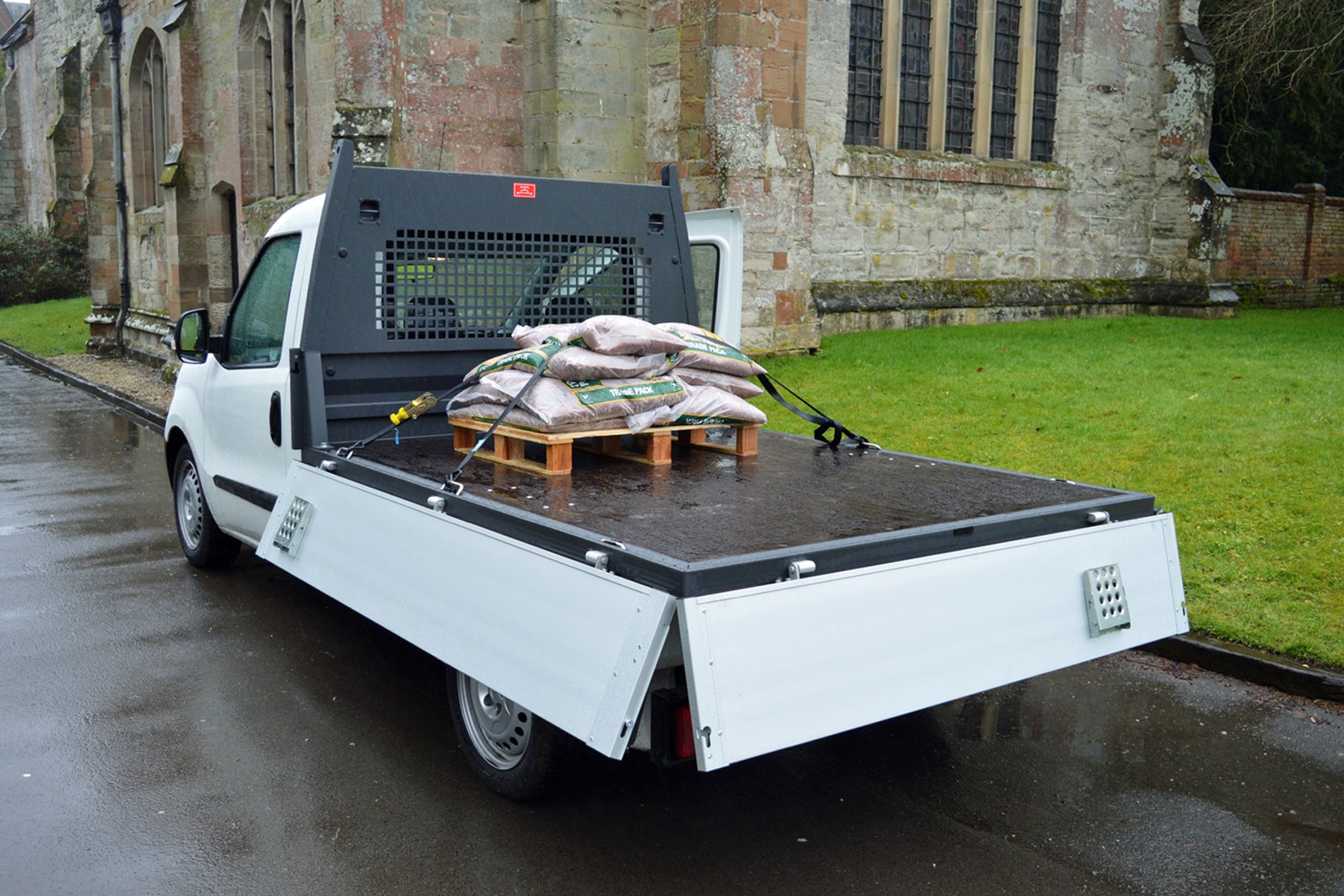 With a 1.0-tonne payload (1,000kg), the Fiat Doblo Work Up isn't too far behind larger 3.5t van offerings. Towing capacity is also rated at 1.0-tonne.
On the road
Fiat's 1.6-litre Multijet diesel generates up to 105hp and 290Nm and although it's slow off the mark, the peak torque band starts from around 1,300rpm, which means it quickly picks up speed from there.
The Fiat Doblo Work Up is quite utilitarian to drive with its inaccurate steering and the amount of road noise generated at speed, but it composes itself well into the corners and vision is good all around.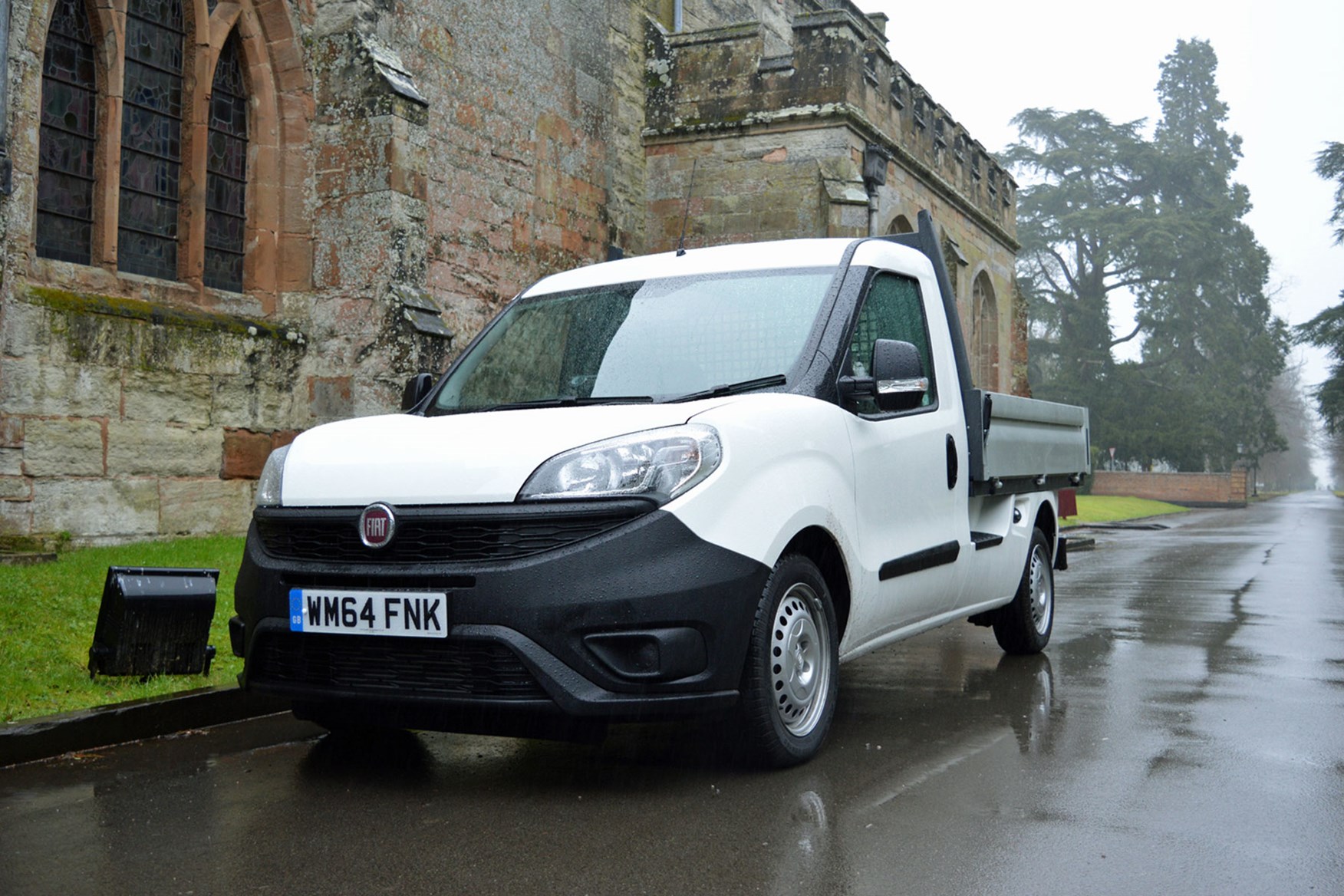 Another advantage the Work Up has over its 3.5t rivals is manoeuvrability; the turning circle is just 11.2 metres which means it's nimble in tight work sites or car parks.
Summary
Being the only one of its kind, it's very difficult to compare the Doblo Work Up directly to rivals. There's not much to dislike about it; it offers a decent load area, a big payload, and despite the cab lacking style and mod-cons, it's very functional.
Our test model came with an expensive price tag of £17,595 plus VAT, though the 1.3-litre is around £800 cheaper, but has exactly the same load capacity, so we'd have a close look at that model first.
Fiat Doblo Maxi XL 2.0-litre Multijet review
Tested June 2015 by Liam Campbell
Small van costs, medium van capacity
2.0-litre engine is very powerful
Good to drive, but firm ride
It's the hard decision many trades people have to make: 'Should I cut costs and go for a small panel van or will I need the extra room of a medium panel van?' Thankfully, Fiat Professional has come up with a third solution to the problem in the form of the Doblo Cargo XL.
The idea of combining medium panel van practicality with small van running costs certainly isn't without its benefits. The XL boasts a load volume of five cubic metres, comparable to the short wheelbase Fiat Scudo and Ford Transit Custom, and a combined fuel consumption rate of between 45.6 and 47.9mpg.
Bigger van practicality
The 2.17m load length may fall short of most medium panel vans, but the 1,230mm between the wheelarches means that the Doblo can accommodate two Euro-pallets. Twin side loading doors are standard, which greatly improves accessibility to the cargo area.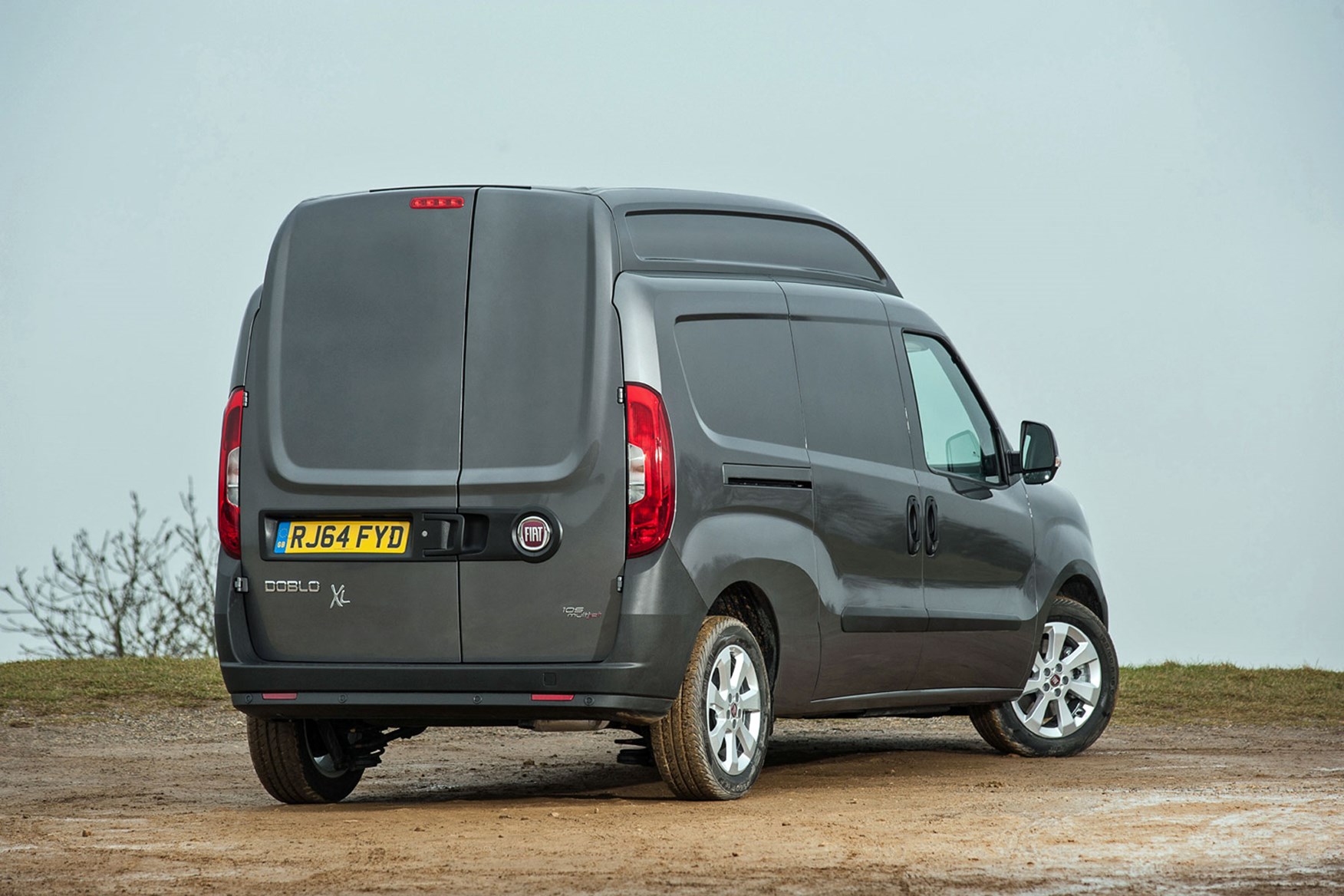 The rear cargo door width stands at an impressive 1,231mm and the 1.0 tonne payload will rival many vans from the higher weights.
Low running costs
Only the 1.6 and 2.0-litre diesels are available on the XL as the 1.3-litre diesel is perceived to be underpowered for this size of vehicle. We tested the 2.0-litre, with 135hp, which achieves 47.1mpg on the combined cycle, thanks in part to the sixth gear keeping engine revolutions low at the higher speeds.
Running costs are further reduced thanks to the lengthy service intervals of 21,000 miles.
On the road
The 135hp generated by Fiat's own 2.0-litre Multijet engine for a vehicle weighing less than 1.5 tonnes is pretty hair raising. However, once loaded up, the power is a lot more manageable but still manages to pull away from traffic lights remarkably quick.
Road noise is relatively low thanks to adequate sound proofing and there is little body roll in the corners. The ride is quite firm and slight bumps in the road are more noticeable than in other vans.