Ford Transit Connect review (2021)
Bestselling small van that's good to drive with plenty of practicality
PROS
Great to drive
Outstanding mpg
High payload ratings
Good value
Plenty of choice
CONS
Petrol engine lacks torque
Bulkhead intrudes into load area
Pre-facelift cabin slightly pokey
Lots of toys remain optional extras
Some rivals carry more
Summary
This 2021 Ford Transit Connect small van review covers the version first introduced in 2013 and then significantly updated with a facelift in 2018. It remains a highly competitive and popular choice of small van, even versus more modern rivals.
Adding some spice for 2021, there's an innovative new Active lifestyle model, though an entirely new Transit Connect replacement is also set to be announced this year.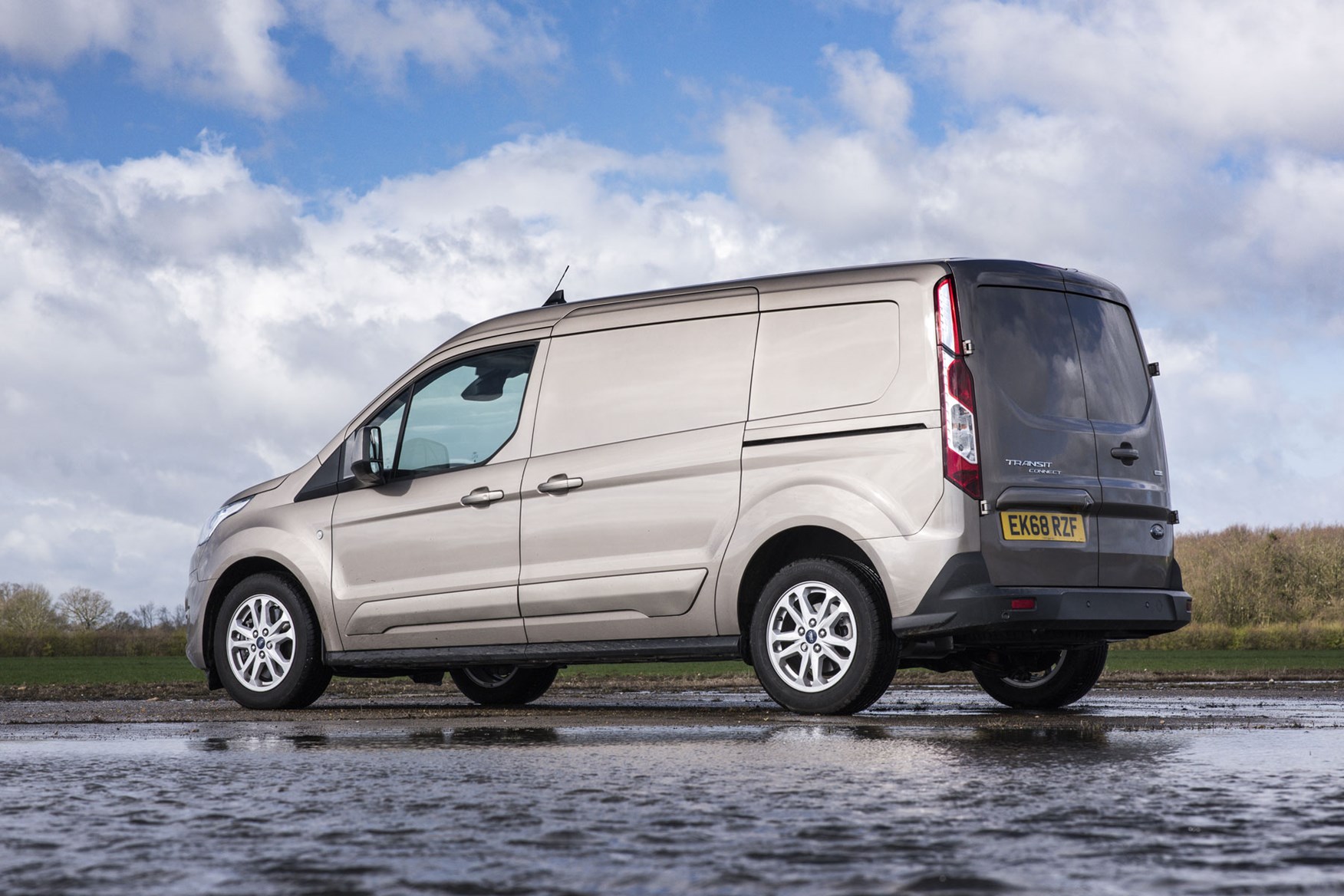 Picking up where the previous generation left off, the Transit Connect offers plenty of practicality and a remarkably car-like driving experience. Popular with buyers, it's one of the bestselling small vans in the UK.
What's new for 2021?
Although 2021 is set to reveal details of an all-new replacement model - based on the latest Volkswagen Caddy, as part of the two firms' global alliance agreement to jointly produce new vans - Ford hasn't lost interest in the current Transit Connect just yet. For in 2020, it announced two important updates, which will be making their way to dealerships at the turn of 2021.
The first of these was the Transit Connect Active (pictured below). With SUV-inspired styling, raised suspension and an optional mechanical limited slip differential (mLSD), this is aimed at lifestyle buyers as well as working operators who need a small van capable of coping with rougher ground and slippery conditions.
You can read our review of the Transit Connect Active at the bottom of this page.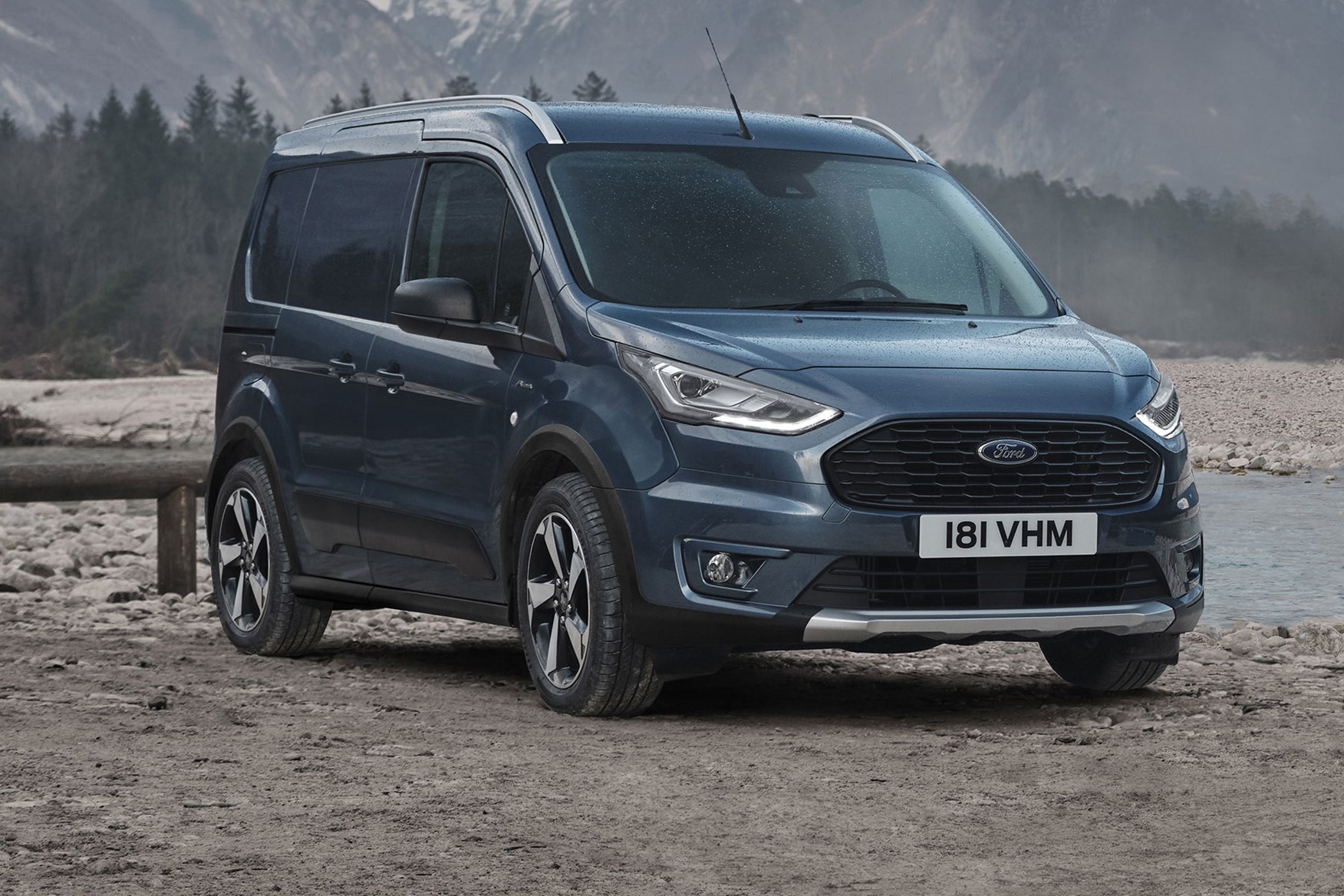 The second was the introduction of an option to increase the Transit Connect's payload rating to nearly 1.0 tonne (1,000kg), to better compete with newer, heavy-lifting rivals.
Also worth noting is that in June 2020, Ford announced that the FordPass Connect on-board 4G modem would become standard equipment, granting all owners access to the useful FordPass Pro smartphone app.
Transit Connect offers buyers lots of choice
As well as coming in two body lengths - short-wheelbase (SWB) L1 and long-wheelbase (LWB) L2 - the Transit Custom is sold as a panel van, a Double-Cab-in-Van (DCiV) with a second row of seats and a Kombi passenger carrier, although the Kombi no longer features in the UK pricelist. There's also a Tourneo Connect people carrier, but this counts as a car.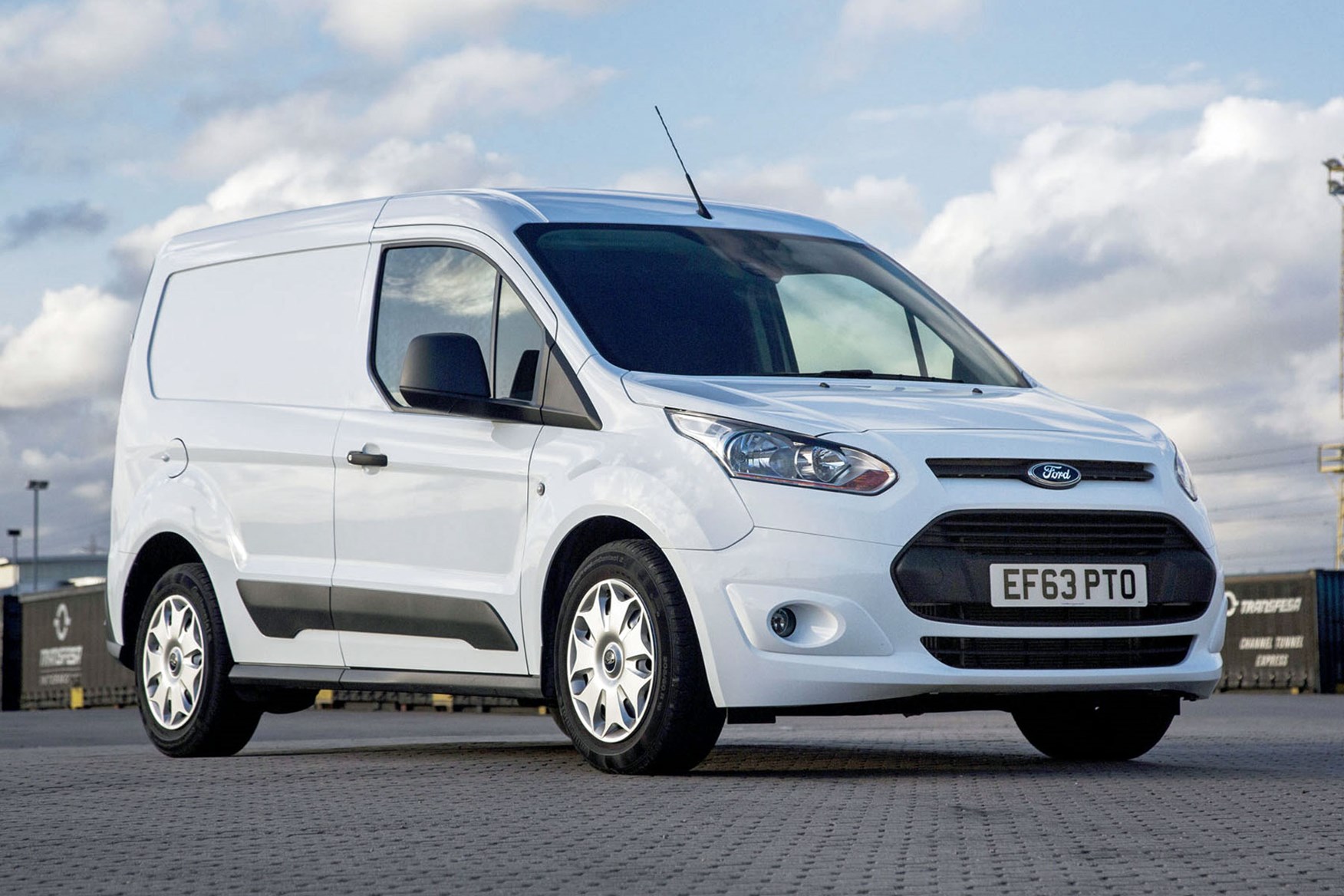 At launch there were three standard trim levels: Base (sometimes referred to as Leader), Trend and Limited, with a few fuel-saving Econetic variants also offered.
Following the 2018 facelift, the range expanded to four trim levels with the addition of Sport at the top. We've got a long-term test of one of these, if you want to know more about what they are like to live with.
In 2019 Ford-approved customiser MS-RT launched its version of the facelifted Transit Connect based on the 120hp Limited; the MS-RT Transit Connect joins the full Ford pricelist in 2021 and making it available to order from any Transit centre.
And, as mentioned above, a Transit Connect Active has now also joined the range for 2021.
Petrol and diesel engines are available in the regular range, and after the facelift an eight-speed automatic transmission was added as an option.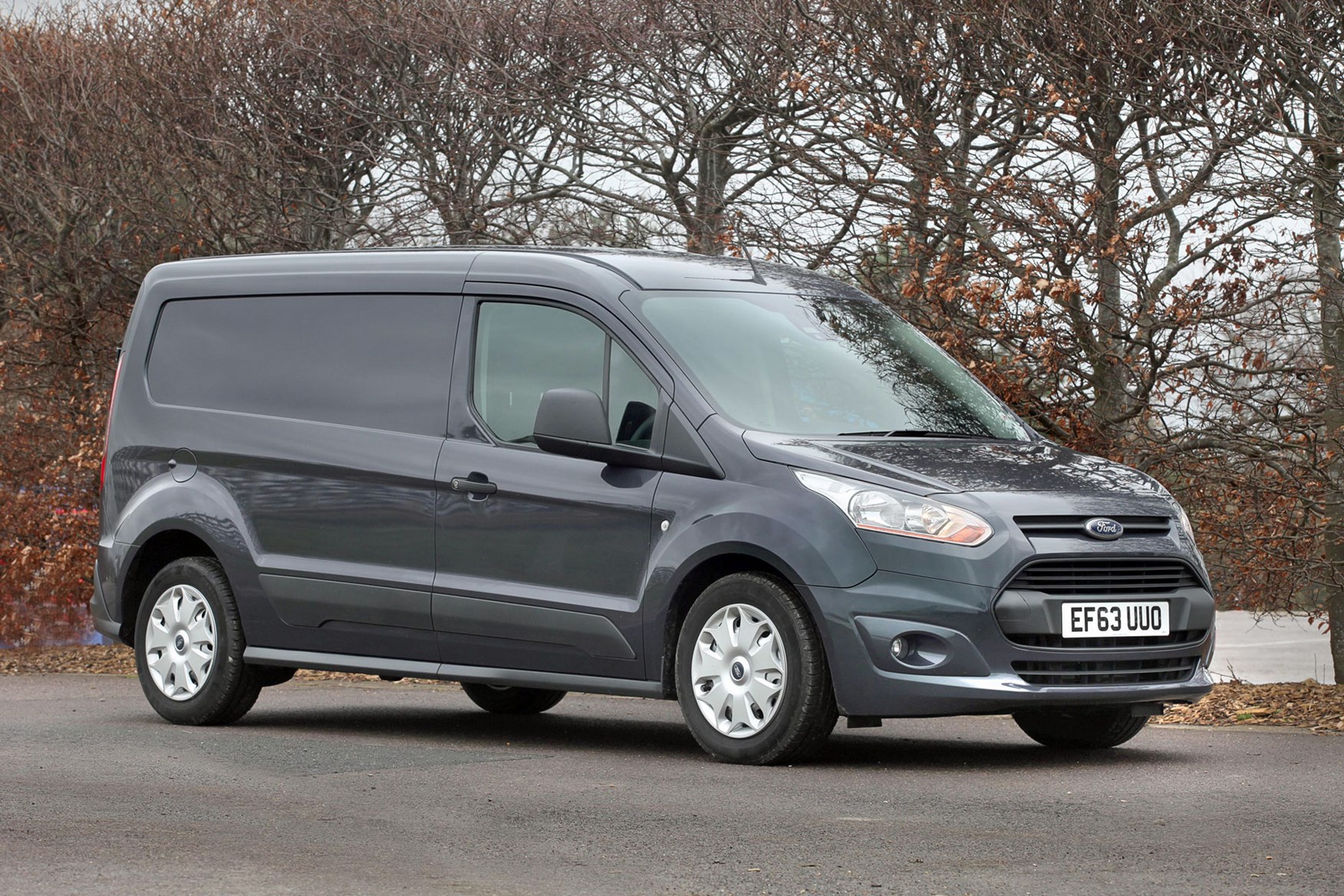 Both body sizes can fit two Euro pallets inside, while the L1 will take objects up to 3.0 metres in length and the L2 3.4 metres in length thanks to a hatch and folding front passenger seat that allows long, thin items to pass through the bulkhead. There are a variety of load lashing and door options, too. See our dedicated Ford Transit Connect dimensions page for more details.
Ford Transit Connect 2018 facelift review details
While not radically different on the outside, for the 2018 facelift Ford not only updated the Transit Connect's cab interior but also improved the engines and transmissions as well.
If you look closely at the revised model pictured below you'll spot the new grille design, lower front bumper and slim-line headlights - all changed in an effort to make this van look more like Ford's latest cars.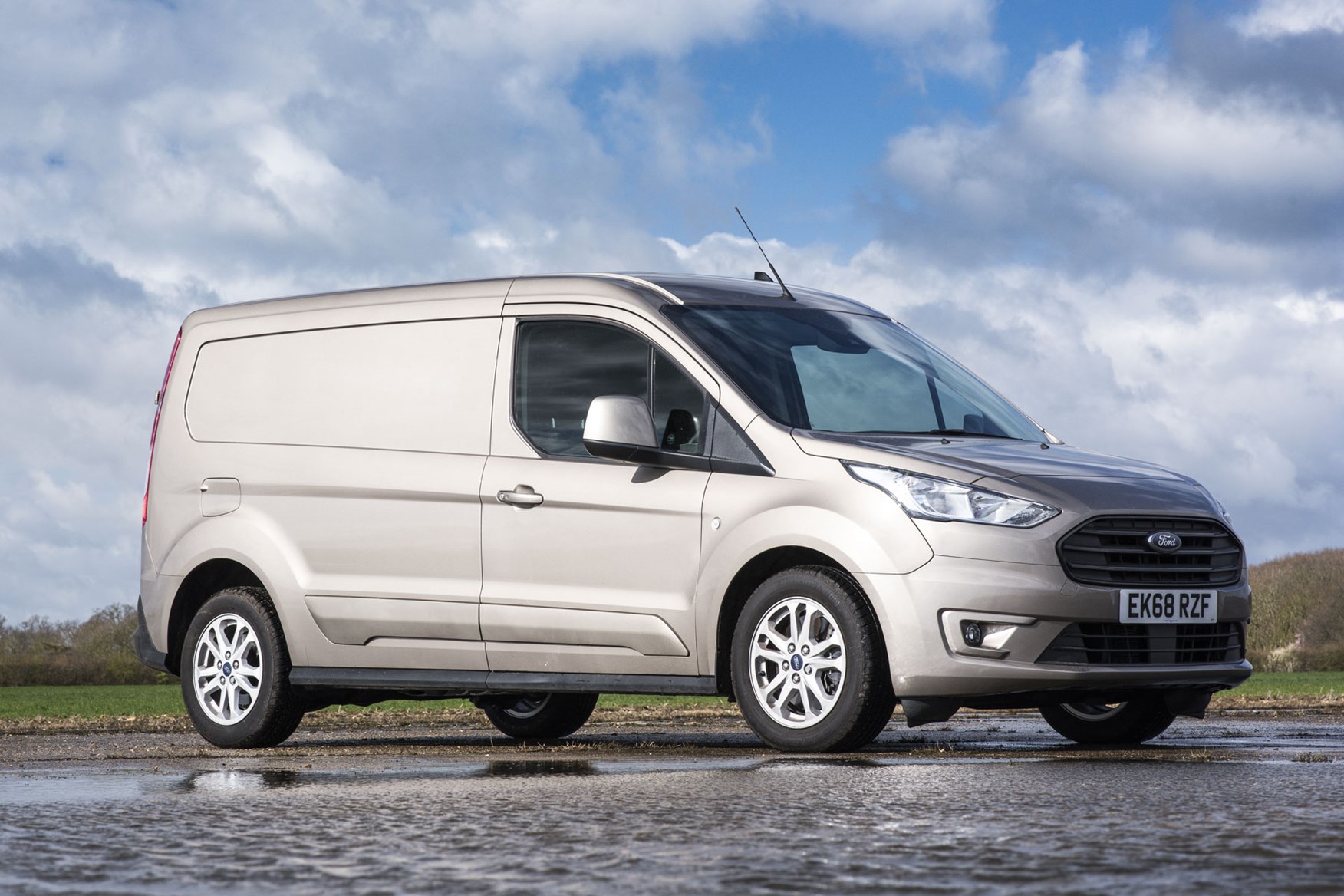 On the inside the revised dashboard also features a more modern look, complete with the option of a far more up-to-date infotainment system including a larger and more easily accessed touchscreen. The materials are higher quality and supposedly more resistant to wearing out.
The biggest changes are under the skin, however, with an all-new 1.5-litre EcoBlue turbodiesel engine replacing the old 1.6-litre TDCi, promising even better real-world fuel economy (already a Transit Connect strong point) and less noise.
The existing 1.0-litre EcoBoost turbo petrol engine has been modified to improve its fuel economy, too, and now features cylinder deactivation technology (more on this in the Driving section below).
At the same time, Ford moved to a standard six-speed manual gearbox, replacing the five-speed that was originally fitted to the least powerful versions - something you'll still find in most entry-level rivals. The eight-speed automatic option is also a rare treat for small van owners and operators.
Ford Transit Connect rivals
Nearest rivals to the Transit Connect in the sales charts are usually the Peugeot Partner and Citroen Berlingo - which are closely related to each other.
The most recent versions of this French pairing, on sale since early 2019, are very impressive vans, with high payload ratings, good fuel economy and the promise of some clever technical features (though this promise isn't always fulfilled). The 2018-onwards Vauxhall Combo Cargo is also part of this family, as is the 2020 Toyota Proace City .
Potential Transit Connect customers will also want to consider the 2021 Volkswagen Caddy, though perhaps not the ageing Renault Kangoo and Fiat Doblo Cargo (although the Doblo is especially practical with a large load area and even a high roof option).
>> More about the best small vans in the UK on Parkers
---
Ford Transit Connect verdict
If you're in the market for a small van, it makes sense to start your selection process with the Transit Connect as your benchmark.
A wide range of models plus exceptionally good availability through the extensive Ford dealer network means that it's likely there's a version to suit your needs, pricing is keen and it has plenty of practical features.
Strong sales means there are lots of used examples on the market to choose from as well.
This doesn't mean it will be perfect for everyone. But as an all-rounder, the Transit Connect really is tough to beat.
Skip to our full verdict on...
Three diesels and one petrol engine
Great to drive, with lots of traction and good comfort levels
Option of eight-speed auto and Sport specification
The Ford Transit Connect is not short of engine options - so whether you want an ultra-fuel efficient diesel, cleaner-burning petrol or plenty of power, you should be able to find something that suits you.
Unless it's an electric van - in which case look to the Renault Kangoo ZE or Nissan e-NV200 for the best possible driving range.
Ford Transit Connect diesel engines
At launch in 2013, this generation of Transit Connect was available with a trio of 1.6-litre TDCI turbodiesel engines offering power outputs of 75hp, 95hp and 115hp.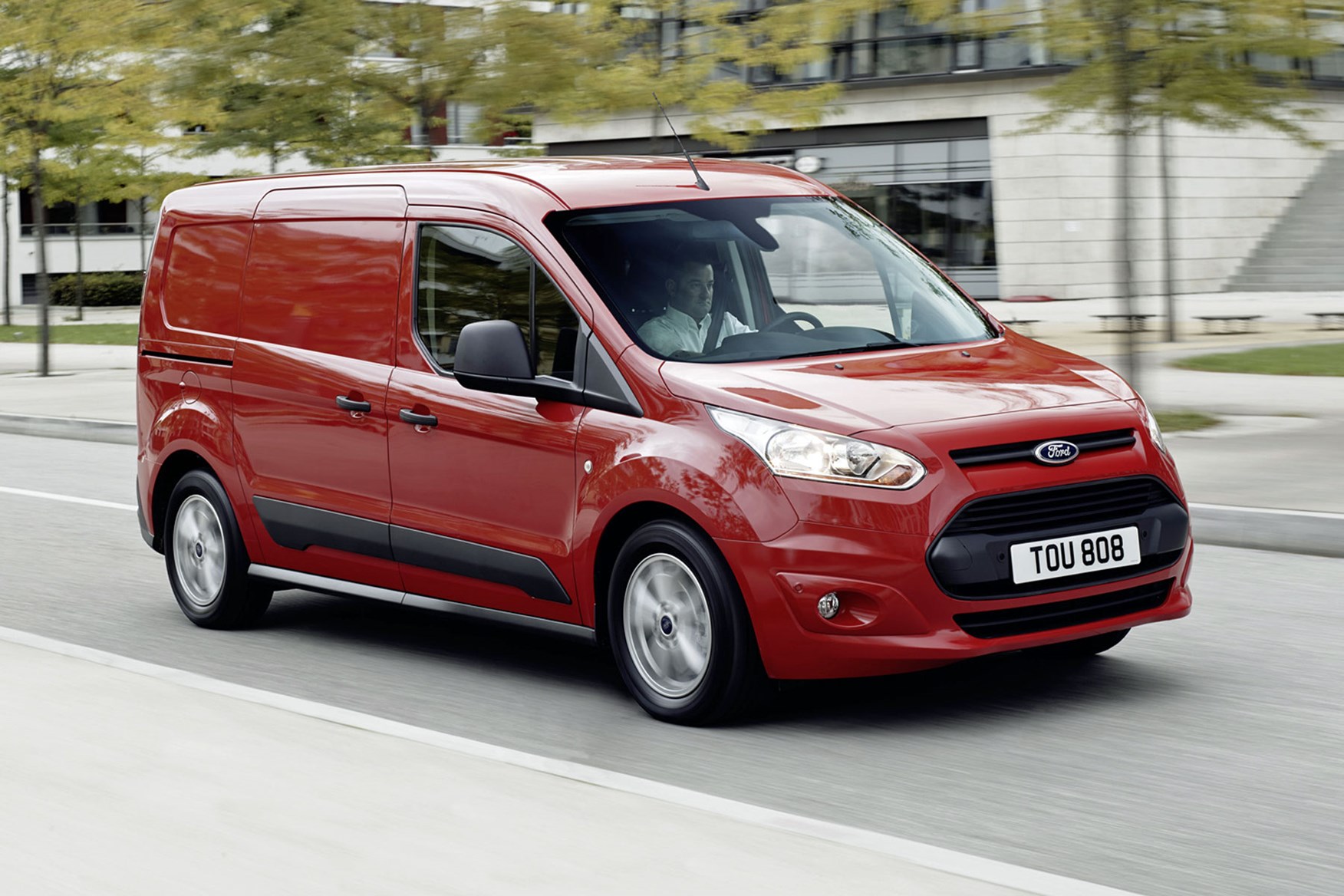 In late 2018, these were phased out in favour of newer 1.5-litre EcoBlue turbodiesel engines, delivering 75hp, 100hp or 120hp. At the same time, Ford dropped the basic five-speed manual gearbox, giving the Transit Connect six speeds right across the range - helping to make it even quieter on the move.
Regardless of size, the diesel engines we've driven have proved surprisingly smooth, refined and quiet. There's enough poke on offer to easily transport half-laden test vans (including two front occupants) thanks to a decent wave of torque.
The steering also feels more assured with the heavier diesel compared with the lighter petrol models, which makes them better suited to higher speed A- and B-road use.
What's the Transit Connect 1.0-litre EcoBoost like?
If you do prefer petrol, Ford has chosen to fit this van with its 1.0-litre EcoBoost turbo engine – a 100hp three-cylinder unit which is incredibly light and small while promising impressive fuel economy at the same time.
Though an intriguing idea, having driven it loaded with around half the maximum payload we'd suggest it's better suited to city centres than open road driving since it lacks the torque associated with a diesel engine.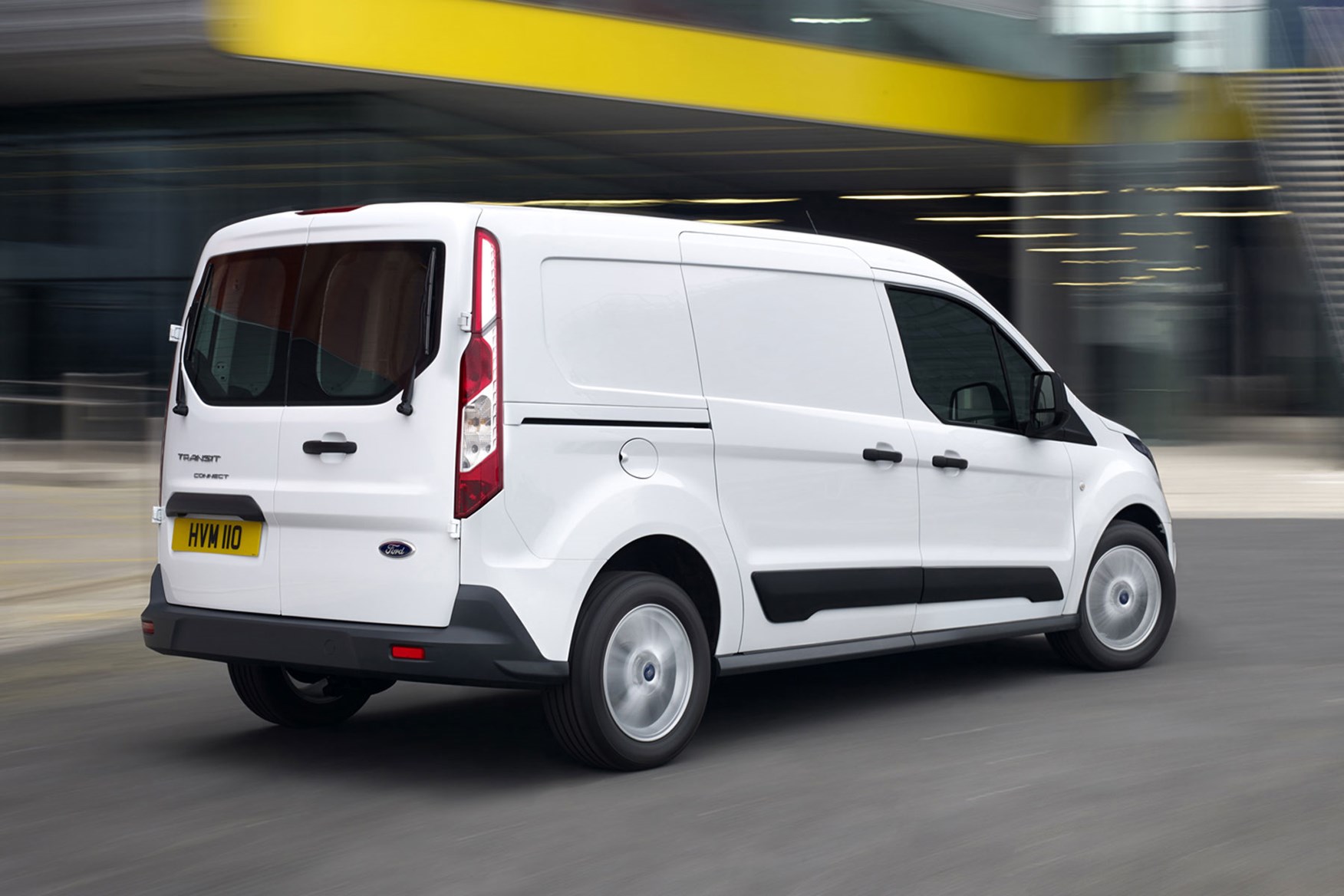 Petrol power is not especially popular in the UK van market, but if you do shorter journeys, mostly around town, then you may find it a good solution. With a light load this is a revvy, fun to drive motor, and the latest version (following the 2018 facelift) even has cylinder deactivation technology to save more fuel.
This means that when not being driven hard, the little three-cylinder petrol is able to run on just two cylinders, instantly switching back to the full complement as soon as more power is required.
Ford Transit Connect handling and comfort
On the road the Connect feels very car-like to drive, and by that we mean it's very accomplished
The five- and six-speed manual gearboxes are slick in operation and the driving position is very good for a van.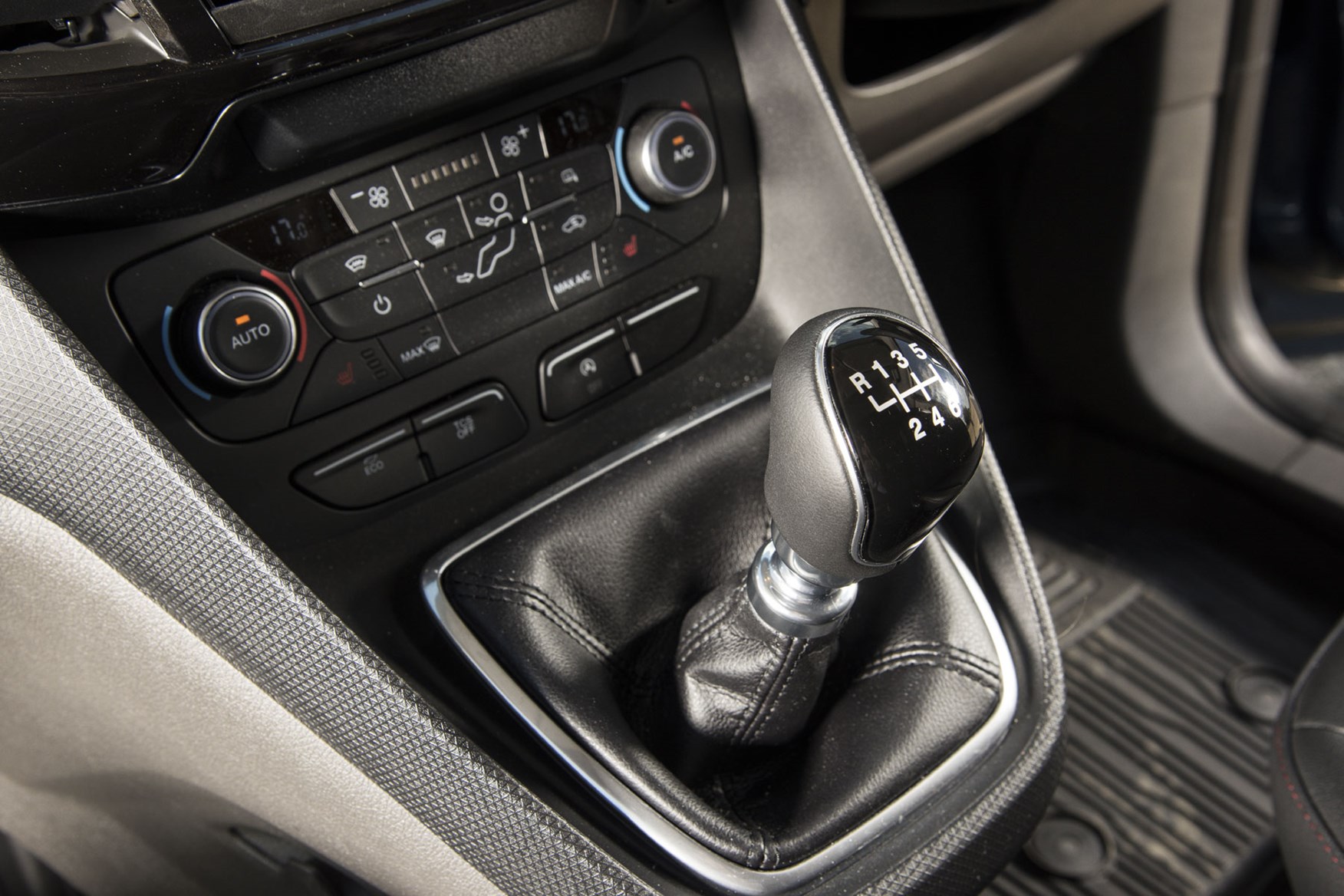 More than this, though, the steering is sharp and responsive, you always feel confident that there's plenty of grip, and the suspension does a good job of controlling body roll in the corners.
Add entirely acceptable ride quality and the low noise levels inside we've already mentioned, and you've got a composed, friendly to drive van that should make even long-distance journeys perfectly pleasant.
Eight-speed automatic
As part of the 2018 upgrade, Ford added an eight-speed automatic transmission option to the Transit Connect, which is available as an option on some 100hp and 120hp diesel models.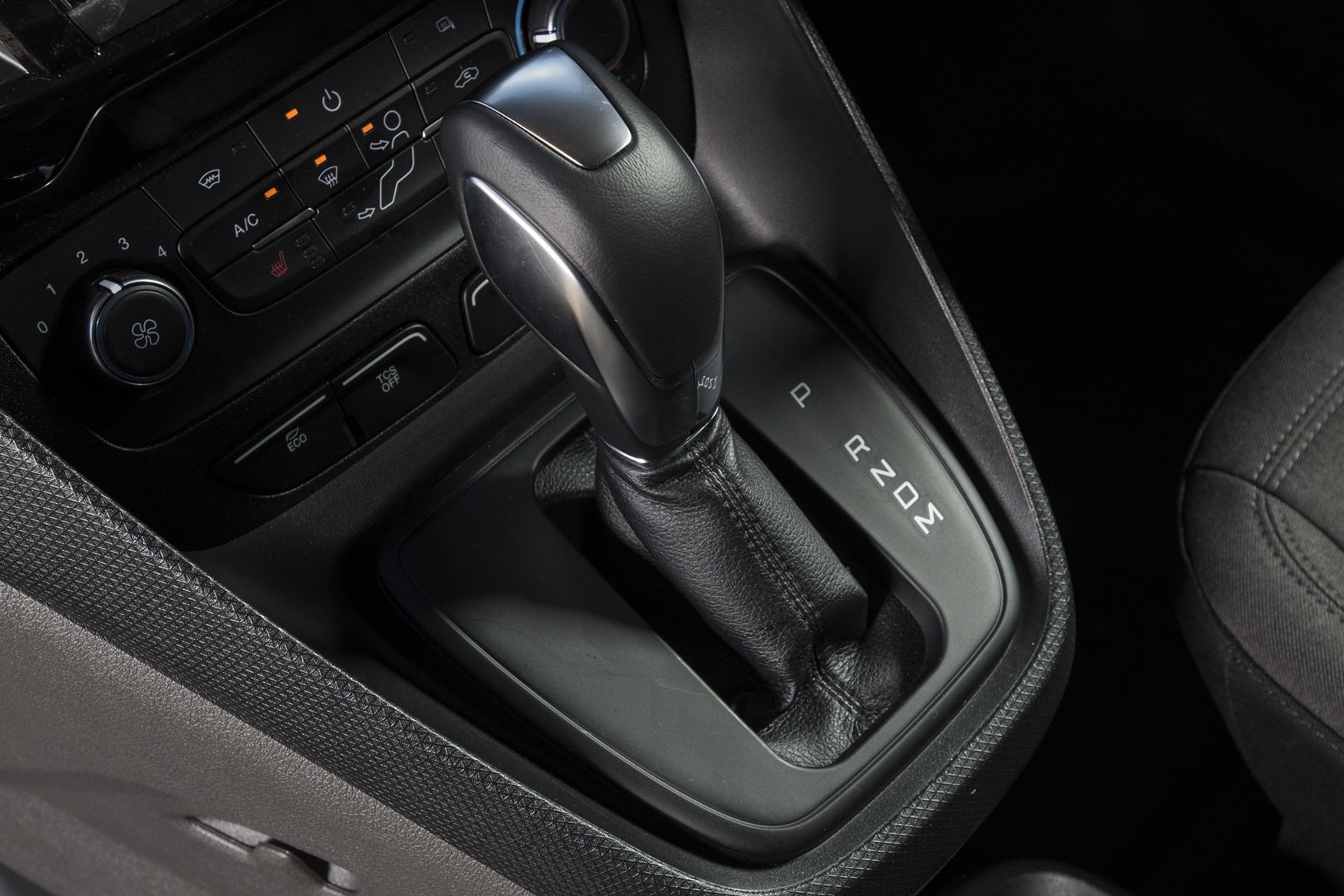 We've got a more in-depth individual review of this below.
What's the Ford Transit Connect Sport like to drive?
Although this is largely a cosmetic makeover than a true performance version, the Sport model only comes with the top spec 120hp diesel engine, which really makes the most of the Transit Connect's keen responses.
You can read a full review of this model below.
Car-like cab, improved over time
Latest infotainment tech - but you have to pay extra
Option of load-through bulkhead
Ford has always kept the Transit Connect's cab interior design close to the look you'll find in its passenger cars. Compared with a lot of rival vans, this made it feel very modern when it was new in 2013.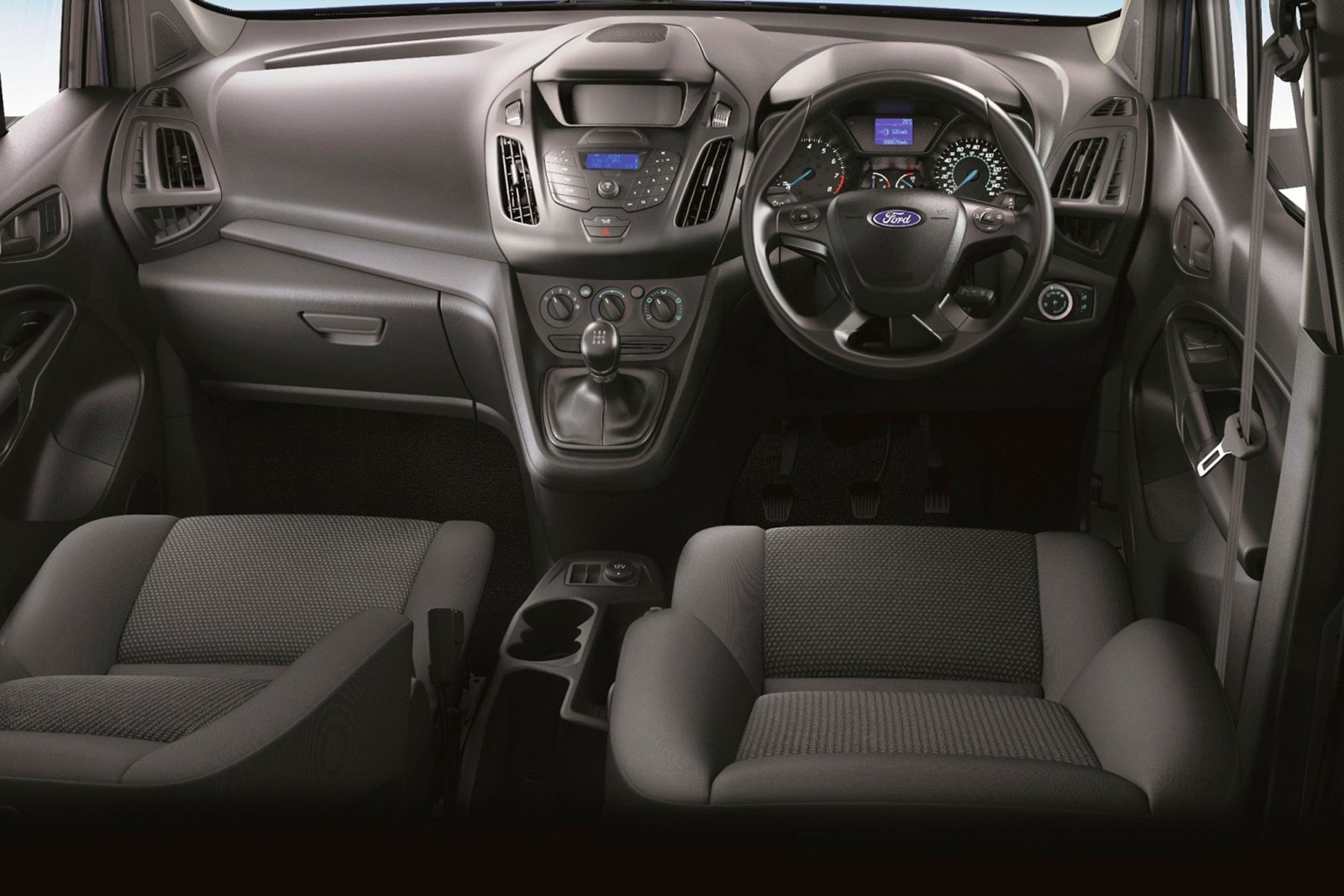 As time has passed, it's difficult not to see these earlier interiors as a bit of a button-fest – there are so many on the centre console that it's difficult to know where to start when first looking for an unfamiliar control.
And although you will likely get used to this if you drive it every day, it was starting to feel its age – even where the more sophisticated infotainment and sat-nav systems were fitted, as these used small, set-back screens.
2018 interior facelift
Fortunately, the 2019 facelift has brought the Transit Connect bang up to date again – in another move that copies the appearance of Ford's latest passenger cars inside.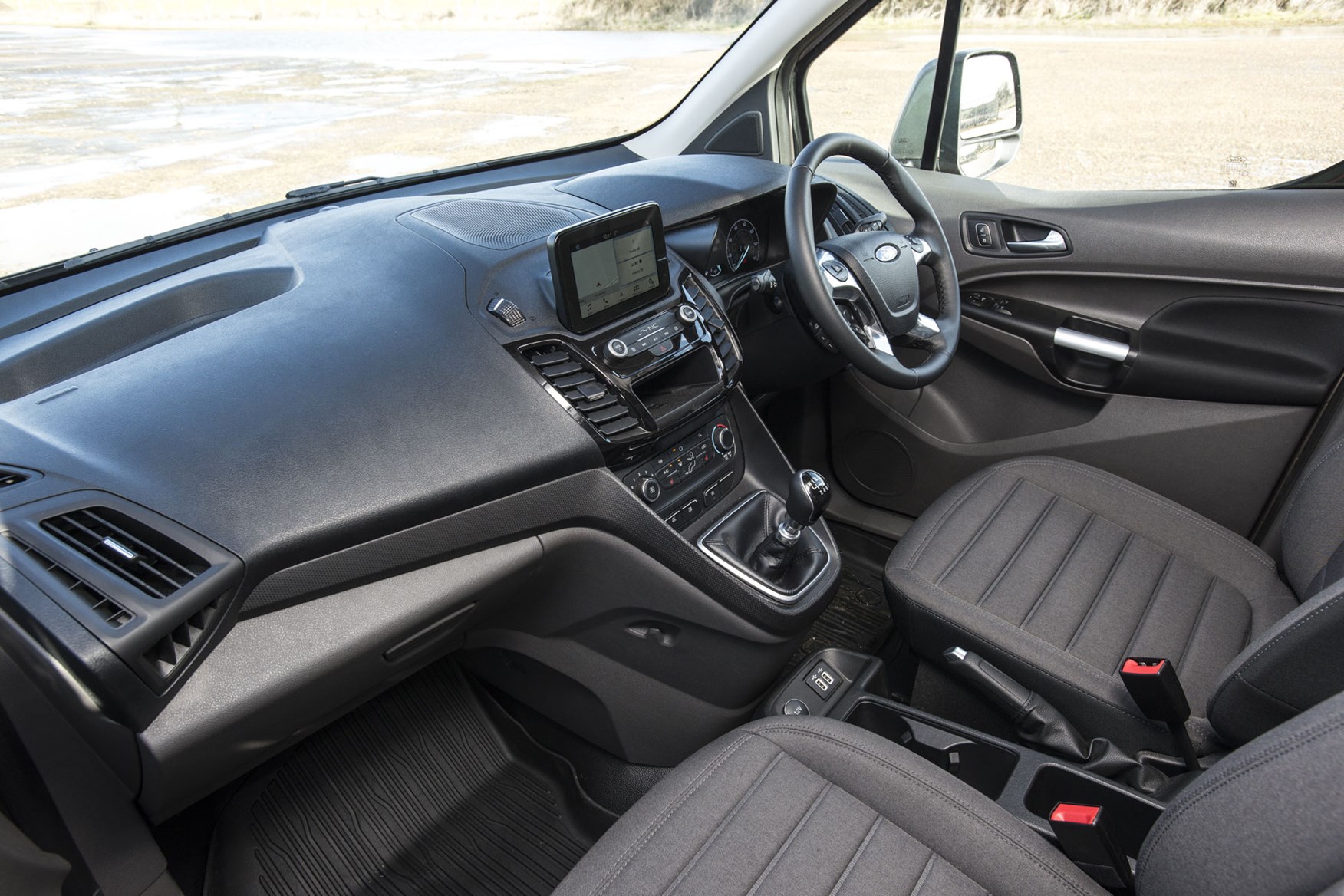 The materials are better quality with a wider range of surface finishes, and you can now get an iPad-style infotainment system with 6.0-inch touchscreen and Ford's latest Sync 3 operating system with voice control - although you'll have to pay more for it, even on the range-topping Sport.
Sync 3 isn't quite as friendly as some rival systems, but it is now easier to use thanks to the improved screen. Plus you can always opt to run the built-in Apple CarPlay or Android Auto that comes with it via your smartphone if you prefer that.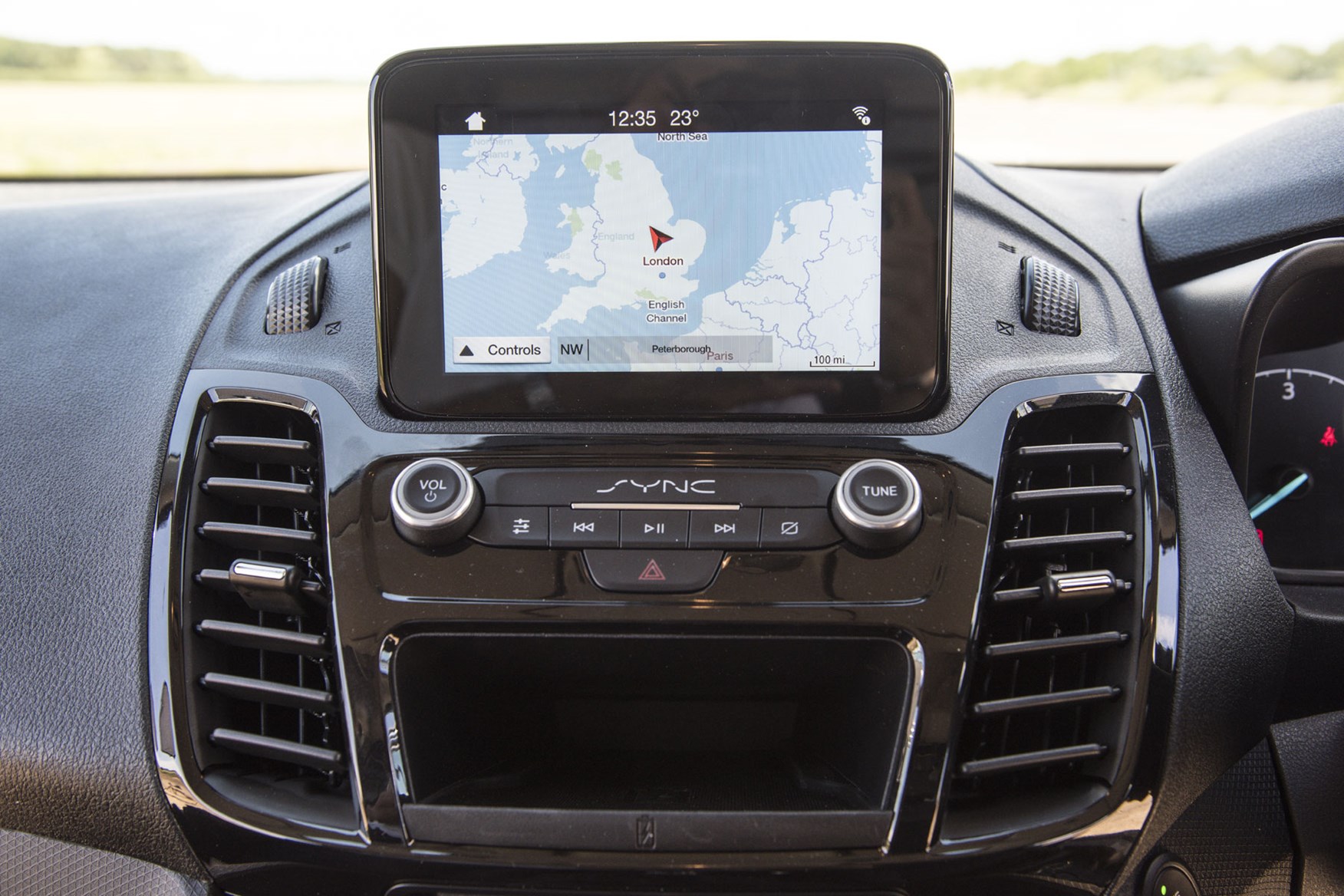 The FordPass Connect modem system is also available on this model - see below for more details.
Good driving position, some visibility concerns
The fundamental driving position is good, with lots of adjustment in the seats (four-way on Base models, eight-way on all others) and steering wheel.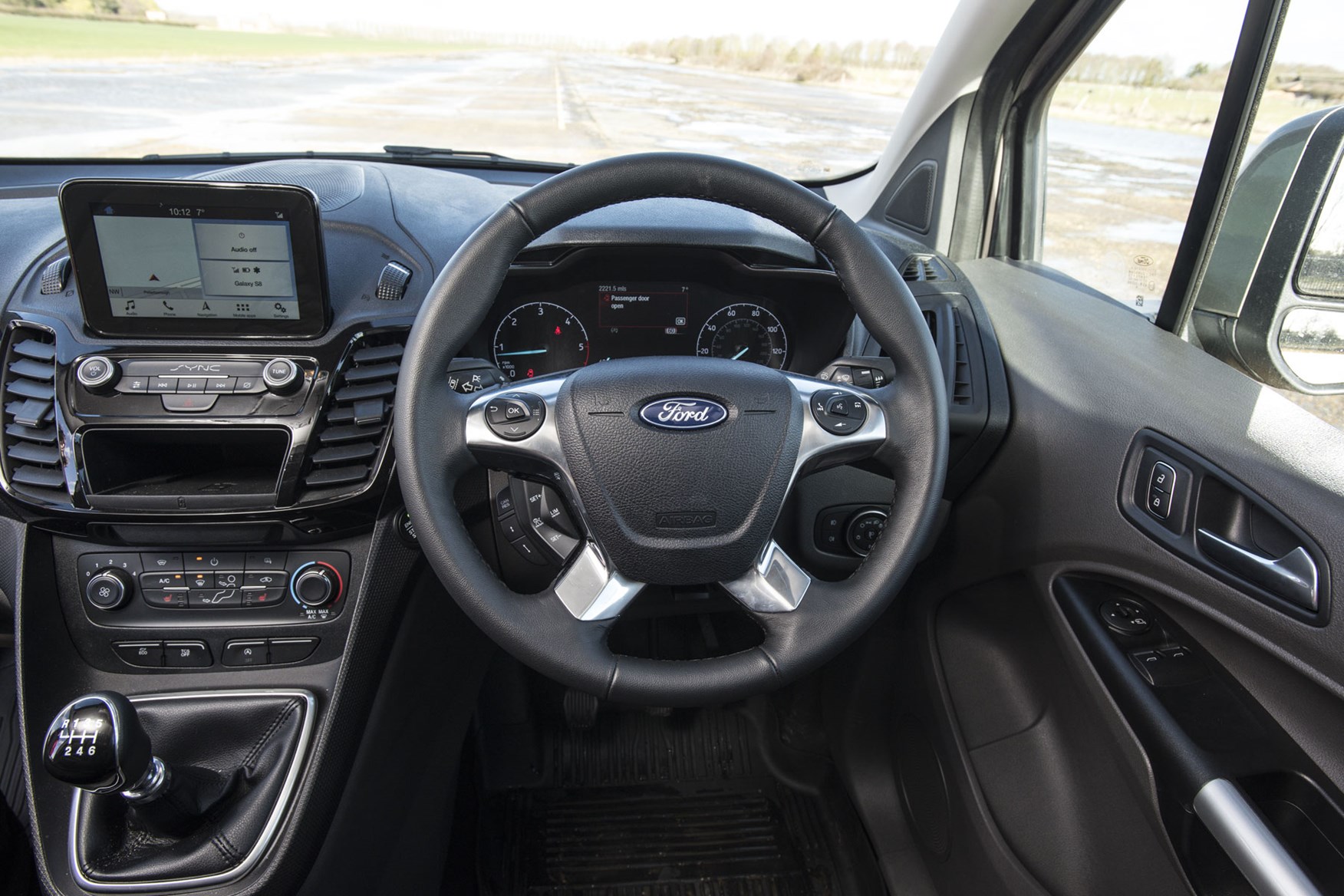 However, the dashboard is deep, and the height of the windscreen can make it feel like you're driving along in a bubble – a bubble that doesn't quite allow you to know for sure where the front of the van is.
Again, this is something you get used to, and certainly a trait shared by many other small vans, including the latest Citroen, Peugeot and Vauxhall models.
Passenger comfort and load-through bulkhead
The Transit Connect panel van comes with a choice of two or three seats in the front, the latter thanks to the option of a dual passenger bench; the dual bench was previously standard equipment from the Trend specification upwards, but has been relegated to the options list after the 2018 facelift.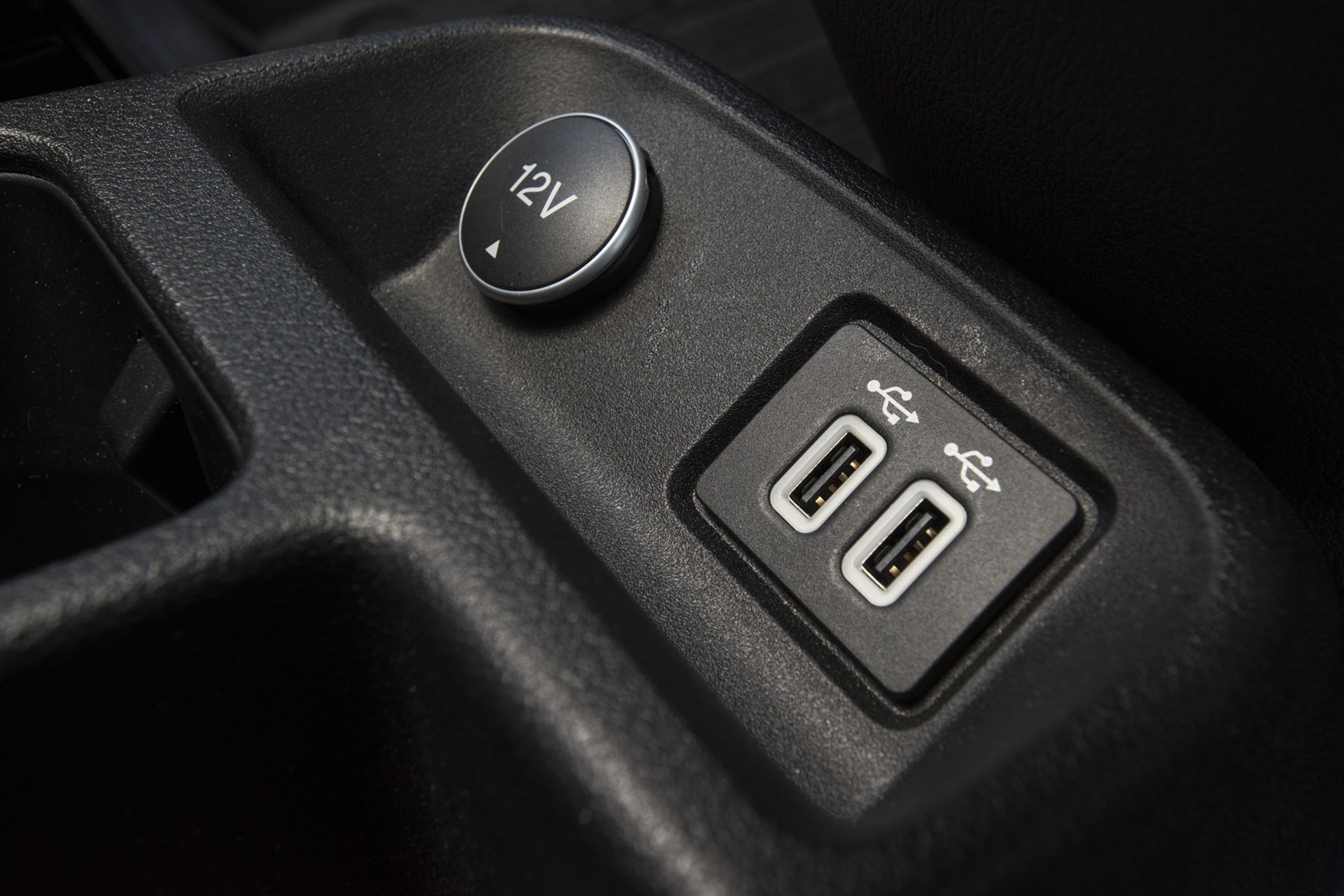 The reason for this is likely to be the almost unusable amount of space it actually offers for the middle passenger. There's a seatbelt, but very little knee room, making traveling with three people on board uncomfortable except over very short distances.
That said, the dual passenger bench can be combined with a load-through bulkhead, allowing the Transit Connect to carry long, thin items safely – assuming you don't need to carry any passengers at the same time.
There's also a large storage area underneath the bench, useful in a van that doesn't have a huge amount of other in-cab cubby space.
FordPass Connect
Following the facelift, the Transit Connect became the first Ford van to be offered with the FordPass Connect on-board modem system.
When activated (which originally involved a fee but as of June 2020 is standard equipment), this uses a 4G data connection to enable Over-The-Air (OTA) software updates, provide a range of additional features via the FordPass Pro app, as well as acting as a mobile hotspot for up to 10 devices (there's still a data subscription fee if you want to take advantage of this feature).
FordPass Pro works with fleets of up to five vans, though you don't need to have a fleet to make use of its main features - which include a clear indicator showing whether the van is locked or unlocked, instant notifications of any maintenance issues or faults, and the option to check the status of fluid levels, tyre pressures and similar stuff that's worth keeping a regular eye on.
You also use the app to not only locate the van you're driving - handy for remembering where you parked it, as well as checking it's still there - but also see all the other vans on your fleet on the same map screen. So you'll be able to check if your mates are where they're supposed to be, and know which of them is closest should you need a second pair of hands for something in a hurry.
More features will be rolled out over time (see the Safety and Security section for an example of this called FordPass Pro Guard Mode).
For larger fleets, Ford has a new set of data tools and software called Ford Telematics and Ford Data Services.
Excellent fuel economy helped by some clever technology
Service intervals and warranty okay but not exceptional
Wide choice of trim levels, plenty of standard kit
With outstanding on-paper fuel economy, a vast dealer network, reasonable service intervals and generally sensible parts pricing, the Transit Connect shouldn't prove too expensive to run.
Ford Transit Connect mpg
Ford has always tried to make the Transit Connect as fuel efficient as possible, and this typically means it's near the top of the list of the most economical small vans you can buy.
Before the 2018 facelift, Ford even offered specific Econetic models, which claimed to achieve as much as 72.4mpg – if fitted with the optional 62mph speed limiter. Other Econetic features include active grille-shutters, stop-start and energy recuperation technology.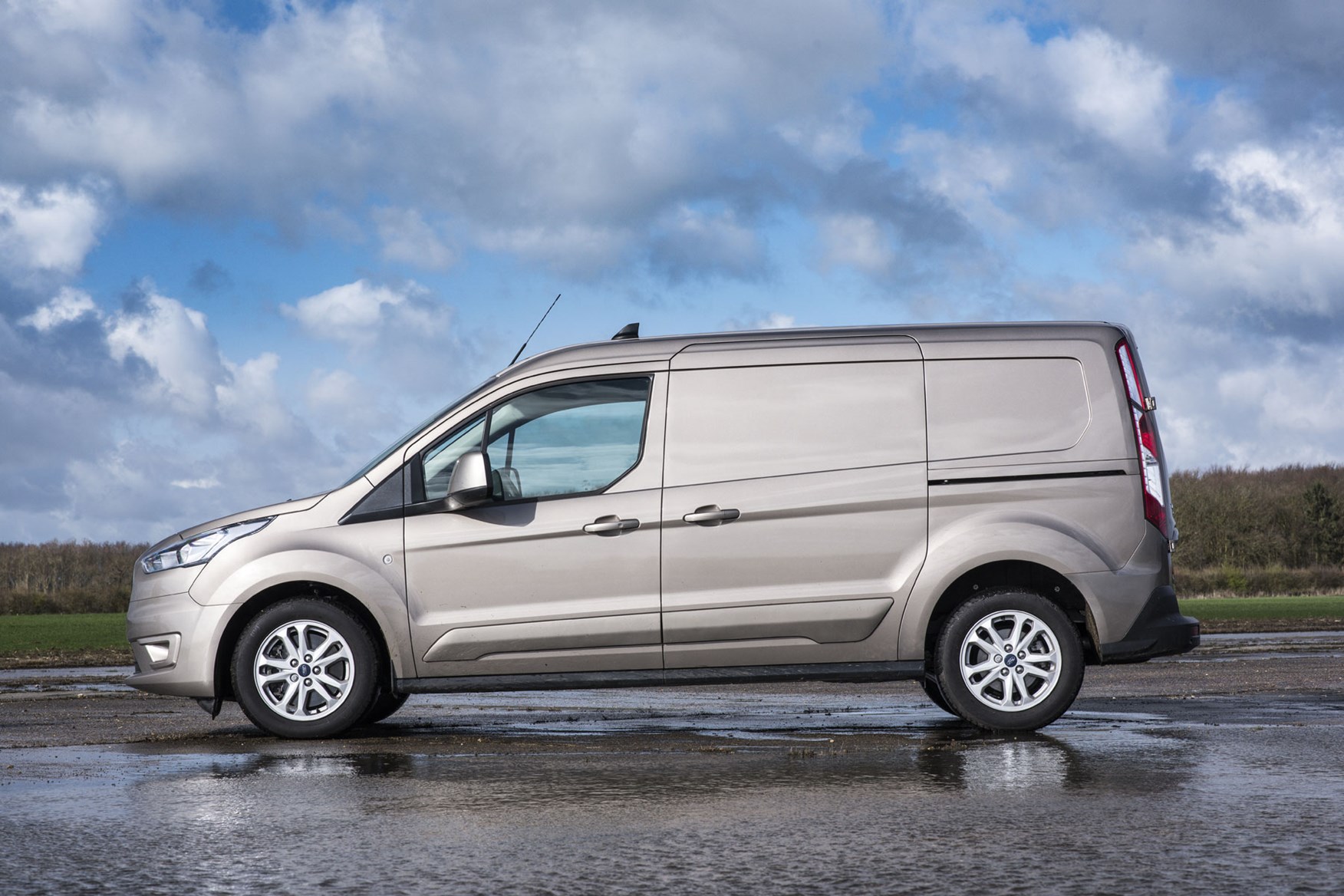 After the 2018 facelift, Ford has made changes (to the way it tests the van as well as the engines inside it), which means that 60.1mpg is now the highest figure in the current pricelist (at time of writing in August 2019).
Despite this, Ford claims the newer vans that use the 1.5-litre diesel engines are up to 12% more efficient in the real world than the older 1.6-litre diesels.
As for the 1.0-litre EcoBoost turbo petrol, pre-facelift this claimed up to 50.4mpg; after the facelift the official figure is down to 44.1mpg – even though the engine has a number of new feature to make it more efficient.
Either way, we fear you'll have to drive like a saint to get anywhere near to the on-paper petrol economy, as this is a keen engine that likes to be thrashed.
New fuel-saving technology
In addition to the claim of improved real-world fuel consumption, Ford also offers a number of potentially fuel-saving technologies on the newer models.
Every Transit Connect now gets active grille shutters, stop-start, a gear-shift indicator and a Ford EcoSelect driving mode (operated by a button) as standard, while options continued to include speed limiters, if you want them.
Beyond this you can now get something called Accelerator Control on diesel manual gearbox vans, which limits the acceleration to save fuel – although only when the van isn't carrying a heavy load.
There's also a Ford EcoMode system that provides feedback on your driving in an effort to make you more efficient as well.
Euro 6.2 emissions standards
All of the 2018 facelift onwards models meet the more stringent Euro 6.2 emissions standards.
Prior to this, it's a mix of Euro 5 and Euro 6, depending on the year. So check carefully what you're getting if buying used, as you may need Euro 6 to avoid charges in some low emissions zones.
Ford Transit Connect service intervals and warranty
The Transit Connect is covered by a three-year, 100,000-mile warranty – although Ford does also offer extended warranties at extra cost.
The service intervals on the earlier 1.6-litre diesels are one year or 20,000 miles, whichever comes sooner.
The service intervals on the later 1.5-litre diesel are every two years or 18,000 miles if fitted with a manual gearbox; the eight-speed auto requires a service every two years or 12,500 miles.
It's the same story for the 1.0-litre petrol: one year or 20,000 miles before the 2018 facelift, moving to two years or 18,000 miles after the facelift.
Ford Transit Connect standard equipment
At time of writing in August 2019 there are four trim levels available: Base (also known as Leader in some Ford pricelists), Trend, Limited and Sport.
For full details of safety and security equipment, see that section, below.
Ford Transit Connect Base/Leader standard equipment highlights:
Reach and rake adjustable steering wheel
Four-way adjustable driver's seat
Electric windows
DAB radio with USB connectivity and Bluetooth
Overhead storage
Full steel bulkhead
Sliding side door on passenger side
16-inch steel wheels
Full-size spare wheel
Ford Transit Connect Trend standard equipment highlights (in addition to Base):
DAB Radio with 4.2-inch screen, USB connection, Emergency Assistance, and four speakers
Eight-way adjustable driver's seat with lumber support
Single passenger seat (was a dual seat as standard prior ot 2018 facelift)
Glovebox with lid
Plastic load liner (panel van only)
Body coloured front bumper and rear bumper end caps
Foglights
Electric, heated door mirrors
Quickclear Heated windscreen and washer jets
16-inch steel wheels with hubcaps
Ford Transit Connect Limited standard equipment highlights (in addition to Trend):
Air-conditioning
Cruise control with speed limiter
Heated driver's seat
Leather-trimmed steering wheel
Keyless start
Body-coloured exterior door handles, door mirrors and side mouldings
Automatic lights and wipers
Rear parking sensors
LED load-area lighting
16-inch alloy wheels
Ford Transit Connect Sport standard equipment highlights (in addition to Limited):
Sport styling pack with stripes
Roof rails
Dual-zone air-conditioning
Part-leather seats
Spare wheel delete (can be optioned back in)
As you can see, you do get plenty of extra kit as you upgrade through the model range - it's just a question of what you think you really need versus the asking price.
Better specced vans will be worth more when you come to sell them again, but you shouldn't expect to get back all the difference.
Remember also that painted bumpers will be more costly to repair or replace should they be damaged. Limited models are only available with the most powerful diesel engine and as a panel van, too.
No Transit Connect comes with sat-nav as standard; Ford's system isn't the greatest anyway, so you may be better off saving the cash and grabbing a decent mount for your smartphone. Or making the most of Apple Carplay / Android Auto, where fitted.
Clutches could prove problematic
Paint said to chip easily
There shouldn't be too much to worry about in terms of reliability - with most Transit Connect complaints relating to the previous model.
That said, there have been reports of clutches smelling strongly (even from new), so you may find they need replacing sooner rather than later; a series of official recalls related to clutch pressure plates was announced in 2018, which is potentially connected to this, so be sure to check on any van you're buying used to see if any necessary recall work has been carried out.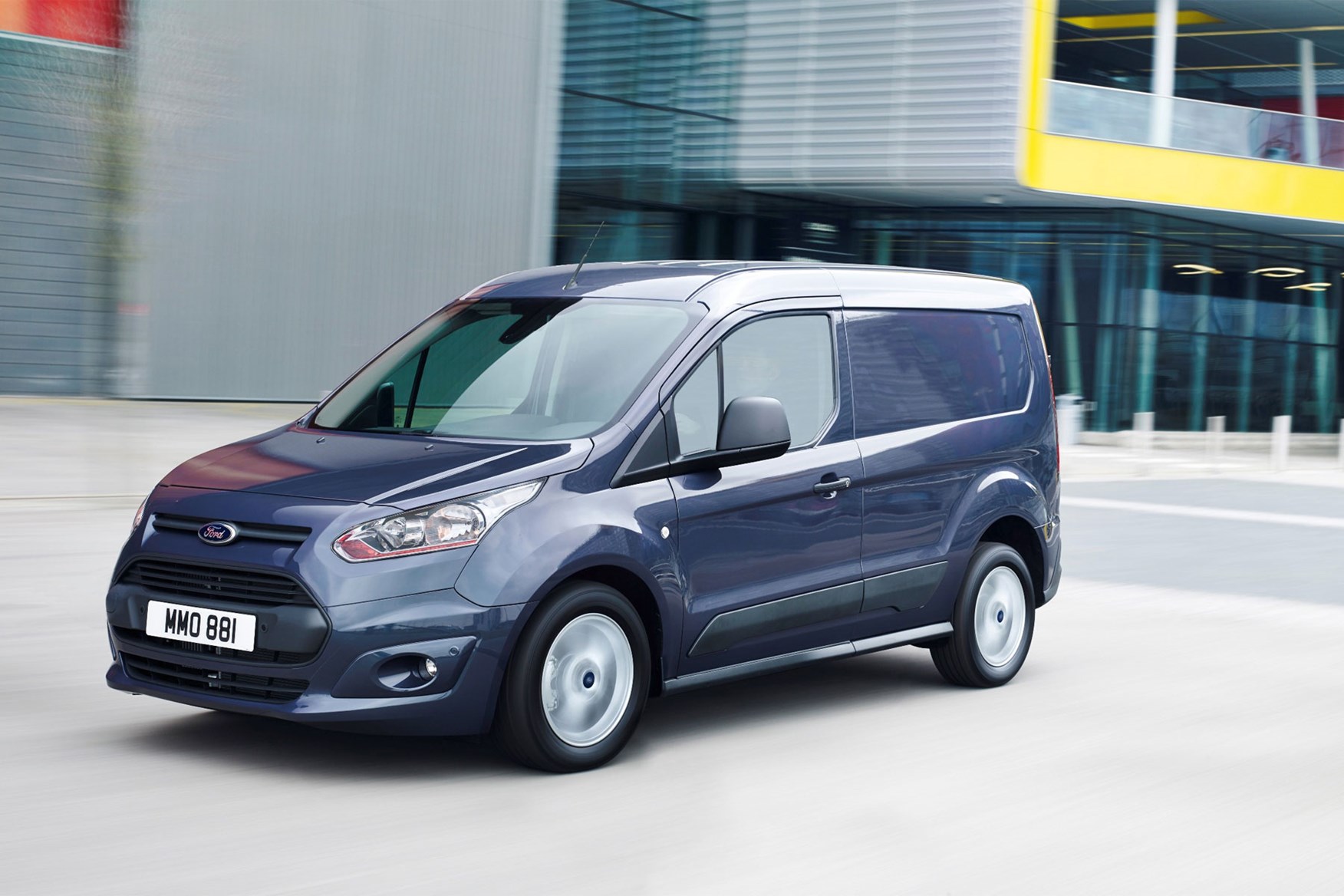 Thin paint is another common complaint; body coloured plastic parts come in for particular stick in this regard, as do bonnets, which can quickly gather stone chips if regularly driven on the motorway.
If you're looking at a 1.5-litre diesel model, these are still relatively new, so there's not much data to go on yet.
Drop us a line if you have any further feedback on Transit Connect reliability.
Over-The-Air software updates
These vans also have a remote software updating facility when fitted with the FordPass Connect 4G modem system. This means the latest control programs and even minor fault fixes can now be deployed without the need to visit a dealer, reducing downtime.
Reasonable roster of safety kit, though more could be standard
Immobiliser on all models, alarm as standard on some
The Transit Connect is reasonably well equipped in safety terms, with a load of optional extras to make it safer still.
Ford Transit Connect standard safety equipment
Base spec vans get ABS, electronic stability control (ESC), electronic brake force distribution, a driver's airbag and full steel bulkhead.
Trend models add front fog lights and a heated windscreen.
Limited models add automatic lights and wipers, cruise control and rear parking sensors.
Ford Transit Connect optional active safety systems
The Connect was the first van in its class to offer a low-speed autonomous emergency braking (AEB) system for city driving.
But while this is now standard across the VW Caddy range, it remains optional on the Ford.
Beyond this, you can also spec lane-keeping warning and assistance systems, blind spot monitors, side-wind stabilisation, front parking sensors and a rear-view parking camera.
Up to six airbags are available as well.
Ford Transit Connect security
In terms of security, all models feature remote locking, power deadlocks and an immobiliser, but only Limited and Sport include a standard fit alarm.
You can also have configurable door locking as an option, which means you can unlock the cab without unlocking the load area, and vice versa.
Newer models compatible with FordPass Pro can be located via a smartphone app, which adds some reassurance. You can also check the van is locked in the same software, and even lock and unlock it remotely, too. Plus the Guard Mode upgrade coming in 2020 will alert you if someone tries to break-in using a relay attack or a stolen key.
Still, as ever, our advice is always to never leave anything valuable in the van if you can possibly avoid it. Not much will prevent a determined thief from cutting inside using power tools.
Which Ford Transit Connect is best for me?
The Transit Connect is typically the bestselling small van in the UK – though the Peugeot Partner and Citroen Berlingo run it close. Ford's extensive dealer network means there's usually a plentiful of supply of new examples, and this sales success means you shouldn't struggle to find a used one, either.
>> New Ford Transit Connect vans for sale
>> Used Ford Transit Connect vans for sale
But with such a broad range, how do you know which version is best for your needs? Let's see if we can help.
Best Ford Transit Connect for running costs
If you're looking at a pre-facelift model, go for an Econetic version if you want maximum mpg; much of the extra kit fitted to these is standard on post-facelift versions.
Want to save even more fuel? Then consider a fixed speed limiter – just don't come crying to us when you're crawling along with the lorries on the M6.
The petrol-powered versions are not a good choice if you want a fuel efficient van over long distances, but can work just fine around town.
Best Ford Transit Connect for payload
Ford makes this quite straight forward for by offering clearly labelled High Payload versions, capable of carrying nearly 1,000kg (1.0 tonne).
Full details of load area and carrying capacity can be found in our dedicated Ford Transit Connect dimensions section.
Best Ford Transit Connect for value / standard equipment
Most small van buyers and operators are extremely cost-conscious, so the good news is that even Transit Connect Base/Leader models are well equipped from the factory.
Given the opportunity we'd still upgrade to a Trend, which features improved comfort and practicality features that are very worthwhile.
You'll need at least a Limited model to get air-con, cruise control and parking sensors as standard, though – so if you value these features be sure to carefully compare their individual cost with the 'walk-up' from Trend to Limited to see which makes the most sense for you.
---

Ford Transit Connect individual model reviews
We've also got dedicated reviews of the following key models, which may help you make up mind:
Ford Transit Connect Active review
Tested June 2021 by CJ Hubbard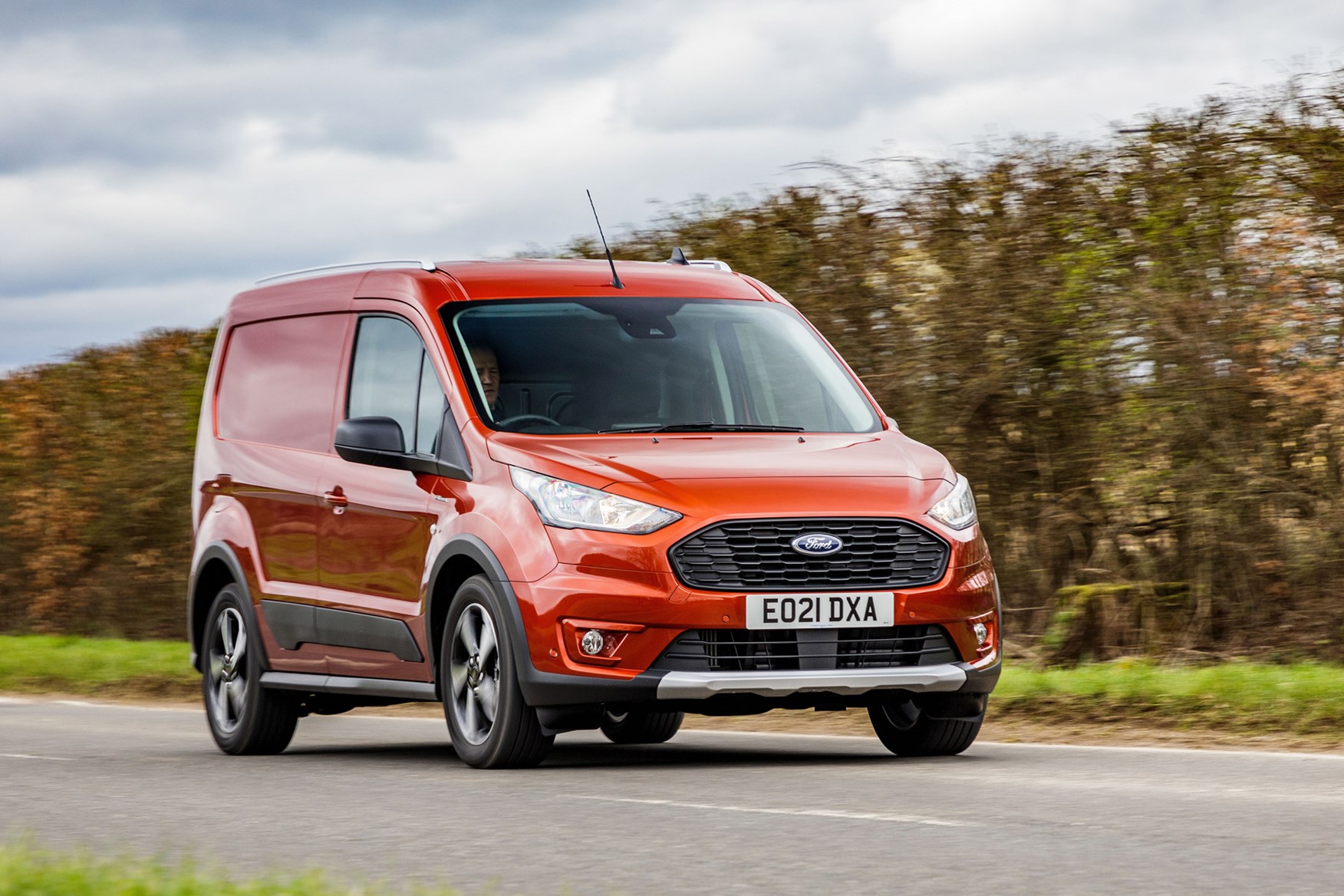 The most lifestyle small van on sale
Tested with trick mLSD for extra traction
Not cheap, but great fun and very appealing
Small vans have typically been the runts of the van world – with the exception of perhaps the Volkswagen Caddy, they're traditionally basic boxes on wheels, served up at the cheapest possible cost. But in recent years, this has been changing, with the introduction of sportier trim levels and a general increase in build quality and standard equipment from the latest models.
The Ford Transit Connect Active is arguably the apex of this trend. While the Connect is hardly the newest small van on the block, the application of the Active trim level from Ford's car range makes it the most lifestyle-orientated small van you can currently buy. And while this includes a lot of show, pick the right options and its stand-out appearance is backed up by plenty of, if not go, then certainly capability.
What's this Active business all about then?
Active is the name Ford uses for ordinary vehicles that have been given a bit of a roughty-toughty SUV-style makeover. Often – as with the Sedona Orange here – these are finished in bright colours, which are all the better to contrast with the black plastic body cladding that's added around the wheelarches and in other areas in order to achieve this look.
In the Transit Connect Active's case, there's also cladding on the sides, door mirrors and bumpers – plus front and rear skid plates (more cosmetic than functional, but they do look good), shiny 17-inch alloy wheels with a polished finish, and roof bars.
What's more, unlike the larger Transit Custom Active, the Connect matches the Active car range by also having mildly raised suspension. It's just 24mm higher at the front and a mere 9mm higher at the rear, but completes the picture of adventurousness that Ford is trying to paint here.
To our eyes it's a cool-looking little van, and one that will definitely help you stand out from the crowd – whether you're buying it as an extension of your business or to sling something like mountain bikes in the back at the weekend.
Ok, so it looks good – but won't it just get stuck if you venture away from a regular road surface?
Like a lot of other Ford's vans now, if you stick with the standard six-speed manual gearbox, the Transit Connect Active can be optionally upgraded with an mLSD.
This mechanical limited slip differential provides extra traction for slipper surfaces. So while the Transit Connect is only front-wheel drive, the mLSD can give it the tenacity to go further off-road than any regular small van (you just can't have it in combination with the eight-speed automatic).
If you really want to go bashing the countryside in a van of this size, you'll be better off with the Vauxhall Combo Cargo 4x4 – but if you need to traverse the occasional track or muddy field, this Connect Active should cope more than adequately.
What's more, the mLSD also makes it a riot on the road. The Transit Connect was already the best-handling small van on the market – the addition of the grippy diff means you have to try hilariously hard before it starts to understeer, allowing you to carry an enormous amount of speed along twisty roads, and even through roundabouts.
Probably not the sort of thing you'll be indulging in if you regularly travel fully loaded, but if you're considering a van as a more practical, two-seater alternative to a regular car then you might as well get one you can enjoy driving.
With a modest 120hp 1.5-litre TDCi turbodiesel, it's not super-quick. But with the diff you really don't have to slow down very much in the corners. While it leans a bit – as you'd expect with the raised suspension – all of the body movements feel very controlled, and the suspension soaks up bumps and bad surfaces with supple effectiveness.
What's the Transit Connect Active like inside?
Ignore the dude doing yoga in the background – apparently there was some miscommunication when the press office asked for 'lifestyle' shots – and concentrate on the interior in the picture below.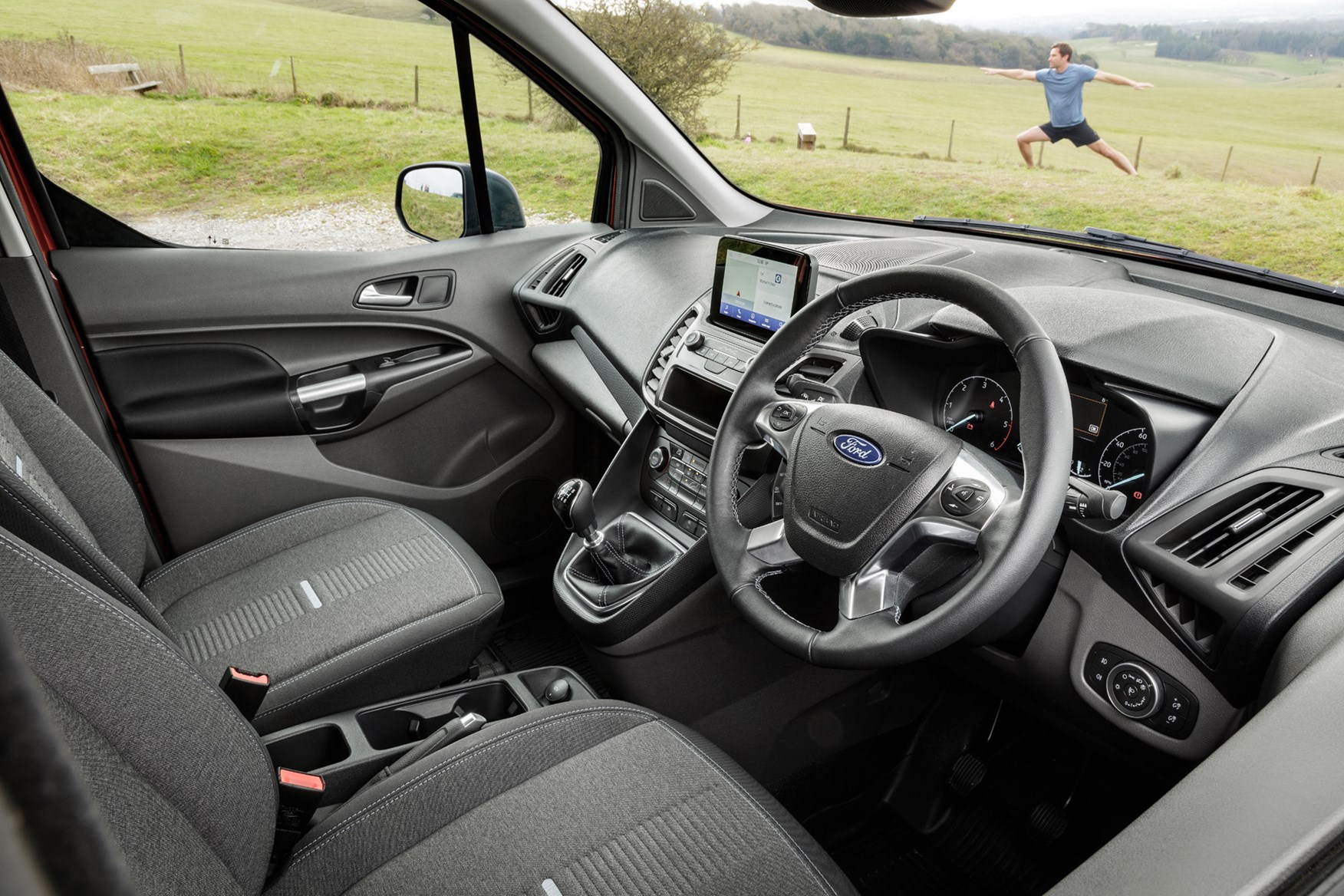 As you can see, it's not radically different to any other high-end Transit Connect. Nice set of seats, a screen on the top of the dash for the Ford Sync infotainment system – here upgraded to include sat-nav for £396 – and some generally well laid-out and not over-complicated controls.
Compared with other models, the Active gets a more premium gauge cluster and a reversing camera as standard. You'll still have to pay extra if you want the full suite of safety kit Ford makes available, including autonomous emergency braking, unfortunately, but you do get dual air-conditioning for the basic asking price.
Some of the plastics are a little hard and, well, plasticky – especially around the doors and door bins. It feels well put together, though, and we certainly didn't find ourselves driving around shuddering at the occasional sight or feel of them. These days the Transit Connect is close to the top of the class for interior quality.
There's got to be a catch here…
The price might make you wince. The short-wheelbase (SWB) model tested here starts at £23,196 on-the-road excluding VAT, while the long-wheelbase (LWB) variant costs from £24,646.
That's quite a chunk of change for a small van, and you'll need another £550 ex. VAT for the mLSD.
Still, it's a bargain compared with the less sexy Combo Cargo 4x4, which will set you back over £36k thanks to the cost of its extensive four-wheel drive conversion.
Should I buy a Ford Transit Connect Active?
This is one of the most fun vans we've driven in ages. Distinctively stylish to look at, good to drive, well put together, and usefully practical with it, the Transit Connect Active manages to combine utility with desire – if you can afford one and it suits your needs, don't hesitate.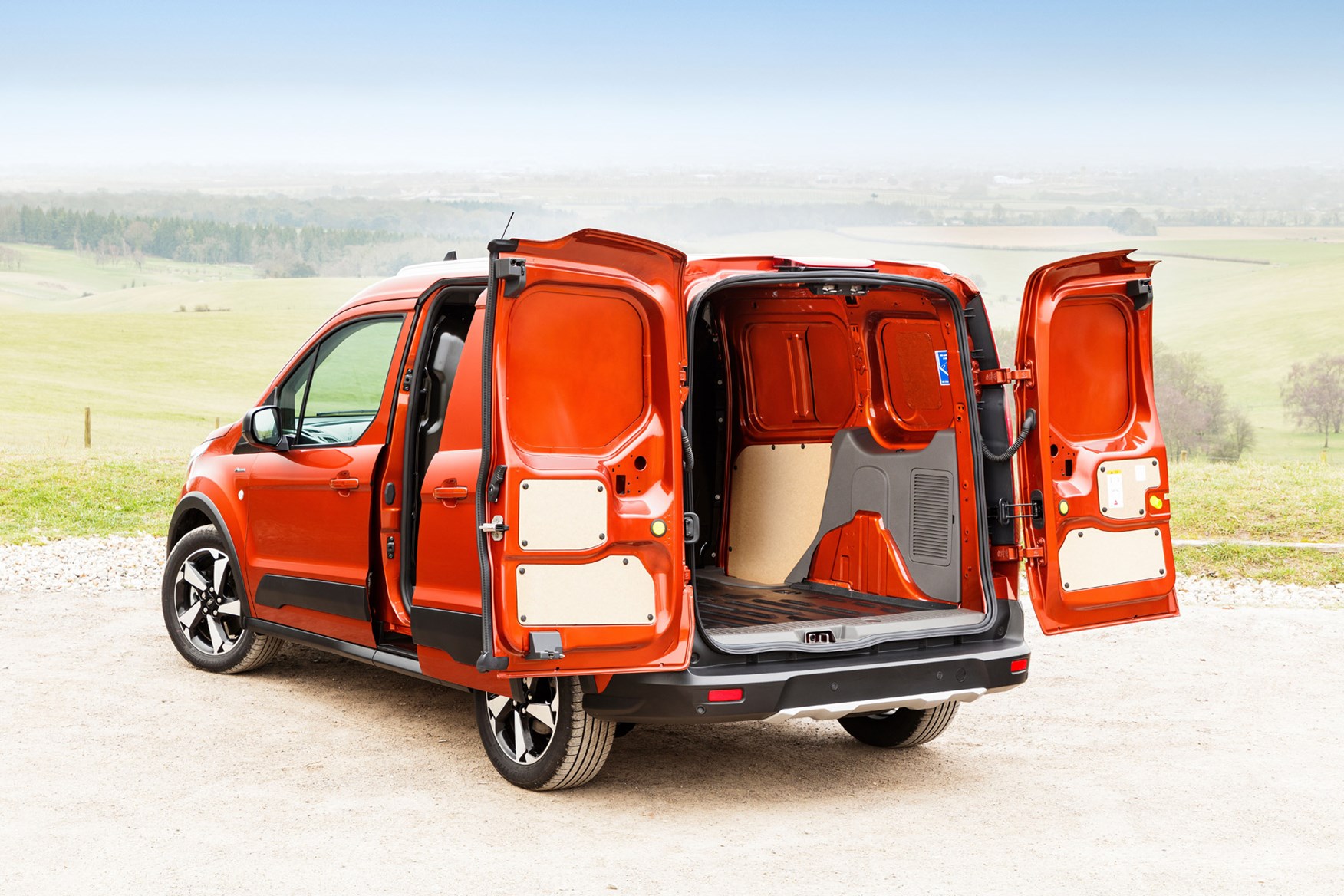 ---
Ford Transit Connect automatic review
Tested October 2019 by CJ Hubbard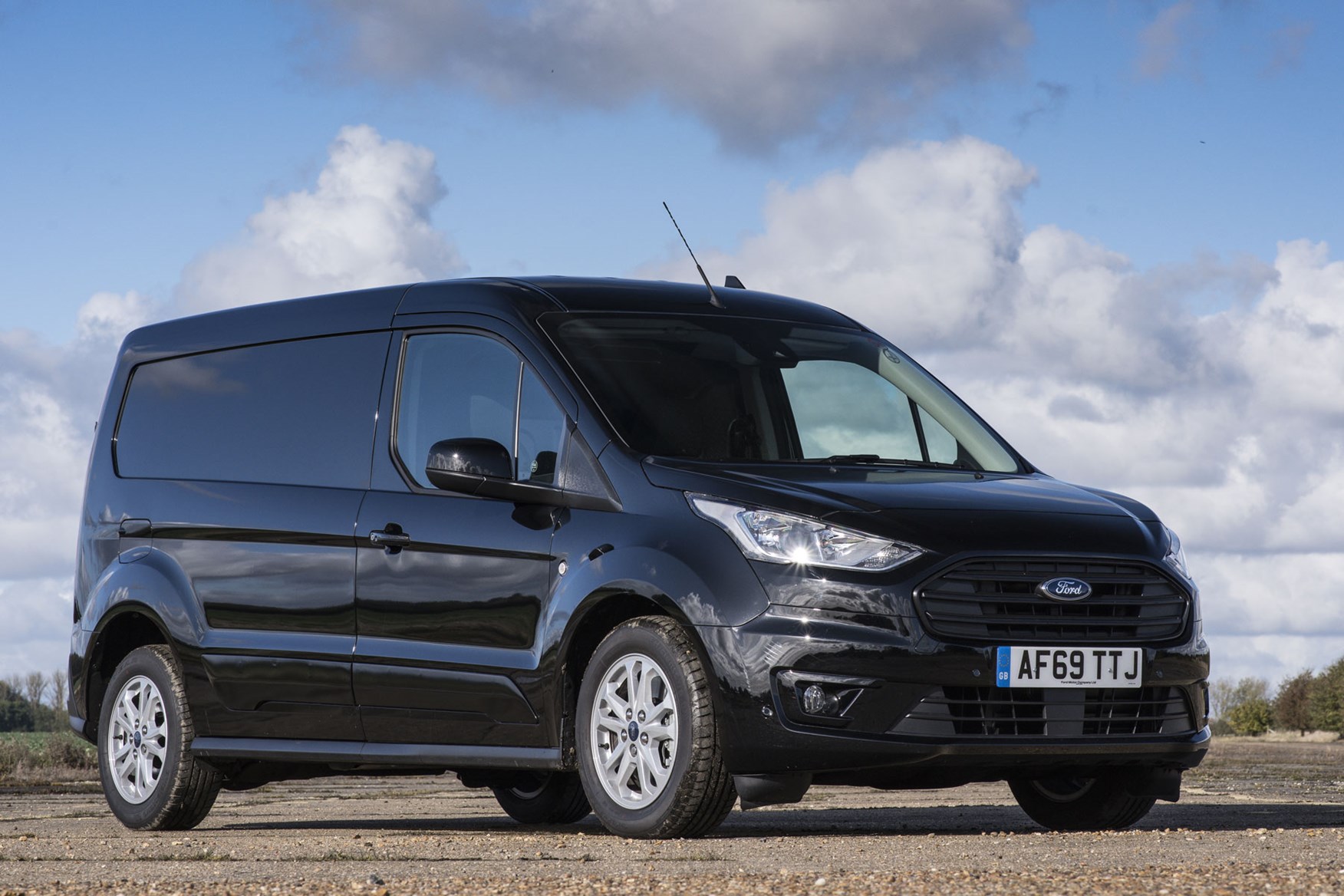 Eight-speed auto gearbox tested in the UK
Good performer that makes life easy for the driver
But is it worth £1,200 more than the manual?
Following on from the 2018 facelift, you can now get a Transit Connect with an eight-speed automatic gearbox. At the time of writing, it's a £1,200 upgrade over a Connect with the same engine and a manual gearbox, and available on every trim level except Sport.
This particular example is a long-wheelbase L2 model in Limited specification, fitted with the range-topping 120hp 1.5-litre EcoBlue turbodiesel engine. The auto can also be paired with the 100hp 1.5 diesel as well.
Aside from some colleagues' cruel comments suggesting the black paint makes it look like a hearse, this is a really good small van. But should you be tempted into spending all that extra cash on the automatic gearbox? Let's see if we can help you out.
What is the Transit Connect automatic like to drive?
The Transit Connect is already arguably the sweetest van to drive in the small van sector. Probably not your top priority in a van, where load capacity, payload rating and practicality are likely more important, but if you're going to be in it all day, every day, it might as well be fun.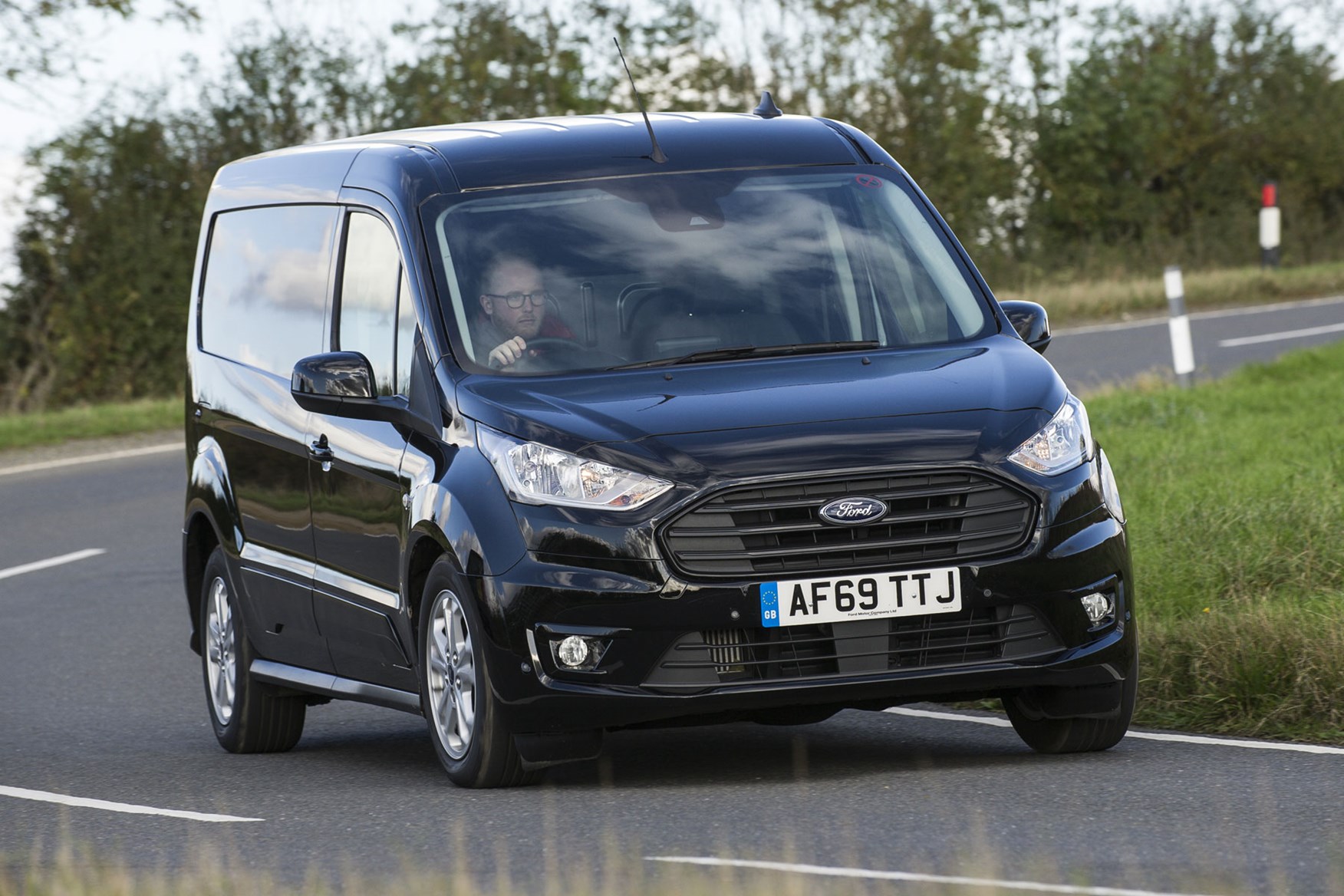 And these things are fun. They've got great steering, don't roll around too much in the corners, possess impressively high levels of grip, and generally feel very much a product of the same engineering team that's consistently delivered great handling cars for years and years.
What's more, the 120hp diesel engine is quiet enough – if not as quiet as the Citroen Berlingo / Peugeot Partner / Vauxhall Combo Cargo trio – and pulls so well you're more likely to find yourself worrying about speeding than getting out of a slip road in time to not get crushed by that lumbering lorry.
However, since the standard six-speed manual gearbox has a smooth, precise action, with none of the baulkiness you find in some other vans, the automatic already has its work cut out to be a convincing use of money. A standard Transit Connect is not a chore to swap cogs in, at all.
The instant appeal of the automatic is that it makes changing gear one less thing you have to think about. That might not sound like a big deal, but if you're having a busy day it could free up valuable brain space, and reflects the fact that this is generally speaking a very good automatic transmission.
What we mean by this is that it rarely does anything to make you really pause and doubt its programming. While it's not the swiftest-reacting transmission, the gear changes mostly pass unnoticed and you're rarely left wishing it had done something better.
So it's pretty faultless?
Close to it. Drive it particularly hard, and the gearbox occasionally loses its cool a little, with some minor jerkiness and a tendency to hang on to second gear too long. We're not that keen on the way the Manual gearshift mode has been implemented, either.
Until you get used to it you'll find it all too easy to select this instead of regular Drive due to the way the lever operates. And if you do fancy changing gears yourself you'll have to use the unusual switches on the side the knob – Ford doesn't offer steering-wheel mounted paddleshifters.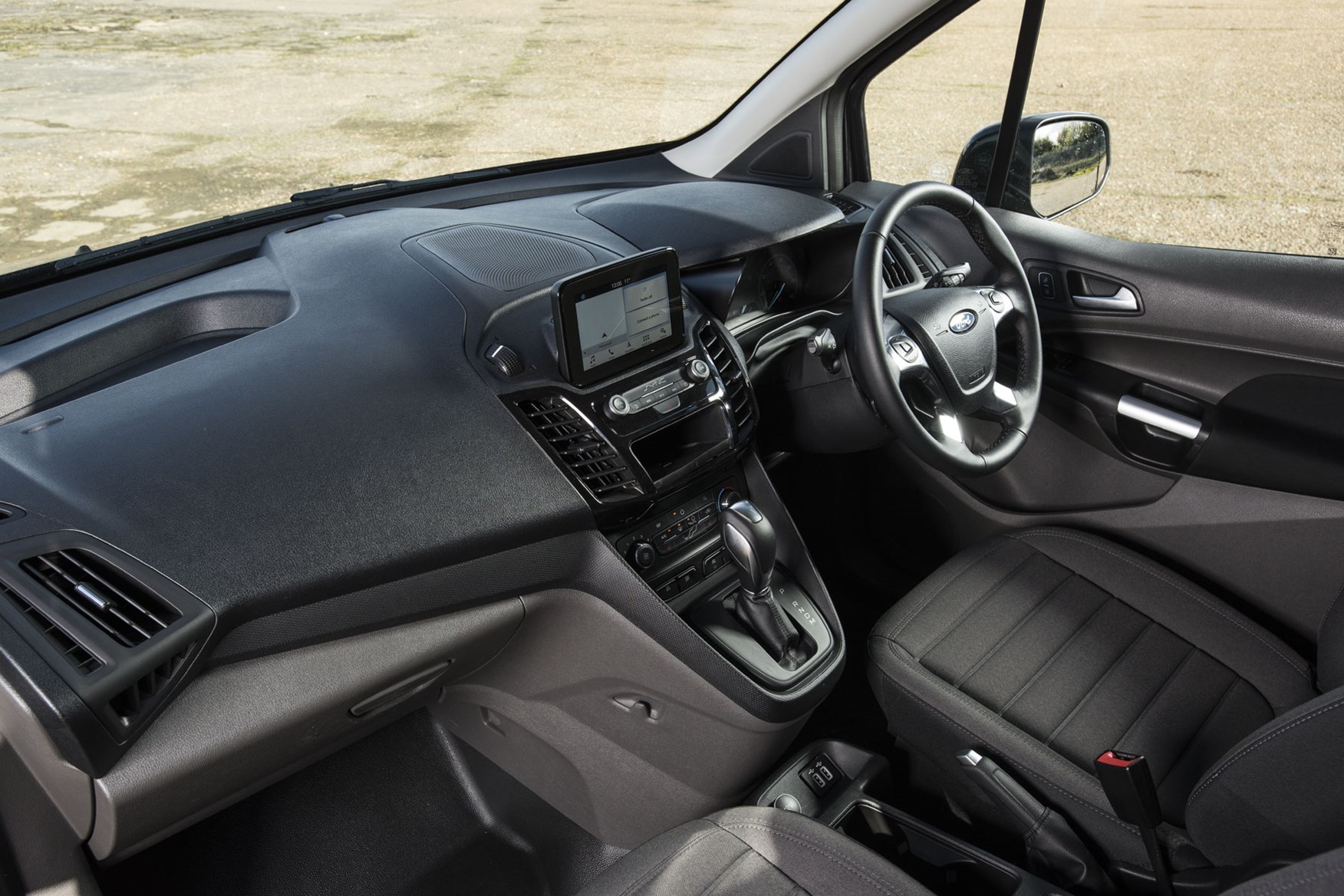 We suspect most drivers will simply leave it to get on with the job by itself, given there's so little reason not to.
Is it as good overall as the eight-speed auto available on top-spec Berlingos, Combos and Partners? Perhaps not quite – that's an even more seamless experience. But you're unlikely to find yourself cursing Ford's efforts here, and it certainly compares well to the Volkswagen Caddy's DSG auto option.
Does the auto make a difference to fuel economy and payload?
The eight-speed automatic transmission is heavier than the six-speed manual, which increases the basic weight of the van by around 10-25kg (it varies with trim level).
This has a more minor impact on actual payload, though, as Ford has largely adjusted the gross vehicle mass (GVM – Ford's equivalent to gross vehicle weight) to compensate, reducing the payload difference to less than 10kg.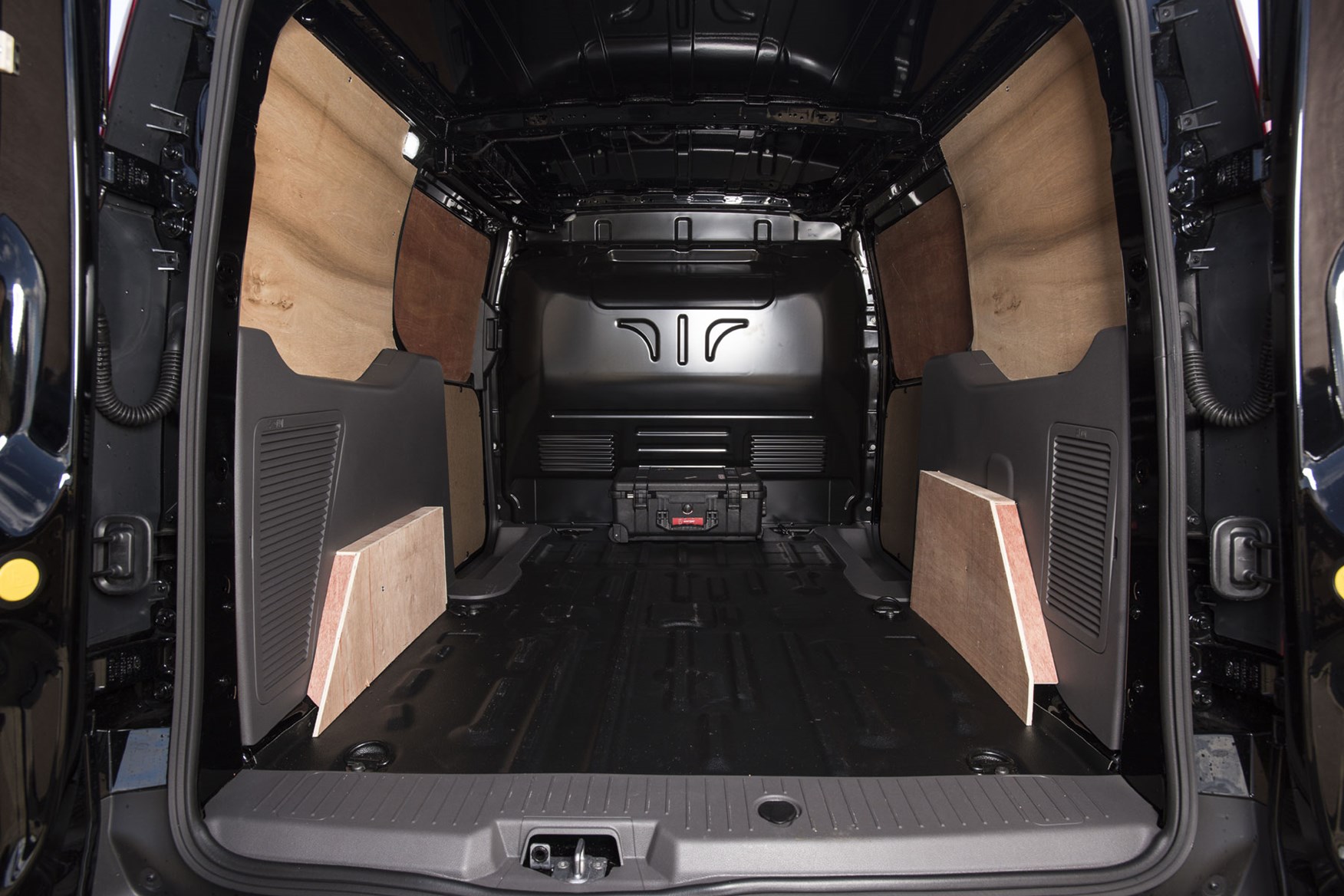 Full details of the load area practicality can be found on our dedicated Ford Transit Connect Dimensions page.
Similarly, official fuel economy is a little over 1mpg worse for the auto at 55.4mpg instead of 56.5mpg – though this is an NEDC figure created using newer WLTP data, which makes it difficult to directly compare with the Transit's rivals.
Should I buy a Ford Transit Connect automatic?
If you're not restricted to driving automatics by your licence, the auto fitted here is best treated as a convenience feature rather than an essential buy. We like it, and it's effortless to use. But we'd say the same thing about the Transit Connect manual.
Even so, if you spend a lot of time in traffic, or simply like the idea of having the van change gear for you, it shouldn't be too difficult to justify the extra expense. There's no reason not to buy it if you want one.
The theory goes that automatic vans are lighter on front tyre wear and reduce the damage clumsy drivers might otherwise do to the clutch. As such, it might even prove a worthwhile investment.
---
Ford Transit Connect Sport Van 120hp L2 (LWB) review
Tested June 2019 by Richard Kilpatrick
New top trim level for Ford's small van following 2018 facelift
Sharp to look at, great to drive - but then so is the rest of the range
Pricey but worth it, even if sat-nav is still an optional extra
Blessed with Ford's latest torquey 120hp 1.5-litre EcoBlue TDCi, the Transit Connect is no slouch as small vans go, but it doesn't exactly advertise its 270Nm and impressive – for a small van – pace. Enter this new Sport model, a proven Ford route of making a van with skirts and stripes, so your fellow road users will be in no doubt as to your priorities when ordering a commercial vehicle.
What's different about the Transit Connect Sport Van?
The Connect Sport's 'dark stainless' 16-inch alloy wheels make a surprising difference in looks, though the subtle bodykit is also effective at lifting a now mature design and keeping it fresh.
The bold racing stripes, a hallmark of Ford's Sport vans, are somewhat lost on a darker colour like our test van's Chrome Blue; if you want to stand out, traditional white, red or silver provide the best background.
What's it like inside?
Inside, the Sport's cab gains half-leather heated seats and a leather sports steering wheel, though Sync 3 infotainment remains firmly on the options list, as does the more comfortable eight-way adjustment for the driver's seat.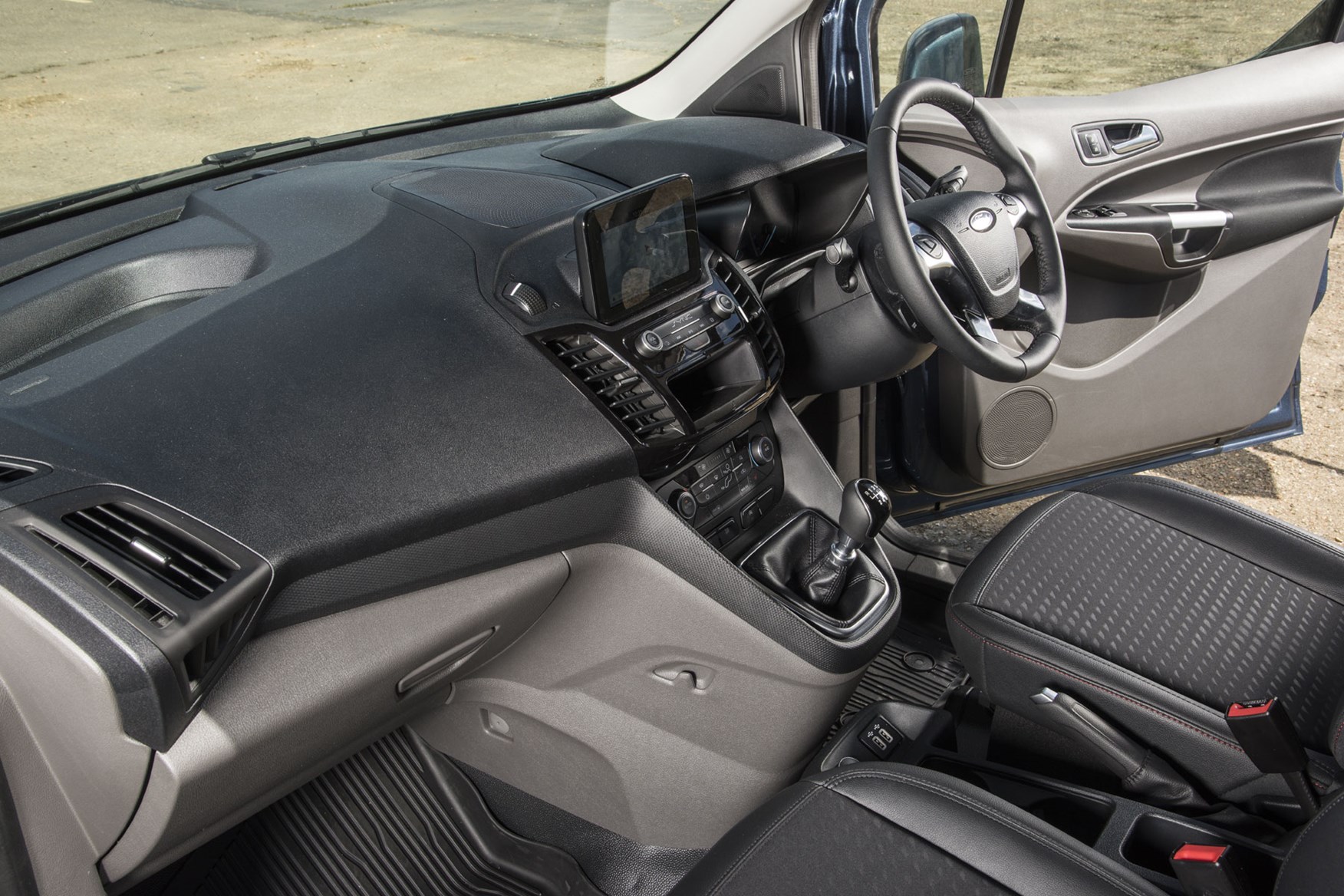 Ford's wrap-around dashboard, with easy to use dual-zone air-conditioning panel, excellent ventilation and the neat covered storage over the instruments suits a low driving position as well as the more traditional upright van view, though the trade off is an immense amount of windscreen above the horizon and a less authoritative feel than you get in a Transit Custom.
It's easy to forget that this is a van from behind the wheel. Though – Sync 3's neat touchscreen aside – it feels more Ka+ than Focus in style and material.
Is it still practical?
As tested in long-wheelbase form – L2, in Ford-speak – the Connect can carry an impressive amount, thanks to over 2.1 metres of load length.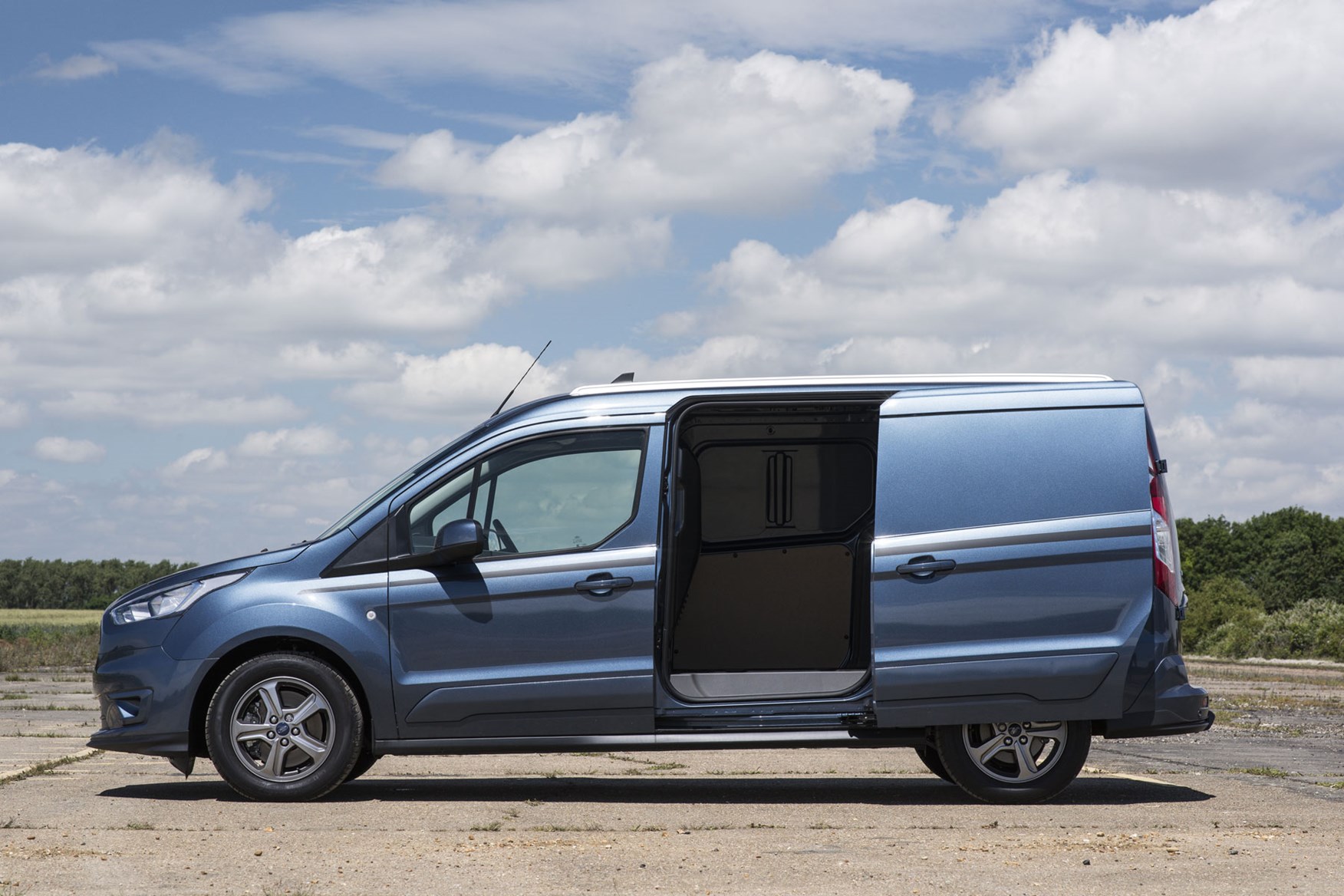 The single sliding side door is also wide enough to load a euro pallet, and yes there's an option to have dual sliding doors, and it's not particularly expensive. You can also have a glazed bulkhead, rather than the solid steel one that comes as standard.
Is the Transit Connect Sport good to drive?
Nothing about this lifts the Connect Sport above the abilities of a regular Connect.
You can hop behind the wheel of a Connect Sport and find the well-weighted, direct and communicative steering immensely satisfying, and the surprisingly balanced, predictable chassis entertaining in bends, yet amazingly smooth and refined in most situations, and you might think that the Sport's been adapted to be more car-like. But it's no different to a normal 1.5-litre diesel. How the Transit Connect drives is one of the best attributes of an already highly competent van.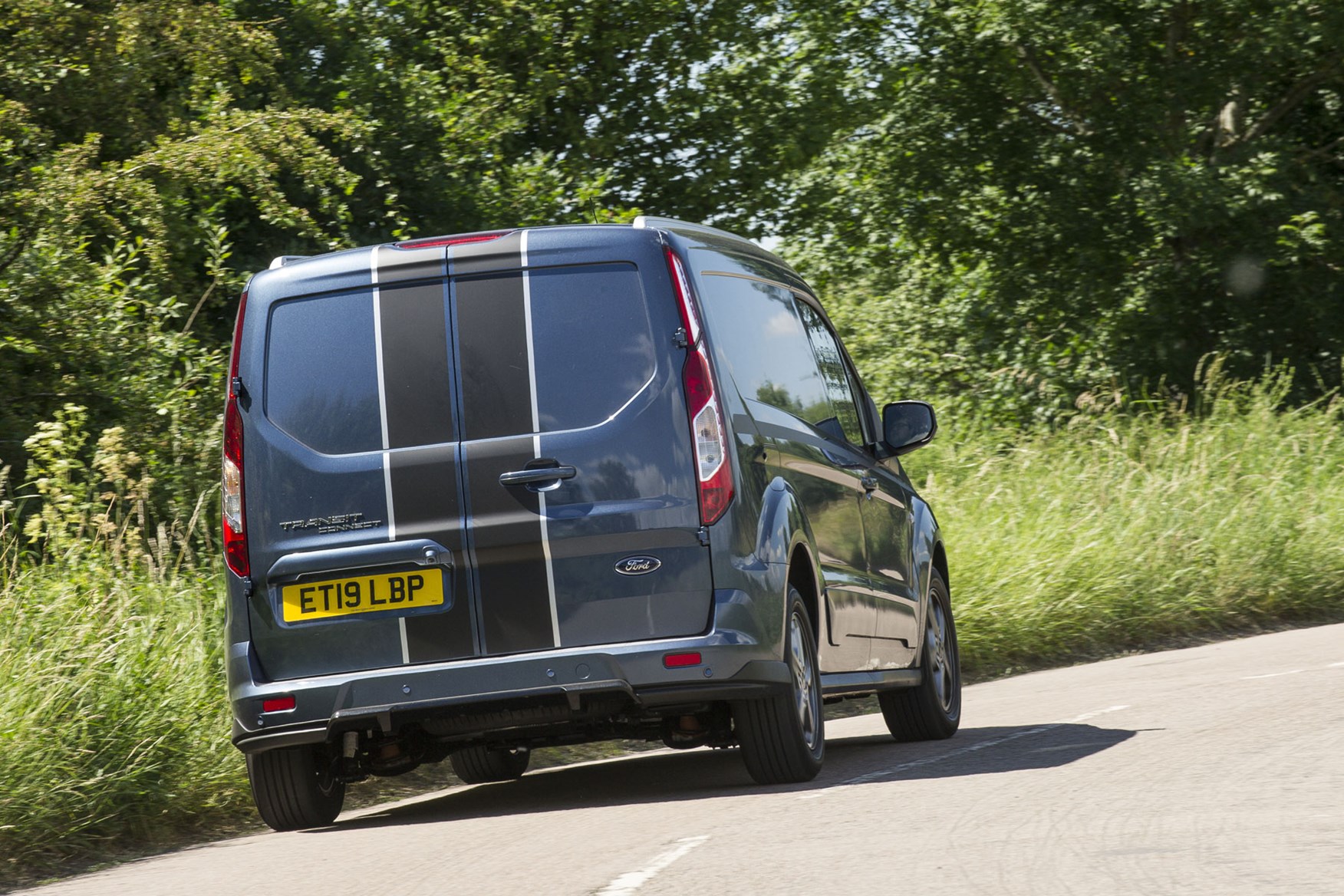 Not only does the 1.5-litre engine pull well through the gears, with a refined motorway pace and good in-gear acceleration, the six-speed manual gearbox has a neat, precise shift that's got enough travel for lazy driving with feel to satisfy hot-hatch aspirations.
Similar balance for work and play can be found in the Connect Sport's seats, which use half-leather trim to look sporty without the uncomfortable deep bolsters of Ford's ST or RS models; you'll almost certainly find them comfortable enough for an eight-hour day even without spending more on the lumbar-support upgrade.
Most road surfaces are isolated to a degree that would shame many family cars, though rough motorways can cause the smaller van to boom and resonate, in part due to the full metal bulkhead. Although the interior is undeniably aimed at commercial users, it's attractive and more importantly, put together to a high standard, free of rattles and squeaks.
Should I buy a Ford Transit Connect Sport?
Refreshed, but not substantially changed, the 2018 Transit Connect is already a polished, pleasant van and the Sport is more about adding a more car-like atmosphere than actual performance – half-leather seats, better climate control and a less functional appearance.
The upgrades are worth it, but it's a shame this is a trim level, rather than an option pack to be applied to your ideal Transit Connect configuration.
---
Want to know more about the original 1.6-litre TDCI engine, launched in 2013? Keep reading…
Ford Transit Connect Trend 1.6 TDCi 95 LWB L2 review
Tested February 2014 by Gareth Evans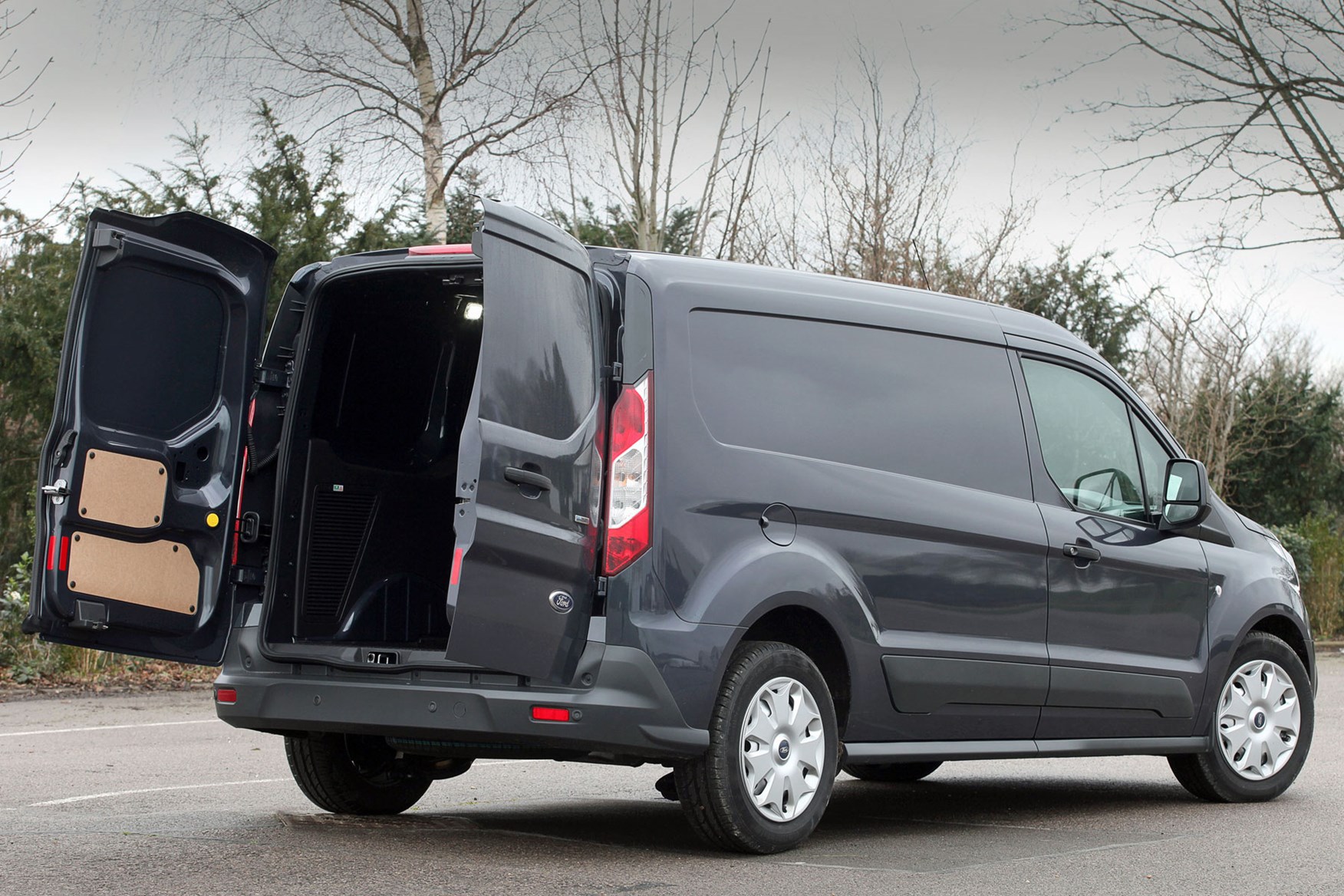 Ford's smaller Transit - the Connect - put to task on UK roads
Trend specification not top-seller, but makes sense to us
Priced from £16,321* (excluding VAT) and available to order now
There's no disputing it – the previous version of the Ford Transit Connect was feeling its age. Not only had the engines fallen way out of kilter with modernity's drive for ultra-efficiency, but the styling was starting to feel aged too.
It's a case of 'about time too', then, as the firm ushers in this all-new Connect with its freshly styled face and range of engines which return brilliant fuel economy and emit far less CO2, meaning all sorts of tax breaks. We've been driving one of the most impressive versions – a long wheelbase 'L2' model in Trend trim, fitted with the firm's 1.6-litre TDCi diesel engine with 95hp.
The L2 has the biggest load area in the range.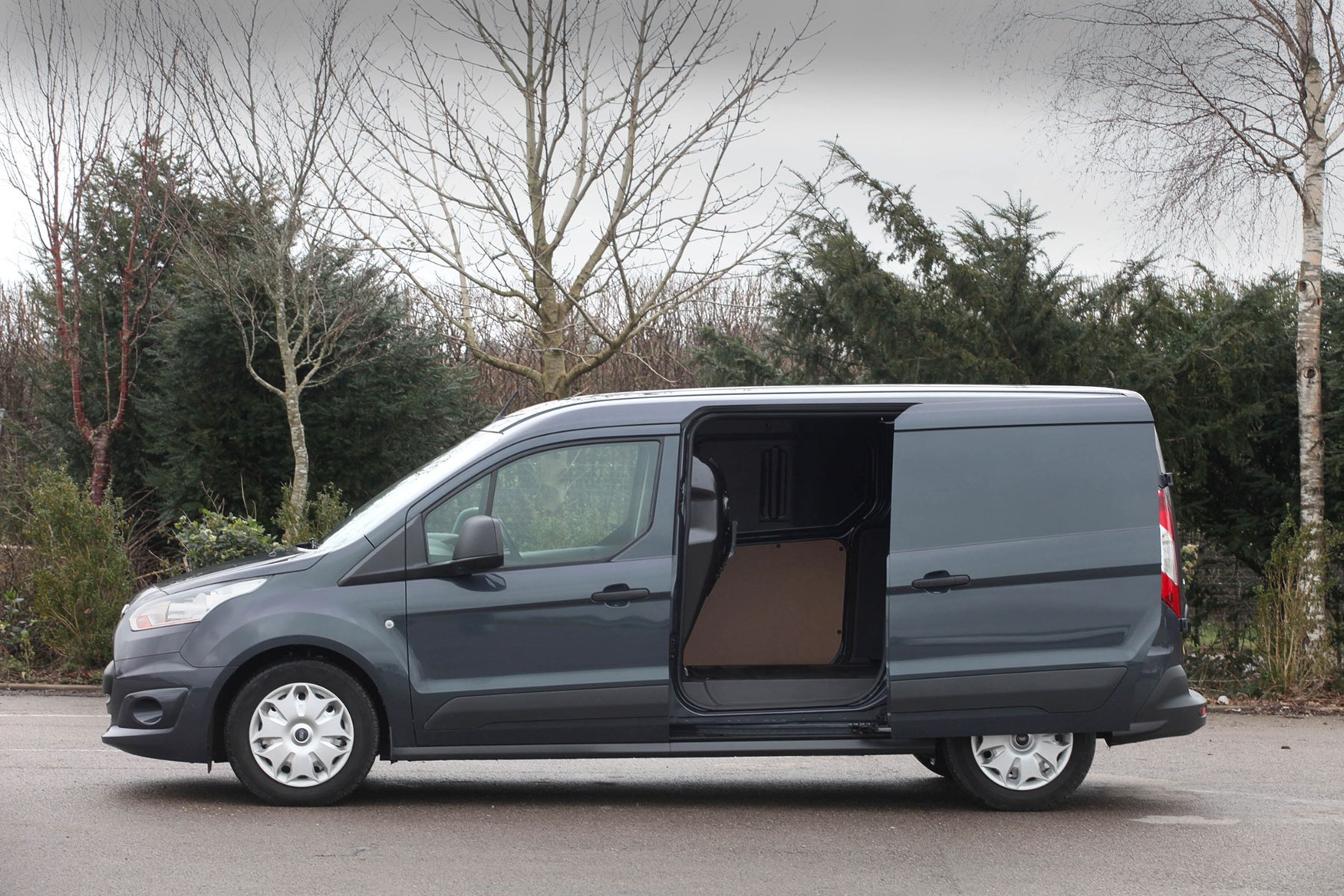 According to Ford, it'll also return an impressive 65.7mpg average fuel economy if you're particularly careful with your right foot, which means it's one seriously frugal van.
To do achieve that you will need to spend £300 on the Fuel Economy Pack, however, which gets a grille which shuts automatically to boost aerodynamics and a stop/start system.
What's it like to drive?
Out on the road the engine pulls well, developing its maximum torque of 230Nm between 1,500 and 2,000rpm.
This van has an impressively high braked towing weight of 1,200kg, and Ford says it put a Connect through a six-month continuous towing test at max payload to check it can do the business.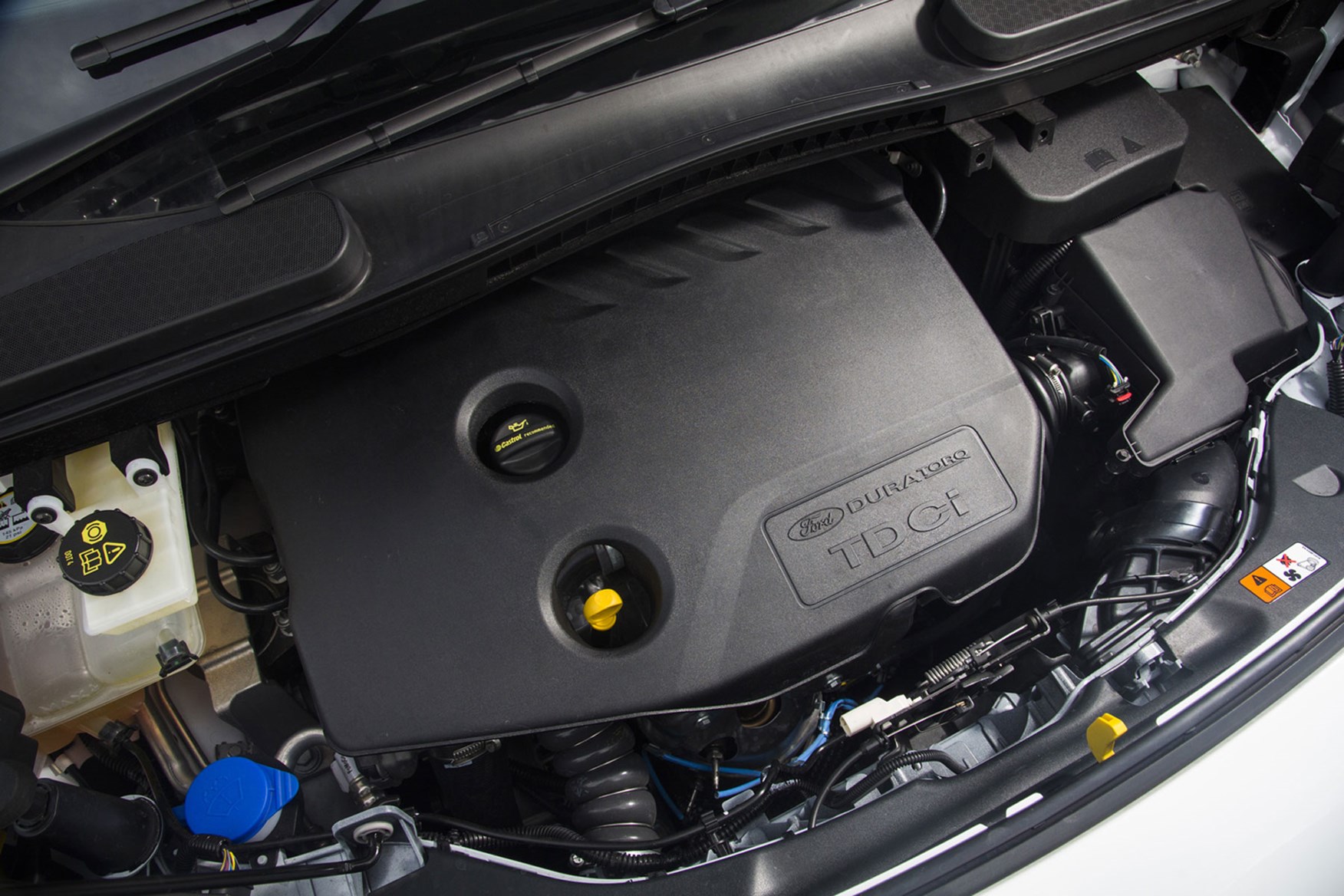 Encounter a steep hill, though, and you will have to drop down at least one of the car's five manual gears to get the engine spinning with enough gusto to keep making progress.
That said, motorway speeds are reached in an acceptable period of time and it's absolutely fine around town, pulling keenly and smoothly from nice and low in the rev range.
The gearbox itself – and the rest of the van, actually – works exactly like a Ford car. And we mean that in a good way.
Is the Ford Transit Connect easy to drive?
This larger L2 model has a 12.2m turning circle between a pair of kerbs, which means it's easy to coax in and out of parking spaces.
Our van also featured a clever rear-view parking camera (which costs £300 and displays through the rear-view mirror that you didn't think you needed) and rear parking sensors, which go hand-in-hand towards making your life easier in car parks.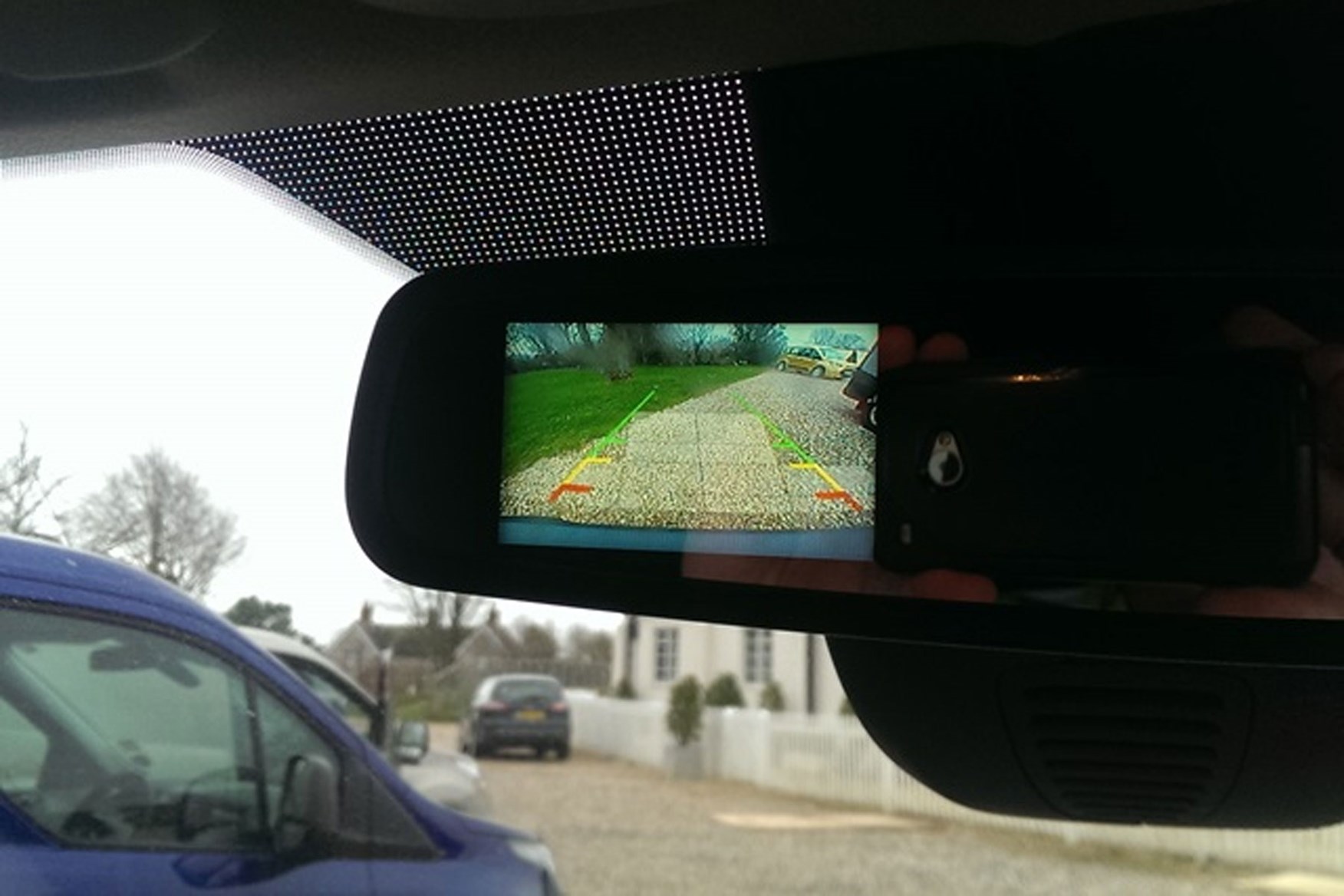 The display on the rear-view mirror is incredibly crisp and clear, but we can't help thinking it would benefit from being a little larger.
Transit Connect options tested
There were a few more optional extras on our test vehicle, too.
The City Safety Pack, costing £250, includes a system which will automatically brake the van at low speeds if it detects an impending collision. We tested this to the extreme in an off-road environment and can confirm it works well, stopping the van dead below 15mph. Automatic headlights are also included in the package.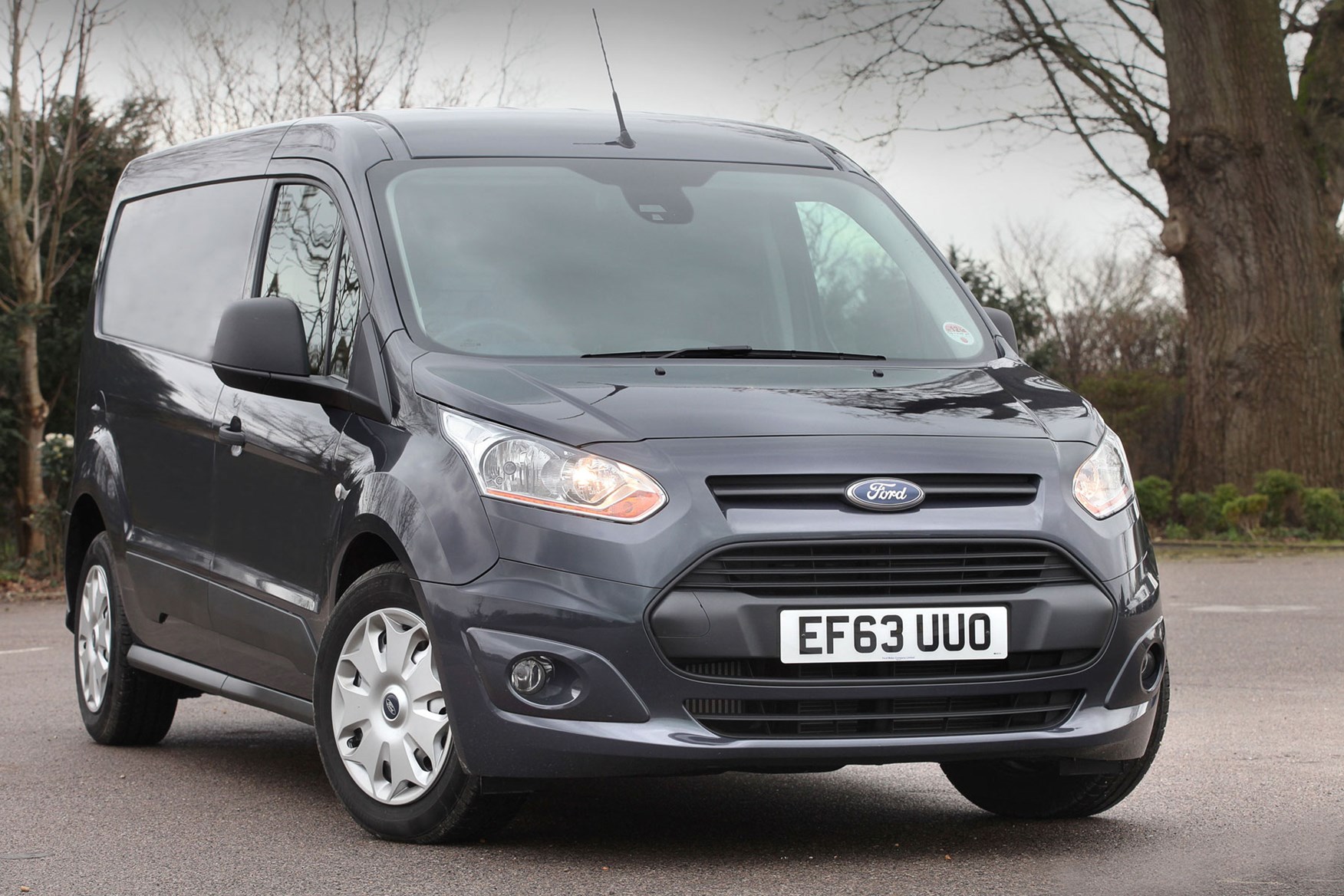 That metallic grey paint costs £300, while manual air-conditioning is a hefty £600. An LED load box light costs £40.
Our model's list price was £16,321.36 ex. VAT at the time of writing, and £18,111.36 ex. VAT with all of the optional extras included.*
Should I buy one?
There's not much to complain about here. The Transit Connect drives well, it's efficient, it has a large load area for this size of van and it's got a fair amount of kit thrown in too.
The only question is whether you need all those options. If you're adept at parking and don't drive in cities a lot then you can save yourself £550 by simply ignoring the rear-view camera and the City Safety Pack.
Does the £300 Fuel Economy Pack pay for itself considering the mileage you cover? It's worth doing to sums to find out.
*All prices correct at the time of writing in February 2014