UPDATE: We have now driven the Volkswagen Caddy California campervan – read our full review
Volkswagen has been building Caddy-based campervans since 2005. Now it's taken the final step and named this latest one the Caddy California – in line with the larger VW California and Grand California campers that already exist. We've got all the official details, including the news that the Caddy California is now confirmed for the UK. On sale in 2021, prices start at £29,965.
The VW Caddy California is based on the all-new Caddy Cargo van, which began reaching UK buyers in early 2021. The Caddy California replaces the previous Caddy Beach and comes with a number of new features – including a kitchen – that aim to make camping out in this compact van an even better experience.
>> Sign-up for the Parkers Vans and Pickups newsletter
A Caddy? With a kitchen? Tell me more…
The new Caddy California is the first VW campervan to be based on the firm's exceptionally versatile MQB platform, which Volkswagen says helps deliver more space as well as greater on-board technology. As with the van, the Caddy California is available in standard and longer Maxi body lengths.
The 'mini' kitchen is likely to be the biggest draw for the Caddy Cali, as this is a new feature for this model – albeit an optional one. Something rarely seen on campers of this size, this is mounted on a rail on the left side of the load area beneath the bed, meaning it has to be pulled out under the tailgate to be used.
The design apparently places the cooking facilities at a comfortable working height, while the tailgate will do its best to keep the rain off. There are two parts. At the top there's a single gas hob with wind shield and shelf, while the bottom section is for storage. To the rear is a locked compartment for the gas bottle.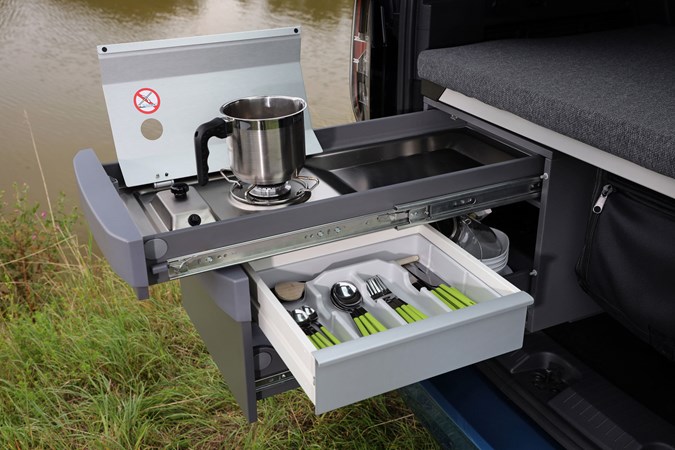 With the kitchen fitted, VW says the Caddy California meets motorhome type approval.
What about the sleeping arrangements?
A new fold-up bed design means that occupants will no longer have to make do with partially sleeping on the folded-down rear seats. Instead you get the same 'cup spring' system as the larger VW California and Grand California, which we know from experience should be good news for comfort.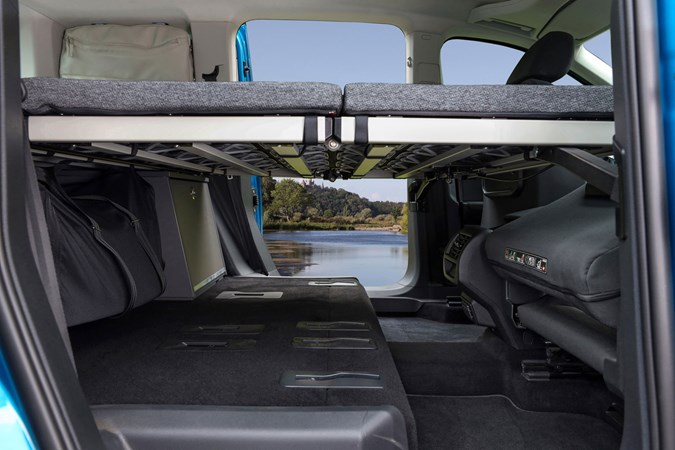 At 1,980mm by 1,070mm, the bed is a generous size for such a small vehicle. When not in use it folds up to a third of its length and fits above the boot space, so there should still be plenty of storage space as well. Since the bed is now separate, the rear seats can 'very easily' be removed, should you need more room when camping, too.
However, don't discard those rear seats too soon, as an optional tent system boosts the available accommodation by adding sleeping room for two more people. While the tent can be attached to the Caddy, it is also freestanding, so can be used separately.
In total, the Caddy California has passenger space for five people when driving.
My, what a big roof you have
The California takes full advantage of the new Caddy's panoramic roof option – a 1.4 square metre glass panel that will allow the happy occupants to gaze up at the stars while they enjoy a night in the back of a van. There is a blackout blind for this – and all the other windows – in case you were wondering.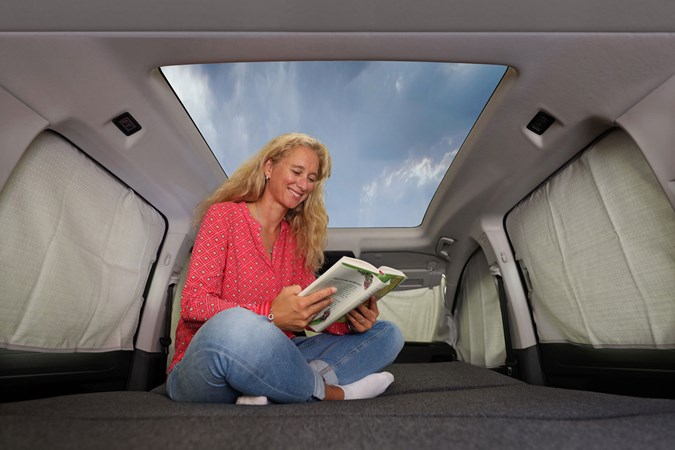 What's more, the rear-window privacy screens double as removable storage bags, for easy packing in preparation for your trips away from home.
Other neat features include integrated fly screens, dimmable LED spotlights and all the latest MQB infotainment options. You get classic California-spec camping chairs and table, too.
What's the new Caddy van like?
Well, you can read full details in our new VW Caddy review, but this is a thoroughly modern van, completely new from the ground up.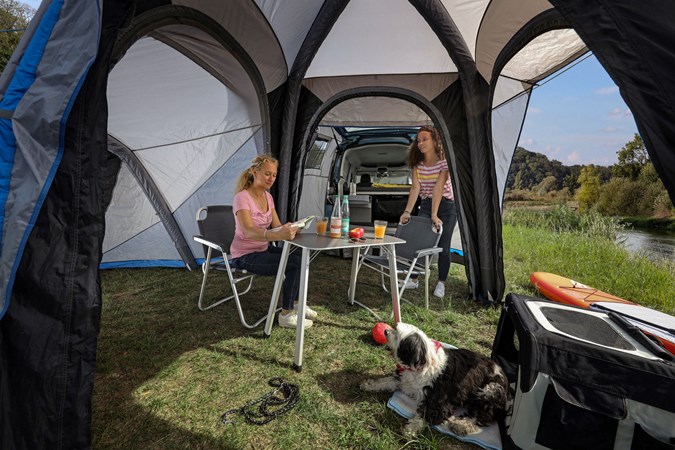 As such it comes with all the latest safety aids, including Travel Assist, which is a mild autonomous driving system that works over a wider range of speeds than ever offered on a Volkswagen commercial vehicle before.
It also has some particularly clean 2.0-litre TDI turbodiesel engines, featuring a new 'twin dosing' AdBlue SCR (Selective Catalytic Reduction) system to reduce nasty emissions.
Engine choice in the Caddy California
In the UK, the Caddy California will come a choice of 114hp 1.5-litre TSI turbo petrol or 122hp 2.0-litre TDI turbodiesel. The petrol gets a six-speed manual gearbox as standard, while the 122hp diesel is equipped out of the box with VW's popular seven-speed DSG automatic, which works very well in the Caddy Cargo van.
Both should have more than enough oomph to get you where you're going in a relatively relaxed fashion. The Caddy is front-wheel drive as standard, but there is talk that the California will also be available with 4Motion four-wheel drive, which is now an option for the van in the UK for the first time.
Caddy California standard equipment
Despite some very attractive-looking pricing (see below for full details), VW hasn't skimped on the Caddy California's standard equipment.
In addition to all the campervan gear, every California comes with air-conditioning, cruise control, power mirrors, alarm system and front seats that are height and lumbar adjustable. Infotainment is taken care of by an 8.25-inch Composition Media touchscreen with App Connect, Bluetooth, DAB radio and six speakers.
Plus you get a load of active safety kit, black roof rails and 16-inch alloy wheels.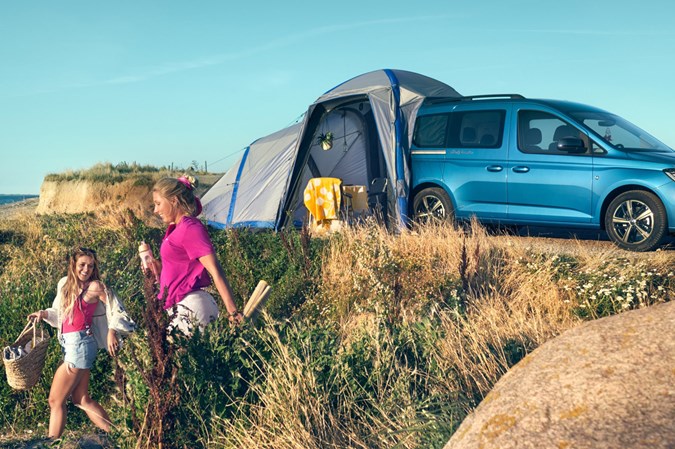 On top of this, VW is also offering a California Plus pack. Priced from £960, this adds a front centre armrest with drink holders, 230v inverter with three-pin plug, two USB ports, LED rear lights and dark-tinted rear windows – as well as power-latching doors, which will save you from having to slam them and disturb your neighbours when camping at night.
When does the new VW Caddy California camper go on sale and what does it cost?
Volkswagen has now confirmed that the Caddy California will be sold in the UK, with order books opening in 2021. Covid-19 restrictions have seen campervan sales jump massively over the last 12 months.
The pricing is a pleasant surprise, as the entry-level 114hp TSI petrol in the standard length starts at just £29,965 – some £25k cheaper than any other VW California. Want this model with the 122hp diesel and DSG automatic? That will be £34,699.
Prefer the extra space of the Caddy California Maxi? The cost of that starts at £31,285 for the petrol and £36,019 for the diesel automatic. All prices include VAT.
Also read:
>> Our VW Caddy California review
>> Our main VW Caddy Cargo review
>> The Parkers guide to factory-backed campervans
>> VW California vs Ford Transit Custom Nugget twin-test review