Volkswagen Caddy Cargo van review (2022)
High-tech VW small van is keenly priced and a challenge to any rival
PROS
Massive upgrade over previous Caddy
Based on same platform as VW Golf
Great to drive, very comfortable
Lots of high-tech features
Very clean twin-dosing diesel engines
CONS
Payload still lags behind rivals
Not enough proper buttons
Still quite loud inside
Maxi model is smaller than before
No electric version
Summary
This is our 2022 Volkswagen Caddy van review. Now called the Volkswagen Caddy Cargo, to distinguish it further from the passenger versions, this is the first VW van to be based on the MQB platform that underpins most of Volkswagen's cars. It's sharp to look at and nice to drive, but can it compete with the best small van rivals?
Also known as the Caddy 5, this fifth-generation small van is a complete departure from the previous model in more ways than just the name.
In addition to the new platform, the Caddy Cargo features new engines, new suspension design, new trim levels, loads of new technology and an upgrade in material quality inside the cab. Not to mention a distinctive new look.
There's even a Caddy California campervan this time round.
New Caddy: rivals it has to beat
Volkswagen has acknowledged just how good some of the competition in the small van sector has become – pointing specifically to the Citroen Berlingo, Peugeot Partner, Toyota Proace City and Vauxhall Combo Cargo.
These identically Stellantis-engineered vehicles offer an impressive blend of practicality, refinement, fuel economy, technology and value. So VW is right to be taking them very seriously – the latest Caddy stands no chance if it can't tussle with these successfully.
Then there's the Ford Transit Connect. But good though this is to drive, and even while 2020 brought an upgrade to near 1.0-tonne payload capacity, the compact Transit is long in the tooth and awaiting replacement, which should be on sale by 2022.
>> Find out more about the best small vans in the UK
Is being based on a car platform good or bad?
Well, it hasn't done the rival Stellantis vans any harm, and the Volkswagen MQB platform is nothing if not adaptable – you'll find it under everything from the VW Golf through to some of the firm's biggest SUVs, not to mention the Audi TT sports car.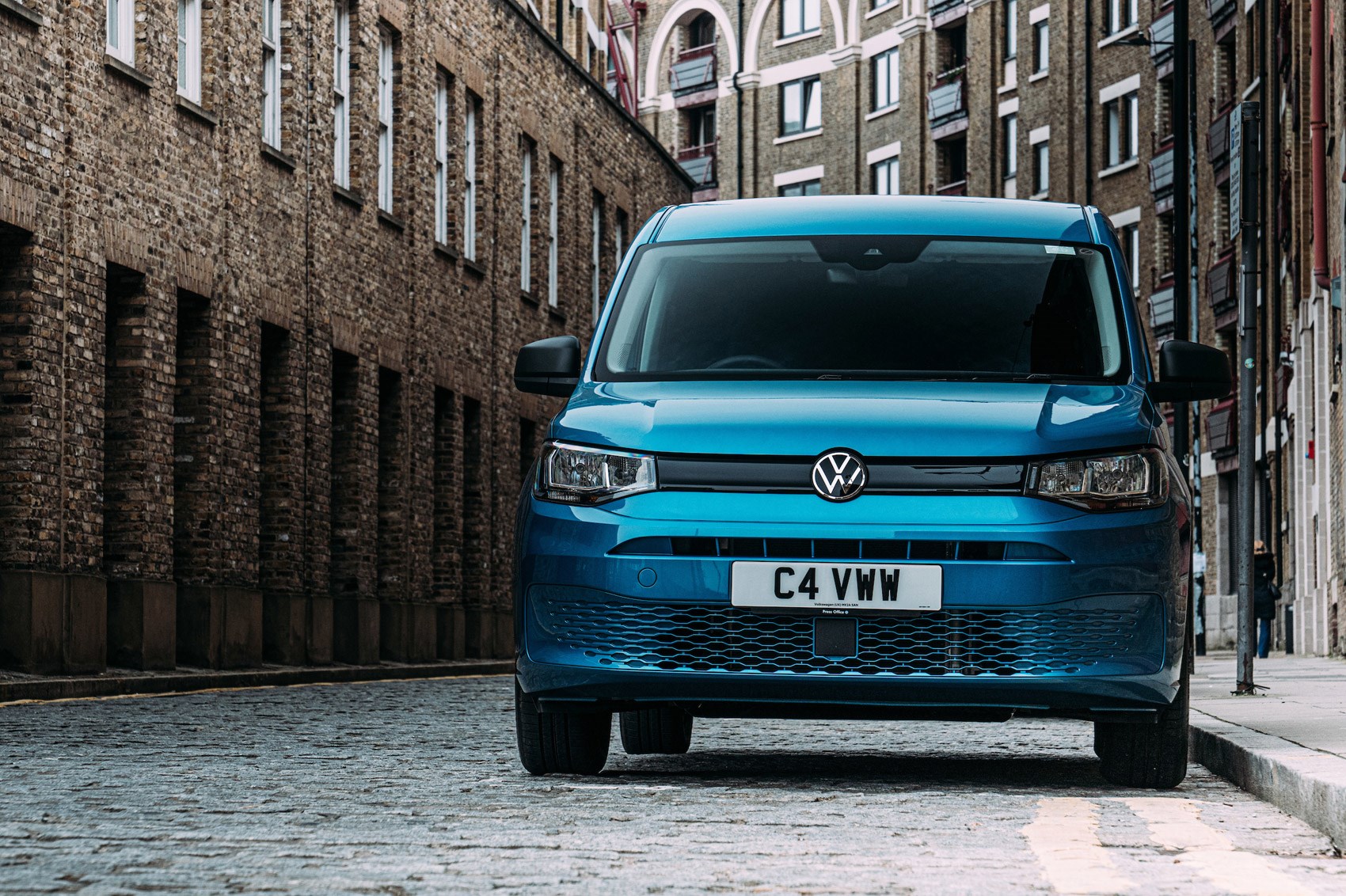 In the Caddy's case, it not only enables a bunch of the latest technology – including VW's latest touchscreen infotainment system – but also makes the new van feel far more modern to drive than the old one.
The amount you have to turn the steering wheel has been substantially reduced, for starters, while changes to the rear suspension are intended to make the Caddy Cargo feel as nimble with a full load as it is without it. Doesn't quite pull this off, but it's close.
How clean are the diesel engines?
The new 2.0-litre TDI turbodiesel engines fitted in the Caddy Cargo come in three power outputs - 75hp, 102hp and 122hp - and are right at the state of the art for diesel engines.
As with all modern vans they use AdBlue to reduce harmful emissions, but uniquely (at launch) the Caddy's system features 'twin dosing' to take the emissions even lower.
The Caddy Cargo is also available with a 1.5-litre TSI turbo petrol engine, producing 114hp, which has Active Cylinder Technology (ACT) that can disable two of its cylinders to save fuel whenever full performance isn't needed.
Will there be an electric VW Caddy?
We're told there won't be a Caddy Cargo electric van, as Volkswagen is soon to launch the production version of the ID Buzz Cargo, which will be built on a dedicated electric vehicle platform.
There are also no current plans to bring the Caddy Cargo eHybrid to the UK, though this model is available in Europe.
How practical is the Caddy 5?
The Caddy Cargo comes in two sizes: standard short-wheelbase (SWB) and Maxi long-wheelbase (LWB).
The standard model is a touch longer than it was before, the Maxi a touch shorter – which has exactly the kind of impact you'd expect on the load space. However, both feature lower loading-floors and can fit taller items inside, despite the vans having lower rooflines on the outside.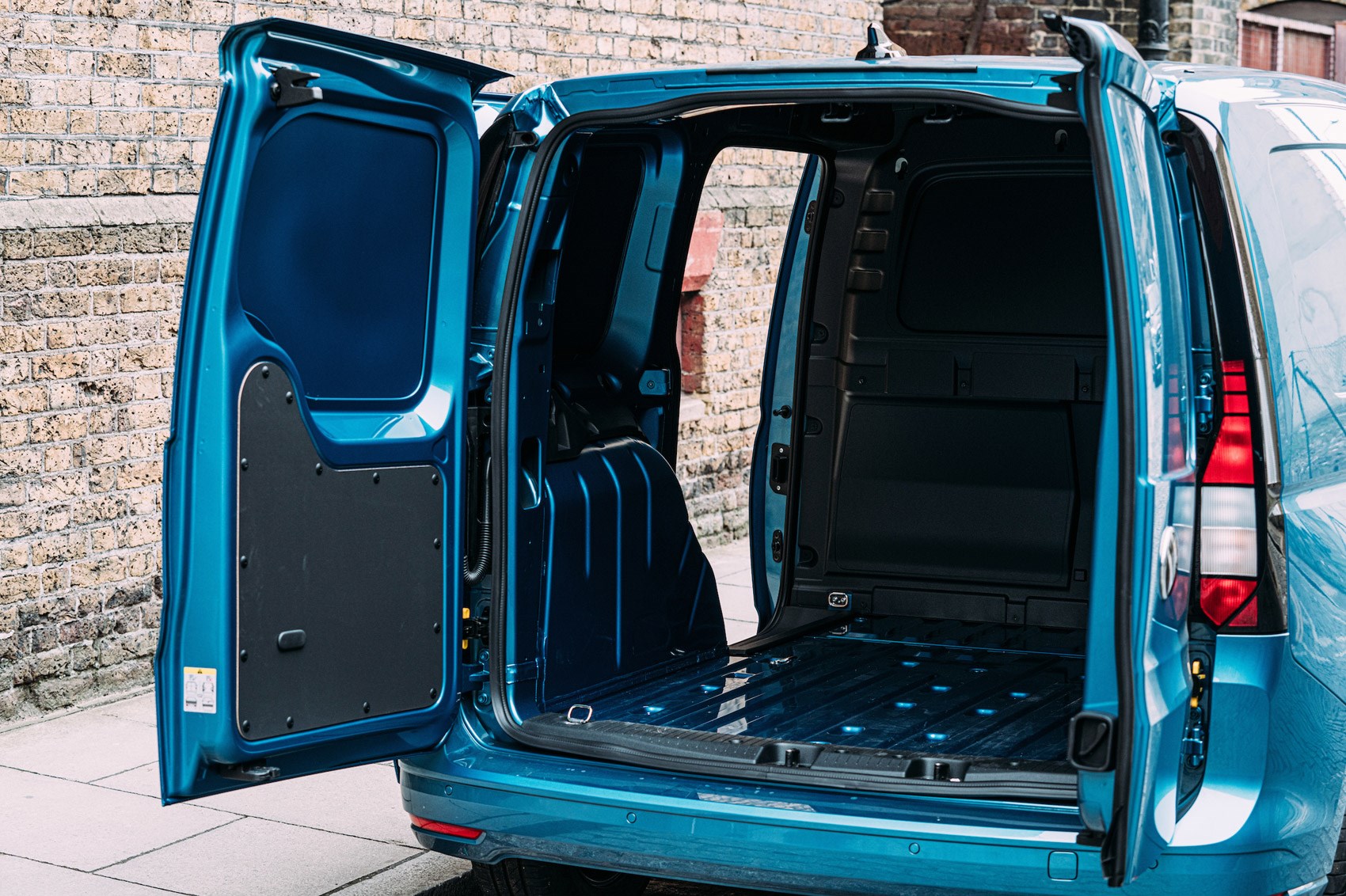 Additional width between the rear wheel arches – another benefit of the redesigned rear suspension – means Euro pallets can now be loaded sideways, an improvement over the previous Caddy. You'll fit two inside the Caddy Maxi.
Less impressive is the maximum payload, which at this stage is limited to just 780kg. Someway short of the 1,000kg / 1.0-tonne ratings that many competing small vans now boast.
You can read more about all this on our dedicated Volkswagen Caddy Cargo dimensions page.
---

Verdict: is the Volkswagen Caddy Cargo any good?
There is lots more detail if you read further into this Caddy Cargo review, but the quick take is that this is an impressive small van. It looks good, drives well, interior quality is high, and the on-board technology makes it feel just as modern on the inside as it appears on the outside.
We do question the usability of some of that technology (see the Interior section below for more details), and the payload still falls way short of the best competition. It's also a shame that the Caddy still isn't quieter in the cabin, another area where the best rivals now excel. Owners of previous Caddy vans may be perplexed by the tinny-sounding and lightweight-feeling doors, too.
Yet taken as a whole this is a convincing package of pleasant driveability, useful practicality features and premium image.
Skip to our full verdict on...
Smooth, comfortable and composed, but still loud inside
Steering much sharper, six-speed gearbox as standard
Driving assistance tech can take a bit of getting used to
The Caddy Cargo is a substantial step forward in almost every aspect of the driving experience compared with the previous Caddy van. But then, it needed to be, because the best small van rivals are outstanding in this area as well.
Comfort levels are high
Probably the most immediately noticeable thing about the way the Caddy Cargo drives is the comfort. Not only does it do a great job of absorbing bumps and dips in the tarmac, it does so with hardly any banging or thumping from the suspension.
New front and rear suspension designs play their part here. The rear in particular, as it's moved from old-fashioned leaf springs to car-like coil springs among other changes, and now rides lumpy surfaces with far greater sophistication, regardless of whether the rear is loaded or not.
It really does feel much more like driving a car than a conventional van.
Sharper steering, better cornering
Reinforcing this car-like capability, the changes to the front suspension have dramatically improved the steering response. The van turns much more quickly and with less effort than the previous model.
Combined with the lightness of the new electrically-assisted power steering (replacing the previous hydraulic power steering), the Caddy Cargo almost feels too sharp at first – we found ourselves turning too much in the corners.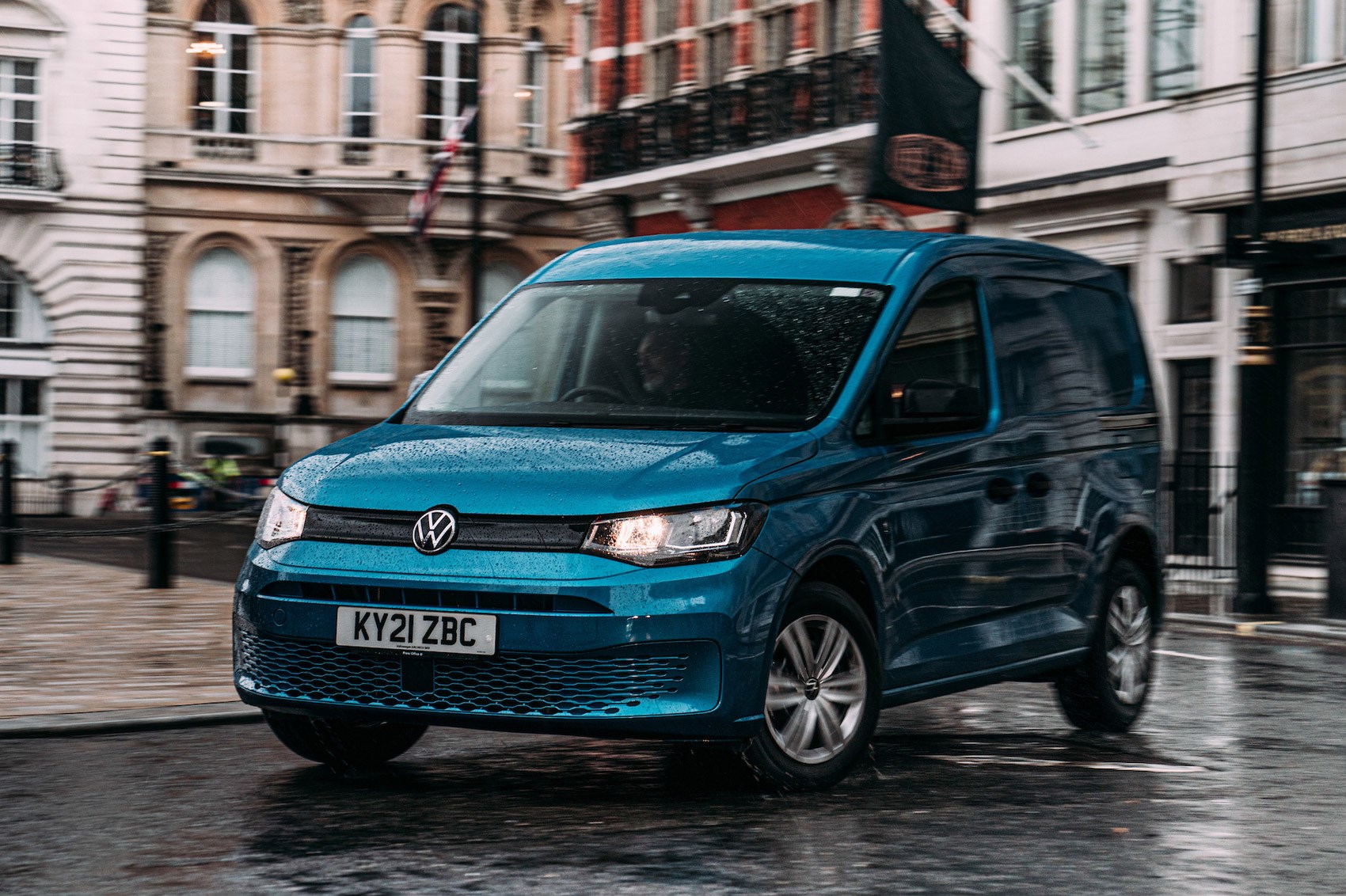 But you get used to this quickly, and once you do the van just feels eager and alert. VW claims it's designed the Caddy to retain this agility even when loaded, and while that's generally true, we could still tell the difference with even a modest 325kg test weight in the back.
The important thing is that you remain fully confident when driving it loaded, and the Caddy Cargo gives you this confidence in abundance.
Active steering assistance
All that said, the new Caddy is available with some particularly high-tech driving assistance systems, including Travel Assist for the first time on a VW van.
This combines active lane keeping with adaptive cruise control, and can handle quite a bit of driving all by itself. You won't be grabbing a snooze at the wheel any time soon, but the system has your back if you're momentarily distracted and is said to work across the full speed range.
The flip side to this is that when driving on country lanes, the lane-keeping system is almost constantly nibbling at the steering, as if it's ever so slightly wired on caffeine. You'll even find it practically guiding you round the corners on occasion.
This might sound alarming – and it is a little disconcerting at first – but it's far less fighty than other systems we've experienced, meaning that it mostly does seem more like a helping hand than an annoying distraction.
And it can easily be switched off via a menu in the central touchscreen that's swiftly accessed by pressing one of the few remaining physical buttons (more on this in the Interior section below).
What are the new diesel engines like?
While engine noise is generally well suppressed when you're cruising, there is still a distinct diesel-y noise to the new 2.0-litre TDI models when accelerating harder. This is muted rather than a full-on deep chugging, however, and more sporty sounding than actually unpleasant.
The diesels are all based on the same 2.0-litre 'twin-dosing' turbo engine, and offer a choice of 75hp / 250Nm, 102hp / 280Nm or 122hp / 320Nm.
Obviously, the more powerful the motor, the faster the Caddy Cargo, but the 75hp model still feels adequate enough for general duty, especially around town – it just runs out of puff when the 122hp version is beginning to get going.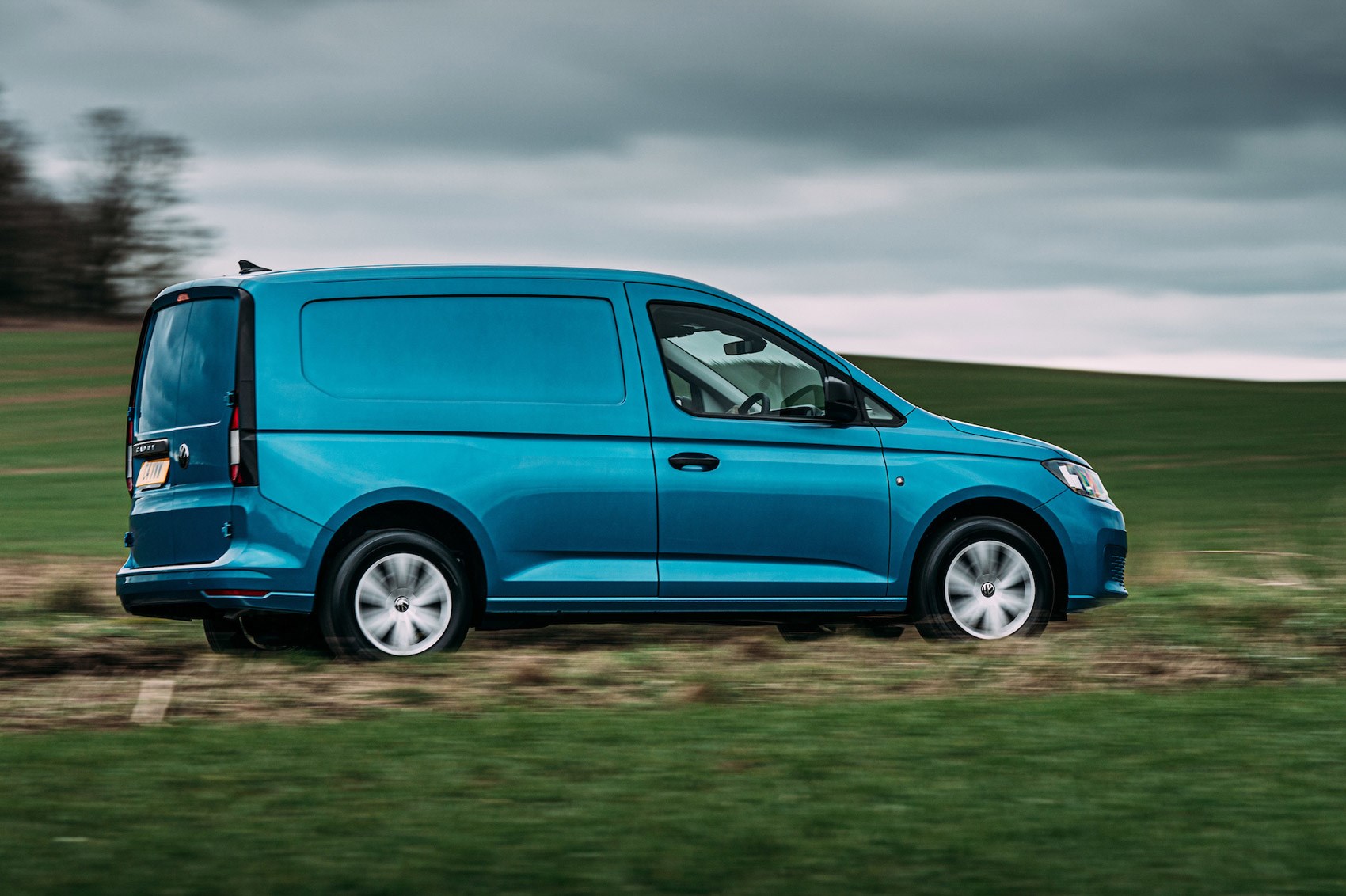 The 102hp Caddy continues to feel like the pick of the range, offering plenty of performance for the money, and being quite a quick little van when unloaded.
If you do plan to regularly max the payload, stretching to the extra torque of the 122hp will probably be worth it. But all of the diesels offer surprisingly crisp response to your right foot, suggesting real care and attention has been applied to the development and tuning.
A 1.5-litre TSI turbo petrol is also available in the UK with 114hp / 220Nm. This brings even better engine refinement, has easily enough muscle for moderate payloads and will be the most fun to drive if you're enthusiatic behind the wheel.
It's also the cheapest engine choice and still capable of delivering above 40mpg in the real world, so you might want to give it more consideration than most petrol-powered vans deserve.
Six-speed manual gearbox as standard, DSG auto and 4Motion optional
All versions of the Caddy Cargo come fitted with a six-speed manual gearbox as standard – which puts it in a better position than the bigger VW Transporter, as basic versions of that still only get five speeds.
What's more, it's a particularly nice gearbox to use, underlining once again that a lot of what underpins the Caddy Cargo is closely related to the Volkswagen Golf.
The 122hp diesel and the 114hp petrol are both available with a seven-speed DSG automatic transmission as an option. We've tried this with the diesel and it is a seriously snappy implementation, swapping gears very quickly and avoiding some of the low speed hesitancy you get with the Transporter. Great for traffic and ease of use, if you're prepared to pay extra for it.
All Caddy Cargos are front-wheel drive (FWD) as standard, but UK buyers are able to option the 122hp with 4Motion four-wheel drive.
We have only been able to try this briefly in the Caddy California campervan so far. But suffice to say, in regular driving it feels little different to the front-wheel drive models - the 4x4 system only kicking in when the front wheels are seriously slipping. Which doesn't happen often on the road at all.
Lots of grip, but also lots of road noise
It seems that every time we go to drive one of these, the weather serves us up a damp and greasy day. But this only highlights how impressively the Caddy is able to find grip and deliver traction in these conditions.
Driven even quite aggressively, there's rarely any scrabbling from the front wheels - instead the Caddy just grips and goes, all adding to the sense of car-like finesse about the driving experience.
Sadly, the noise sticks a pin in that particular balloon. As with the previous Caddy, a lot of road and tyre noise gets through to the cabin of right-hand drive models. So while the engine sounds are well suppressed, it's still very loud inside, forcing you to turn up the radio and to raise your voice when speaking to passengers.
It's also hard not to notice how light and tinny the doors feel - so light, they sometimes don't shut properly on the first go.
Modern, car-like interior design
Too many touch sensitive controls?
Feels high quality and properly premium
More big changes inside the Caddy Cargo, as it adopts an angular dashboard that's – yes – very car-like in its design and quality. Every model gets a central touchscreen (though on top-spec versions it is larger) running VW's latest MIB3 infotainment system, and an electronic handbrake frees up additional space in the centre console.
But while the interior looks good and feels better quality than anything else in the small van sector, it's not all good news inside the cab. Almost all of the controls have been moved into the touchscreen, and many of those that remain independent use VW's latest touch-sensitive button design.
What's the problem here?
Let's deal with the touch-buttons first, a cluster of which replaces the traditional dial for the lighting controls and some of the window-clearing heating functions.
When we first tried these on left-hand drive Caddy models in late 2020, they were seriously laggy. As in touch them and you'd probably end up touching them in impatience before they activated, turning the function you where trying to operate back off again.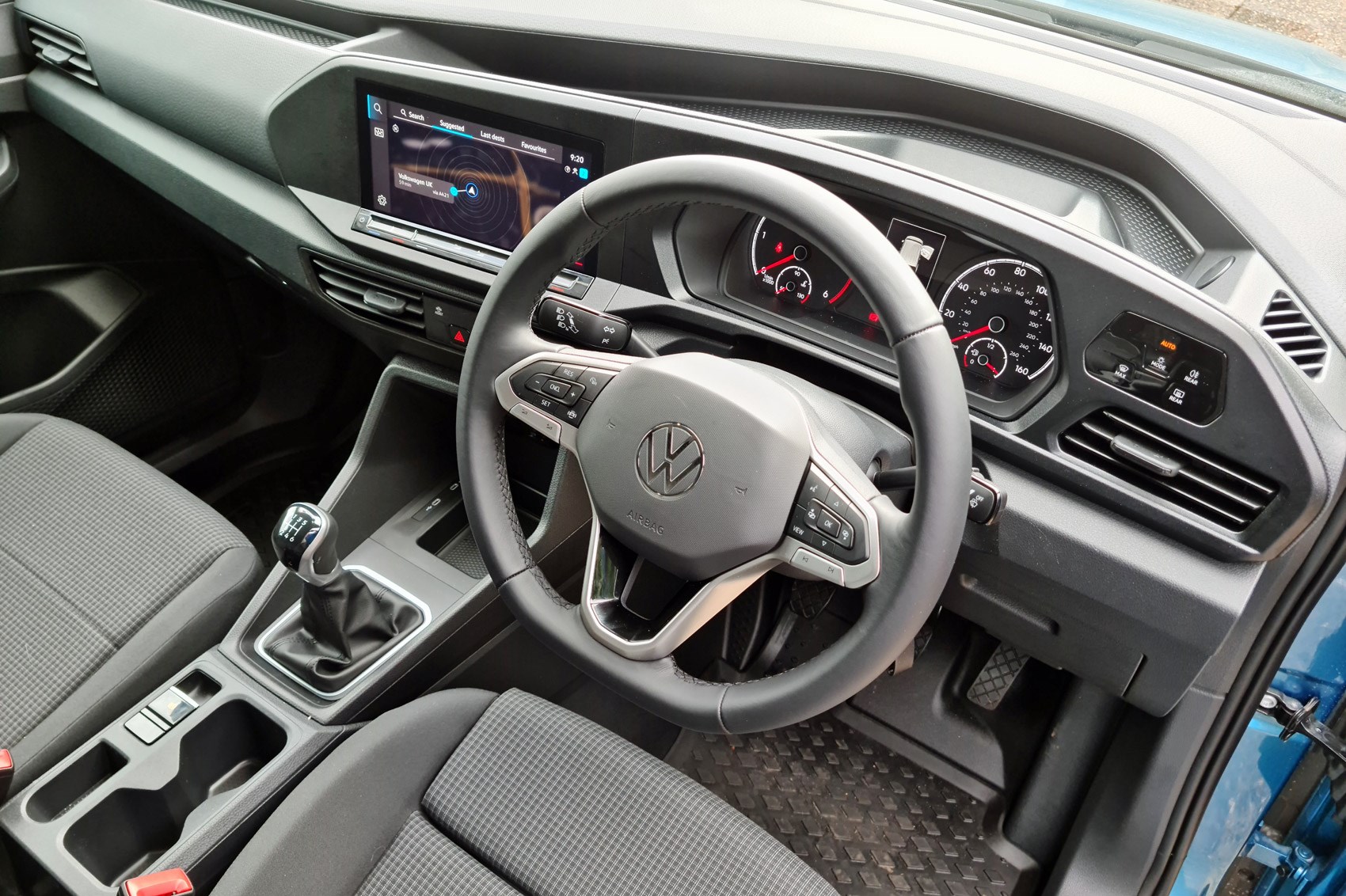 And while on more recent right-hand drive Caddy tests, we've either got used to them or the lag has been reduced, they can still prove highly frustrating. You'll probably learn to tolerate this as an owner, but it's still a bit annoying when regular buttons worked perfectly well.
More concerning, there's a touch-sensitive panel on the roof that includes the 'button' for the Caddy Cargo's built-in maintenance call system, and we have managed to accidentally activate this while reaching to adjust the sun visor. This would not have happened with an actual button.
What about the touchscreen infotainment system?
The central touchscreen is better conceived – in that the MIB3 software is pretty logical, reasonably fast reacting and you quickly figure out how to get to everything. There are also some physical buttons that shortcut you to things like the safety kit, should you need to deactivate the lane-keeping assist or similar.
But even so, processes that should be simple, such as changing the settings for the ventilation system, now require much more attention from you than they would with a physical set of controls. It's also not going to be as easy to deal with if you've got gloves on (touchscreen-compatible gloves will still be clumsy).
VW is convinced buyers will like the modernity of the screen, and it's certainly true that van customers are increasingly expecting higher levels of creature comforts.
Just make sure you give it a good try when taking a test drive, to see if it suits you. In many respects, it feels like a backwards-step compared with previous VW infotainment systems to us.
Is it practical inside the cabin?
It's not bad, but there are some annoyances. We like the large bin behind the instrument cluster, which will be handy for stashing everyday stuff - but this stuff will end up reflecting in the windscreen.
Other positives include an overhead shelf, generous door pockets and plenty of space in the centre console - thanks in part to the range-wide adoption of an electronic handbrake.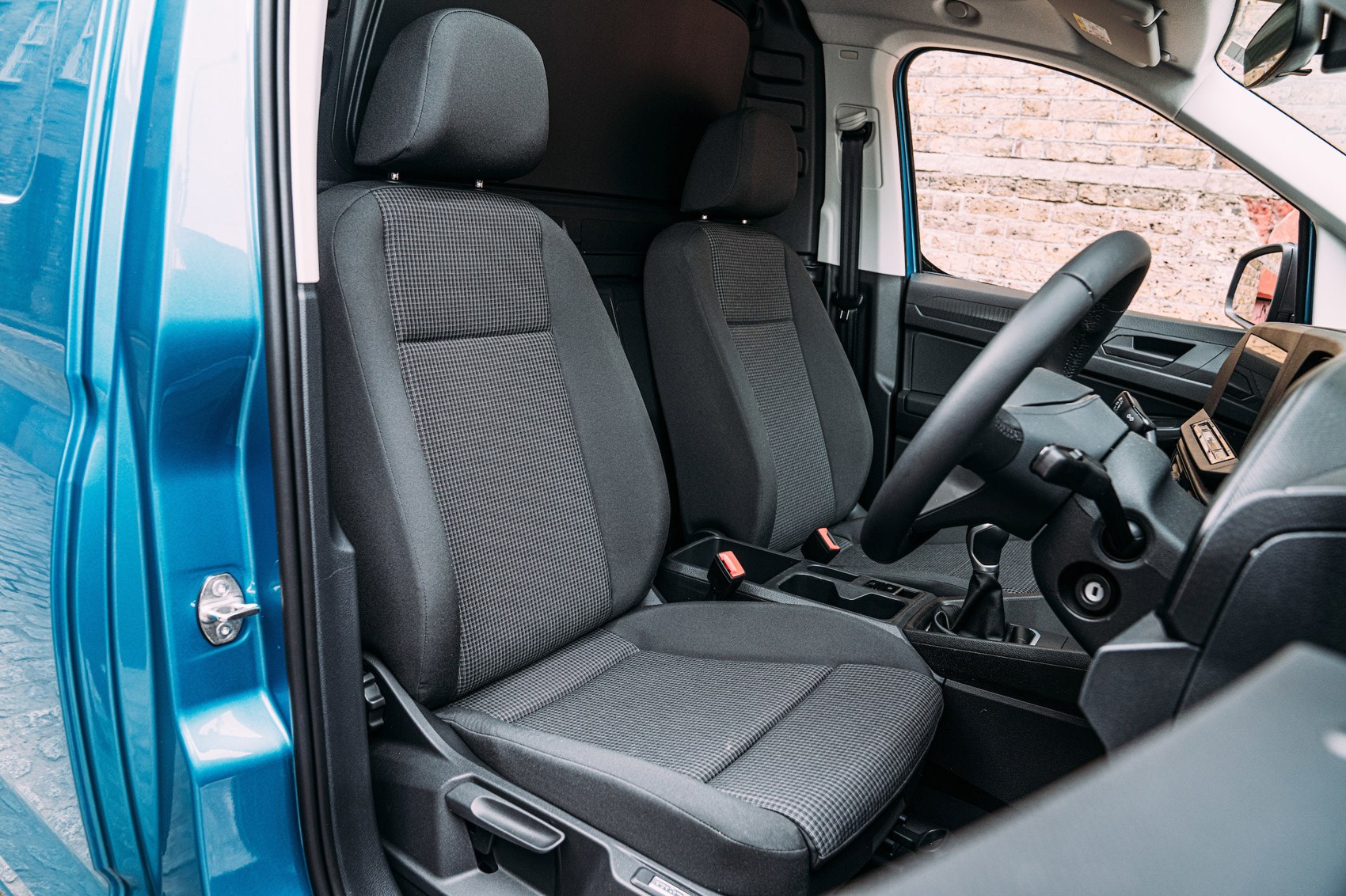 However, the tray besides the USB sockets that also houses the wireless smartphone charger if your Caddy has it fitted isn't large enough for modern smartphones to sit flat in, which seems an oversight.
As with the Transporter 6.1, the Caddy 5 has adopted the USB C socket type, which is powerful but may require an adaptor for some of your gear.
The Caddy can be equipped with a three-pin 230v socket in the load area, too.
Digital services and connectivity
As with most modern vans, the Caddy 5 has a higher level of on-board connectivity than before. Packaged under the names We Connect and We Connect Plus, this makes use of a built-in eSIM that can provide a constant datalink between your van and the internet.
At its most practical level, We Connect allows you to check fluid levels, lock and unlock the van, and even open the windows, via the We Connect smartphone app.
We Connect Plus adds useful features such as an additional anti-theft alarm system, Online Traffic Information and - perhaps less usefully - media streaming.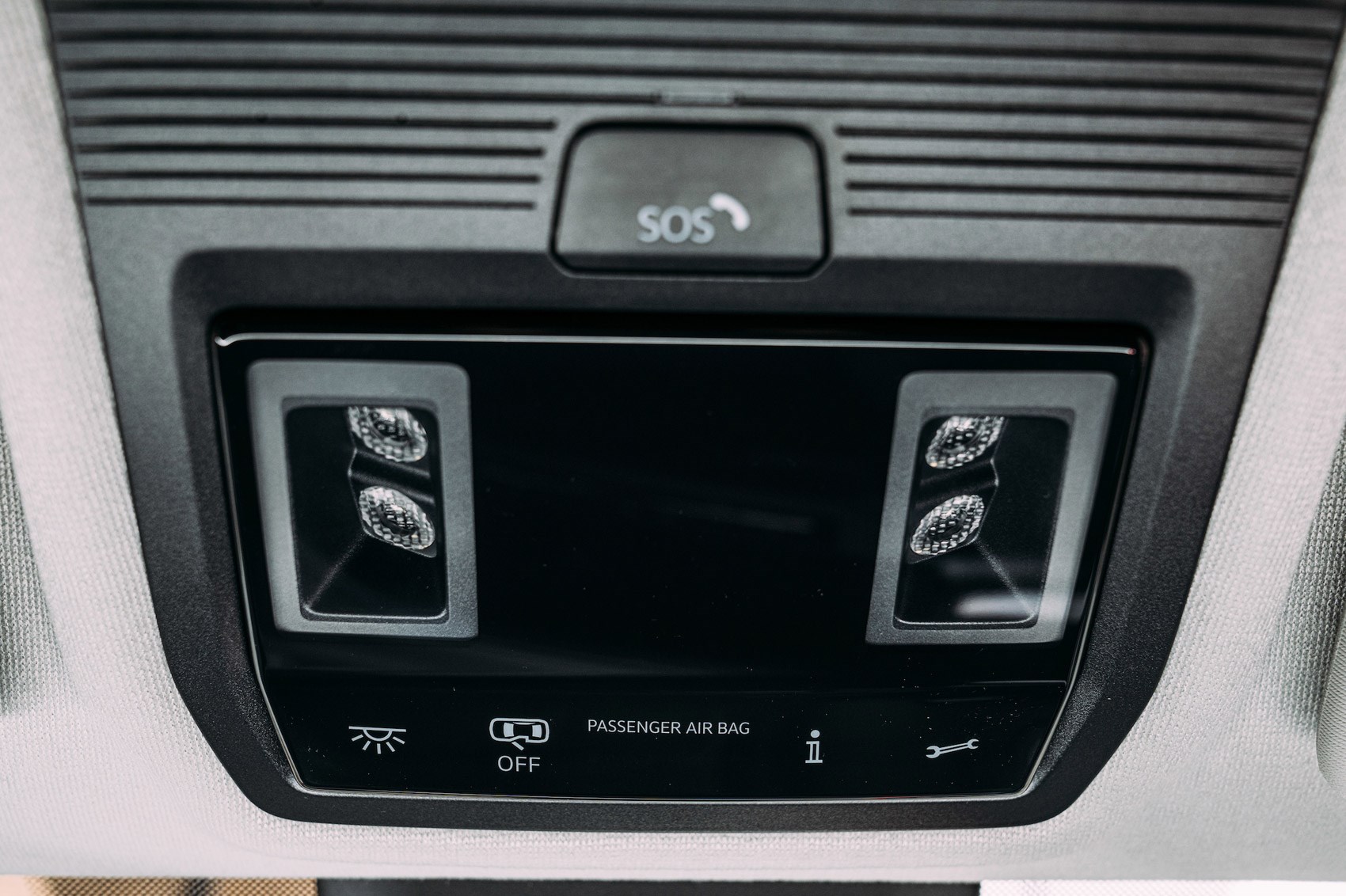 These systems also allow 'over-the-air' updates. Which means the Caddy can receive software updates without visiting a dealer on the one hand, but on the other also opens up the possibility of selling add-ons to the van that can be activated remotely as well.
Think we're joking? On one right-hand drive test Caddy we pressed the voice control button on the steering wheel, only to then be greeted with a message on the infotainment screen saying this feature could be activated via 'the Shop'.
This might be a good thing, as it will allow you to add some extra features after you've bought the van (even secondhand). But we were less keen on the system looking like it would allow us to do this while driving.
Attractively priced, but check what's actually included
Full UK trim levels and standard equipment details below
Official fuel economy data shows improved mpg
Volkswagen vans are typically thought of as expensive, but the Caddy Cargo comes in with very attractive – perhaps aggressive – pricing, even at retail.
Compare it to rivals on monthly finance, and you may find it's better value still, thanks to VW's strong secondhand prices, which help keep down monthly payments.
However, you should pay attention to exactly what's included for your money. Features you might now expect - such as Apple CarPlay and Android Auto - are often an optional extra.
VW Caddy mpg
At the time of writing (March 2021), Volkswagen is quoting a claimed 57.6mpg across almost all of the Caddy 5 diesel range. That's a useful 8mpg improvement over the model it replaces, not always a given with the additional emissions control technology of the latest engines.
The exceptions are for the seven-speed DSG automatic transmission, which claims 54.3mpg, and the highest specification models, which are down just over 1mpg due to the changes in standard equipment (including the wheels).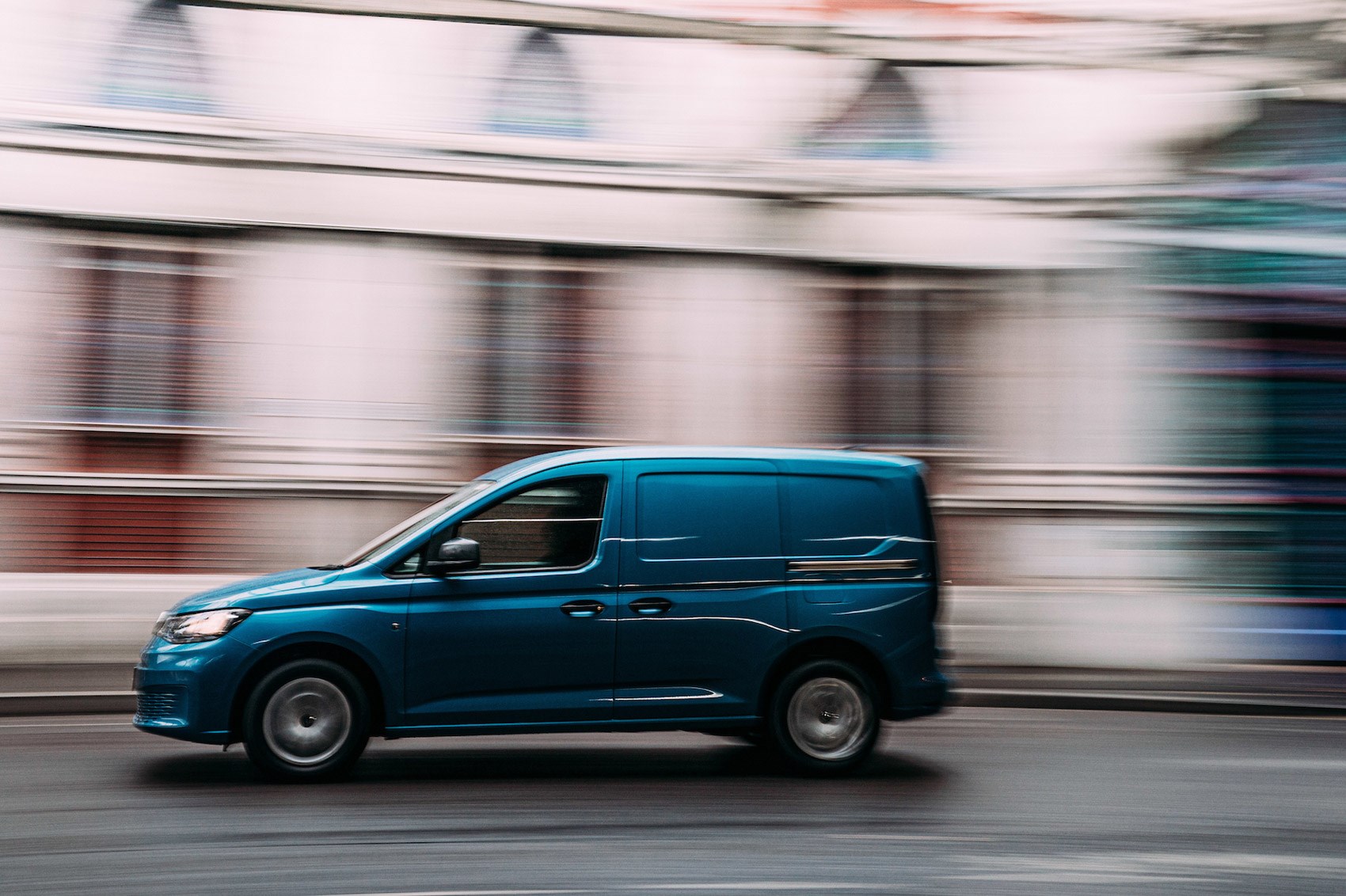 There are no figures for the 4Motion four-wheel drive version at this point.
The petrol-power Caddy TSI claims 43.5-44.1mpg with the standard six-speed manual gearbox, 41.5-42.2mpg with the DSG auto.
VW Caddy service warranty
The Caddy Cargo gets the standard Volkswagen Commercial Vehicles warranty, which covers it for three years / 100,000 miles, whichever is sooner.
VW Caddy Cargo service intervals
The fixed service intervals we've been given seem a little short, which could put some buyers off - though if you opt for the variable schedule, this may improve.
On the fixed schedule the Caddy Cargo needs an oil service at 9,300 miles or 12 months (whichever is sooner), and an oil service plus a broader inspection every 18,600 miles or 24 months (whichever is sooner).
On the variable service scheme, the same 18,600-mile / 24-month interval for the oil and inspection service remains, but a regular oil service will flex between 9,300 and 18,600 miles, depending on how the van is used and driven.
VW Caddy Cargo standard equipment
In a complete change from the previous Caddy, and the rest of the Volkswagen Commercial Vehicles range, the Caddy Cargo has three completely new trim levels names: Commerce, Commerce Plus and Commerce Pro.
These are the standard equipment highlights; for details of safety kit see the Safety section.
VW Caddy Cargo Commerce standard equipment highlights:
Black bumpers, door mirrors and door handles
Heat-insulated windscreen
Composition Audio infotainment with 6.5-inch touchscreen, DAB+ radio, Bluetooth, SD card slot, twin USB-C ports, two speakers
We Connect preparation
Cruise control with speed limiter
Electronic parking brake
Lockable glovebox
Electric door mirrors
Electric front windows
Height-adjustable front seats
LED interior lighting
Rubber floor in cab
Multi-function steering wheel with reach and rake adjustment
Solid bulkhead
Six load-lashing rings
VW Caddy Cargo Commerce Plus standard equipment:
Body-coloured bumpers
Rear parking sensors
Air-conditioning
Sun visors with vanity mirrors
Driver's armrest
Electrically adjusted lumbar support for driver
Load compartment lighting
VW Caddy Cargo Commerce Pro standard equipment:
Alloy wheels
Front and rear parking sensors
Gloss black door mirrors and door handles
Silver sliding door rail
Heated windscreen
LED rear lights
Armrest for passenger seat (as well as driver)
Power-folding and heated door mirrors
Automatic wipers
Discover Media navigation system with 1.0-inch touchscreen
Alarm
Key options include a Business Pack for the entry-level Caddy Commerce that adds air-con, parking sensors and an alarm.
In a change from the previous model, the Caddy 5 comes with rear doors that don't have windows - this is a security upgrade and brings the Caddy into line with every other small van in the UK.
You can still get glazed doors if you want them, and a tailgate is an option, too.
As a brand new van with new engines, it will be a little while before we know if there are any serious reliability issues or common problems.
We wouldn't expect any. The MQB platform is very well proven throughout the Volkswagen Group, and Volkswagen Commercial Vehicles also always does extremely well in the FN50 reliability survey.
New active safety systems
Trailer Assist among the most useful extras
As befits a modern van, the Caddy Cargo is packed with safety options, with no less than 19 'assistance systems' available. This is yet another benefit of sharing a platform with VW's car range.
Volkswagen Caddy Cargo safety
Highlights of the new safety kit include Travel Assist, which combines the active lane-keeping with the adaptive cruise to help control the van at any speed. You may or may not find this 'assistance' annoying, but one of the great things about all the Caddy Cargo's new safety stuff is just how easy it is to access the settings and tweak everything to your like.
If you're prepared to pay for it, the Caddy Cargo can also be equipped with Emergency Assist (which will help to bring the van safely to a stop if the driver is unable to for some reason) and Side Assist (which helps with lane changing, using a rear radar system).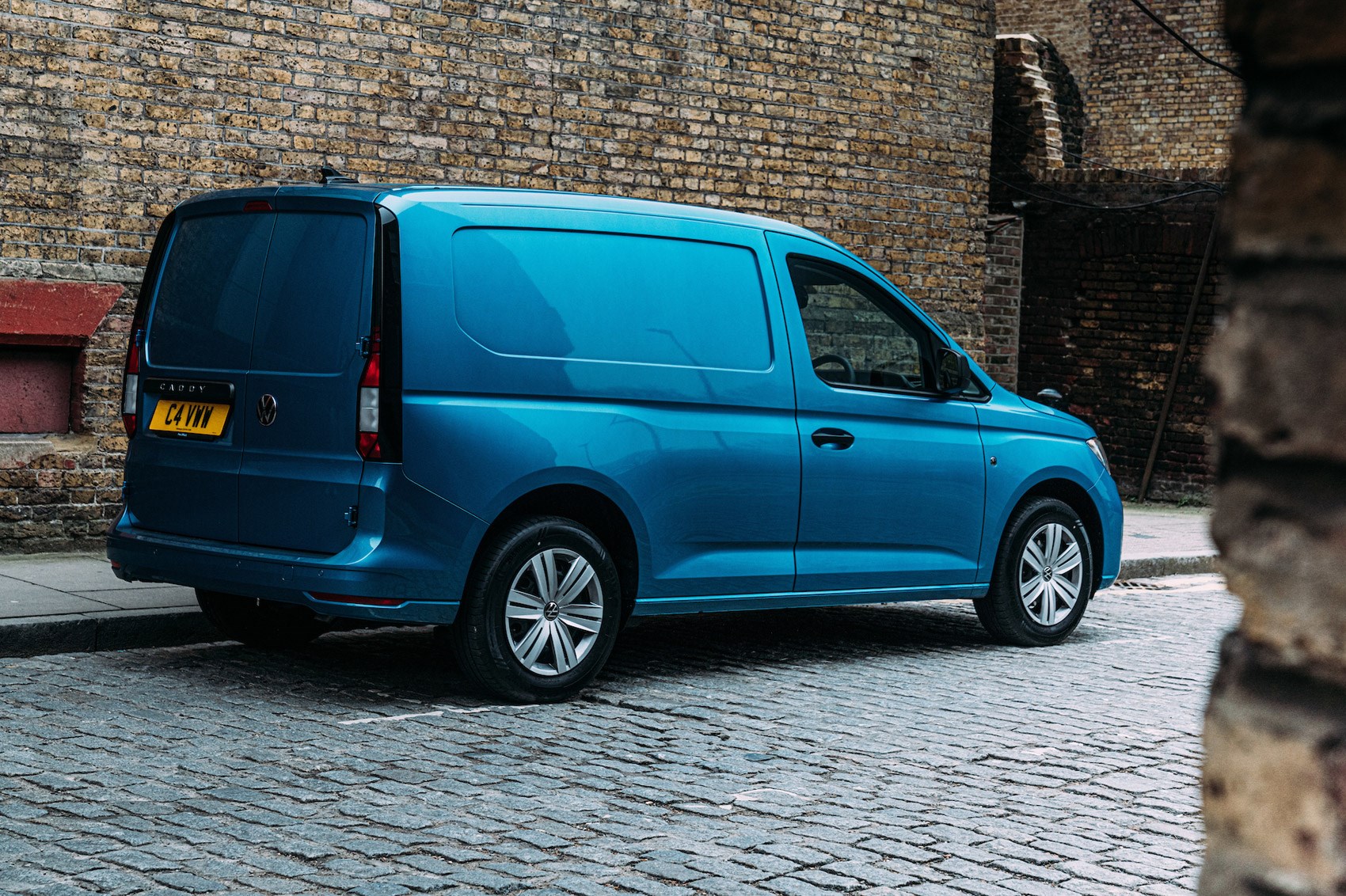 Other items worth mentioning include the built-in eSIM, which enables a bunch of connectivity services and allows the Caddy to automatically make 'eCalls' to the emergency services in the event of an accident. And for the first time, the Caddy is available with VW's Trailer Assist system, which makes reversing with a trailer so easy even we can do it.
The usual electronic stability control, hill-start assist, and driver attention alert systems are also available. What you won't find (either standard or on the options list) is a head-up display or any kind of overload sensor to monitor payload – both of which are available on those key Stellantis rivals.
Volkswagen Caddy Cargo security
Only the top-spec Caddy Cargo Commerce Pro comes with an alarm as standard.
Which Volkswagen Caddy Cargo is best for me?
Here's a little more insight into the most popular options for the latest Caddy.
Most popular engine choice is the 102hp diesel. We feel like this makes a lot of sense - it's powerful enough to deliver good performance and real-world fuel economy, and brings a substantial cash saving over the more powerful 122hp motor.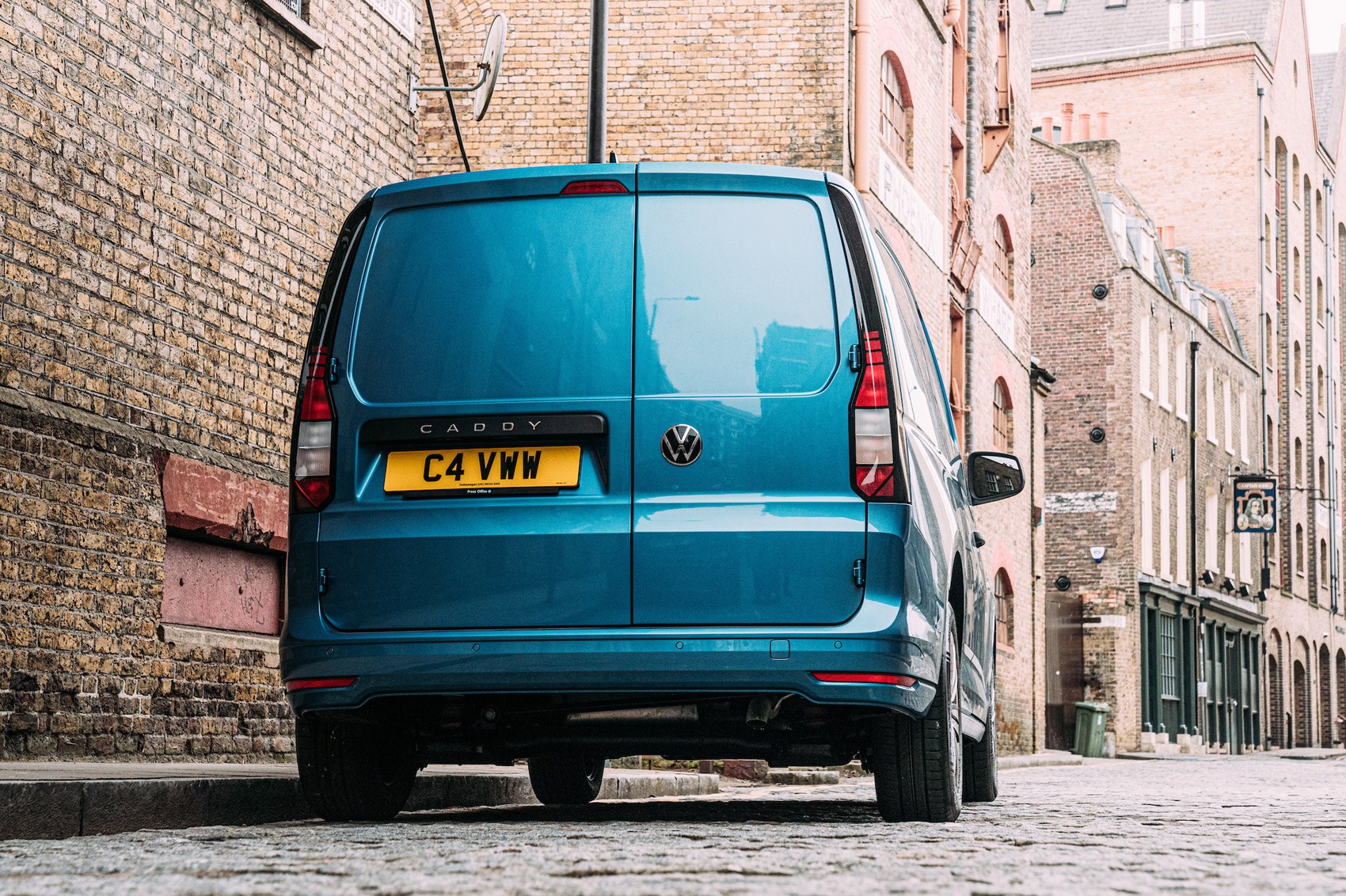 We wouldn't totally rule out the 114hp petrol option if you do mostly short journeys around town, as being a modern turbo petrol it's capable of good mpg and offers a smooth, more refined driving experience.
All of the UK trim levels look good value, with Commerce Plus the probable sweet-spot out of the box. However, if you're on a budget, the entry-level Commerce can be cheaply upgraded with the Business Pack to add some very worthwhile extras, so could definitely be worth a look.
---
Volkswagen Caddy Cargo individual model reviews
To give you more info, we're also working on individual reviews of key Caddy Cargo models, starting with the 1.5-litre TSI turbo petrol version.
Volkswagen Caddy Cargo 1.5 TSI review
Tested May 2021 by Tom Wiltshire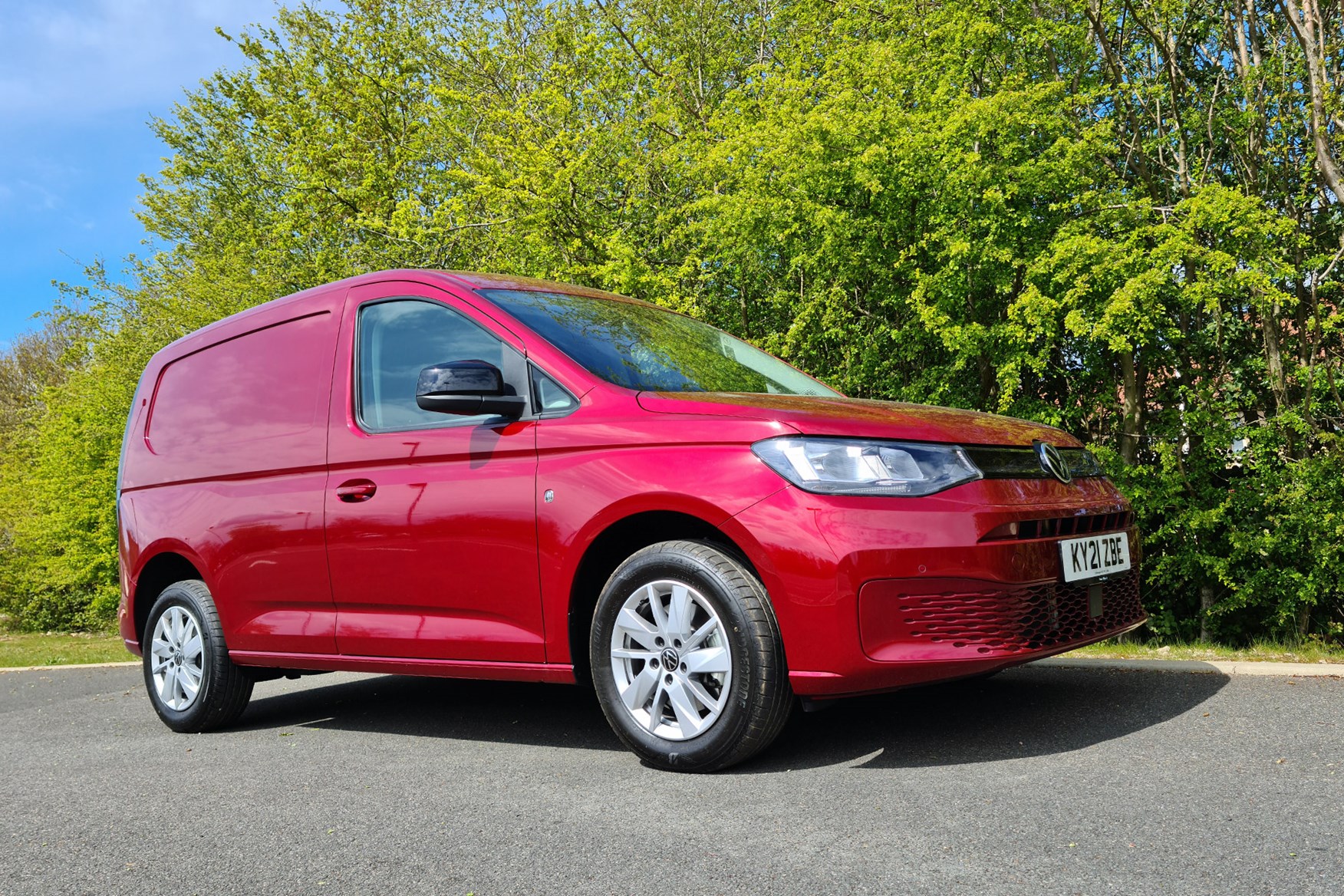 We test latest Caddy with 1.5-litre petrol engine
Turbocharged petrol produces 114hp and 220Nm of torque
Impressively smooth but can petrol really work in a van?
The shifting sands of the UK car market haven't totally hit commercial vehicles just yet, but anti-diesel sentiment is a growing concern.
A further sticking point is the increasing number of sophisticated emissions systems diesel vans are forced to apply to their engines – adding complexity and often requiring regular long runs to keep from clogging up with particulates. Not ideal if your business requires lots of short trips at low speed.
Here to potentially save the day is the latest Volkswagen Caddy Cargo, which offers a 1.5-litre turbocharged petrol engine as the cheapest model in the range. It's an engine we're familiar with from Volkswagen's car range, but does it make any sense in a van?
It's got some talented opposition to beat – both the Ford Transit Connect and Parkers Award-winning Stellantis small vans are available with their own petrol engines.
What engine is in the Caddy Cargo TSI?
Volkswagen fits the Caddy Cargo with its latest 1.5-litre TSI Evo turbocharged petrol engine. It produces 114hp and 220Nm of torque.
It's actually detuned from the brand's passenger car range, where you'll typically find this sort of power output coming from a 1.0-litre. That's a good thing for longevity, though – as the reduced power output means the engine will be under less stress here.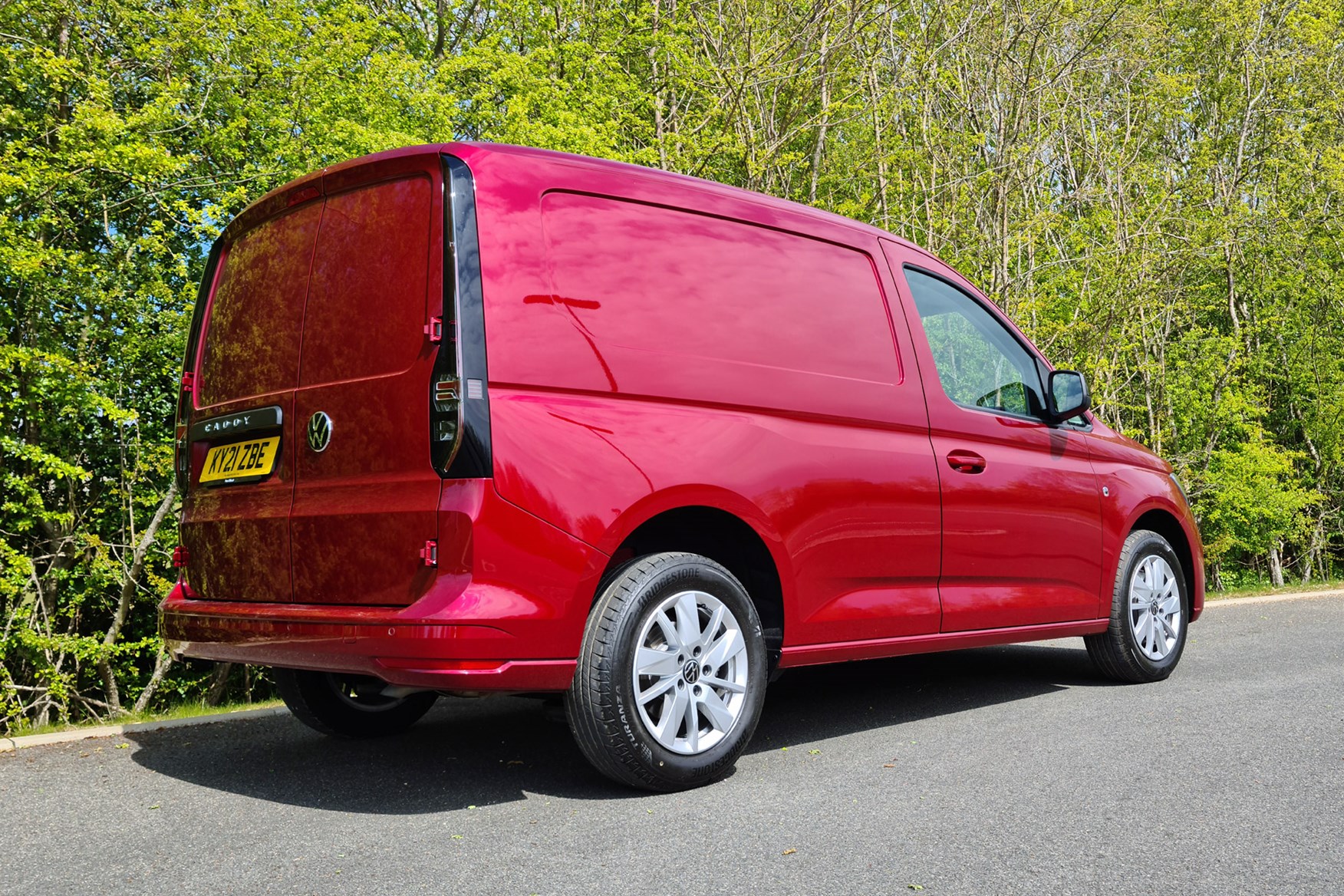 It's a clever engine, too, with cylinder deactivation tech on board. This means it can shut down two of its four cylinders under light load, such as when you're cruising along at a constant speed, and this saves fuel.
It also uses a petrol particulate filter (PPF) to take some of the nastier emissions out of the exhaust gases. For those who've had issues with diesel particulate filters in the past, this might sound worrying, but there seem to have been fewer problems with PPFs – perhaps because petrol exhaust has less particulate matter in the first place.
What's it like to drive?
Despite the low power output, the Caddy Cargo TSI feels peppy to drive. The petrol engine doesn't have as much low-down torque as the diesels and as a result needs to be revved more, but this isn't really a problem – it's a very smooth engine and doesn't sound harsh until you really head into the upper echelons of the rev range.
It actually feels quite quick around town thanks to the snappy response from the engine, and you only really notice the lack of outright power when you're trying to join from a particularly short slip road. Certainly, the Caddy Cargo TSI is fast enough for effortless everyday use, and though we didn't test it with anything like its full payload on board we can't imagine the additional 600kg or so would have too much of a negative impact.
We tested the TSI engine paired to Volkswagen's seven-speed, dual-clutch automatic transmission. Now controlled by a small flipper on the centre console rather than a large traditional lever, this is a good match for the engine – it shifts quickly and VW seems to have engineered-out the initial hesitancy that was present in previous variants.
This gearbox is only available on top-spec Commerce Pro models – Commerce and Commerce Plus limits you to the manual gearbox only.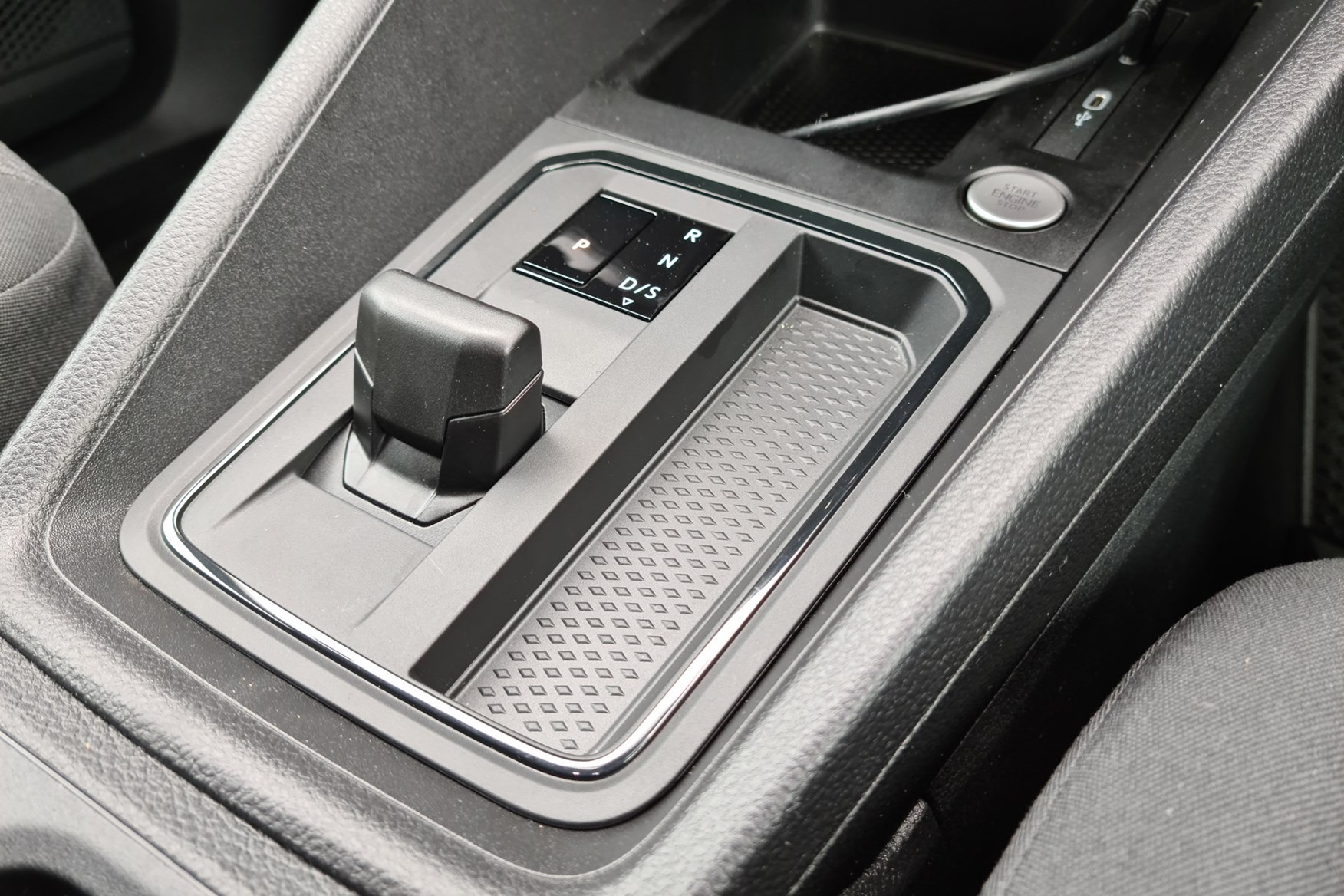 At idle and at a cruise, the petrol engine is nearly silent, making this the most refined Caddy you can buy. Though sadly, this makes the Caddy's excessive levels of road and tyre noise even more apparent – this isn't a quiet van, despite the refined engine.
How much will it cost to run?
VW claims a fuel economy figure of between 41.4mpg and 44.1mpg (WLTP), with CO2 emissions of between 145g/km and 155g/km. That's significantly more CO2 than the diesels, but to put a happier spin on things, the petrol Caddy Cargo will achieve these numbers very soon after starting up without the long wait for a diesel to warm up.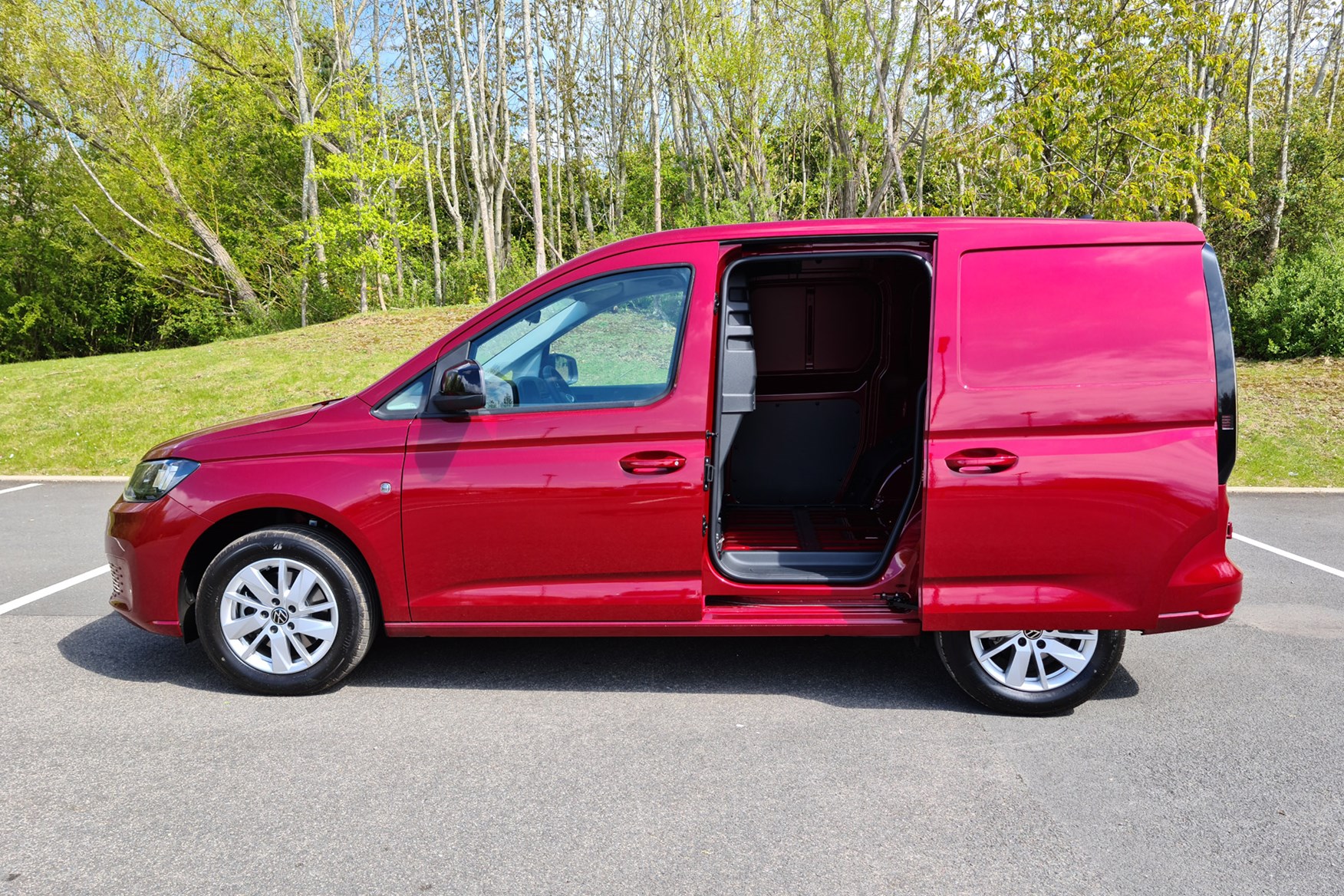 That means the Caddy TSI is ideally suited if your business requires lots of shorter trips, where the petrol engine will operate in its efficient temperature range more often than a diesel would.
And it's not as though the petrol engine is particularly thirsty on longer journeys, either – during our time testing this TSI model we found the claimed economy easy to match, and even beat it on some occasions.
Anything else I need to know?
Petrol Caddy Cargo models don't suffer penalties in terms of payload – the short-wheelbase model will carry up to 659kg, the long-wheelbase up to 700kg (which is more than the diesel equivalents). However, the rival Citroen Berlingo petrol van can still carry more.
The petrol engine is the cheapest Caddy in the range. And though the difference between the cheapest petrol and the cheapest diesel is only £120, that's for the sluggish 75hp 2.0 TDI – we can happily say the petrol's much better to drive than that.
That price difference also makes the petrol Caddy a great deal if you're specifically searching for an automatic: the top-spec Commerce Pro TSI automatic costs just about the same as a lower-spec Commerce Plus diesel auto.
Should I buy a Volkswagen Caddy Cargo TSI?
Perhaps surprisingly, yes. A petrol van of this size makes much more sense than a larger one (we're looking at you, VW Transporter 2.0 TSI…) and not only returns thoroughly decent fuel economy but is pleasant to drive with no real compromise in carrying capacity.
If you're doing particularly high mileages then continue to stick with diesel. But for short-hop deliveries, inner-city runs or even just if you're after the cheapest Caddy in the range, this is a good van to go for. Just make sure you can handle the Caddy package as a whole – issues with refinement still plague this petrol model, as does the somewhat clunky touchscreen-dominated cabin.
Also read:
>> VW Caddy Cargo dimensions, payload and load area info
>> VW Caddy California campervan - details on Parkers Vans and Pickups