Volkswagen California review
Current Model
Iconic camper is pricey but brilliant - and now updated with a major facelift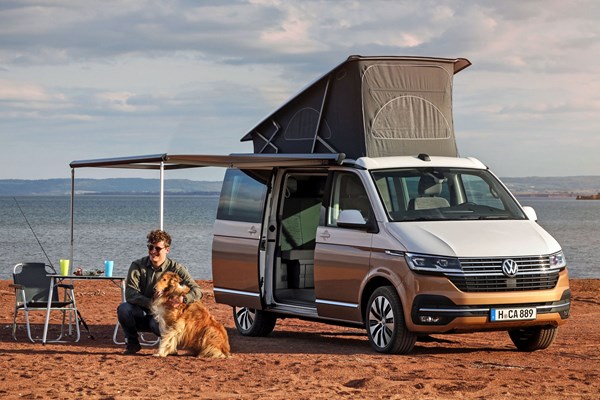 PROS
Stunning piece of product design
2019 facelift improves practicality and safety
Sleeps four people in style
Comfortable and easy to drive
Lots of clever packaging and storage
CONS
Not cheap – but still good value
Unsurprisingly not that nimble to drive
Not every model gets a kitchen
Top sleeping area may be tricky to access
Limited engine range
PROS
Stunning piece of product design
2019 facelift improves practicality and safety
Sleeps four people in style
Comfortable and easy to drive
Lots of clever packaging and storage
CONS
Not cheap – but still good value
Unsurprisingly not that nimble to drive
Not every model gets a kitchen
Top sleeping area may be tricky to access
Limited engine range
Volkswagen California rivals
Volkswagen has been building campervans for more than 60 years, and the VW California in particular for over a quarter of a century. This sixth-generation model has been on sale since 2015, but 2019 brings a substantial facelift, and incremental improvements in a number of areas that boost practicality, comfort and safety, making this latest 'T6.1' version (pictured below) an even more desirable machine.

At a crude level, the California is simply a very clever conversion of the equivalent Volkswagen Transporter van. But as with the related Caravelle MPV, the fit and finish here is superb, not least because VW carries out all of the design and conversion work in-house at its own factory, rather than outsourcing the camper's construction as Mercedes-Benz does with its rival V-Class Marco Polo.
As a result of this and its years of evolutionary development, the California is an exceedingly smart piece of design, and you don't have to spend long with one to understand how it's come to command such a cult following.

If you're planning to buy one of these, prepare to get used to compliments – as even hardened camping enthusiasts find it difficult not to express their admiration for VW's holistic approach to the construction of these machines.
And while Volkswagen's price certainly isn't cheap, the in-house engineering effort allows the German firm to pull off tricks such as hiding a pair of outdoor chairs in the tailgate, with the corresponding table disguised as an interior panel for the sliding door.
What's new for the 2019 facelift?
For 2019, the California gets a sharp new exterior look, a more car-like dashboard with VW's latest infotainment systems and even more practical storage solutions, plus a host of improvements to the living quarters.
So now instead of wooden slats for the roof-top bed there are now individual plastic springs for greater comfort, darker material for the pop-up roof's panels and nicer details including aluminium cupboard handles and better catches for the work surfaces.
The UK range consists of Coast and Ocean models from the facelift onwards, too. This means that all UK Californias now come with a kitchenette, complete with two-burner gas hob, sink and cool box that functions as a fridge – the previously available entry-level Beach model did without these features. But hardly anyone bought it, despite the lower cost.

At the same time, Volkswagen has switched to electro-mechanical power steering in place of the previous hydraulic system. This enables more active safety features, including standard-fit crosswind assist, making the California more stable on the motorway.
Justifying a slight rise in prices, there is also additional standard equipment and all models now come with a seven-speed DSG automatic transmission.
A brief history of the T6 California – engines and trim levels
This latest California, which first went on sale in the UK in August 2015 is known by enthusiasts as the T6 (hence the facelift being known as the T6.1), and shares many fundamental components with the preceding T5 model.
At launch there were three 2.0-litre TDI turbodiesel engines to choose from, offering 102hp, 150hp and 204hp; the 102hp engine was soon dropped due to lack of interest, while in July 2017 a pair of TSI turbo petrol engines with 150hp and 204hp were briefly added to the range before being discontinued about nine months later.

Around this time the diesel engines were updated to meet the latest emissions regulations – and while the 150hp version maintained its power output, the range-topping alternative was reduced to 199hp. You're unlikely to notice any difference when driving, though.
While all of the newer T6.1 models get a seven-speed DSG as standard, originally this was an optional upgraded over a default six-speed manual gearbox.
The majority of Californias are front-wheel drive, but the Ocean is available with 4Motion four-wheel drive if you're really worried about getting stuck in a muddy field.
The pre-facelift Beach version can carry up to seven passengers (with the right seating options), but unless you're very friendly the California only sleeps four – two downstairs with the rear bench seat converted to a full two-berth bed, and two upstairs on the roof beneath the pop-up canopy.
VW California rivals
There are a vast number of similarly sized third-party campervan conversions available, many of which are based on the Volkswagen Transporter van. Few match the California for quality of finish and cleverness of design, though.
Manufacturer-built rivals are few are far between, with only Mercedes-Benz really competing in the same market with the Marco Polo. However, Ford is launching a competitor based on the Transit Custom called the Nugget, and although this is built by another company (as is the Marco Polo) it will be available to order through some Ford dealers.
Perhaps the California's greatest rival is its own big brother, the Grand California, which has also been launched in 2019. Based on the VW Crafter large van, this is a substantially bigger machine that includes a built-in bathroom. Less easy to park but not as much more expensive as you might initially think, and definitely worth considering.
Keep reading for our full VW California review