Nissan has announced that its new small van, the Townstar, will cost from £19,475 for the petrol model while the electric version will start at £29,945.
There won't be a diesel model in the Townstar range, as Nissan has chosen to ditch the fuel and concentrate on the electric and 1.3-litre petrol engine only. It gives the Townstar a unique selling point in a market that is moving away from diesel. That said, it is still a risk given the UK's heavily diesel-centric van buyers.
The new Nissan Townstar is based on the same platform as the 2022 Renault Kangoo and 2022 Mercedes-Benz Citan, and has many of the same technical specifications. However, it also boasts some clever technology and a five-year warranty, which ought to make potential customers take a closer look at the Nissan.
The new model replaces both the Nissan e-NV200 electric van and the Nissan NV250, a more conventional small van based on the old Renault Kangoo. The Townstar name, meanwhile, comes as Nissan completely rebrands its European van range, changing the name of the NV400 to Interstar and the NV300 to Primastar at the same time.
>> Sign-up for the Parkers Vans and Pickups newsletter
New Nissan Townstar: petrol or electric
Nissan's most successful van model in the UK is the old Nissan e-NV200 electric van. The new Townstar electric van compares very favourably with this when it comes to driving range.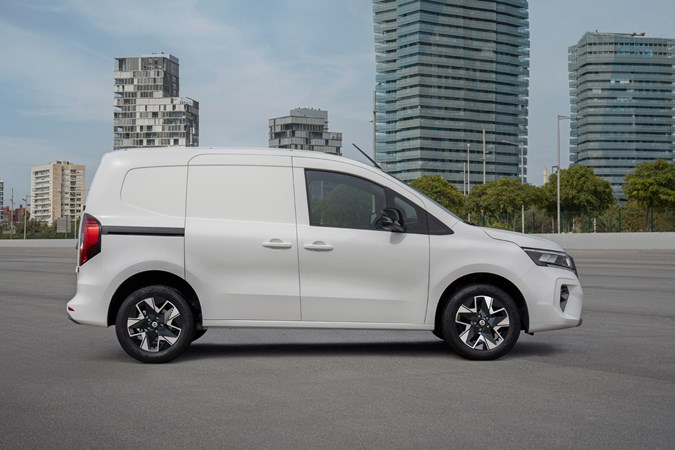 Boasting a claimed 183 miles per charge (or 269 miles around town), it represents a notable improvement over the e-NV200. Performance may be more of a mixed bag, however, since the Townstar's 122hp / 245Nm electric is more powerful but less torquey than the 109hp / 254Nm motor in the e-NV200.
Charging time for the 45kWh battery pack ranges from 42 minutes for an 80% charge on a 75kW public DC rapid charger to around seven hours on the most widely offered home and office AC charging solutions. Unlike the Renault Kangoo E-Tech, this rapid charging doesn't come as standard, though, and is only offered from Acenta trim upwards.
The petrol version of the new Nissan Townstar is powered by a 1.3-litre petrol with 130hp and 240nm – very similar stats to the electric, though the petrol will likely feel less sprightly around town due to the instant drive electric vehicles deliver.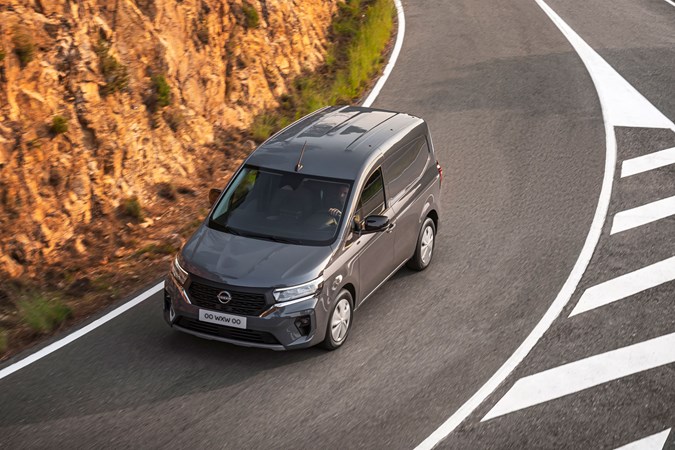 The petrol comes with a six-speed manual gearbox, while the electric uses a single-speed transmission that will make it feel like driving an automatic.
In the current circumstances of rising energy prices and crazy queues at petrol stations, it's hard to predict which will be cheaper to run – but the Townstar EV will probably be more efficient.
How big is the Nissan Townstar?
That sharp-looking exterior, which features LED headlights and closely follows Nissan's latest passenger car styling cues, encloses a small van that offers a competitive amount of practical load space.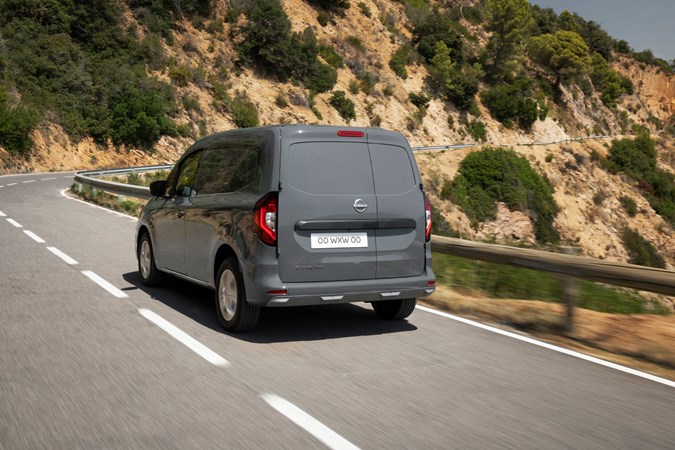 Nissan says there will be 'up to 4.3 cubic metres of cargo space' for example – enough room for two Euro pallets – and 'up to 800kg' of payload. Towing capacity for both powertrains is said to be 1,500kg.
Nissan will offer the Townstar in L1 and L2 bodylengths.
What's it like inside?
Nissan is promising the Townstar will have a car-quality interior, while the styling inside is distinct from both the equivalent Kangoo and Citan. Cabin comfort and quality will, we'll be told, be a 'huge change' compared with the e-NV200.
Townstar electric models will get a 10.0-inch digital instrument cluster as standard, and both are available with an 8.0-inch central screen. A new NissanConnect infotainment system includes app connectivity and an e-Call emergency call system, as well as Apple CarPlay and Android Auto.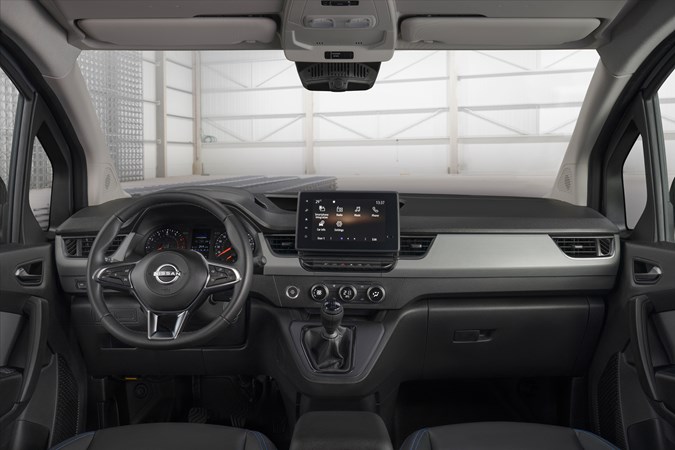 Nissan says there are over 20 technology features in all, covering advanced driver assistance and active safety. Highlights include new Intelligent Emergency Braking with pedestrian and cyclist detection and Junction Assist, while Intelligent Cruise Control and ProPilot Assist are intended to make long-distance driving tasks easier.
As its name suggests, however, the Townstar is focused on town and city driving. To this end, Nissan is also making its new small van available with automated 'hands-free' parking technology and – unique even compared with the similar vans from Renault and Mercedes – the Around View Monitor camera system.
This gives the driver a 360-degree external view of the vehicle, making it easier to manoeuvre in tight surroundings.
How much does the Nissan Townstar cost and when does it go on sale?
The new Nissan Townstar will cost from £19,475 for the short-wheelbase Visia while the top-level Tekna+ trim starts at £23,125. Upgrading to the long-wheelbase model adds £1,300 to the price in all cases.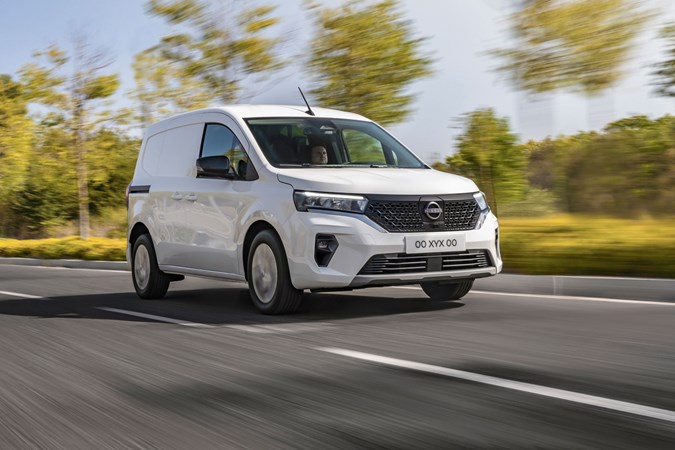 The shorter electric model starts off at £29,945 for the Visia and goes up to £34,845. The step to long-wheelbase isn't quite as simple with the electric version, as it adds £1,300 to the Visia but just £1,000 if you are looking at the Tekna+. These prices all exclude VAT but also don't include the plug-in van grant.
In addition to these trims, there are also two mid-range models – the Acenta and Tekna.
Visia comes with the following:
> Full width bulkhead
> Air conditioning
> Auto lights and wipers
> DAB digital radio and Bluetooth
> 11kW AC charger
Acenta adds:
> Reverse parking sensors
> Intelligent brake assist
> Cruise control
> Dual-zone climate control
> Eight-inch touchscreen with Apple CarPlay and Android Auto
> 22kW AC charger and 80kW DC charger (EV only)
Tekna gets:
> Front, rear and side parking sensors
> Keyless entry and start
> Satellite navigation
Tekna+ gets:
> Around view monitor
> Pro Pilot automated parking
> Intelligent cruise control
> Lane keep assist
> Traffic sign recognition
> Auto adjusting headlights
It will come with a five-year / 100,000-mile warranty as standard.
The petrol officially goes on sale on 1 October 2022, with the EV following on 1 December, however you can put a pre order in from 22 August.