Nissan e-NV200 electric van review (2021)
Plenty of punch from this small, practical electric van
PROS
Powerful electric motor
Good driving range
Cheap to run
Easy to drive
Large load area for a small van
CONS
Single body size
Tall and tottery
Narrow cabin
Bumpy ride
Rival EVs go further
Summary
The Nissan e-NV200 is a small electric van that has proven so successful for Nissan that it's elected to continue producing it in 2021 even though the regular diesel NV200 has been replaced completely. With a powerful 109hp electric motor, it out-performs every other current small electric van rival, while a battery upgrade in 2018 means it delivers one of the longest driving ranges per charge, too.
First launched in 2014, the e-NV200 has consistently been near the top of the electric van sales charts across Europe, regularly trading the number one position with the Renault Kangoo ZE, and the UK is typically its biggest market.
Its success is due to a combination of genuine versatility – it has one of the largest load spaces of any small van and provides a clean, green image of zero-emissions transport for businesses chiefly operating around towns and cities – and Nissan's well-established electric vehicle expertise. The firm's Leaf electric car has been a genuine pioneer in the electric vehicle revolution.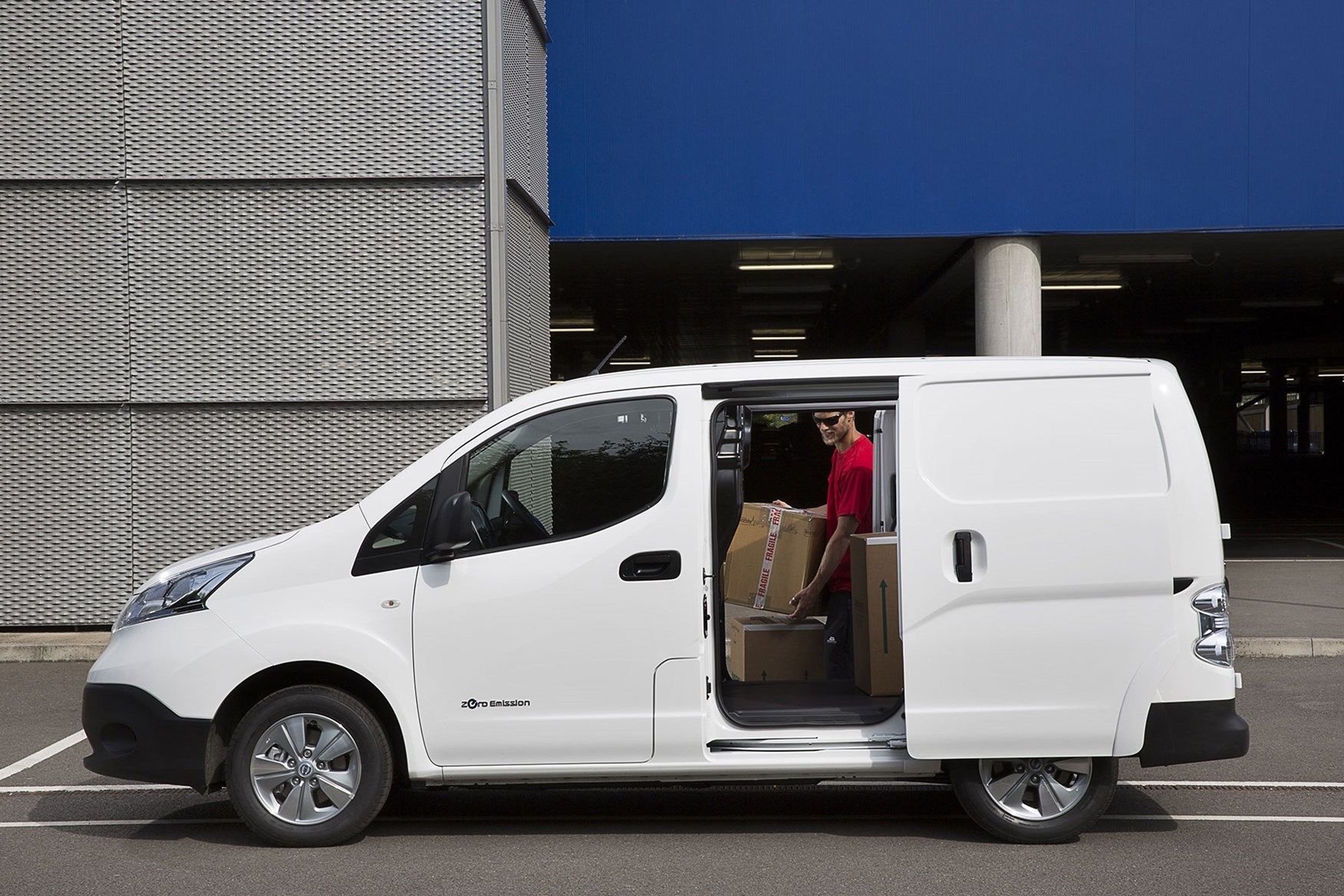 However, the e-NV200 is becoming rather long in the tooth. The NV200 van it is based on dates all the way back to 2009, and while it was clearly superior to token rivals that have come and gone, the electric van sector is about to explode and there are many new competitors on the way that are promising to make life a little harder for this electric Nissan.
It may not be a massive surprise to learn, then, that an all-new Nissan electric van is expected to go on sale in 2021. This will be based on the next-generation Renault Kangoo ZE, the Nissan-Renault alliance combining to share components and costs this time around.
What's the driving range of the Nissan electric van?
If you're looking to buy a new Nissan e-NV200 electric van, the official driving range is 124 miles combined – though this shoots up to 187 miles if you're exclusively driving it around a city. That's based on the latest WLTP rules.
The present Renault Kangoo ZE's combined WLTP range is 143 miles.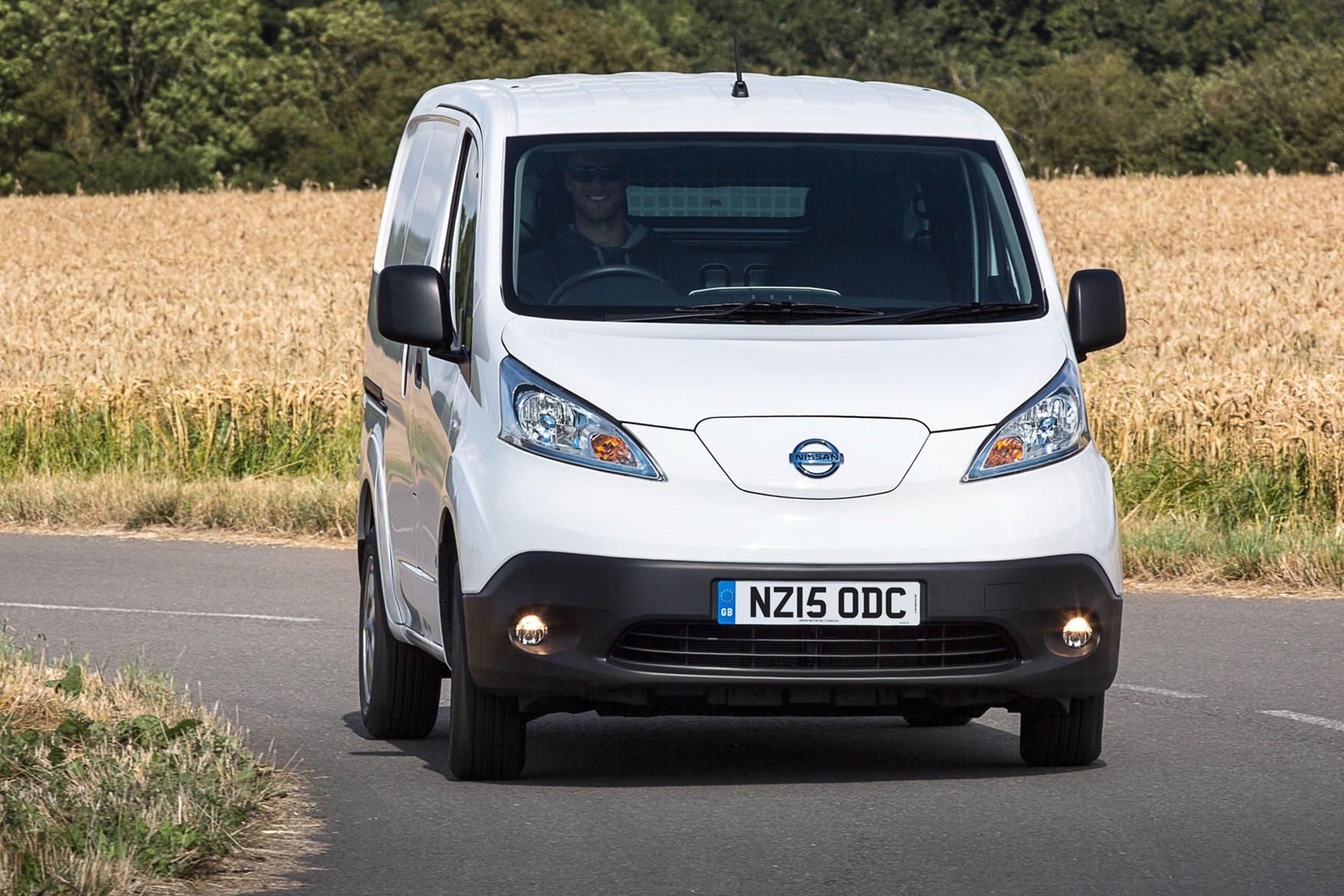 Confusingly, prior to the introduction of WLTP in 2019, the e-NV200 was rated to 174 miles per charge, while the Kangoo ZE was rated to 170 miles. The change around now is due to the way WLTP takes aerodynamics and other elements into account, which is supposed to make it more realistic than the old NEDC testing process.
Older versions of the e-NV200 (those built before Nissan increased the battery capacity in 2018) were said to have a 106-mile NEDC driving range – exactly matching all the contemporary rivals, including pre-2017 versions of the Kangoo ZE.
In reality, we've found these older vans to cover around 70 miles between charges.
How long does it take to charge?
This depends on the age of the van and the available charger, but the latest models are able to rapid charge from 20% to 80% in 40-60 minutes. You can't do this all of the time, though, or you risk damaging the batteries.
Using a less powerful home or office wallbox charger, a full charge takes 7.5 hours. If you've only got access to a three-pin plug you'll need 21.5 hours.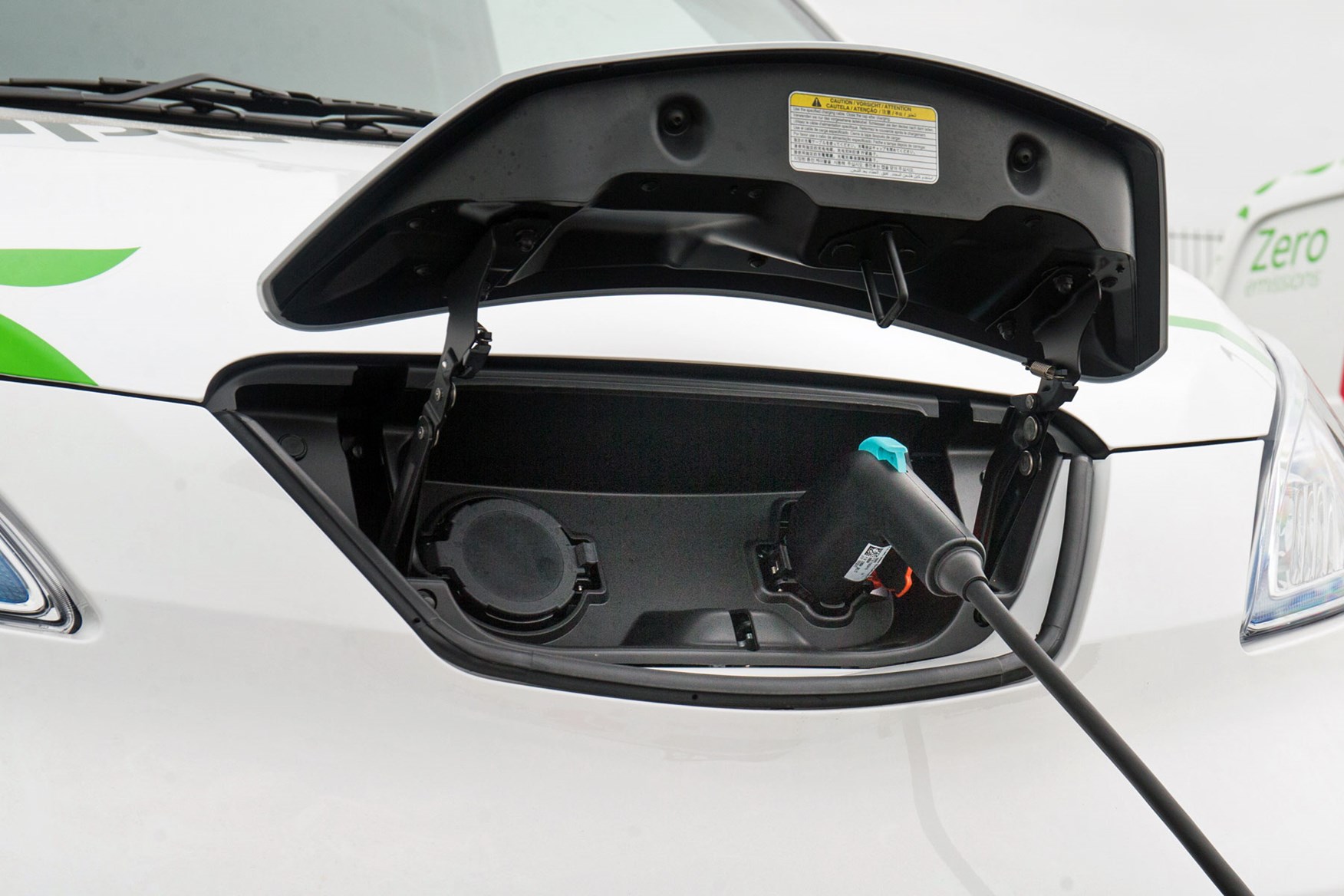 As this suggests, like all pure-electric vans at the moment, the e-NV200 is best suited to businesses that have a predictable daily driving range that falls within the van's single-charge capabilities, and are able to plug the van in overnight.
When Nissan launched the bigger battery pack in 2018, it reckoned the range was good enough for 40% of all small van business users in Europe. Only you know if that includes you.
>> The best electric vans you can buy now
Is it practical enough?
In terms of load volume, it's very competitive – there's no change in the size of the cargo area compared with the non-electric versions, and at 4.2 cubic metres this is among the biggest in the small van sector. And that's before we get to the third-party e-NV200 XL conversion, detailed below.
On the other hand, payload is limited by the weight of the batteries, and the diesel NV200 was already the worst small van for this when it was available. Still, the latest 705kg payload rating for the e-NV200 is at least greater than the 640kg max the Kangoo ZE can carry.
Are there different versions of the Nissan electric van?
The e-NV200 is the only electric van Nissan makes at present, and it comes in a single standard body size – unlike rivals that are available as short- and long-wheelbase models.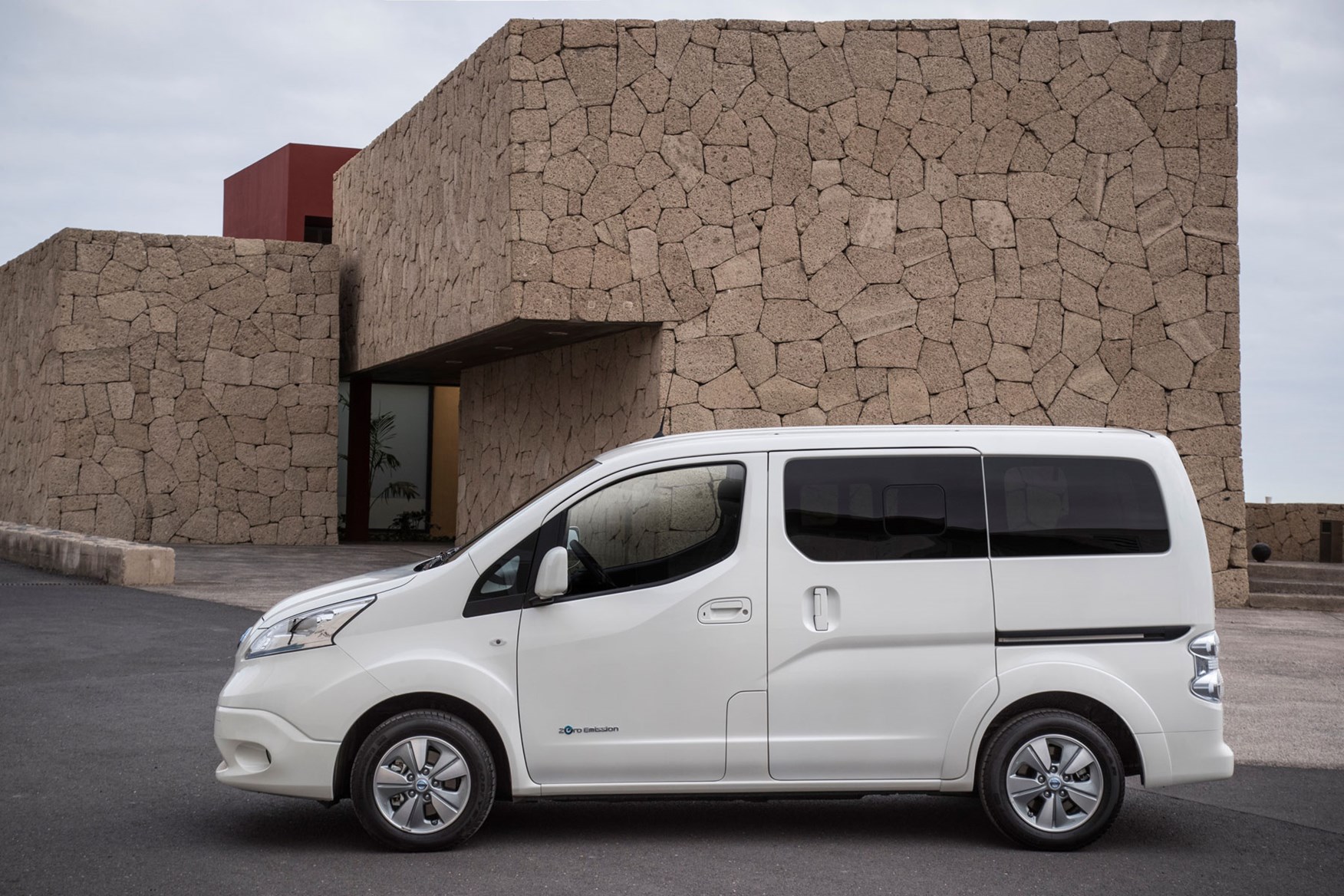 That said, the e-NV200 does come as a two-seater panel van plus a choice of five-seat or seven-seat Combi models, culminating in a top-spec people carrying variant called the Evalia. The seven-seater has barely any load space, though the rear-most seats do fold up sideways above the wheel arches to make extra room when not required.
Making life a little more interesting, however, is the Voltia high-volume conversion, now sold in the UK as the e-NV200 XL.
What's the e-NV200 XL?
Developed by Slovakian firm Voltia but assembled in the UK by truck-body conversion specialists the Bevan Group, the e-NV200 XL adds a high roof and extended tail to the basic van body, creating up to 8.0 cubic metres of load space – which is more room than most medium vans.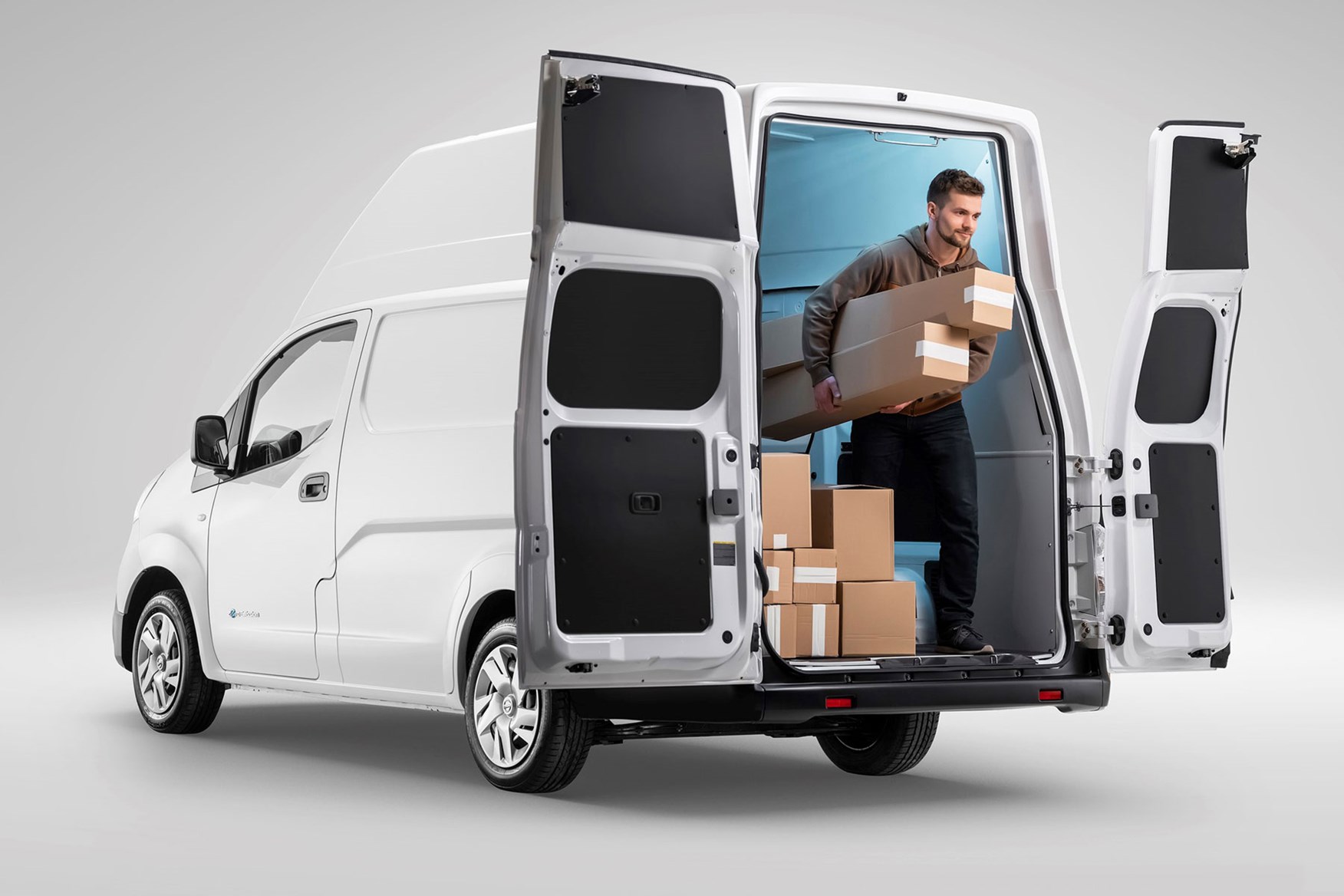 Starting in 2020, this is now available to order direct from Nissan dealers. And the pricing is cheap enough to make the incoming medium electric vans (with less load space and in many cases shorter driving range) seem poor value. Especially given the basic e-NV200 is such a proven product.
What about rivals?
We've mentioned the Renault Kangoo ZE already, which for a long time has been the e-NV200's only credible rival; there have been electric versions of the previous Citroen Berlingo and Peugeot Partner, but these were never developed beyond their initial 106-mile driving range.
Soon, though, Nissan is going to be faced with some tough new competition, starting with the Maxus eDeliver 3, a purpose-built pure-electric van (so no compromises for a diesel engine) capable of carry over 1,000kg and driving for nearly 200 miles between charges. Pricing is aggressive, too.
In 2021 there will be further new small electric van challengers from the latest Stellantis models: the Vauxhall Combo-e, the Peugeot e-Partner and the Citroen e-Berlingo. But we're expecting an all-new Nissan and Renault model in 2021, too.
---

Nissan e-NV200 verdict
If you need a small electric van now it almost goes without saying that the Nissan e-NV200 is worth serious consideration. It's proven, used by councils and other service providers all over the country, has an impressive amount of load space for its size, and – as we'll see – it's a doddle to drive.
Try to get one built after the battery upgrade in 2018 if you're searching used, but don't expect to get a bargain – these are becoming quite sought-after as firms race to improve their green credentials and avoid city-centre emissions charging.
But if your determination to go electric isn't immediate we'd suggest holding fire until newer rivals are available for comparison. Some of these look mighty capable on paper.
Keep reading for the full Nissan e-NV200 review on Parkers Vans and Pickups.
Skip to our full verdict on...
Quiet, punchy performance that's quicker than the diesel – and the Renault Kangoo ZE
Real-world driving range varies with driving style and payload
Tall, narrow design is good for city streets but not the open road
The Nissan certainly feels like the class act of the current small electric van sector. Totally no-nonsense to drive, here's no 'shock of the new' here – where some electric vans can be accused of feeling like glorified golf carts, the e-NV200 goes and stops not only exactly as you expect but actually better than the diesel model.
How so? Well, some 30% of the parts are different, and positioning the battery pack under the load floor has stiffened the structure while reducing the centre of gravity, improving grip and handling.
Bigger battery pack from 2018
Following the update in 2018, the e-NV200 is claimed to have a 60% greater driving range per charge. This is thanks to a battery pack that holds more electricity than it did before – going from 22kWh (kilowatt hours) to 40kWh.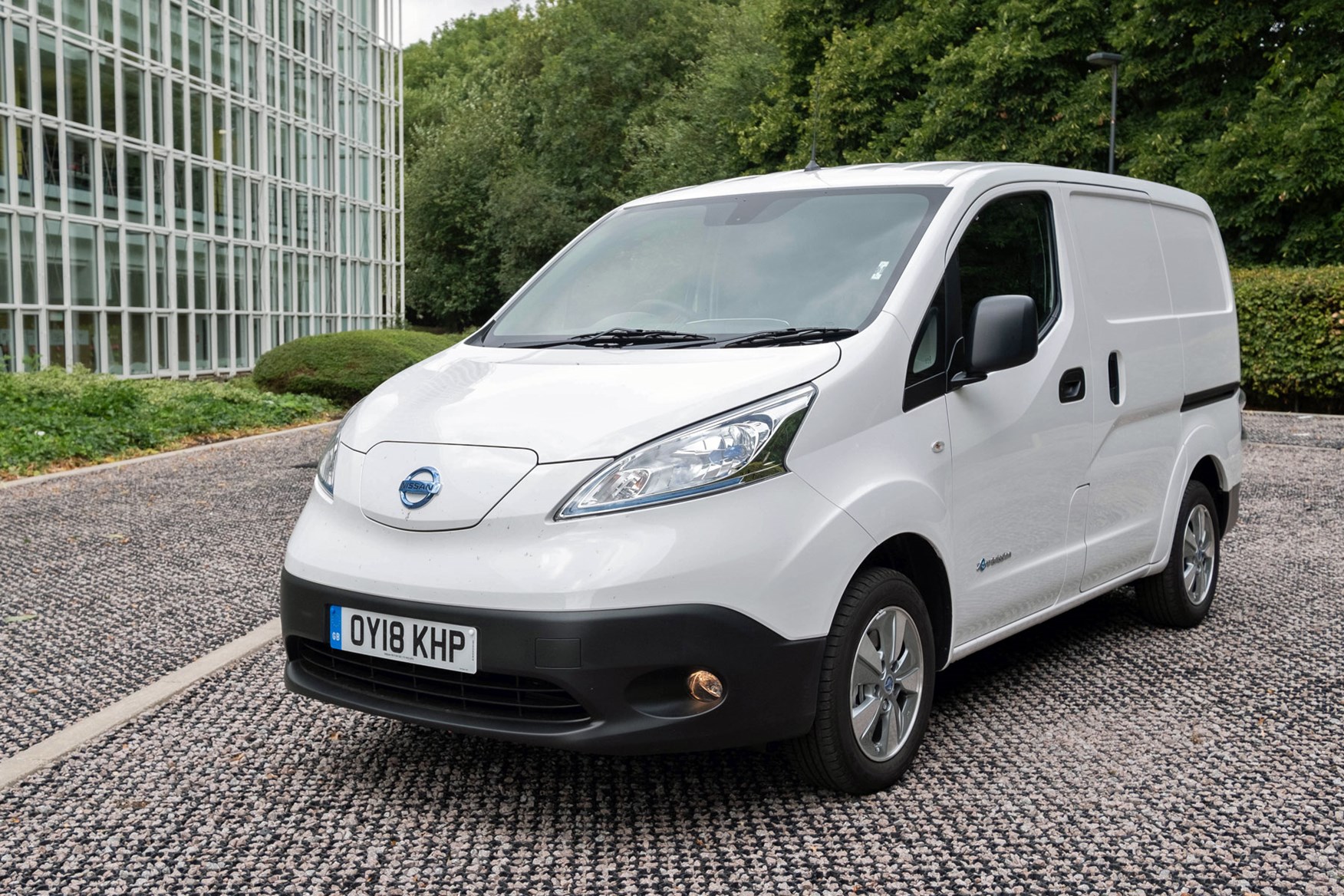 This has been done by increasing the battery density, rather than making the batteries physically bigger. So load space in unaffected. Payload is actually slightly higher for these versions. See our dedicated Nissan e-NV200 dimensions page for full cargo capacity details.
How fast is the e-NV200?
Regardless of year, you get a 109hp electric motor providing an instant 254Nm of torque, which means that performance is actually quite brisk (it accelerates faster than a conventional, diesel-powered NV200). There are no gears – though you can faff about with the braking mode if you like, which helps recuperate more energy into the batteries – and refinement is excellent.
You may be surprised just how nippy this makes the e-NV200. All electric vans are punchy at low speeds, since electric motors deliver all of their torque absolutely instantly, which means they accelerate from low speeds much more quickly than most people expect.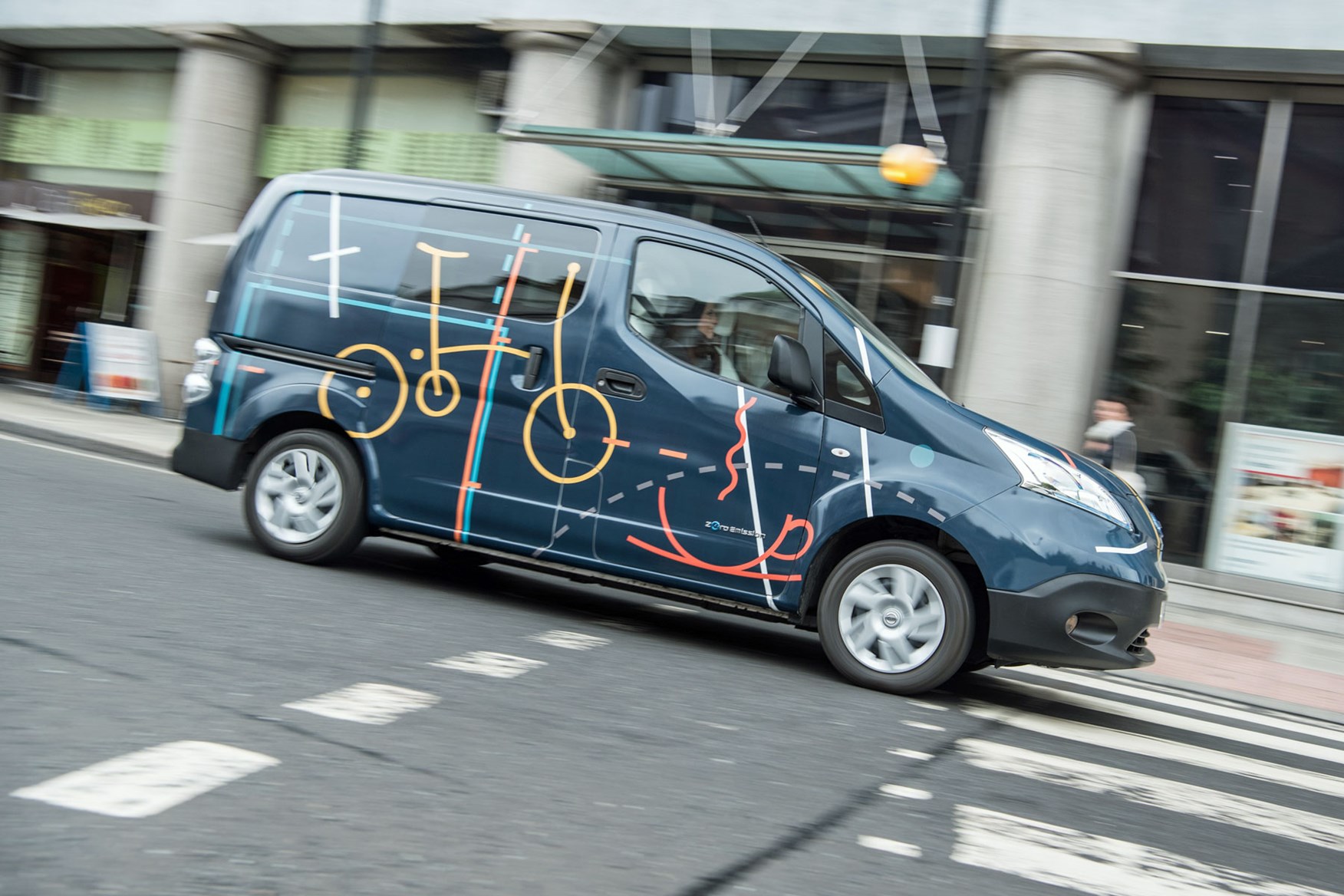 The majority electric vans struggle to keep this urgency up as speeds get higher; the e-NV200, however, maintains a decent turn of pace right up to the motorway limit. Certainly, it feels noticeably quicker than the Renault Kangoo ZE– but then, the Renault's motor provides just 60hp and 225Nm.
So if speed is of the essence, the e-NV200 is definitely a good choice of electric van. But that's not the whole story about the driving experience.
Real-world driving range
If you drive it as quickly as it can go, you'll see the battery range absolutely plummet. More than any other electric van we've driven, the e-NV200's range indicator seems to be extremely sensitive to driving style – meaning that it will very swiftly change its estimated remaining range depending on how heavy you are with your right foot.
As an example, we drove the most recent, bigger battery version 33 miles from Peterborough to Cambridge in the evening rush hour. Indicated range was 140 miles at the start of the journey; but just 95 miles remained at the end.
The next morning a two-mile urban journey brought the range back up to 122 miles – but driving the 33 miles from Cambridge back to Peterborough at fast motorway pace following that left the van with just 40 miles of range indicated as we pulled into the work carpark…
You will need to consider how you drive as well as your distance to get the most out of the e-NV200.
Ride and handling
The other thing is that like all NV200s, this is a tall narrow van. As such it gives you a good view ahead, and is a delight when dealing with city centre width restrictors, but can feel a bit tottery when driving along twisty roads – although with the heavy batteries mounted under the load floor, it isn't likely to fall over.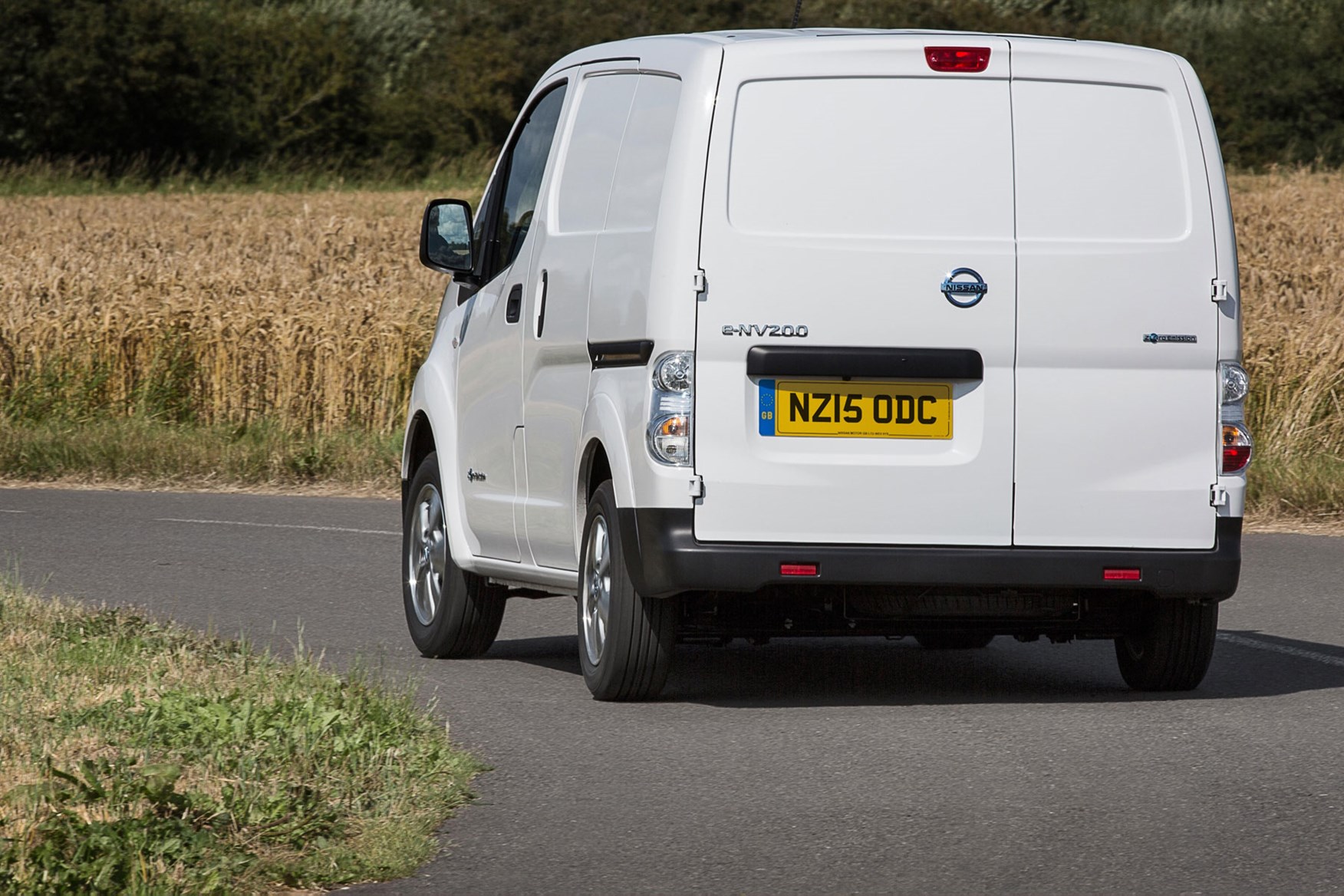 Ride comfort isn't exactly smooth, but that's similar with a lot of short small vans.
With light steering and a single-speed automatic transmission, it is easy enough to get to grips with – just put it in Drive and go. Engine noise versus a diesel is much reduced, though there is quite a bit of wind and road noise.
Generally, however, unless you're a very demanding driver, the e-NV200 is very likeable, easy to handle and certainly preferable to the regular NV200.
Tall and narrow – so not very spacious
Futuristic elements but poo quality plastics
Pre-conditioning system well worth using
The e-NV200's interior is quite space age, with a big, stylish, blue-accented centre console containing the on-board computer – much more effort to remind you you're driving something a little bit out of the ordinary than most electric vans go to.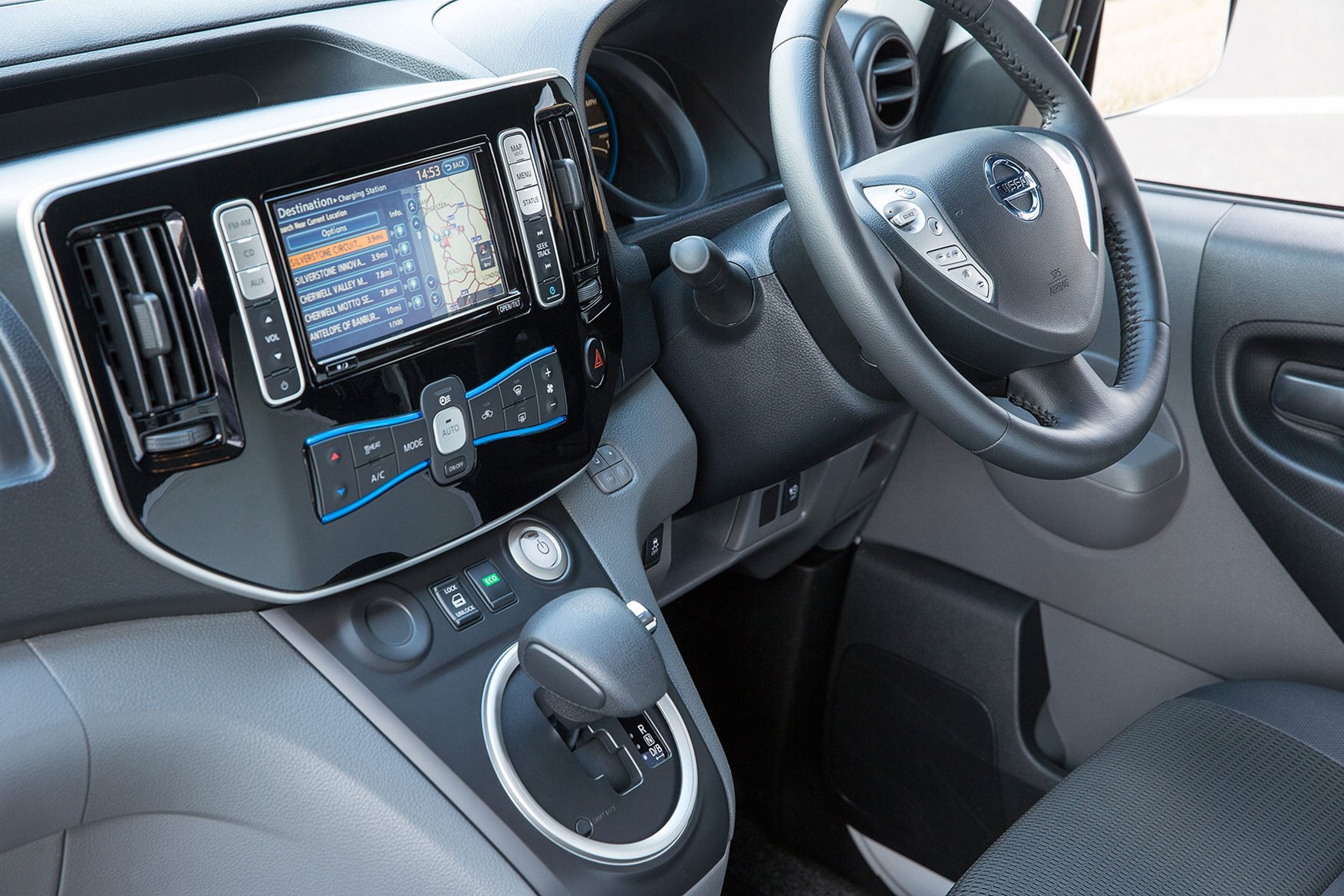 The computer, which is standard on the Tekna trim only in the panel van, concentrates on providing information about energy use, too, so you can make the most of the batteries. As well as functioning as the infotainment and sat-nav. This is the only way to get DAB digital radio in an e-NV200, as well.
Driving position and comfort
Don't expect masses of comfort from the driving position – as with all NV200s, this doesn't offer much adjustment. The driver's seat doesn't have height-adjustment and the steering wheel doesn't have reach-adjustment, both of which are a shame.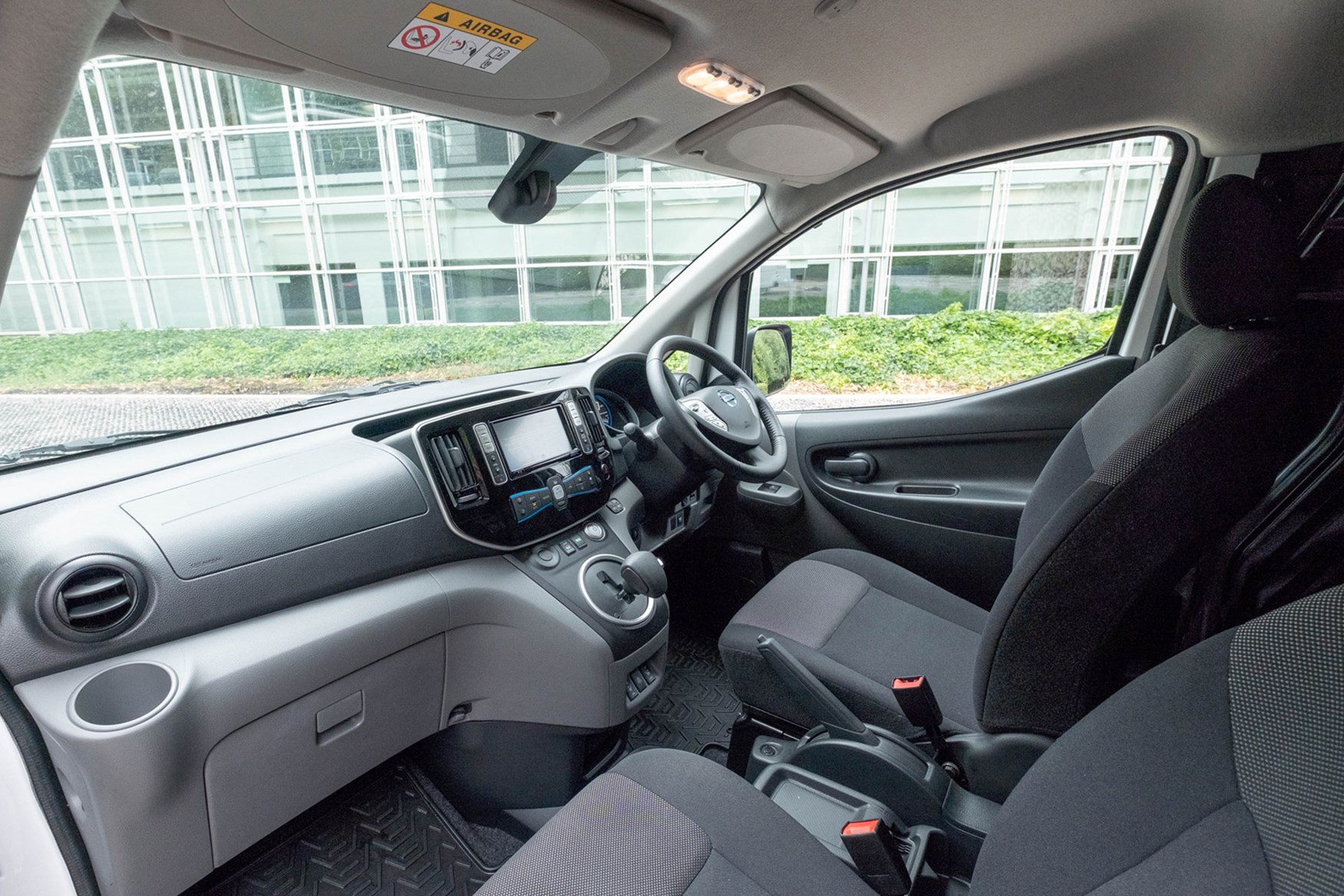 The interior plastics are also some of the worst in the small van sector, and because this is a rather narrow van with a high seating position, it doesn't feel very spacious inside.
Still, you can set the heating and ventilation system to 'pre-condition' the cab before you unplug, saving you time and battery energy that would otherwise be waste waiting for the interior to heat up or cool down.
A pricey small van to buy…
…but a very cheap small van to run
Five-year van warranty, eight-year battery warranty
Including the saving from the UK government's Plug-in Van Grant, the e-NV200 was priced around £4,000 more than a regular diesel NV200 – though since the diesel is no longer available you're now better off comparing prices with either the Renault Kangoo ZE or the Nissan NV250.
Where electric vans make most sense, however, is in their day-to-day running costs. The price of electricity per mile – Nissan reckons as little as 4p – is much lower than it is for diesel, for example, while servicing should also be cheaper (perhaps by as much as 40%).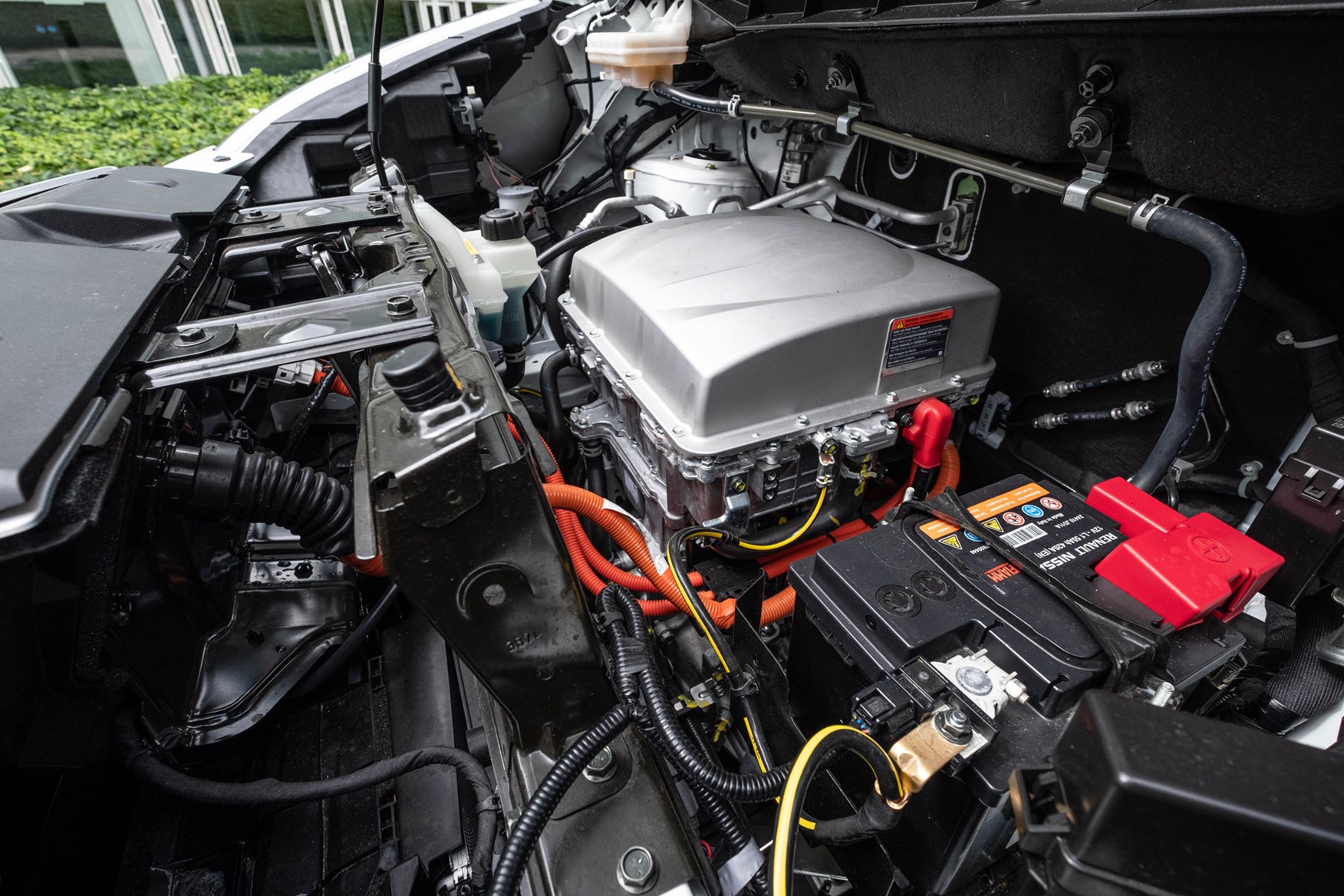 People are sometimes put off by the perceived complexity of electric vehicles but in reality they have fewer moving parts than diesel models, no clutch to wear out and should be easier on brake components, too.
On top of this, road tax (VED) and company car tax (benefit-in-kind – BIK) is much lower for electric vans, and they're exempt from the London Congestion Charge.
Nissan e-NV200 warranty length
As with all new Nissan vans, the e-NV200 comes with a five-year warranty as standard – although in the electric van's case this is limited to just 60,000 miles.
The battery pack is covered for eight years or 100,000 miles, though, which acts as a guarantee that it will still power-up nine out of the 12 battery capacity markers over all that time. The big concern with electric vans is that they will lose battery capacity – and therefore driving range – over time, but the real-world data we've seen suggests this isn't happening as fast as some had originally feared.
Nissan e-NV200 service intervals
The latest figures from Nissan are that the e-NV200 requires a service once a year or every 18,000 miles, whichever comes sooner.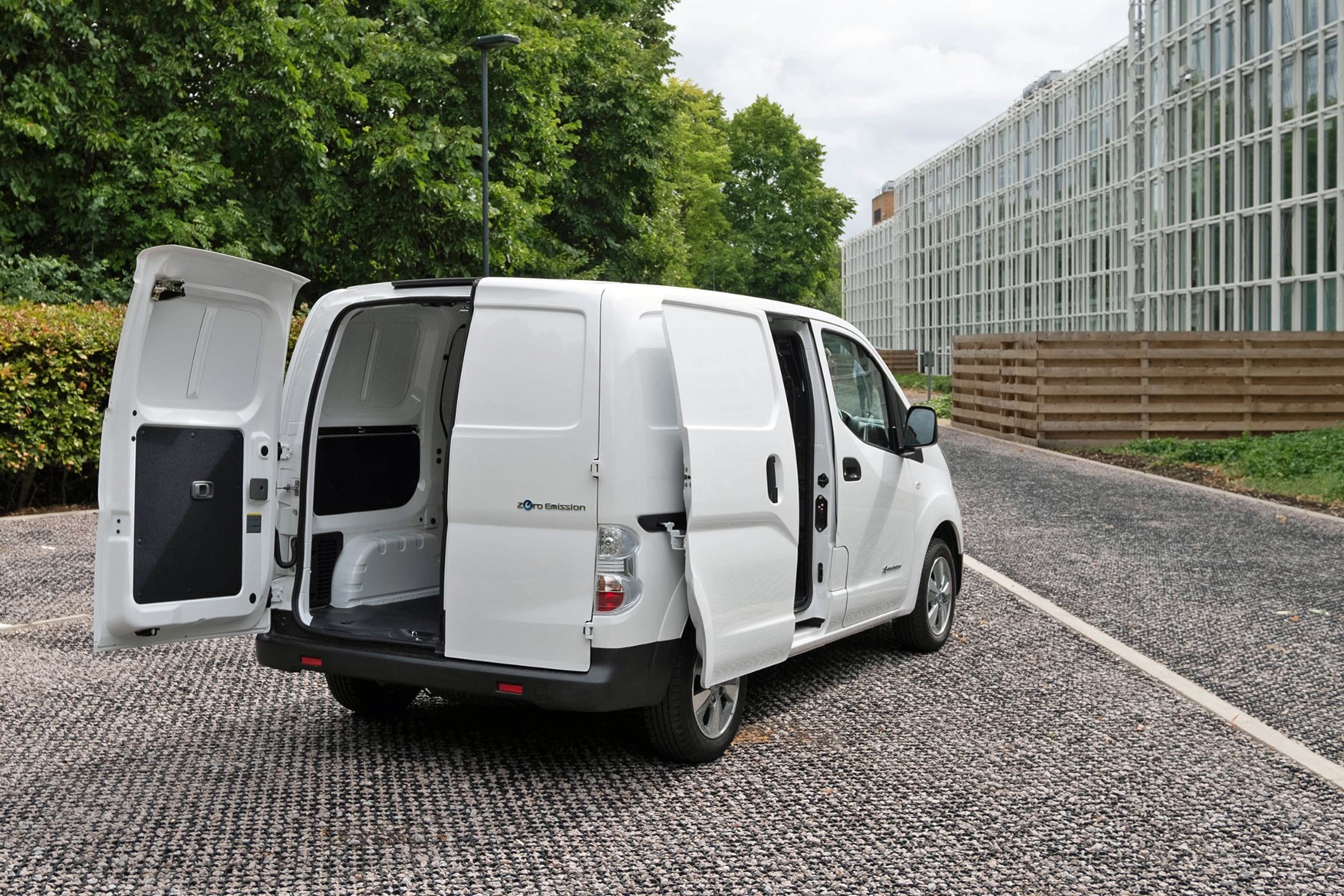 This shouldn't be too expensive, though, since there is no oil to change and there are fewer moving parts than in a conventional van. The way the electric motor is able to slow the van even means brake wear should be reduced.
Nissan e-NV200 standard equipment
The e-NV200 panel van comes in three trim levels: Visia, Acenta and Tekna. These are the standard equipment highlights at the time of writing in July 2020. For details of safety equipment, see the Safety and Security section below.
Nissan e-NV200 Visia standard equipment highlights:
Twin sliding side doors
Full metal bulkhead
6.6kW on-board charger
Tilt-adjustable steering wheel only
Foldable passenger seat
Keyless entry
Keyless start
Bluetooth
Electric front windows
Nissan e-NV200 Acenta standard equipment highlights (in addition to Visia):
Electric door mirrors
Front foglights
Rapid charger
Battery cooler and heater for improved battery performance
Audio and Bluetooth controls on steering wheel
Cruise control
Speed limiter
Reversing camera
Floor protector for cargo area
Air-conditioning
Nissan e-NV200 Tekna standard equipment highlights (in addition to Acenta):
Automatic lights and wipers
15-inch alloy wheels
NissanConnect EV infotainment system with 7.0-inch touchscreen, sat-nav and DAB radio
Options on all van models include a Glazing Pack (adds glass to the side and rear cargo doors) and a Heating Pack (adds heated seats, steering wheel and door mirrors – improving efficiency and extending range in cold weather compared with running the main heater).
You can add a rapid charger to the entry-level Visia but you can't have satellite-navigation – which is at least an option on the Acenta.
The e-NV200 Combi passenger carrier also comes in three trim levels: Visia, Acenta and Evalia.
The e-NV200 Evalia is the only version of this electric van that comes with body-coloured bumpers; otherwise, aside from differing airbag levels, extra glass and extra seats (which include Isofix mountings for child seats), the Combi trims mirror the panel van for equipment.
Fewer moving parts
Proving reliable so far
We've heard no reports of any serious reliability issues with the e-NV200 electric van. There have been occasional charging problems, but there are no indications there are widespread troubles at all.
The only official recall has been for defective gas struts in the rear doors, but this was related to all NV200 models, and only covers the very early build years of the e-NV200.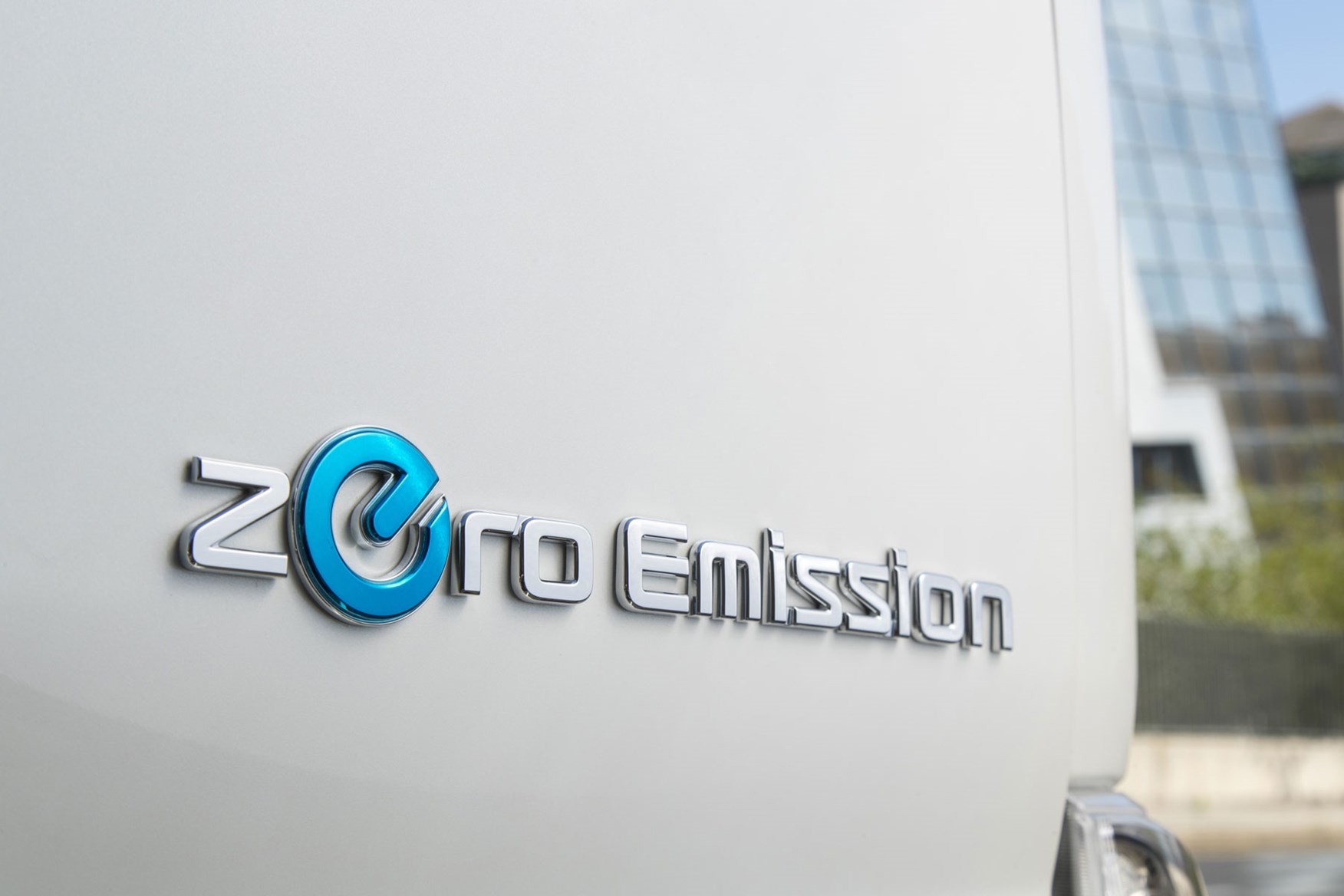 With fewer moving parts than the diesel models, the electric van has fewer things to go wrong anyway, in theory. Plus there's a five-year warranty to add peace of mind.
However, if you have experienced any e-NV00 faults, do let us know.
No active safety aids
No factory-fitted alarm system
All new versions of the e-NV200 come with a driver's airbag, tyre pressure monitors, electronic stability control (ESC) – which Nissan calls Vehicle Dynamic Control or VDC – and hill-start assist.
Panel van buyers will have to upgrade to Acenta trim to also get passenger and side airbags, but these are standard on all Combi models.
There are no active safety devices available at all, so if you want a van with autonomous emergency braking (AEB) or even blindspot monitors you're going to have to look elsewhere.
As for security, an immobiliser is standard across the range but not even top-spec models come with a factory-fitted alarm.
Which Nissan NV200 e-NV200 is best for me?
The e-NV200 doesn't have a huge model range, but we have some basic recommendations.
The obvious thing to say is that the bigger 40kWh battery versions make for a more flexible van, so avoid the earlier 22kWh versions unless you're sure you're never going to stretch their claimed driving range. Especially as the age of these now may see the battery capacity starting to fall below optimum.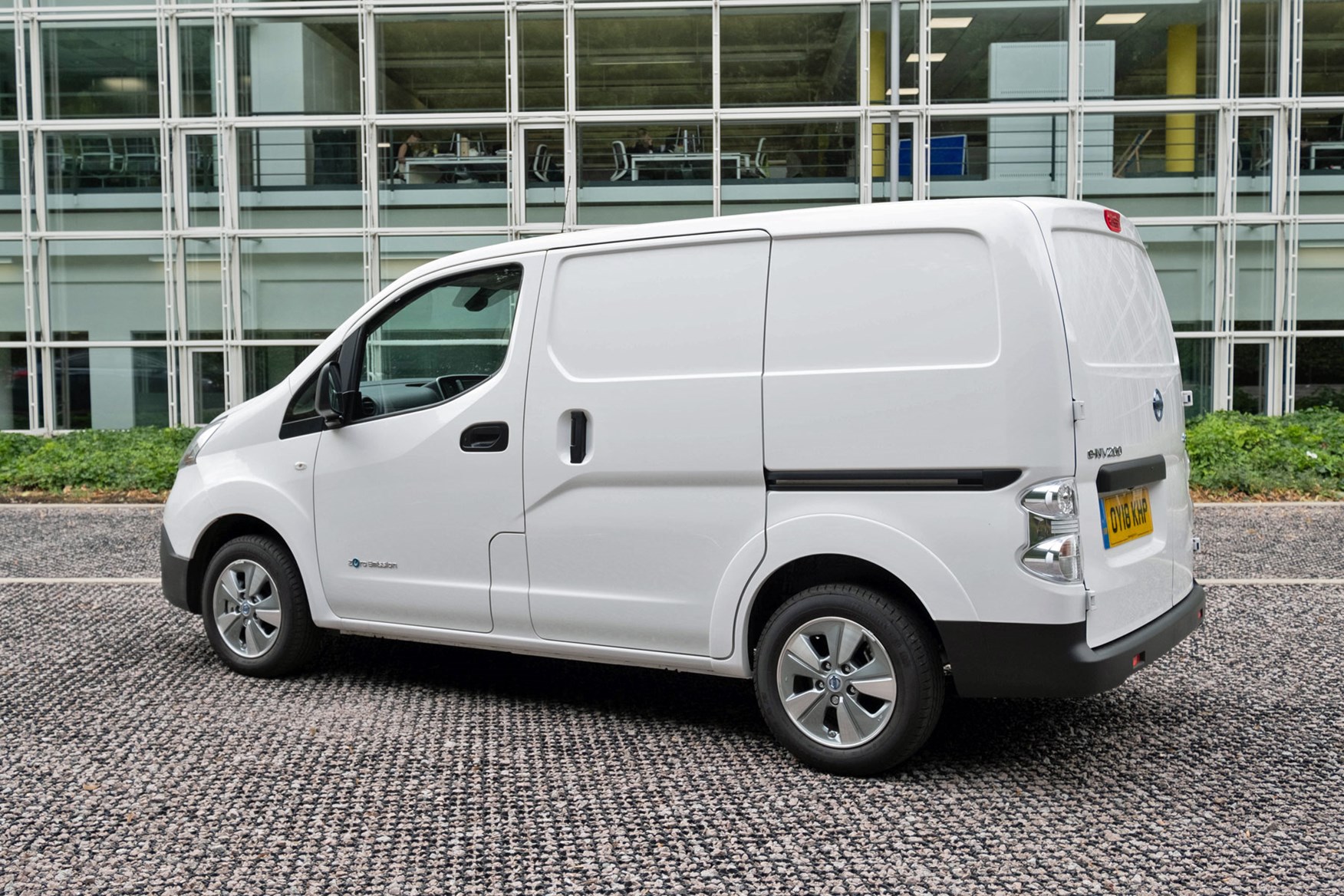 We'd suggest going for a Tekna model if you can, as it comes with the proper on-board computer and infotainment system, making life behind the wheel nicer. You'll need Acenta at least for air-conditioning, which makes pre-conditioning of the cabin easier.
If you want maximum range and payload, the basic Visia will come top – but whether this is worth the cost to comfort and convenience given the e-NV200 is best-suited to short-haul and light loads only you can really decide.
Also read:
>> The Parkers guide to electric vans
>> The best electric vans you can buy now
>> Future electric vans coming soon