Small vans do a huge range of jobs and are an accessible way into the world of commercial vehicles when you haven't driven anything bigger than a car before. You can get them with petrol or diesel engines and there is an ever-increasing number of electric versions to choose from.
Despite their small dimensions, some of them are really strong, too – the best in class will carry a payload of 1,000kg these days, so you need not make loads of trips to get your jobs done.
We've driven all of the small vans that you can buy in the UK to bring you this comprehensive top 10 list of the best small panel vans.
This factors in the 2023 Parkers New Car Awards, with our reigning Best Small Van winner heading the pack, but there are plenty of other vans you can choose from. For more advice about electric small vans in particular, check out our dedicated best electric vans page.
Once you've made your mind up you can get insurance quotes from our partner business mustard.co.uk, and search for new and used examples via our vans for sale pages.
Why buy a small van?
Small vans used to be basic boxes on wheels, with few creature comforts – keeping prices low but often leaving drivers feeling short-changed. These days, whether you want high safety levels, fancy technology or sporty looks, there's now a small van to suit you.
Their size makes them great for driving around busy towns and cities, and you shouldn't find them difficult to park. Most are available with camera systems to help with this. Even entry-level engines should have plenty of oomph for these urban journeys.
A small work van is ideal for businesses that need this agility, such as local delivery firms including motor factors and florists, or those that don't require the space of a larger van, such as mobile valeting companies and decorators.
But if you plan to go further afield it's worth paying extra for a more powerful model. These will be better on the motorway, haul heavier loads more easily and often return better real-world mpg.
Just make sure that whatever van you choose has enough space and carrying capacity for your needs. You don't want to be buying a different model just a few months down the line.
There's further buying advice at the bottom of the page.
The best small vans UK 2022
9. Fiat Fiorino
Best small van for maximum space in a very small package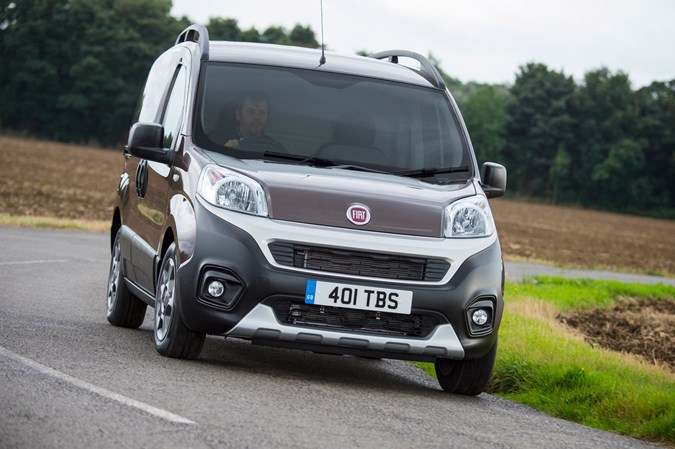 The Fiorino is Fiat's smallest van and is showing its age these days. It dates back to 2008 and is surely not long for this world now Fiat has been brought into the Stellantis group. As the Stellantis group doesn't have a van this small, don't hold your breath waiting for a replacement.
It's a shame as, although it loses out to the Ford Transit Courier as an overall package it has some strong attributes in its favour, such as a decent sized load space and some well proven 1.3-litre diesel engines. While the 80hp or 95hp the offer doesn't sound like much, it is punchy enough for purpose here. Shame the ride is so firm, and the interior feels outdated.
Price new: from £17,134*
Used deals: from £3,390*
Loadspace: 2.5-2.8 cubic metres
Max payload: 610kg
Fuel economy: 53.2-57.6mpg
>> Read our full Fiat Fiorino review
8. Ford Transit Courier
Best compact van for mpg and equipment
The Courier is the smallest traditional van in Ford's range and the smallest to wear the Transit badge, sitting below the Transit Connect. Other than car-derived vans, it doesn't have many direct rivals – the Fiat Fiorino is the only one and the Ford is better to drive and feels more modern, despite not being the newest van itself. A good range of engines is offered, and fuel economy is a particularly strong point.
It comes in four trim levels – topped by a Transit Courier Sport van – and is available as a small kombi passenger van as well as a standard panel van. Useful if you occasionally need to carry more than one passenger.
Price new: £15,980
Used deals: from £4,995*
Loadspace: 2.3 cubic metres
Max payload: 595kg
Fuel economy: 37.2-65.7mpg
>> Read our full Ford Transit Courier review
7. Dacia Duster Commercial
The best small van that is also an SUV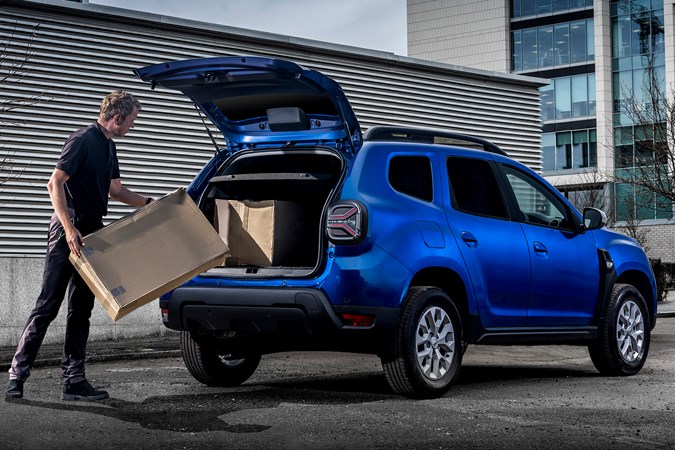 The Dacia Duster Commercial is the van version of one of the cheapest SUVs that you can buy, bringing a touch of toughness to the small van sector. It is also brilliantly cheap, coming in at less than £14,000 not including VAT.
That cheapest model is a petrol but there is also a diesel model to choose from, which adds a few thousand pounds to the price, but it remains comparatively affordable next to lots of other alternatives – the pre-VAT pricing for the entire range is less than £20,000, and you can get a 4×4 version in that lineup too.
Price new: from £13,995*
Loadspace: 1.6 cubic metres
Max payload: 503kg
Fuel economy: 45.6-57.6mpg
>> Read our full Dacia Duster Commercial review
6. Toyota Corolla Commercial
The only hybrid car-derived van you can buy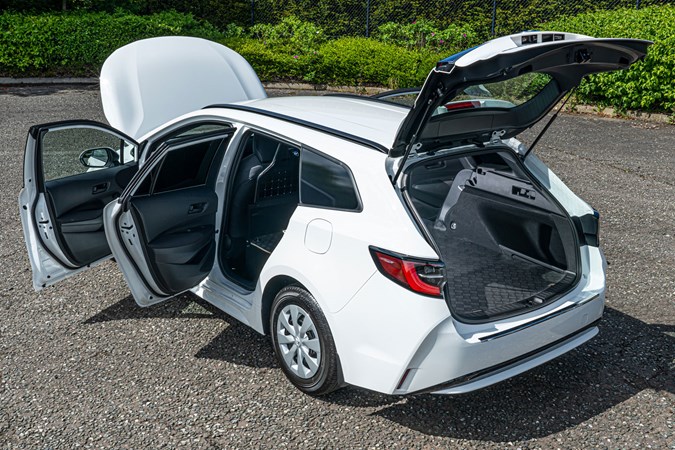 Strictly speaking the Toyota Corolla Commercial is not the smallest car-derived van there is, but it is currently one of the only ones you can buy of its type since the demise of the Ford Fiesta Van and the Renault Zoe Van.
We've included it here as it is small enough to not feel intimidating to a non-van driver, which is one of the major bonuses of commercial vehicles this size. In true car-derived van style, it is essentially a lightly modified car cabin up front, which means you get plenty of high-end kit and loads of comfort. It's also the only conventional hybrid commercial vehicle you can buy, so you get a touch of electrification without going full EV.
Price new: from £22,590*
Loadspace: 1.3 cubic metres
Max payload: 425kg
Fuel economy: 55.6-61.4mpg
>> Read our full Toyota Corolla Commercial review
5. Volkswagen Caddy Cargo
Best small van for pretending you're driving a Golf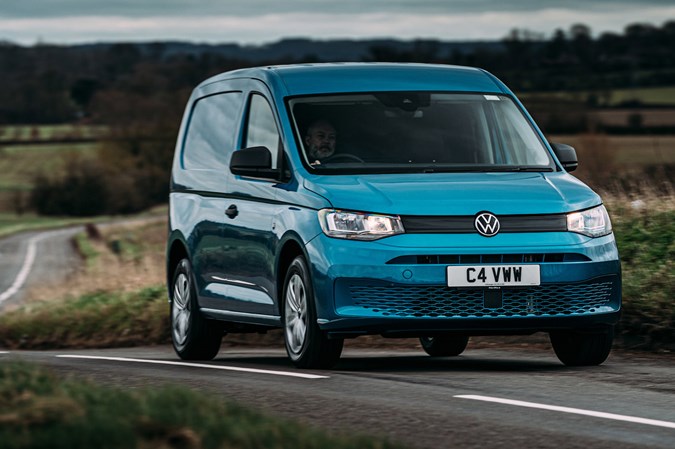 Caddy Cargo is the new name for the Volkswagen Caddy van. Informally known as the Caddy 5 (for fifth generation), it uses the same MQB platform as many VW Group cars, making it better to drive and more technologically advanced than before. The latest 'twin-dosing' diesel engines are super-clean, too.
In addition to the standard front-wheel drive models, you can have the Caddy Cargo with 4Motion four-wheel drive, plus there's a DSG transmission option if you prefer an automatic small van instead of one with a manual gearbox. There are two body lengths and a Caddy California campervan to choose from as well.
There's one big reason it comes further down this list than you might imagine – payload. Where some of its rivals can carry 1,000kg or more, the Caddy Cargo can only take just over 700kg, which is a significant percentage less than you might hope for these days.
Price new: from £20,310*
Used deals: from £21,850*
Loadspace: 3.1-3.7 cubic metres
Max payload: 711g
Fuel economy: 41.5-57.6mpg
>> Read our full VW Caddy Cargo review
4. Renault Kangoo
Best small van for modern electrification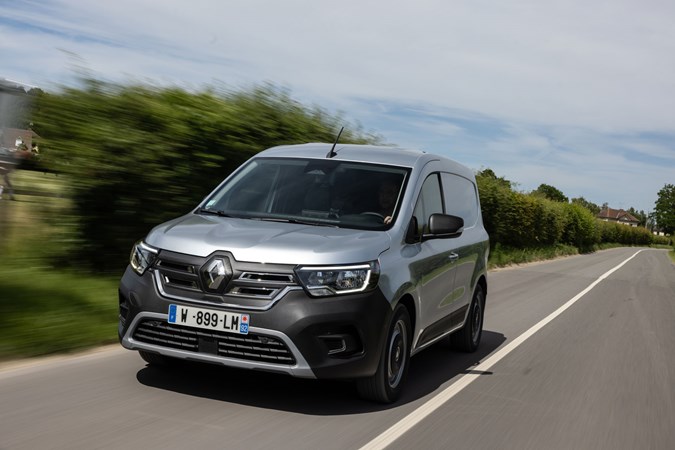 The 2022 Renault Kangoo is now on sale and is a huge improvement over the previous version. It has a modern cabin, an excellent level of safety kit and an electric version that feels seamlessly integrated. It also comes with a diesel version for those that aren't ready to make the step to an EV just yet.
This van will soon be joined on this list by the new Mercedes-Benz Citan and the Nissan Townstar, both of which were developed alongside the Kangoo. The Renault is the first to market, though, so steals a little march on the other two.
Price new: from £17,650*
Loadspace: 3.3-4.2 cubic metres
Max payload: 987kg
Fuel economy: 53.3mpg
>> Read our full Renault Kangoo E-Tech review
3. Ford Transit Connect
Best small van for choice and fun, decent payload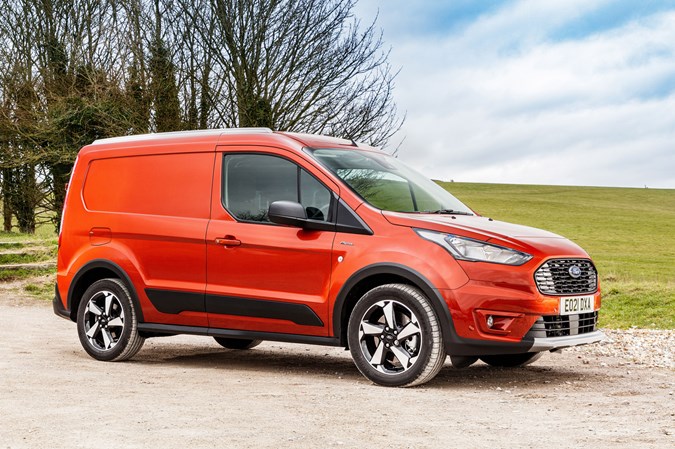 This small Transit Connect van is an ongoing success story and is a regular best seller for many good reasons. It offers many of the attributes that make Fords great – it is really good to drive, has plenty of tech, offers a boosted payload on some versions and there are some models that are more geared towards the lifestyle market. There is a good choice of sizes too, with an L1 and long-wheelbase L2 body size to pick from.
You can even get it with an eight-speed automatic transmission to make life easier in traffic. It's worth noting that it's due to be replaced by an all-new model. However, fans of this version will be reassured by the fact that the new model was originally due to be launched in 2022 but is now not due to arrive until later in 2023.
Price new: from £20,040*
Used deals: from £1,495*
Loadspace: 2.6-4.4 cubic metres
Max payload:833kg
Fuel economy: 40.3-55.4mpg
>> Read our full Ford Transit Connect review
2. Citroen Berlingo / Peugeot Partner / Vauxhall Combo Cargo / Fiat Doblo
Best small vans for collective all-round capability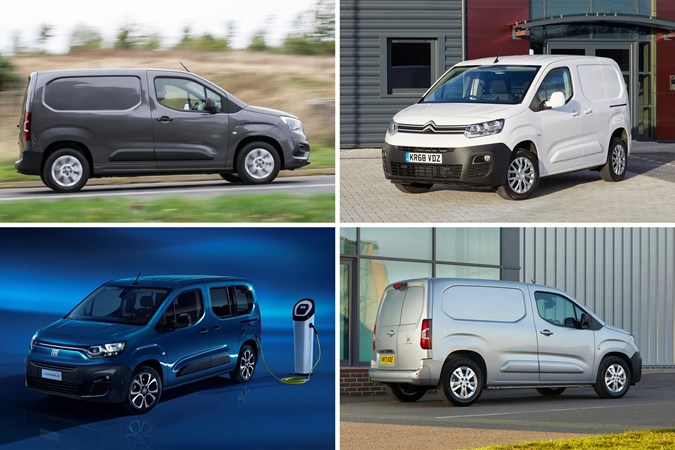 Four vans all in one group? These Stellantis small vans are technically identical and there is little to choose between them bar some minor spec differences and some variation in the engine offering. Collectively they are comfortable and refined, with fantastic practicality. Which also makes them the best small crew vans on sale.
The Citroen, Peugeot and Vauxhall versions are the more well establish models, but to this you can add the Fiat Doblo. We've not separated it out as we have yet to drive it, which means that we can't definitively say it is better or worse, but let's face it, it is
A spacious cab makes them the best three-seater small vans, too. Payload ratings above 1,000kg are available, while high-tech features include overload sensors and clever cameras. They come with petrol, diesel and electric power, and have twice been Parkers Small Van of The Year award winners.
Price new: from £19,920*
Used deals: from £8,950*
Loadspace: 3.3-4.4 cubic metres
Max payload: 1,009kg
Fuel economy: 44.7-55.6mpg
>> Read our full reviews of the Citroen Berlingo, Peugeot Partner, and Vauxhall Combo Cargo
>> Find Citroen Berlingo, Peugeot Partner, and Vauxhall Combo Cargo vans for sale near you
1. Toyota Proace City
The Parkers Small Van of The Year 2023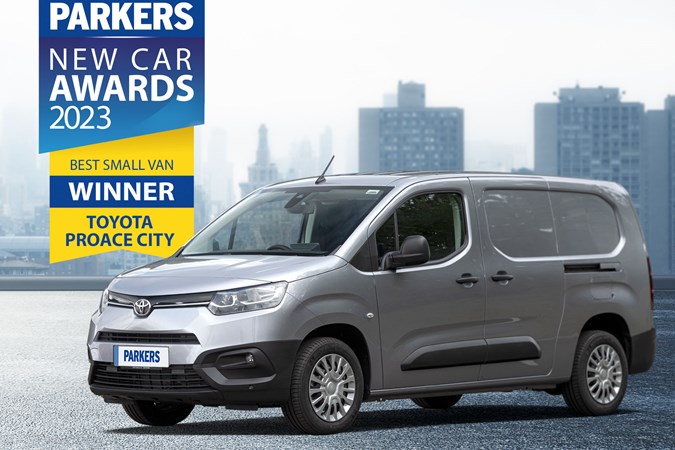 The Proace City is built for Toyota by Stellantis, and is yet another version of the three vans above. But there's more to this than the Toyota nose job. The Proace City packs in all the same major features as the others, but come with one big advantage: warranty cover for up to 10 years. As standard.
As with all of its vans, the Proace City is part of the Toyota Relax warranty programme. Add the growing Toyota Professional dealer network, and it seems a no-brainer to us that the Proace City is the best small van to choose. Which is why we made it our 2022 and 2023 Parkers Small Van of The Year.
Price new: from £21,599*
Used deals: from £15,595*
Loadspace: 3.3-3.9 cubic metres
Max payload: 950kg
Fuel economy: 46.3-51.3mpg
Further small van buying advice
What sort of small van should I buy?
As well as the small panel vans, there are also car-derived vans and smaller commercial 4x4s to choose from if you're after a little van.
Both of these types of small van are based on passenger vehicles, and have reduced load areas and payloads compared with small vans proper. However, they are usually also better equipped and nicer to drive.
However, car-derived vans are often subject to the whims of the passenger car market – the Ford Fiesta is no longer available as a three-door, which has lead to the demise of the Fiesta Van. The Renault Zoe's time on sale has been brought to an end by the impending launch of the Kangoo E-Tech.
Dedicated small commercial vehicle vans also come in different types. The most common are city vans the size of the Citroen Berlingo, Ford Transit Connect and Volkswagen Caddy, available in a choice of two body lengths: standard or short-wheelbase (SWB) on one hand and long-wheelbase (LWB) on the other, often labelled Maxi.
Many of these are also available as crew vans, meaning a second row of seats for extra passengers.
The Ford Transit Courier and Fiat Fiorino, meanwhile, are particularly small vans. But still more practical than a car-derived van, and usually cheaper.
All UK small vans are front-wheel drive (FWD) as standard. Some manufacturers offer packages that add grippier tyres and clever electronics to improve traction on slippery surfaces, which could be useful on building sites or in bad weather.
More rarely, there are some four-wheel drive (4WD, AWD or 4×4) small vans available – with Vauxhall offering a special Combo Cargo 4×4 conversion and Volkswagen the factory-built Caddy Cargo 4Motion.
Petrol, diesel or electric?
Diesel is the traditional fuel for all vans, and if you do a reasonably lengthy journey every day diesel still returns the best fuel economy.
But if you do lots of short journeys in towns, consider a petrol small van. These usually cost less to buy, can deliver good mpg if driven sensibly, and don't have a diesel particulate filter (DPF) to get clogged up.
If you're looking for the best petrol small van, we'd consider the Ford Transit Connect, the Ford Fiesta Van or the VW Caddy Cargo. Interestingly the forthcoming Nissan Townstar will only be offered in petrol or electric format.
Electric small vans are becoming more and more tempting, too. Their motors are punchy at low speeds, making them great in traffic, they're very quiet and relaxing to drive, and running costs are the lowest of all if you charge them on a sensible tariff.
Driving range can be limiting and they are expensive to buy outright – though often very competitive on monthly finance or leasing. On top of which, electric vans always come with an automatic transmission, something you'll pay extra for with rival petrol and diesel models (if an auto is available on these at all).
Worth considering, and there's far more info on our best electric vans page.