The most extreme interpretation of the electric van has been updated as the Ford Pro Electric SuperVan 4.2 has been revised to take on the 2023 Pikes Peak hill climb.
The SuperVan is loosely based around the Transit Custom, but there is little of the UK's most popular commercial vehicle in the all-electric SuperVan that is capable of staggering performance.
We first saw the SuperVan 4 at the 2022 Goodwood Festival of Speed, where it spent the weekend demonstrating its stupendous pace up the famous hillclimb.
Since then, it has been on a diet, although it has shed power as well as weight as it bids to deal with the gradient and altitude at the famous hill climb in Colorado on 25 June 2023.
Where the first iteration had 2,000hp from its four motors, the SuperVan 4.2 has to make do with three motors – one at the front and two at the rear – producing 'only' 1,400hp.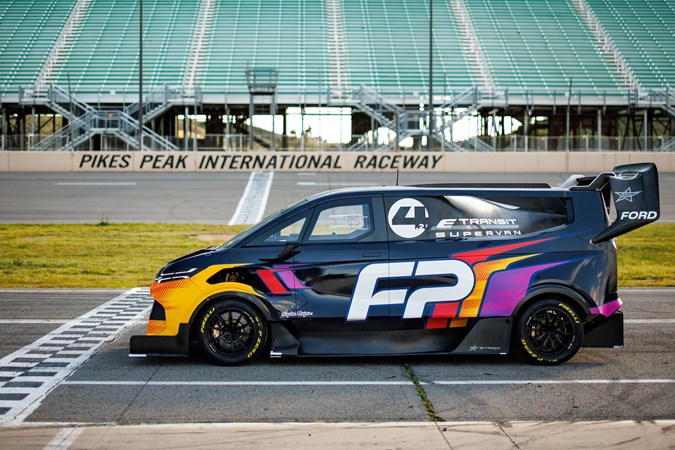 This is the fourth SuperVan in history and it takes a similarly no-holds-barred approach as the previous three, having been created by Ford Pro and Ford Performance. Although it is inspired by the Ford E-Transit Custom it is only loosely related to the UK's best selling van.
Pikes Peak revisions reduce power but boost downforce
The engineers have set out to make the SuperVan 4.2 as efficient as possible to cope with the conditions at Pikes Peak. Although it loses one of its four motors, it has had a range of aerodynamic and performance-enhancing upgrades. The result is an improvement in power-to-weight ratio and downforce – it generates 1,996kg at 150mph, which should help it along the twisty route.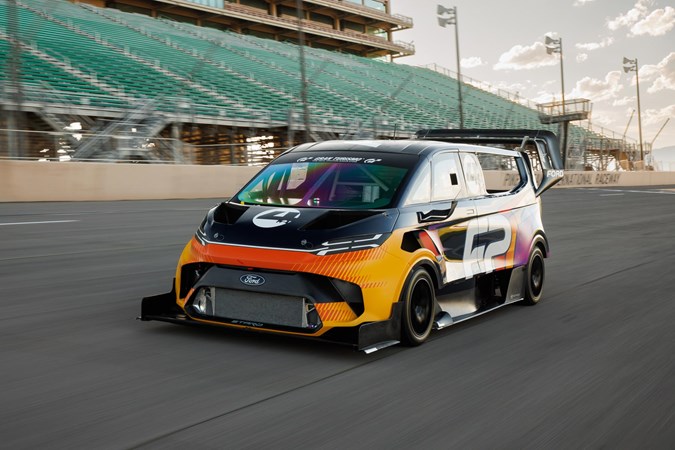 The other upgrades include a carbon-fibre front splitter and an even more outrageous rear spoiler, a set of carbon-ceramic brake discs, magnesium-forged wheels wearing Pirelli P Zero tyres and upgraded driveshafts. The weight reduction sees the fitment of a Perspex windscreen and the deletion of everything deemed unnecessary in the cabin.
Bespoke platform, outrageous looks
The SuperVan isn't based on the Transit Custom's platform but it sits on a purpose-built, track-ready chassis and while it is van shaped, it bears only a passing resemblance to a road-going commercial vehicle.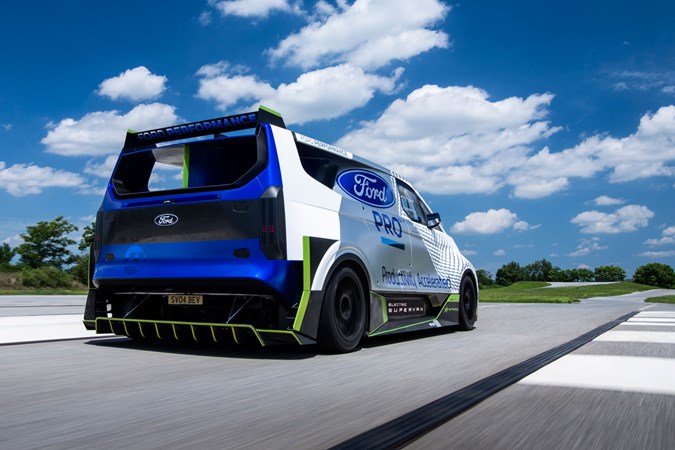 The design takes inspiration from the new, forthcoming version of the Transit Custom, with designer Amko Leenarts saying that the proportions are a more dramatic version of those used on the new vehicle. Don't expect to see the bold front splitter, side skirts or rear diffuser appearing on the next Transit Custom any time soon though. It does still feature a useable loading bay, though, with a side-opening door.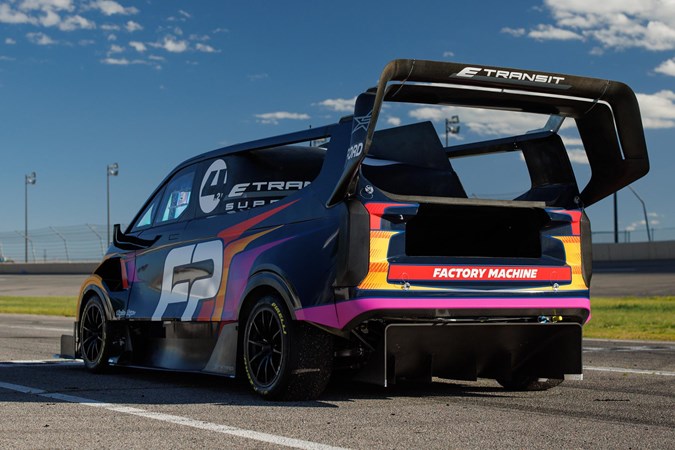 The original was powered by a 50kWh battery, four electric motors and what is described as a 'bespoke control system' that all combines to produce approximately 2,000hp. This results in a laughably ridiculous 0-62mph time of less than two seconds. Although Ford hasn't revealed the SuperVan's range, it does say that it can be recharged to full in just 45 minutes using a standard fast charger.
Standard software
One element that is carried over from the standard Ford range is the SYNC in-cabin touchscreen technology. However, this plays a part in controlling the SuperVan too. It provides real-time data transmission that allows for remote vehicle management and optimised performance. This has been shed as part of the Pikes Peak quest for lightness, though.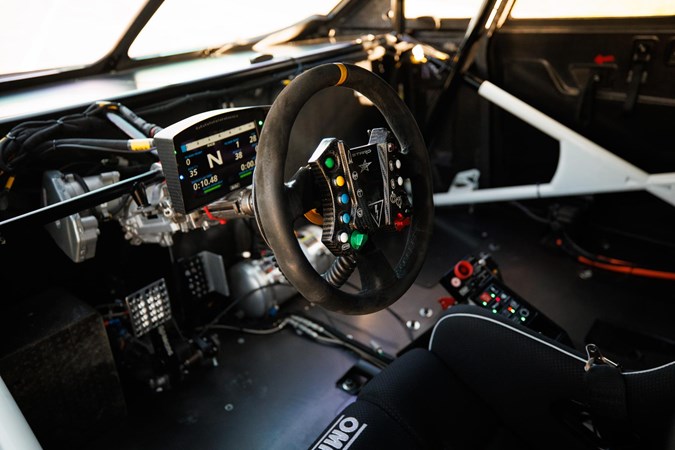 'Ford Pro is all about accelerating productivity for our customers – so why not create a new Electric SuperVan that proves the power of electrification and connectivity,' said Hans Schep, general manager, Ford Pro Europe. 'This incredible demonstrator vehicle takes E-Transit Custom's advanced engineering and distinctive look to a whole new level and is high-speed proof of the power of Ford Pro's connected services ecosystem.'
Other features include a 'Tyre cleaning mode' that brakes one axle and sends the power to the other – a burnout mode if you like. The idea being to clean and warm the tyres before a performance run, with the clouds of crowd-pleasing tyre smoke a pure coincidental bonus…
It also features five driving modes, detailed as follows:
•            Road – for 'normal driving – the SuperVan is set to be road legal…
•            Track – which optimises speed and cornering ability
•            Drag – swap the tyres out for radials and this will maximise straight-line acceleration
•            Drift – for sideways sliding, be it on tarmac or snow
•            Rally – swap the tyres again and this mode will help make the most on low-traction surfaces
What is a SuperVan?
There have been several SuperVans in Ford's history, and they have all taken an extreme approach to the brand's famous Transit. Typically, it has involved putting a performance oriented engine into a Transit that has been decorated with the sort of bodykit that is wholly inappropriate for a building site or delivery round.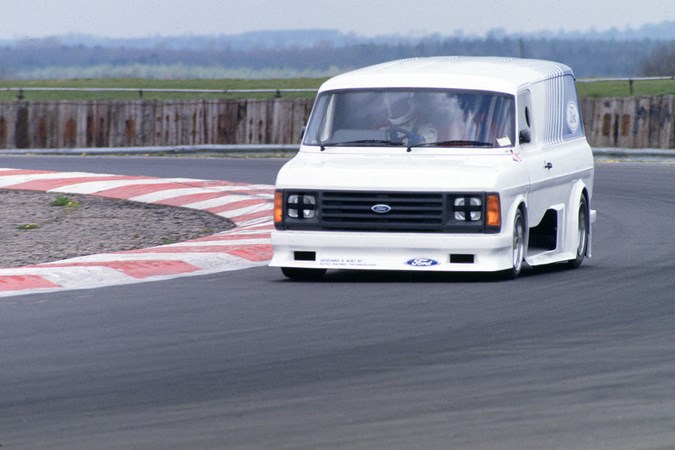 There have been three examples, appearing in 1971, 1984 and 1994. The most recent shoehorned a 3.0-litre V6 295hp supercharged Ford Cosworth engine under the bonnet, which resulted in a top speed of 150mph. They are largely designed as promotional vehicles, and SuperVan 3 has made its fair share of appearances over the years, but they are capable of some impressive performance too.