This is the new Maxus eDeliver 7. It's the third model in the firm's rapidly expanding electric van line-up, squeezing between the existing eDeliver 3 and eDeliver 9. Maxus says it's hoping to corner the mid-size van market with the new model, which means it'll be competing with some of the best electric vans on sale, such as the Toyota Proace Electric and Peugeot e-Expert.
The Maxus eDeliver 7 broke cover at the 2023 Commercial Vehicle Show. At the event, the brand confirmed its specifications, but we're yet to receive any pricing information. Maxus assures us it will release a full price list in June before it opens its order books in August. The first vans are expected to hit UK driveways in December 2023.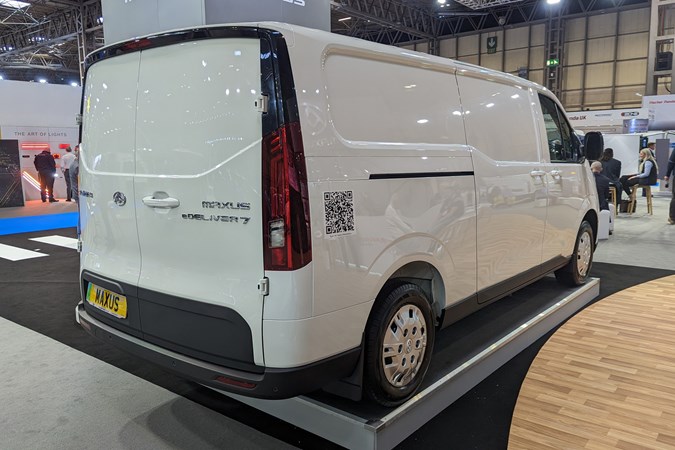 The eDeliver 7 is built on an all-new platform that currently isn't shared with any other vehicles in Maxus's line-up. Buyers can choose from either a 77kWh or an 88kWh battery pack, the larger of which provides a maximum WLTP range of 226 miles. Connect the van up to a 90kW DC rapid charger and it'll take on an 80% charge in 43 minutes.
The battery sends power to a single electric motor mounted on the front axle. It produces 204hp and 330Nm of torque, which Maxus says is enough for a 0–62mph time of 11 seconds. More importantly, the motor has enough grunt to haul around a maximum payload of 1,200kg.
How much can the Maxus eDeliver 7 carry?
Quite a lot. Buyers will be able to choose between two lengths and two heights for the eDeliver 7. The smallest option is a short-wheelbase, low-roof model (L1 H1 in shorthand) measuring 4,998mm long, 2,030mm wide and 1,990mm high. It has a maximum cargo volume of 5.9 cubic metres, a wheelbase of 3,000mm and the highest payload of all the variants at 1,200kg.
Above that, there's a long-wheelbase, low-roof model (L2 H1). It has an overall length of 5,364mm, a wheelbase of 3,366mm and a maximum cargo volume of 6.7 cubic metres. However, its maximum payload is reduced slightly to 1,135kg because of the weight of the extra metal in its bodywork.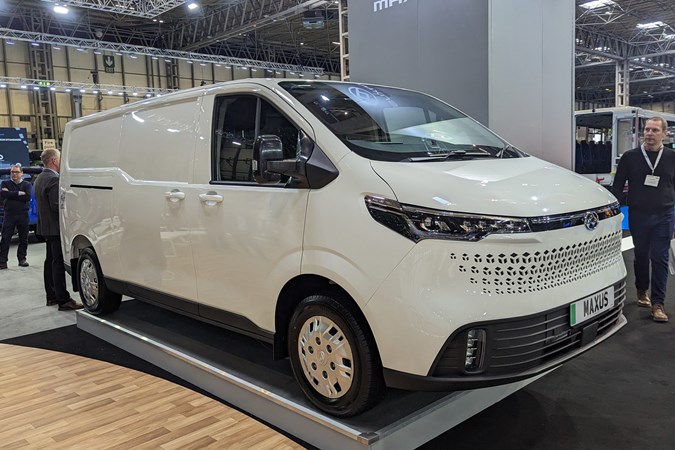 At the top of the range, there's a long-wheelbase, high-roof variant (L2 H2). It's 400mm taller than the L2 H1 van and is only available with Maxus's largest 88kWh battery pack.
Now is a good time to mention that the 88kWh vans have lower payloads than the 77kWh vans. Some of the van's carrying capacity is eaten up by the added weight of the extra cells – and, as a result, the largest eDeliver 7's payload drops to 1,025kg.
What's the Maxus eDeliver 7 like inside?
Well, it's a van. That means there's plenty of hard-wearing plastic, wipe-clean flooring and robust seat upholstery. It should be familiar to tradies and delivery drivers alike – until you cast your eyes over the infotainment system. Every version of the eDeliver 7 features a large 12.3-inch central screen as standard. However, Apple CarPlay and Android Auto are optional extras.
Maxus will also give the eDeliver 7 a full complement of safety equipment, including autonomous emergency braking, blind spot monitoring, front and rear parking sensors, a 360-degree parking camera and a driver fatigue monitoring system.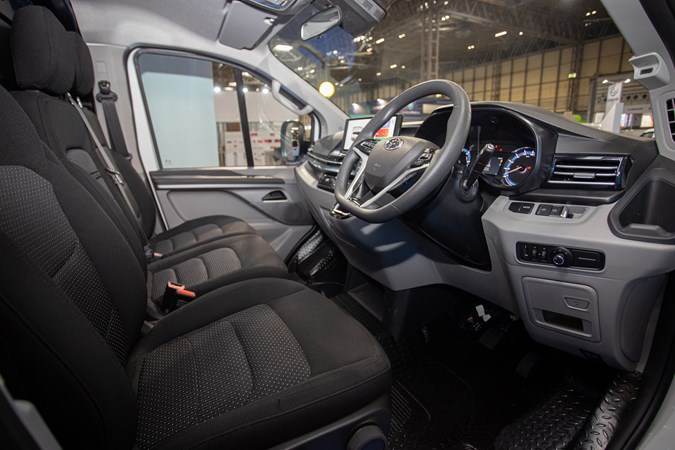 From launch, the eDeliver 7 will only be available as a panel van with three-abreast seating in the front. However, Maxus tells us it's planning to introduce a crew van variant with the help of local vehicle conversion specialists. It won't be a factory option, but at least the option will be there.
What's next for Maxus?
Mark Barrett, Director of Maxus, hinted that his company will soon introduce a new van to plug the gap between the eDeliver 3 and the eDeliver 7. However, this new van won't try to diversify on size, as the 3 and 7 already cover the biggest van markets between them.
It'll be called the eDeliver 5, and it sounds like it'll be a style-led offering following the same route Ford took with the Transit and the sportier Transit Custom. Barrett said: 'we will have something in the near future, in the next 18 months. That'll be between 3 and 7 – and there will be a bit of a crossover between both models. It's a different shape, different style of van.
'We haven't got the full facts on it yet, but it's probably something similar if you take, you know, some competition, like the way you have a Custom with the big Transit. You can get the same cubic capacity, but they're both different looking vans. It'll be along the same lines as that.'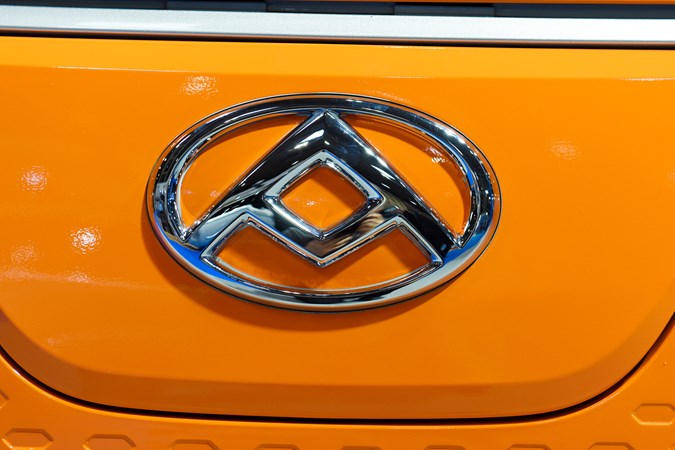 Maxus isn't throwing its weight behind hydrogen power just yet, which makes it somewhat of an outlier in the industry. Big van brands like Ford, Iveco and Vauxhall have already designed working hydrogen van prototypes – but Barrett reckons the technology has limited use in his vans.
He said: 'We're involved heavily looking at research of hydrogen and, obviously, we're looking at the marketplace and the trends and trying to predict the future. It is a bit of a crystal ball.
'My own personal feeling and opinion on it is I think hydrogen – yes, maybe in the heavier commercial vehicles. You know, buses or commercial vehicles. When we look at the reality of the journey so far with EV and where the charging infrastructure was 10 years ago […] it's going to take that period to get the [hydrogen] infrastructure out there.
'With electrification, you've a saving on fuel. Even at the highest price that electricity is at the moment, it's still half the price of diesel. The cost of producing hydrogen offers no fuel saving versus ICE. So, if you look at the total cost of ownership, you're going to spend more on the initial price of the hydrogen vehicle from day one and, when you look at the total cost of ownership, you can't factor in the fuel saving because there is no fuel saving now.'
We'll keep you updated on the progress of the Maxus eDeliver 5 and revisit this page once we have some pricing information to report on.