Ford Transit van review (2023)
Ford's famous large van gets a facelift and is now better than ever
PROS
Easy and comfortable to drive
Powerful Euro 6 engines
Excellent fully electric model
Good value to buy and run
Great 10-speed auto for RWD
CONS
Some reliability concerns with Euro 6
Facelift models seem to be noisier
Some rivals offer higher payload
Poorly placed controls pre-facelift
Early low-power engines seem weak
Summary
This 2023 Ford Transit review covers the latest, sixth-generation Transit van. On sale in the UK since 2014 and heavily revised in 2019, Ford is continuing to make improvements. The most recent and most notable update is the introduction of the 100% electric E-Transit, which was launched in 2022 and has brought the large van up to the top of its class. The all-electric model is a big reason for us naming it the Large Van of the Year in the Parkers Vans and Pickups Awards 2023.
Recent updates mean you can now get a 10-speed automatic gearbox for rear-wheel drive Transits, to help make heavy-duty models nicer to drive while still delivering reasonable fuel economy, while the Transit Trail trim level introduced in 2020 brings tough new looks and added capability for slippery conditions.
What's more, a new 5.0-tonne Transit variant gives Ford's household name greater payload capacity than ever before.
Plus, all Transit models now get the FordPass Connect on-board modem as standard equipment. This works with the FordPass Pro smartphone app to deliver extra features, including enhanced security via a forthcoming Guard Mode.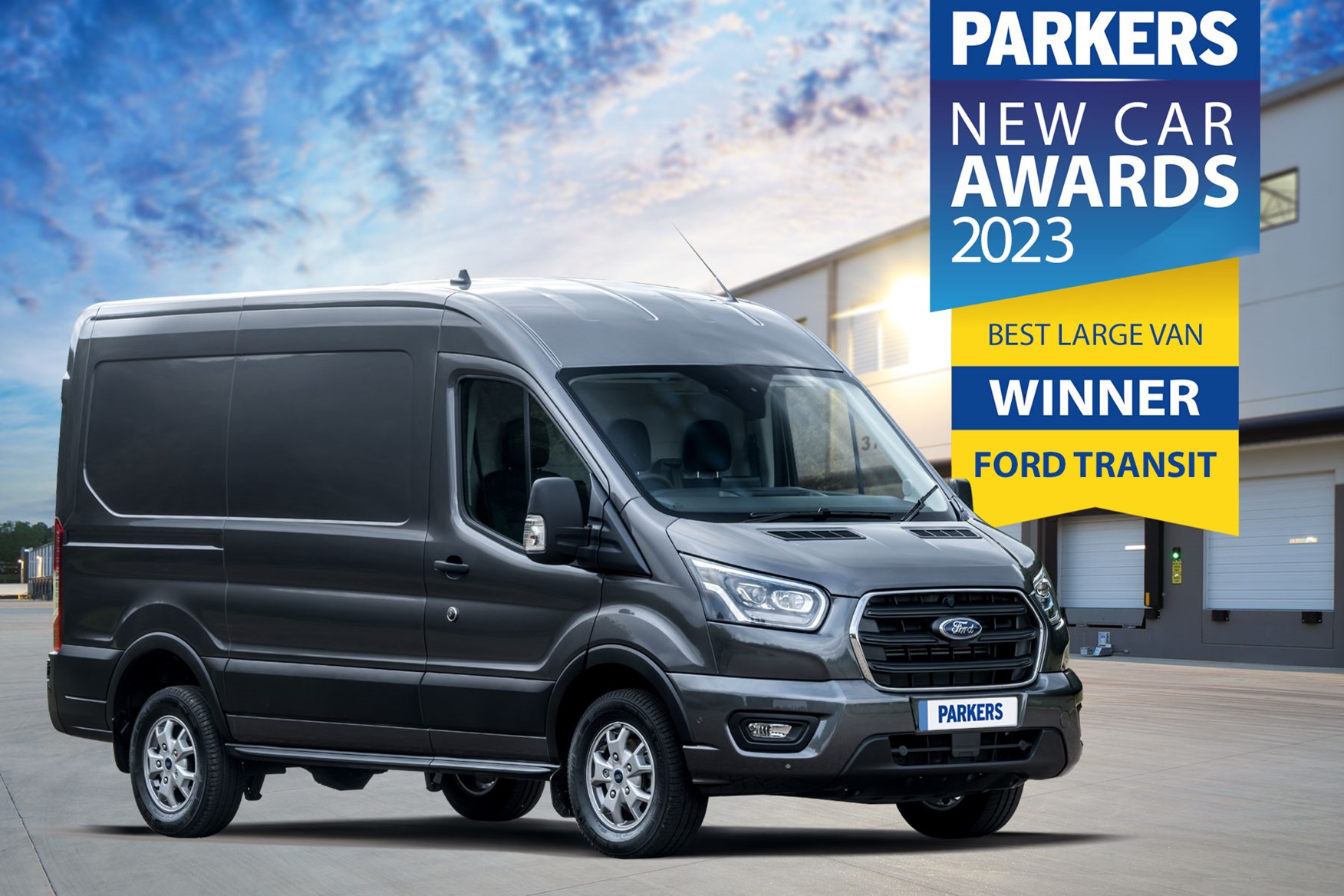 2020 Transit Trail
The Ford Transit Trail (pictured below) is aimed at buyers who need a van that's just a bit tougher than normal and better equipped to deal with low-grip surfaces. At the same time, a new FORD grille design helps it stand out from the crowd.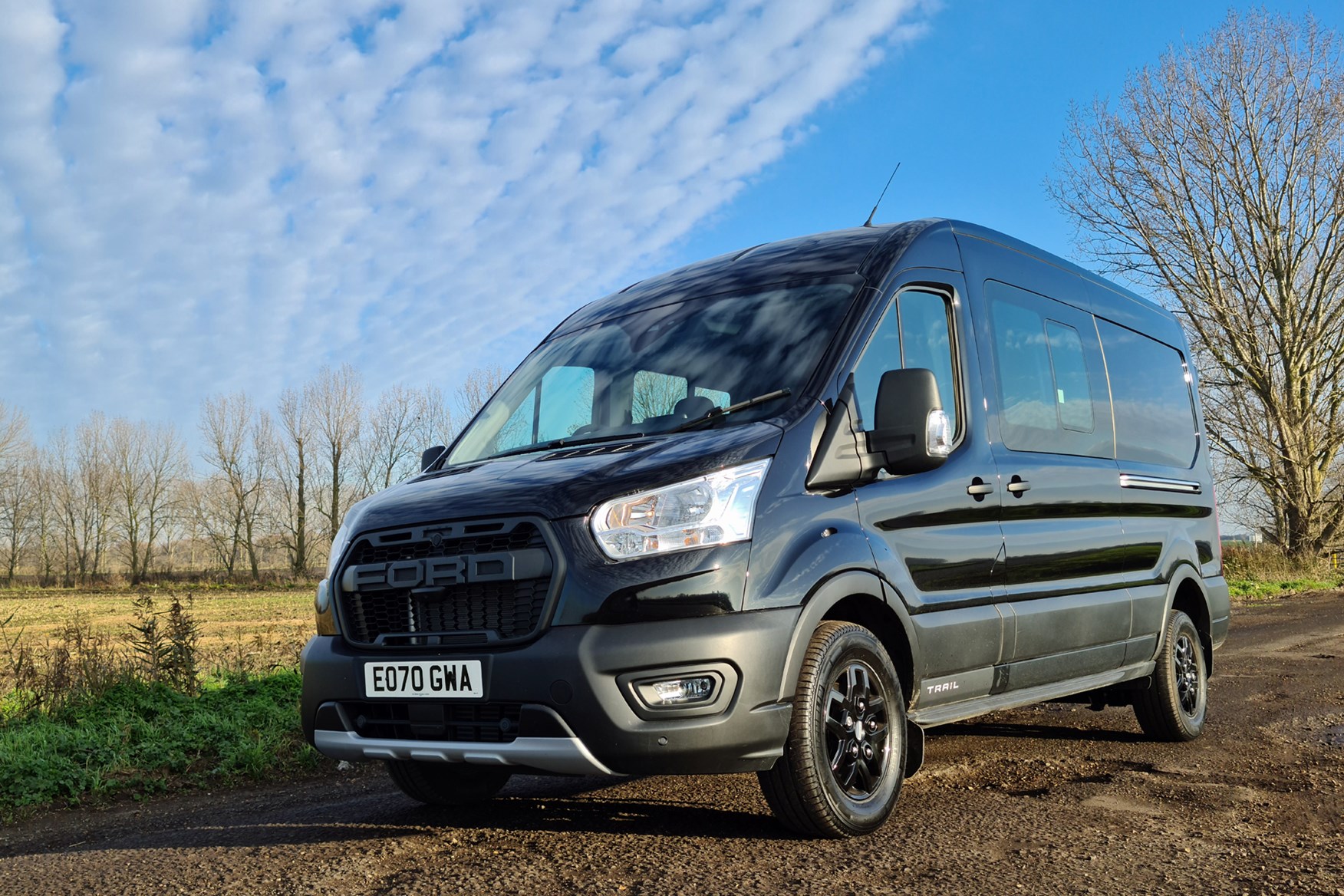 Chief upgrade for front-wheel drive models is the addition of a standard-fit mechanical limited slip differential (mLSD), which should help the van find greater traction in slippery conditions. If that's not enough, there's an all-wheel drive Transit Trail as well, which we have reviewed below. The interior is clad in easy-clean leather.
Ford Transit 2019 facelift
In 2019, the Transit received a major facelift – a process Ford generally refers to as an MCA or Mid-Cycle Action.
This included a new front-end design with changes to the grille and bumpers plus distinctive new LED daytime running lights (pictured below). But more significantly, it also comes with increased payload, an updated cab and lots of new technology.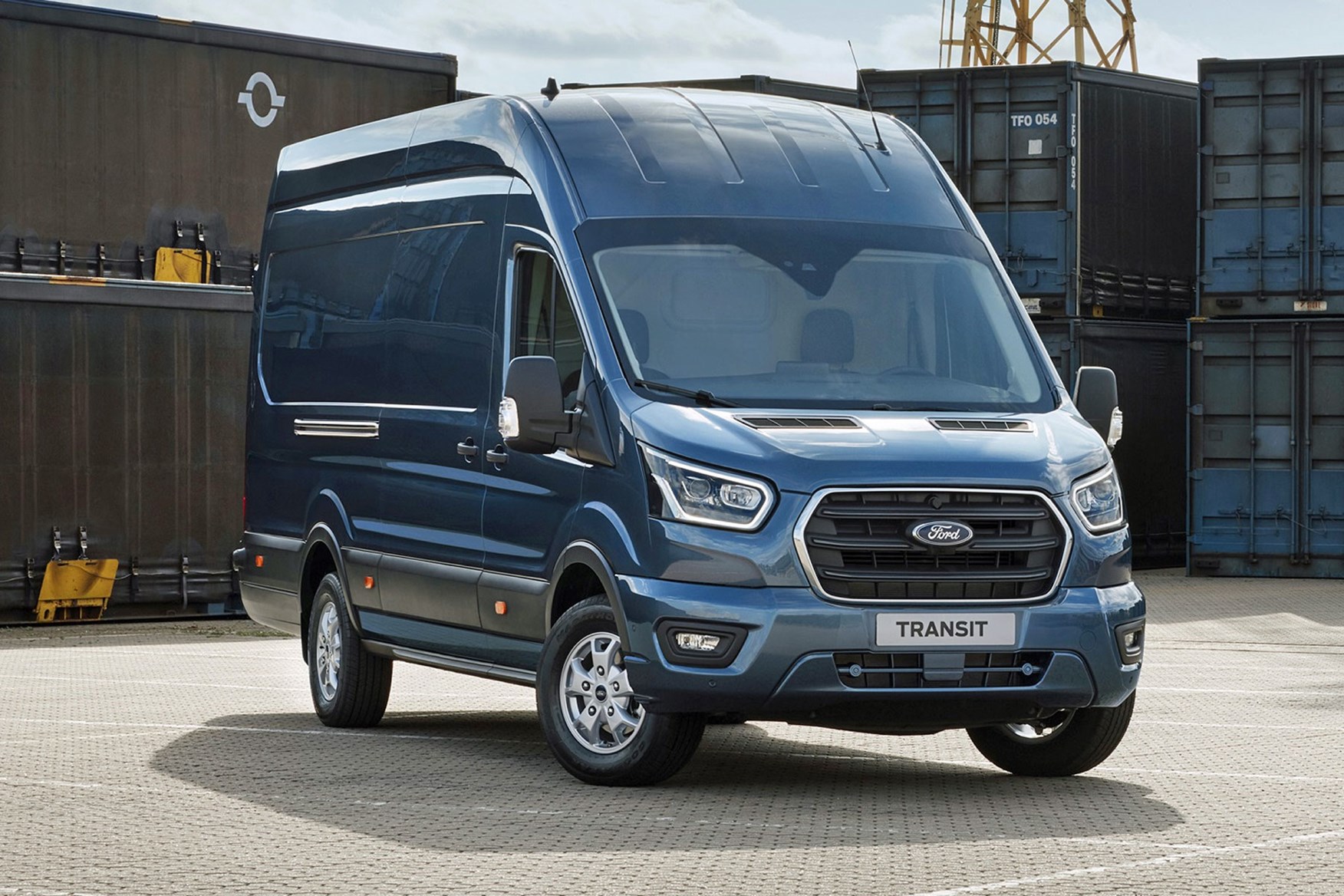 This technology includes new 4G connectivity, enhanced engines with up to 185hp, electric power-assisted steering (EPAS) and even a mild hybrid electric vehicle (mHEV) option called EcoBlue Hybrid. A pure-electric version of the Transit is set to go on sale in 2021.
Meanwhile, the payload improvements come from a whole series of weight saving measures, including a new design of rear axle for rear-drive models, a new manufacturing technique for the wheels, a new aluminium bonnet and a new composite bulkhead.
As a result, rear-wheel drive models see payload increase by up to 80kg and front-wheel drive models see it boosted by up to 48kg.
What is the Ford Transit?
For the first time, this Ford Transit is a large van only, meaning it competes in what's sometimes known as the 2.0-tonne van class. As such, it now sits at the head of a diverse family of (smaller) Ford van models, all of which now feature Transit in their titles:
Designed and engineered in the UK, it is built in Turkey and now a 'worldwide vehicle', which means it is sold in six continents, including the USA.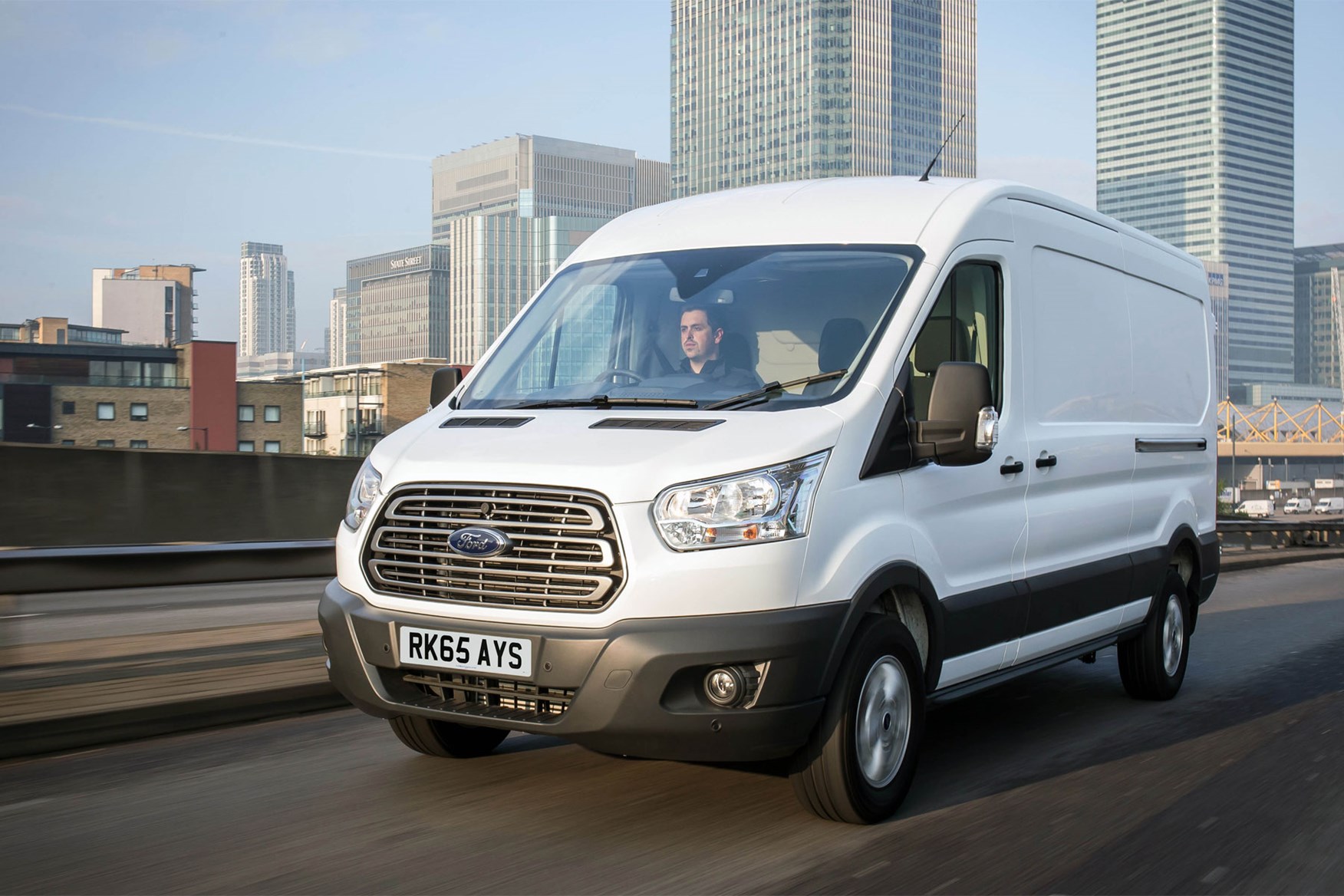 The UK remains a major market, however, as it is consistently one of the bestselling vans here.
Ford Transit bodystyles, variants and trim levels
The Ford Transit is available as a regular panel van, Double-Cab-in-Van (DCiV) with second row of seats, chassis cab (including a lightweight skeletal chassis cab) and minibus.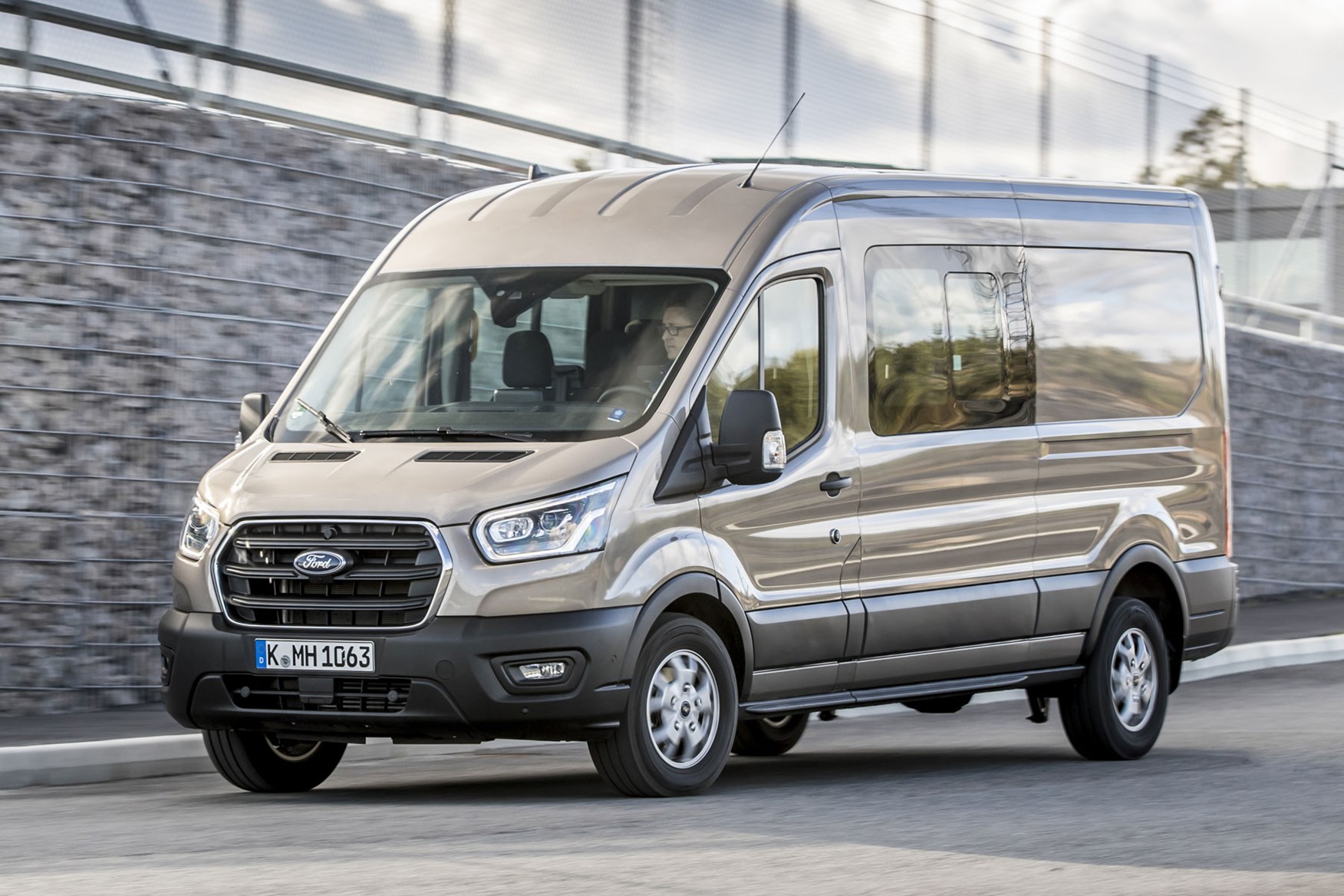 In this review we focus on the Ford Transit panel van, which has been available since launch in two equipment trim levels: Base (now known as Leader) and Trend.
A higher-specification third trim level called the Transit Limited joined the range as part of the 2019 facelift, with the Trail following in 2020.
The panel van comes in three body lengths (L2, L3 and L4), two wheelbases (SWB and LWB) and two roof heights (H2 and H3) - you can find full details of all of these on our dedicated Ford Transit dimensions page.
Ford Transit Euro 6 and Euro 5 engines
The Transit's original Euro 5 specification 2.2-litre turbodiesel engines were replaced by new 2.0-litre EcoBlue turbodiesel engines in 2017, in order to meet Euro 6 emission standards.
The introduction of the 2.0-litre engines coincided with a number of other technology upgrades, including the availability of a six-speed automatic gearbox as an option for the first time.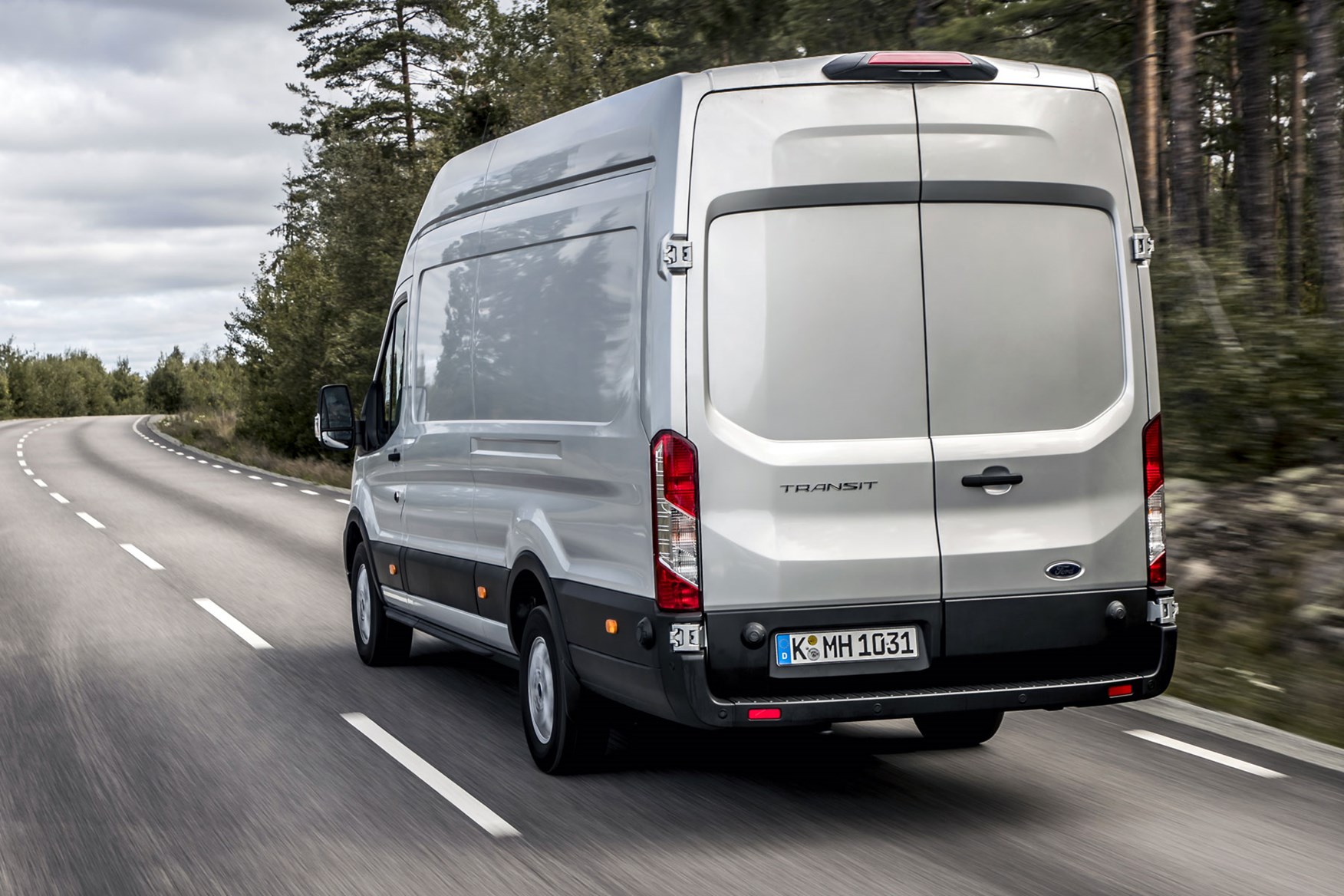 As part of the 2019 revisions, the 2.0-litre EcoBlue engines were updated again, gaining new turbochargers, new pistons, new injectors and a new on-demand oil pump. These changes are said to improve real-world fuel economy by 7%.
At the same time, a more powerful 185hp version of the engine was added at the top of range. There's more info on all of this in the Driving section of this review.
Ford Transit rivals
The Transit's popularity, quality and keen pricing means that it bridges the gap between older large vans and the more modern competitors from premium German manufacturers.
As such, rivals range from the Citroen Relay / Fiat Ducato / Peugeot Boxer and Renault Master / Nissan NV400 / Vauxhall Movano right through to the latest Mercedes-Benz Sprinter and Volkswagen Crafter / MAN TGE.
The Transit holds its own against all of them.
Ford E-Transit electric van
2022 brought the highly-anticipated electric Transit. Called the Ford E-Transit, it offers an excellent 196-mile range, which is further than any other large electric van at the point of its launch. That this is possible at a price that is also cheaper than the competition is truly impressive.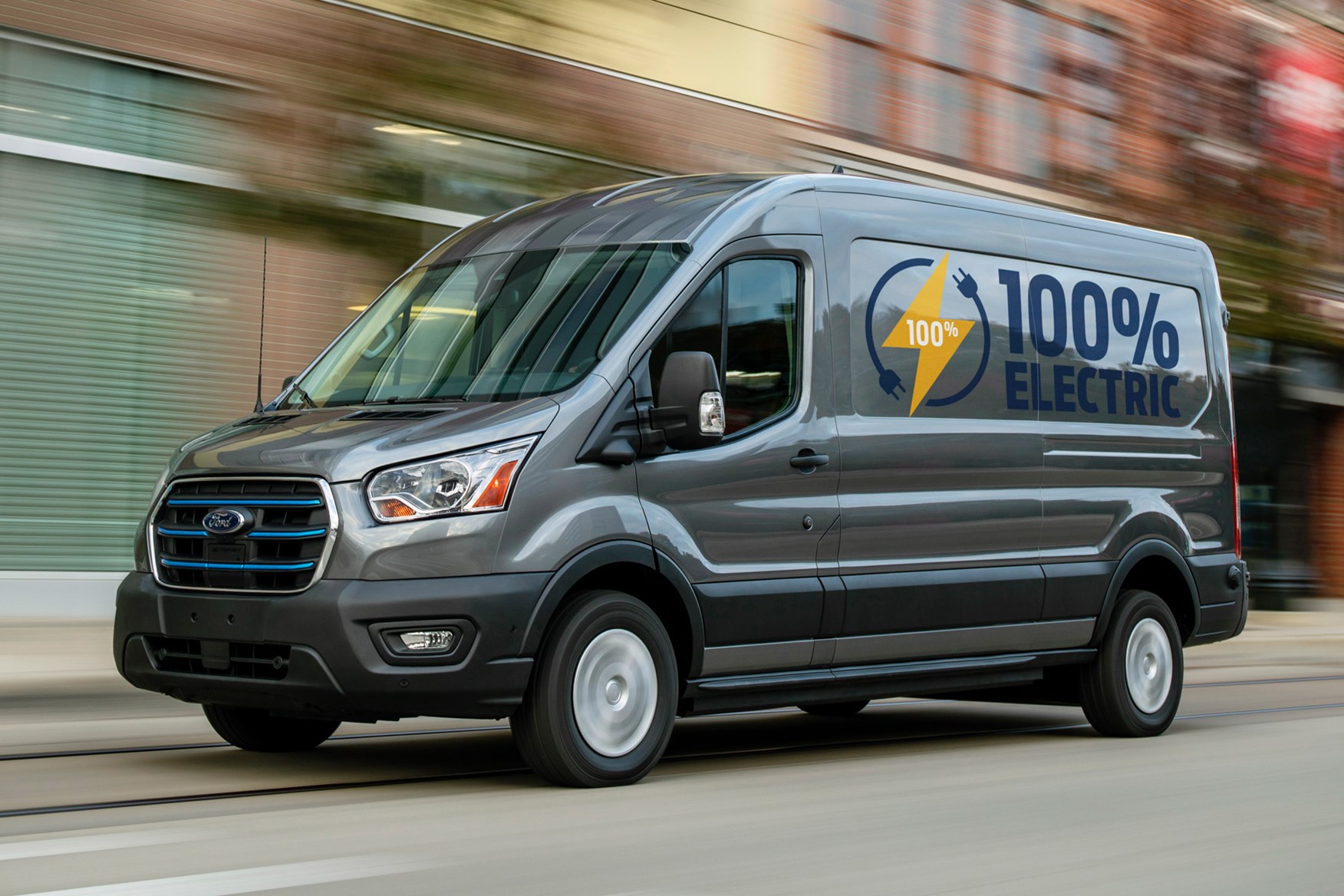 What's more, it will also have a version with an outrageous 269hp electric motor driving the rear wheels (there is also a detuned version that still comes with a strong 183hp.) Add to this a substantial 1,616kg payload, and this is an electric van that warrants going right to the top of your shopping list if you are looking to go EV.
>> Ford E-Transit electric van - full review
---
Verdict: is the Ford Transit any good?
Combining strong value with ease of use, a good driving experience, lots of technology and an extensive dealer network that offers plenty of direct-order choice, the Ford Transit remains a large van benchmark.
There are older rivals that can carry more payload, but these also typically offer reduced safety equipment and driving comfort. There are also more premium rivals, which offer lots of technology and sophistication – but at a higher cost and usually without any advantage in payload.
In other words, the Transit occupies an excellent middle ground, providing a high quality and versatile van at a reasonable cost. Hardly a surprise, then, that it's so consistently popular with all kinds of buyers.
Keep reading for our full review, or click the links below to jump straight to the info that's most important to you.
Skip to our full verdict on...
Comfortable and very easy to drive; excellent 10-speed auto option
Responsive engines, though not always the quietest
Innovative - but not essential - EcoBlue Hybrid tech
The Ford Transit is a very easy large van to drive. It feels much smaller than its true size on the road and is far from intimidating, even for inexperienced large van drivers. This applies to even the super-long L4 Jumbo versions.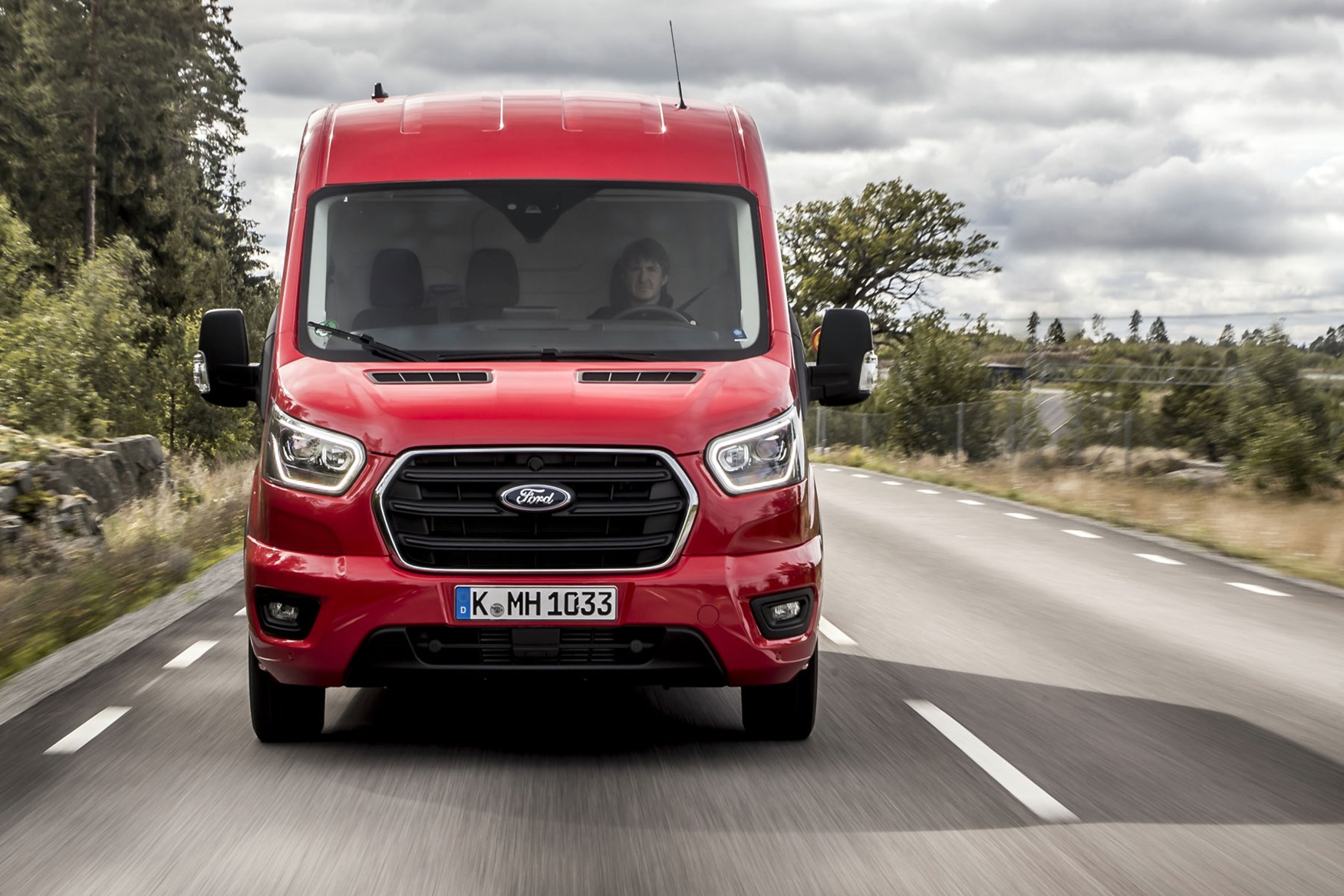 The Transit is available with front-wheel drive (FWD), rear-wheel drive (RWD) and all-wheel drive (AWD). Sales are generally split evenly between front- and rear-drive models, with all-wheel-drive Transits remaining a more specialised choice.
Nevertheless, we have full driving impressions of the Ford Transit all-wheel drive in standard guise and new-for-2020 Trail specification below.
Ford Transit Euro 5 engines
This generation of Ford Transit launched with a range of three 2.2-litre TDCi turbodiesel engines, offering the following power outputs:
100hp / 310Nm
125hp / 350Nm
155hp / 385Nm
At launch in 2014 we tested the 2.2-litre 125hp and 155hp engines in both front- and rear-wheel-drive spec with a 500kg payload on board.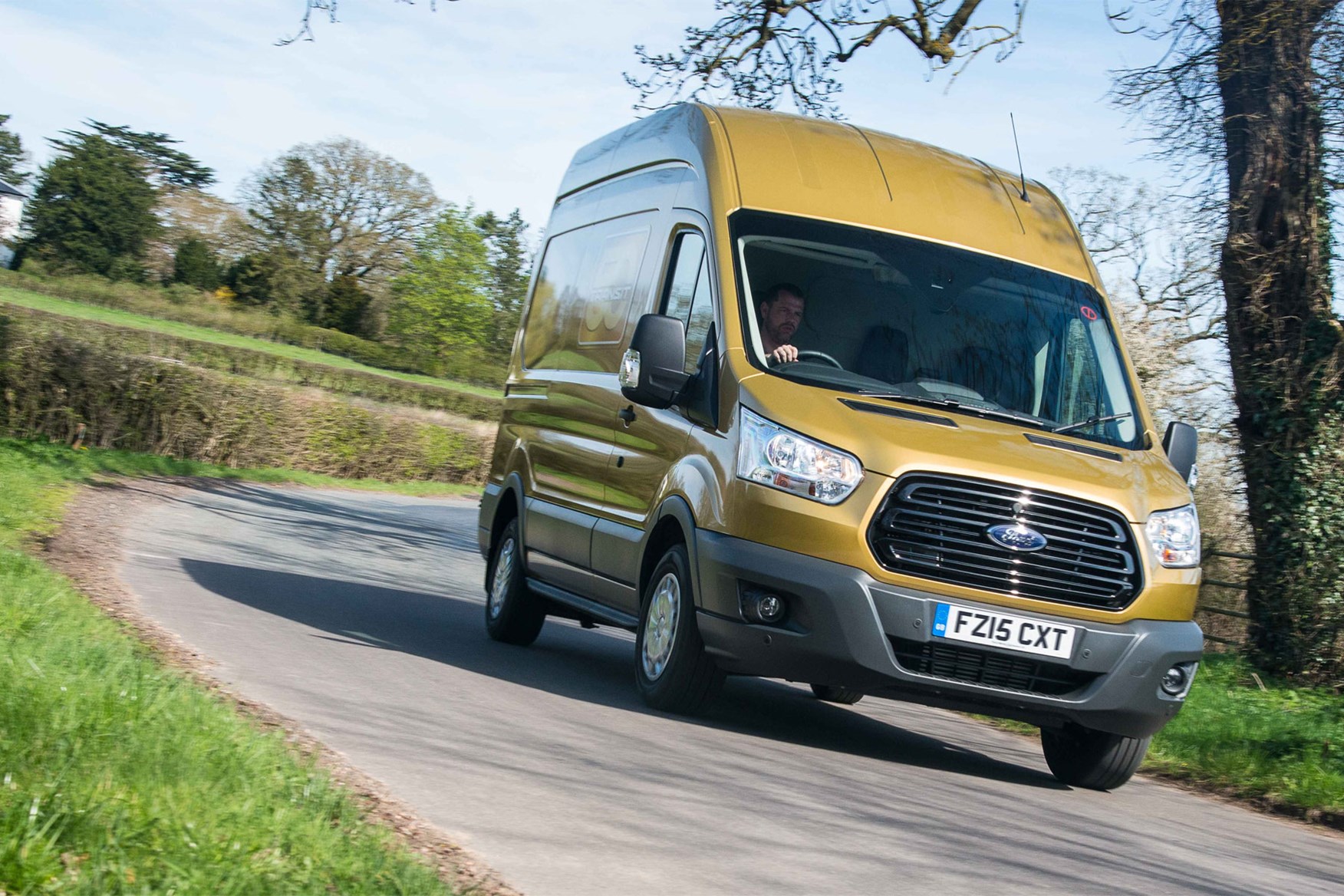 We felt the 125hp version did begin to run out of breath a little on steep inclines, but the 155hp unit felt extremely punchy at all times, and had no such difficulty.
Ford Transit Euro 6 engines
In summer 2016, a new range of 2.0-litre EcoBlue turbodiesel engines (known within Ford as the Panther engines) joined the Transit range in order to bring it up to date with Euro 6 emissions regulations - although these didn't begin to reach UK dealers in significant numbers until 2017.
Power outputs for the Transit 2.0-litre engines are as follows:
105hp / 360Nm
130hp / 385Nm
170hp / 405Nm
An additional 185hp / 415Nm variant was added to the range as part of the 2019 facelift.
Despite their smaller size, all the Euro 6 engines are impressively vigorous, as they deliver 20% more low-end torque early in the rev range, an advantage you can clearly feel on the road.
We've tested each output in a variety of conditions, and even the least powerful 105hp version is a strong performer, and that was with a 600kg test weight in the back.
These engines are also quieter than the ones they replace, making every journey that bit more pleasant.
Ford Transit 2019 facelift engines
On the surface it doesn't look like much has changed for the post-facelift engine line-up with the exception that there's a new 185hp power output at the top of the range; the other three engine options offer the exact same horsepower and torque figures as before.
But in fact, each of the new engines gets a revised turbocharger, new piston design, an on-demand oil pump and higher-pressure fuel injection. As a result they're said to be more responsive and more efficient.
Driven in isolation, there's not a massively obvious difference - although it did strike us that the new engines are louder than before, with rear-wheel drive variants proving particularly noisy inside.
Whether this is a result of the engine upgrades or changes to some of the materials as part of the facelift's weight-saving programme to boost its payload we're not sure. But the new aluminium bonnet and composite bulkheads together with the higher-pressure injectors certainly haven't made the van quieter.
As a result, refinement is one area where the Transit now definitely loses out to the latest German rivals - the VW Crafter and MAN TGE in particular. Although frankly the updated 2019 Renault Master and Vauxhall Movano will give the Ford a run for its money in this area as well.
That said, performance tested with half payload, the Transit's engines continue to feel well up to the task of effortlessly shifting a lot of stuff. You'll just have to speak up a bit when talking to your mates in the cab.
What's the Transit EcoBlue Hybrid like?
The Transit EcoBlue Hybrid is a new mild hybrid electric vehicle version - sometimes labelled mHEV - available from late 2019 with the 130hp 2.0-litre diesel engine; the mHEV package uses new 48v electric technology and can be fitted to all EcoBlue engines, but in the UK it's 130hp only to start with to see what interest is like.
Don't let the 'hybrid' part of the name fool you - this is not a Transit that can run on electric power for any length of time (you'll have to wait for the full-electric Transit coming 2021 for that, or downsize to the Transit Custom PHEV). Instead the mHEV uses a starter-generator and a small lithium-ion battery pack stored under the passenger seat to try to save fuel in regular driving.
It does this by operating as an advanced stop-start system - stopping the engine sooner and restarting it faster - and by using the additional battery pack to reduce the load on the engine. Harvesting energy under braking to charge the battery, this is then redeployed to power electrical components and even enhance the engine response at low speeds.
Theory goes that it will improve fuel economy by 3% in normal driving, and by up to 8% in stop-start traffic around town. But Ford also reckons it will take 80,000 miles before the mpg savings pay for the initial cost (£700 at launch in 2019), which isn't exactly spectacular.
And since the mHEV package weighs 27kg, it takes that amount out of your potential maximum payload - complicating the cost equation further.
Driving Transits with and without the tech on board, we couldn't really tell much difference, except for the manner in which the engine cuts out as soon as you depress the clutch at low speeds.
This is good news in the sense that day-to-day driving with the EcoBlue Hybrid is no different to any other Transit. But without even a gauge to tell you when extra energy is being recovered or the extra battery is being used, there's little immediate sense of satisfaction to be had from paying for it at this stage.
On big fleets where every tiny improvement in fuel economy makes a difference we can see the sense of it. But for small operations it seems difficult to justify at the moment - a change in driving style among heavy-footed drivers is likely to bring greater cost savings.
What is the electric Ford E-Transit like?
The Ford E-Transit sets the standard to which other large electric vans should aspire. Not only is it cheaper than rivals but it is better built, goes further, is more powerful and has an excellent payload. In short, it is the best option out there at the moment.
It offers a claimed maximum range of 196 miles, and Ford reckons that even in the absolute worst case scenario you should be able to get 100 miles when you carry loads and are not particularly gentle with the throttle.
The driving experience is what you would expect of an electric van, which is more than can be said of many rivals, in that it is quiet and smooth on the move. There is barely any wind or road noise and it is a relaxing experience.
Whichever power option you go for, you end up with all of the 430Nm of torque available immediately, which gives a brisk acceleration from a standstill.
For a more detailed verdict on the E-Transit, read our full review.
Does the change to electric power steering make a difference?
The short answer is no. The Transit has always had good steering for a van, and replacing the traditional hydraulically assisted power steering with electrically assisted power steering for the 2019 facelift makes no difference to this whatsoever.
This remains a van that's easy to drive confidently and quickly, and straightforward to place precisely on the road.
What the electric assistance does do is enable a whole new selection of driver aids and safety systems - such as lane-keeping assist and automatic parking. More details on this in the Safety section.
Does the Transit have any driving modes?
Another new feature for the facelift model, all Transits now come with a choice of standard and Eco driving modes; Eco does what it does on all other vans with this feature - knocks back the performance and response a little in an effort to reduce fuel economy.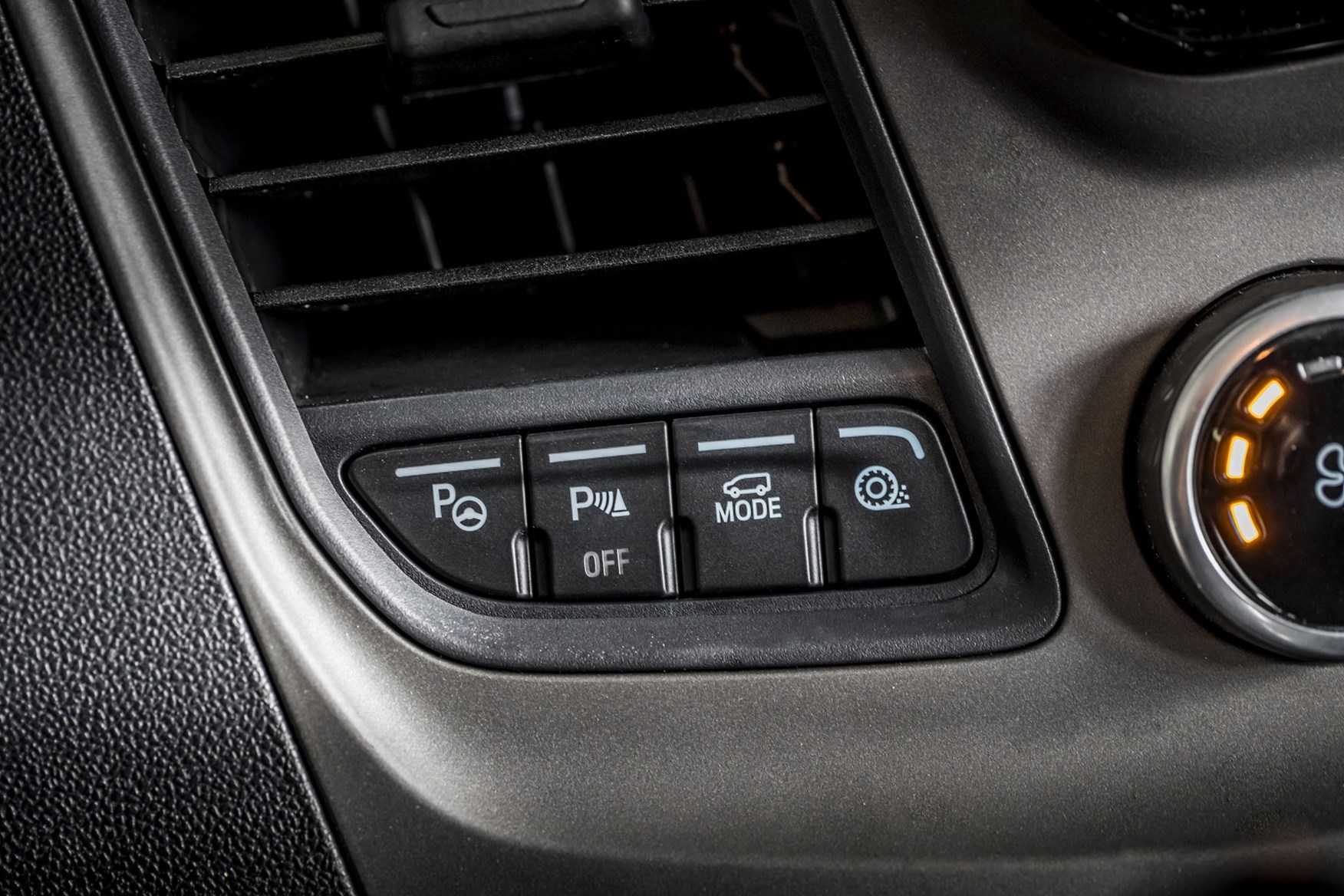 It seems to be quite a mild change on the Transit compared with some other large vans, but you probably won't want the Eco setting engaged if you're carrying a lot of payload.
RWD Transits also have a Slippery mode for additional traction, and AWD Transit now have a Mud and Rut setting, though we're yet to have the chance to test this.
Ford Transit gearbox options
All Transits of this generation feature a six-speed manual gearbox as standard, which is very friendly to use via a snappy, dashboard-mounted gearlever.
An optional six-speed automatic became available for the first time on front-wheel drive models with the introduction of the Euro 6 engines in 2016.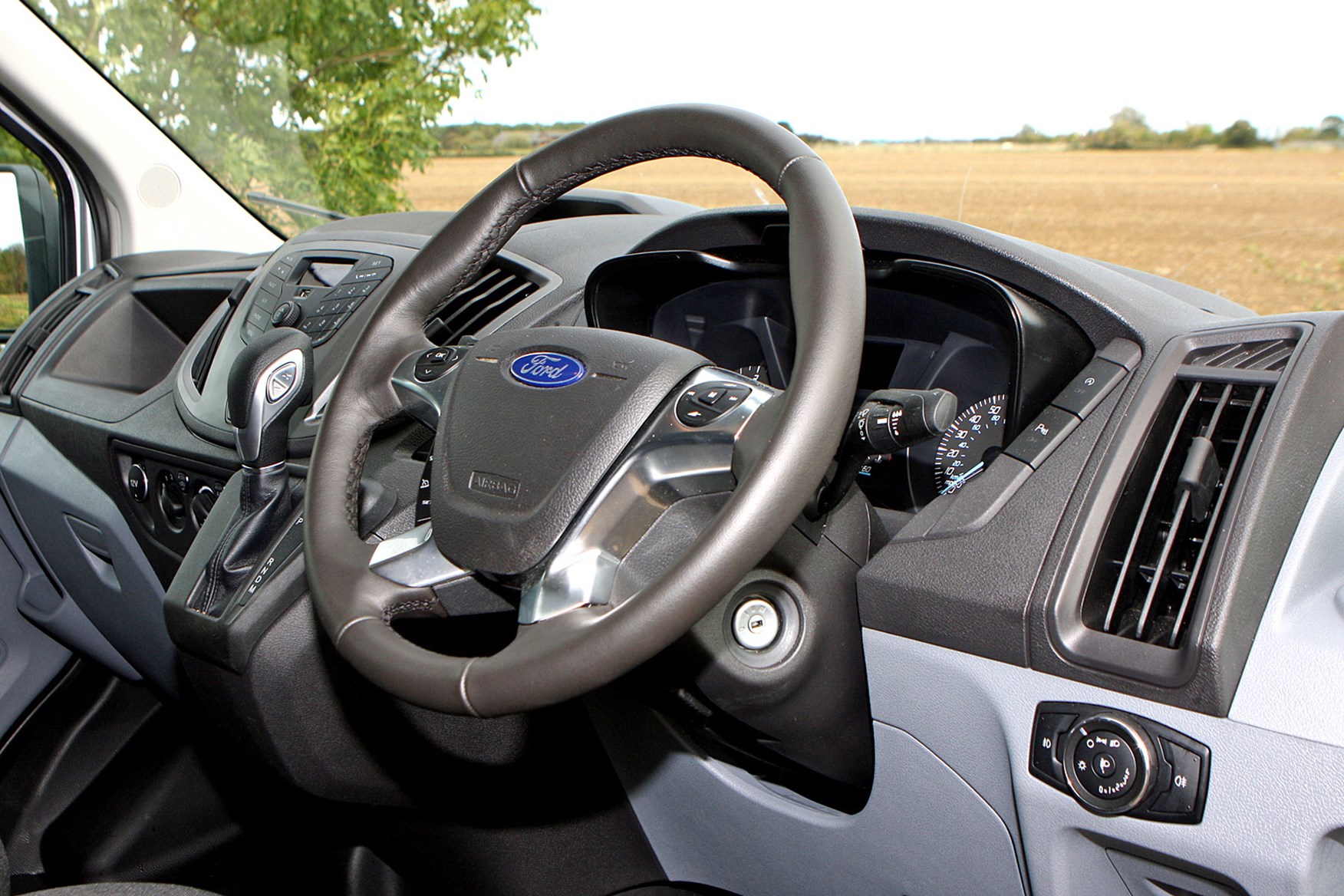 This works smoothly enough, even if it's far from being a cutting-edge design (though new to the Transit it's been in use in other Fords for over 10 years). Useful for drivers regularly forced to deal with traffic jams, but not a particularly popular option on this model.
What's the Transit 10-speed automatic gearbox like?
Much better than the ancient six-speed auto is the new 10-speed automatic transmission, which was launched as an option for rear-wheel drive Transit in June 2020.
This is a much more modern design - as the number of ratios probably tells you - and is fundamentally the same as the 10-speed available in the Ranger pickup, although it's even smoother in operation in the van than it is in the truck.
It's got all sorts of clever tricks, including the ability to instantly adjust its shifting logic depending on the weight of the van, how it's being driven and the conditions. We found it almost impossible to catch out, even when tested around challenging countryside and urban driving routes.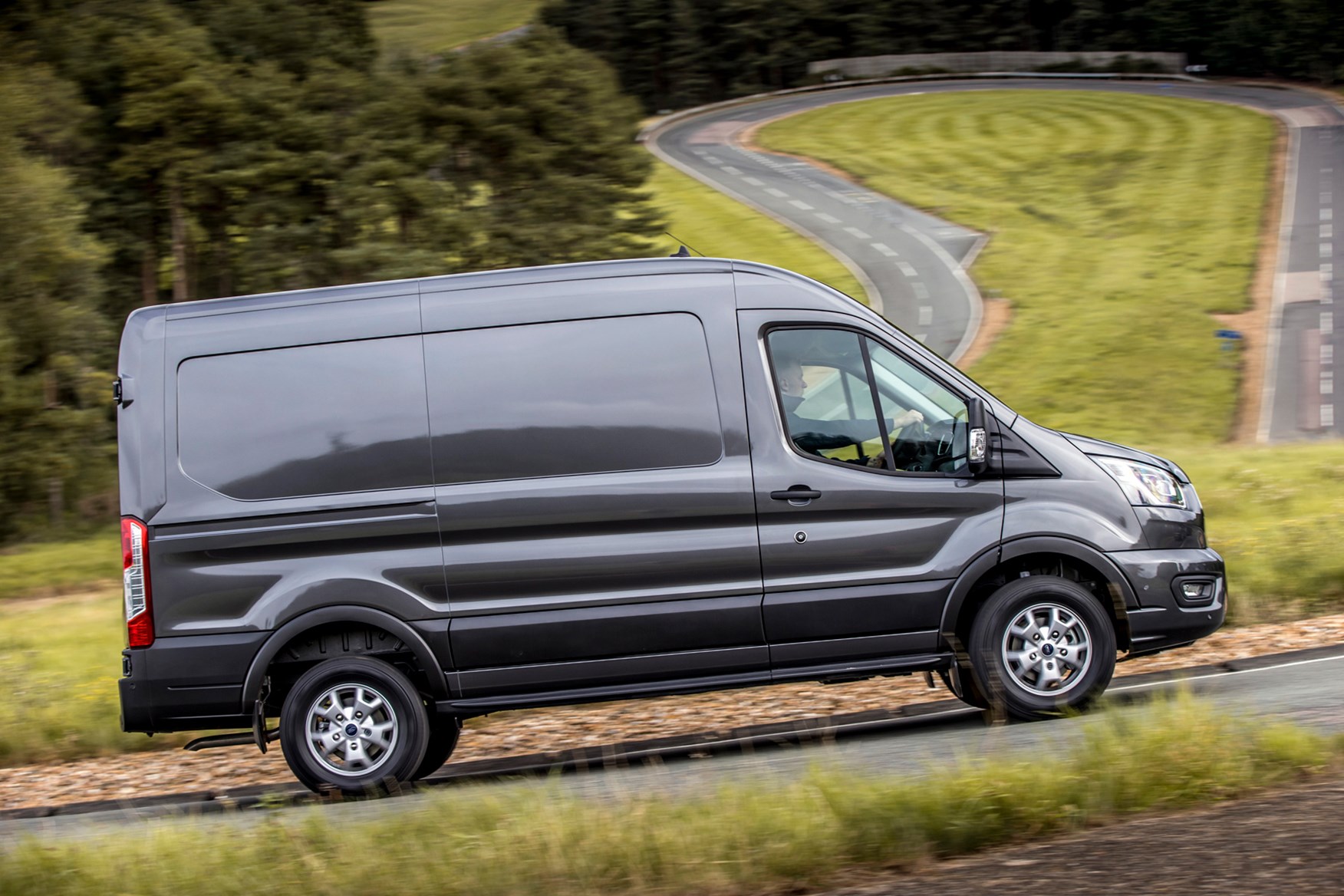 Having so many gears means it's better able to juggle performance and economy, while cruising at motorway speeds is quieter than ever. Things get noisier if you you really put your foot down - there's a sort of blaring at the top of the rev range before each up-shift - but the added convenience the rest of the time would make this easily worth putting up with.
Expect to see a lot more Transit autos around as a result. It's not the cheapest option for your RWD van, but it'll save you money on clutch replacements and make life much more pleasant in traffic.
Good visibility
A high seating position and relatively low dashboard means you get a good view of the road ahead, while the dual-section door mirrors help you keep track of what's going on behind.
Options including a reversing camera, blindspot monitors and all-round parking sensors are available to help make moving this big van around even easier.
Car-like interior even better after facelift
Plenty of storage, solid build quality
Advanced tech features include FordPass Pro
Like its smaller Transit Custom sibling, this Transit's interior is more car-like than ever - and it's got even better for the late 2019-onwards facelift model.
Pre-facelift Ford Transit cab interior
Key feature of all these Transits is that the steering wheel has a more upright, car-like angle, with adjustment for both reach and height so it's easier for drivers of different sizes to find a comfortable driving position.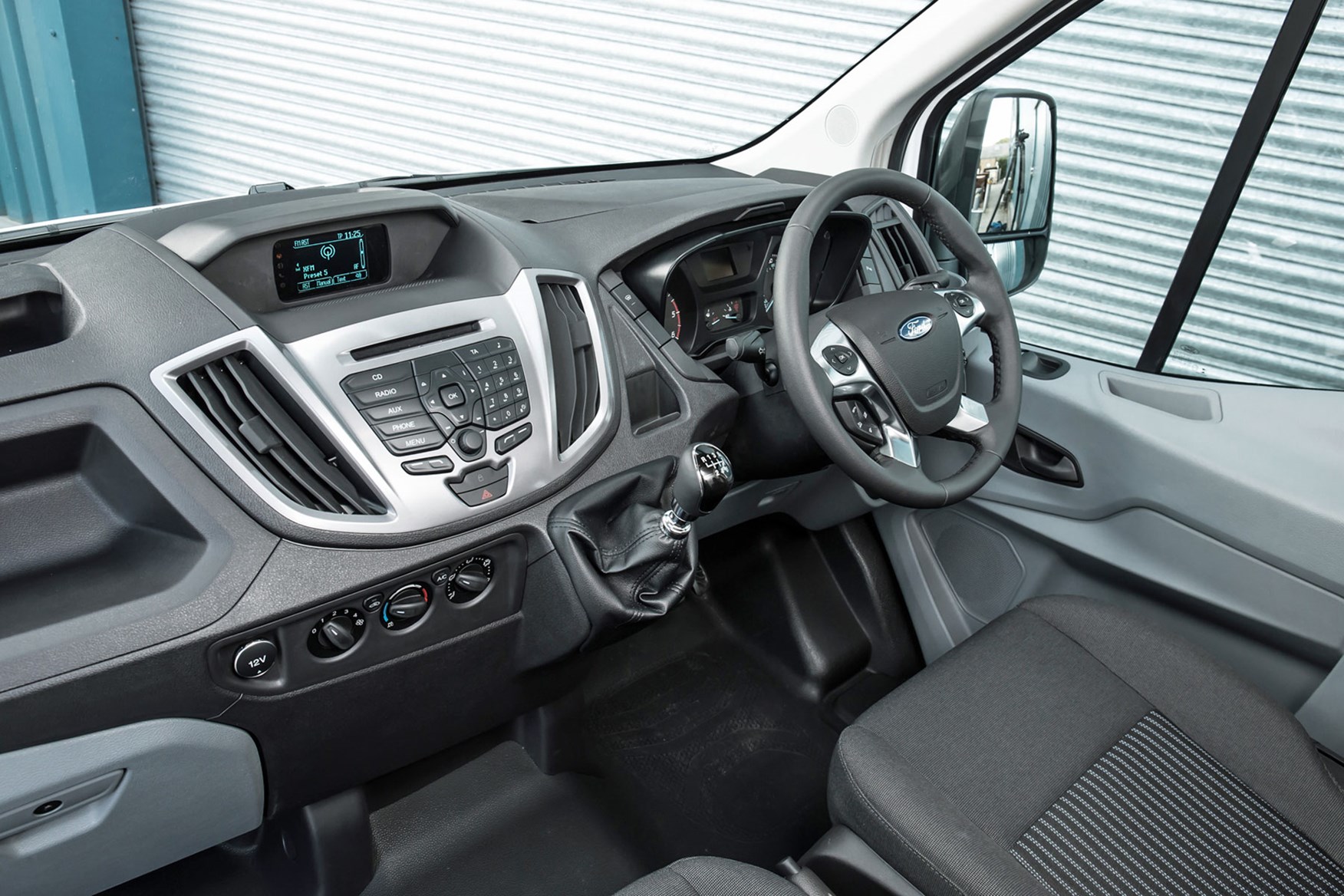 There's also plenty of shoulder and head room when travelling three-up, and all but really tall middle-seat passengers should find they've got enough space for their knees.
However, some of the controls are slightly daft in their positioning. The heating (and air-conditioning, where fitted) controls, for example, are on the far side of the gearlever pod, so you'll find you have to stretch to reach them.
Usefully deep cup holders and cubby holes are moulded into either end of the dashboard, and there's a generous storage area underneath the lift-up passenger seat bench. Plus overhead storage in the cabin roof for documents.
The big glovebox has space for A4 documents and there's a fold-down section in the middle passenger seat with two small cupholders.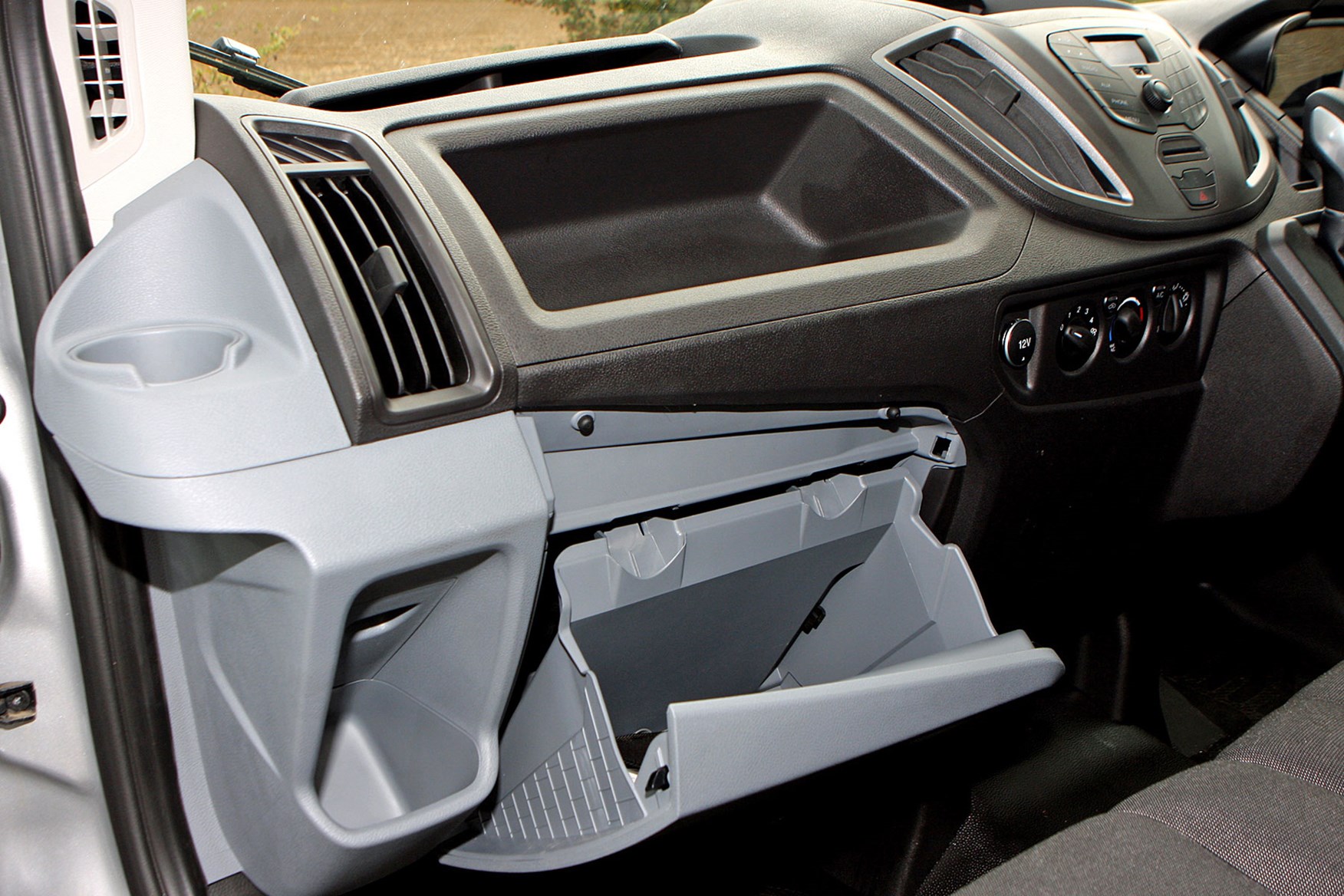 There's also a hidden area ahead of the steering wheel which can be specced with USB and aux-in ports, making it a great space for mobile phones to charge.
Post-facelift Transit cab interior
For the mid-life facelift, Ford has made the Transit's cab even more car-like - though not everyone will agree with the practicality changes.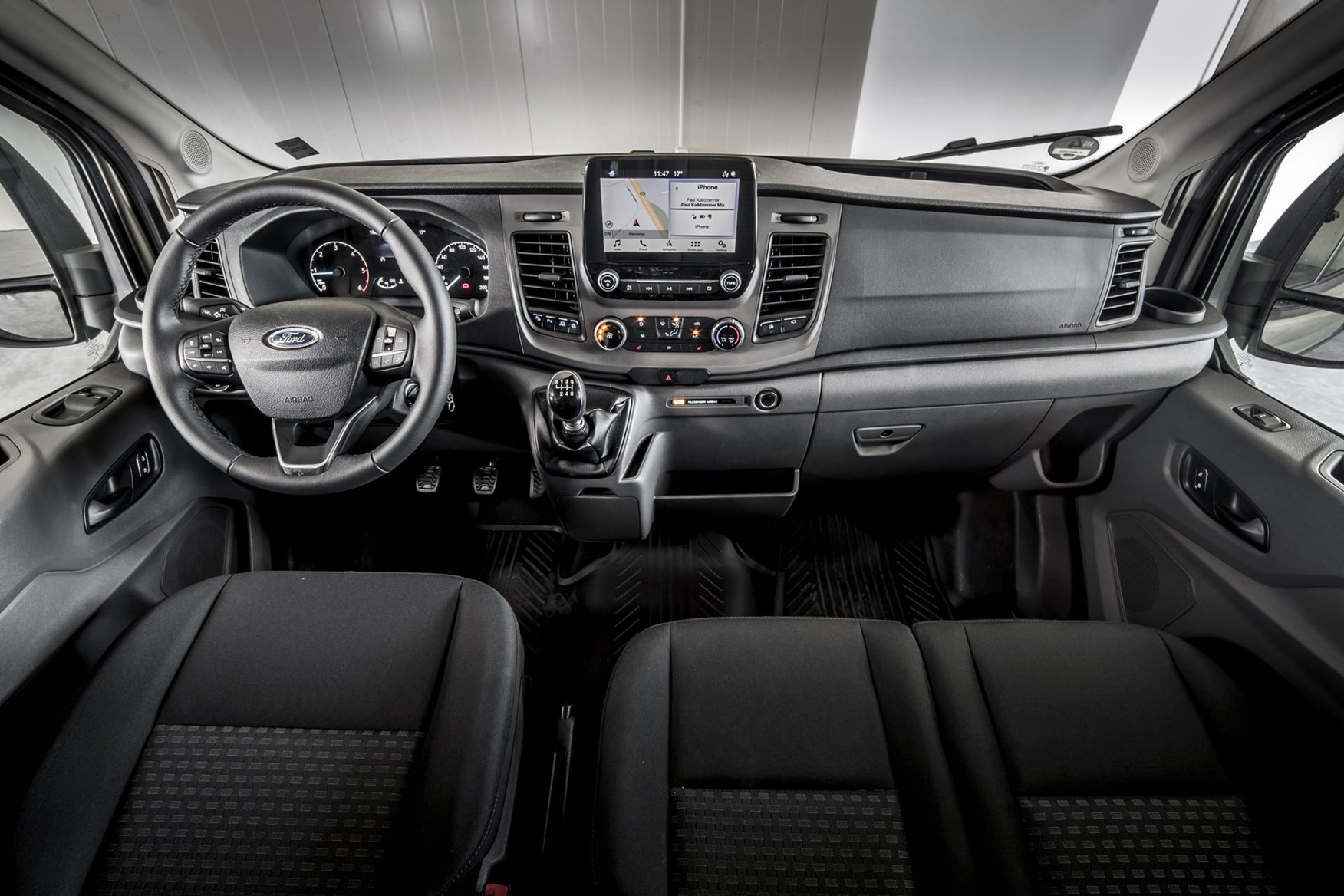 The dashboard layout and structure is similar to that in the latest Transit Custom, which in turn borrows elements from Ford's latest cars. Most obvious is the new, tablet-style touchscreen, which dominates the centre of the cabin.
This looks its best as the range-topping 8.0-inch version with Ford Sync 3 infotainment software, standard from the Trend trim level and featuring voice control as well as Apple CarPlay and Android Auto. A smaller 4.2-inch alternative with 'Sync Light' is fitted on basic models.
Material quality on the new dashboard is better than ever, and the design changes are generally improvements. There are lots of cupholders and cubbies, including three new dash-top bins, substantially increasing space to stash stuff.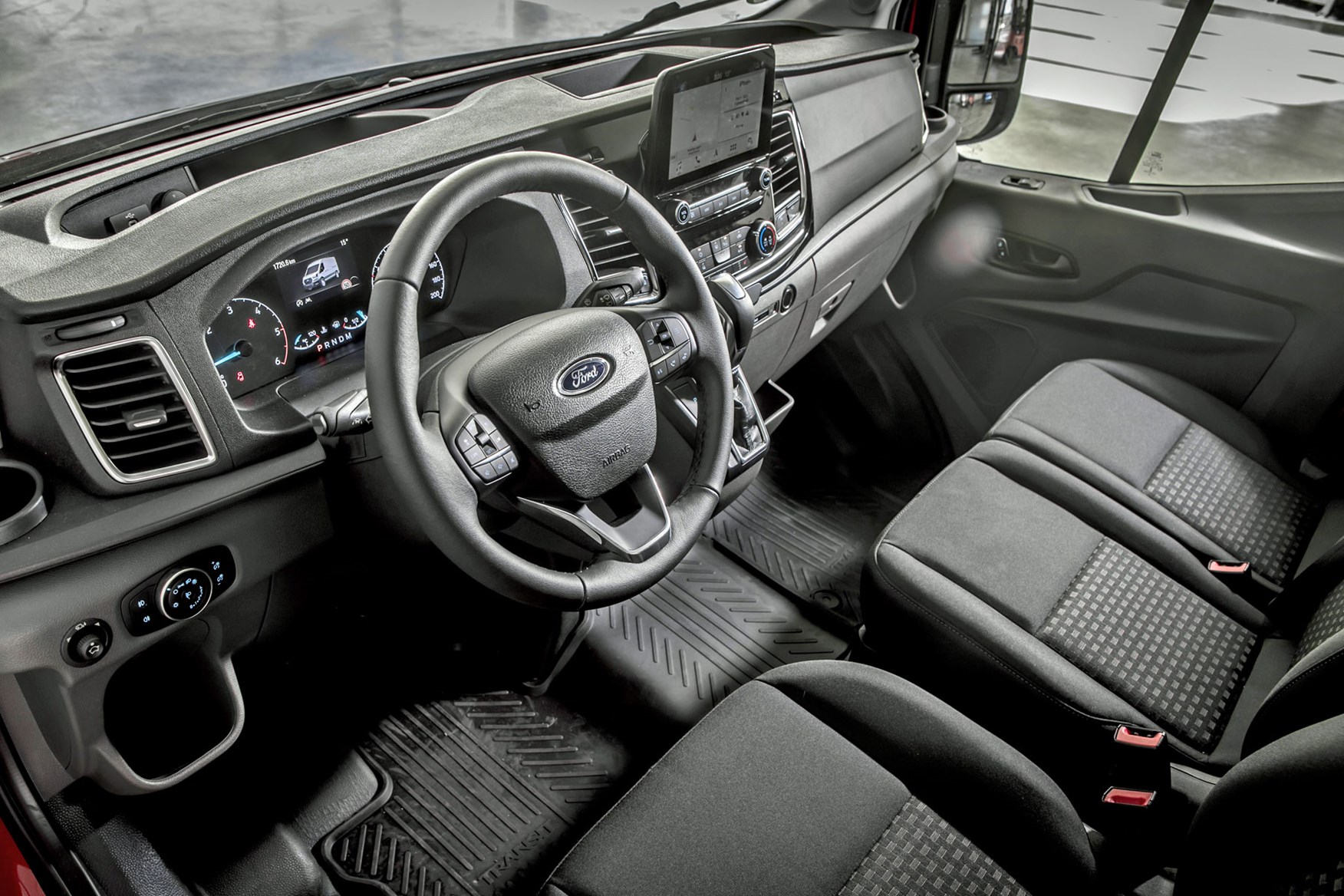 The downside to these is that they don't have lids, so everything you put in them will be on display and likely reflecting in the windscreen. That hidden storage space above the instrument cluster is gone, which some may be disappointed about.
Elsewhere, the new cabin features harder-wearing fabrics on the seats, and the amount of available on-board technology has taken a big step up. There remains plenty of room for three people inside.
On-board tech including FordPass Connect and FordPass Pro
The big upgrade in tech terms is the new FordPass Connect 4G modem that's available across the range (upgraded to standard equipment from June 2020). This not only powers an on-board Wi-Fi hotspot for up to 10 devices, but also enables new connectivity features.
For large fleets this means new Ford Telematics and Ford Data Services options, which can help keep track of vehicle health and driver behaviour. But the more interesting development is the FordPass Pro app, which is aimed at owner-operators and small fleets of up to five vans.
This is a super no-nonsense smartphone app that gives you instant access to information about your van - such as whether it's locked and if it has any immediate maintenance concerns.
The app will allow you to lock and unlock the van remotely, start it remotely if it's an automatic (so you can begin the defrost process on a cold morning before you've left the house), and delve more deeply into the vehicle status, with info including fuel level, oil life and tyre pressures.
What's more, if you have got a small fleet (the limit is five vans), you can see where all of them are on a single map screen. This will help you locate the nearest colleague, helpful if you suddenly need an extra pair of hands on a job, for example.
The FordPass Connect system also has Over-The-Air (OTA) software update capability - the first example of which will be the addition of a new FordPass Pro Guard Mode system in late 2020. There's more info on this in the Safety and Security section of this review.
Promise of reduced servicing costs
Technology to boost fuel economy - but is it worth it?
Well-equipped right across the range
The Transit is a big van that should prove cheap to run.
Ford Transit service intervals and costs
A big plus point for the 2014-onwards Transit compared with the model it replaced is that scheduled maintenance has been cut from 5.4 to 4.2 hours over 90,000 miles.
Non-scheduled maintenance should be cheaper, too; rear brake disc repair, for example, takes half as long as before.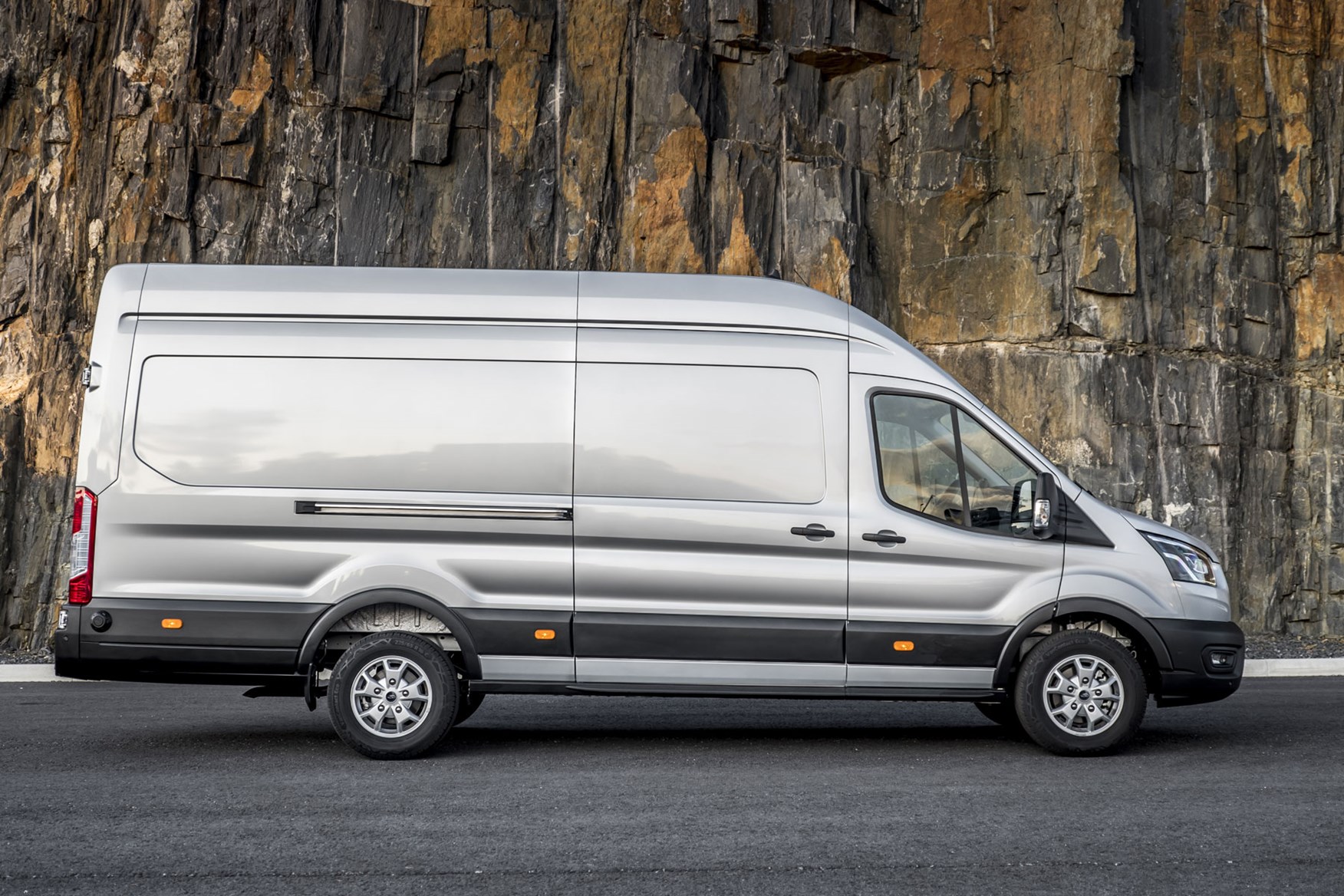 The actual service intervals vary with engine and then year.
The original 2.2-litre Euro 5 engines are rated to go 30,000 miles or two years between dealer visits, while at launch, the 2.0-litre Euro 6 motors were supposed to achieve 36,000 miles or two-year intervals.
However, following 'real-world experience' (see the oil change issues detailed in the reliability section below), in 2018 Ford quietly changed its official policy on the Euro 6 engines to 'a variable service interval up to two years.'
The short way of explaining this is: get the oil changed whenever the van tells you. The slightly longer explanation is that light-duty vans may go as far as 25,000 miles or two years between services (two years being the absolute maximum), while those regularly subjected to heavy loads and high engine speeds will need servicing much sooner than that.
Ford recommends an annual 'safety check' even if the service light hasn't come on.
Ford Transit warranty and further servicing info
The Transit is covered by a three-year, 100,000-mile warranty as standard. There's also a 12 year anti-perforation warranty for the bodywork, but make sure you get this checked at every service or it can be difficult to claim.
Ford has a scheme called Transit24 where service booking requests can be made online. It also has a growing fleet of mobile service vehicles, so in some cases you won't even need to visit the dealer to get your van looked after.
So extensive is the Ford dealer network that the firm claims 95% of the UK is within 45 minutes of a Transit service centre. Which is good news for minimising downtime.
Also available is a 'Ford Assistance' package with 'load continuation', where in the event of a breakdown the van's load can be delivered while the vehicle is being repaired.
Ford Transit Euro 5 mpg
On the efficiency front, the lowest 2.2-litre Euro 5 Ford Transit running costs belong to the short-lived Econetic model, which claimed average fuel consumption of 44.0mpg (when fitted with the optional 62mph speed limiter).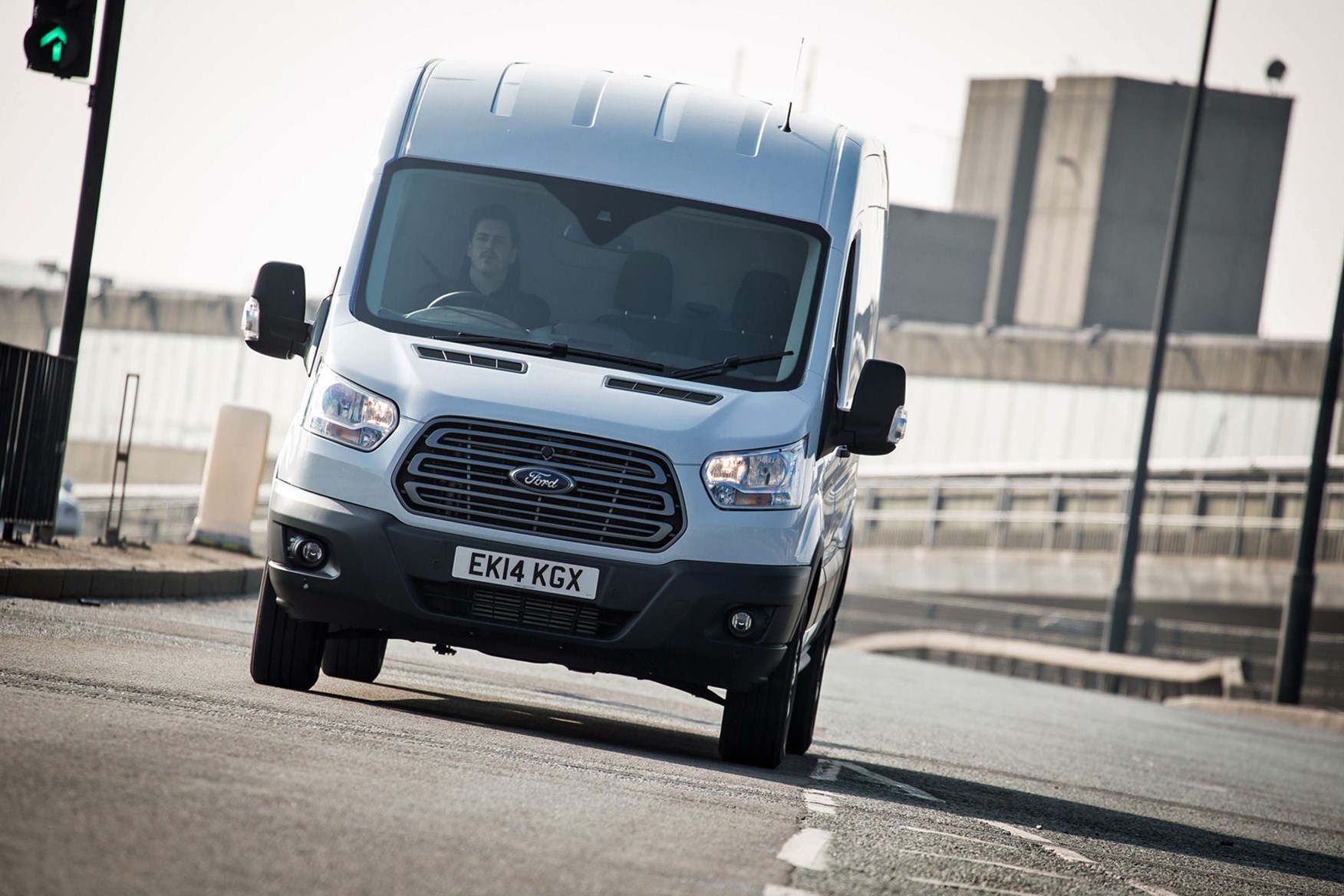 The Econetic is fitted with a version of the 125hp engine with stop-start, and is claimed to be 6% more fuel-efficient than the previous Transit Econetic. It was available across six different van sizes with gross vehicle weights (GVW - or GVM for gross vehicle mass, as Ford often has it) up to 3.5 tonnes.
Helpfully Ford's 'Easy Fuel' system is standard, designed to make it all but impossible to put petrol in your diesel van by mistake.
Ford Transit Euro 6 mpg
There is no Econetic equivalent for the more recent 2.0-litre Euro 6 engine range as yet, but claimed fuel economy is high as 42.2mpg in the pre-facelift range, and these should be more efficient across the board.
Having said that, the 2.0-litre motors do make use of a 21-litre AdBlue tank, which will need refilling every 5,000-6,000 miles, adding to your costs.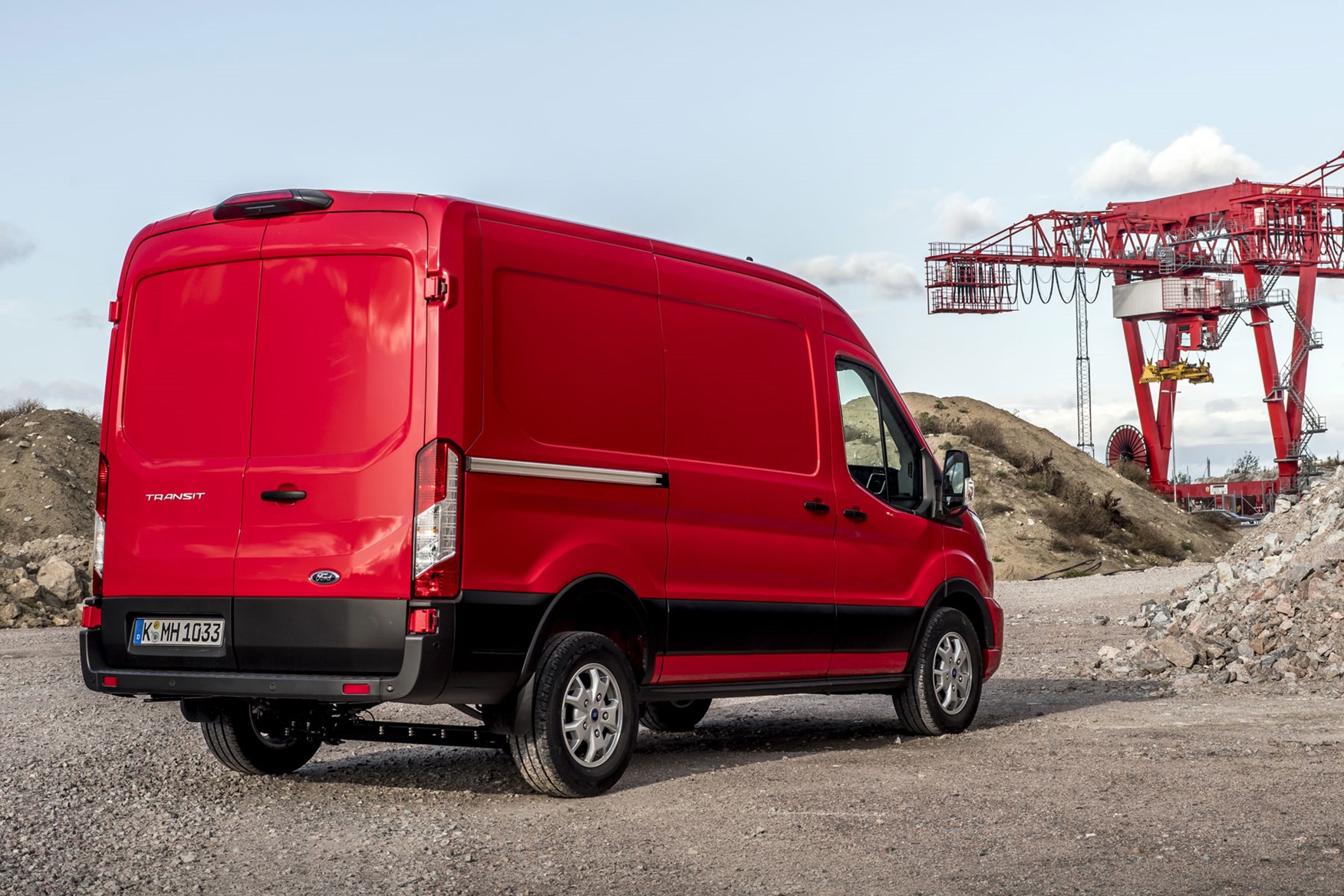 The upgraded 2.0-litre engines fitted after the 2019 facelift promise 7% greater real-world fuel economy, although confusingly the on-paper best fuel economy for these is lower at 40.9mpg.
This is because the official testing standard has changed to a new WLTP procedure, so even though Ford (and many other van makers) are converting the figures back to the older NEDC format, there's still a change that should make them more realistic - and therefore lower on paper.
The EcoBlue Hybrid models now available with the upgraded engines are said to bring a further 3% fuel economy improvement in general driving, and 8% in urban driving. As discussed in the Driving section of this review, it's just a shame they don't give the driver any additional real-time feedback or incentive.
Ford Transit standard equipment
The Ford Transit comes in three trim levels following the 2019 facelift: Leader (also known as Base), Trend and Limited. In 2020, Ford also added the Trail model, as a sort of harder-working alternative to the Limited.
Ford Transit Leader / Base standard equipment highlights:
Unpainted bumpers
Large, double-lensed door mirrors
Dual passenger seat with under-seat storage
Fold out front passenger seat table
Glovebox with A4 file storage
Electric front windows
Remote central locking
Four-way adjustable driver's seat
Reach and rake adjustable steering wheel
Easy-clean rubber flooring in cab
Bluetooth and USB connectivity
Ford Sync infotainment with 4.2-inch screen
Two 12v power sockets
Full steel bulkhead
Ford EasyFuel capless refueling flap
Vehicle Maintenance Monitor
Selectable drive modes
Ford Transit Trend standard equipment highlights (in addition to Leader):
Heated windscreen
Automatic lights and wipers
Front and rear parking sensors
Electric mirrors with heating and power-folding
Front foglights
Cruise control with adjustable speed limiter
Ford Sync 3 infotainment system with 8.0-inch touchscreen, Bluetooth and USB connectivity
Easy clean load floor
Lockable glovebox
Ford Transit Trail standard equipment highlights (in addition to Trend):
FORD grille
Exterior body cladding
Black 16-inch alloy wheels
Mechanical limited slip differential for FWD models
Option of AWD (but no RWD)
Full-leather interior
Air-conditioning
Ford Transit Limited standard equipment highlights (in addition to Trend):
Body-coloured front bumper (a first for the big Transit; looks a little weird in some colours!)
Bi-xenon headlights with LED daytime running lights
Air-conditioning
Premium instrument panel
16-inch alloy wheels
Side Park Assist
Massive dealer network to keep you going
Generally considered to be a durable, dependable van
Some oil service and injector issues with Euro 6 engines
This generation Transit has completed nearly seven million miles in testing in Europe and North America ahead of production.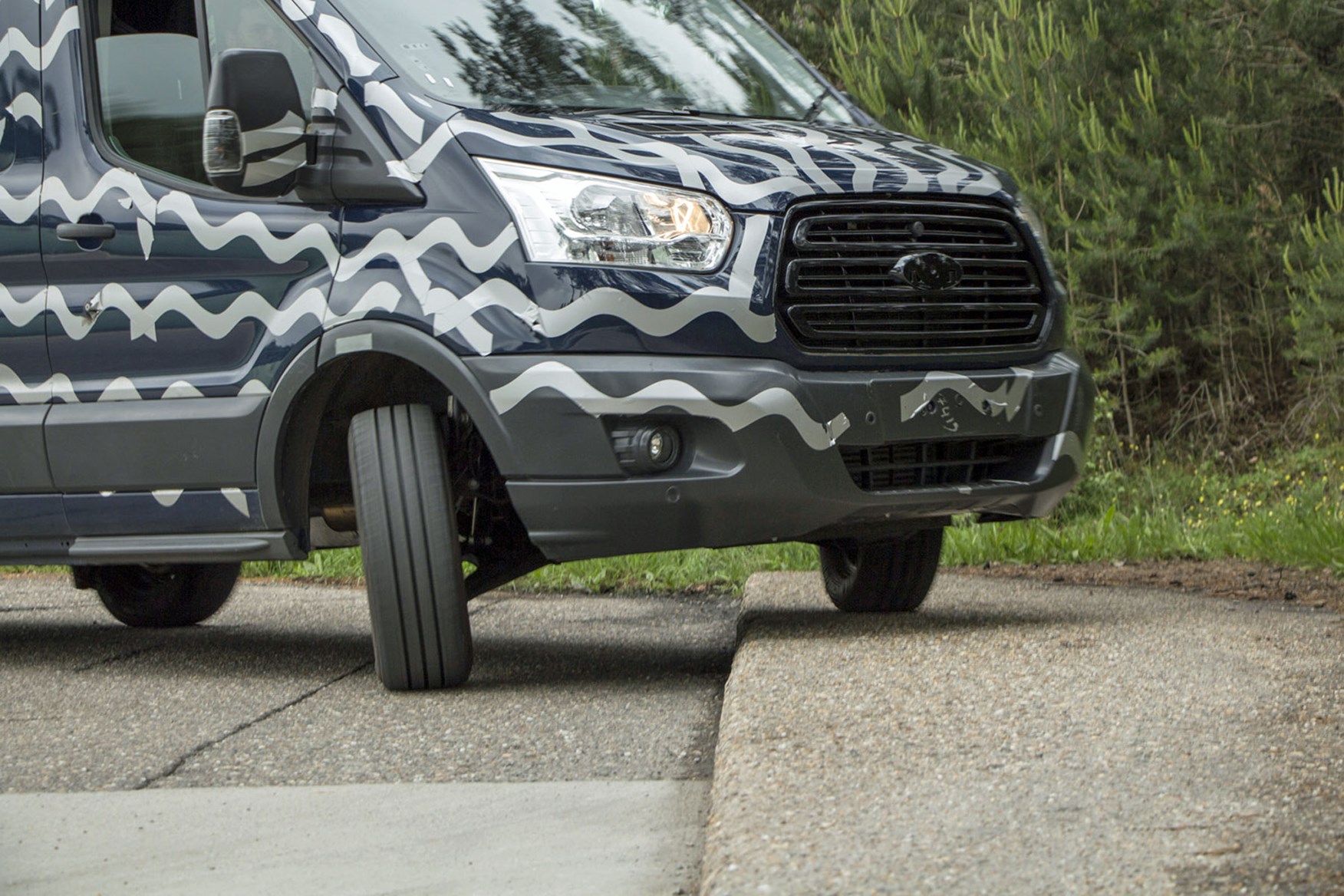 This seems to have done the trick, as it is typically one of the top 10 most reliable vans, according to the FN50 van reliability survey.
However, it hasn't been faultless, and there have been some problems with the Euro 6 engines.
Ford Transit Euro 6 service intervals and oil change issues
The 2.0-litre EcoBlue engines introduced in 2016 happily meet the latest Euro 6 emissions regulations, as well as offering greater performance at every power level.
Unfortunately, they also seem to be suffering with some teething troubles, which it's unclear Ford has successfully resolved. Highlighted problems centre around early oil change service requests, an issue which has so far been put down to software problems, faulty injectors and even the length of the dipstick...
A couple of things to note about this. Firstly, it's the on-board computer that decides when a service is due, and if you drive unsympathetically or mostly do short journeys you can expect the van to request an oil change early. Some of the early requests may be for genuine reasons.
Secondly, as with the Transit Custom (which suffers from similar problems as it uses the same 2.0-litre engines), Ford sells a lot of these vans, so it's hard to tell whether the number of complaints actually represents an unusually large percentage compared to rivals.
Whatever the cause, Ford has now adjusted its service interval recommendations.
Ford Transit EcoBlue Euro 6 injector issues
The 2.0-litre EcoBlue Euro 6 engines built in 2019 have also had injector problems - to such an extent that in September 2019 Ford not only issued a field service action (similar to a technical service bulletin or TSB) to replace the potentially faulty injectors wherever they were fitted, it also increased the number of courtesy vehicles available to UK customers in an effort to minimise downtime.
Customers with vehicles fitted with the faulty batch of injectors get them replaced for free.
However, we've received reports that the Euro 6 engine has been experiencing injector problems from the very beginning, compounded by erratic supply of replacements. Hopefully Ford has now finally identified the cause of the problem - in 2019 it was a failure of the coating inside the injector, a supplier issue - but if you're still experiencing trouble do let us know.
Ford Transit brake booster issue
Ford has also issued a field service action for some versions of this Transit, following the detection of a potential issue with the brake booster.
The field service action was issued in late 2018, and should be carried out the next time your van is at the dealer. But if you're concerned - after all, anything to do with the brakes is potentially a safety matter - give your local Ford service centre a call for more info.
Recalls
There have also been a small number of official recalls on this model, for issues with a non-compliant tow bar fitting, seatbelt bolts and rear stabiliser bars. These did not affect many vehicles, however.
Over-The-Air software updates
Where fitted with the FordPass Connect on-board modem, the Transit can now receive software updated wirelessly without the need to visit the dealer. This could range from routine upgrades to minor fault fixes, and is a nice thing to have in order to reduce vehicle downtime.
Impressive roster of safety kit - though much is optional
Model updates bring ever more high-tech safety features
Some security concerns, but new connected security solutions, too
This Transit has been a safety-conscious van from the start, but it has also been progressively upgraded.
Ford Transit safety
A driver's airbag is standard and front passenger, side and thorax airbags are optional.
All Transits get electronic stability control (ESC), which includes Curve Control - software that individually brakes certain wheels to help prevent the van running wide if it enters a bend too quickly.
In addition there's Trailer Sway Control, which also brakes individual wheels when necessary to reduce the effect of a trailer that has begun swaying.
A range of optional active Ford Transit safety systems are also available, including:
Adaptive Cruise Control
Lane Keeping Alert (which uses cameras to monitor the van's position and vibrates the steering wheel to warn the driver if they begin to drift out of lane unintentionally)
Tyre Pressure Monitoring
Static Cornering Lights (which shine in the direction you're about to turn – standard on Trend models)
The Ford Sync infotainment system also includes an emergency call feature, which can automatically contact the appropriate services if there is no response from the driver in the event of a crash.
Ford Transit 2016 safety tech upgrades
From the summer of 2016, the Transit was also available with an autonomous emergency braking (AEB) system called pre-collision assist with pedestrian detection, road-sign recognition and side-wind stabilisation.
Furthermore, the rear doors now feature high-visibility decals to help prevent traffic running into them when opened to 90 degrees.
Ford Transit 2019 safety tech upgrades
The late 2019 facelift brought even more safety tech, thanks in part to the new electric power-assisted steering, which enables features such as enhanced lane-keeping assist.
The equally optional blindspot monitors can now take a trailer up to 10m long into account, while an upgrade to the adaptive cruise control will now automatically adjust the set speed based on traffic signs.
What's more, you can have full active park assist now, which enables the Transit to park itself.
On top of this, Ford has introduced new wide angle cameras for the front and rear of the van - these practically allow you to see round corners at low speeds - and a rear cross-traffic alert system to help you when backing out of spaces.
The optional regular reversing camera has been moved to a high-mount position too, which not only reduces the chance of it getting damaged, it also allows you to use it when reversing the van with doors open - such as when backing up to a loading dock.
Euro NCAP Gold award
The above updates seem to have done the trick for the Transit as far as Euro NCAP is concerned, as the European crash safety body awarded the Ford a 2021 Gold rating in December 2020.
This came as part of the first round of testing carried out for the Euro NCAP van safety campaign.
Safety accessories added in 2021
Ford has added some interesting new safety accessories for the Transit: electronic high-visibility panels, and a Smart Mirror.
The electronic high-vis panels are self-illuminating 'Chapter 8' markings that aim to improve your visibility to over road-users when working at the road-side at night. As they do not rely on reflected light, they can be seen much earlier and around corners.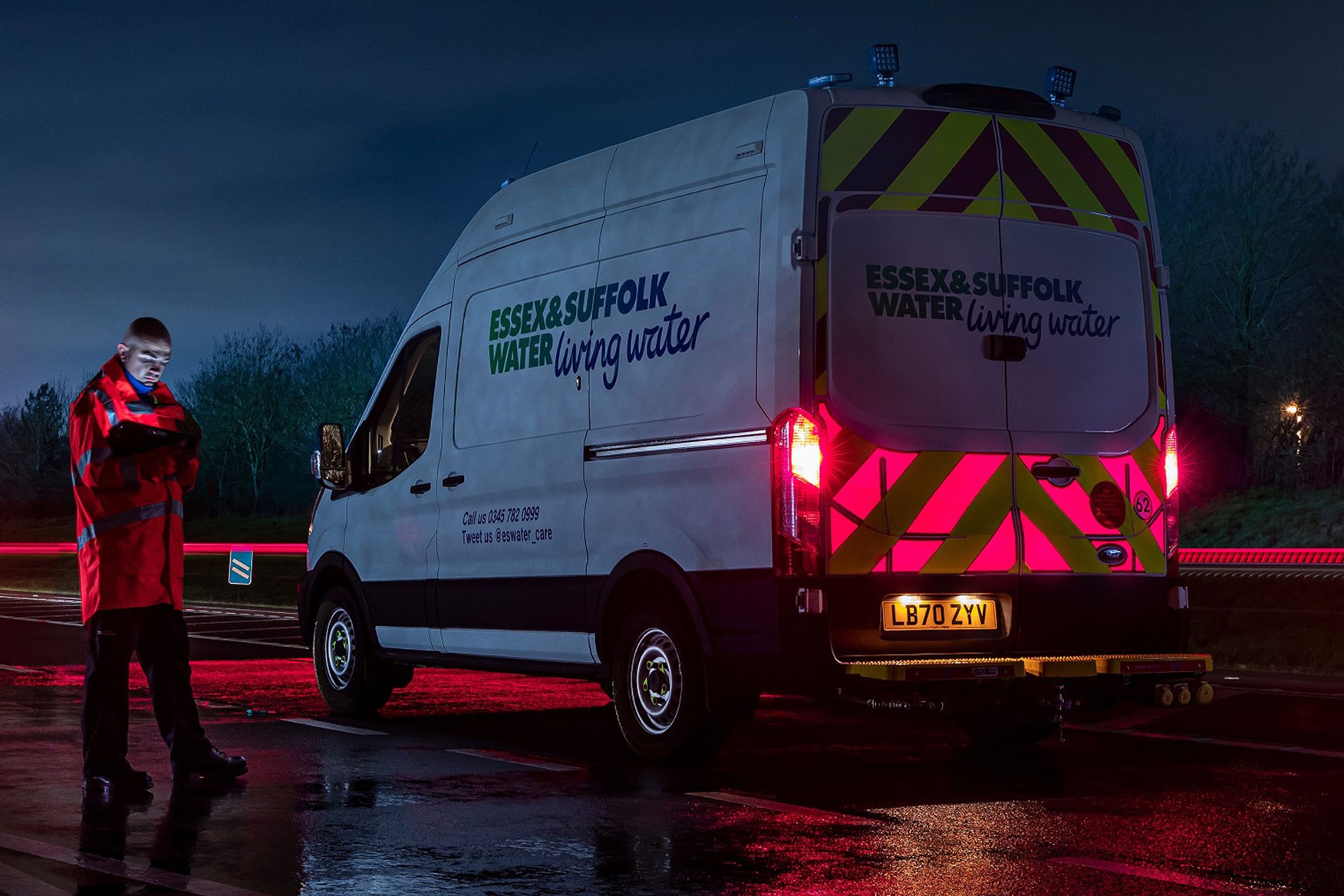 The Ford Smart Mirror uses a camera on the back of the van and a display screen where a conventional rear-view mirror would be fitted to give you a permanent view of the road behind. This is intended to give you earlier warning about in-coming hazards - such as bicycles and e-scooters - and also doubles as a reversing camera.
Both of these high-tech solutions can be retro-fitted to older Transits (from 2014) as well as to new ones.
Ford Transit security
Possibly a bit of a sore point with owners and drivers, as the Transit doesn't have the best reputation for being resilient to break-ins.
In an effort to combat this, Ford updated the central locking programming in 2017.
As always, our best advice is to not leave anything in the van that you can't afford to lose. But if that's not practical seriously consider upgrading the locks and investing in other security reinforcing measures.
Ford offers its own range of Trade Vehicle Locks (TVL) security upgrades, covering everything from additional locks to key fob protectors designed to prevent keyless entry and start systems from being exploited by so-called 'relay box' attacks.
Connected security from 2019, FordPass Pro Guard Mode from 2020
In addition to the above, the FordPass Connect system now available on facelifted Transits can send you a notification if the alarm is activated. The FordPass Pro smartphone app that works with this also allows you to see the van's location at any time as well.
Later in 2020 a new Guard Mode function is planned for FordPass Pro, which will take things even further by alerting you should someone try to open the van without your authorisation, even if they're using a key.
Which Ford Transit is best for me?
As the Ford Transit is typically the UK's second bestselling van – behind its smaller brother, the Ford Transit Custom – it shouldn't be difficult to track down a suitable example for your needs whether you're buying new or used.
You probably already know whether you need an extra row of seating for crew – which makes the decision between the regular panel van and the Double-Cab-in-Van (DCiV) an easy one. Chassis cab models are also available.
Which Ford Transit carries the most?
The size of Transit you need is likely to be dictated by what you'll be carrying; you can get full details of load capacity on our dedicated Ford Transit dimensions page.
That said, if payload is of critical concern, note that the larger the van itself, the less mass it can legally carry at a specific gross vehicle weight (GVW) – so don't automatically go for an extra-large version if your loads are likely to be very heavy.
That said, in late 2020 Ford added a new 5.0-tonne variant to the Transit range. This has huge payload capability, but requires the driver to have a licence for vehicles over 3.5-tonne GVW. Full details are available in our Ford Transit 5.0-tonne news story.
Which Ford Transit engine is best?
Both the original 2.2-litre and the later 2.0-litre engines offer a good driving experience – but though the 2.0-litre motors have been experiencing some issues (see the Reliability section), they are also more refined and have greater low-down torque. Which makes them nicer to drive.
The increased torque is especially useful, as it means even the entry-level 105hp 2.0-litre engine has enough muscle – 360Nm – to get a loaded Transit moving. The older 100hp 2.2-litre engine is nowhere near as capable in these situations.
The more powerful engines (125hp and 155hp in 2.2-litre Transits, 130hp, 170hp and now 185hp  in later 2.0-litre Transits) still represent useful upgrades, however, especially if you're regularly travelling at motorway speeds.
Similarly, an automatic transmission is worth considering if traffic is likely to be a constant companion to your daily travels – it's not only less wearing to drive, it should also prevent premature clutch and tyre replacement caused by clumsy driving. Given the choice, we'd go for the 10-speed auto, though this is only available in combination with rear-wheel drive.
Which Ford Transit trim level is best?
Most buyers go for the entry-level Base specification in the Transit, which is reasonably well equipped as standard, and represents good value for money.
However, if you are prepared to spend more to get the higher grade Trend, you do get a lot of extra equipment – including front and rear parking sensors, heated windscreen, automatic lights and wipers, cruise control and a better infotainment system, all of which are genuinely useful in a large van. The load area is trimmed to half-height, too. So Trend is also strong value.
The fashion for better-equipped vans has prompted Ford to add a higher-spec Limited model from the 2019 facelift, and then the tough Trail model in 2020. Both these come with air-conditioning as standard.
---
Ford Transit individual model reviews
Looking for more details about a specific Ford Transit model? We have the following individual reviews (click the name to jump straight to the review):
Ford Transit low floor Luton review
Tested October 2022 by Tom Wiltshire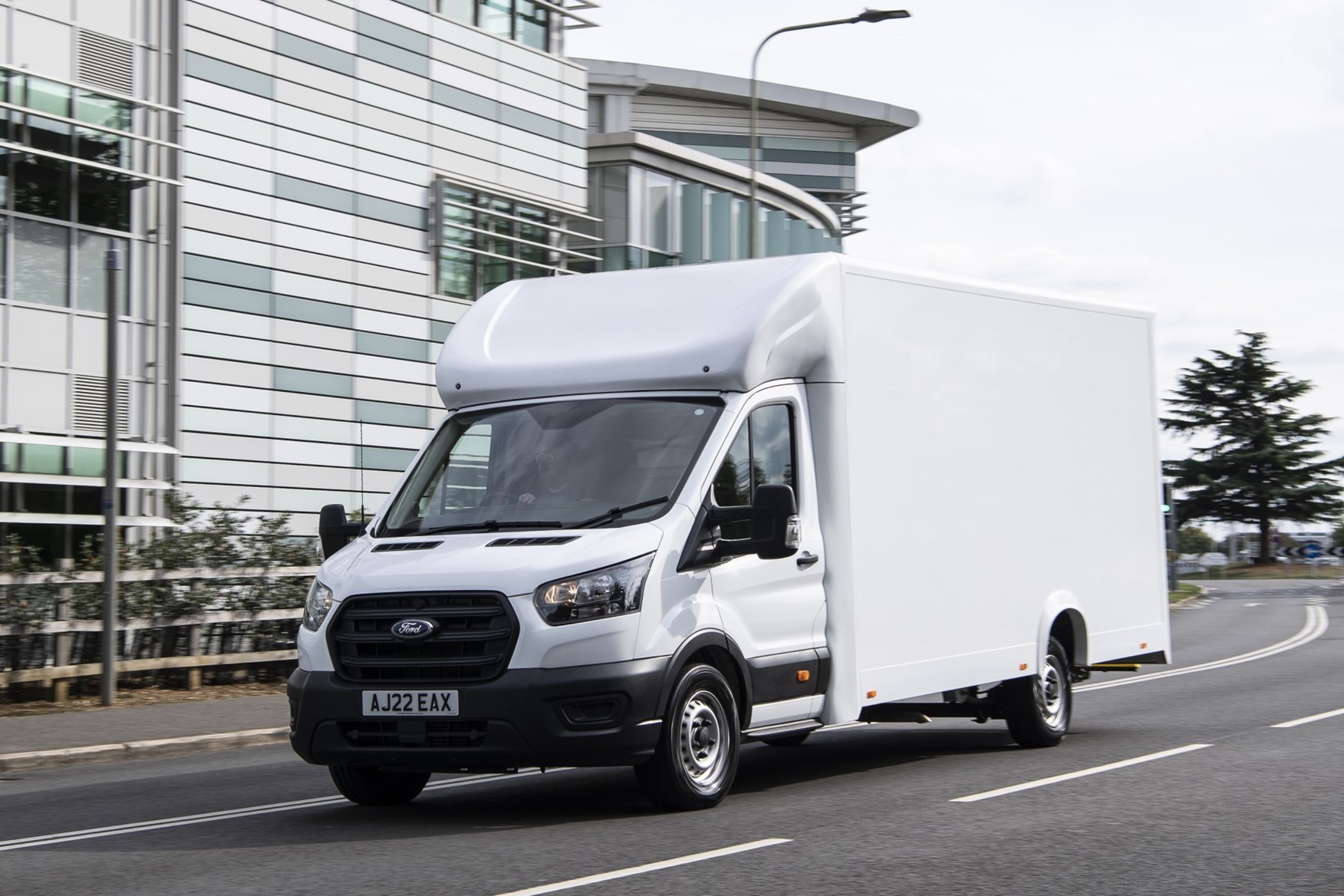 Boxy Luton body now comes with ultra-low load floor
Could save your back
We test it out by staging a concert
If you want the ultimate capacity from your commercial vehicle then getting a Luton van body fitted is the best solution. Typically built on chassis cab models, they essentially consist of a great big box – the peak of space efficiency – usually combined with a smaller over-cab section, and a roller shutter at the rear.
But most Lutons sit high off the ground, above leaf spring suspension and result in a vehicle that requires a tail lift to load and unload. But more modern Luton vans are addressing this with lower conversions that give a rear loading deck of a similar height to the standard panel van.
Ford's Low Floor Luton is one such vehicle. It's available through Ford's 'One Stop Shop' bodybuilding division and here the body is paired up to an interestingly specified cab – one in base 'Leader' spec but fitted with the powerful 170hp diesel engine and an automatic gearbox. It's not a cheap option, though – coming in at over £61,000 (not including VAT.)
What's the Low Floor Luton like to load and unload?
We had the luck to be testing the Low Floor Luton alongside a traditional, high-floor Luton fitted with a tail lift, as we wrestled with heavy staging and equipment needed to stage a small concert.
The long version we tested had an internal length of 4,920mm, an internal width of 2,050mm and an internal height of 2,200mm. It offers a maximum payload of 969kg.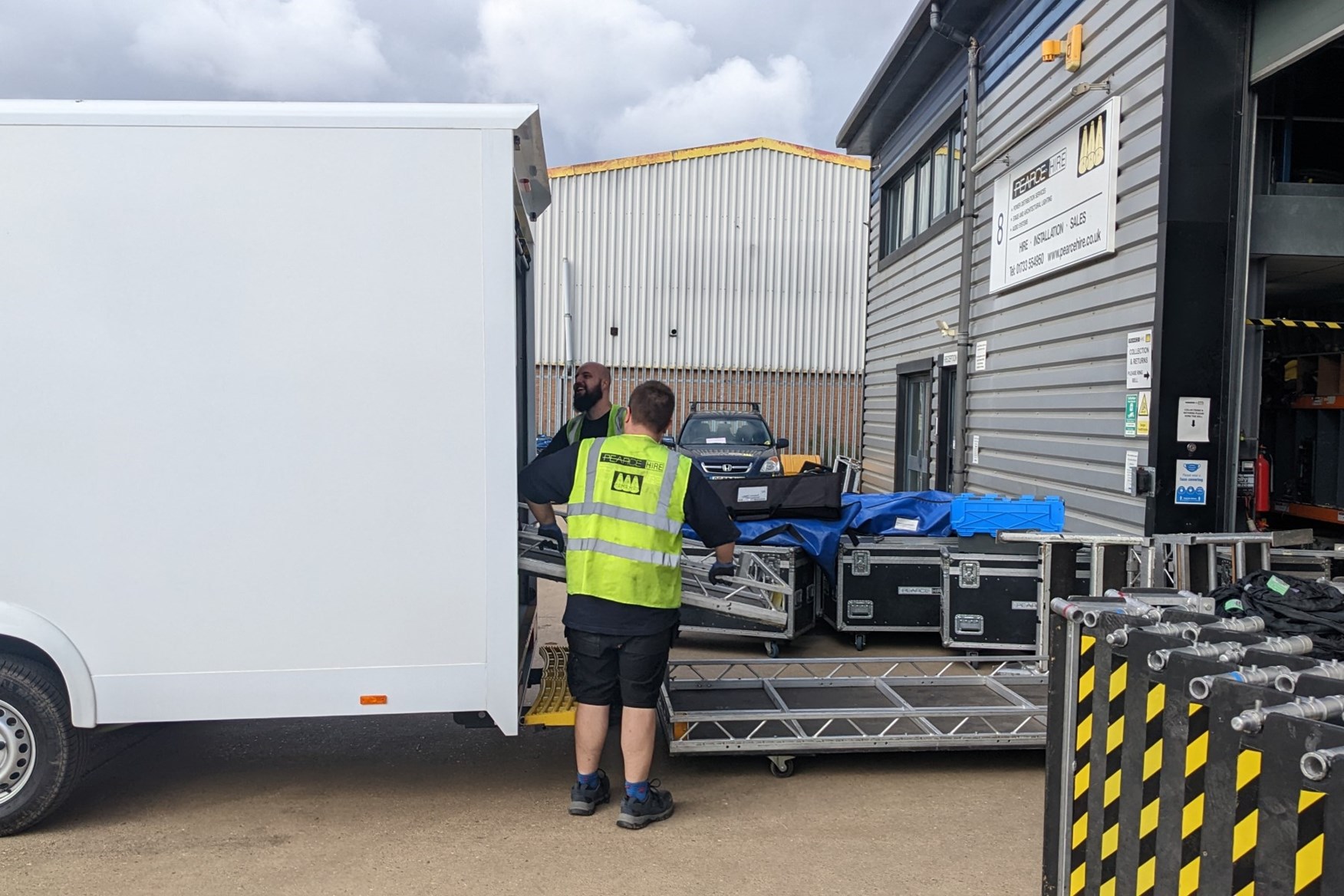 The first advantage is clear, and that's that with a floor height from just 640mm you can easily hop up into the back of the van with just one small step. Not only does that make it much easier to load quickly, but if you're doing lots of deliveries and getting into and out of the van often it's much easier to make the step up and down.
The disadvantage is that while the floor is low, it's not flat. A Luton with a tail lift enables you to wheel things onto the platform while it's level with the floor, and then roll them off into the body of the van with no lifting required.
Another disadvantage is that the Low Floor Luton suffers from wheel-arch intrusion like a typical panel van. It's not bad, by any stretch – and in some cases can actually be useful as it allows you to brace things against an internal surface without needing straps or load dividers. But an uninterrupted load floor gives more overall space, and the ability to slide items right to the back without snagging them on the way.
Ford does at least make loading as easy as possible. There's a sturdy roller cover, with a separate key to the doors and ignition. Once inside, there's a really useful motion-sensitive LED lamp , though it doesn't really illuminate all the dark recesses. Still, if you're loading during the day, the translucent roof admits plenty of daylight so you can see what you're doing easily.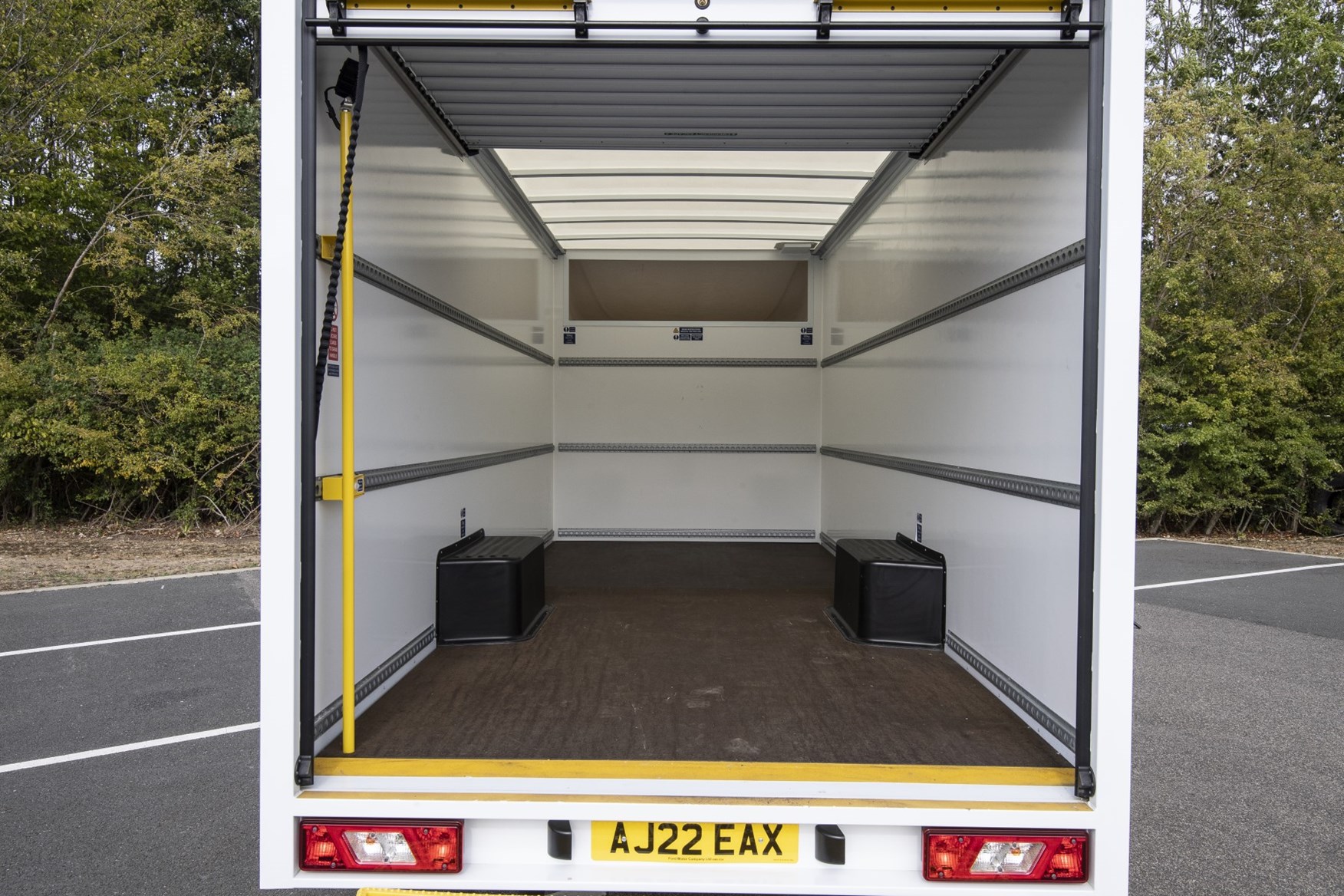 The sides of the van have mounting points for racking or load securing, while the floor is a hardwearing composite which is grippy enough for shoes but allows you to slide hard loads around easily. And to help you get in and out, there's a wide, secure step.
The over-cab section, meanwhile, is great for lighter loads and features a small lip so things don't fall out under acceleration.
What's it like to drive?
Very, very good. Every Transit we've ever tested has been good to drive, of course, but driving the low Luton back-to-back with a high-floor model highlighted the advantages of the more hunkered-down body.
Body roll is much better contained, especially when fully laden, and there's much less wind noise or susceptibility to crosswinds on faster roads. The low floor uses composite rear springs – these work very well and the rear of the van feels very planted regardless of load. This is in contrast to the high-floor models, which feel a bit bouncy when unladen.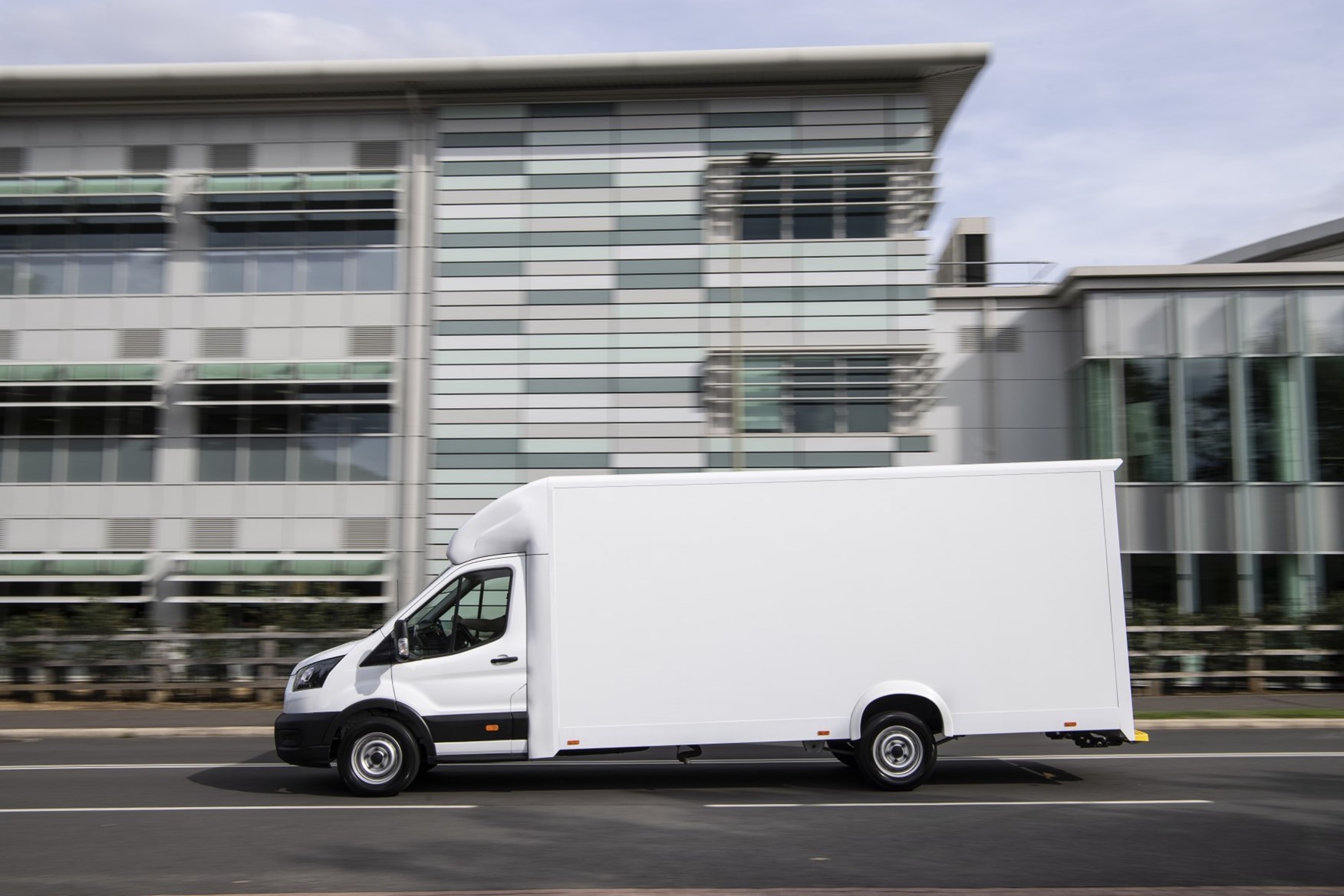 Another plus is fuel economy – with a lower roof, it's more aerodynamic, which results in better efficiency at high speed. We saw about 35mpg averaged, which is an impressive number for such a large vehicle.
Our van was fitted with the powerful 170hp 2.0-litre diesel engine and six-speed automatic gearbox, which felt like a bit of a luxury. Most Transits, Luton or otherwise, will use one of the lower-powered engines, but this top-end version felt amply up to the job of pulling a fully-laden van at motorway speeds.
It's a reasonably refined engine for a large van, though not as hushed as the units found in the Mercedes-Benz Sprinter or the VW Crafter.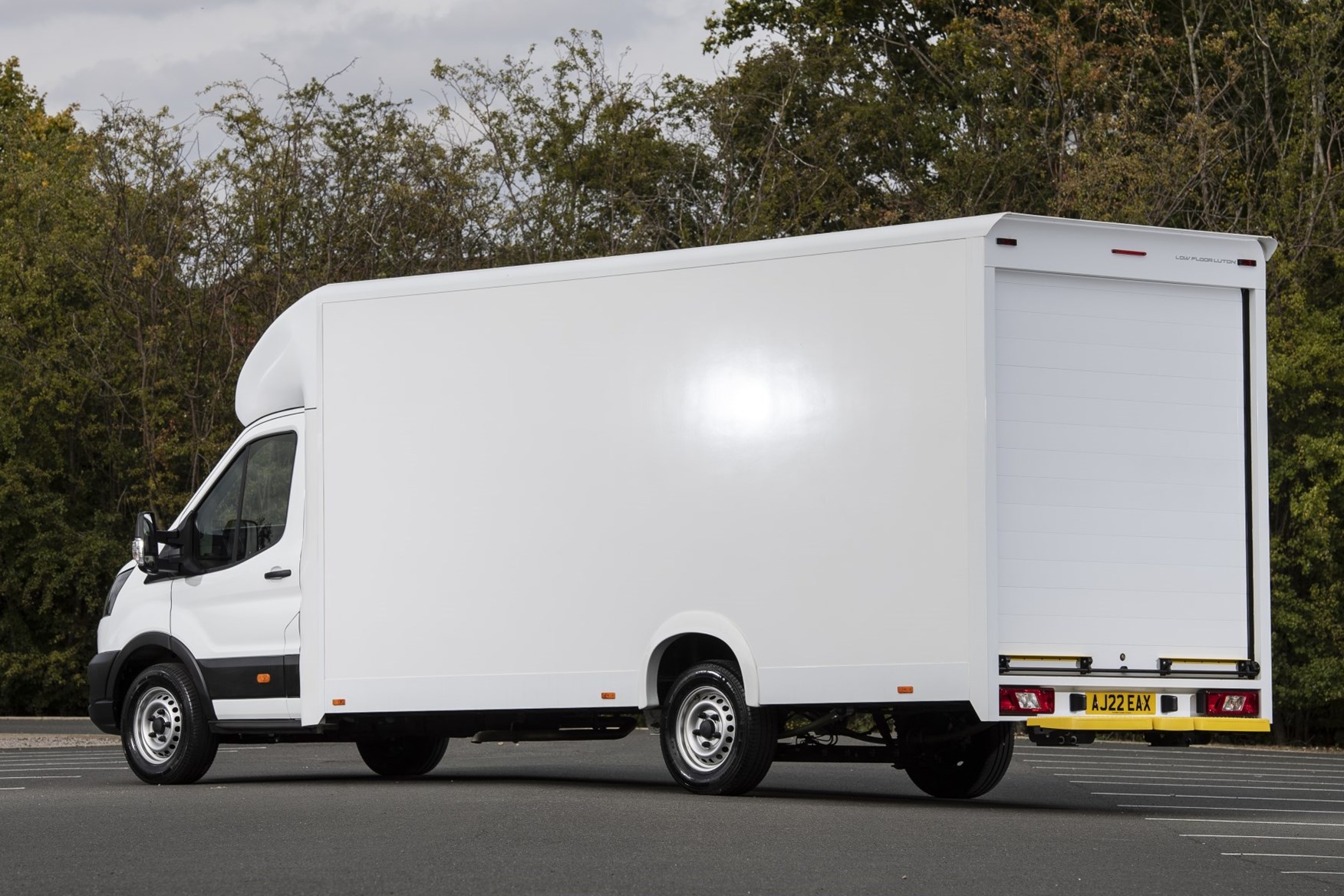 The automatic gearbox isn't as good as the alternatives fitted to those vans, either – with just six speeds, it's lacking compared to the Crafter's eight or the Sprinter's nine, and it means each change is choppier, and each gear held onto longer, leaving the revs to climb in between shifts.
And while you can take manual control, you have to do so with a rocker switch on the side of the lever, which is a little awkward.
What's the cab like?
In this base spec, it's very Spartan indeed. You do get electric windows and door mirrors, but that's about it. Not only is there no air-conditioning, there's no stereo – Ford's simply put in a blanking plate, and most insultingly covered it with a sticker to remind the occupants that while it hasn't removed the USB port below it, it no longer supplies power. If you want to power up your phone, you'll need a 12V supply.
There's a useful phone or tablet holder that pops out from the top of the dash, though, with a cutout to allow you to route your power cord through the bottom, a really nice touch.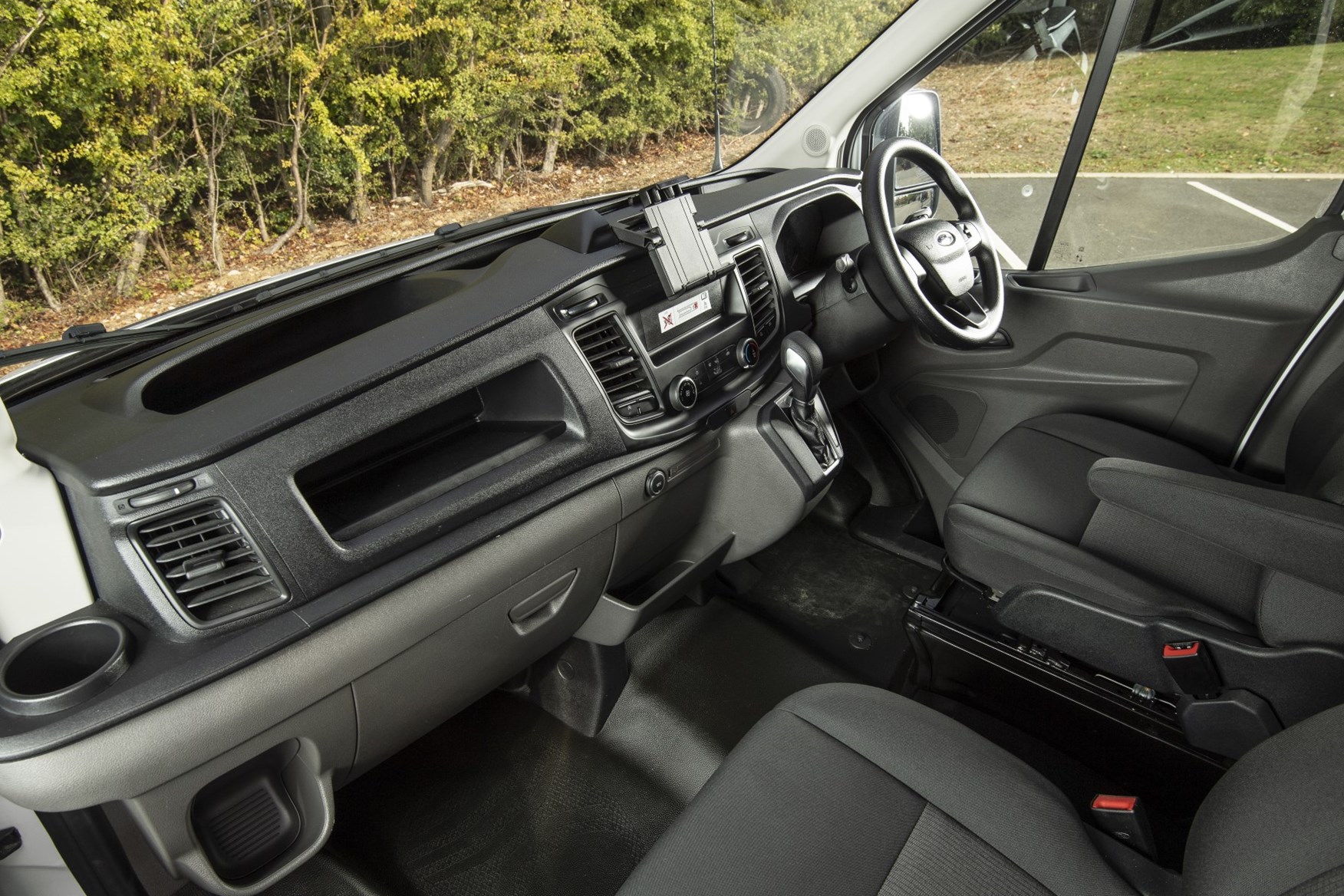 There is no passenger airbag, while the steering wheel's resolutely plastic, though both of those are fairly standard in low-end vans. More of a sting is that Ford's excellent heated windscreen doesn't feature, though you do get heated mirrors.
Ergonomics are excellent though – the seat is comfortable and visibility good, with the Luton model receiving extended door mirrors to enable you to see past the boxy bodywork. They're dual-lensed, too, so you can keep an eye on your rear wheels and ensure you're not cutting any corners.
Should you buy one?
A Transit is usually a safe bet and so it is with the Luton. This is a good van to drive, comfortable to sit in and very practical to live with.
The Luton body is well thought-out and whether you prefer this low-floor model to a traditional van with a tail lift – or indeed, a regular panel van – will be dependent on what you intend to do with it. The Low Floor Luton is great if you're loading items that are light enough to carry – we found it ideal for loading sections of staging, requiring one person in the van to stack, and two to lift it in.
If you have very heavy items, or items with wheels, a van with a tail lift that allows you to load up at ground level is a better bet. Meanwhile, if you need maximum payload, a normal Transit panel van offers that if you're happy to sacrifice the Luton's overall loading area.
Ford Transit Trail all-wheel drive review
Tested October 2020 by CJ Hubbard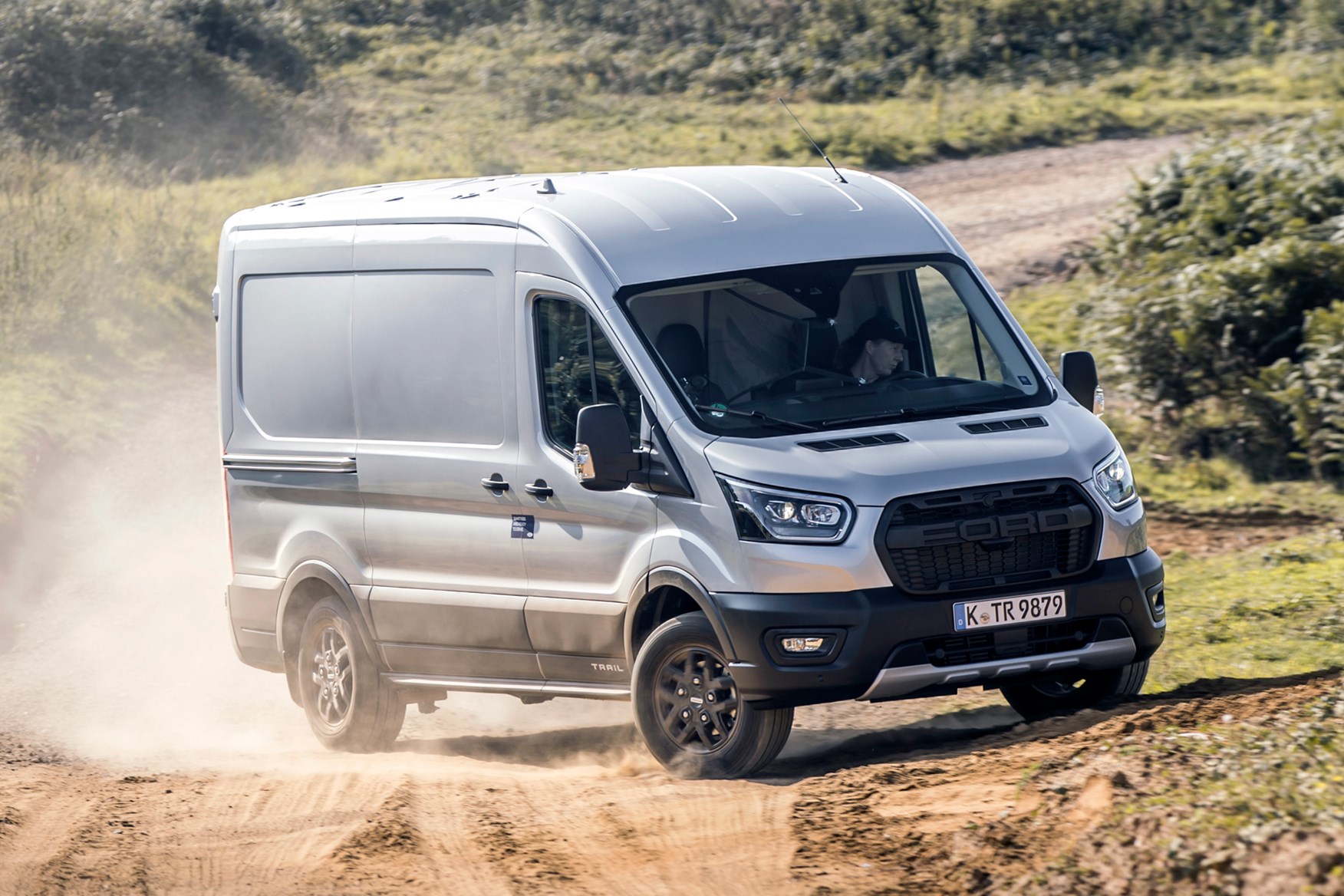 Trail trim and all-wheel drive makes for one tough Transit
Looks good, copes admirably off-road
Lots of standard kit, but not cheap with it
The Trail is Ford's new tough-as-nails trim level for hard-working operators who particularly need the reassurance of extra traction – although anyone attracted by visual punch of that outstanding FORD grille is also going to be keen.
As such, front-wheel drive (FWD) models come with a grip-grabbing mechanical limited slip differential (mLSD) as standard, allowing them to scrabble up slippery slopes that might fox even a carefully driven standard van (the diff is great for aggressive standing starts in the wet, too, but that's probably not too important to a Transit driver, right?).
However, if you really need to tackle some rougher stuff, the Trail is also available with Ford's Intelligent All-Wheel Drive (AWD) system. And that's what we've been testing here, at the Millbrook Proving Ground in the UK, a site that also plays host to military off-road training.
How does the Transit Trail's all-wheel drive system work?
As with all AWD Transits, the Trail is based on a rear-wheel drive model (RWD). If you leave it to its own devices, a 'specially developed' (thank goodness…) wet clutch controlled by a 'high-performance' electric pump distributes the power front and rear automatically to makes sure drive goes to the wheels with the most grip. Working with the electronic stability control, it can even do this across the axles, should one wheel be slipping more than the others.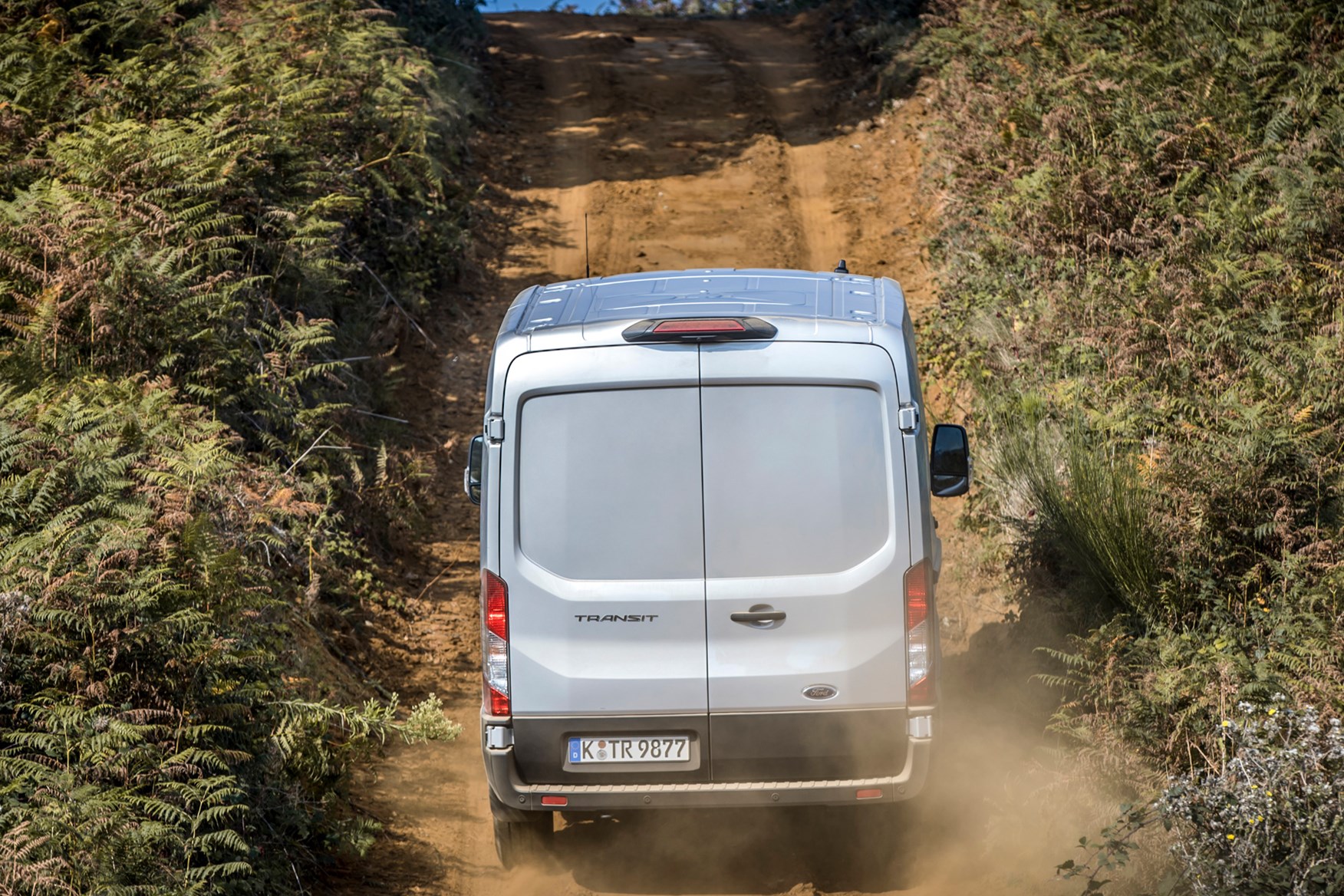 This already sounds quite 'intelligent', but becomes mores so as the system continuously monitors what the driver is doing as well as the vehicle, considering engine revs, engine torque, accelerator position, steering angle, braking and individual wheel speeds.
If you know the ground ahead is particularly treacherous there's an AWD Lock setting which
How did you test it?
The Transit 4x4 has the same ground clearance as a regular RWD model, so it's not a super-extreme machine – you'll need to look to the aftermarket or perhaps a Mercedes-Benz Sprinter if ground clearance is a concern. But it will easily tackle an array of off-road challenges without breaking sweat.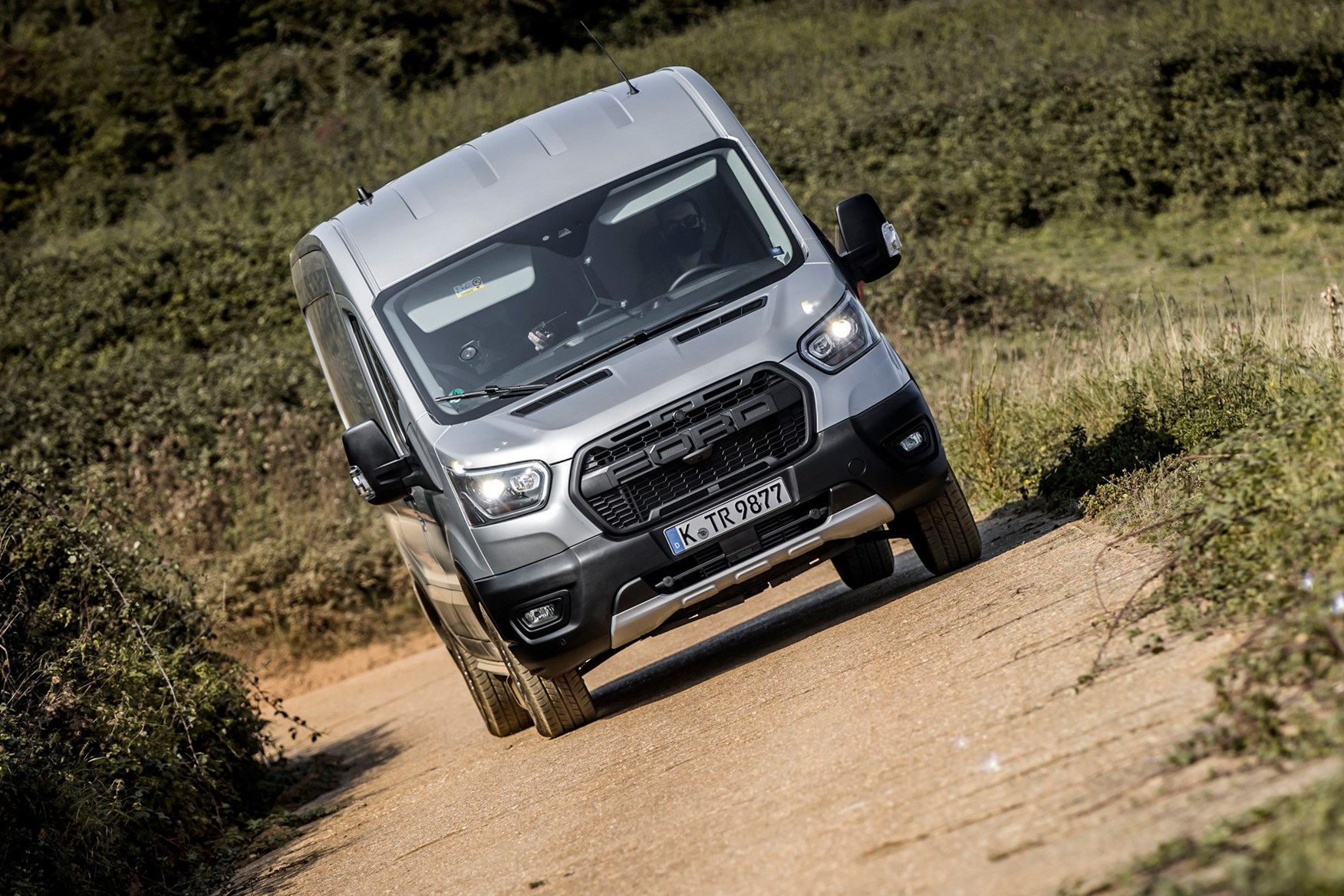 While we admittedly stuck to some of the milder sections of Millbrook's off-road playground, this still meant going up (and down) steep lose-surface and muddy slopes, traversing sideways at an angle of over 20 degrees – which feels like much more when you're sat high-up in a tall vehicle like the Transit – and covering an array of undulating ground.
The Transit didn't miss a beat. With no electronic hill descent control you have to be gentle on the brakes on the downslopes, while going up often requires plenty of right foot and the confidence you're not going to go crashing into anything out of sight at the top. But it's clearly a well-sorted system that should cope with the kind of moderate country-side bashing a van like this will be required for.
What else do you get with the Trail?
Aside from the grille, there's also additional black cladding on the outside, 16-inch black alloy wheels and Trail logos on the doors.
On the inside there's leather upholstery – to be easy to clean as well as more luxurious and, supposedly, hardwearing – plus air-con and Quickclear heated windscreen as standard.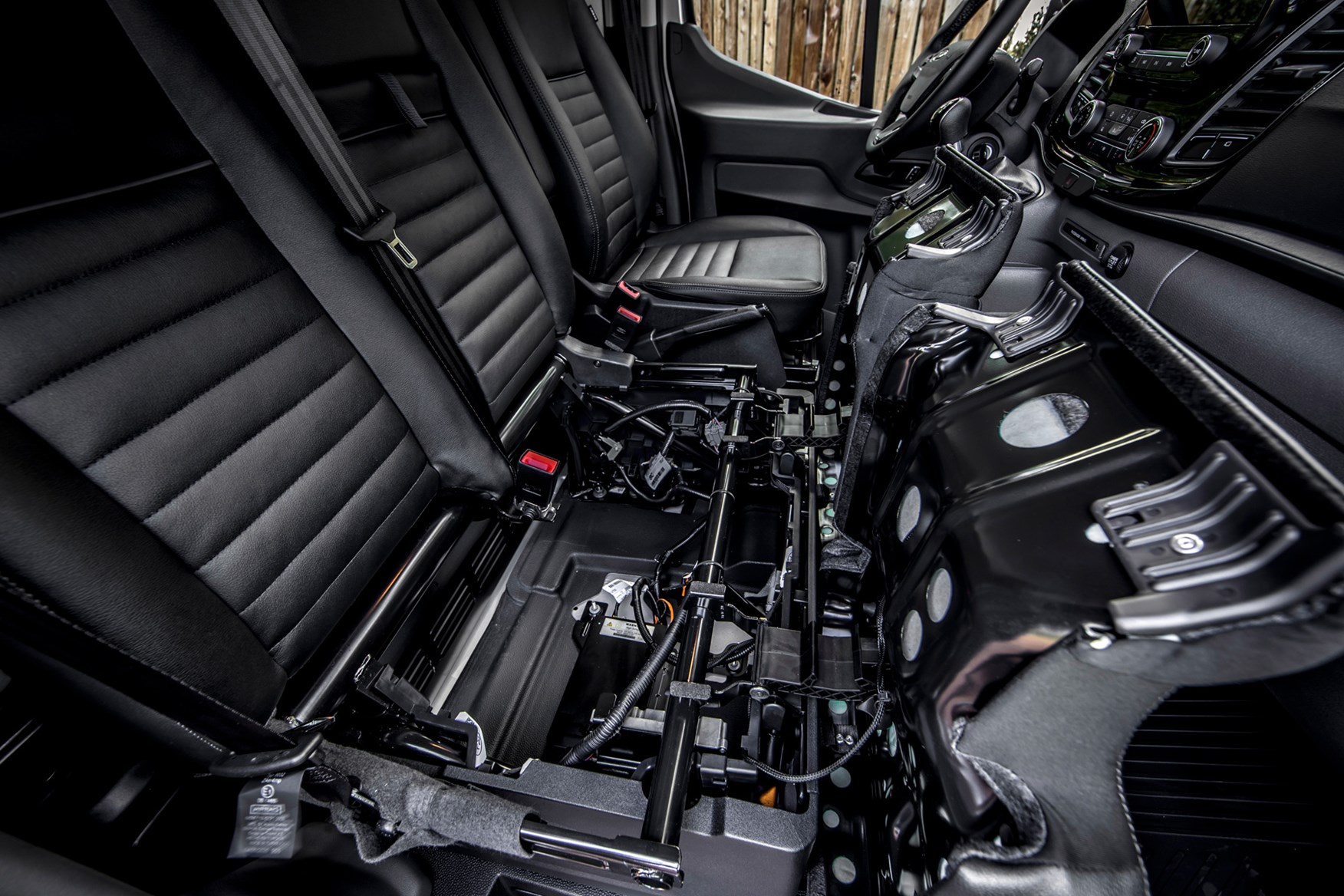 AWD models are available with 130hp or 170hp versions of the 2.0-litre EcoBlue engine, which has plenty of low-rev torque, making it easier to get moving at low speeds in low grip conditions. The FWD version is also available with 185hp, and as a 130hp mild hybrid (mHEV) with slightly better fuel consumption.
There's a wide range of body sizes, while the load space on the AWD models is the same as you get on RWD Transits – which the load floor is slightly further from the ground than in FWD models. There's less overall load height as a result. Full details of this can be found on our Ford Transit dimensions page.
So is it worth it?
AWD Transit Trails are around £4,000-6,000 more expensive than the FWD versions, and the Trail is already one of the most expensive Transit van variants on the price list. So you're going to have to be pretty convinced you need it.
That said, they are capable and they do look good. We'd be very, very tempted. But if you don't need the full four-wheel drive goodies, the mLSD fitted to the front-wheel drive models works very well.
---
Ford Transit L3 Luton 2.0-litre TDCI 130 FWD automatic review
Tested May 2017 by CJ Hubbard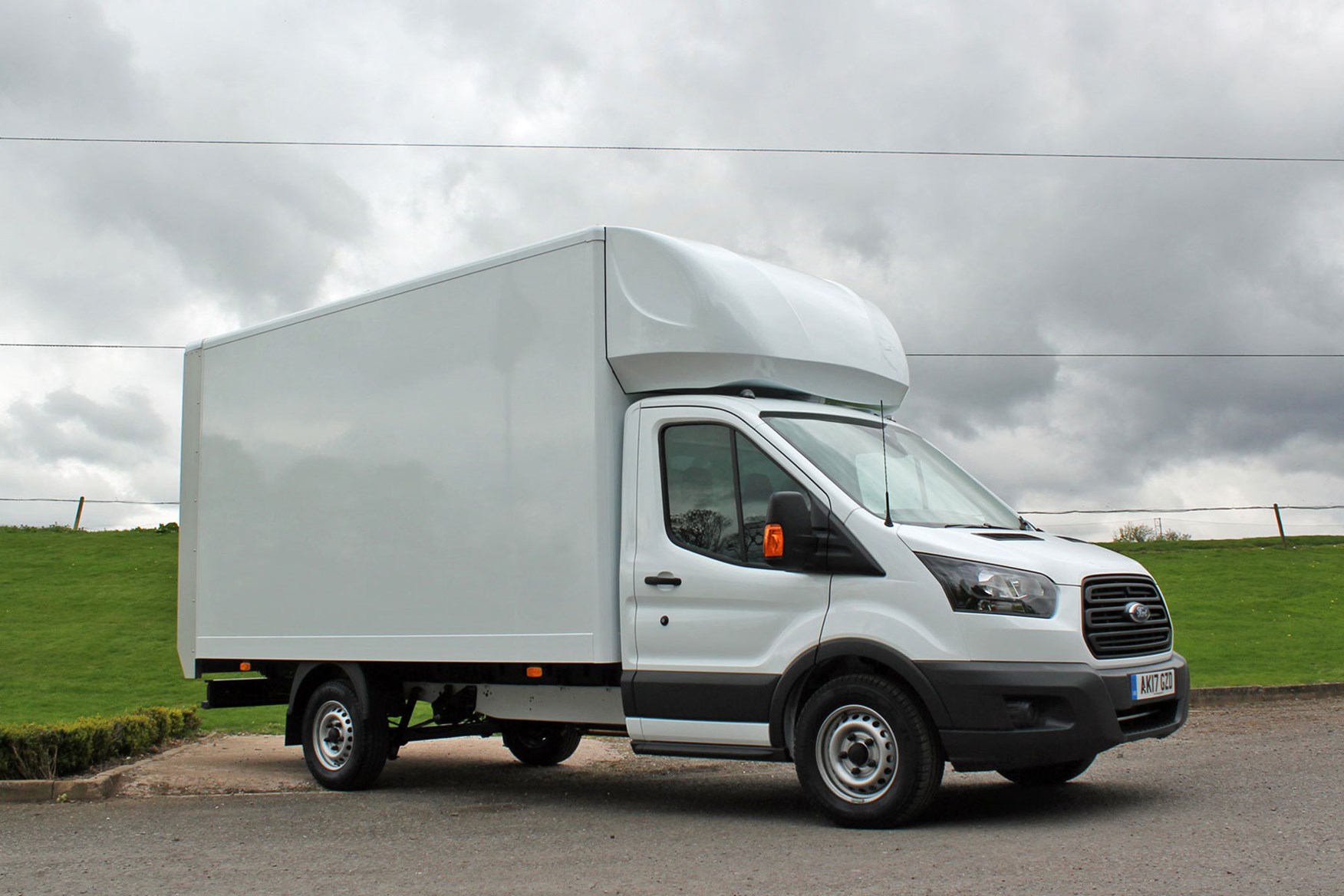 First front-wheel drive Luton based on current Transit
FWD increases payload while reducing running costs
Tested with 130hp Euro 6 engine and auto gearbox
Well, this Ford Transit Luton L3 ticks a lot of boxes.
For starters, it's the first time Ford has offered this generation of Transit with a Luton body together with front-wheel drive (FWD) via its One Stop Shop (OSS) bodybuilder service. The one we're driving is literally the first example in the country.
The resulting reduction in kerbweight compared with existing rear-wheel drive (RWD) Lutons delivers up to 224kg of extra payload, plus better fuel economy and lower CO2 emissions.
It's also the first time we've driven Ford's Euro 6 EcoBlue 2.0-litre diesel engine with anything less than the 170hp maximum. This Transit is powered by the middle-ranking 130hp version.
And what's more, the engine is hooked up to Ford's new SelectShift six-speed automatic transmission, which is only available on front-wheel drive Transits.
What is a Luton van?
A Luton van has a load area that extends over the cab, and usually replaces the regular panel van body with a large, square-sided box. Typically Lutons are built on chassis or platform cabs, which are already prepared to accept different rear bodywork.
The square sides and tall roof make box Lutons particularly popular with removal services, as they're a more practical shape compared with the typically curved and inwards-leaning proportions of most panel vans.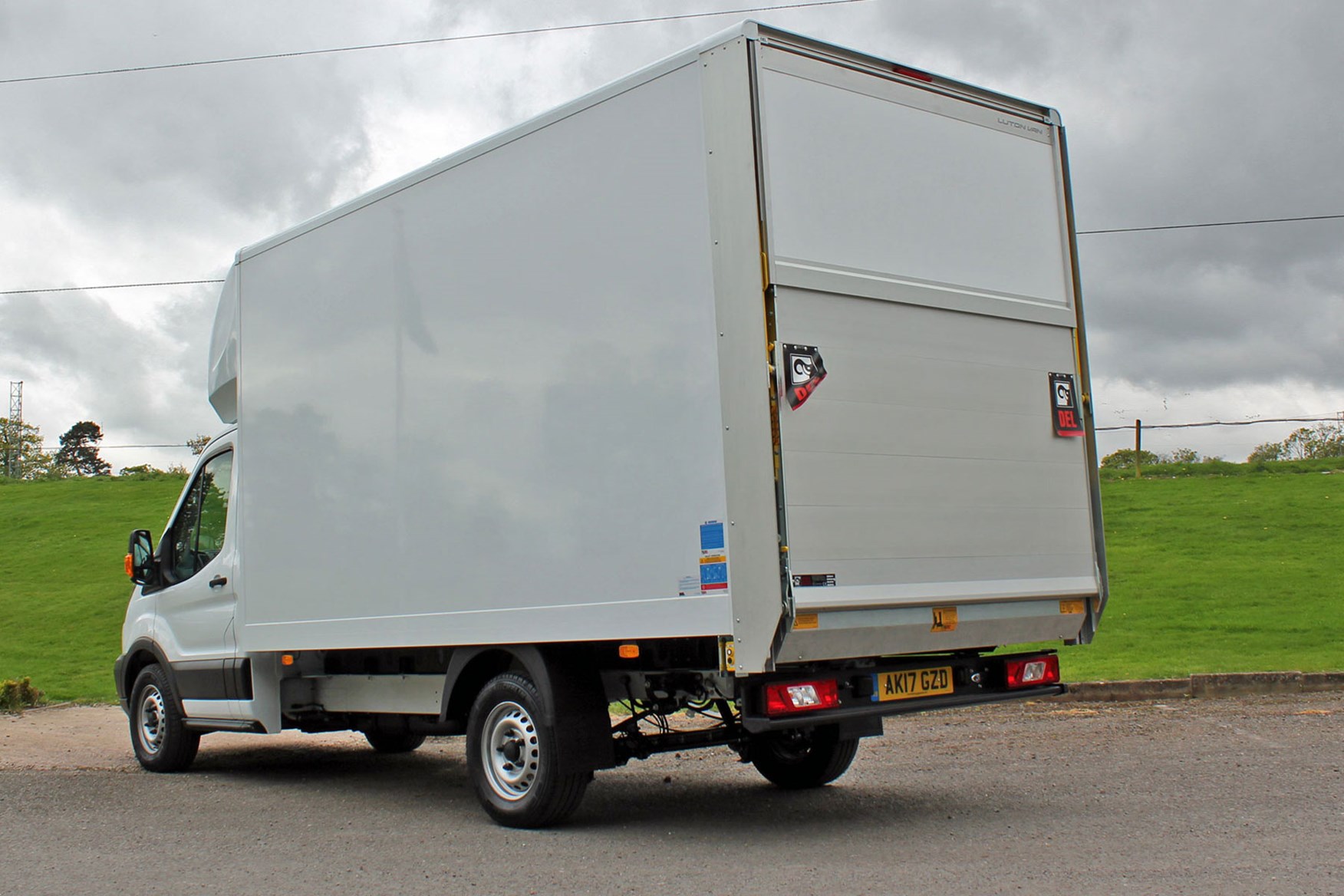 However, you lose any fuel economy gains achieved by all those hours the manufacturer spent honing the base van's exterior to improve the aerodynamics.
But you buy one of these for cubic space, not outright fuel efficiency.
So what's this Ford Transit Luton like?
It's a very convincing all-rounder. There are larger Luton-body options on the market, and ones that offer a lower rear loading height – the Renault Master LoLoader, for example – but few feel as solid and tight to drive as this Transit.
We're used to Luton bodies rattling like crazy, but we got none of that from this Ford.
This suggests the conversion is particularly strongly-built. Even so, as we've already pointed out, compared with the more conventional RWD Luton Transit that Ford already offers, this FWD version increases payload by up to 224kg.
So while RWD models provide greater traction (because the weight of the payload presses the driven wheels into the ground, improving the tyres' grip), you've got to really want that traction to not see the benefit of going front-wheel drive.
Especially with the automatic transmission fitted, which cuts down the wear and tear you'd otherwise get on the clutch.
FWD Transit Luton dimensions and payload
We're testing the L3 model, which has the following critical dimensions:
Load box internal length (not including extension over cab): 3,500mm
Load box internal width: 2,030mm
Load box internal height: 2,212mm
Load volume: 17.2 cubic metres
Maximum payload: 1,027kg
Ford also sells a longer L4 Luton on the new front-wheel drive platform that increases the load box length to 4,100mm and the load volume to 19.7 cubic metres.
A non-Luton box FWD van is also available in both lengths, reducing load volume to 15.7 and 18.3 cubic metres, respectively.
The space inside is vast, and square, with no intrusion from the wheelarches as the box body sits above rather than between them. The load area is also completely separated from the cab, which offers a potential boost to safety.
A couple of practical things to consider before you decide to purchase: despite the adoption of front-wheel drive, the load area is still a long way from the ground, given it sits above the wheels; and opting for the Luton – or the regular box – removes the convenience of side-door access, too.
What's the 130hp Euro 6 Ford EcoBlue engine like?
Impressive. As with its 170hp brother, the 130hp 2.0-litre EcoBlue engine is much smoother and quieter - and delivers its power much more eagerly - than the old 2.2-litre motor it replaces.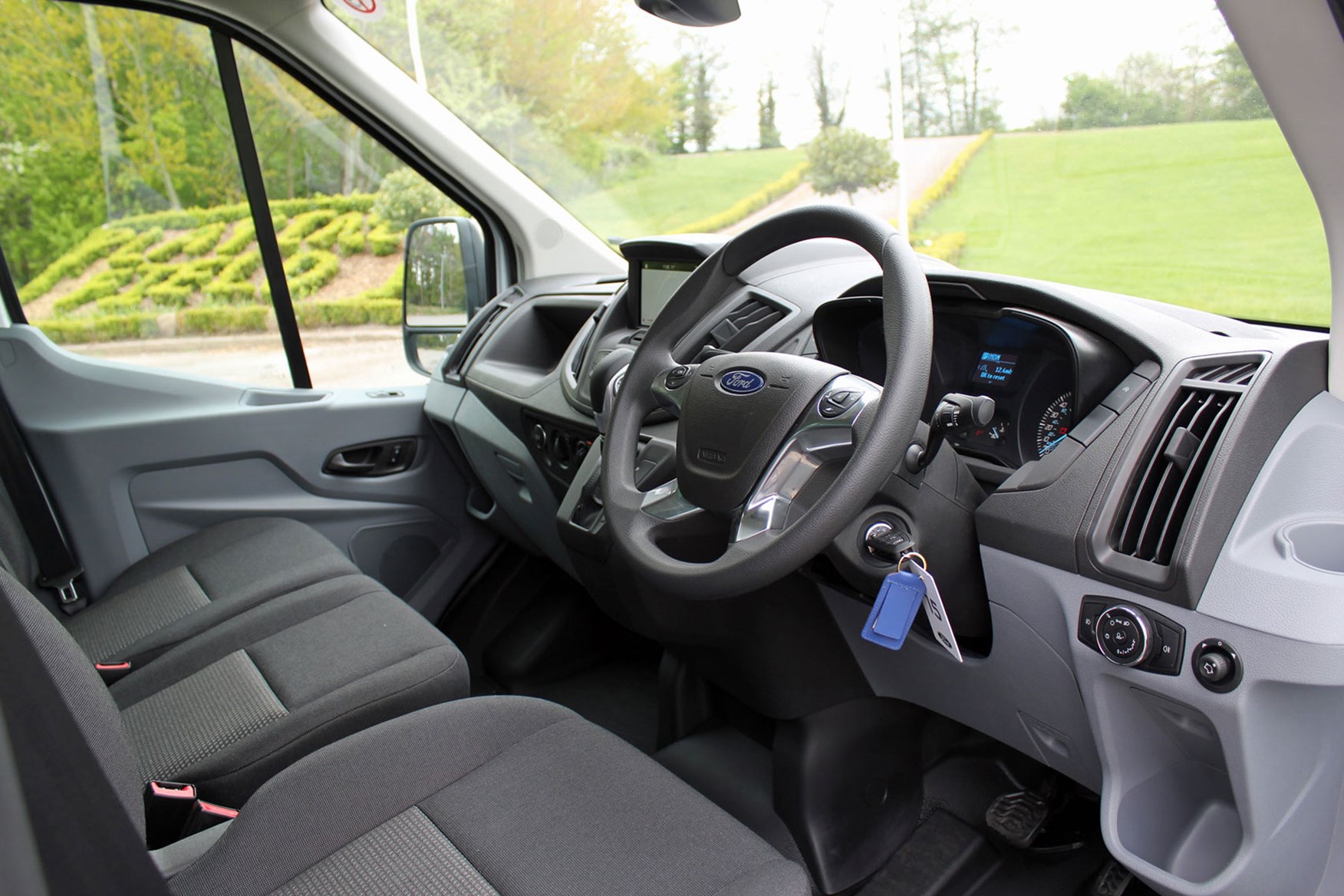 Maximum torque is a heady 385Nm, which helps. You get a real sense that the engine has plenty to give as soon as you start rolling – it's much keener to get going than the new 140hp Volkswagen 2.0-litre engine in our long-term Crafter, for example.
And although we were only able to drive the Luton unladen, we certainly didn't find ourselves immediately wishing for the extra performance of the more powerful 170hp/405Nm version; 130hp hauls the big van's 2,473kg kerbweight along just fine.
In fact, it ably demonstrates the front-wheel drive layout's inherent traction issues, by merrily spinning the front wheels if you get over ambitious pulling away from traffic lights.
And the rest of the driving experience?
Equally impressive. As usual, Ford has built a van with steering weighted just so, giving you a feeling of confidence and control, and one that neither leans too much round the corners nor crashes too much over bumps and potholes. The ride is comfortable but composed.
The six-speed automatic gearbox also works well, being fast-shifting and smooth with it – in a manner that certainly suits the engine.
Just occasionally, however, we found ourselves wishing it would relax a little bit. Sometimes when you simply want to lean on the engine's torque to speed up a smidge the transmission gets over-excited and bangs in a downshift instead.
Ford Transit Luton verdict
The Luton is a Ford One Stop Shop conversion, which means it's covered by the standard three-year, 100,000-mile warranty. The conversion work is carried out by VFS.
There is plenty to like here. The 130hp engine feels well up to the job, the automatic transmission adds ease of use, and this is a refined van that offers a great driving experience.
As a Luton it impresses with its rattle-free build quality and vast, practical load volume. But consider the payload capacity carefully, as there are regular large panel vans that can legally carry over 50% more.
---
Ford Transit L3H2 2.2-litre TDCI 125 RWD Trend review
Tested June 2015 by Liam Campbell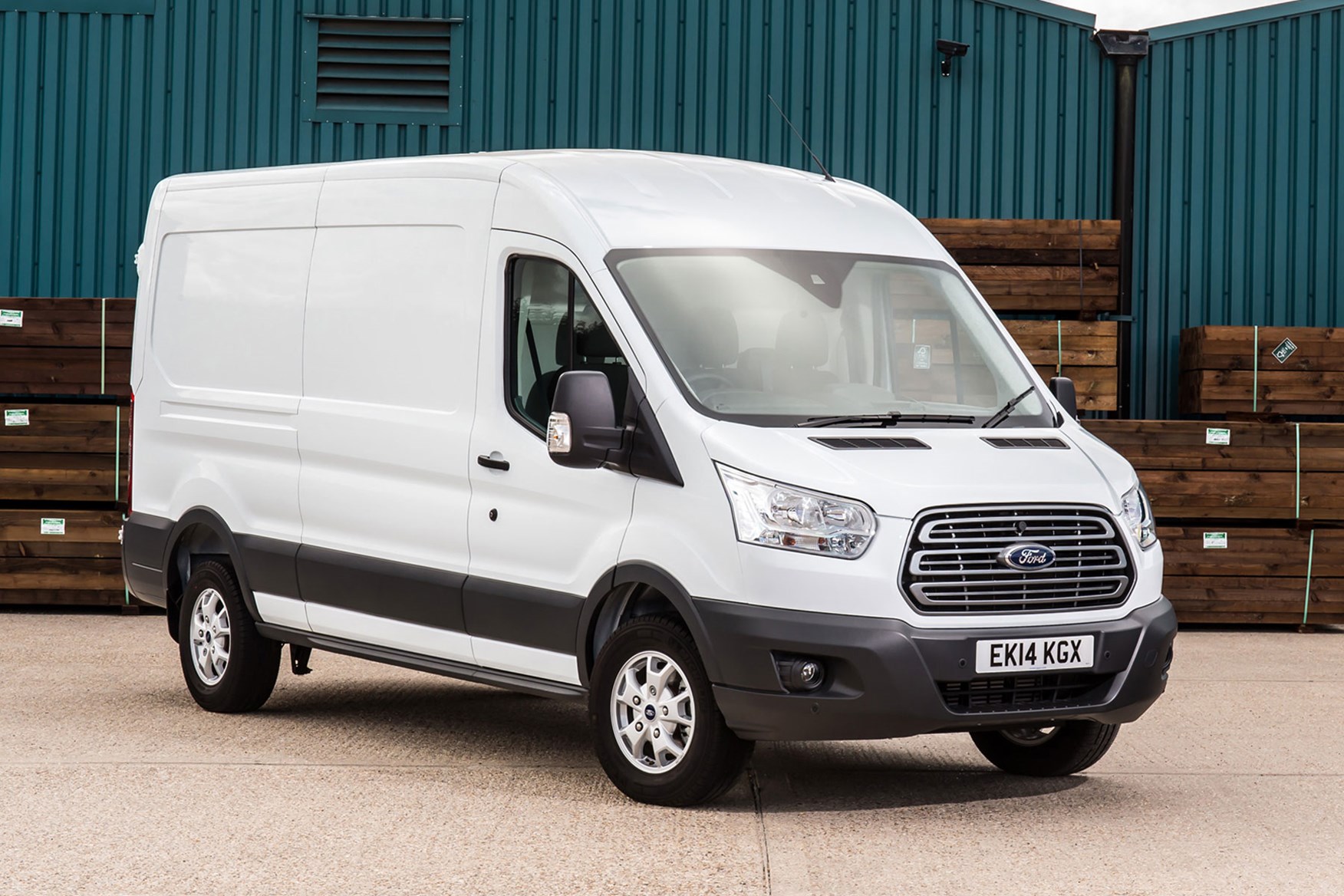 Latest full-size, rear-drive Ford Transit put to the test
Ample power and cavernous practicality of L3H2 body
Costs £28,525+VAT in range-topping Trend trim level
Ford Transit: a nameplate that over the past five decades has become synonymous with tradesmen, delivery drivers and all manner of liveried-up major corporation mobile advertisements.
This new, larger Transit, a van once advertised as being the backbone of Britain, is Ford's attempt to maintain its position as manufacturer of the UK's most popular range of commercial vehicles.
We put the rear-wheel drive 2.2-litre 125hp model, with the L3H2 body, under a rather large microscope to see if it's up to the task.
Cavernous cargo bay
L3H2? Such alphanumeric terminology is becoming commonplace in commercial vehicle circles, but in the case of the latest Transit range it means it's got the middle-length body and the lowest roofline available.
In layman's terms it's got an enormous cargo bay at 3,350mm long, so it's able to carry common cuts of timber and pipe lengths with ease, and at 1,786mm most adults will be able to stand up inside without cricking their necks. All in, a very commodious 11 cubic metre capacity or just under 1.4-tonnes of payload.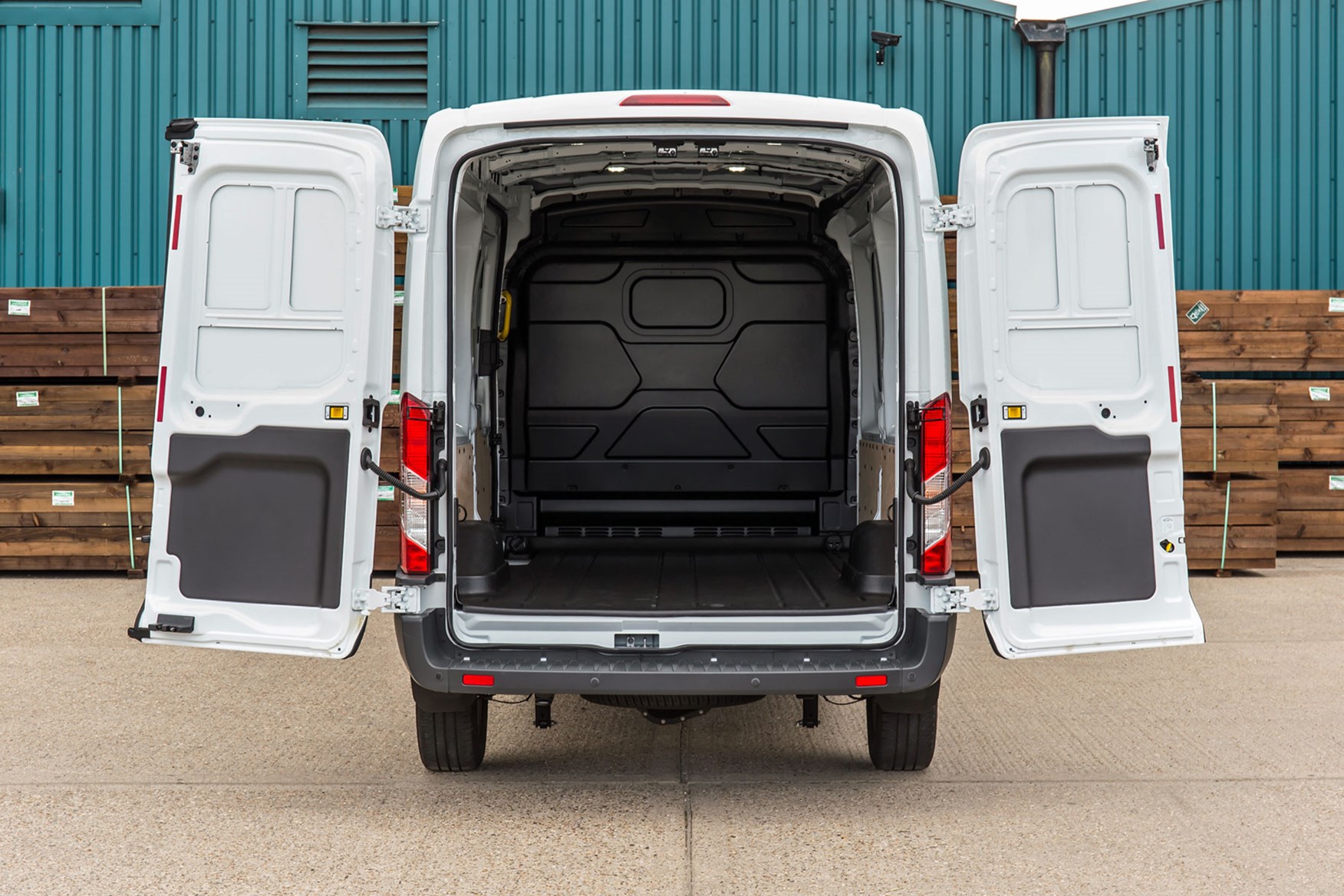 If outright space is your priority, then stick with the front-wheel drive Transit. In an otherwise identical specification, not only is it fractionally larger inside (six footers can stand up straight in it, for instance), it's also £800+VAT cheaper than this model's £28,525+VAT asking price.
Rear-wheel drive comes into its own for those who regularly transport heavy cargo, the additional weight over the back axle helping create better traction.
Mechanically strong
Even in medium-length L3 form, the smooth, punchy 2.2-litre diesel engine feels up to the task of hauling the Transit and its wares around. The headline 125hp power figure is less important than the 350Nm slug of torque that's on tap from a very low 1,450rpm. Even with a taxing payload the Transit will quickly get up to speed from standing starts in crowded urban environs as well as cruising quietly on motorways.
Choose the rear-drive model and Ford suggests your Transit will return 33.6mpg. This again, could be where the drive going to the front wheels could be advantageous financially: official claims of 37.7mpg mean visits to the diesel pumps will be less frequent.
Counting the kit
Sensibly, the Transit's wide cabin feels comfortable rather than luxurious.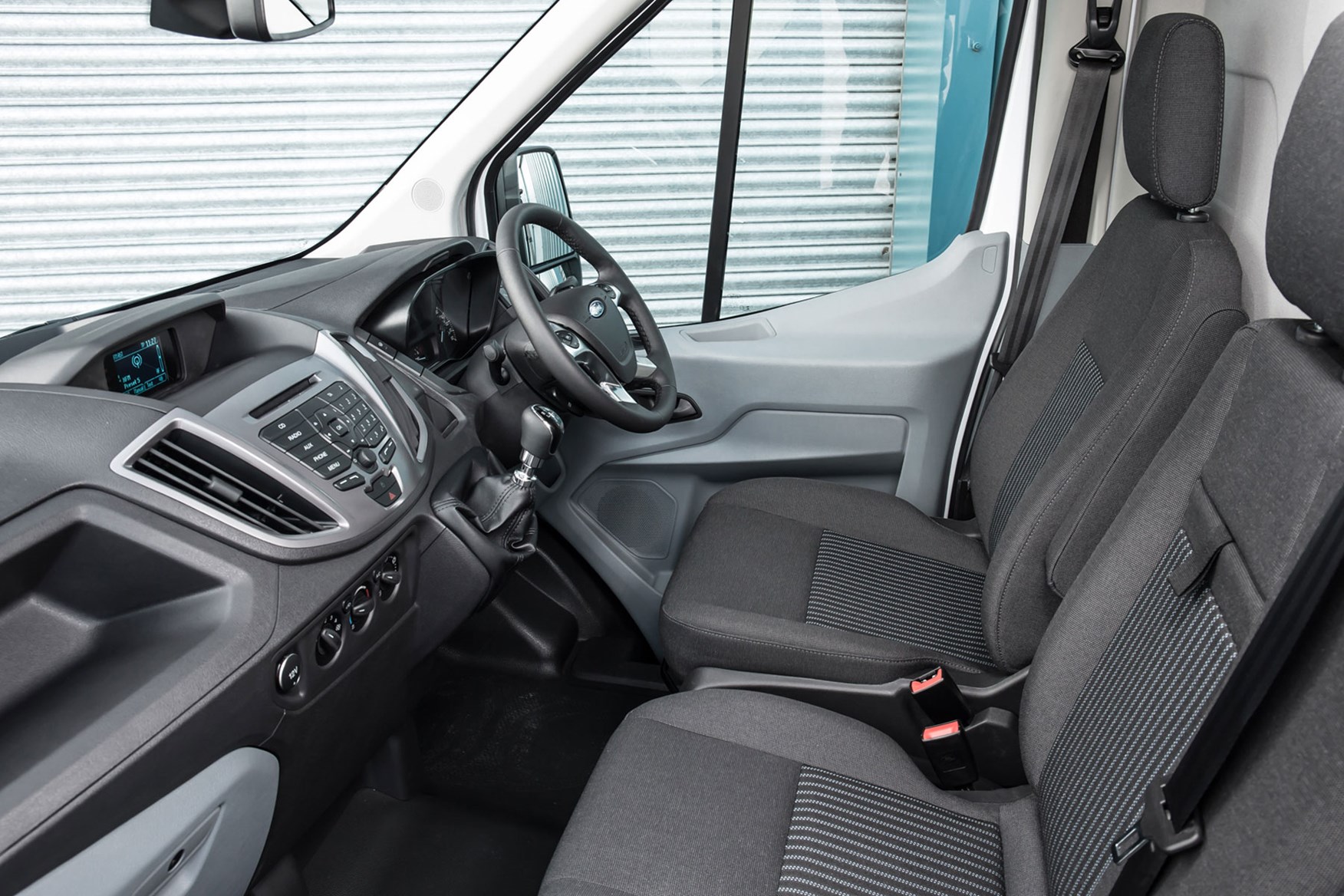 Standard kit includes cruise control, Ford's Sync entertainment system with Bluetooth and MP3 connectivity, leather steering wheel and gearknob, electrically heated windscreen, automatic lights and wipers and metallic paint.
Should you buy one?
Less expensive to buy and cheaper to run and maintain, Ford claims it's also narrowed the gap when it comes to residual values compared to the German brands, too.
This 2.2-litre TDCi 125hp Trend in rear-wheel drive, 350 L3H2 form combines comfort, space and cargo carrying-ability. It's a great choice if you need the added benefit of rear-drive traction for heavy cargo, but not quite the best – the higher-roofed H3 is more expensive but for the increased flexibility, it's a worthwhile investment.