The Ford Transit Custom arguably already has the widest range of appeal in the medium van sector, with everything from basic models to super-sporty lifestyle versions and a plug-in hybrid. But just as 2020 turns to Autumn it's upping the ante once again, with the introduction of new Trail and Active variants.
These both distinguish themselves with tough new looks, but the Trail is the one that really stands out for us, with a key hardware upgrade to go with the eye-catching makeover.
For the Transit Custom Trail (and front-wheel drive versions of its Transit Trail big brother) gains an mLSD – that's a mechanical limited slip differential. Engineered by specialist company Quaife, this uses a clever arrangement of worm gears to makes sure this Ford van can get the best possible traction in slippery conditions. We've now tested it, and it works very well.
Read on for our Ford Transit Custom Trail review.
So, about that grille…
Looks good, right? Ford's gone all Raptor on the Transit Custom and given it a bold FORD lettered grille – Raptor being the firm's range of high-performance pickup trucks.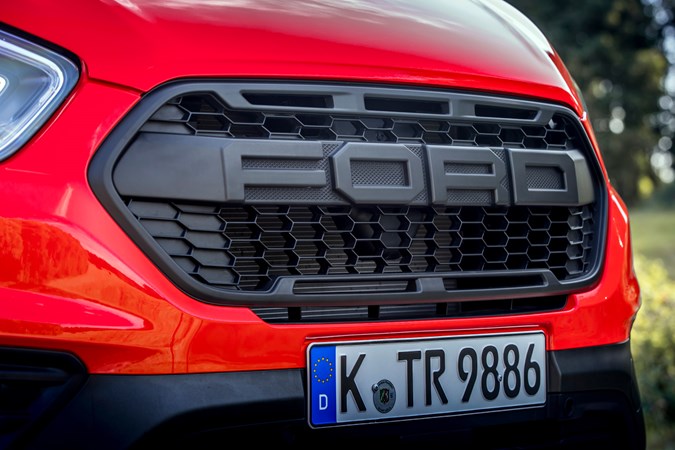 Together with the larger Transit Trail, this is the first time such a strong visual message has been officially added to the Ford van range, though you may have seen similar aftermarket-supplied grille treatments applied to Transit Customs on the road already.
In addition to this, the Trail comes with additional cladding for the lower front and rear bumpers and side panels – all the better to see off rougher road surfaces – as well as a unique 16-inch alloy wheel design. And Trail logos on the doors, of course.
We believe the grille alone is going to make this new van very popular with owner-operator buyers, as well as lifestyle customers, since it really helps the Transit Custom Trail stand out.
There's more to this van thatn just a pretty face, though…
What's the benefit of the mLSD on the Transit Custom Trail?
Fitted as standard to all Transit Custom Trail models, the mLSD increases traction in slippery conditions by automatically directing power and torque to the wheel where there is most grip.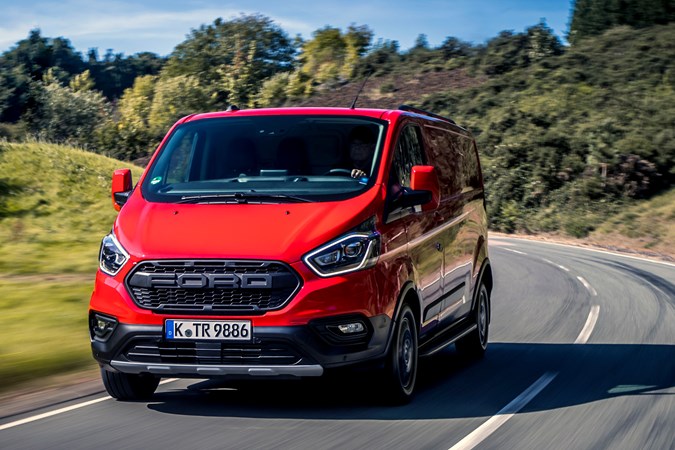 While other forms of limited slip differential use electronics or clutch packs to divert the torque where it can be most effective, the Quaife system of gears means there is no sudden snatchiness – which sometimes causes vehicles fitted with rival types to crab sideways initially instead of just going forwards – just smooth distribution of power, leading to smooth progress even where there isn't much grip.
This helps Trail travel over gravel, mud and other slippery surfaces much more effectively – including making the van easier to drive in the wet and snow, too. The usual electronic stability control system has been rewired to work with it seamlessly,.
We were able to test the Trail's mLSD on a special part-wet / part-dry surface, as well as on a fully sodden one, and with and without the stability control switched on. Whatever we threw at it, the Transit Custom Trail was able to pull away from a standstill smoothly and quickly – even when giving the drivetrain real grief with an aggressive standing start.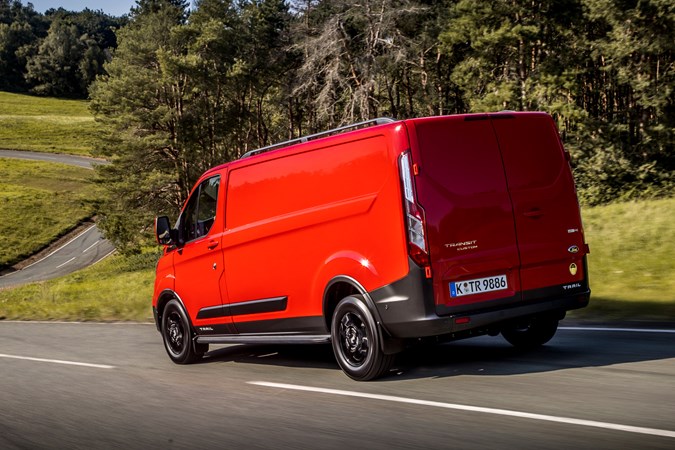 It's not about to take you off-roading (you'll need a Transit Trail 4×4 for that), but if you regularly deal with slippery conditions – be that accessing building sites or mountain bike trails – this version of the Transit Custom gives you the extra capability that ordinary vans lack.
What's more, the mLSD works without reducing fuel economy – which is a claimed 40.3mpg WLTP. Similar devices, also supplied by Quaife, are typically fitted to Ford's most powerful cars, including the Focus RS, Fiesta ST and Focus ST hot hatches.
Don't like the way the Trail looks, but do like the idea of the extra traction? You'll be please to learn the diff is available as an option on all Transit Customs with the manual gearbox, priced at a fairly reasonable £550 (excluding VAT).
What's it like to drive the rest of the time?
Basically the same as any other Transit Custom – which means it's very impressive in van terms, with keen, confidence-inspiring steering and good body control.
The Trail doesn't get raised suspension or anything that will cause extra body roll, so remains just as stable in the corners. You will occasionally feel the differential acting on the front wheels, but only if you're really in a hurry (or it's wet) and you still have to be looking for it.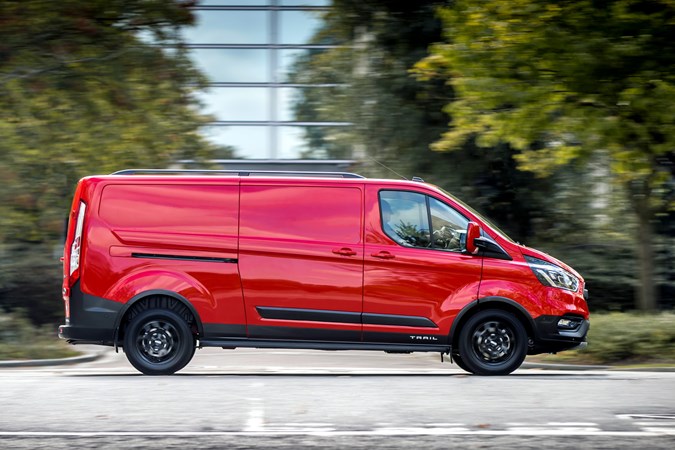 As such, the impact on regular driving is minimal. It's an enjoyable place to cover miles, even if the suspension can feel a little bumpy if you haven't got much weight in the back.
Is there a four-wheel drive version of the Transit Custom Trail?
No – all Transit Customs are front-wheel drive only. If you need the extra go-anywhere capability of four-wheel drive you'll need to upgrade to the bigger Transit. The Trail version of that is also available with Intelligent All-Wheel Drive.
Any changes on the inside?
To help keep Trail customers comfortable, Ford's fitted easy-to-clean leather upholstery as standard, alongside air-conditioning and a Quickclear heated windscreen.
Buyers also get power-folding door mirrors and automatic lights.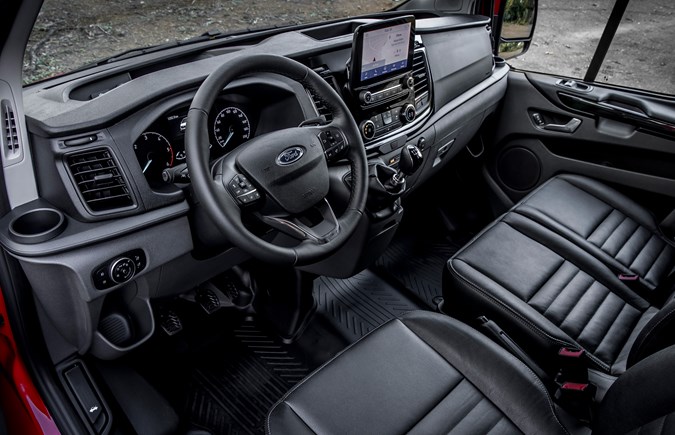 Everything feels good quality to the touch and gives you the impression it's built to last. It's not too van-like inside, either, with the same infotainment systems as Ford's car range, an attractive dashboard design and properly trimmed door panels – even in the back of Double Cab versions (which isn't always the case with some competitors).
Cost and verdict
Launch prices start at £29,250, excluding VAT, and the Trail is available as a panel van or a Double-Cab-in-Van (DCiV), with a choice of 130hp, 170hp or 185hp 2.0-litre EcoBlue diesel engines.
You can't have the six-speed automatic gearbox in combination with the mLSD, so Trail buyers will have to stick with the six-speed manual gearbox. You can add opt for a fuel-saving mHEV EcoBlue Hybrid model, however.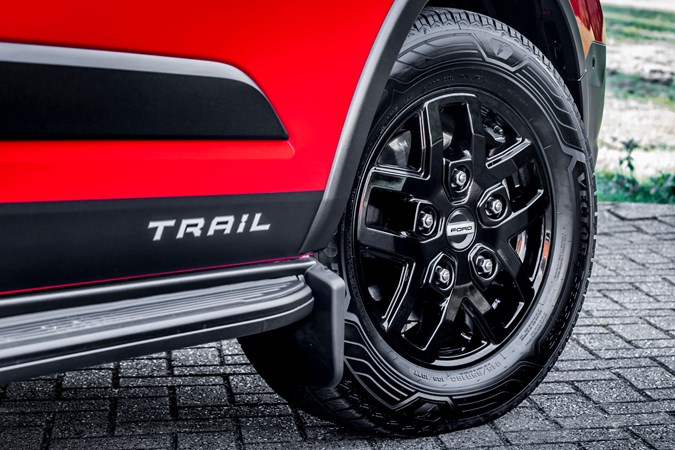 We like it a lot. The Trail adds yet another string to the Transit Custom's bow, and the combination of that outstanding new grille design and the extra traction is one that's sure to appeal to plenty of customers. So much so that we can even see it putting the tradtional Transit Custom Sport models in the shade.
Also read:
>> Our main Ford Transit Custom review
>> Ford Transit Trail – full details
>> Ford Transit Custom Active – full details