Ford Ranger Raptor review (2021)
High-performance off-road pickup with outstanding comfort levels
PROS
Extensively modified for fast off-road driving
Exceptionally comfortable on-road ride
Great sense of quality and attention to detail
High-tech electronics and four-wheel drive
Lots of standard equipment
CONS
Expensive
Car-rate BIK costs
Low payload
Engine could be more exciting
Some rivals way faster (on road)
Summary
This 2021 Ford Ranger Raptor review is based on an extensive amount of driving on and off road in Morocco as well as right here in the UK, plus an on-going long-term test. Prepare to bend your brain around a pickup truck that makes no rational sense whatsoever, but still has us looking at our bank statements, trying to find the large amount of necessary cash.
We're not expecting any major changes in 2021, but will update this page as soon as we learn any different.
What is the Ford Ranger Raptor?
Launched in 2019, the Ranger Raptor is a unique proposition in the UK pickup truck market. Designed and engineered by Ford Performance – the same section of the Blue Oval responsible for the Ford GT supercar and the most potent Mustangs – the Raptor is built to do one thing: go as fast as possible off-road.
It's almost impossible to over-stress what a serious piece of kit this is as a result.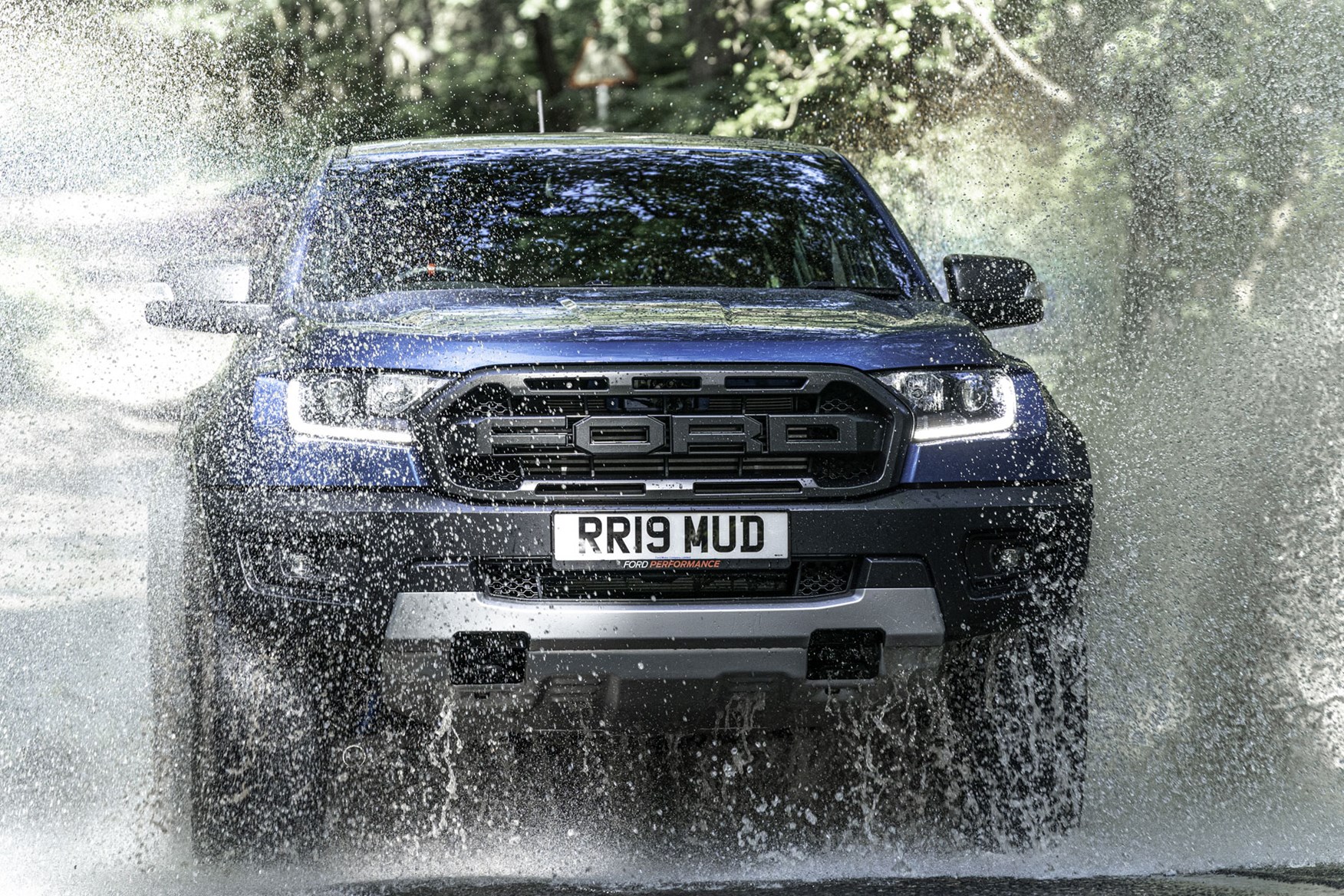 The flagship model for the Ford Ranger line-up, as the name suggests it's heavily influenced by the F-150 Raptor that's been a great success for Ford in the USA – but proved just a little too bonkers for the UK when we tried one here in 2018.
The Ranger Raptor is that bit more sensible. It's smaller (just), so will actually fit down British roads for starters, and instead of a 450hp V6 petrol engine it's powered by a 213hp four-cylinder diesel – though both use the same 10-speed automatic transmission.
The underlying philosophy between the two Raptors is very much the same, however. Which means Ford has pretty much ripped up the standard Ranger's chassis and suspension and started again.
What's so special about the Ranger Raptor?
To say the Raptor is based on the regular Ranger is at once true but also an immense understatement. This is not simply a case of bolting on a bodykit and some raised suspension. At all.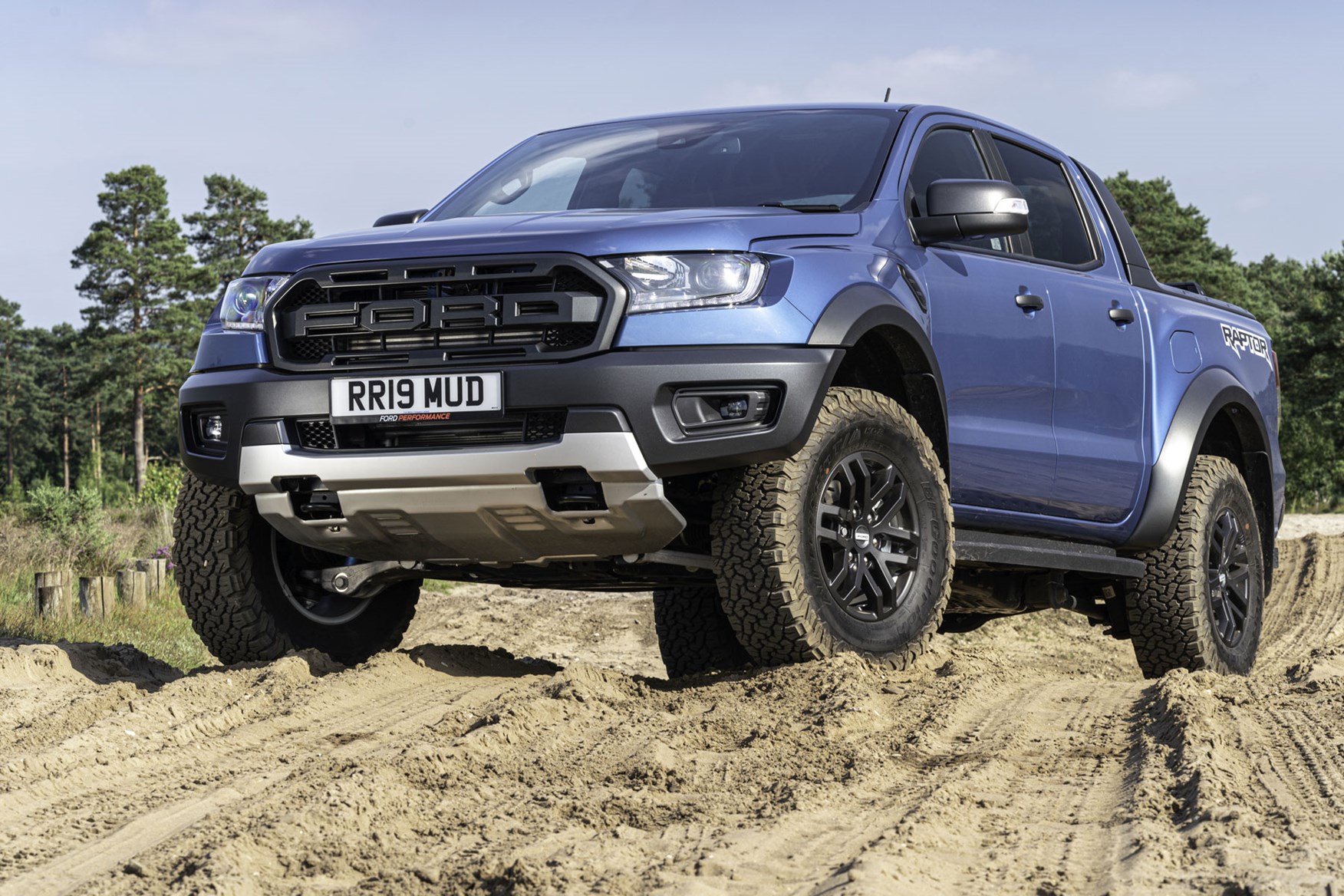 The list of modifications is, frankly, mad.
Get a load of all the Ford Ranger Raptor upgrades:
Front and rear Fox Racing Shox shock absorbers
Rear coilover spring conversion (instead of the usual leaf springs) with new Watts linkage to stabilise the suspension movement in extreme off-road driving and sharpern on-road dynamics
Uniquely modified chassis frame (!) for increased strength and revised suspension geometry to suit raised ride height
New forged aluminium upper front suspension arms and cast aluminium lower suspension arms for increased suspension travel, replacing heavier steel items
Front brake calipers with 20% larger pistons
Rear disc brakes in place of the the standard drums
High-performance off-road seats with dual hardness cushioning and technical suede finish
New interior styling with blue stitching, leather accents and Ceramic trim
Raptor steering wheel, with lightweight magnesium (!) paddleshifters
New instrument cluster with twin dials (speedometer and rev counter) and central information screen
Six-mode Terrain Management System
New FORD grille modelled after F-150 Raptor
Raised and frame-mounted front bumper
Front LED foglights with functional air-curtain ducts to reduce air resistance
Composite front wing panels to better resist off-road damage from flying debris
Flared wheel arches to accommodate extra suspension travel and 150mm (!) increase in track width
Diecast aluminium alloy side steps, designed to protect the rear bodywork from flying debris
New rear bumper with flush-mounted sensor bezels
Twin front tow hooks rated to 4,635kg
Twin rear recovery tow hooks rated to 3,863kg, plus an integrated rear tow bar rated to 2,500kg (2.5 tonnes)
Specially developed 33-inch BF Goodrich all-terrain tyres with tough sidewalls
New front bash plate made from 2.3mm high-strength steel
It's so far from the standard Ranger it's almost like an entirely new vehicle.
How big is the Ford Ranger Raptor?
As a result of all the chassis and suspension modification, the Ranger Raptor stands 1,873mm tall, 2,180mm wide and runs to 5,398mm in length. The track width (the distance between the wheels across the axles) is up to 1,710mm, while ground clearance increases to 283mm.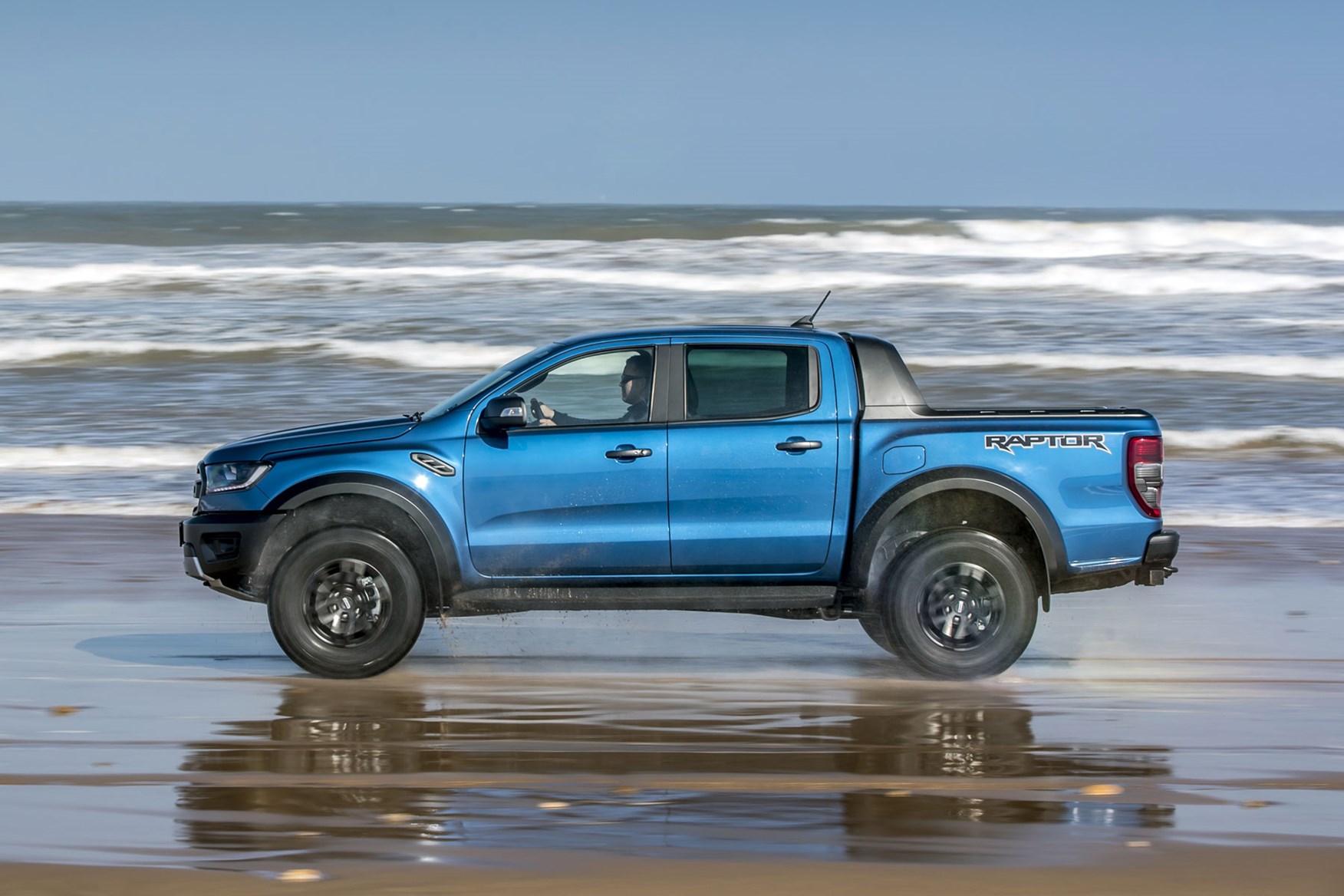 It will also wade 850mm of water, has 30% extra front suspension travel, an 18% increase in rear suspension travel, and raised front and rear bumpers that help to boost the approach and departure angles - to 32.5 degrees and up to 27 degrees, respectively (departure is reduced to 24 degrees if the removable rear tow hook is fitted). The breakover angle is 24 degrees.
That bash plate is 60% thicker than the standard item, too. Which is handy when you start crashing into rocks at the desert-smashing speeds this machine is capable of reaching.
Skip to our full verdict on...
Off-road suspension mods make it mega comfortable on-road
Incredibly capable 4WD system with multiple driving modes
But is the 213hp / 500Nm diesel engine fast enough?
As all of the above modifications suggest, this is quite something to drive - although the ways in which this manifests itself aren't always the obvious ones, and we can't help wishing Ford has fitted a more exciting engine.
What's different about the suspension and chassis?
Ford Performance has converted the rear suspension to a 'coil-over' spring and shock absorber set-up, featuring Fox Racing Shox suspension dampers - also fitted at the front - that use Position Sensitive Damping. This allows them to deliver outstanding cruising comfort on the road in addition to exceptional impact performance when being worked to their limit at high speeds off road.
The new chassis frame, meanwhile, uses multiple grades of steel to maximise strength, and includes stiffened side rails and strengthened suspension mounts, including protruding shock absorber towers at the front to cope with the Raptor's extra width and suspension travel.
The whole thing has been designed and tested to cope with extended periods of off-road driving at speeds up to 105mph.
You may want to read that sentence again...
What does the Ford Ranger Raptor Terrain Management System do?
The Terrain Management System modifies the responses of the engine, the 10-speed gearbox, and the electronic traction and stability control to suit different types of driving and surfaces.
The TMS has six modes, selected easily on the move via a dedicated button on the steering wheel, so you don't even need to stop driving before charging onto the next set of obstacles:
Normal mode - for comfort, fuel economy and ease of driving
Sport mode - sharpens responses for on-road shenanigans
Grass/Gravel/Snow mode - sure-footed on slippery surfaces
Mud/Sand mode - maximum traction and momentum for surfaces that you might otherwise sink into (handy in Morocco)
Rock mode - smooth, low speed control for rock crawling
Baja mode - for FAST off-road driving; automatically reduces electronic intevention
The TMS works in partnership with the Ranger's part-time four-wheel drive system, which has three settings:
2H two-wheel drive - for on-road efficiency and off-road hooliganism
4H four-wheel drive - for faster off-road work
4L low-range four-wheel drive - for maximum off-road grip
There's also a diff-lock for even trickier low-grip situations.
We've been lucky enough to test all of the above, and you can be confident that they all work very well.
So, the Ranger Raptor is good off road?
The Ranger Raptor is incredible off-road – with one proviso we'll come back to in a minute.
The upgraded suspension and chassis are absolutely everything you'd want them to be. The Raptor will take huge impacts – whether that's sudden bumps or dips – and just keeps going, generally without mashing your head in to the roof lining in the process.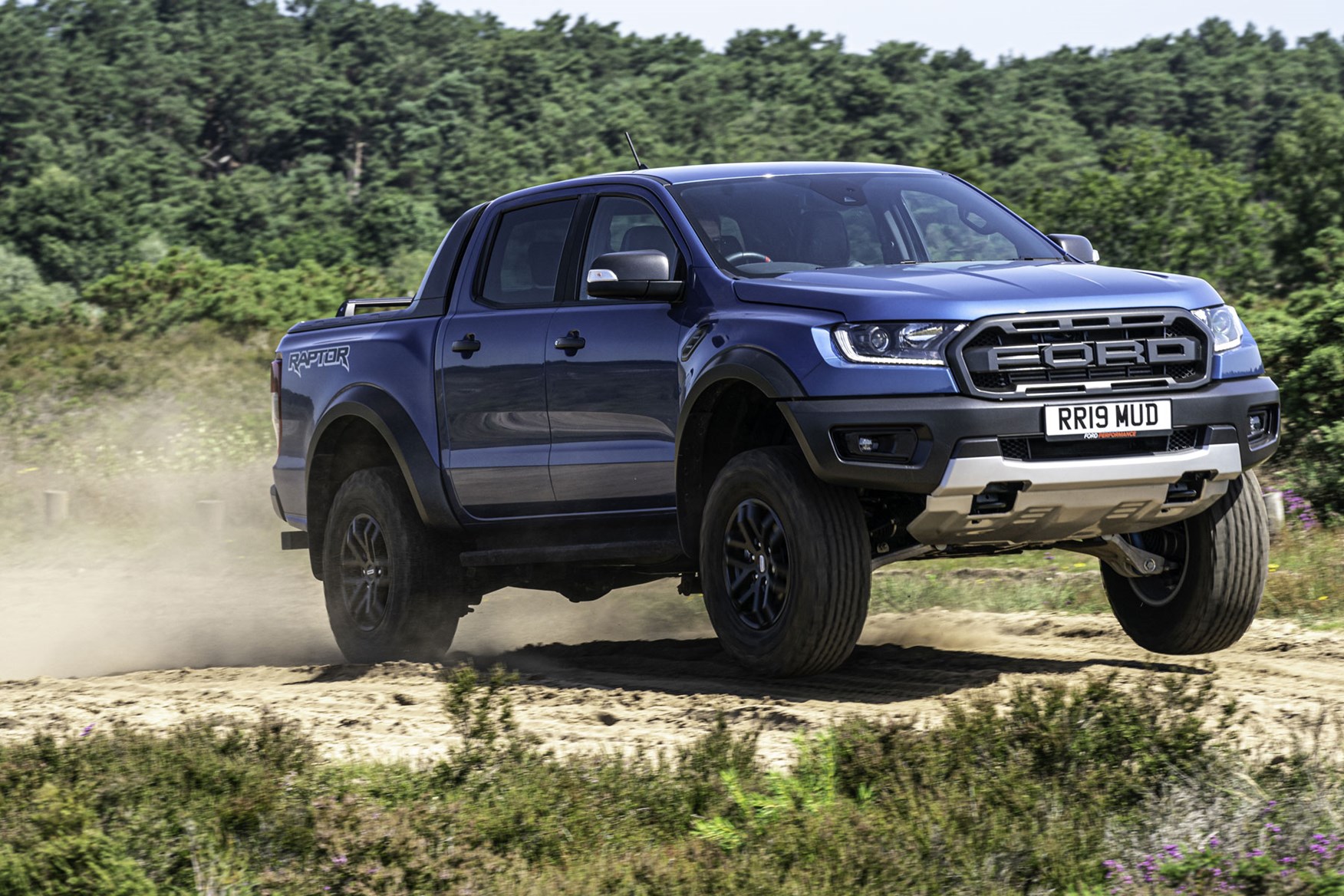 Sure, you will still get thrown about, but the seat fabric stops you sliding as you would on leather, and most massive jolts are dealt with in a single suspension movement. Extended sections of heavily rutted sand are jarring, but the dampers soak up the repeated bouncing entirely enough to allow you to keep on carrying speed that would simply shake most other pickups to death.
Following another Raptor in these circumstances, it's breath-taking to see just how much the wheels go up and down compared to the relatively smooth trajectory of the frame and body. Even if it doesn't feel quite that effortless inside.
The BF Goodrich tyres are mega for grip, and even if you do get stuck – as we did, when a slower vehicle in front prevented us from keeping up enough momentum over some particularly soft sand – the Raptor will usually be able to dig itself out (unless you've managed to bury it up to the chassis – then you're on your own).
What's the Ranger Raptor like on road?
Almost awe-inspiring. Those trick new dampers are satisfyingly soft in the middle of their travel – which is where you'll be most of the time on the road – and this together with ditching the rear leaf springs means it is way, way more comfortable than a regular Ranger.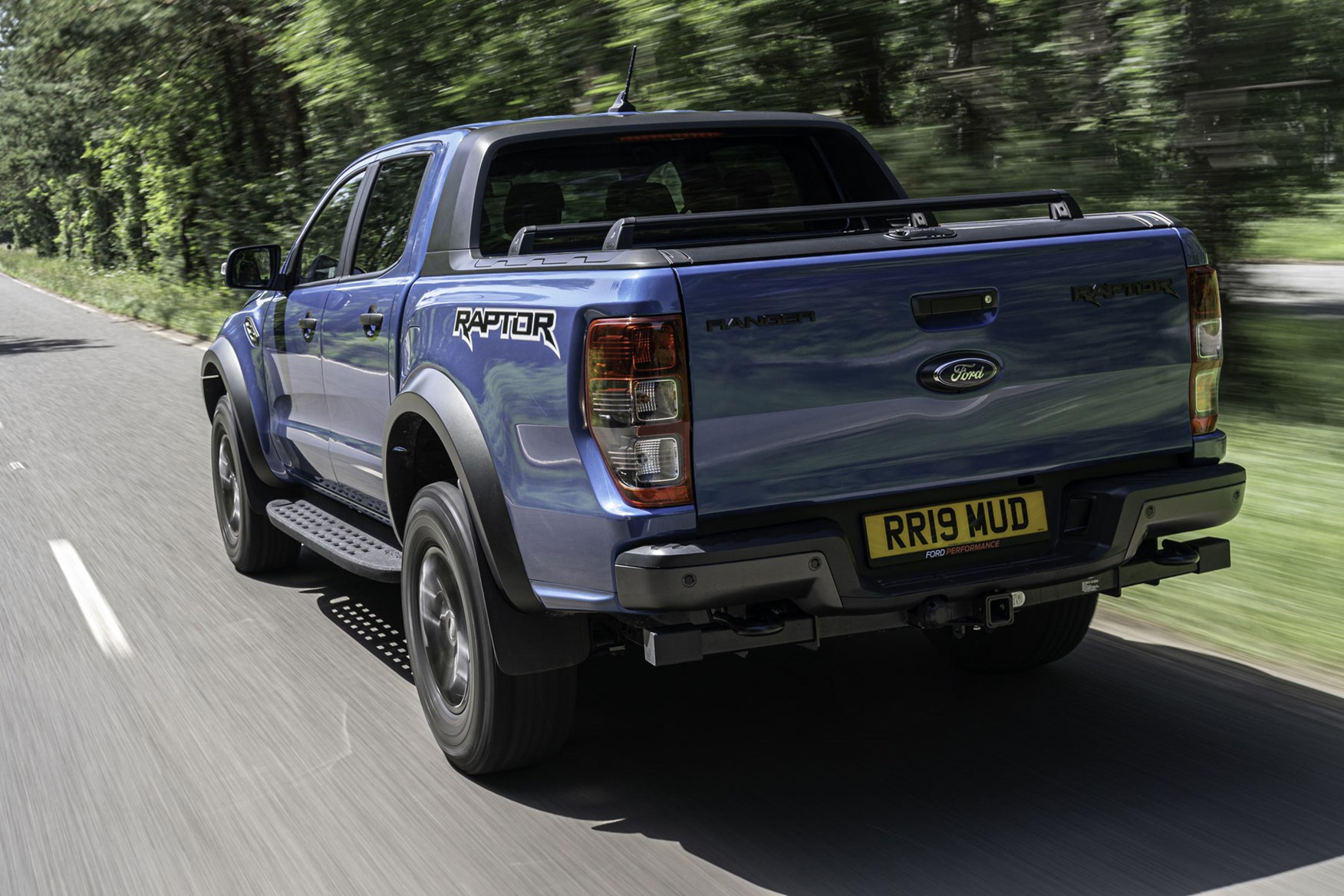 Yet it also leans less in corners, allowing you to carry more speed. Naturally, lumpy tarmac isn't much of a challenge, either.
The off-road tread pattern of those big tyres means there's occasionally a little bit of squirm beneath you, but refinement is more than acceptable – thanks in part to the Ranger's new noise-cancelling system, which also pipes artificial engine sounds into the cabin.
Fortunately, this last is reasonably tastefully done, so avoids becoming overly annoying.
How fast is the Ford Ranger Raptor?
This is where things get slightly awkward. While the new 213hp 2.0-litre EcoBlue engine is the most powerful motor that's been made available in the current Ranger – with 500Nm, it's even more torquey than the old 3.2-litre five-cylinder – it doesn't quite give you the performance we feel a truck like this really deserves.
On the plus side, it uses sequential turbocharging – one small turbo for instant response that feeds into a large turbo for top end power – which makes it very quick to spool up and get moving.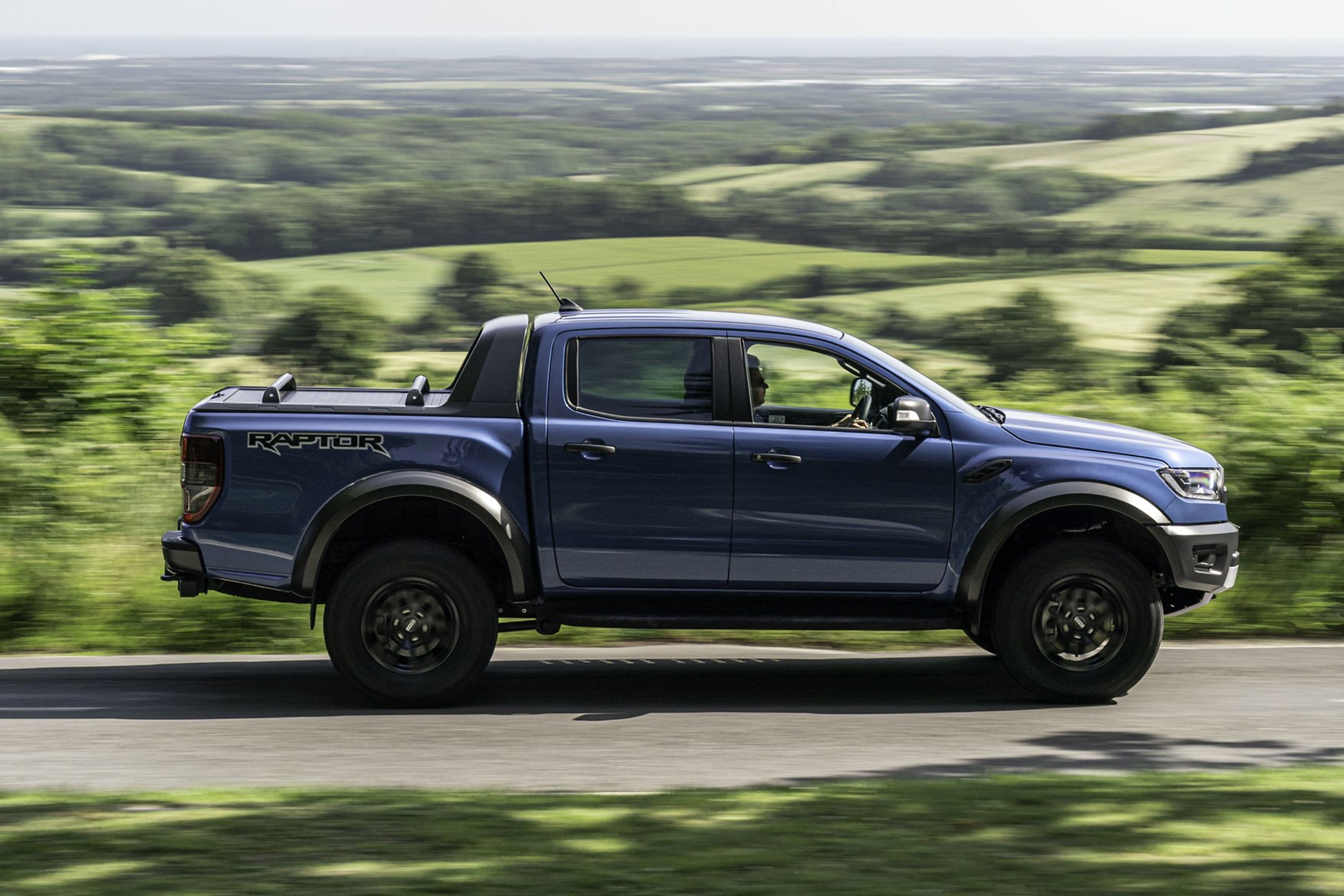 Trouble is, once this opening salvo is delivered, it just never feels especially fast. The chassis means you can still make plenty of progress on the road, since you no longer have to slow down so much in the turns; but off-road – especially on sand – there are occasions where you really want some more muscle, and the Raptor doesn't have it.
And that's despite the generous spread of gear ratios available in that 10-speed gearbox, which shifts quickly and smoothly in both automatic and manual modes.
To put this performance issue into context, the most potent 258hp V6-powered VW Amarok and Mercedes X-Class totally monster the Raptor for raw speed. The Ford needs 10.5 seconds to go 0-62mph, while those premium Germans (which actually cost slightly less than the Raptor) make the same sprint in seven. Ouch.
Making things worse, this exact same engine and gearbox combo is also available in lesser Rangers. There's nothing special about the Raptor's powertrain at all (including the claimed 31.7mpg fuel economy), and lesser Rangers with the same engine are actually slightly faster, thanks to their smaller wheels and lighter weight.
What's the Ranger Raptor like to drive in the UK?
Driving the Raptor in the UK, the first thing that strikes you is how big it is. The extra width - and height - over the standard Ranger make a powerful impression when you walk up to the vehicle for the first time, and you can tell it appears very striking to other road users as well.
From the inside, the width is a bit nerve-inducing at first. Country lanes and crowded town centres can suddenly feel rather narrow. But sitting so high you have a good view of the road ahead, so you should find you quickly adjust to the Raptor's size. Certainly, we were comfortably threading it through gaps within a couple of miles.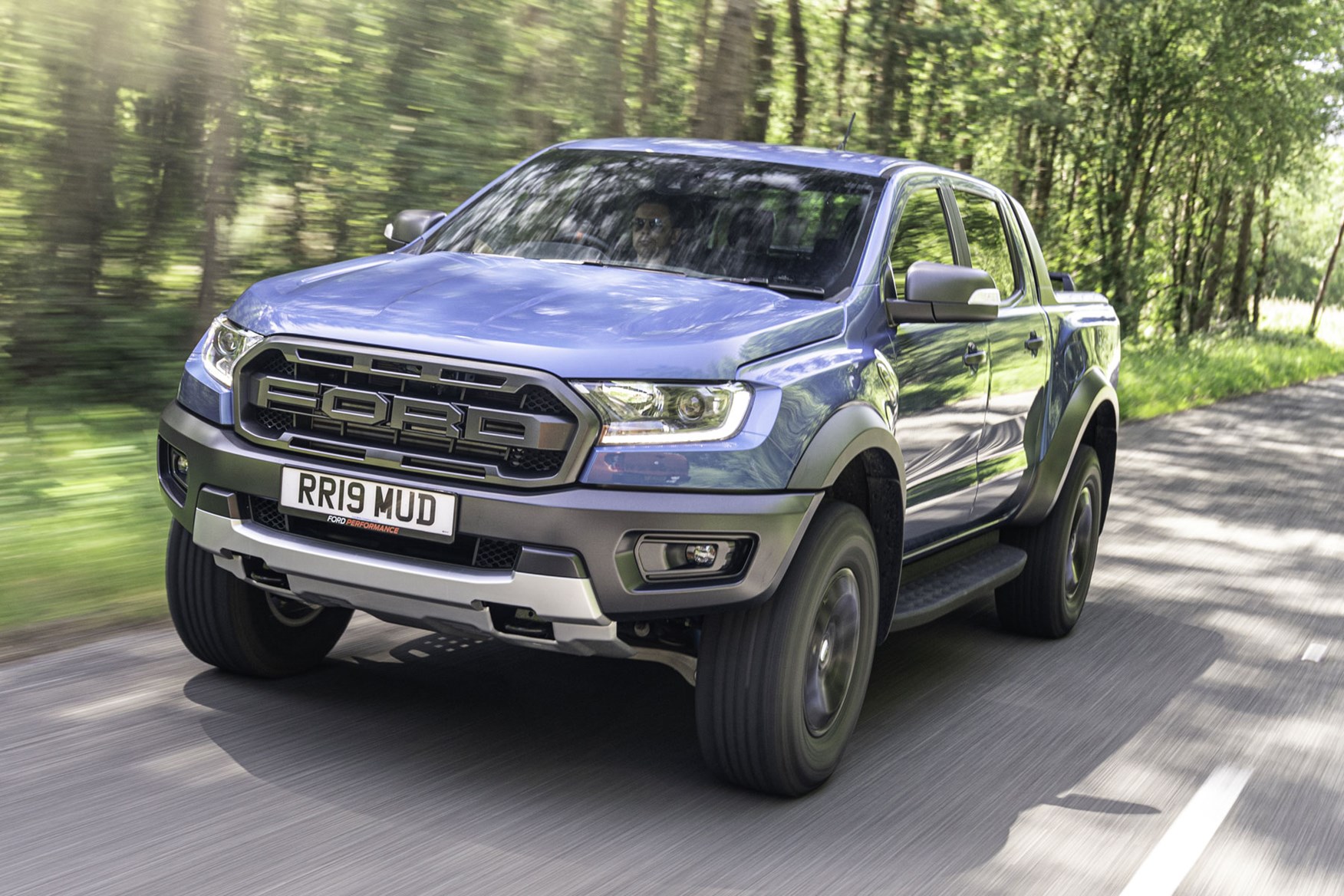 It helps that the chassis and powertrain are so responsive. While it's still a shame the engine isn't a bit pokier given how special the rest of the pickup is, it feels lively enough in among British traffic, and the gearbox helps keep you firmly in the meaty part of the power band.
Trying to use the gearbox manually can be slightly challenging, however, simply due to the sheer number of gears available - if you're at cruising speed and decide to downshift to increase acceleration for an overtaking move you have a lot of gears to get through before the truck really leaps forward under power.
It sounds good, though, and best of all, the suspension is incredible. Amazingly comfortable over bumps (to the point where we didn't even notice some severe ones on the test route that nearly chucked a lesser Ranger off the road!) yet great for control and confidence in the corners.
This really is a lovely piece of work.
Comfortable and tough on the inside
Some lovely trim and detailing
Manages to almost justify the premium price
The Raptor's interior is designed to look good but last well, with lots of blue stitching and leather accents.
While the seats are heavily contoured for off-road support, they feature dual-firmness cushions plus that suede-effect material, which really does grip you well, even when the truck is moving around exceedingly violently.
Pleasing details throughout the cabin
Aside from these great chairs, our favourite bits about the Raptor's cabin are the new instrument cluster - which adds a proper rev-counter alongside the speedo, with a multifunction display in the middle - and the use of a cool Ceramic finish on areas of trim that are more often chrome in other Rangers.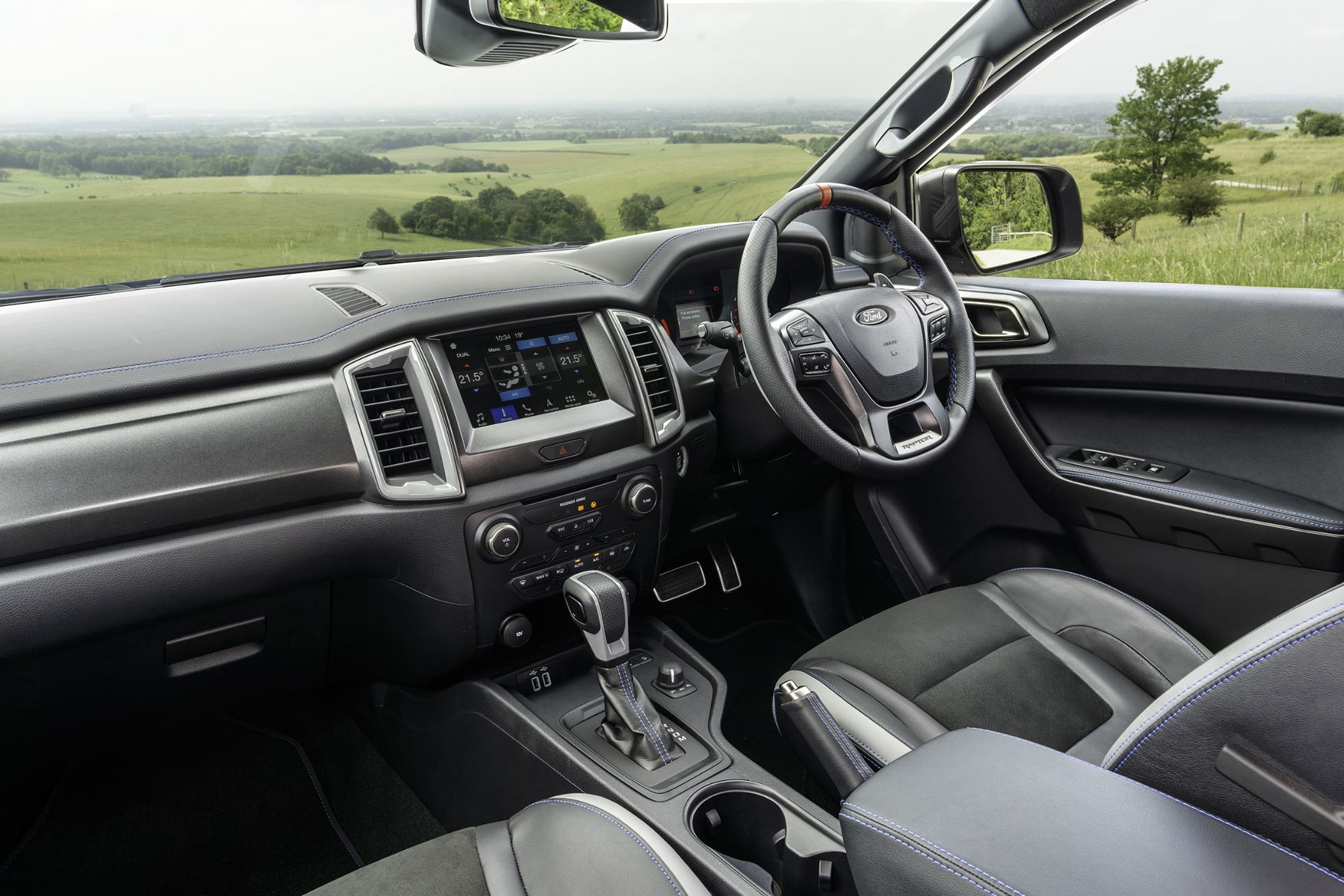 The icing on the cake are the magnesium gearshift paddles and a multifunction sports steering wheel with centre marking point (genuinely helpful off road when the way the front wheels are pointing and the direction of travel can go their separate ways).
Latest infotainment with breadcrumb GPS for off-road navigation
The Ford Sync 3 infotainment system is the firm's very latest 8.0-inch touchcreen multimedia solution, complete with Android Auto and Apple CarPlay.
As mentioned above, built-in sat-nav offers the option to lay 'breadcrumbs', which you can then use to find your way back, even if you're travelling somewhere there aren't any roads.
Sync 3 also includes FordPass Connect, which features on-board Wi-Fi connectivity and the ability to check the status of several areas of the vehicle from a smartphone app.
By far the most expensive Ranger
Does not qualify for LCV company car tax like other pickups do
Poor fuel economy, but lots of standard kit
The initial UK pricing for the Ranger Raptor was confirmed in the April 2019 price list, starting at a not inconsiderable £40,706 - that's on the road but excluding VAT.
With the VAT we're dealing with a £48,785 pickup truck here. Yowzers. This is not a cheap truck.
Does the VAT matter? Is the Ranger Raptor taxed as a commercial vehicle like other pickups?
Alongside the engine, this may prove to be the other thorn in the Raptor's steroidal sides - it doesn't qualify as a light commercial vehicle (LCV) for Benefit-in-Kind (BIK) taxation purposes.
The heavily reinforced and upgraded nature of this pickup has driven the minimum kerbweight up to 2,510kg. With a gross vehicle mass (that's Ford-speak for gross vehicle weight or GVW) of 3,130kg, this means maximum payload of just 620kg.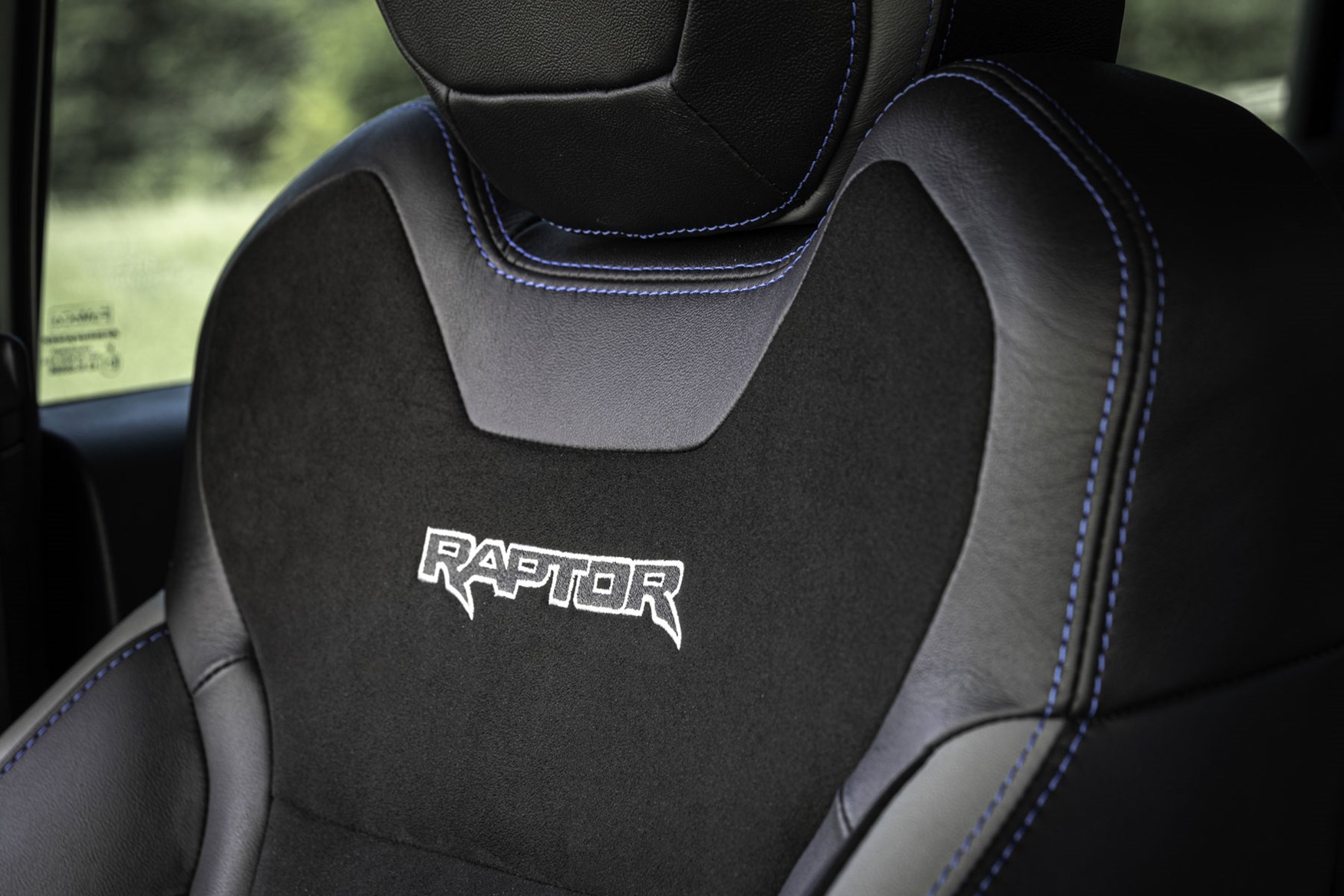 To be considered as 'dual purpose' light commercial vehicle for BIK tax reasons, a pickup has to be able to carry over a payload of 1,040kg.
Because the Ranger Raptor can't do this, anyone planning to use one as a company car will have to pay CO2-based BIK, instead of the cheaper fixed rate of available to pickups that do meet the LCV standard.
Confusingly, it does meet the LCV standards for road tax (VED) - saving you quite a bit of cash compared with a regular car but forcing you to abide by van speed limits.
Ford Ranger Raptor mpg
For similar reasons, the Raptor has some of the worst fuel economy in the Ranger line-up at a claimed 31.7mpg - only the 3.2-litre automatic available in the Wildtrak model is worse.
Out in the real world, if you get much above 25mpg you're doing well.
Ford Ranger Raptor servicing intervals
These are the same as any other Ranger with a 2.0-litre EcoBlue turbodiesel engine - which is to say once every 12,500 miles or two years, whichever is sooner.
If you plan to use your Raptor off-road, driving it hard in the process, you may want to consider seeing the dealer a little more frequently than two years - though the engine has an on-board system that will alert you if an earlier service is urgently needed.
Ford Ranger Raptor warranty
Total cover is for three years or 60,000 miles - though the first year is for unlimited mileage.
Ford Ranger Raptor standard equipment
We've covered the extensive engineering modifications earlier in this review, but the Raptor isn't short of standard equipment, either. Here are some of the highlights:
Easy-lift tailgate mechanism with power lock
Power-folding heated door mirrors
Bi-Xenon headlights
LED front foglights
Automatic lights and wipers
Heated windscreen
Rear parking camera
Three-pin plug in rear and load area
Ford Sync 3

infotainment system with

8.0-inch touchscreen and FordPass Connect
Satellite-navigation
DAB radio
Active noice control
Black headlining
Mountain Top lockable load cover and load bars
Premium Raptor floor mats
Cool box in central console
Heated front seats with eight-way power adjustment
Keyless entry and start
Time will tell how well the Raptor will withstand off-road abuse
EcoBlue engine family has had injector problems
The Raptor is a new model for the Ranger in 2019, and it's too early to tell how those custom modifications are going to stand the test of time - or indeed the extreme off-roading that they are designed for.
What we do know is that Ford has tested the Raptor extensively in the exact kinds of environments it is intended to excell in - though that surely doesn't mean you won't be able to break it if you're careless.
Be cautious if buying used
The nature of this vehicle means you should pay particular attention to the kind of damage it might have sustained when shopping for a used one, too.
Look out for unusual vibrations and other indicators that it's been abused off road, such as scuffed bash plates and other cosmetic defects.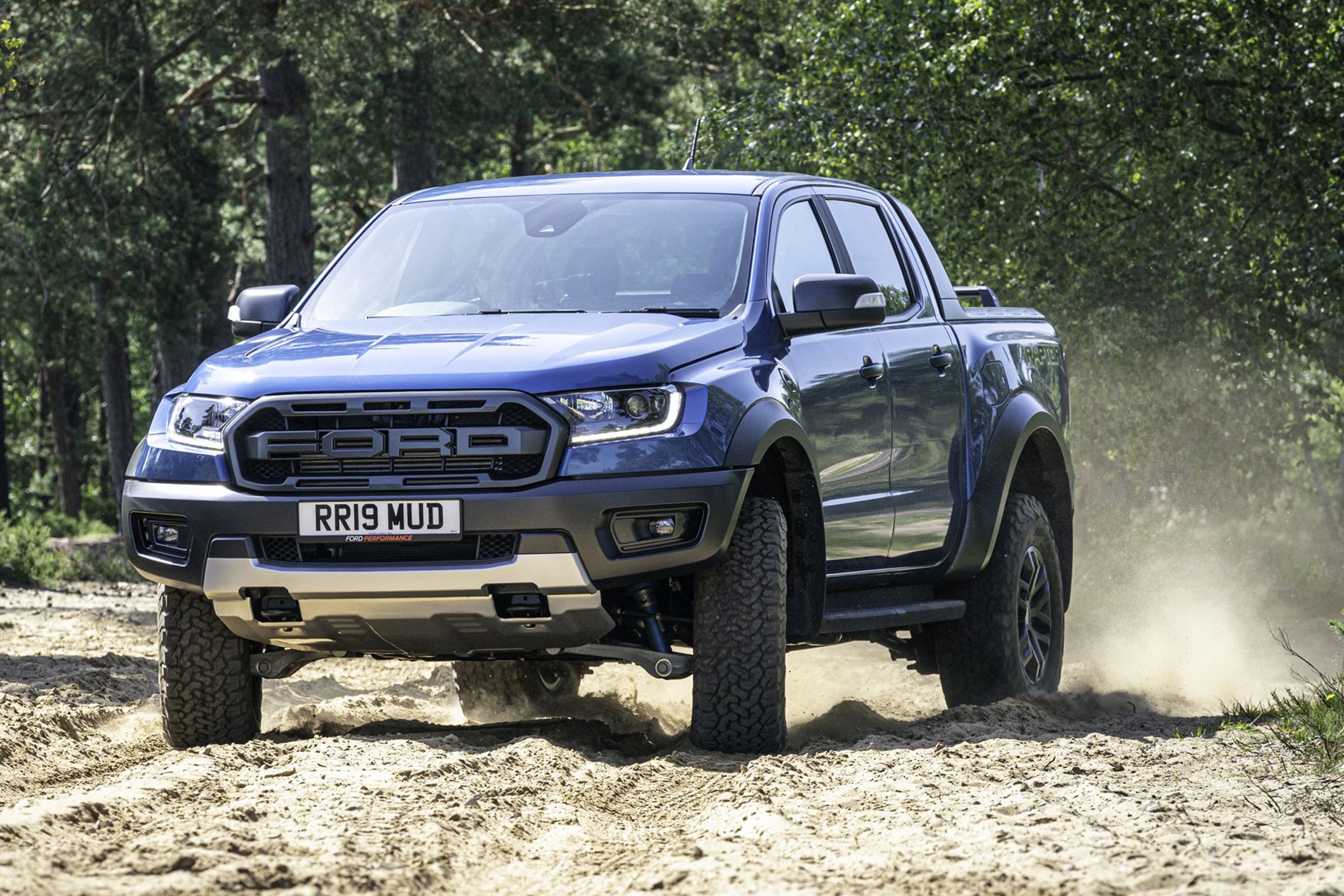 Also take advantage of the ride height to have a good look underneath for damaged suspension components - such as bent suspension arms and leaking shock absorbers.
EcoBlue engines have been far from faultless
The 2.0-litre engine fitted in the Raptor is part of Ford's EcoBlue diesel family, and they've had a somewhat turbulent start to life.
There have been oil service issues in Transit and Transit Custom vans (now hopefully resolved) while a considerable number of engines - including some fitted to the Ranger - had faulty injectors installed between February and September 2019. These are being replaced under warranty.
Alarm and immobiliser as standard
Seven airbags, lots of electronic aids
Including autonomous emergency braking
As the top-of-the-line Ranger model, Ford hasn't skimped on the Raptor's safety and security equipment.
Ford Ranger Raptor safety
In addition to the strength and capability of its chassis and suspension modifications, Ford has also fitted the Ranger Raptor with seven airbags and state-of-the-art electronic stability control systems - plus autonomous emergency braking (AEB) with pedestrian detection.
It's also got automatic lights and wipers, an auto-dimming interior rear-view mirror and Isofix mountings for child seats - although note that the top tethers are located behind the seat back, which you need to fold down to access. And you can't do this once you've locked the child seat's Isofix legs in place.
The heated windscreen is great for winter visibility, too.
Ford Ranger Raptor security
The Raptor gets double-locking power locks - including a powered tailgate lock, which isn't a given on a pickup - and a Thatcham alarm and immobiliser system.
It's also fitted as standard with keyless entry and start, so you may need to give some thought to where you keep the key, in order to avoid signal amplification theft attempts.
Which Ford Ranger Raptor is best for me?
There's only a single Ranger Raptor model, so if you want one of these your choices come down to paint and options - the 213hp engine and 10-speed automatic transmission are all you can get.
It probably goes without saying that if you're looking for a true working vehicle, there are other Ranger pickups that make more sense than the Raptor.