Ford Transit Custom Plug-In Hybrid review (2021)
A brilliant solution for van drivers in city centres
PROS
Super-smooth, refined powertrain
Zero-emission when needed
No compromise in load area
Avoids growing diesel stigma
Congestion and ULEZ exempt
CONS
Petrol engine can be noisy
Less suited to long distances
Expensive compared with basic diesel
Getting the best economy takes practice

Service intervals shorter than diesel
Summary
The Ford Transit Custom Plug-In Hybrid offers a baby step for anyone considering an electric van but not yet willing to compromise on ultimate driving range and refuelling quickly at a petrol station.
As a plug-in hybrid electric vehicle, the Transit Custom PHEV combines an electric motor with a small petrol engine, giving you zero-emissions driving for short periods when you need it but a 300-mile driving range overall.
A hybrid electric van that doesn't shout about it
The Transit Custom hybrid doesn't shout about its clever capabilities. Short of a few discreet badges, the only thing that gives it away from the exterior is a flap just underneath the headlight where you plug in the charging cable.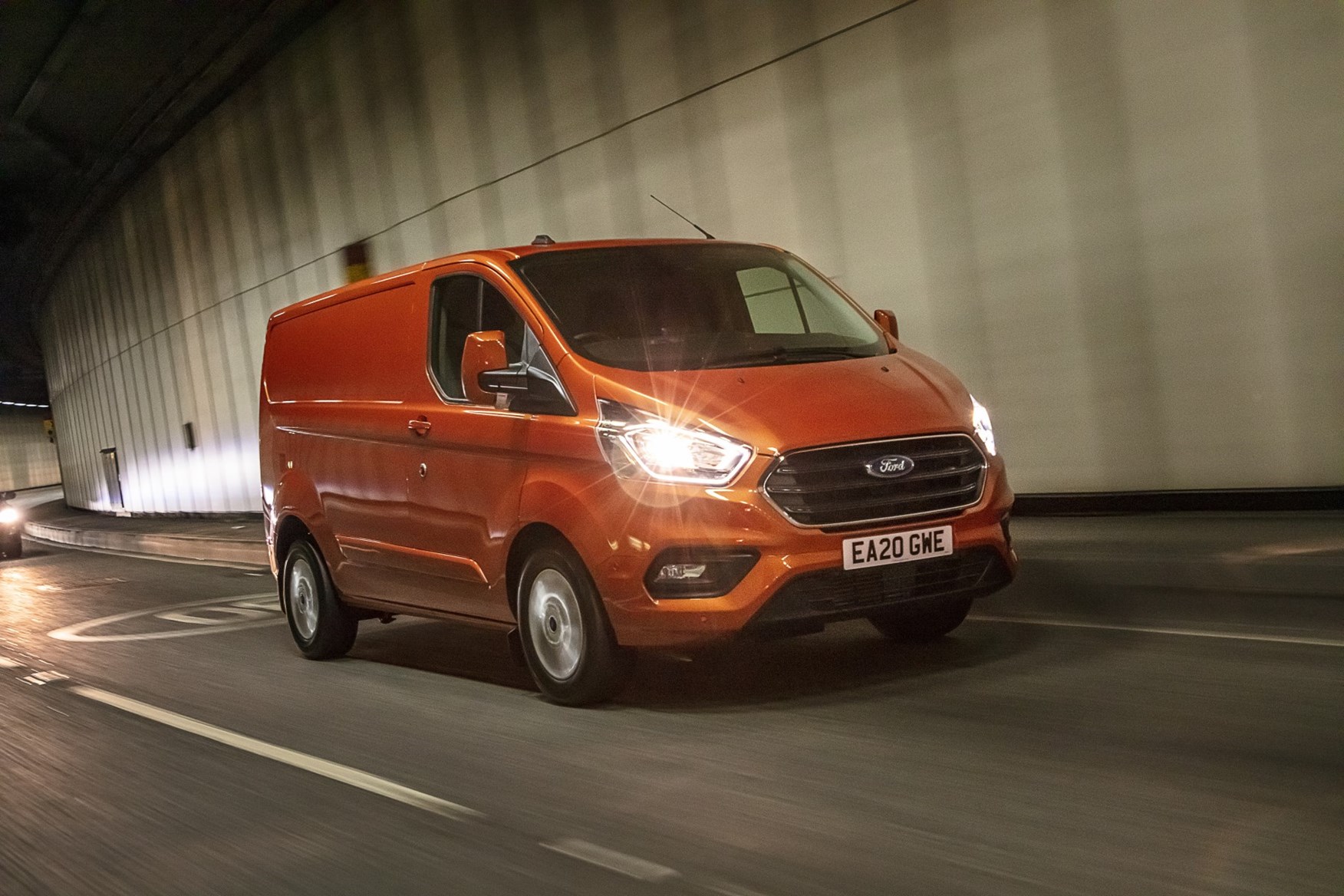 Under the skin, though, the powertrain is completely changed. Gone is the 2.0-litre diesel engine that powers the conventional Transit Custom range, and in its place is a 1.0-litre petrol engine. This never actually drives the front wheels directly – instead it's used as a generator to create charge for the 13.6kWh battery pack and 126hp electric motor, which are responsible for making the van move.
This means that for all practical purposes, the Transit Custom Plug-In Hybrid drives just like an electric van, with super-smooth performance, silent running (while the batteries are charged up) and a generally easygoing and pleasant driving experience.
Unlike a fully electric van, though, you don't immediately have to stop to plug-in once the Transit Custom PHEV's battery pack is depleted. Instead, the petrol engine kicks in, giving you the capacity to do longer journeys without being interrupted by a charging stop.
Clever shuffling of petrol and electricity allows the Transit Custom hybrid to prioritise its claimed 30.5 miles of pure-electric range for where it's really needed – with usage patterns gathered from real operators via an extensive prototype program. Heading into London from outside the city limits? The Transit Custom PHEV can maintain its state of charge, switching over to electric power as soon as you hit the city centre. Doing a longer trip with a flat battery but want to finish on electricity? Another driving mode will charge the battery on the go.
It sounds complicated – and in some ways it is. But in most respects, and certainly all of the important ones, the Transit Custom Plug-In Hybrid functions just like any other van. Only it's a van that can run without producing any tailpipe emissions for several miles at a time, making it a potential business saver should ultra-low emissions zones (ULEZ) in cities become zero-emissions zones in the future.
Rivals
The only other true plug-in hybrid van on the market is the LEVC VN5, based on the same underpinnings as the London Taxi.
The LEVC is more expensive and less capacious than the hybrid Transit, but does offer significantly more pure-electric range – 61 miles as opposed to 30.5.
If you're interested in seeing directly how these two vans compare, then check out our Transit Custom PHEV vs LEVC VN5 twin-test.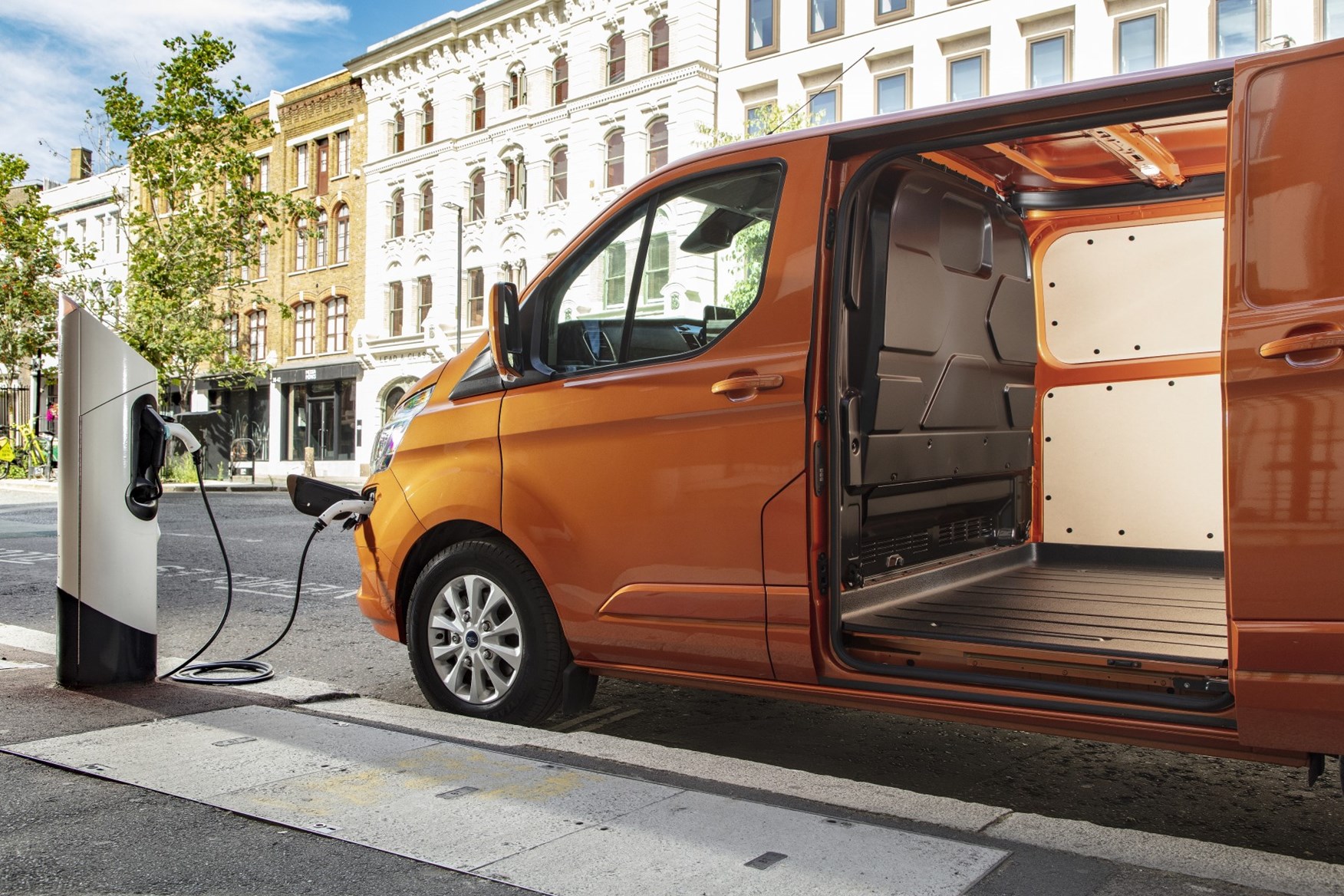 Technically speaking, Mitsubishi offers the Outlander PHEV in 'Commercial' form – but this is a commercial 4x4 converted from a passenger vehicle rather than a purpose-built van, and it doesn't have anything like the load space or payload of the Transit.
As for other rivals, the Transit Custom PHEV really only has electric vans to compete with. There's no denying that at its price point, it's not going to worry fleets that would otherwise have opted for a bargain-basement diesel model – but it could prove a useful halfway house for businesses not willing to deal with the compromised range and difficulty of charging something like a Mercedes-Benz eVito or Nissan e-NV200.
Yet with affordable, long-range electric vans such as the Vauxhall Vivaro-e. Peugeot e-Expert and Citroen e-Dispatch now available, Ford's not-quite-fully committed approach might prove to be its undoing.
We won't see a 100% electric Ford van until the larger E-Transit goes on sale in 2022, though Ford has now also announced that the next-generation Transit Custom will come with pure-electric power when it goes on sale in 2023, too.
---

Ford Transit Custom Plug-In Hybrid verdict
It's pricey compared with a diesel van, and businesses that regularly travel the length and the breadth of the country will still be far better served by a more conventional model. For those who mostly operate in the city, though, the Ford Transit Custom PHEV isn't just a pragmatic choice, it's also really agreeable for the drivers who'll have to spend hours behind the wheel.
The petrol-electric drivetrain scores big points for its totally smooth running and round-town pace, and of course, the prospect of significant money savings will endear the Transit Custom hybrid to many an operator – especially those who frequent London's congestion charging zone.
And best of all, the hybrid system hasn't taken anything away from the Transit Custom's capability as a van – with plenty of payload and an unencumbered load area, which you can find out more about on our dedicated Ford Transit Custom Plug-In Hybrid dimensions page.
Used within its proper limits, this is an excellent solution.
Skip to our full verdict on...
Wheels are only ever driven by electricity
Super-smooth and nippy around town
Capable of motorway trips, but not so pleasant
Taken on face value, the Ford Transit Custom Plug-In Hybrid is like any other van with an automatic gearbox. You get in, you start up, you set off. That's assuming you've unplugged it from the mains first…
After around 4.3 hours of charging from a standard wall socket (or 2.7 hours from a 7.2kWh wallbox), the Transit Custom PHEV's 13.6kWh battery offers up a claimed 30.5 miles of pure electric range. For some businesses, that'll be enough range to operate this van as purely electric almost all of the time.
It's like an electric van to drive, too – unsurprising, since the petrol engine never actually touches the wheels. It operates solely as a generator, providing charge for the batteries. That means the Transit Custom hybrid sets off smoothly and silently, with a surprising degree of acceleration for anybody who's used to a ponderous, grumbly diesel.
It's so silent, in fact, that the Transit generates a spaceship-style electronic noise to warn pedestrians of its coming. This was rather adorably tested out by filling the back with guide dogs.
That acceleration? Well, it would have a diesel desperately redlining to keep pace up to around 25mph, but it does soon tail off. It's not a rocketship, but it'll make it easily to the legal limit with enough in reserve to be safe.
Like more conventional electric vans, the PHEV drives like an automatic, its single-speed transmission requiring no manual gear shifting at all. Which is a bonus in city-centre traffic. And like all Transit Customs, the hybrid is front-wheel drive.
Four drive modes
There are four ways to use the battery's charge, selectable via a button on the dash. EV Auto is the default setting, and the one the van automatically boots into. It uses the battery first but will allow the petrol engine to kick in under heavy load.
EV Now forces the van into zero-emissions mode when selected or forced to by an automatic geofencing system – more on this later.
EV Later switches on the petrol engine and maintains the battery's state of charge. This allows you to hold some in reserve if you know you're heading into a city centre, for example.
EV Charge uses the petrol engine to recharge the batteries as it goes. It's a slow process and uses a lot of petrol, but it can help out if you've run down your battery but still need electric power for later in your journey.
There's also an unfamiliar mode on the gear selector. Marked L, it ramps up the regenerative braking system, allowing you to re-capture energy as you slow down. It's a substantial enough braking effect that in a lot of situations you can get by barely using the conventional brakes at all.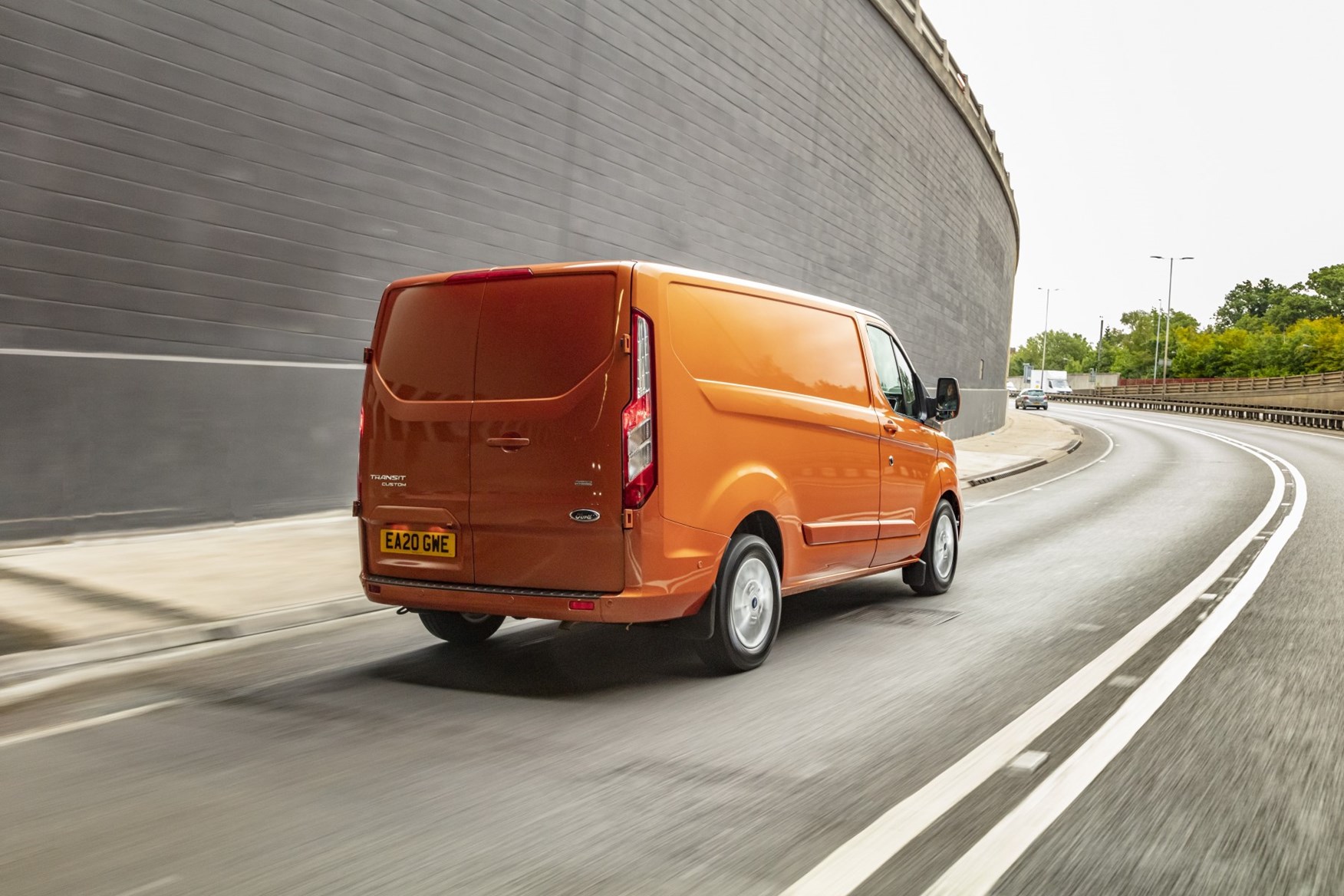 This is great for running costs, as it not only recovers energy that would otherwise be lost and sends it back to the batteries, it also reduces wear and tear on your brake pads and discs.
Making the most of this quickly becomes quite addictive, helped by the large 'energy use' gauge that replaces the conventional rev counter in the instrument cluster. This helps you understand how efficiently you're driving, and when the van is making the most use of its ability to save and recover energy as well.
The more efficiently you drive, the longer the batteries will last, the more fuel you'll save and the better your running costs will be.
What about on longer trips?
Well, the petrol engine isn't connected to the front wheels, so its revs won't necessarily synchronise with what your right foot is doing – which can be disconcerting at first.
Round town, even when charging up, everything remains pretty quiet – the petrol engine makes a distinct but modest sort of mooing sound rather than the metallic grumble of a diesel. Ask for some punch with a discharged battery, though, and it quickly revs up to the max, which is rather noisy and somewhat grating.
Long motorway trips will see the little 1.0-litre petrol spinning up like a sewing machine as it puts charge back in the batteries just as fast as prolonged periods at the legal limit uses them up. Again, it's not dreadfully unpleasant, but nor is it particularly refined.
Does it handle?
As well as any other Transit Custom – arguably, even better, with less weight in the nose and the heavy battery pack spread out rearward.
This means it's a real sports car of the van world, with weighty steering and agile handling that you'll struggle to find anywhere else in this class.
It rides well too, especially when loaded.
Virtually identical to regular Transit Custom cab
High-quality, car-like interior
Plenty of kit available
Ford hasn't played about with the cabin of the Transit Custom in its transition to a plug-in hybrid. That means all the positive features of the standard van remain – a car-like cabin, great visibility both fore and aft thanks to a low dash and big, two-part mirrors, and plenty of storage for bits and bobs.
The driving position is near-perfect and even entry-level Leader models have eight-way adjustment for the driver's seat in addition to reach and rake adjustment for the steering wheel.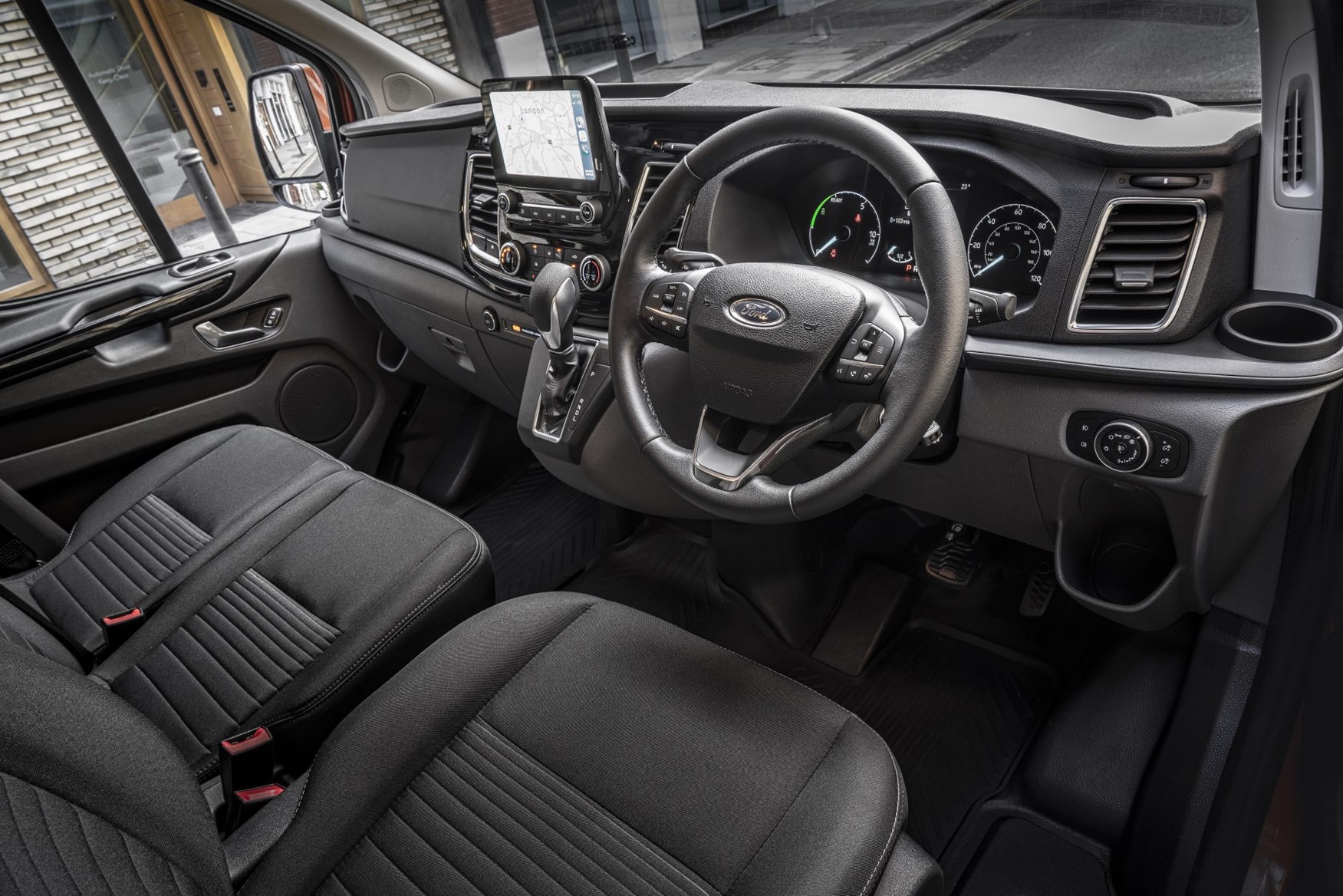 All PHEV models are built on the post-facelift Transit Custom cab, which means any criticisms we had of the old model – fiddly radio controls and a distant ventilation panel – don't apply. Instead, every model gets a high-set infotainment screen above simple-to-understand air-conditioning controls.
There's plenty of storage including useful cupholders at each end of the dash, a bottle holder underneath, and triple-layer door bins plus a big glovebox. It's a shame that the bins on top of the dashboard are open, though, so everything in them will be on display – not to mention reflecting in the windscreen.
Infotainment options
It's possible to spec your Transit Custom with Ford's Sync 3 infotainment system – the same touchscreen unit that's fitted to its passenger cars including the Fiesta and Focus.
The tablet-style 8.0-inch touchscreen sits proud of the dash, nice and high in the driver's line of sight. It's perhaps not quite as easy to use as the system fitted in the VW e-Transporter, but it's a close second – and miles ahead of the Mercedes eVito's ancient unit.
It features voice control, optional sat-nav and standard Apple CarPlay and Android Auto connectivity.
If you can't stretch to the bigger screen, there's a smaller 4.0-inch option which does without touch control or smartphone connectivity. It's functional, but not much else.
Geofencing screen
All Transit Custom PHEVs built after Autumn 2020 feature a tiny, square screen to the driver's right. It tracks the in-built geofencing functionality, which is standard on all PHEVs and can be retrofitted for free to those sold before it was ready.
It alerts the driver when they're approaching a geofenced zone via icons and colours. It's unobtrusive and, though it's supplied by a third-party, looks very much like part of Ford's original equipment.
Instrument cluster
The Transit Custom hybrid's instrument cluster is a little different to the diesel's. For starters, there are two 'fuel' gauges – one is for petrol, the other replaces the temperature gauge and indicates the battery's state of charge.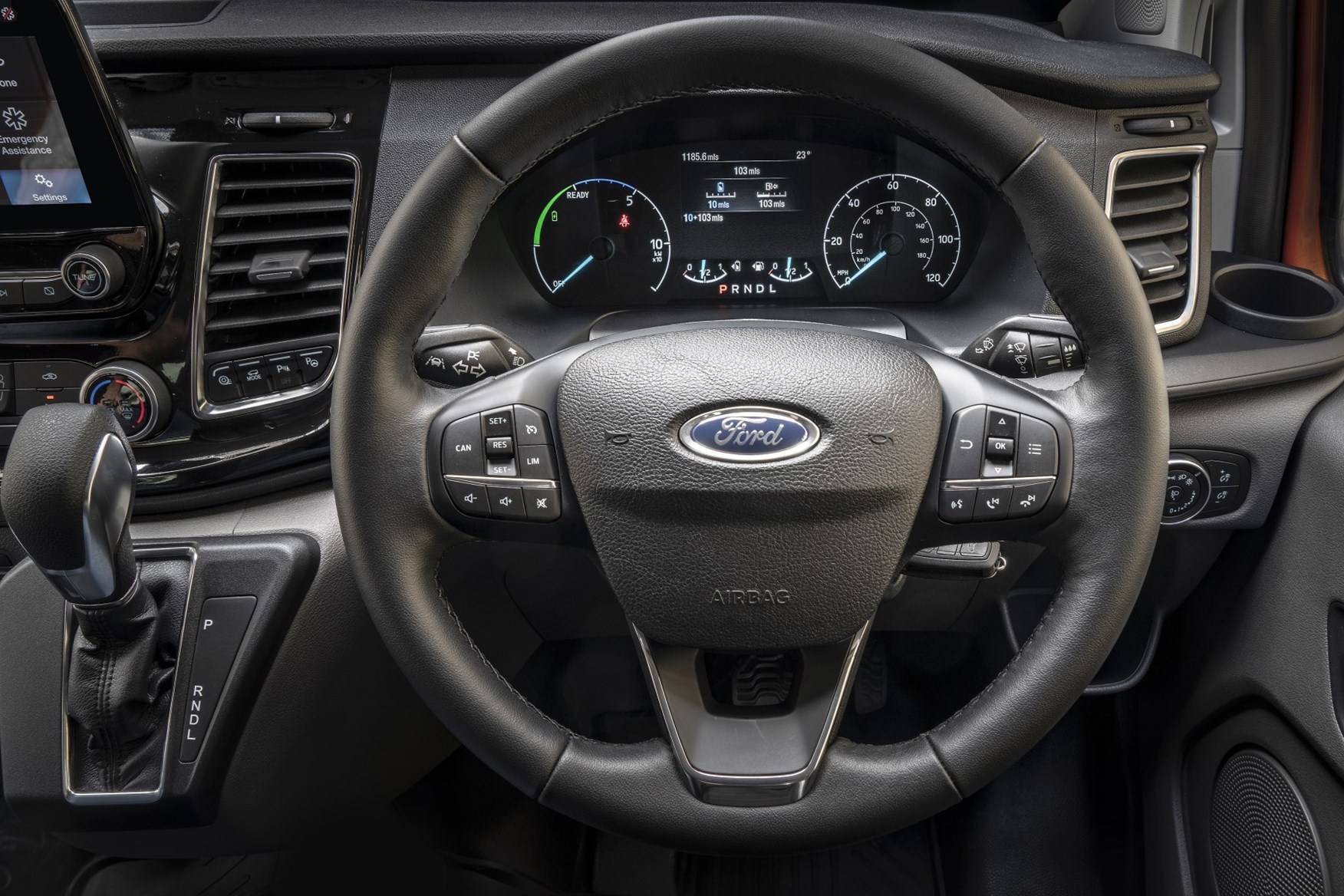 There's a selection of lighted icons to show which of the four driving modes you're in, too.
Meanwhile, the rev counter has been switched out for a power gauge. No surprises here to anybody who's driven a hybrid before – as you accelerate, the gauge moves through the 'blue' zone (to indicate efficient driving) and into the gray zone if you're hoofing it.
Let off the throttle and apply the brakes – either regenerative or standard – and the needle will move into the 'green' zone, to indicate a positive charge being applied to the battery.
Expensive to buy…
… but can cost virtually nothing to run
Some users will barely need petrol at all
Transit Custom Plug-In Hybrid running costs are very dependent on driving style and journey type, much more so than the diesel. As a result, it's difficult to give a definitive answer on whether it could save you money or not…
Easier to quantify is the purchase price – this is an expensive van. It's damn-near double the price of the most basic 105hp diesel, and very comfortably tops even the priciest 185hp automatic diesel option.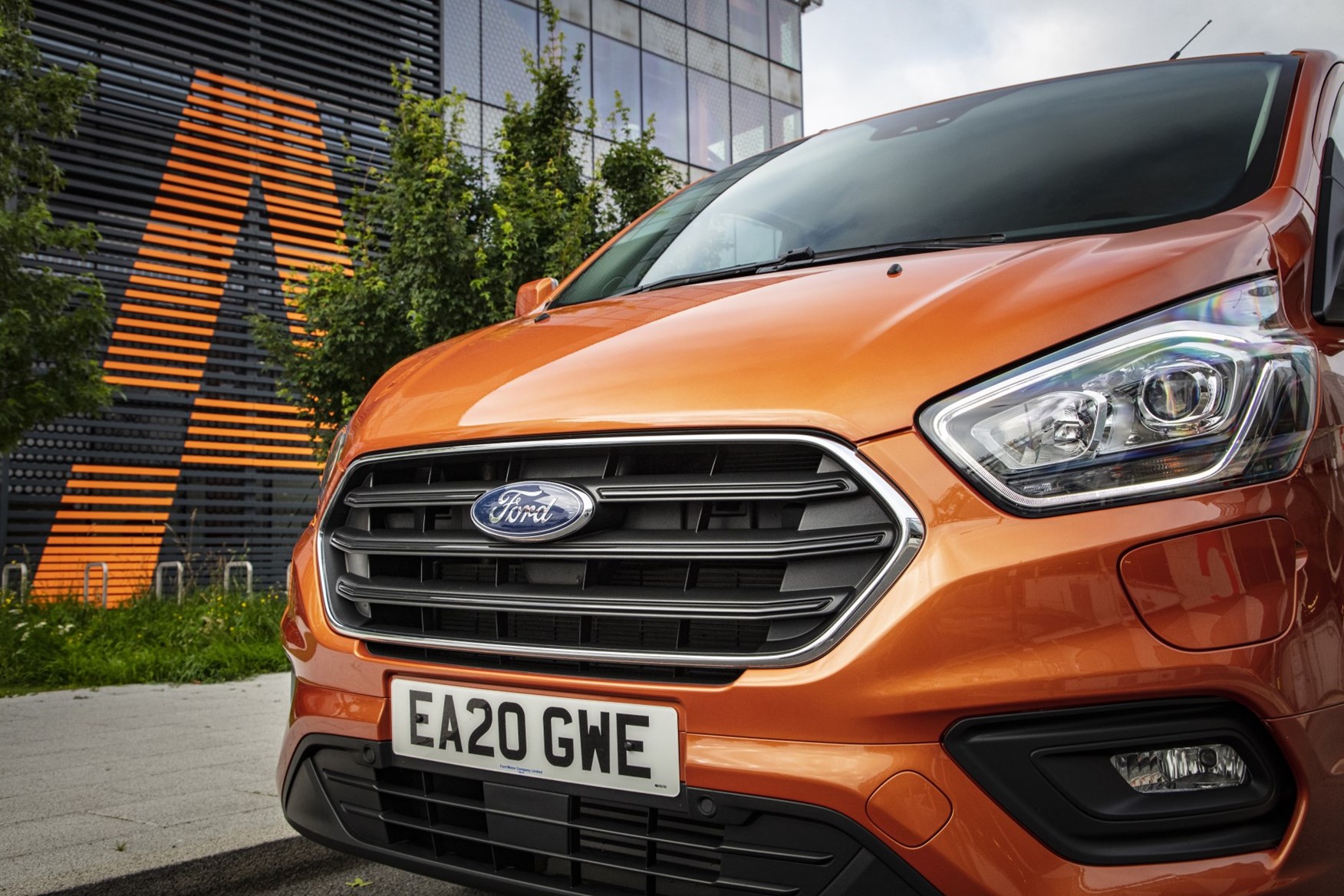 It's also more expensive than the Peugeot e-Expert, Citroen e-Dispatch and Vauxhall Vivaro-e – fully electric vans with impressive 200-mile driving ranges.
Worse, as of March 2021, the Transit Custom hybrid no-longer qualifies for the UK government's Plug-in Van Grant (PIVG).
How much will the Transit Custom PHEV cost in fuel?
How long is a piece of string? If you do low mileage and charge the Custom PHEV every night, you may see mpg numbers in the hundreds, with petrol power coming a distant second to electric mobility.
If you treat the Custom PHEV as a diesel and do long days up and down the motorway, economy will suffer and you won't see much, if any financial benefit.
During our time with the Transit Custom we found that it was capable of around 30mpg when running with a depleted battery. The battery itself will run for about 30 miles on a full charge, depending on the weather, loading and type of driving. So, doing some very basic maths, a 60-mile day beginning with a full battery could give you the equivalent of 60mpg.
Given that the average van does less than 50 miles per day, that's potentially a very pleasing figure.
Electricity costs obviously change that somewhat, though cheap overnight tariffs can get the cost of a full charge down to mere pennies. On average, a full charge – that's 0-100% - will cost between two and three pounds.
Exempt from ULEZ
The real cost-saving comes from vans heading into London and the ultra-low emissions zone (ULEZ) or congestion charging zone. If the Transit's replacing a van that doesn't meet Euro 6 standards (that's almost anything built before September 2016, so quite a few vans that are barely run in will fall foul) then there's the potential for a daily saving of £27.50 - £15 for the congestion zone and £12.50 for the ULEZ.
Zones such as these are only set to expand in years to come, and be introduced into more cities, so remaining on the right side of them is a smart futureproofing move.
How does Geofencing work?
The Transit Custom PHEV is fitted with geofencing technology, a clever system which uses GPS to alter the driving modes most effectively.
Geofences are usually set up around the aforementioned city centres, such as London's ULEZ. On approaching one of these, the Transit will prepare itself to switch into electric mode – with the point of these zones being to clean up the air in congested cities, it makes sense to save EV drive for when you're driving in one.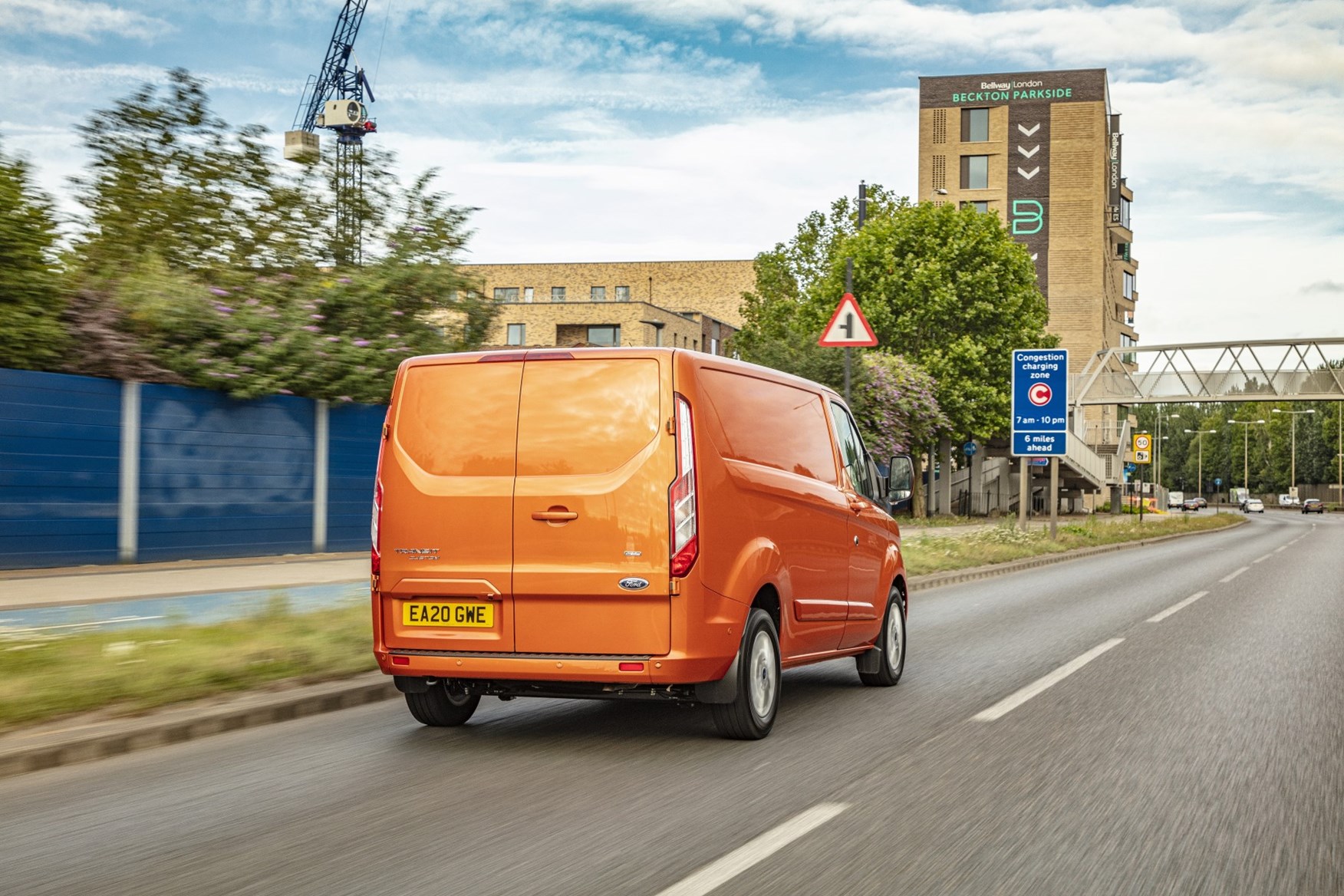 Around a mile or so outside of the zone, the van will look at its state of charge – if it's below 60%, it will switch itself into EV Charge mode to try and generate a bit of extra juice. Then, once it enters the zone fully, it puts itself into EV Now mode, locking the driver out of selecting other modes until the battery is totally depleted, whereupon it switches into EV Auto mode for maximum efficiency.
These zones can be set by fleet managers. Mandatory ones, such as the centre of London, remain, but operators can set their own – such as within a depot. During testing, vans lent to Heathrow Airport had their own zone set up within the site, running the vans on electric power while they were on the service roads around the runways.
Based on the testing around London we've been able to do so far, the geofencing system seems to work very well.
Service intervals and warranty
PHEV intervals and warranty are similar to the diesels. Though not identical.
The biggest difference is in mileage, while service intervals are still set at two years with a recommended yearly inspection, the maximum mileage is 18,000 as opposed to 25,000 miles on the diesels.
The vehicle is warranted for three years and 100,000 miles, while the batteries are warranted against failure or excessive capacity loss for eight years or 100,000 miles.
Trim levels and standard equipment
The Transit Custom Plug-In Hybrid is available in all the same trim levels as the regular Transit Custom diesel models except Sport, so buyers can choose between Leader (also known as Base), Trend and Limited.
Standard equipment is largely identical to the regular range, with the addition of some hybrid-specific kit such as the geofencing equipment.
Base models are more highly-equipped, though - with all getting air-conditioning, heated front seats, heated door mirrors and a heated windscreen over the diesel. These items have been introduced for passenger comfort - with no heavy diesel generating heat up front for the majority of journeys, it's important to warm the cabin as efficiently as possible.
These specification differences average out further up the range, and Trend and Limited models have no extra kit over their diesel counterparts.
Plug-in powertrain complex but no signs of issues yet
Loads of dealers to keep you moving
It's difficult to say how reliable the Transit Custom PHEV will be, as it's using powertrain tech Ford's never applied to a van before.
At the least, we can say the component parts have good reputations. The 1.0-litre EcoBoost petrol is familiar from Ford passenger cars and here it's used in a relatively unstressed configuration. Electric motors and batteries, meanwhile, have so few moving parts that failure is extremely uncommon.
Equally promising is the amount of development this van has been through, with prototypes handed out to real fleets for extensive real-world testing.
The only real problems with the regular Transit Custom relate to its 2.0-litre diesel engines, which the PHEV is obviously unencumbered with.
And additional peace of mind comes from Ford's extensive and well-regarded dealer and service centre network.
Lots of safety kit available
Five-star Euro NCAP crash test rating
Active aids as optional extras
The Transit Custom is a very safe van, and when it was crash tested by Euro NCAP back in 2012 it scored a full five stars.
That rating is obviously no longer indicative of the organisation's much stricter testing protocols eight years later, but a raft of standard safety equipment and an even bigger selection of optional extras mean you can give the Transit Custom PHEV all the active safety aids you could reasonably want.
Safety
Autonomous emergency braking comes as standard, as do driver and passenger airbags. There's load-adaptive electronic stability control and crosswind assist, as well as roll stability control and trailer sway stabilisation. These should all combine to keep the Transit Custom hybrid on the straight and true regardless of how well loaded it is.
Head over to the options list and you'll find blind-spot monitoring, intelligent speed assist, lane departure warning and upgraded halogen projector headlights.
Security
Ford's faced criticism in the past over the Transit Custom's security, but all PHEVs will come with an upgraded central locking system which makes it more difficult for would-be thieves to access the load area from the cab.
It's also possible to fit the PHEV with FordPass Connect, which brings an additional Guard Mode via the FordPass Pro smartphone app. This will alert you to attempted break-ins as well as warn you if the engine is started.
Which Ford Transit Custom Plug-In Hybrid is best for me?
All versions of the Transit Custom Plug-In Hybrid have the same powertrain, so the differences are in trim level, appearance and standard equipment.
Best Ford Transit Custom Plug-In Hybrid for payload
It's a close-run thing, but Leader/Base models have a slightly higher payload than more lavishly-equipped Limited models - 1,130kg as opposed to 1,110kg. If that extra 20kg is likely to bother you, you'll need to do without posh equipment. Sorry.
Best Ford Transit Custom Plug-In Hybrid for equipment
Even entry-level models get all the essentials, but we think it's well worth making sure that whichever trim level you opt for you specify the easy-to-use 8.0-inch touchscreen infotainment display, which makes life much easier for the driver with standard Apple CarPlay and Android Auto functionality.
Also read:
>> The Parker guide to electric vans
>> The best electric vans you can buy now
>> Our main Ford Transit Custom review