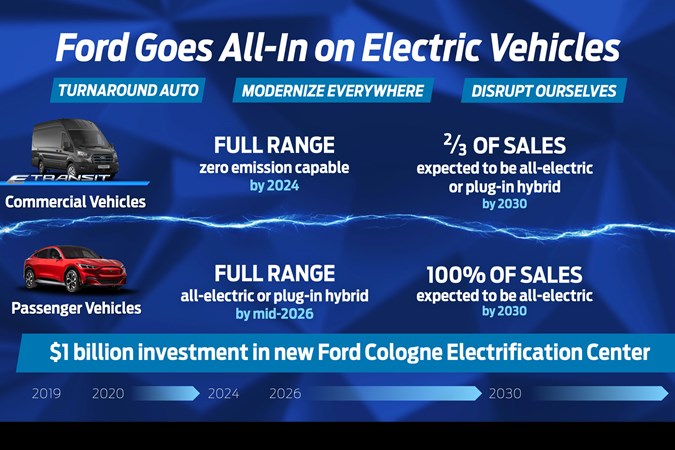 Ford has committed to a fully electric future for its European operations, and commercial vehicles will be at the heart of the company's transformation into an electric vehicle (EV) manufacturer.
Ford's new electric van plan is a large part of a $22billion investment (around £16billion) that will fundamentally change the company's model range in time for the UK ban on new diesel- and petrol-powered vehicles in 2030.
Growth in its commercial vehicle (CV) business is at the heart of the Ford's recent profitability. With the arrival of the all-electric Ford Transit in 2022, Ford joins the race to roll out enough vehicles to meet the expected demand for battery-powered delivery vans. It will be the first in a series of new vans that will lead to the entire Ford CV range becoming 'zero-emissions capable by 2024'.
>> Sign-up for the Parkers Vans and Pickups newsletter
Vans are going electric, says Ford
Ford's European chairman Stuart Rowley said that Ford expects that 66% of all CV sales in Europe will be for electrified vehicles by 2030.
In a press conference announcing the huge shift in Ford's strategy, he said that growth in its commercial vehicle business is at the heart of the company's recent return to profitability, and it was significant that Rowley detailed CV plans before those for the passenger vehicles.
He said: 'CVs are a vital part of our vision for the future and we have been the leading brand in Europe for six successive years. We're also expanding CV ecosystem – using data connectivity to seamlessly integrate with business.'
Joint ventures and new technology
The company's strategic alliance with Volkswagen and its Ford Otosan (Turkey) joint venture have helped rein in costs. Online fleet management and digital connectivity are big business, and this has led to Ford and Google pairing up to form a new collaborative group, Team Upshift.
Expect to see more from this in the coming months as Ford hopes to integrate its EVs more closely into its customers' lives.
Ford is also spending $1bn (around £870million) on expanding car production in Germany, turning it into an electric vehicle production hub.
UK diesel production still important – and UK to continue as the home of Ford commercial vehicles
This expansion and modernisation in Germany comes at the expense of serious investment into the electrification of the UK operations.
But Rowley confirmed that UK sites are safe for the medium-term future.
He said: 'The Dagenham diesel plant remains a very important part of our business, as is the Halewood transmission plant. The 2.0-litre diesel in the Transit and Ranger are the foundation of our business in the UK. Dunton is the heart of our CV operations, and it will remain an important cornerstone of our business.'
We'll keep you informed about the new range of electric vans from Ford as and when the company announces them.
Also read:
>> Project Cyclone – Ford and Volkswagen's strategic alliance explained
>> Shots fired: how Ford plans to sell even more vans in the future
>> The Parkers guide to electric vans