Stylish, hard-working pickup with plenty of strength
PROS
Payload and towing capacity
Aggressive looks
Excellent off-road ability
Ease of use
Strong dealer network
CONS
High emissions from 3.2-litre
Thirsty automatic models
Some low-quality interior plastics
Uncomfortable low-speed ride
No substitute for a proper SUV
Summary
This is the third-generation Ford Ranger, a pickup that's designed to appeal to commercial and private buyers alike, being both tough and attractive.
First introduced in 2011, the Ranger was updated with a new look inside and out in 2016 (as pictured here), and is set to receive a further facelift in 2019.
Earlier models of Ranger were dependable workhorses that were praised for their overall capability and good dealership support. Rivals such as the Nissan Navara proved more refined and desirable, however.
To revitalise the Ranger for this generation, Ford redesigned it from the ground up. The planning appears to have done the trick, as it's gone on to become the UK's bestselling pickup by some margin, despite increased levels of competition from the likes of the VW Amarok and Mercedes X-Class at the lifestyle end of the market and the continuing presence of tough trucks such as the Toyota Hilux and Isuzu D-Max to tempt operators looking for a workhorse.
Ford Ranger engines, variants and trim levels
Sold in Regular Cab, Super Cab and Double Cab body styles - the first two more often known as single cab and crew cab pickup configurations - and in trim levels that range from basic working specifications to fully-loaded lifestyle models, there is a Ford Ranger to suit every kind of buyer.
Engine choice since launch has consisted of two 2.2-litre four-cylinder TDCi diesels, plus a large 3.2-litre five-cylinder TDCi diesel - the latter typically proving the better seller. Exact power output for each varies depending on year, with 130hp the minimum and 200hp the maximum. All three engines were updated to meet Euro 6 emissions regulations in 2017.
An all-new set of 2.0-litre EcoBlue diesel engines will replace the 2.2-litre Ranger motors in 2019 as part of a comprehensive upgrade detailed below. The 3.2 will continure, but only in the Wildtrak model.
The Ranger has tidy road handling but a firm ride, making it uncomfortable at low speeds in particular (especially in comparision to a conventional car or SUV), while four-wheel drive, class-leading payload capacity and 3.5-tonne (3,500kg) towing capacity also make it one of the most capable pickups available.
2016 Ford Ranger facelift
In 2016, the Ford Ranger received a facelift, a new interior and an increase in standard specification, although the driveline and chassis remained relatively unchanged.
2019 Ford Ranger facelift
The 2019 facelift for the Ford Ranger is a more comprehensive affair.
While changes to the outside are minimal and changes to the inside almost non-existent, Ford is introducing a completely new selection of engines to the 2019 Ranger, all based on the 2.0-litre EcoBlue units already fitted in the Transit large van and Transit Custom medium van.
As a result, maximum power output jumps to 213hp, while the standard six-speed manual gearbox can be optionally replaced on some models by a new 10-speed automatic.
At the same time, Ford is bringing a whole host of new technology to the Ranger - including autonomous emergency braking (AEB) with pedestrian detection - plus a new range-topping high-performance model badged the Ranger Raptor.
>> Ford Ranger 2019 facelift - full details
>> Ford Ranger Raptor high-performance pickup review
---
Ford Ranger verdict
With its impressive working credentials and extensive number of specification options, it's easy to understand how the Ford Ranger has become so popular with pickup buyers. Its good looks surely don't hurt, either, and the Ford dealer network is the UK's biggest, which probably helps. If you've got heavy loads to shift or tow, it is most definitely worth serious consideration.
But it's not our favourite pickup. The engines are gruff, the interior isn't massively user friendly and it's not very comfortable. Here's hoping the 2019 facelift addresses some of these issues - we'll update this review as soon as we've driven it.
Skip to our full verdict on...
To drive, the Ford Ranger is a mix of impressive capability and competence and moderate frustration.
Ford Ranger engines
Up until the 2019 facelift, Ford Ranger buyers had the choice of three engines:
2.2-litre TDCi four-cylinder turbodiesel with

130hp / 330Nm

(134hp / 320Nm before the 2016 facelift)
2.2-litre TDCi four-cylinder turbodiesel with

160hp / 385Nm

(150hp / 375Nm before the 2016 facelift)
3.2-litre TDCi five-cylinder turbodiesel with

200hp / 470Nm
While each one comes with plenty of low-down grunt, which helps the Ranger make easy work of moving with a heavy load or when towing, you have to work the 2.2-litre motors quite hard to make decent progress - at which point they become rather gruff and noisy.
The 3.2-litre engine is better - as you'd expect, given how much bigger it is - but despite its impressive 200hp rating it falls someway short of the smooth driving experience available in more powerful versions of the Nissan Navara, let alone the big V6 versions of the VW Amarok and Mercedes X-Class.
Ford Ranger gearboxes and four-wheel drive system
All Rangers come with a standard six-speed manual gearbox, which has a surprisingly short and accurate action - for a pickup.
Higher-specification Rangers can be had with a competent - if thirsty - six-speed automatic.
The most basic Regular Cab 2.2-litre models are available with a choice of two- or four-wheel drive, with all other Ranger models fitted with four-wheel drive as standard.
The four-wheel drive system has a choice of modes, which can be switched on the fly up to moderate speeds with just the twist of a dial.
Ford Ranger ride and handling
The Ranger also steers well, with a relatively tight turning circle, and good body control on twisting roads - meaning it doesn't roll around very much and changes direction smartly.
The trade-off for this is a slightly uncomfortable ride - especially at lower speeds, where the Ranger can feel very jiggly. This improves as you go more quickly, however, making this one pickup that's as happy on fast A- and B-roads as it is hauling goods on site.
Similarly, it's very competent off-road in four-wheel drive form, helped by driver aids including hill descent control.
What's the Ford Ranger Raptor like to drive?
The Ranger Raptor is a new high-performance model, which, like the big Ford F-150 Raptor sold in the USA, is heavily optimised for high-speed off-road driving.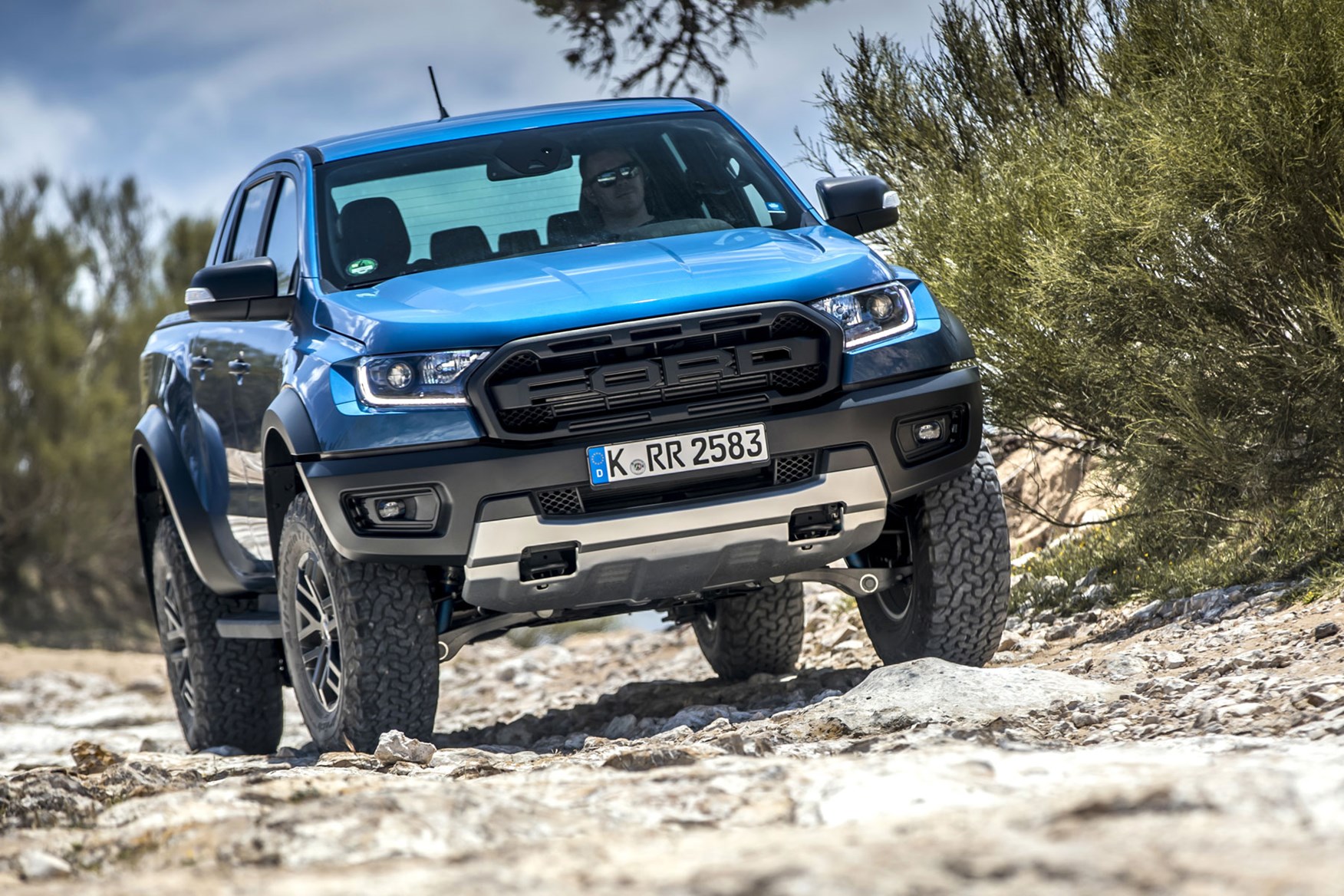 It joins the Ranger line-up as part of the 2019 makeover, powered by a 213hp 2.0-litre twin-turbo EcoBlue diesel engine combined with a 10-speed automatic gearbox.
We've got a review exclusively dedicated to this exciting new Ranger variant, which you can read by clicking here. This comprehensively covers not only what the Ranger Raptor is like to drive, but also all of the modifications that make it so special.
It's quite the incredible piece of kit, and something the UK pickup truck market has never seen before.
>> Review: Ford Ranger Raptor high-performance pickup tested in Morocco
The plastics and detailing aren't quite as high in quality as those found in conventional Ford cars, but overall the Ranger's cabin feels tough and well built - in a manner appropriate for this kind of vehicle.
Thanks to a range of adjustment, drivers shouldn't have any issue finding a good driving position, but the seats could do with more side support. Still, there's plenty of space inside, and you should find the cabin generally free from rattles and squeaks.
While on the road, wind and tyre noise are reasonably limited, but you will experience quite a bit of vibration and noise from the engine - at low speeds, and especially when the engine is cold.
There are a variety of storage pockets and cubbyholes, including a large 8.5 litre centre console bin.
Visibility, an important factor in bigger vehicles, is good thanks to large door mirrors. But you will still need to take care when you park.
Ford Ranger trim levels and bodystyles
Four trim levels are available: XL, XLT, Limited and Wildtrak. Ford has also released limited edition models such as the Black Edition and Wildtrak X, while the forthcoming Ranger Raptor will offer a high-performance halo model for the range.
There is also a choice of body styles: Regular Cab, Super Cab and Double Cab.
Double Cab is the most popular, offering five full seats and the chunkier looks necessary to attract lifestyle buyers; the Regular and Super Cab variants are aimed at working operators.
Ford Ranger 2016 facelift interior upgrade
The 2016 upgrade brought in a new cab design with a simplified but functional, approach.
This included a new 8.0-inch display screen and upgraded Ford Sync infotainment system, fitted as standard on the Limited and Wildtrak, and an optional extra on the XL and XLT.
A host of new driver assistance technologies were also introduced at the same time, including Lane Keeping Alert and Lane Keeping Aid, and Adaptive Cruise Control with Forward Alert.
As with most Ford products, the Ranger is highly competitive when it comes to value for money - it's not the cheapest pickup on the market, but you get plenty in exchange for your cash.
Many rivals offer better warranty protection now, however, and the Ranger's fuel economy is far from the best in the pickup truck class, regardless of which engine you choose.
Ford Ranger warranty and service interval information
The Ranger comes with a one-year unlimited mileage warranty, which is extended by a further two years up to 60,000 miles, giving a total of three years' coverage unless you've a very high mileage user.
Service intervals are every 12 months or 20,000 miles, whichever comes sooner.
A 12-year anti-corrosion warranty means you shouldn't have any issues with rust damage - but do get the bodywork checked every time you take it for a service in order to keep this warranty intact.
Overall, the Ranger shouldn't cost much to maintain and unexpected bills should be rare.
Ford Ranger mpg
Combined fuel consumption was improved on 2.2-litre Rangers as part of the 2016 facelift, and now the 160hp versions claim 43.5mpg (up from 36.2mpg on the previous 150hp output) so fuel bills shouldn't be too unreasonable.
Fuel economy on the 3.2-litre remains pretty poor, claiming a 33.6mpg best even after the facelift.
The new 2.0-litre engines coming in 2019 are promising at least a 4% improvement over these figures, with the optional 10-speed automatic bringing a claimed 9% improvement.
Ford Ranger standard equipment
Most Ranger models come with a car-like range of equipment that includes Bluetooth, voice control, a trip computer, a USB connection, rain-sensing wipers and air-con.
Higher-specification models get upgrades such as dual-zone climate control, Ford's Quickclear heated windscreen, and cruise control.
Numerous options are on offer, including metallic paint and a sat-nav system.
The Ranger has been comprehensively and exhaustively tested, in conditions ranging from desert heat to arctic cold, to ensure its durability. Ford also has a good reputation for reliability, so Ranger owners shouldn't have too many problems.
There are more Ford dealerships in the United Kingdom than any other brand, meaning it shouldn't be difficult to find somewhere local to service or maintain your vehicle, either.
Even those who use their Ranger off-road shouldn't experience many issues, as the underside has been designed to protect vital components from damage.
This generation of Ford Ranger made history by being the first pickup to receive the maximum five-star Euro NCAP crash safety rating when it was tested in 2012.
The Euro NCAP test procedure has been made tougher since, but safety remains an impressive selling point for the Ranger.
The Ranger's body and chassis has been designed to protect occupants, while a variety of electronic aids help keep the big pickup in check.
All versions come with:
Trailer sway control
Emergency brake assist
Seven airbags
Three-point seatbelts for all positions.
The Ranger is also available with electronic aids such as hill descent control, lane-departure warning and forward collision alert.
A Thatcham Category 1 alarm system is standard, and factory-fit tonneau covers can be specified for those who need to cover the cargo bed.
Additional safety and security upgrades are planned for the 2019 facelift.
Which Ford Ranger is best for me?
Still trying to work out which Ford Ranger is best for you? Check out the following individual model reviews for more inspiration:
We can also help you find new and used Ford Rangers near you:
>> New Ford Ranger pickup for sale
>> Used Ford Ranger pickups for sale
Alternatively, click here for Ford Ranger leasing deals.
---
Ford Ranger Black Edition review
Tested May 2018 by CJ Hubbard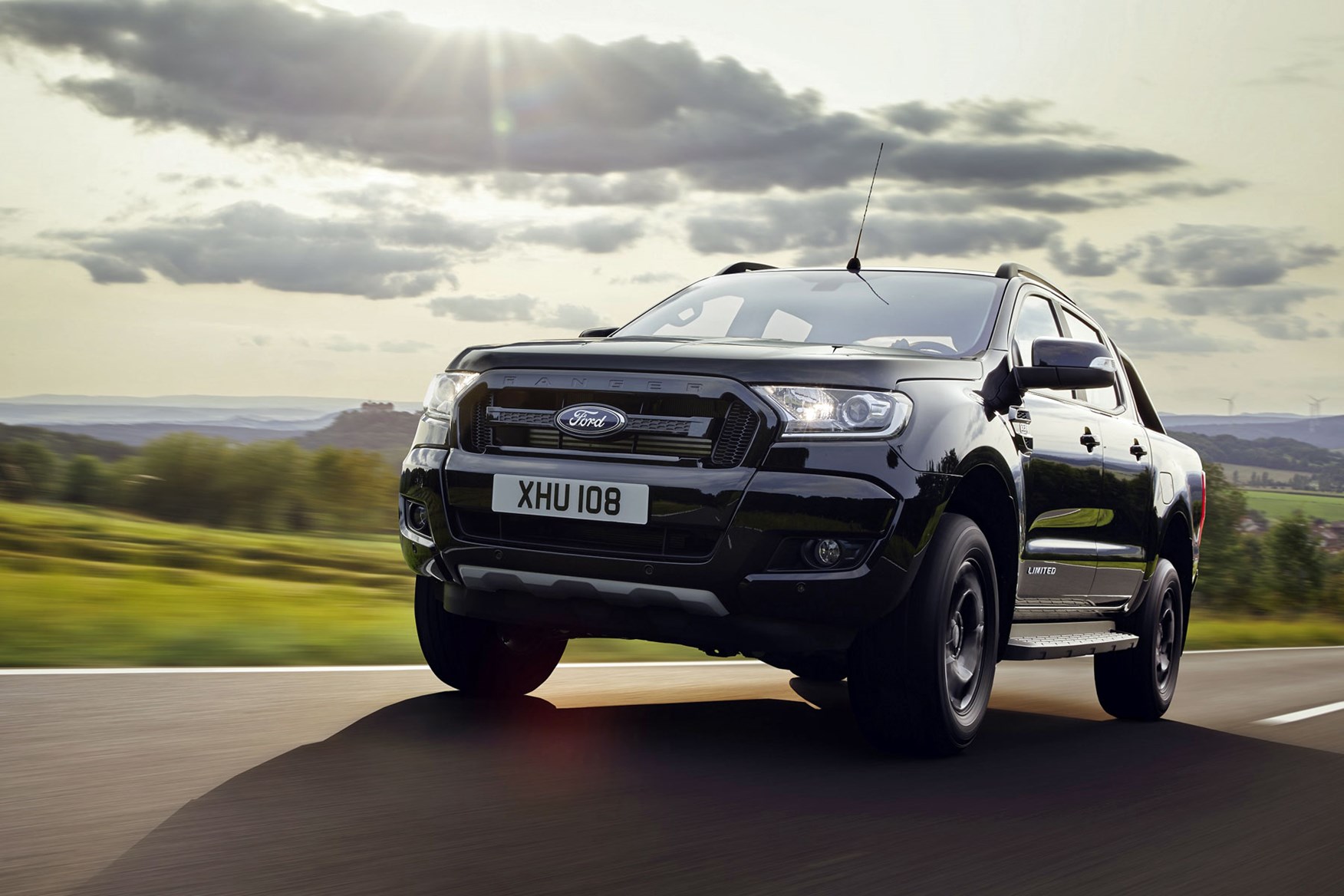 Limited edition version of UK's bestselling pickup driven
Based on Ranger Limited – but completely de-chromed
Lots of standard kit, ideal for Batman enthusiasts
The Ford Ranger is hardly a pickup lacking in assertiveness in standard form, but if you really want to scare Audi drivers out of the outside lane we suggest you take a closer look at this limited-run Black Edition model.
We're not sure we've ever seen such a sinister-looking pickup.
As the name suggests, almost everything on the exterior of this Ranger has been tinted black – if you're into dressing up as Batman or Darth Vader, this has got to be the truck for you.
Is it as much of a badass as it appears? Keep reading our Ford Ranger Black Edition review to find out…
What's special about the Ford Ranger Black Edition?
Beyond the Darth-spec exterior design, you get a shed-load of standard equipment – to the extent that while the Black Edition is based on the Ranger Limited trim level, it's got most of the fancy features of the flashier Wildtrak model.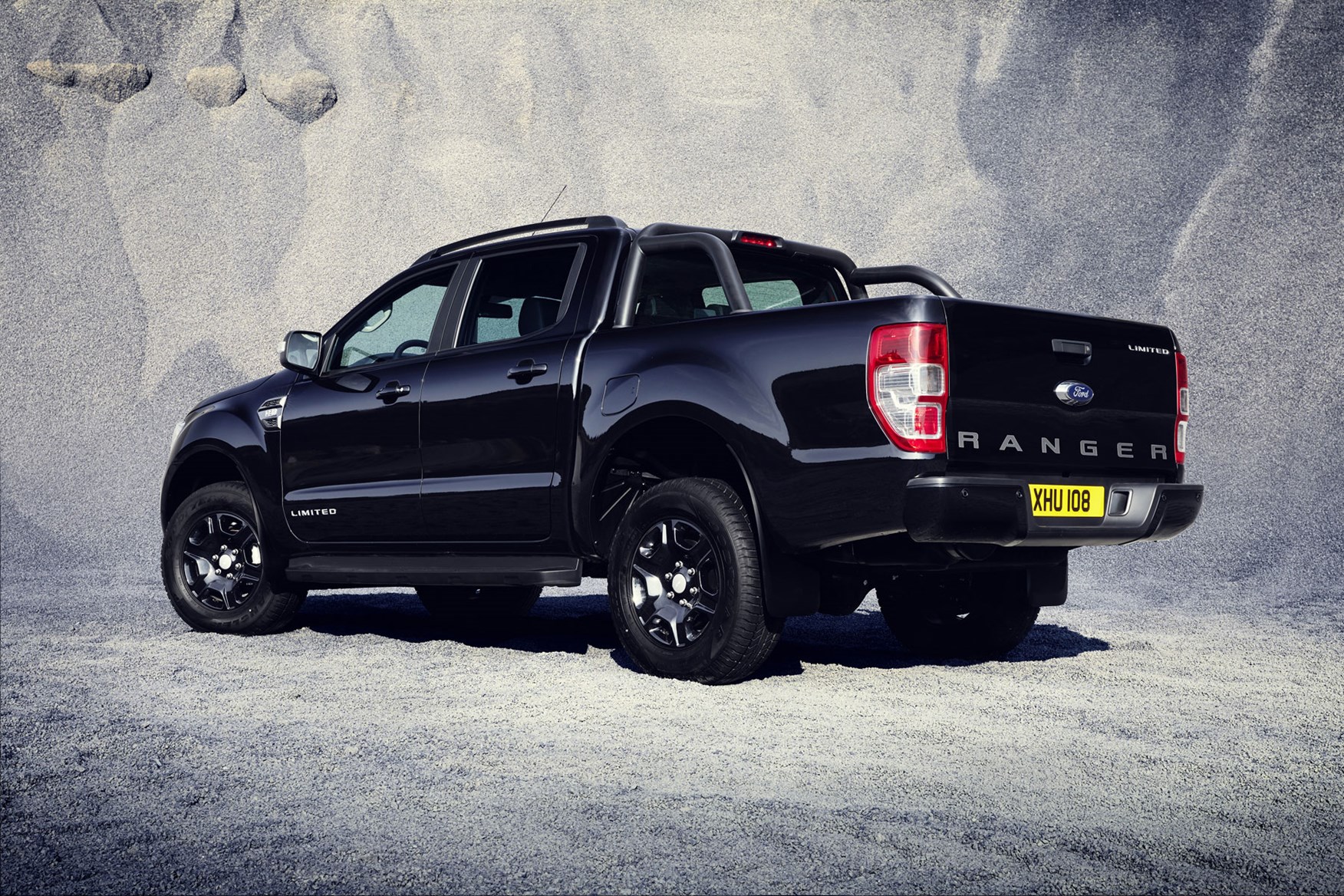 Not content with Shadow Black mica paint of the bodywork (amusingly known as Absolute Black on the Continent), the Ranger Black Edition has all of the following finished in black as well:
Front grille
Fog light bezels
Front and rear bumpers
Sports bar
Roof rails
Door mirrors
Door handles
Tailgate handle
Beltline mouldings
17-inch alloy wheels
And that's just on the outside; on the inside you'll also find black leather seats and 'premium' black carpet floor mats.
On top of this you get the following standard equipment (additions to the regular Limited spec in bold):
The only major extras the Wildtrak model gets that the Black Edition doesn't are 18-inch alloy wheels, ambient interior lighting, aluminium roof rails, a different sports bar and some titanium trimming (most of which is black on the Black Edition, as you'd expect).
There is one glaring difference between the Black Edition and the Wildtrak, however – and that's what's under the bonnet.
Is the Ranger Black Edition available with the 3.2-litre engine?
Nope. The Black Edition is strictly restricted to the 160hp / 385Nm 2.2-litre TDCi turbodiesel engine – which means it's not only down 40hp and 85Nm compared to the exclusively 200hp / 470Nm 3.2-litre TDCi Wildtrak, but also quite a bit of refinement and smoothness as well.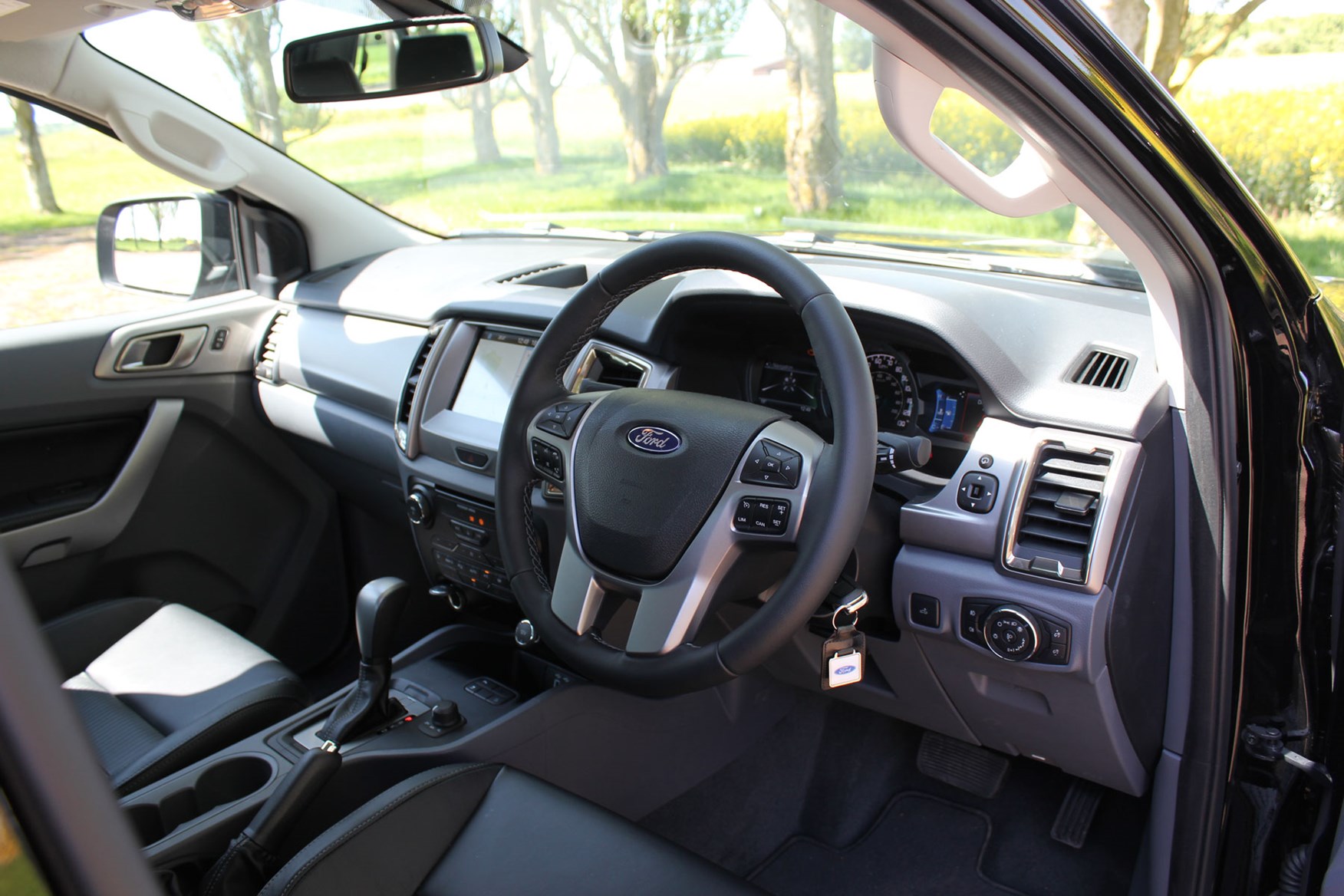 Driven in isolation, this perhaps won't be such a big deal, although you'll likely still notice how clattery it is at idle, especially when cold. But if you're at all familiar with the Ranger's bigger engine, you will probably miss the extra hit of performance the 3.2 gives you.
To put that difference into raw figures, when equipped with the optional automatic gearbox, as tested here, the 2.2-litre engine takes 12.8 seconds to go 0-62mph – which is 2.2 seconds slower than the 3.2-litre automatic.
Approximately 60% of UK buyers currently choose the 3.2-litre unit, too – though this may in part be due to the Wildtrak also being particularly popular, the regular Ranger Limited is also available to buy with the 2.2 and the 3.2, a choice Black Edition buyers won't get to make.
What's the rest of the Ranger Black Edition's driving experience like?
Typical Ranger – meaning that while the ride quality is annoyingly jiggly at lower speeds, especially when there isn't any weight in the back, you do get very tidy road manners in exchange.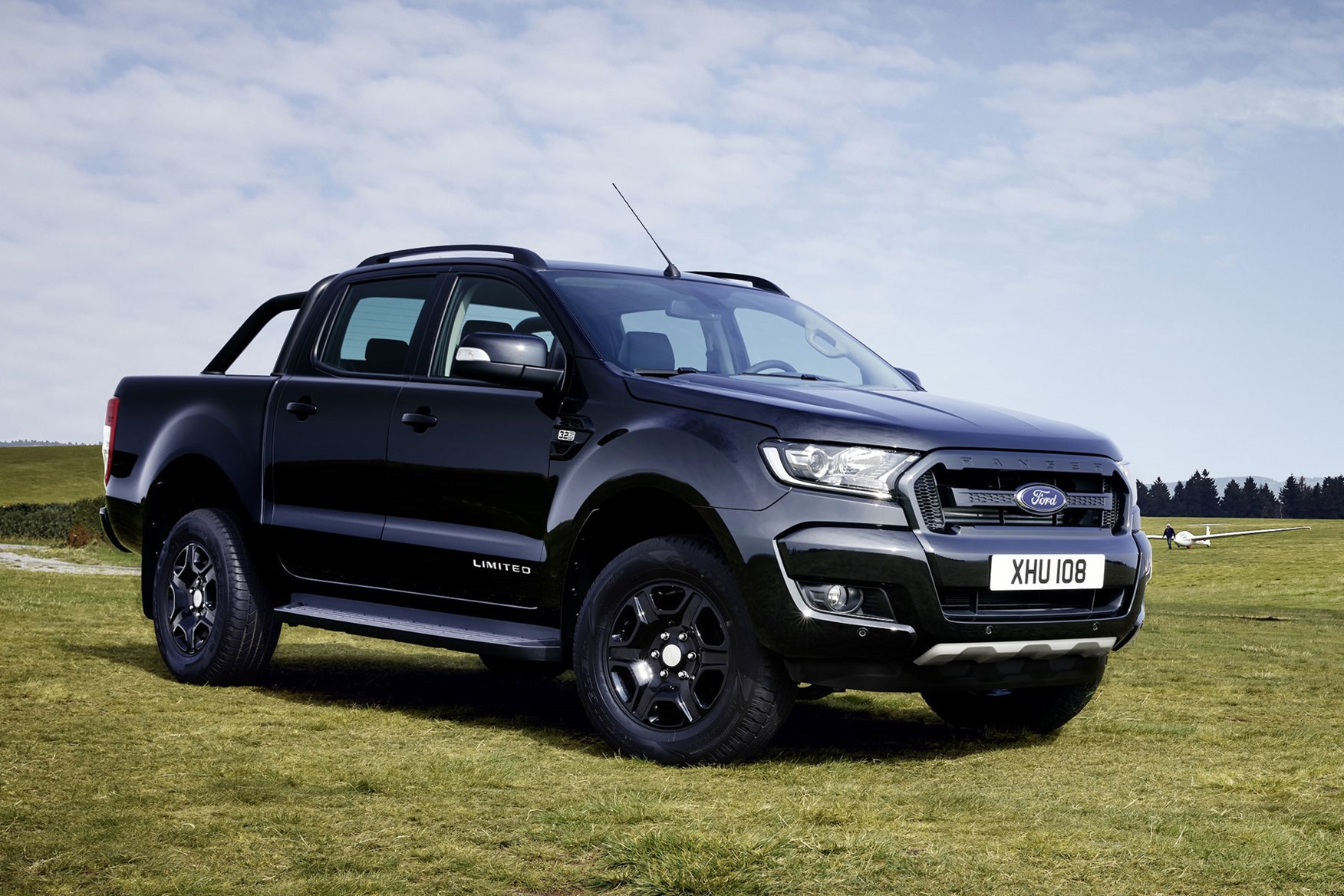 It's right up there with the Mercedes X-Class when it comes to handling corners at speed, for example, with predictable and manageable levels of bodyroll, and steering that actually feels responsive.
The reduced weight of the 2.2-litre engine helps a bit with this compared with the 3.2, enabling the Ranger to change direction a little more quickly and precisely.
Unfortunately, Ford's six-speed automatic gearbox didn't win many fans on this occasion, being clearly outclassed for smoothness and decisiveness by the more modern eight-speed auto fitted in the VW Amarok Dark Label we also had in on test at the same time.
The Ranger uses a switchable four-wheel drive system, meaning you spend most of the time in rear-wheel drive mode on the road, which should be more fuel efficient. The official claim is 36.2mpg, but you'll be lucky to top 30mpg in our experience.
Is the Ford Ranger Black Edition good value?
At £27,995 basic excluding VAT, the Black Edition auto is priced around £1,050 more than an equivalent Ranger Limited with the same engine and transmission.
Considering the additional specification and the limited edition nature of the vehicle – Ford plans to sell just 2,500 Black Editions worldwide – we don't think that's bad value at all.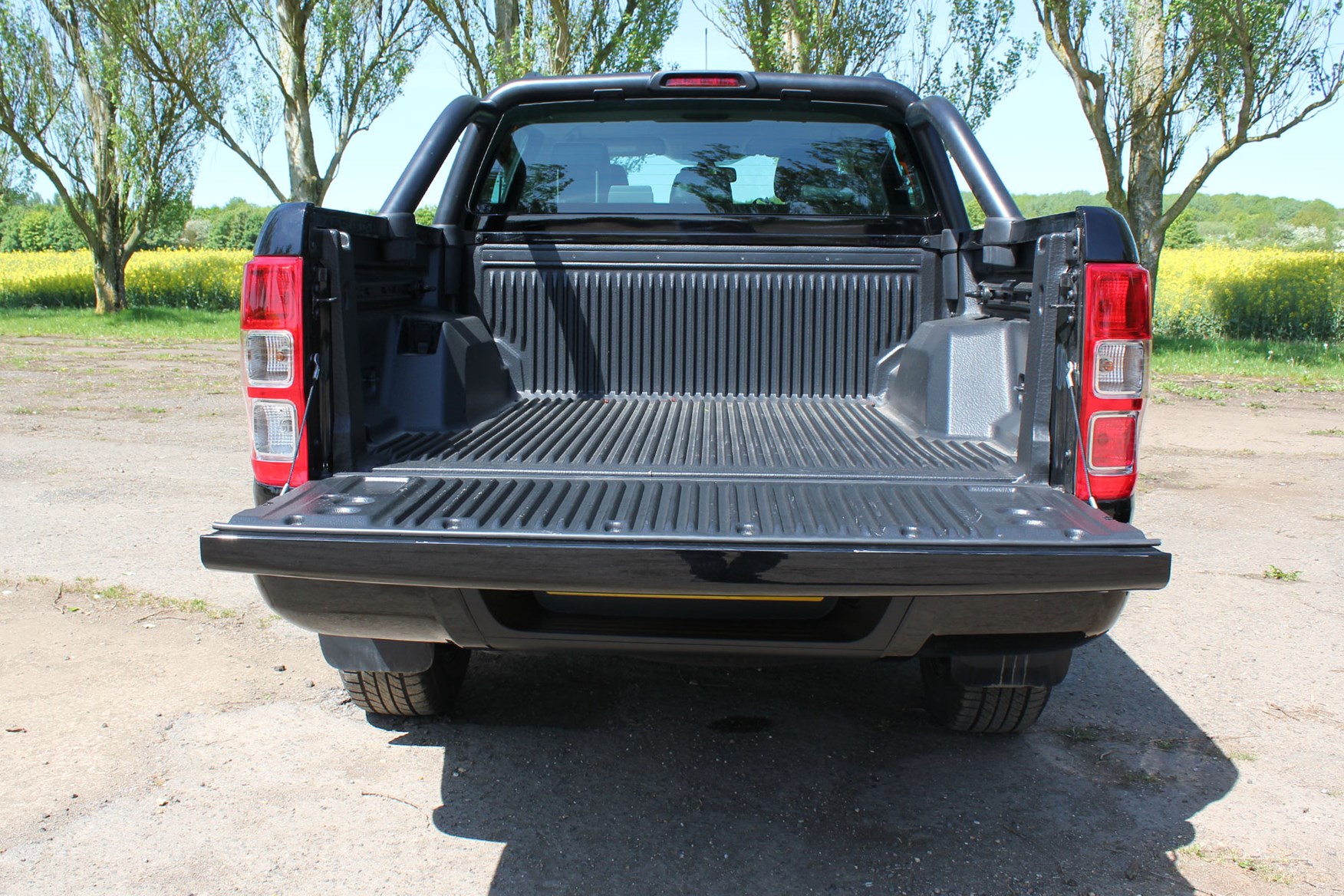 It's certainly a lot cheaper than the aforementioned Amarok Dark Label (£33,650 basic), but that is also powered by a 204hp V6 turbodiesel, which partly explains the difference.
Things get a little trickier when you compare the Ranger Black Edition to the Ranger Wildtrak; at £28,795 with the automatic gearbox, the Wildtrak is just £800 more, has all the same standard kit and the more powerful 3.2-litre engine.
Just a thought.
If you like the all-black look, you might also consider a used Mitsubishi L200 Barbarian SVP; there is an SVP II model in showrooms at the time of writing with many of the same exterior modifications, but this also has bright orange trimmings, which may not be to all tastes.
Verdict: Should I buy a Ford Ranger Black Edition?
This is an attractive example of the UK's bestselling pickup truck – it has plenty of hard working capability beneath those striking looks, too.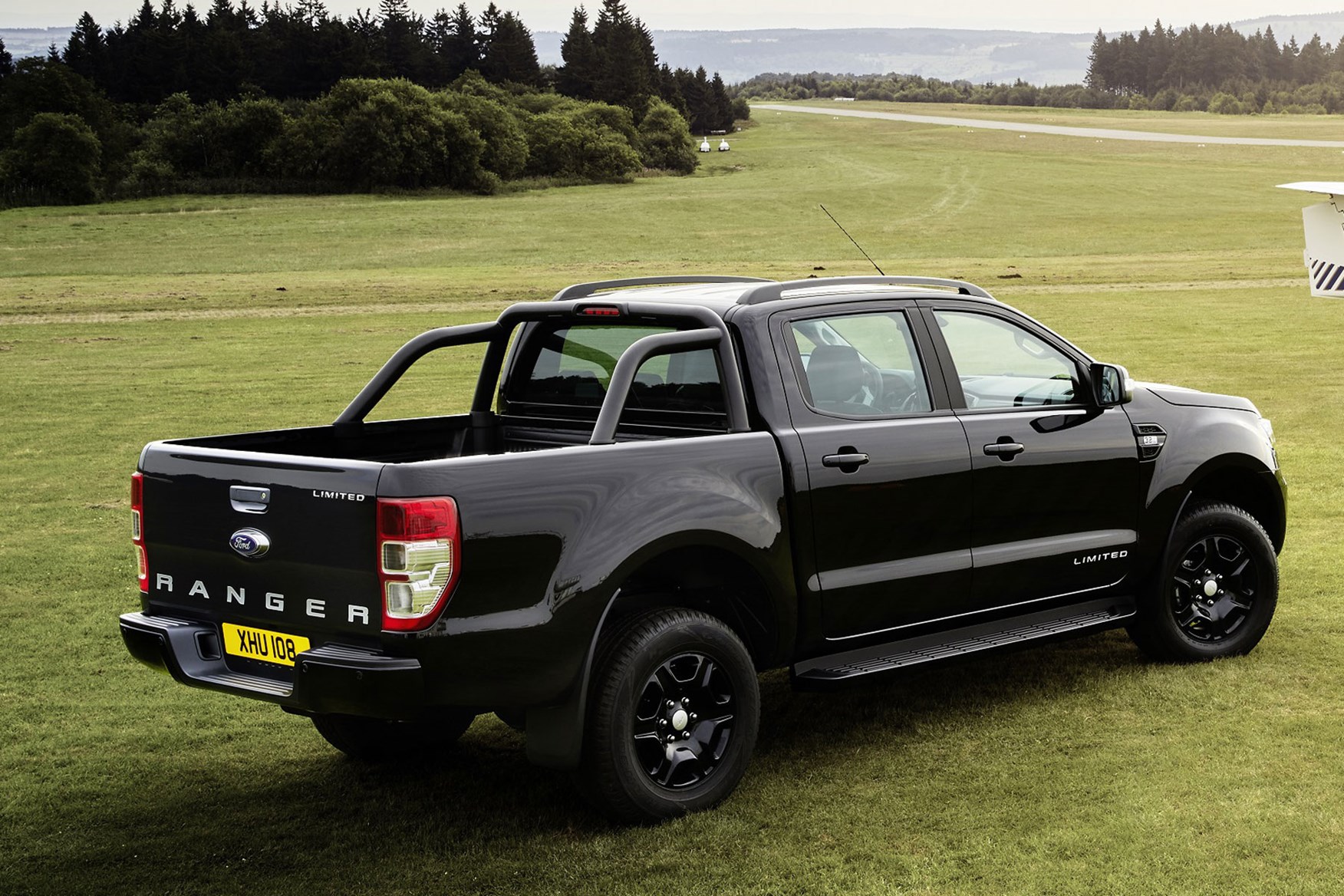 Its rarity and its standard equipment levels mean it should hold its value well, and as ever the Ranger is easy enough to live with if you don't mind the irritable ride. A strong choice, then, if you can live without the 3.2-litre engine.
Ford Ranger Black Edition rivals to consider:
>> Mitsubishi L200 Barbarian SVP
---

Ford Ranger Wildtrack Euro 6 review
Tested June 2017 by CJ Hubbard
Range-topping Ranger tested in Euro 6 guise
Smart looks and lots of toys, including active safety
Hard work to drive, limited payload, poor mpg
The Ford Ranger is the UK's favourite pickup truck, outselling every rival. This is our first chance to try the new-for-2017 Euro 6 version, in this instance a Wildtrak Double Cab model with the big 3.2-litre five-cylinder TDCi turbodiesel engine.
Euro 6 – or stage 6, as Ford sometimes calls it – actually came into force back in September 2016, but manufacturers were able to continue selling stocks of Euro 5 vehicles while they lasted. Hence Euro 6 Rangers have only just started to arrive in the UK.
Spot the difference?
To tell the difference between a Euro 5 Ranger – as facelifted in early 2016 – and the new Euro 6 Ranger you'll have to look under the fuel flap, where you'll find there's now a filler neck for an AdBlue tank as well as for diesel.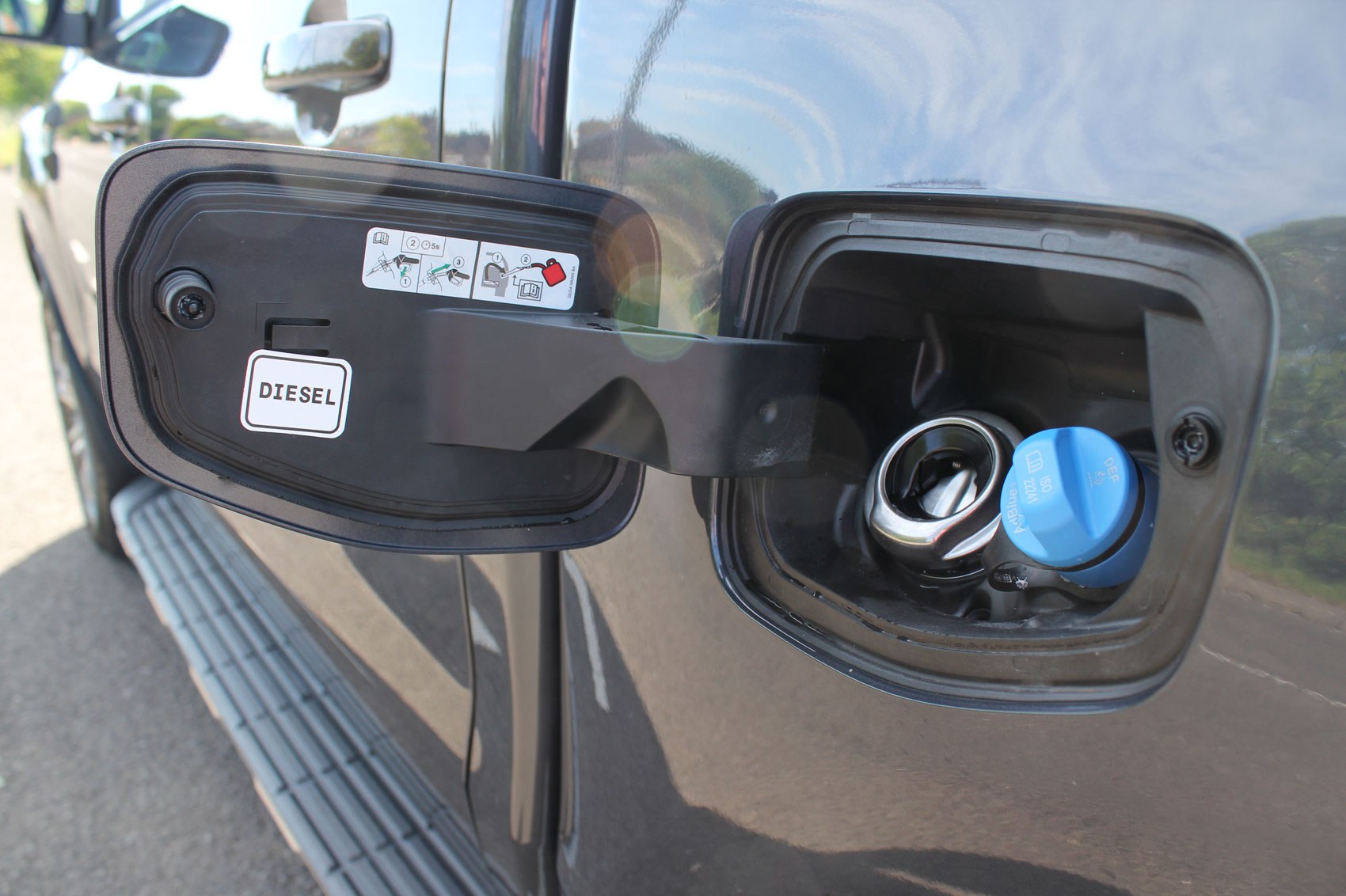 You shouldn't get the two confused, as the AdBlue filler has a cap while the diesel filler is a Ford Easy-Fuel design, and doesn't.
AdBlue is used in the Selective Catalytic Reduction (SCR) system to reduce nasty NOx emissions that cause poor air quality. You can't run the updated Ranger without AdBlue, but its 20-litre tank should last several thousand miles. It is another expense you need to consider, though.
Is the Ranger a premium lifestyle choice?
Still, the Wildtrak is certainly an attractive proposition – at least to look at.
As the range-topping Ranger, it falls firmly into the lifestyle pickup camp, with 18-inch alloy wheels as standard, titanium-effect exterior detailing and a chunky off-road appearance.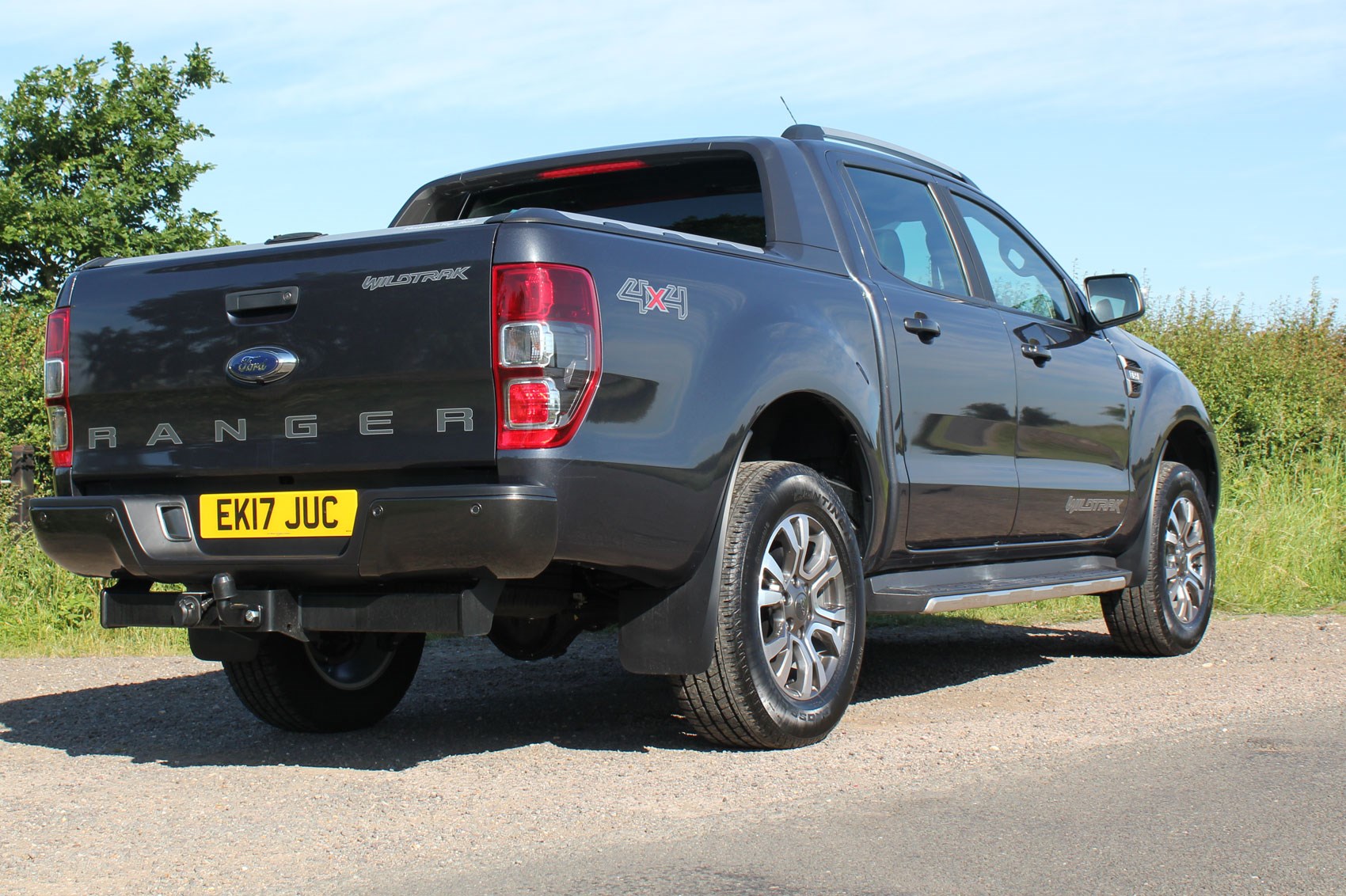 This particular example has an additional off-road pack (£300+VAT at the time of writing), which adds proper underbody protection, plus a locking rear differential for tackling tough terrain. It already has an electronically switchable four-wheel drive system.
The aerodynamic sports bar – complete with integrated load-bed lighting – is similarly totally standard, as are the eye-catching graphics and rear parking sensors.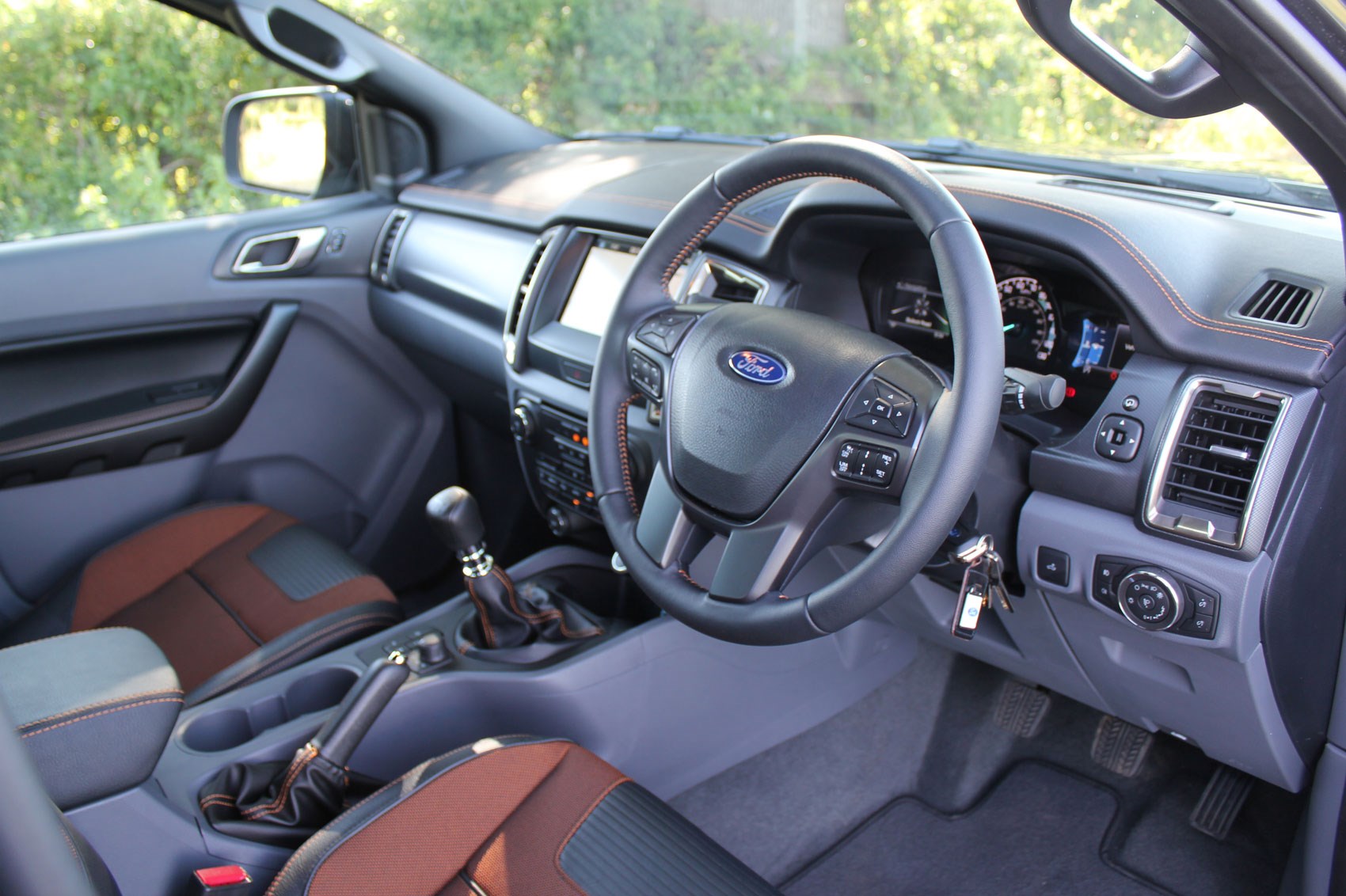 On the inside there's Ford's latest 8.0-inch Sync 3 touchscreen infotainment system, complete with sat-nav, DAB, Bluetooth, Apple CarPlay, Android Auto and rear parking camera. Plus a heated windscreen, dual-zone climate control, cruise control and special Wildtrak upholstery, firmly underlining the idea that this is luxury truck, not a working vehicle.
This one even had a whole suite of active safety aids in the form of the (£1,125+VAT) Driver Assistance Pack, which includes an upgrade to adaptive cruise control plus traffic sign recognition, lane departure warning, automatic main beam and collision mitigation.
The last is not, in fact, a particularly big bumper, but an alert to warn you that the Ranger thinks you're about to drive into the car in front.
For a pickup, it's pretty fancy.
What's the Ford Ranger Wildtrak like to drive?
Shame then, that this visual appeal doesn't really translate to the driving experience.
Given the various fixed-rate taxation costs (click here for general advice about pickup tax, and here if you're considering one as a company car), you might be interested in a Ranger like this as an alternative to a conventional SUV. If so, you'd be wise to drive one first.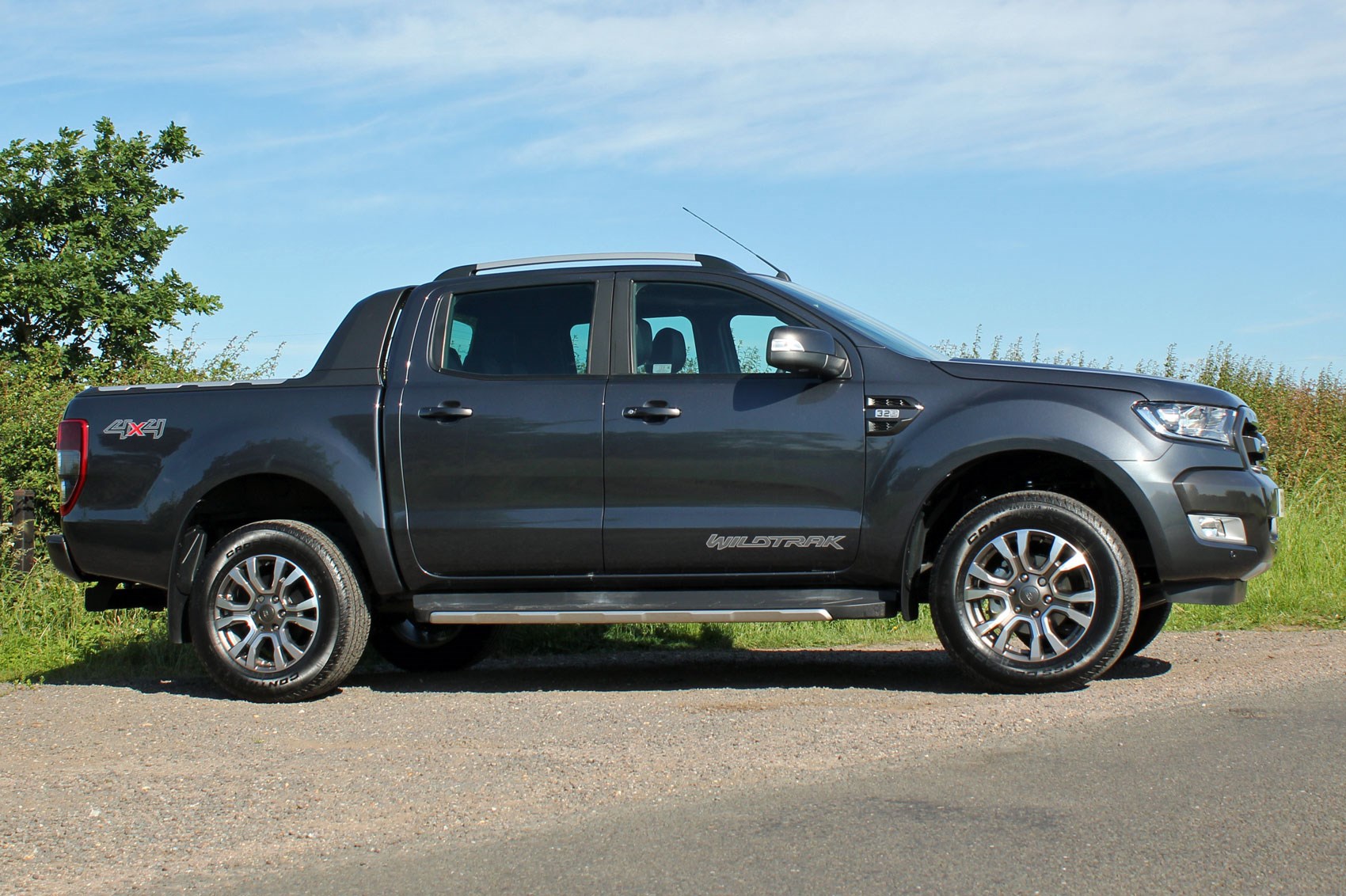 As pickups go, the Ranger Wildtrak is entirely acceptable. It is, after all, designed to carry over a tonne of load in the back. As such, the ride is firm, and somewhat jiggly at low speeds – if not so much as the 2.2-litre Ranger – yet rewards you with limited lean in the corners once you start to go faster.
But there's no denying that piloting one of these demands more effort than an ordinary car. With gearing intended to deliver off-road control, the Ranger takes quite some time to get up to speed, even with a large, 200hp engine under the bonnet; you'll need to plan well ahead when using short slip roads.
Things aren't helped by the unpleasantly notchy six-speed manual gearbox, which is especially recalcitrant when cold. Even the steering requires plenty of effort, and although it actually handles pretty well for a pickup, it doesn't dart down a twisty road with anything like the enthusiasm of a passenger car.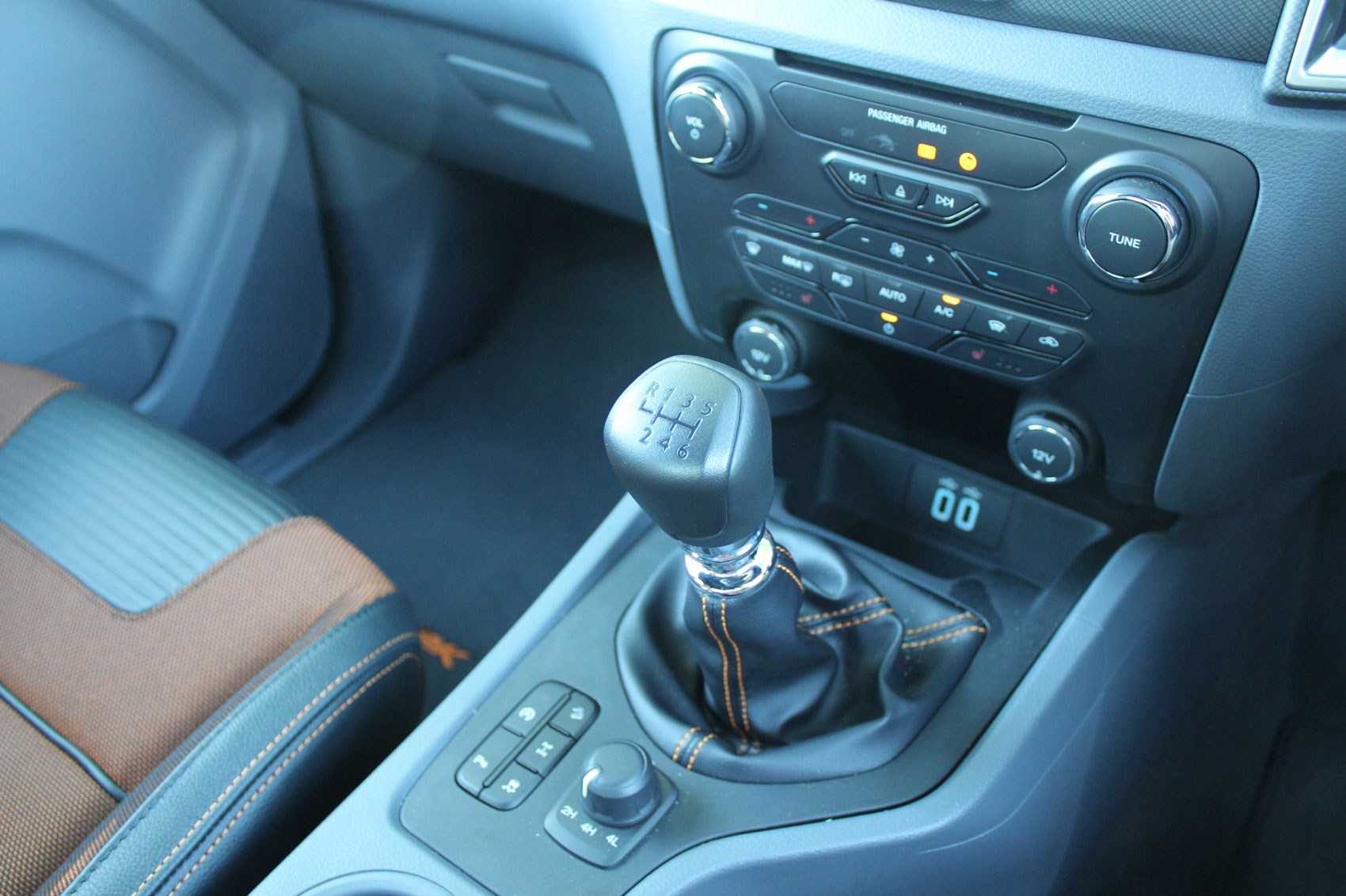 Still, the five-cylinder engine makes a much more agreeable noise than the smaller four-cylinder alternative, and with 470Nm of torque available 1,500-2,750rpm it should make light work of the Ranger's 3.5-tonne towing maximum.
If driving's a priority, we'd still consider the Nissan Navara or VW Amarok instead.
Ford Ranger Wildtrak load area dimensions and payload
There are no changes to the load area for the Euro 6 Ranger. For double cab models these are the load bed dimensions:
Maximum load bed length: 1,549mm
Maximum load bed width: 1,560mm
Load space between the wheel arches: 1,139mm
Load bed sidewall height: 511mm
Do note that these are figures for Rangers without a bedliner fitted – and you get one as standard on the Wildtrak, making the area available for actual stuff slightly smaller.
Something that has changed for Euro 6 is payload, the addition of the AdBlue system causing the Wildtrak's to fall from 1,024kg to 1,011kg.
Running costs
How much does that 13kg payload reduction matter? Depends how often you need to travel fully loaded. In a working truck it could ultimately lead to additional journeys, but in a lifestyle model like this? It's probably less of an issue.
Likely to be of greater concern is that the move to Euro 6 has also reduced the Ranger's fuel efficiency.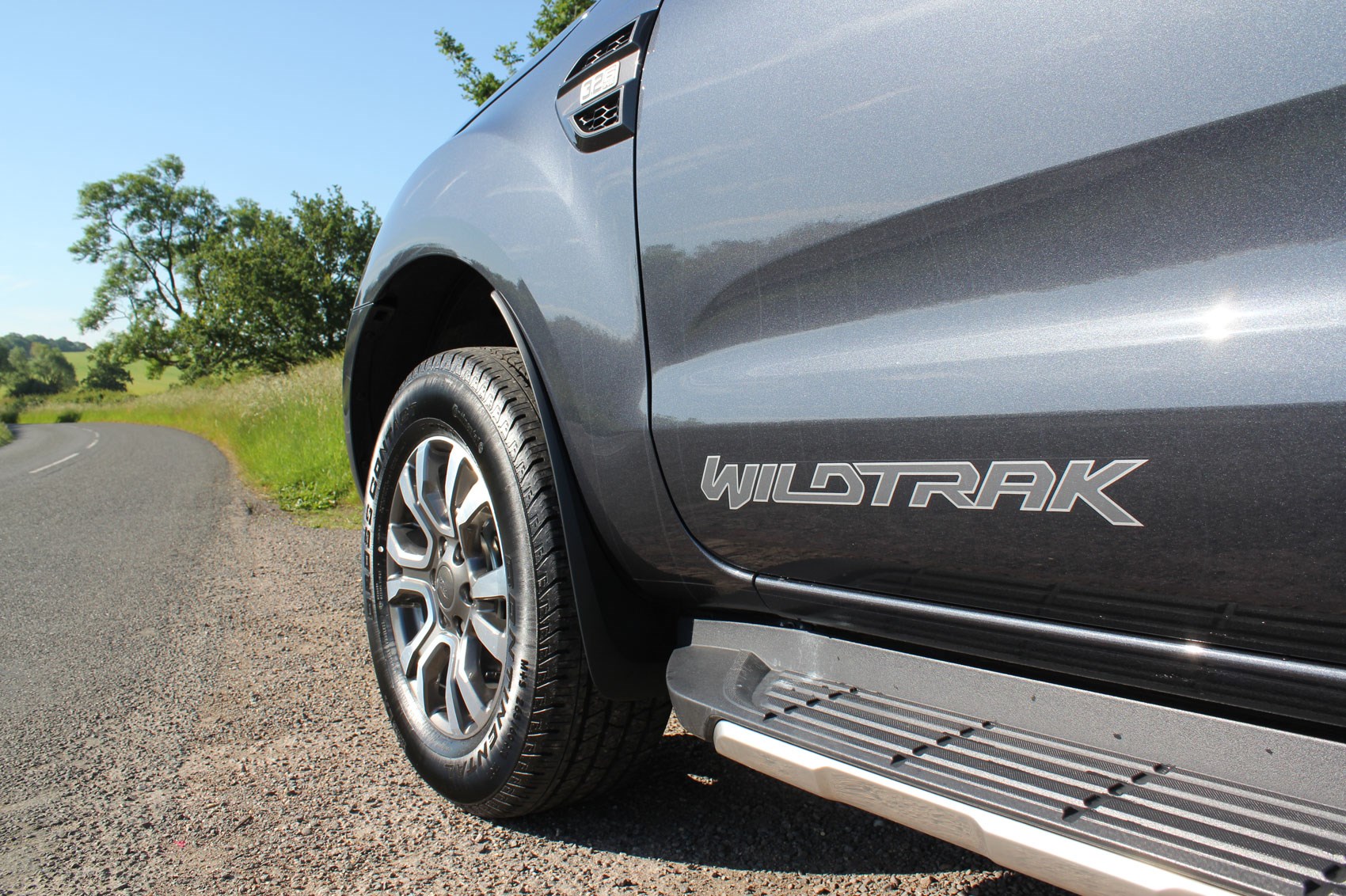 It's only a slight dip in the official claimed figure – which falls from 34.0mpg to 33.6mpg – but add that to the extra expense of AdBlue, and the costs slowly begin to mount up. It's not as if 34mpg was particularly impressive in the first place.
Euro 6 isn't intended to improve fuel economy, though, as it specifically targets NOx emissions. CO2 (which used to be the big bad, remember, and is directly linked to mpg) actually increases here.
Service intervals remain 12 months or 20,000 miles.
Ford Ranger Wildtrak Euro 6 verdict: should I buy one?
The Ranger Wildtrak is a good-looking, well-equipped pickup that's now compatible with the latest emissions regulations. If you were already very keen to get one, then there's little reason not to proceed.
But. It is a shame that Euro 6 only brings bad news from a practical perspective – this Ranger now carries less and will cost more to run. The differences are minimal, but they're still negative. And some rivals – such as the Mitsubishi L200 and Isuzu D-Max – have achieved Euro 6 without experiencing them.
There are indisputably much nicer driving pickups on the market, too.
---
Ford Ranger Limited 3.2 Euro 5 review
Tested February 2016 by Liam Campbell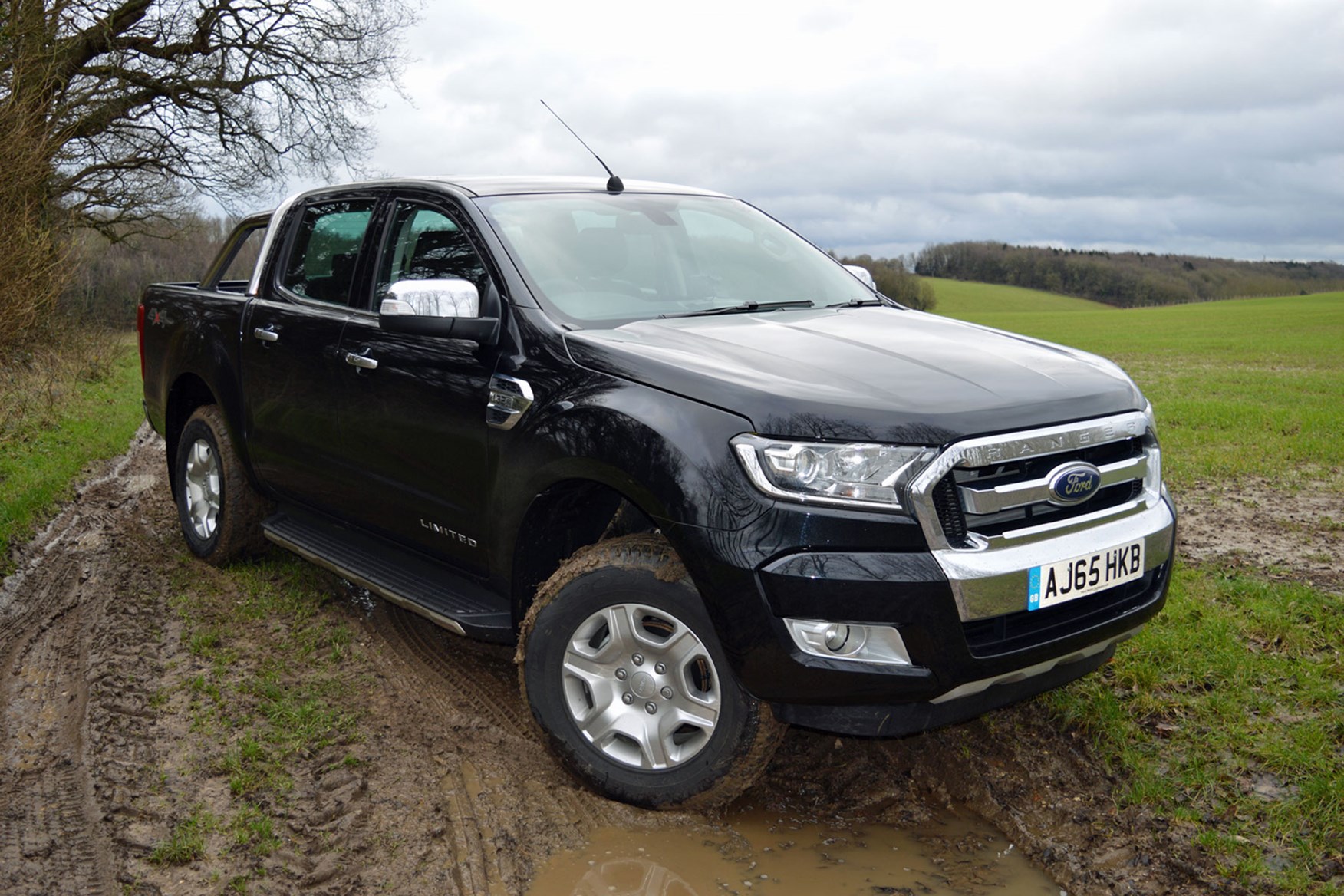 Minor facelift for the 2016 model year
Fitted with the mammoth 3.2-litre, five-cylinder engine
Moderate price increase to £22,995 plus VAT
The Ford Ranger experienced a mid-life makeover inside and out in 2016, and the UK launch gave us a chance to refresh ourselves with the popular pickup. We put one of the bestselling models, the Limited, to the test, fitted here with a monster 3.2-litre five-pot engine.
On the outside, the Limited is arguably more attractive than the top-of-the-range Wildtrack because of the chrome detailing (Wildtrack uses black plastic) on the door mirrors, grille, side air vents and roll bar.
In the cab
On the inside, the chunky, Casio G-watch inspired design has been replaced by a more modest and functional approach. Infotainment is provided by an intuitive 8.0-inch screen that allows you to view different menus at the same time, and features Ford Sync 2, DAB radio, voice and steering-mounted controls, and Bluetooth connectivity, although sat-nav and reversing cameras are still optional extras.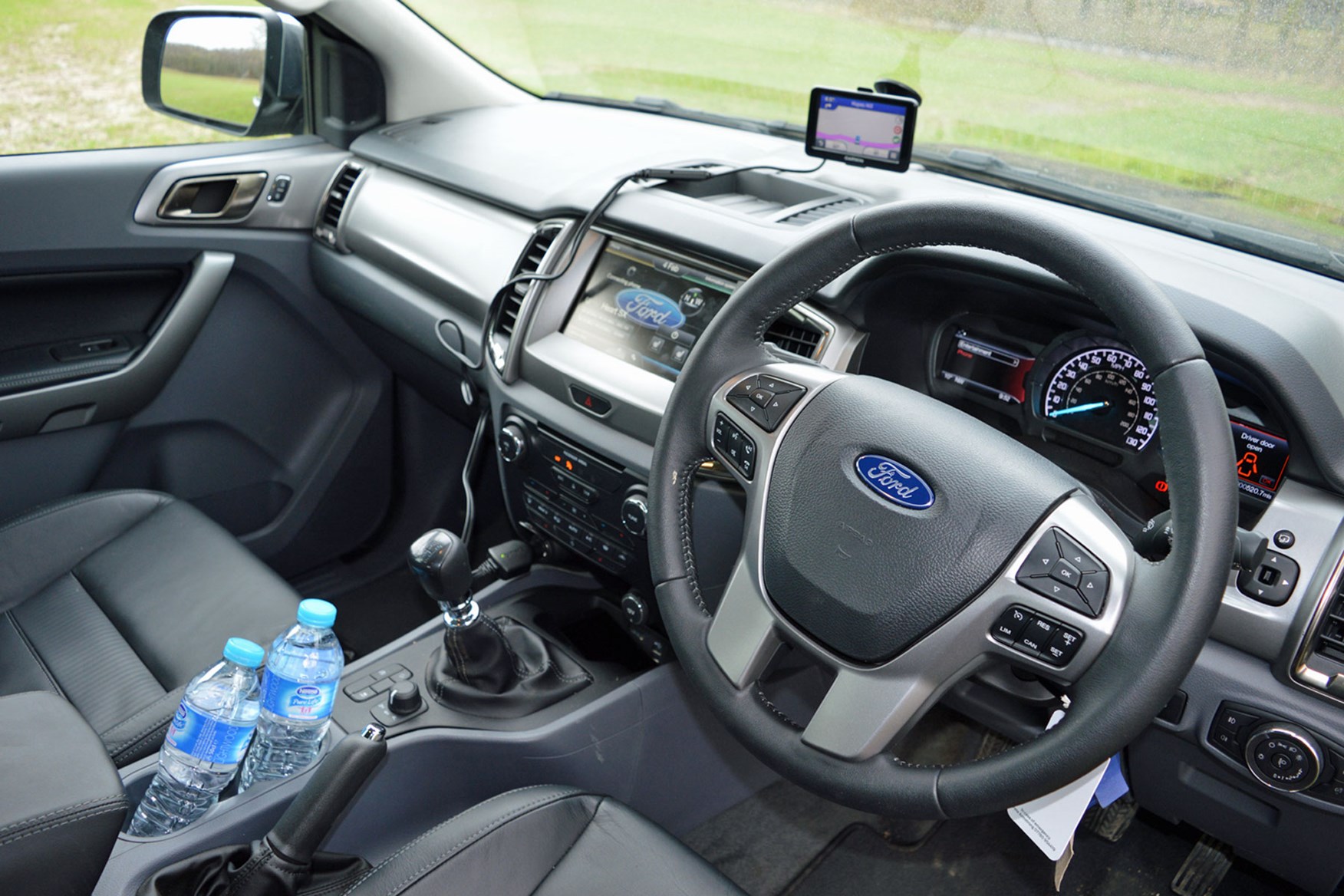 The cab itself is spacious, although visibility out of the back isn't the best (even by pickup standards) which makes the reversing sensors all the more important. The leather seats are comfortable and accommodating for drivers of most shapes and sizes thanks to the eight-way adjustabability (including lumbar support) and reach and rake adjustable steering wheel.
There are a number of handy quick-access storage spaces, including in front of the gear stick, on the dashboard and a large, central cubby that is cooled.
Loading and towing
When it comes to productivity, the Ford Ranger has always performed relatively well. Back when the pre-facelift version was launched in 2011, it was the first vehicle to offer a 3.5t towing capacity but the payload of 1,050kg is below the sector average, largely owing to the extra weight of the larger engine and increased equipment levels.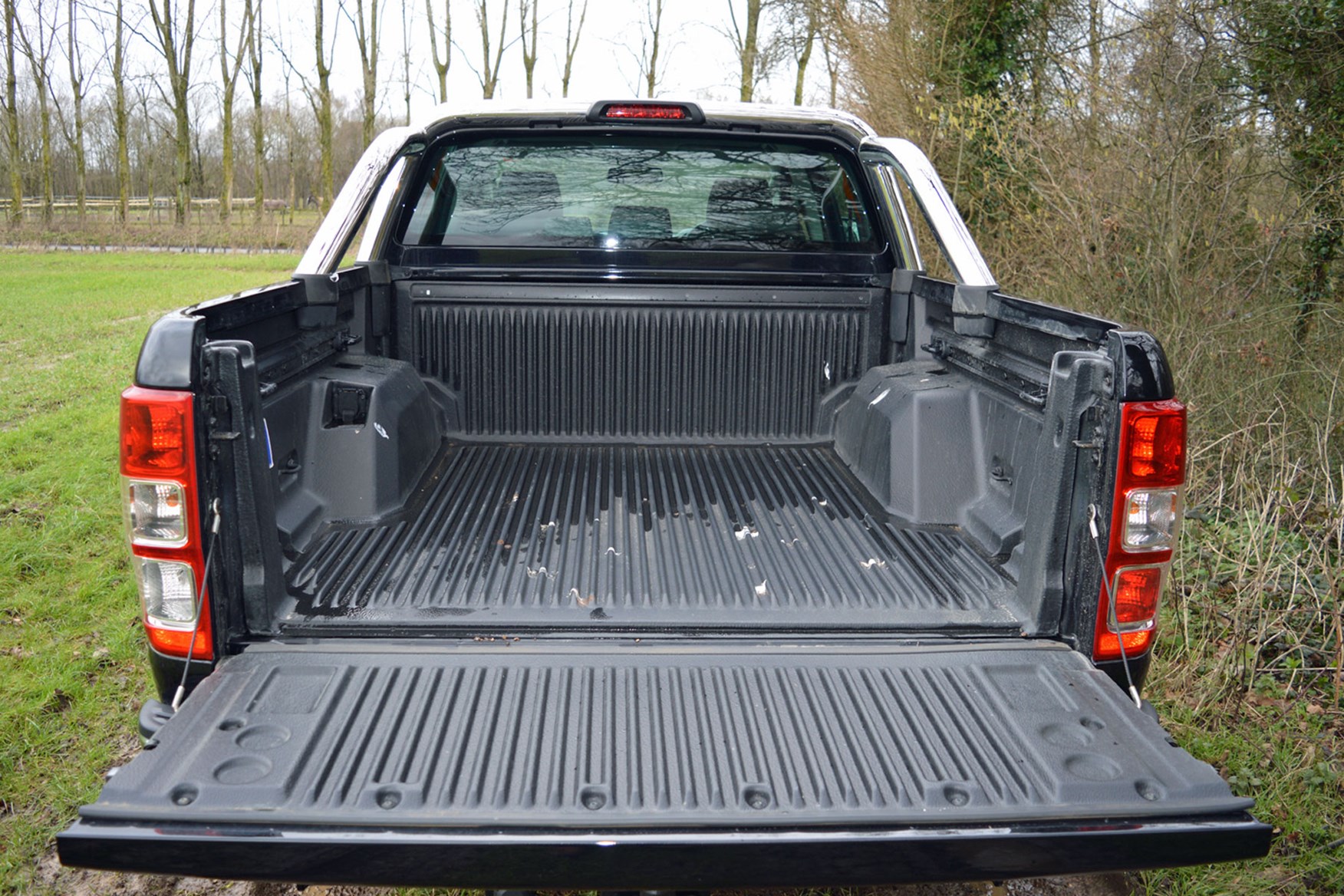 Measuring 1,549mm long, 1,560mm wide and 511mm high, the Ford Ranger offers one of the largest load beds for any double-cab pickup. The load bed is covered by a tough and durable PVC liner, there is a handy 12-volt socket for charging tools and the rear tailgate opens to 90 degrees.
On and off the road
In terms of on- and off-road performance, the Ford Ranger has always been a good all-rounder.
Under the bonnet is Ford's mammoth 3.2-litre five-cylinder engine, which produces 200hp and 470Nm of torque. Despite this, the 2.2-tonne kerbweight means that it isn't quite as spritely as the figures suggest, but there are very few jobs that will trouble it.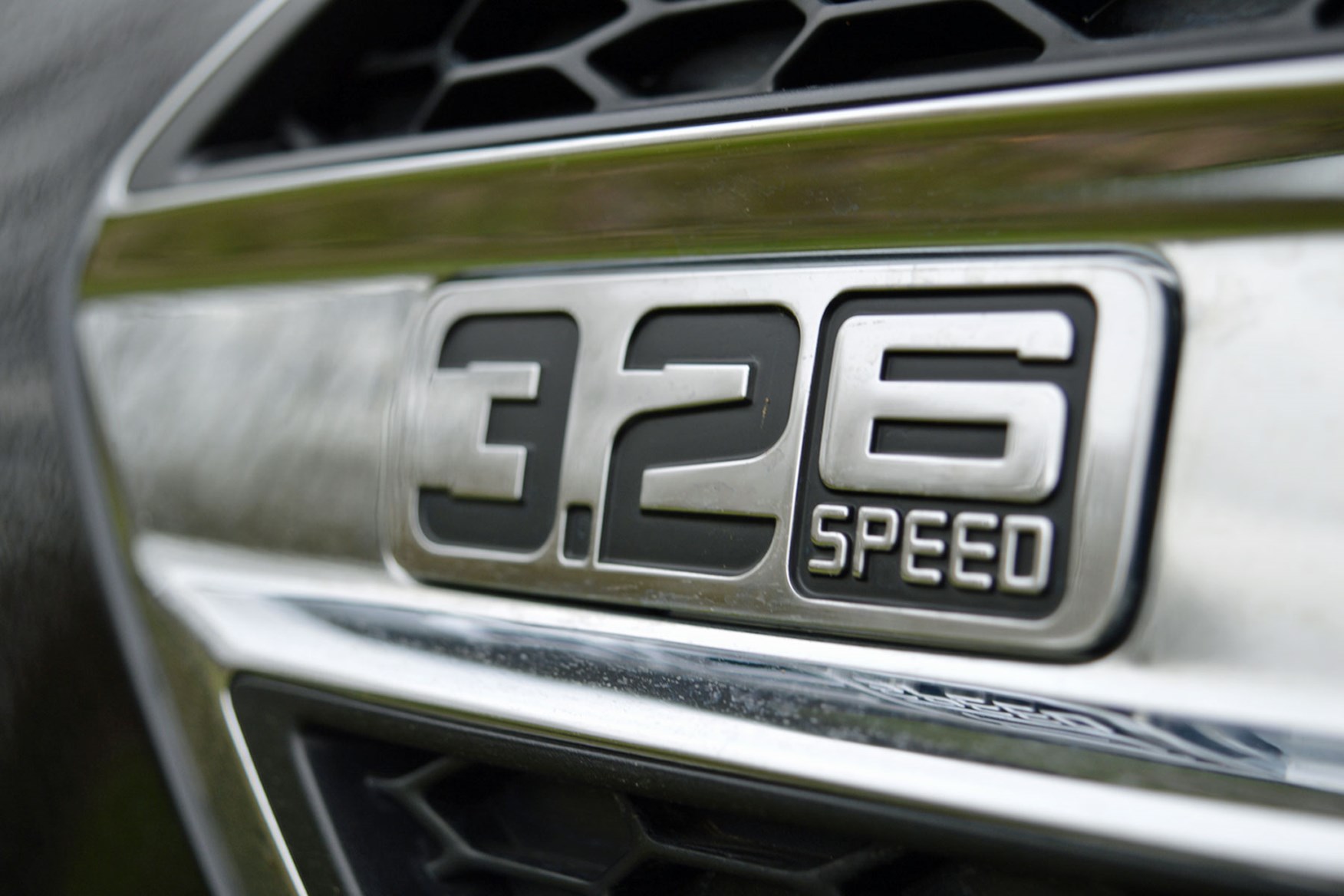 One of the greatest strengths of the Ranger is its cornering. The steering is accurate and quite light, and the body keeps its composure in the bends. The only real concern was the noise; the 3.2-litre engine is quite loud during acceleration and can cause a bit of disturbance in the cab.
Off the road, and again, the Ranger performs pretty well. The all-wheel drive system has three settings: 2WD-High, 4WD-High and 4WD-Low, and these are backed up by Electronic Stability Control (ESC) with integrated Traction Control, although there is no locking rear differential.
The first gear of the Ford Ranger is one of the slowest in the sector, which means hills can be tackled at a safe speed without the need for braking. The maximum approach and departure angles are set at 28 degrees and there is an impressive wading depth of 800mm.
Pricing and summary
There is very little difference between this and the pre-facelifted version of Ford Ranger. The 3.2-litre engine retains the same power ratings and fuel economy, and there have been no changes to the suspension, chassis and driveline.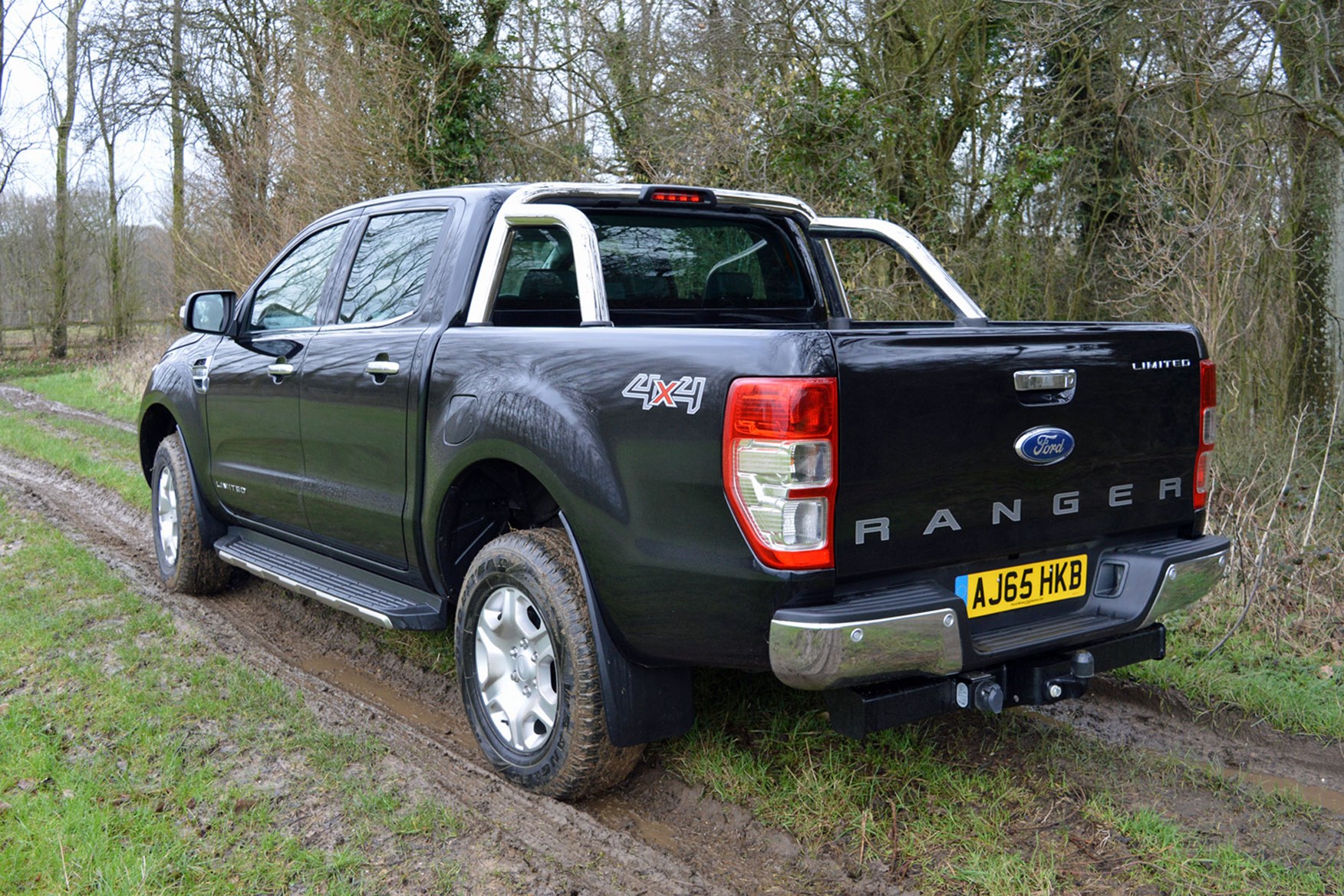 Ford, instead, has only made changes where they needed to be made. The new infotainment system with Sync 2 is one of the most comprehensive on the market, and the new grille and headlights provide a meaner and tougher appearance.
Prices on the Ford Ranger Limited have increased ever-so-slightly from £22,358 to £22,995 plus VAT. Interestingly, certain optional extras have reduced in price, like the satellite-navigation and rear reversing camera, from a combined price of £750 to £600 plus VAT.