Laying out a new 'Transport Decarbonisation Plan', the UK government has confirmed its intention to 'phase out' all polluting light vans by 2035, and is opening a consultation to put the same date on the banning of heavier vans as well. This means that from this date, only zero emissions versions of these vehicles will be allowed to be sold – most likely pure electric or hydrogen powered.
This is a slight contrast to previous announcements, which had put the 'phase out' date for polluting light vans (and cars) at 2030. However, the 2035 date refers to hybrids, with non-hybrid petrol and diesel models still expected to be banned by 2030.
On this page you'll find details of what the ban means for vans and pickups, links to the information about the current alternative (electric van) options, and reactions from individual van and pickup manufacturers.
What counts as a 'heavy' van?
The big difference with the latest news is that it puts a potential end date on the sale of heavier diesel vans, as well as lighter ones. And this is to do with the difference between LCVs and HGVs.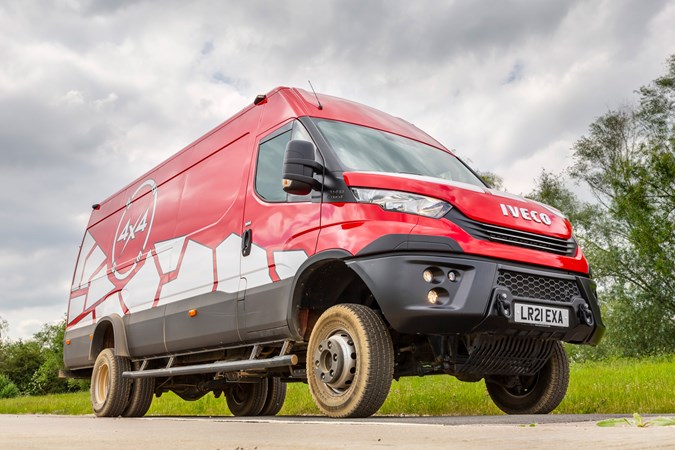 The distinction is over gross vehicle weight (GVW); a light commercial vehicle has a maximum GVW of 3.5 tonnes (3,500kg). However, there are many large vans that are available with higher GVWs – with the highest being the 7.2-tonne variants of the Iveco Daily.
These come under heavy goods vehicle rules. In this case, the new 2035 consultation the relates to these heavier vans covers commercial vehicles between 3.5 tonnes and 26 tonnes. If the consultation goes as the government expects, these too would have to be zero emissions only by 2035, ending the sale of ICE (internal combustion engine) variants.
There is a plan to phase out commercial vehicles above 26 tonnes, but this isn't expected to come into effect until 2040. This date could be brought forward, though, 'if a faster transition seems feasible.'
The UK government transport decarbonisation 'greenprint' contains further information.
Does the deadline mean that all diesel vans will be banned from driving entirely?
No. At present the ban relates only to the sale of new ICE vehicles, such as vans and pickups powered by diesel. The government is not suggesting that vans and pickups that people already own will be prevented from driving after the 2030 deadline passes.
Sales of secondhand and used vans and pickups with diesel and petrol power will still be allowed after 2030, too.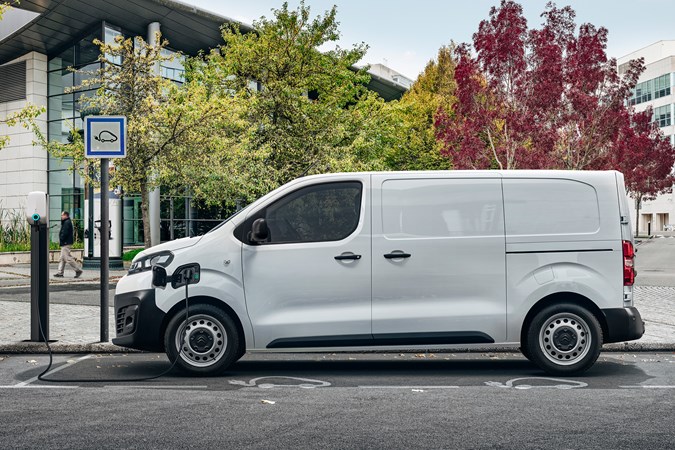 What you may find, however, is that older vehicles become increasingly expensive to run, as legislators try to encourage people to make the switch to electric drive vehicles voluntarily.
There's nothing to say that the government won't bring in further legislation at a later date to outlaw diesel (and petrol) vehicles altogether. But to be crystal clear, that is not the case with the current announcement.
What about hybrids?
New hybrid vans that can drive 'a significant distance' without producing carbon emissions – by combining a battery-powered electric motor with a petrol or diesel engine – will continued to be allowed until 2035.
The 'significant' part of the distance suggests these will need to be plug-in hybrid models, rather than the kind of thing Toyota has grown famous for building (so-called 'self-charging hybrids' in the latest marketing campaigns).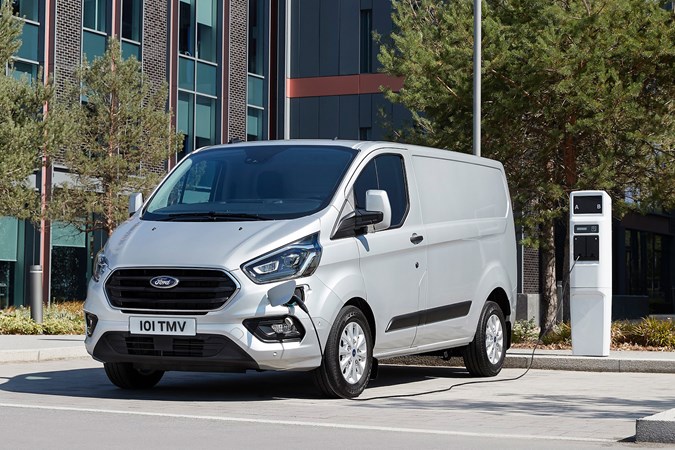 At present the only commercial vehicles that have plug-in hybrid status are the Ford Transit Custom PHEV, the LEVC VN5 and the Mitsubishi Outlander Commercial.
We don't see this as likely to be a significant growth market for vans, as the latest 100% electric models are already demonstrating impressive driving range and capability. But hybridisation could be one solution that pickup truck makers look to in the short and medium term.
Lots of vans drive long distances – will there ever be an electric solution that can do this easily?
We're already seeing the range of pure-electric vans creeping up over 200 miles – see the Parkers Award-winning Vauxhall Vivaro-e, for example, as well as the Renault Zoe Van and the forthcoming Ford E-Transit.
So, optimistically, yes, by 2030 it should be feasible that an electric van will be capable of long-distance courier work and similar. Rapid charging should reduce the time you need to spend at a standstill when refilling the batteries as well – we've already seen significant developments in this area in a relatively short space of time.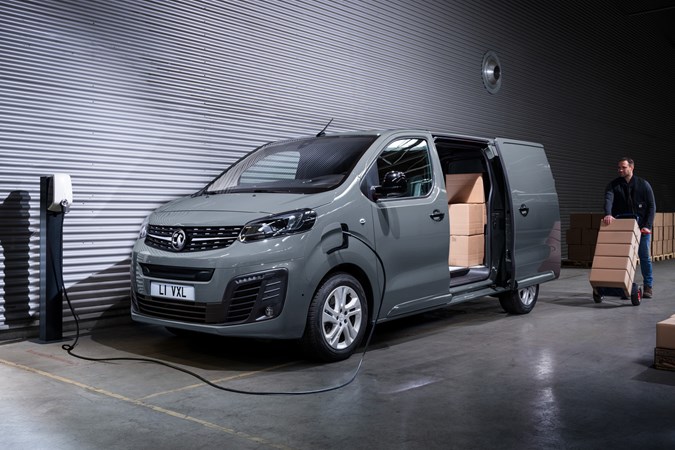 There is still work to do to bring the charging network up to the sort of capacity the 2030 deadline will require. But there is still the best part of decade to achieve this.
Similarly, in that time we may finally see hydrogen become a viable alternative for long-distance driving as well. Hydrogen fuel cells produce electricity, emit only water vapor and refuelling takes only minutes; the technology is proven but presently expensive. Van makers – including Vauxhall, Stellantis, Renault and Mercedes – have begun experimenting with this tech, which car manufacturers have been developing for decades.
Aren't electric vans really expensive?
It's important to be clear here – while electric vans have traditionally been much more expensive than diesel models, the difference is rapidly reducing.
Once you factor in running costs – electricity costs much less per mile than diesel, servicing is up to 40% cheaper – even today's electric vans can be extremely competitive with their diesel equivalents.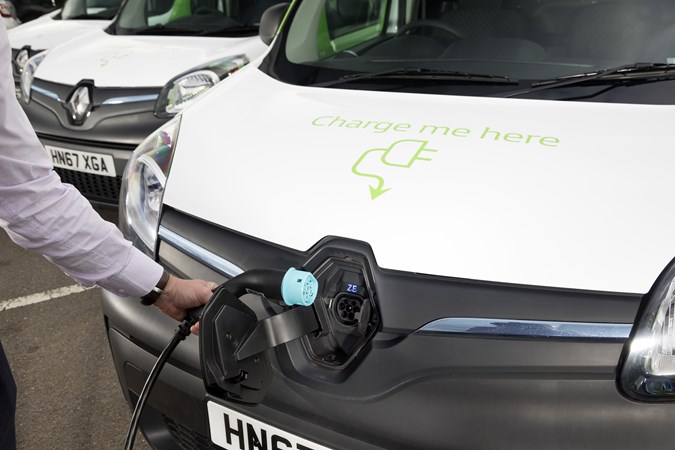 In fact, when we directly compared the monthly financing pricing of a Ford Fiesta Van with a Renault Zoe Van, we found that the electric Zoe Van was actually cheaper. So you could find that going electric is entirely affordable now.
Some near-future models will take this equation even further. While we don't know how much the Ford E-Transit is going to cost at this stage, we do know that it can carry more payload on a standard driving licence than the diesel version – which could make it more cost-effective for your business by reducing the number of vans/journeys required.
Van industry reaction
Reaffirming that the 2030 deadline isn't as absurd as it might first seem, all of the van and pickup manufacturers that have so far responded  to our enquiries are painting a broadly positive picture – though Ford is also quick to point out that it won't necessarily be easy.
All these manufacturers are in the business of selling vans, so they will need to be able to provide solutions for UK customers in 2030 and beyond – the UK is, after all, one of the largest van markets in Europe. So assuming that Brexit doesn't throw any massive spanners into the works, there is no reason to panic just yet.
Here's what the van makers are saying.
Citroen
We've just introduced e-Dispatch to the Citroen UK LCV range and during 2021 we will launch all-electric versions across of the entire van line-up (adding e-Berlingo and e-Relay during the year).
We are way ahead of many of our competitors on this, and we will adapt in an agile way to the regulatory framework prevailing at the time, while always remaining inspired by the needs of our LCV customers.
Ford
It's clear that a successful future for the auto industry is dependent on achieving our longer-term objective of a zero emissions future, and that is definitely the path we are on at Ford where we are investing $11.5 billion in electrified vehicles through to 2022.
The UK government has now made its position clear that it intends to transition from internal combustion technology for passenger and light commercial vehicles by 2030 and from hybrids by 2035. However, to achieve this ambitious goal requires an unparalleled level of commitment and cooperation by a range of different stakeholders – government departments, local authorities, the auto industry, energy providers, and customers.
We need government to partner urgently and have joint equity in delivering a comprehensive and consistent strategy that encompasses all these stakeholders and that provides a path to the future. By COP26 in November next year we will need a practical roadmap with concrete steps to ensure that industry, the consumer and society can get fully behind this objective.
A range of technologies, including mild hybrids, hybrids and plug-in hybrids will still be required to increase the number of electric miles driven on the route to zero emissions. We also must ensure that any added cost to customers associated with the technology shift to electrification is lightened through a range of incentives to ensure that motoring remains affordable for the many rather than just the few. 
Isuzu
Isuzu is committed to diesel engines for the short to medium term.  At the same time, we are looking to the future and considering alternative forms of propulsion so the proposed ICE ban in 2030 doesn't change our plans.
Mercedes-Benz
We have electric versions of Vito and Sprinter on sale, with Citan confirmed. We will continue to support our customers who wish to run vehicles to suit their business requirements, working closely to help keep their businesses moving, however they choose to do this – in diesel or electric models.
Renault
Renault welcomes the UK Government's ambition to reduce emissions.  Renault is at the forefront of the electric revolution and has been leading the European market with affordable electric cars and electric vans for almost a decade.
Renault is committed to a net zero carbon future and will continue to further expand its range of electric and electrified vehicles and reduce overall energy consumption in the run-up to 2030.
Toyota
Toyota shares the UK government's goal to minimise and ultimately eliminate carbon emissions. The Toyota Environmental Challenge 2050 details our aim for zero CO2 emissions from our vehicles in the next 30 years and we're investing in a range of low and zero emission technologies to deliver this.
The government's announcement set out is an ambitious one, and we welcome its recognition of the benefits of hybrid technologies and the important contribution they can make in the UK's transition to zero emissions. It will be important for the Government and the automotive sector to continue to work together to help create the right consumer, infrastructure and industrial competitiveness conditions that can deliver the greater vehicle electrification environment we all want to see.
Our full hybrid technology has played a major role in changing the perceptions of motorists and enabled millions of them to move to cleaner vehicles in a way that is accessible, convenient and affordable. Hybrids are delivering increasing savings in CO2 emissions and will continue to do so, benefiting from further improvements in future generations.
Vauxhall
Vauxhall has already launched the all-electric Vivaro-e. In just 12 months, we will launch all-electric versions of Combo and Movano so having our entire range available as electric models.
Volkswagen
Volkswagen Group is committed to the Paris Climate Agreement, and aims to become balance sheet CO₂ neutral by 2050. We are convinced that electrification is the only way to achieve this challenging target.
With plans to invest €73bn on electrification, hybrid powertrains and digital technology over the next 5 years bringing more than 70 fully electric as well as around 60 plug-in hybrid models to market by 2030, Volkswagen Group is fully committed and well prepared to support the irreversible transformation to electrification. Around 20 fully-electric models are already in production, with 50 more to follow before the end of the decade. During this transition PHEV technology is an important step towards sustainable mobility.
It is essential to ensure a swift switch to e-mobility. Owning and using an electric vehicle must be convincing and effortless for customers. One prerequisite is the substantial requirement to step up and deliver a comprehensive and integrated charging infrastructure strategy for every part of the network; including high-power charging along motorway and major trunk roads, charging solutions in metropolitan areas with limited off-street parking, destination locations, and at home and in the workplace – always supported as a matter of principle by 100% green electricity. 
Volkswagen Group UK already offers a wide range of electric vehicles: With the ID.3 and ID.4 Volkswagen brand is expanding the electric portfolio alongside the ŠKODA Enyaq iV, CUPRA el-Born, Audi e-tron and e-tron Sportback and ABT e-Transporter from Volkswagen Commercial Vehicles. More models are to follow in 2021 and beyond.
The more attractive the framework conditions for electromobility set by political decision makers, the sooner and in greater number will people make the choice for an electric car for their individual mobility needs. A legislative approach can at times create a feeling of state intervention. We, on the other hand, trust in the responsible individual choices of our customers.
Also read:
>> The Parkers guide to electric vans
>> The best electric vans you can buy now
>> Future electric vans coming soon