Renault has announced that the all-new Kangoo van will start at £17,650 (plus VAT) and will head out to customers from September 2022.
The all-new van packs an eye-catching design, loads of cargo space and some very clever features, including 12 new driver assistance systems. Sadly, some of the cleverest innovations won't be making it to the UK.
Renault's new small van is available in two body lengths and with petrol and diesel engines and as a 100% pure electric van – the Kangoo E-Tech. Pricing for the E-Tech starts at £26,500 (plus VAT) after the plug-in van grant has been applied.
The new Kangoo will also form the basis of the second-generation Mercedes Citan (and Mercedes T-Class MPV) and Nissan's forthcoming replacement for the NV250 although details have yet to be announced for all of those.
We've already driven the new Kangoo, in both diesel and electric forms.
What's new for the 2022 Kangoo?
This is one smart-looking little van, in a much more conventionally attractive way than the all-new Volkswagen Caddy Cargo. From the C-shaped LED daytime running lights to the strong shoulders, the overall appearance is very much influenced by the Renault car range.
The bluff front is even described as SUV-like, which we kind of get and is probably an attractive feature to modern buyers, especially those transitioning to their first van after starting a business.
The bonnet is aluminium, to save weight, and the new Kangoo also uses a number of aerodynamic design tricks to make it more efficient, including 'air curtains' and under-body 'funnels' to reduce drag.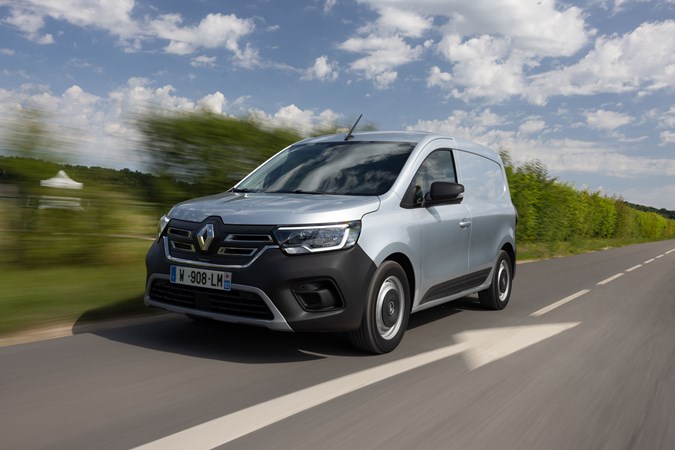 What's perhaps likely to be less appealing to those of a practical nature is the rear end; curiously Renault has decided to move away from 'the shoebox' (as a design bod put it) and put a slight angle into the back of the van. This may look more 'dynamic' but it surely also eats into the maximum available space?
Don't fret, though. Renault has put a lot of thought into the load area. And although the UK isn't getting the super-duper 'Open Sesame' side door option (on which more in a moment), buyers here will be able to take advantage of the widened rear end that can load a Euro pallet sideways between the wheelarches, and up to 3.05m of loading length.
Does the 2021 Kangoo come with any new tricks?
By far the biggest headline feature of the new Kangoo is the Open Sesame side entry system – referred to previously as Easy Side Access, Open Sesame is the official name.
This removes the pillar behind the door on the passenger side, which means that with the sliding side door and the passenger door open (to as much as 90 degrees), there's an obstruction-free loading / access point that's a huge 1,446mm wide. That's more than twice that available on the previous Kangoo.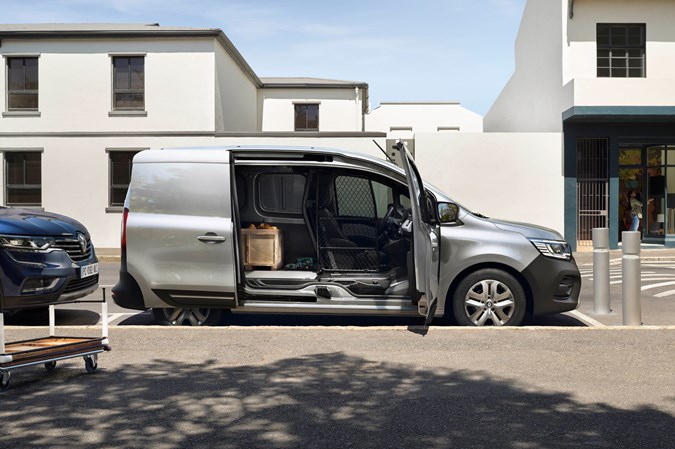 This is a genuine bit of innovation. Think about how many times you've parked on the street, for instance, and come back to find a car so close to the back of your van you can no longer open the rear doors; Open Sesame means even long items can be stored and retrieved through the side of the van, helped by a passenger seat that folds flat into the floor.
Sadly, it will only be offered on the right side of the Kangoo, which means it won't be available on right-hand drive models, such as those sold in the UK. Side-impact strength is retained by strengthened door structures, while the driver is protected by a folding mesh bulkhead.
The UK will, however, get the 'Easy Inside Rack', an interior roof rack that can hold objects 2.0-2.5m in length off the floor, freeing space there for other items. It folds flat against the inside of the roof whenever it's not needed. This is only available in combination with a solid bulkhead.
The new Kangoo is available with a Permanent Rear View Camera. This is new for the small Renault, but already available on the Renault Master large van, as well as rival small vans the Vauxhall Combo Cargo, Peugeot Partner and Citroen Berlingo.
How big is the new Renault Kangoo?
It will come in two sizes. The small model – described as the standard van – will offer between 3.3 and 3.9 cubic metres of storage space; the longer version has 4.2-4.9 cubic metres of load volume, and will probably be called the Kangoo Maxi (though this hasn't been announced, and Renault is referring to it as the Kangoo long).
While the larger figures in each pair rely on the folding bulkhead and fold-flat passenger seat, 4.9 cubic metres means the new Kangoo bridges the gap right up to the Renault Trafic medium van, which starts at 5.0 cubic metres.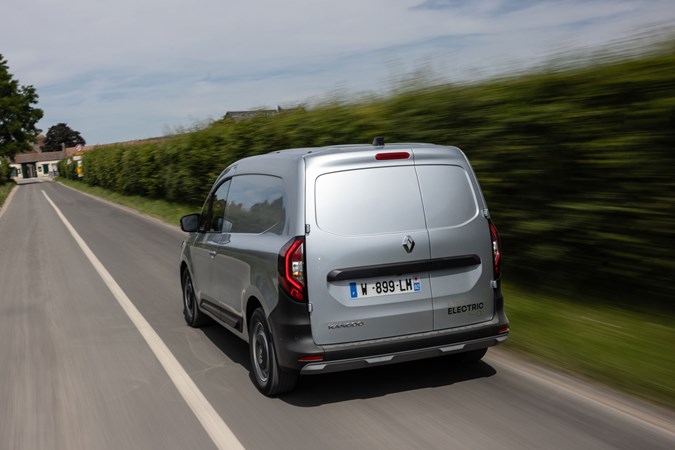 This is considerably larger inside than the new Caddy Cargo, for instance, which is limited to 3.1 cubic metres at its standard length and 3.7 cubic metres as the longer Maxi.
The Kangoo is alo 0.3-0.5 cubic metres bigger inside than the Citroen Berlingo, Peugeot Partner and Vauxhall Combo Cargo.
Full load area dimensions for the 2021/2021 standard Kangoo van are as follows:
> Maximum load length to bulkhead: 1,810mm
> Maximum load length with folding bulkhead: 3,053mm
> Maximum load height: 1,215mm
> Maximum load width: 1,517mm
> Width between rear wheelarches: 1,247mm
As mentioned above, the new Kangoo is now wide enough in the rear to accept a Euro pallet sideways – and this is with space to spare for ply-cladding round the wheel arches.
Renault hasn't given full dimensions details for the longer Kangoo Maxi version, but has said it has a loading length of up to 3,548mm.
The rear doors are split asymmetrically, while the standard side door has an impressive 864mm opening width.
What payload does the Kangoo offer?
The electric version of the Kangoo has the same payload no matter which model you go for, with 615kg of carrying capacity. The combustion engine versions start a little higher, with the petrol offering the lowest at 740kg in the shorter of the two versions.
The new Kangoo long boosts payload to just under 1.0 tonne with a confirmed payload of 987kg. This was a bare minimum though, as it needed to compete with those heavy-hauling Stellantis vans that offer a payload of 1,000kg-plus.
Towing capacity for the new Kangoo is increased to 1,500kg (with a braked trailer).
Load area security
In an effort to reduce opportunistic theft, Renault has removed the lock cylinders from the new Kangoo's doors.
There's also an optional 'super locking system', which only allows the rear of the van to be unlocked if the remote is used or the keyless entry card is detected in the cab. The unlock buttons for the rear fitted inside won't work without this.
What engines will the new Kangoo have?
Renault is fitting the Kangoo with two engines – one petrol, one diesel, with the latter coming with two different power outputs.
The petrol is a 1.3-litre TCe turbo, and comes with 100hp and 200Nm of torque. The diesel is a 1.5-litre Blue dCi turbo with either 95hp / 260Nm or 115hp / 170Nm.
All come with a six-speed manual gearbox as standard, with a seven-speed EDC dual-clutch automatic available as an option on the more powerful models; all new Kangoos are front-wheel drive.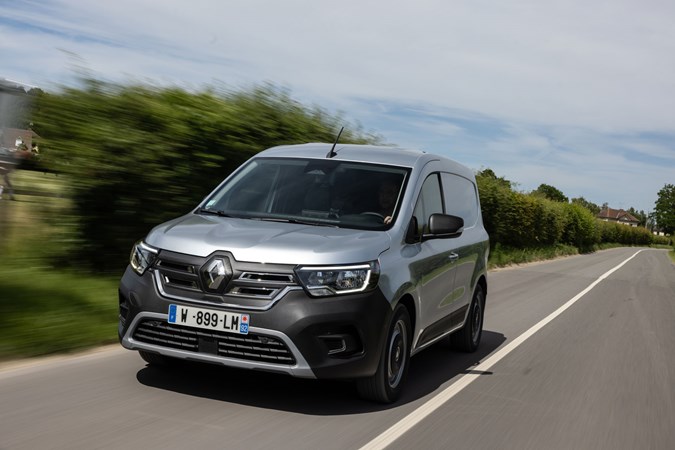 In addition to the standard range, there are Ecoleader versions of the 130hp petrol and 115hp diesel; these have various fuel-saving measures, including a top speed electronically capped at 68mph and an Eco-Mode that is said to improve fuel economy by a further 12%.
These are, as you'd expect, the most efficient models, with a WLTP claim of 46.3mpg for the petrol and 57.6mpg for the diesel; the rest of the range is only 2-3mpg worse than this in testing.
All models will come with stop-start as standard, while service intervals are now every 24,000 miles or two years, depending on how and where the Kangoo is driven. The electric version
There will also be an electric Kangoo, called the Kangoo E-Tech. This is powered by a 75kW (102hp) electric motor that also punches out 245Nm of instant torque via a single-speed transmission. It offers an official range of 186 miles and can be recharged on a 7.4kW wallbox in just under seven hours, while a 22kWh public charger will get you from 15% to 80% in an hour and a half.
What's it like inside the cab?
As you'd expect, there's a brand new cab interior, with a car-like design similar to that of the latest Renault Clio.
The heavily horizontal design creates upwards of 46-litres of storage space in the front (60 litres with the dual front passenger seat with under-seat storage).
Or at least it does in left-hand drive models. Unfortunately the UK gets slightly less as the position of the fuse box rules out the clever 'Easy Life' drawer that replaces the conventional glovebox in European markets.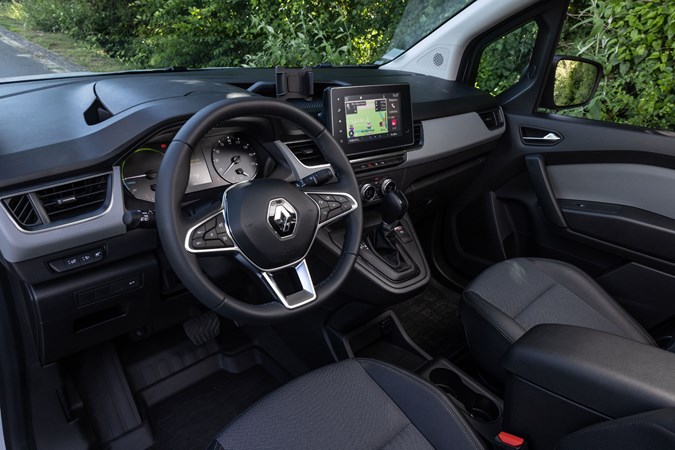 This is a shame, as the drawer has seven-litres of capacity (enough to swallow a hard-hat) and can easily be reached into from the driver's seat.
Other neat features inside include a smartphone dock and device charging options including wireless pads and multiple USB ports as well as the good old 12v socket. A tablet-style screen dominates the centre of the dash and takes care of infotainment and sat-nav functions.
Extra sound deadening aims to improve refinement, and even the ventilation system is supposed to be more effective than before – at both distributing air and filtering it as it enters the cabin.
The seats are also 'completely redesigned' for enhanced comfort and durability, with stronger foam and fabric.
New driver assistance technology
Renault is a bit behind the curve when it comes to driver assistance tech in its current range of vans, but the Kangoo is stepping up to redress that, with all of the following available:
> Permanent Rear View Assist – rear view camera in place of interior rear view mirror
> Cruise control and speed limiter (with hill descent control)
> Lane departure warning
> Lane keeping assist
> Active blind spot monitoring – not only watches your blindspots but prevents you changing lane into other traffic
> Autonomous emergency braking – detects pedestrians and cyclists in the day or night up to 50mph; detects vehicles (including those approaching a junction) up to 105mph
> Speed warning with traffic sign recognition
> Adaptive Cruise Control with Stop & Go – not only regulates the distance between you and the van in front but when an automatic transmission is fitted will also bring the van to a complete halt in traffic if needs be
> Motorway and Traffic Companion – add-on for automatic transmission Kangoos that combines the adaptive cruise control and lane keeping assist to give modest self-driving capability in traffic
> Front, rear and side parking assistant – all-round parking sensors
> EasyPark Assist Hands-Free Parking System – automatic parking for all kinds of spaces
> Front and rear parking radar
> Unstable Trajectory Alert – Renault's hilarious name for a driver fatigue monitor
> Trailer Swing Assist – trailer stability system
> Extended Grip – low-grip traction control system for mud, snow and other slippery surfaces, comes with all-season tyres
How much will it cost and what trims are available?
Pricing starts at a competitive £17,650 (not including VAT) for the entry-level petrol model and at £29,000 for the cheapest electric version. This is before VAT but not factoring in the plug-in van grant – that brings the cost down to £26,500 at the time of writing.
If diesel is your thing then this adds £900 to the price of the basic petrol, with prices starting at £18,550.
There are two trim levels offered – Start and Advance.
Start offers the following:
DAB digital radio with Bluetooth, USB and aux input
Auto lights and wipers
Single passenger seat with Isofix
Full steel bulkhead
Manual air conditioning
Electric windows
Heated and powered door mirrors
Twin side doors
Driver's airbag
Hill start assist
Emergency call function
Cruise control and speed limiter
The E-Tech also gets:
Automatic air conditioning
Heated windscreen
Heated seats
A Type 2 AC charging cable
The Advance trim adds:
An eight-inch touchscreen with Android Auto and Apple Carplay
Electric parking brake
A front passenger bench seat
LED lighting in the load area
A wide view mirror
Reverse parking sensors
Orders will officially start in September 2022, although you can pre order one at a retailer now. The first vans will start heading out to customers from October.