Citroen Berlingo van review (2021)
Award-winning small van that's practical, efficient and high-tech
PROS
Strongest models carry over 1,000kg
Lots of advanced safety and security tech
Refined and vigorous engines
Plenty of interior storage
Wide range with good value
CONS
Touchscreen media system is fiddly…
...as are the air-con controls
PureTech petrol engine not the smoothest
Difficult to separate from Vauxhall and Peugeot versions
Not as good to drive as a Transit Connect
Summary
The Citroen Berlingo is winner of the Parkers Small Van of the Year award in 2021 and 2020. This Citroen Berlingo review covers all the pros and cons, explaining why we rate it so highly.
The Citroen Berlingo is one of the biggest-selling small van models in Europe, and this third-generation model arrived in early 2019 with a number of high-tech innovations and greater practicality than ever.
Essentially exactly the same van as the Peugeot Partner, Vauxhall Combo and - from 2020 - the Toyota Proace City, the Berlingo provides impressive payload capability and a great driving experience. Making it a tough competitor for any rival, including the Ford Transit Connect and Volkswagen Caddy Cargo.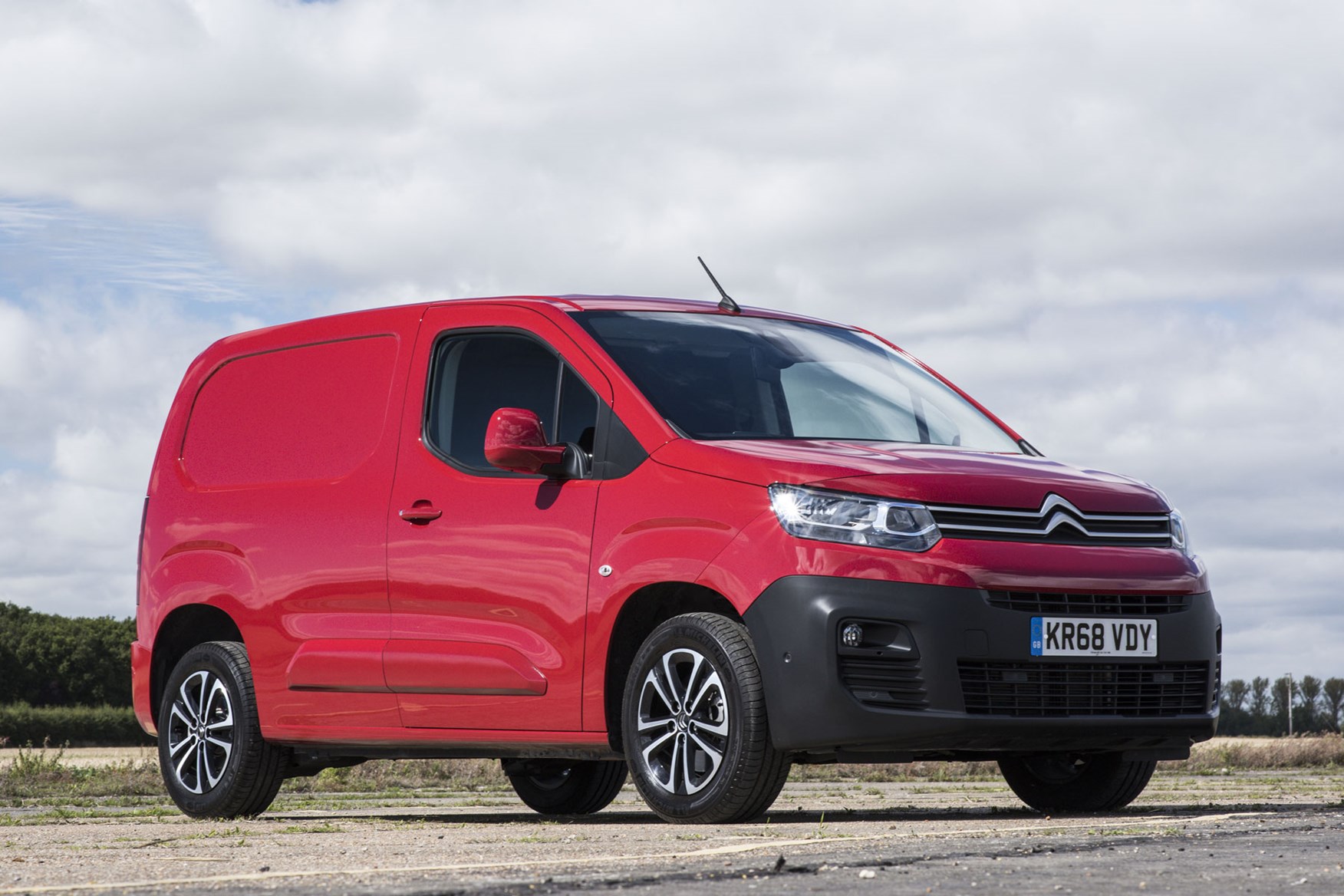 This latest version is based on a combination of the older van's underpinnings and a newer car platform, known as EMP2. This is what makes it better than ever to drive, while also being safer, too.
>> Find out more about the best small vans on Parkers
What's new for the 2021 Citroen Berlingo?
In July 2021, Citroen revised the entire Berlingo van model range, adding a 'Pro' designation to each of the existing trim-level names and adding a little more safety kit as standard.
From October 2021, a minor engine upgrade improves the popular BlueHDi 100 diesel engine, there are extra PureTech petrol options, plus new digital dials for top-spec models.
Citroen is also launching an e-Berlingo electric van variant in 2021.
Why buy a Citroen Berlingo?
As with the closely related Partner, Combo and Proace City, the Berlingo features a modern design, smooth and efficient engines, lots of technology options, and very high payloads. Some versions are capable of carrying over a tonne (1,000kg). This combination makes for a very attractive small van package.
It's also comfortable, and higher spec models are reasonably quiet in the cab - though entry-level versions have reduced sound isolation, and will prove louder.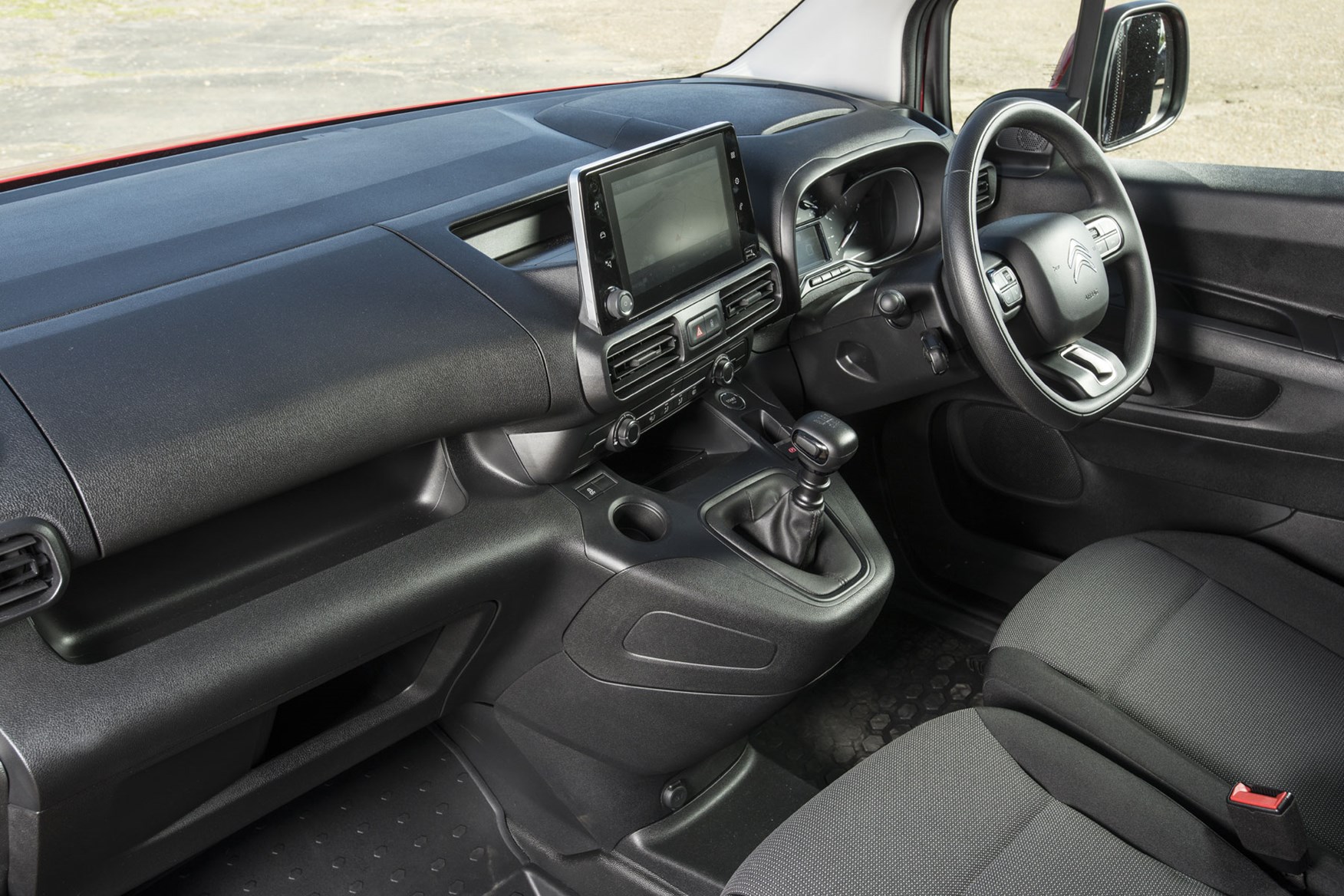 Though the trim levels have different names, the Berlingo offers specifications that exactly match the Partner, but uses a more conventionally sized steering wheel and dashboard; the Partner has a smaller wheel and high-set dials, in keeping with Peugeot's current i-Cockpit interior design trend.
This should help you make a decision between the two French brands. The Vauxhall, Toyota and Citroen, however, are very similar inside, with differences limited to steering wheels and dials. While specifications are slightly different, picking between these two may come down to how much you like the way they look on the outside, or which dealer is prepared to offer the most tempting price.
Citroen Berlingo engine choices
At launch in early 2019, the Berlingo van came with a mixture of old and new engines:
1.6-litre BlueHDi 75 – previous-generation diesel with 75hp
1.6-litre BlueHDi 100 – previous-generation diesel with 99hp
1.5-litre BlueHDi 130 – new diesel engine from Peugeot's car range with 131hp
1.2-litre PureTech 110 – three-cylinder petrol engine with 110hp
By September 2019, the old 1.6-litre motors were dropped in favour of equivalent 1.5-litre engines in order to meet the latest Euro 6 emissions regulations, bringing with them a touch more power:
1.5-litre BlueHDi 75 – now with 76hp
1.5-litre BlueHDi 100 – now with 102hp, further updated to Euro 6.3 emissions in October 2021
1.5-litre BlueHDi 130
1.2-litre PureTech 110
The entry-level BlueHDi 75 has subsequently been discontinued.
Regardless of age, each engine comes with a manual gearbox as standard, while the BlueHDi 130 is also available with an eight-speed automatic transmission badged EAT8.
Citroen Berlingo trim levels and body sizes
Citroen sells the Berlingo in four trim levels: X, Enterprise, Worker and Driver, each fulfilling a slightly different role.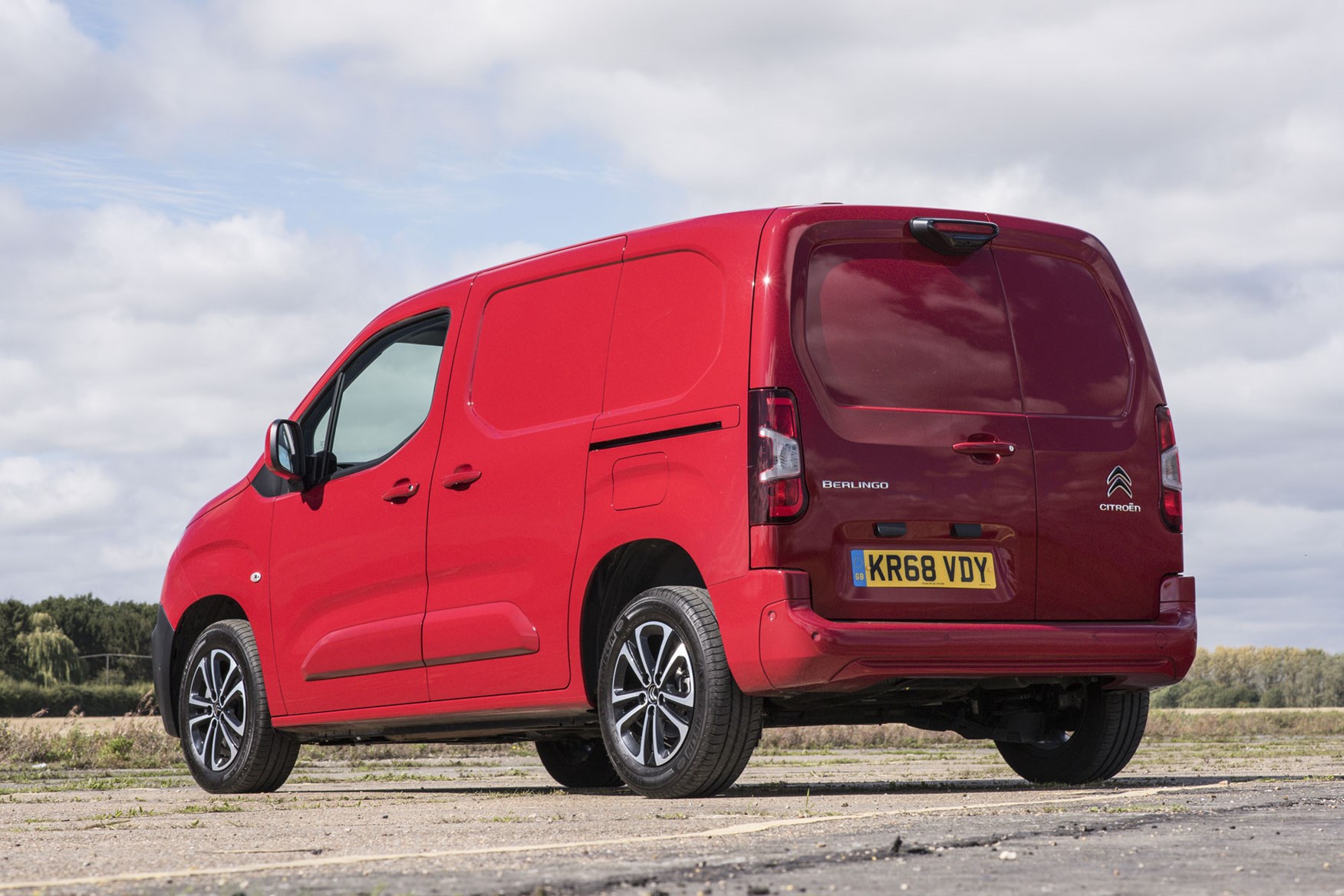 As such, X and Worker versions are more utilitarian (the latter made different by its increased ground clearance and enhanced traction), while Enterprise and Driver models feature increased technology and comfort features to better suit drivers who spend a long time on the road.
From July 2021, Citroen added Pro to the end of all the Berlingo trim names to distinguish a slight equipment upgrade, creating the X Pro, Enterprise Pro, Worker Pro, Driver Pro.
The Berlingo comes as a shorter L1 model labelled M and a longer L2 model labelled XL, but with only a single roof height. You can read more about its load capacity on our dedicated Citroen Berlingo dimensions page.
---

Citroen Berlingo verdict
Picking between this, the Peugeot Partner and the Vauxhall Combo will come down to which you prefer the look of, which interior you like the best and probably how close your nearest dealer is (or how good a deal you can get). The Toyota Proace City distinguishes itself with a 10-year warranty now, which is worth serious consideration.
As with all these similar vans, the Berlingo's load area is large and flexible, it's an easy van to drive with refined, frugal and punchy engines, and the wide range of trim levels and options (and conversions) mean there should be a variant to suit all users.
The Transit Connect remains worth considering if you do a lot of miles, as it has a particularly good driving experience and some clever features, while the Caddy offers a stronger image. But the Berlingo really is a top choice in the small van sector.
Skip to our full verdict on...
Three diesel options and one petrol
Easy to drive with tidy handling and good visibility
Comfortable ride – better on diesel Berlingos
The Citroen Berlingo is an easy van to drive, with a range of engines that suit its character well, although the least powerful BlueHDi 75 model may feel a little gutless when loaded up.
What are the Citroen Berlingo diesel engines like?
The Berlingo was available with the following diesel engines at its launch in early 2019:
BlueHDi 75: 1.6-litre, 75hp @ 3,500rpm / 230Nm @ 1,750rpm
BlueHDi 100: 1.6-litre, 99hp @ 3,750rpm / 254Nm @ 1,750rpm
BlueHDi 130: 1.5-litre, 131hp @ 3,750rpm / 300Nm @ 1,750rpm
By September 2019 the two 1.6-litre motors had also been replaced by more modern 1.5-litre equivalents (the BlueHDi 130 stayed as it was):
BlueHDi 75: 1.5-litre, 76hp @ 3,500rpm / 230Nm @ 1,750rpm
BlueHDi 100: 1.5-litre, 102hp @ 3,500rpm / 250Nm @ 1,750rpm
This will be slightly confusing for used buyers, as the newer 1.5-litre engines meet more stringent emissions regulations, giving them on-paper fuel economy that's actually worse, but in day-to-day use you're unlikely to notice a great deal of difference.
The BlueHDi 75 is best suited to use around town with light loads, as it doesn't quite have the legs to get up and go on the motorway like the higher-output versions do. Failing to appeal to many buyers, it's now been discontinued from the UK range.
The BlueHDi 100 is better for those splitting time between urban and faster roads, the combination of more power and a bit more usable torque making it a more effortless van to drive, and better able to cope with extra payload.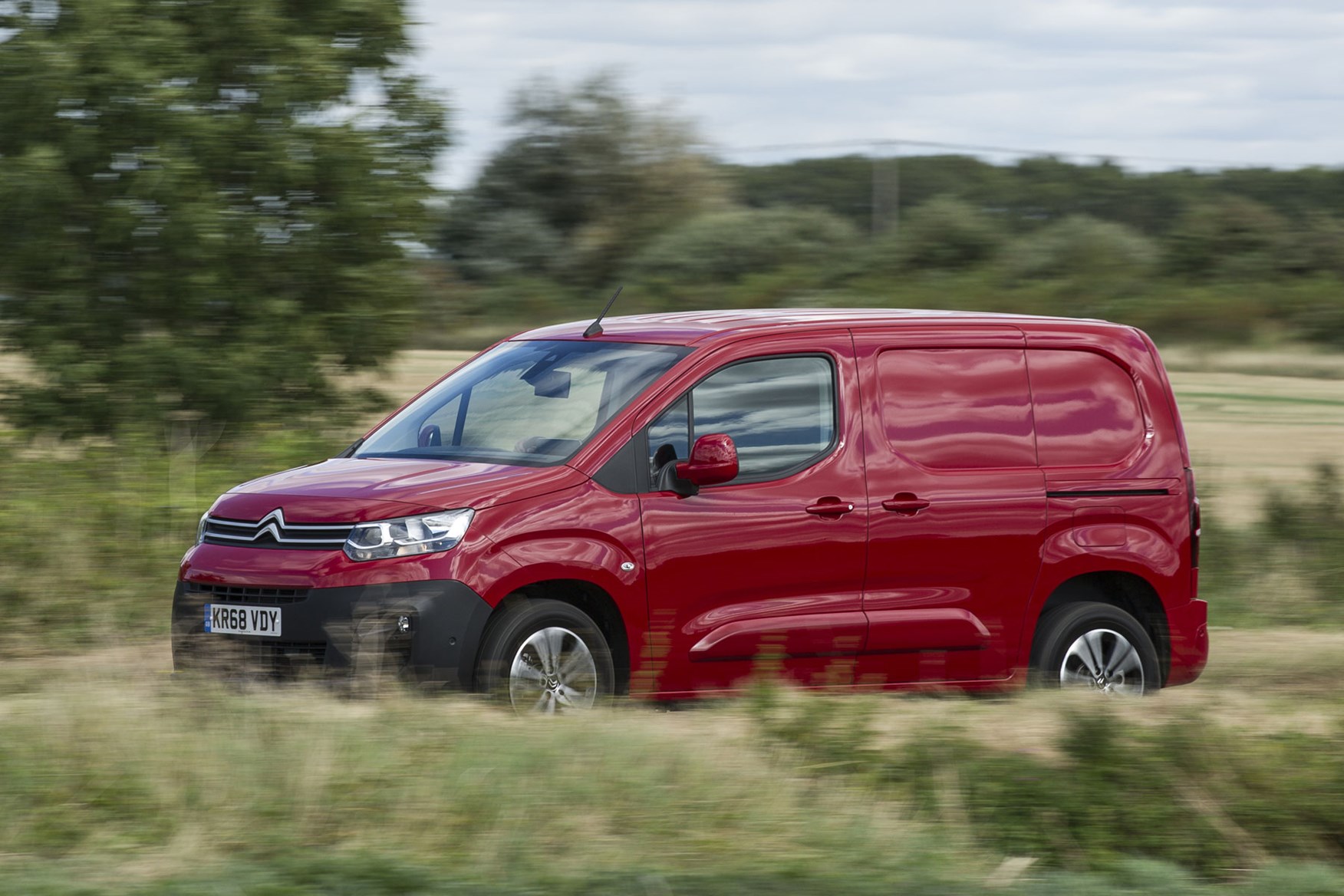 Move up to the BlueHDi 130 and you'll certainly appreciate the extra performance, making lighter work of big loads and longer journeys. It was originally also the only diesel Berlingo to get a six-speed manual gearbox as standard, which helps reduce the noise it makes when travelling at faster speeds.
There's even an eight-speed automatic option, but we're not sure how many businesses will feel this is worth the cost in a small van.
The rest of the range makes do with a five-speed manual. This is precise, but a little notchy, and makes the engine louder on the motorway.
Put all this together, and the BlueHDi 100 is the understandable biggest seller, but we'd still go for a 130 if we could.
What are the Citroen Berlingo petrol engines like?
Those using their Berlingo largely in town may be swayed by the 110hp PureTech petrol engine, especially if you're concerned about the diesel emissions issues that have been hitting the headlines in recent times.
This is a surprisingly eager engine with a characterful three-cylinder thrum, and despite its modest 151Nm has plenty of pull when going up hills – more so than you might expect.
However, it's not always the smoothest and can become quite vocal at higher revs, even though it has a six-speed manual gearbox as standard, too. Longer journeys may prove a chore for this reason, and it certainly won't match the diesels for mpg.
Citroen Berlingo handling and ride comfort
The way the Berlingo rides depends on the version you go for – we find the diesels ride best, most likely because of the greater weight of the four-cylinder engines up front.
By comparison, the lightweight PureTech 110 Berlingo feels quite bouncy and fidgety over rough surfaces. However, all versions deal with speed humps and rough surfaces more than acceptably for a small van, and better than most rivals can manage.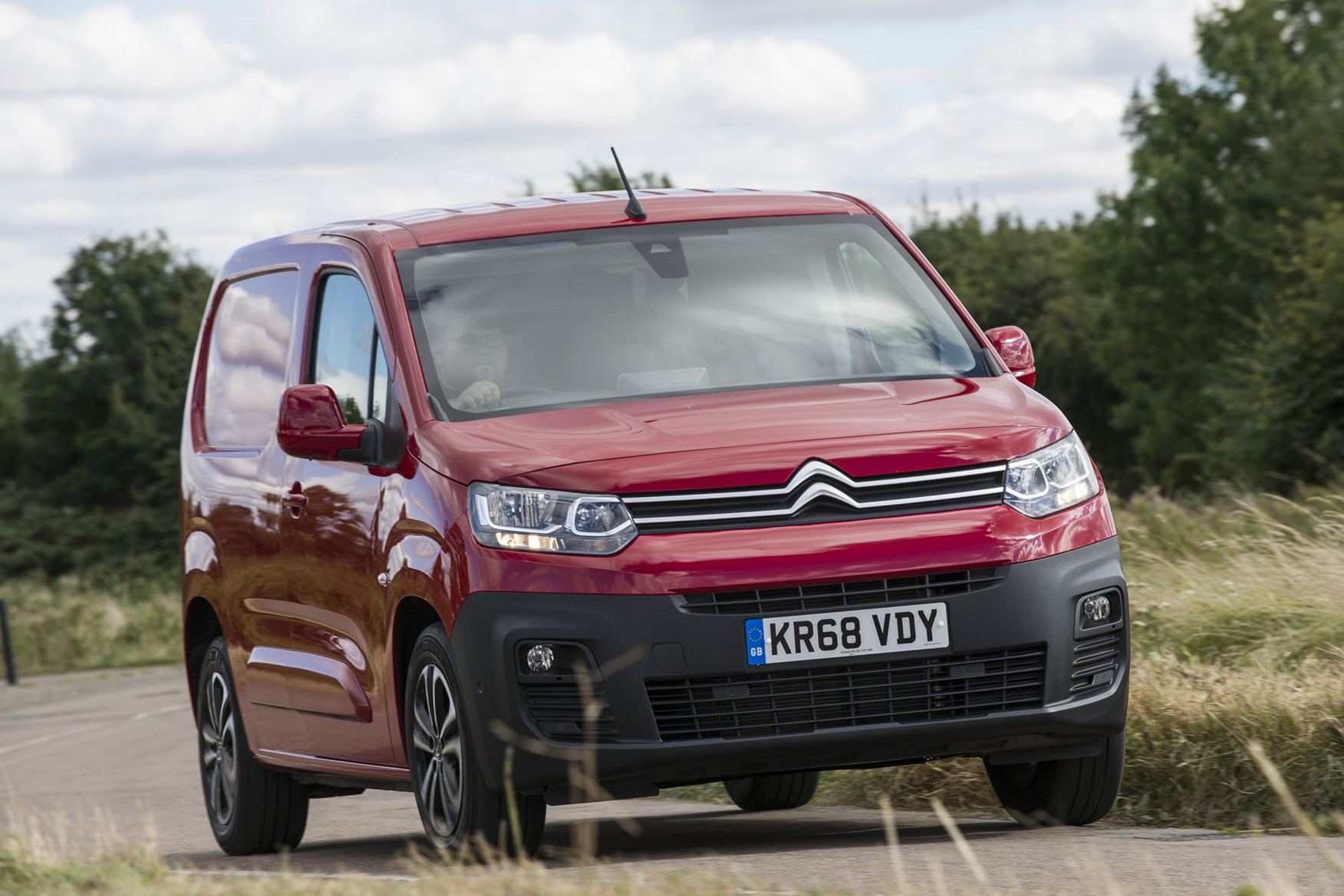 As for the Berlingo's handling, there's body roll, but it's well controlled and the van never feels like it's going to topple over.
The steering isn't exactly full of feel, but it's more responsive with greater feedback than the Peugeot Partner's small steering wheel setup. While it might look sporty in the Partner, it feels more natural and easier to place in the Citroen.
Forward visibility is good, thanks to high seating and big windows, though we sometimes find these vans seem wider than they actually are for some reason.
What's different about the Citroen Berlingo Worker?
Go for a Berlingo Worker and it features Citroen's Grip Control system – to boost traction on slippery surfaces – and an extra 30mm of ground clearance with additional underside protection. It's intended to make the van better-suited to construction sites.
The Grip Control system is an advanced form of traction control that lets you twist a dial to adjust the settings based on the kind of road surface you're driving on, and is complemented by a set of chunkier tyres for maximum effect.
It works well, even in pretty sticky mud, but if you need proper four-wheel drive, Citroen can offer a Berlingo with this capability via an approved aftermarket conversion.
Light and spacious inside
Lots of storage
Infotainment from Citroen passenger cars
Jump inside the cabin of the Berlingo and you'll find a driver-focused dashboard dominated by a large infotainment screen protruding from the top, angled slightly toward the person behind the steering wheel in an effort to make it easier to use; more on this below.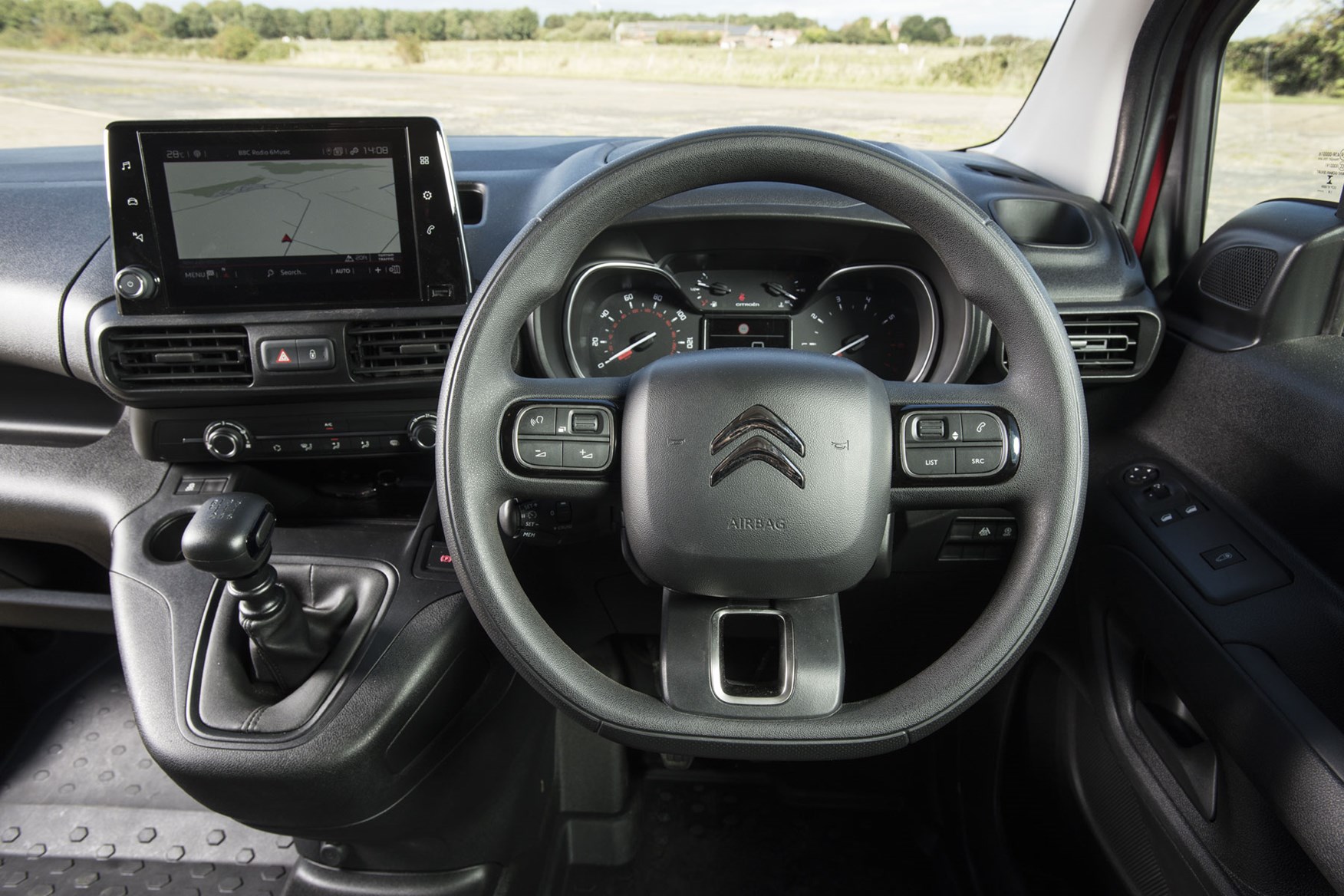 The impressive appearance of this screen means you won't necessarily notice all the useful storage spaces straight away, or the manner in which the ventilation controls seem to have been tucked too far away beneath it.
Still, at least there are buttons, rather than having all the controls moved to the touchscreen. We digress.
Citroen Berlingo driving position
It's easy to get comfortable inside the Berlingo – easier than in the Peugeot Partner with its i-Cockpit and associated tiny steering wheel – with plenty of adjustment in the seat and steering column, and a good view of the road ahead.
The gearlever is mounted high on the centre console, placing it within easy reach, while an electronic handbrake frees up space in the middle of cabin where two seats are fitted, and means no awkward fishing around for a lever on three-seater models.
The seats are firm and seem supportive, so driver and outer passenger should be ok on longer journeys. Any middle-seat passenger will have to contend with the gearlever pod eating into their knee room, which may not be fun for extended periods.
Citroen Berlingo storage
Citroen, together with Peugeot and Vauxhall, claims there are class-leading levels of storage in this Berlingo, with up to 113 litres of space for stuff in the cab.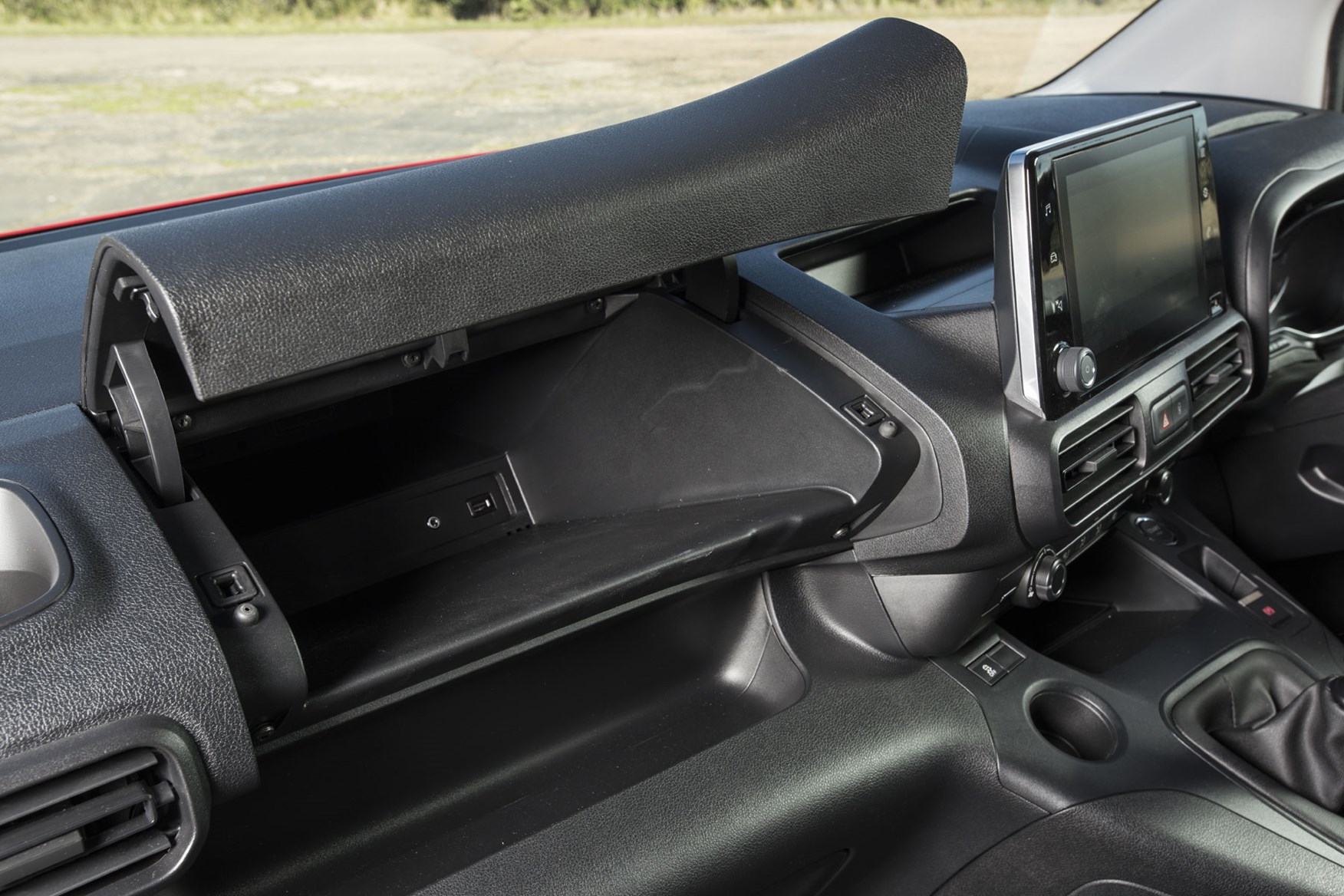 This is distributed between a small glovebox, large door bins, a shelf above the front seats, a dashboard box large enough for an average laptop where a passenger airbag would normally be (it's moved to the roof), and another box on top of the dials if you don't specify the optional head-up display.
There's also a small tray ideal for a mobile phone (wireless charging is available here) located just beneath the heating and ventilation controls, keeping your valuables tucked away.
Citroen Berlingo touchscreen infotainment system
The Berlingo uses a multimedia system with a large 8.0-inch touchscreen sitting proud of the dashboard and angled slightly towards the driver.
Its location makes it easy to reach, and it controls everything from the sat-nav and radio to the phone and general vehicle settings. Operating it on the move is a bit hit and miss - literally - as with all touchscreens, as you don't always touch the right bit on the first attempt when bouncing around over British tarmac.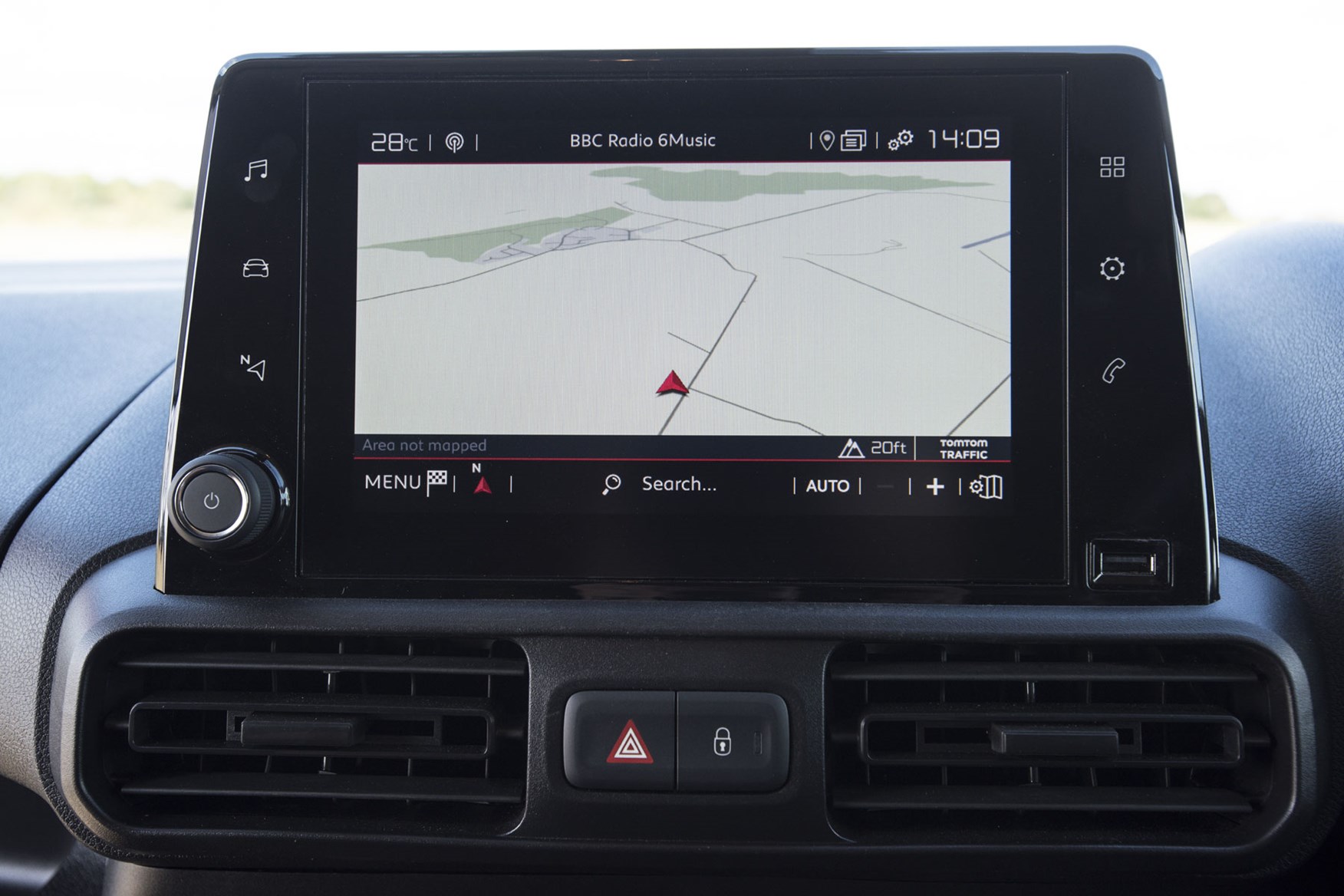 It's not the slickest system – you'll probably find it easier to make your way around a Volkswagen touchscreen, for example – and things like the graphics on the sat-nav display can be slow to render and respond when you go round corners, which can occasionally lead to missed turnings.
A set of small air-con ventilation controls sit beneath the screen, pushed quite far back, making it a little tricky to quickly use these. The need to take your eyes off the road to change the temperature is a disappointment.
Any other interesting technology on-board?
Rear visibility is always an issue in vans, and while most drivers quickly come to terms with this, van makers are increasingly turning to technology to try and improve the situation.
So, in addition to conventional blindspot monitors, the Berlingo (as well as the Partner and the Combo), is available with a camera system that pairs with a 5.0-inch screen that sits where a conventional rear view mirror would be located.
At the press of a button this gives you a view of the road behind or a view down the passenger side of the van, and either view can be left on permanently.
The bad news is that neither camera is particularly high resolution, meaning that the images are a little blurry and can become rather poor once it begins to get dark.
During the day we have certainly found the regular rear view a helpful addition to the cab, but would prefer to see Citroen spend the money on a better camera for this view instead of also offering the side view, which we found less easy to get on with and not really any more use than regular blindspot monitors.
Citroen calls its version of this system Surround Rear Vision, and the package also comes with front and rear parking sensors; the rear camera has a second setting that allows it to function as a parking camera, too.
These vans are also supposed to be available with an automatic overload warning sensor, but as we understand it this is still to reach full production.
BlueHDi diesel engines return good mpg
Lots of standard kit
Should prove cost effective
A wide choice of trim levels, modern engines and reasonable service intervals should make the Berlingo an attractively priced choice when it comes to running costs.
How much does the Citroen Berlingo van cost?
At the time of writing, the Berlingo van is priced from £17,855, excluding VAT.
Citroen Berlingo van mpg
The latest Berlingo van models have the following claimed WLTP fuel economy:
BlueHDi 100 diesel: 46.1-52.3mpg / 113-116g/km CO2
BlueHDi 130 diesel: 44.7-50.4mpg / 114-117g/km CO2
PureTech 110 petrol:

37.3-45.0mpg / 159-171g/km CO2
All the diesels require AdBlue, and are fitted with a 17-litre tank for this. The now discontinued BlueHDi 75 claimed 45.6-51.4mpg WLTP.
Citroen Berlingo van warranty
All Citroen vans come with a three-year / 100,000-mile warranty, although the first two years of this warranty allow unlimited mileage.
Citroen Berlingo van service intervals
Service intervals are variable dependent on use, but the van will notify the user when a service is required. Typically, the intervals are:
1.6-litre BlueHDi diesel models: 15,000 miles or one year
1.5-litre BlueHDi diesel models: 25,000 miles or two years
1.2-litre PureTech petrol models: 12,500 miles or one year
Citroen Berlingo van trim levels and standard equipment
These are the latest trim levels for the Citroen Berlingo van.
Citroen Berlingo van X Pro standard equipment highlights:
Individual passenger seat
Automatic headlights with daytime-running lights
DAB radio, Bluetooth, USB port and audio jack
Electric front windows
Electrically adjustable mirrors
Rear parking sensors
Overhead storage shelf
Remote central locking with deadlocks and separate cab locking
Full bulkhead
Unglazed rear doors
Sliding side door (one side for the shorter L1 model , both sides for the longer L2)
Citroen Berlingo van Worker Pro standard equipment highlights (in addition to X Pro):
Automatic electronic parking brake
Grip control with hill descent control
Underbody protection
Mud and snow tyres
30mm increased ground clearance
Overload indicator
Tyre pressure monitor
Driver's seat with height and lumbar adjustment
Extenso modular folding passenger bench seat with load-through bulkhead and writing table
Front foglights
LED load area lighting
220v socket
Citroen Berlingo van Enterprise Pro standard equipment highlights (in addition to X Pro not Worker Pro):
Air-conditioning
Cruise control with variable speed limiter
Automatic electronic parking brake
Alarm
Heated electric folding door mirrors with black mirror caps
Tyre pressure monitor
Driver's seat with height and lumbar adjustment
Extenso modular folding passenger bench seat with load-through bulkhead and writing table
8.0-inch touchscreen infotainment system with Apple CarPlay and Android Auto
Front foglights
Citroen Berlingo van Driver Pro standard equipment highlights (in addition to Enterprise Pro):
Citroen Advanced Comfort package with Comfort driver's seat
Extra sound insulation
Automatic wipers
16-inch black alloy wheels
Body colour rear bumper (front bumper remains black plastic), mirrors and door handles
10.0-inch infotainment system with Citroen Connect Navigation with multifunction steering wheel and voice recognition
Front and rear parking sensors
Passenger side and rear camera system with 5.0-inch screen
Hard plastic load floor protection
The previous Berlingo sold in huge numbers and features components that have also been used for a long time, many of which have been carried over to this new model. This should be good news for reliability.
Newer parts are shared with PSA's more recent passenger vehicles and have proven dependable, although issues with the touchscreen media systems aren't uncommon.
There has already been a recall on this generation of Berlingo, too, in order to fix a potential fault with the handbrake mechanism on a small number of vehicles.
>> The UK's most reliable vans according to the FN50 reliability survey
Citroen proud of 20 available driver assistance systems
Surround Rear Vision camera system helps visibility
EMP2 platform should mean it's safer and more solid
There are as many as 20 driver assistance systems available on the Berlingo – the most that has ever been available on one of Citroen's commercial vehicles, boding well for its safety rating.
Citroen Berlingo safety
Here's a list of the systems available:
Adaptive cruise control with stop and go function
Driver attention alert
Coffee break alert
Blindspot monitoring
Distance alert
Automatic high beam
Cornering lights
Hill-start assist
Side park assist
Reversing camera
Trailer stability control
Grip Control with Hill Descent Assist
Overload indicator
Surround rear vision
You'll have to pay extra for most of these features on many models, however.
The only standard kit throughout the range is a driver's airbag, electronic stability control and automatic activation of the hazard warning lights during emergency braking. Though you do also get the Citroen Connect Box, which can automatically call the emergency services in the event of a crash.
Citroen Berlingo security
In terms of security, one of the biggest things Citroen is keen to point out about the Berlingo is that the hinges for the rear doors are hidden, which makes it far more difficult for any potential thieves to gain access.
Enterprise and Driver models, including later Pro versions, feature an alarm as standard.
Which Citroën Berlingo is best for me?
Looking for further advice on what Berlingo to buy? Then let's see if we can help.
Best Citroen Berlingo for running costs
If you want the Berlingo with the highest claimed fuel economy, the BlueHDi 100 in Enterprise or Driver trims will suit you best. Worker versions use slightly more fuel, due to their raised ride height and less efficient tyres.
Best Citroen Berlingo for payload
If maximum payload is a priority, look for a Berlingo with '1000' in the name, highlighting that it's a model with a maximum payload of around 1,000kg.
Best Citroen Berlingo for value/standard equipment
Entry-level Berlingo X models may be a bit sparse for some, so upgrading to the Enterprise will be a good option for many. It opens up more engine options, too, and comes with car-like levels of standard kit that will make day-to-day driving much more comfortable. No wonder it's the bestselling model.
If you need a more rugged option, the Berlingo Worker focuses more on utility with higher ground clearance, a more practical Extenso Cab as standard (that's a load-through bulkhead) and Grip Control for use on a building site.
Most popular Citroen Berlingo engine
The BlueHDi 100 is the most popular engine and sits in the middle of the range, available with the greatest combinations of trim levels and payloads, meaning more options for buyers. It also balances having enough power and torque for most situations without being too costly to buy in the first place.
Also read:
>> The best small vans in the UK
>> Citroen Berlingo van dimensions, cargo space, payload and towing capacity info
>> After an insurance quote for a Citroen Berlingo? Try mustard.co.uk.