Citroen Berlingo van review (2019-on)
Popular panel van is practical and efficient
PROS
Up to 1,050kg payload available
Lots of advanced safety and security tech
Refined and varied engine range
Plenty of interior storage
CONS
Touchscreen media system is fiddly…
… as are the air-con controls
PureTech engine not the smoothest
Up against Peugeot and Vauxhall versions
Summary
The Citroen Berlingo is a hugely important small van, not only for Citroen and the wider PSA Group – which includes Peugeot and Vauxhall – but also the van world in general. It's one of the biggest-selling models in Europe alongside the Peugeot Partner and rival Renault Kangoo, and this third-generation model arrives with a number of high-tech innovations and the promise of greater practicality than ever.
It's got a tough job on its hands, though, as near-identical versions – in the form of the Peugeot Partner and Vauxhall Combo – will compete for sales, while the evergreen Ford Transit Connect and Volkswagen Caddy are also particularly popular among UK buyers.
Citroen Berlingo 2018 engine choice
The new Berlingo is available with a choice of three diesel engines and one petrol. On the diesel front, you can choose between:
1.6-litre BlueHDi 75 – previous-generation diesel with 75hp
1.6-litre BlueHDi 100 – previous-generation diesel with 99hp
1.5-litre BlueHDi 130 – new diesel engine from Peugeot's car range with 131hp
1.2-litre PureTech 110 – three-cylinder petrol engine with 110hp
All come with manual gearboxes as standard, while the BlueHDi 130 is also available with an eight-speed automatic transmission badged EAT8.
There will also be a higher-output petrol – the PureTech 130 – joining the range in 2019, which will also be available with the EAT8 gearbox.
Citroen Berlingo 2018 trim levels
There's a total of four trim level options for the Berlingo, starting with X, moving up to Worker, Enterprise and Driver.
Citroen has adjusted its trim levels to reflect the way its customers use their vans. As such, X and Worker versions are more utilitarian (the latter with greater ground clearance), while Enterprise and Driver models feature more technology and more comfort features that suit drivers spending more time on the road.
---
Citroen Berlingo – the Parkers Vans verdict
Picking between this, the Peugeot Partner and the Vauxhall Combo will come down to which you prefer the look of, which interior you like the best and probably how close your nearest dealer is (or how good a deal you can get).
The Citroen Berlingo delivers with the most interesting, cohesive exterior design and combination of user-friendly interior (more so than the Vauxhall and Peugeot) with a couple of nice touches (the dials and steering wheel) from Citroen's car models.
The load area is large and flexible with space for two Euro-pallets, and the ability to carry up to 1,000kg of cargo (on some models) makes it an enticing proposition.
It's also easy to drive with refined, frugal and punchy engines, and the wide range of trim levels and options (and conversions) mean there should be a version that suits all tastes.
Skip to our full verdict on...
Three diesel options and one petrol (more to come)
Easy to drive with tidy handling and good visibility
Comfortable ride – better on diesel Berlingos
The Citroen Berlingo is an easy van to drive, with a range of engines that suit its character well, although the least powerful BlueHDi 75 model may feel a little gutless when loaded up.
What are the Citroen Berlingo diesel engines like?
The latest Berlingo is available with the following diesel engines:
BlueHDi 75: 1.6-litre, 75hp @ 3,500rpm / 230Nm @ 1,750rpm
BlueHDi 100: 1.6-litre, 99hp @ 3,750rpm / 254Nm @ 1,750rpm
BlueHDi 130: 1.5-litre, 131hp @ 3,750rpm / 300Nm @ 1,750rpm
The BlueHDi 75 is likely to be best suited to use around town with light loads, as it doesn't quite have the legs to get up and go on the motorway like the higher-output versions would.
As such, the middling BlueHDi 100 will be the choice for those splitting time equally between urban driving and on faster roads, the combination of more power and a bit more usable torque making it an easier machine to drive.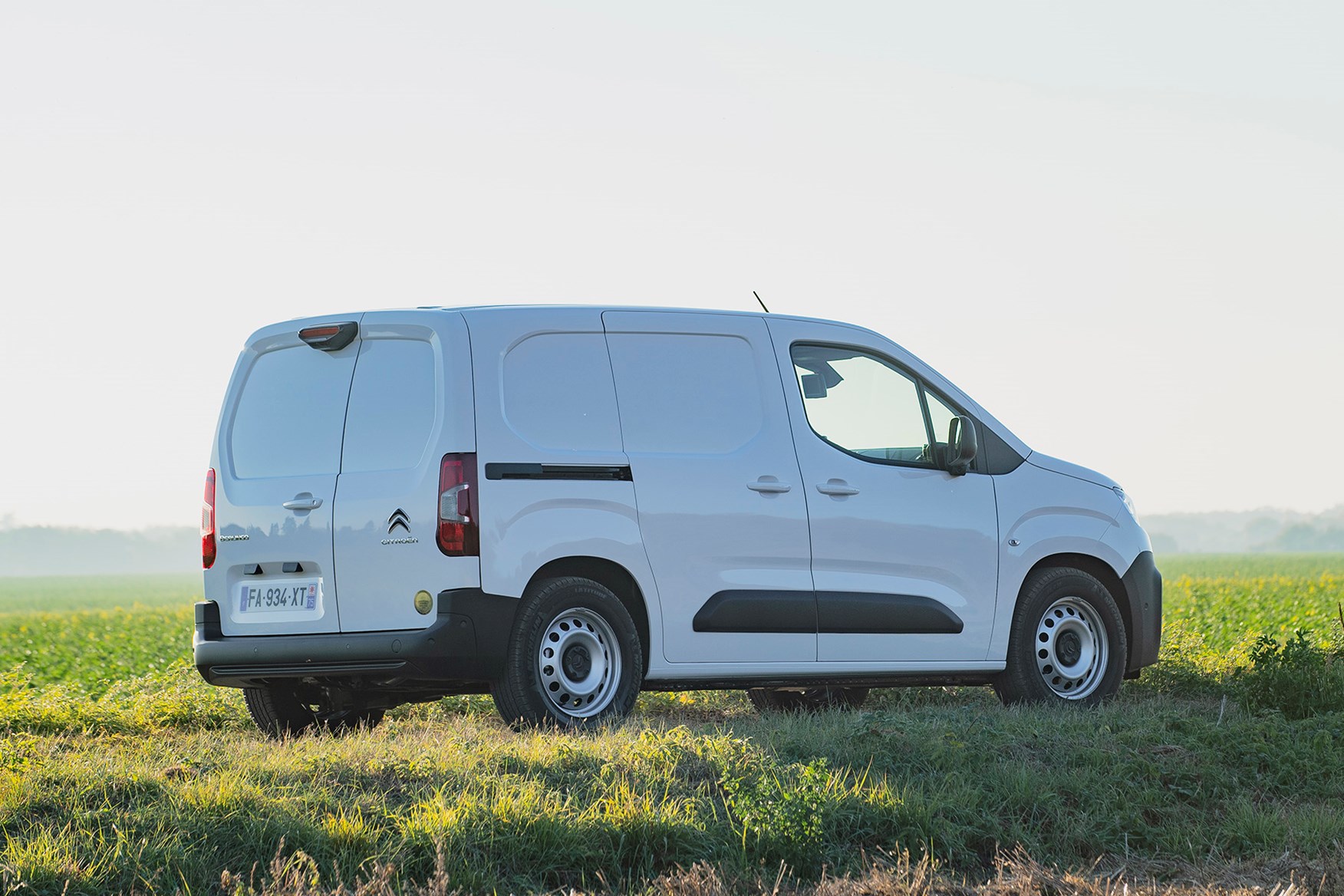 It's a refined engine with smooth power delivery, while the five-speed manual gearbox is precise, if a little notchy in its action. Still, it's a good fit in the Berlingo (as it has been for several years) and will likely be a big seller.
Move up to the BlueHDi 130 if you want the most refined and responsive engine in the Berlingo. It uses a newer 1.5-litre diesel engine instead of the old 1.6, and it's also found in several other PSA car models.
It uses a six-speed manual gearbox that's slicker than the five-speeder, and is impressively refined at all speeds. It's very easy to drive, feeling flexible and offering enough pulling power for all driving situations. It's smooth in town but responsive at speed, making it the best all-round fit for the Berlingo, we think.
What are the Citroen Berlingo petrol engines like?
Those using their Berlingo largely in town may be swayed by the 110hp PureTech petrol engine (a 130hp version joins the range later on), especially if you've been put off by diesel hitting the headlines in recent times.
It's a surprisingly eager engine with a characterful three-cylinder thrum emanating from beneath the bonnet, and pulls strongly up hills – more so than you might expect.
However, it's not always the smoothest engine and can become quite vocal at higher revs, so bear this in mind if you are going to be undertaking long journeys in it. Fuel efficiency on longer journeys won't be as good as a diesel, either.
Citroen Berlingo handling and ride comfort
The way the Berlingo rides depends on the version you go for – we found the BlueHDi 130 diesel rode better than other versions we tested – most likely because of the greater weight over the front of the car.
In comparison, the lightweight PureTech 110 Berlingo felt quite bouncy and fidgety over rough surfaces.
However, all versions dealt with speed humps and rough surfaces admirably, without too much happening to upset the comfort in the cabin. The seats are comfortable with plenty of padding and support – while those with an armrest attached to the driver's seat offer a little added comfort.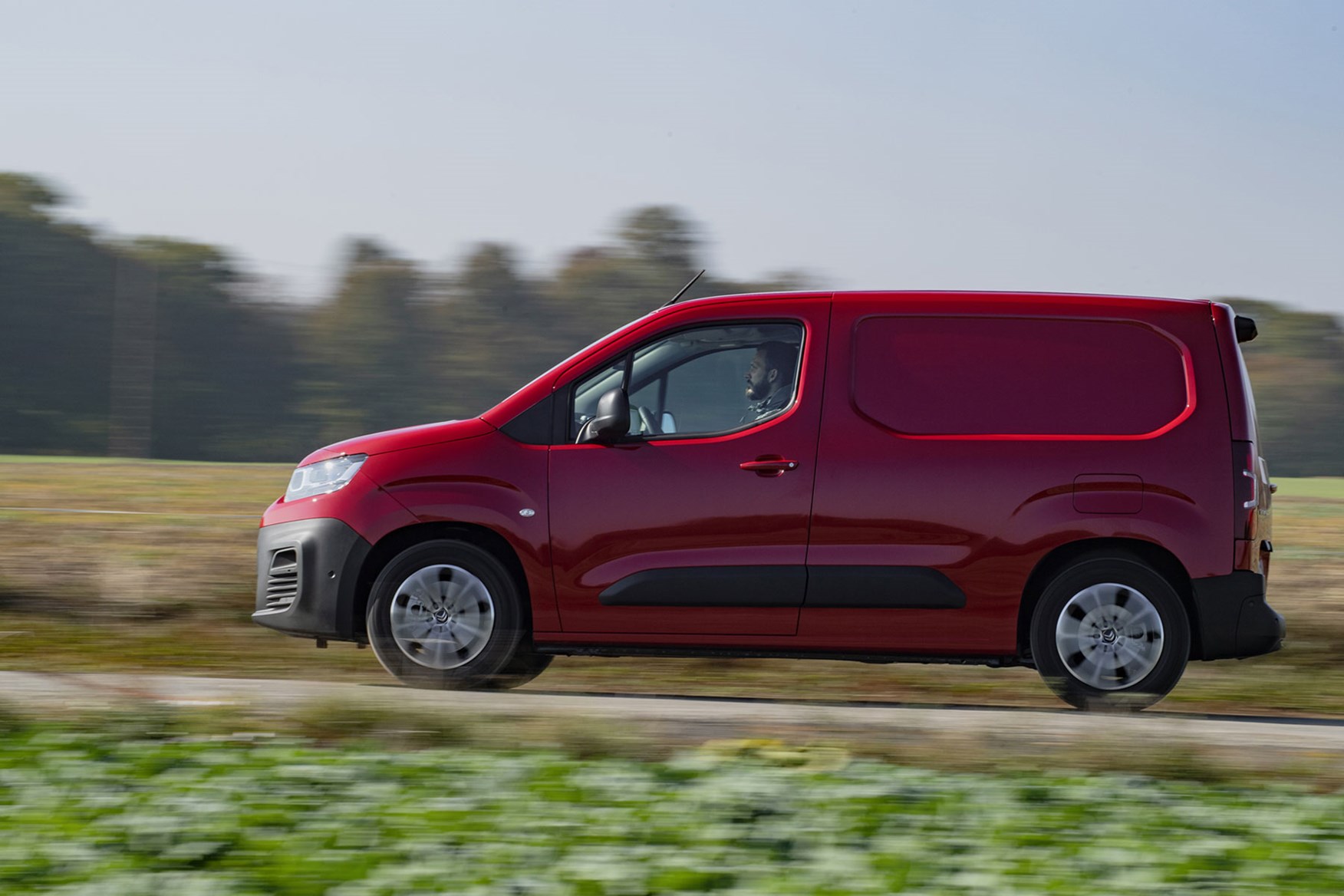 It handles well, too, feeling much smaller than you might expect on the road. The high driving position affords the driver an excellent view of the road, and it doesn't feel wide or cumbersome on the move.
The steering isn't exactly full of feel, but it's more responsive with greater feedback than the equivalent Peugeot's small steering wheel setup. While it might look sporty in the Partner, it feels more natural and easier to place in the Citroen.
Go for a Berlingo Worker and it features the brand's Grip Control system – to boost traction on slippery surfaces – and an extra 30mm of ground clearance to suit being used on construction sites and the like. The Grip Control system is an advanced form of traction control that lets you twist a dial to adjust the settings based on the kind of road surface you're driving on. If you need proper four-wheel drive, Citroen will do an official conversion instead.
Impressively refined engines
PSA Peugeot-Citroen's diesel engines have been impressively refined units for a while now, and even the 1.6-litre BlueHDi engines that have seen service in the outgoing vans remain quiet and never too vocal.
Of course, like any diesel engine in a commercial vehicle, revving it hard will send vibrations and noises through to the cab, but in normal driving they remain nearly [to differentiate from following sentence] as hushed as you'll find in many passenger vehicles.
The BlueHDi 130, however, using a newer 1.5-litre unit is just as quiet as you'll find in a car. It revs smoothly as power builds, and very few vibrations make their way to the interior, remaining quiet all the time. It's by far the most relaxing version of the Berlingo, which is why it's best-suited to those travelling longer distances.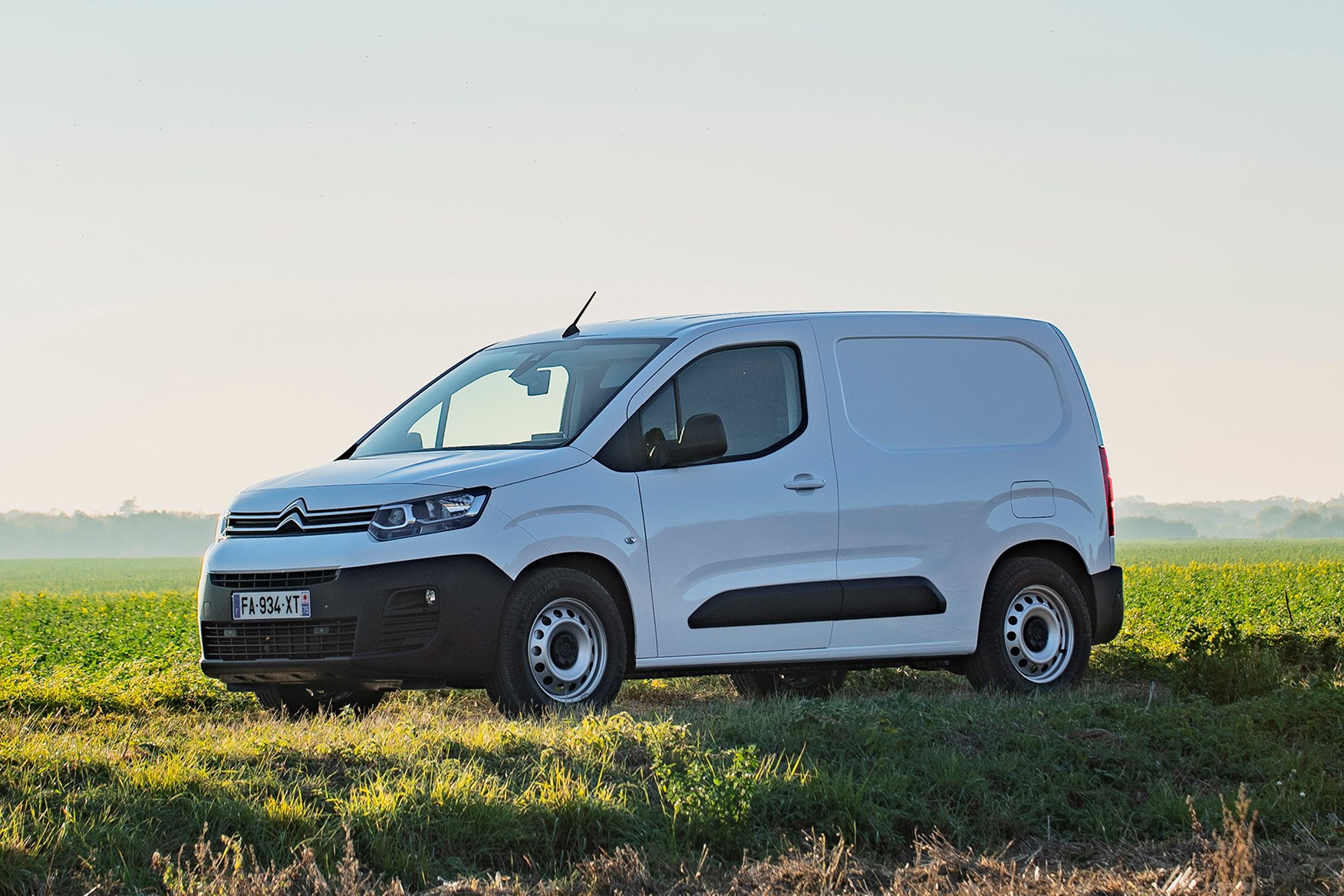 The PureTech 110 – as in some of PSA's cars – is a vocal three-cylinder engine that, while characterful, can become quite noisy at higher revs.
You're more likely to hear this than in the diesels too, as the torque deficit compared with these means you'll need to work it hard to make the most of the power on offer. At speed it's as hushed and quiet as the diesels thanks to a sixth gear to quieten things down, though.
It's worth noting that the higher-spec Berlingo Driver models feature more sound deadening than other models too, boosting the refinement and comfort levels.
Light and spacious cabin for the Berlingo
Uses infotainment screen from Citroen's passenger cars
Lots of storage across the cabin, with several seating set-ups
Jump inside the cabin of the Berlingo and there's a driver-focused dashboard dominated by lots of clever storage areas and a large infotainment screen protruding from the dash, angled slightly toward the driver for simpler operation.
It's easy to get comfortable – easier than in the Peugeot Partner with its i-Cockpit and associated tiny steering wheel – with plenty of adjustment in the seat and steering wheel, offering a good view out.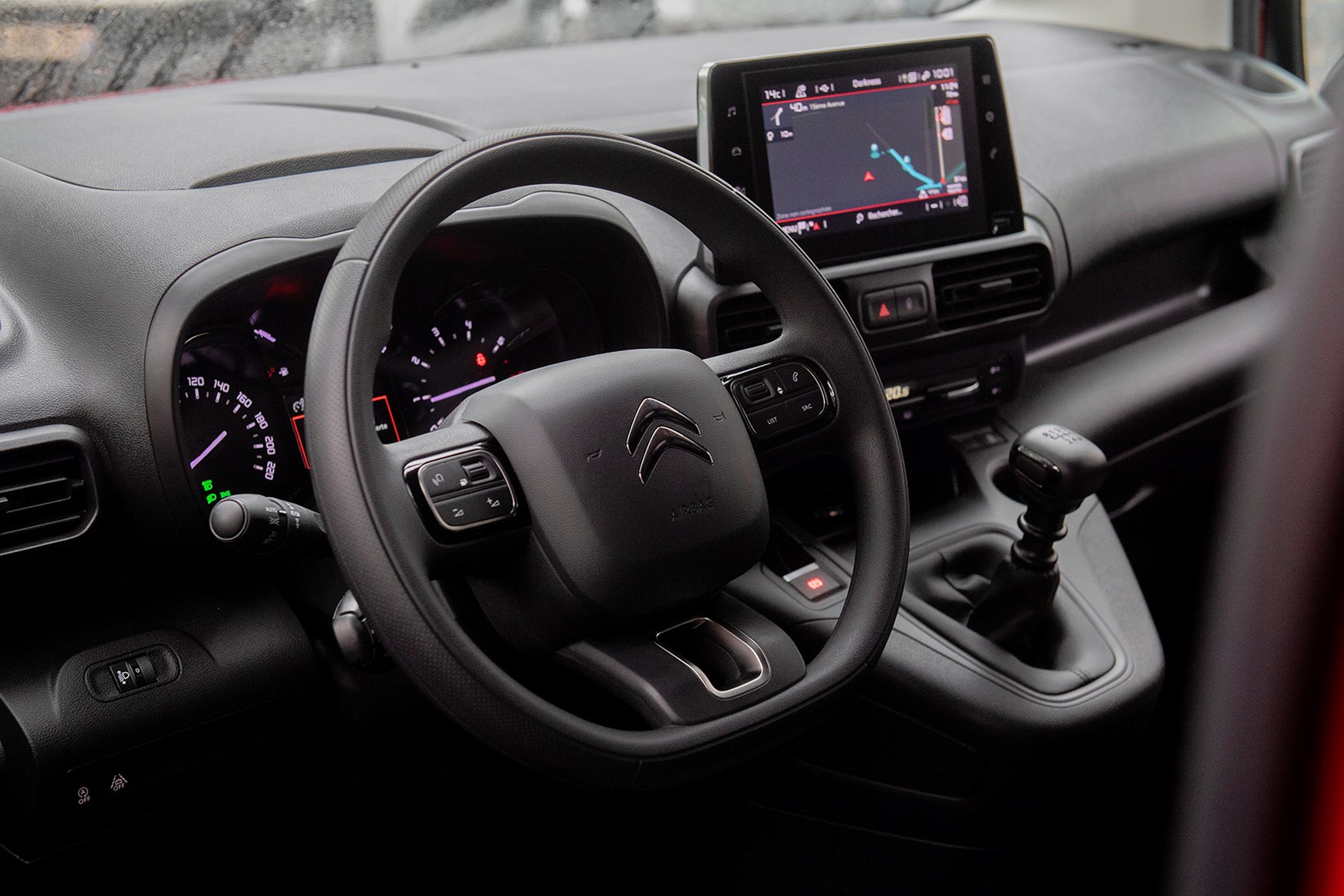 The gearlever is mounted high on the centre console and is easy to use on the move, falling easily to hand, while an electronic handbrake frees up space between the two front seats (not the case if you go for the three-seat option).
In place of a conventional rear-view mirror is Citroen's Surround Rear View Camera system – a 5.0-inch screen where you'd normally expect to see a mirror displaying an image from a pair of cameras, one mounted at the top of the rear doors and another in the passenger door mirror. You can read more about this system in the Safety and Security section.
A set of small air-con controls sits beneath the screen and pushed quite far back, making it a little tricky to quickly operate on the move. The need to take your eyes off the road to change the temperature is a disappointment.
Citroen Berlingo storage
Citroen (and Peugeot and Vauxhall) claim there are class-leading levels of storage in the latest Berlingo, with up to 113 litres of storage space in the cab.
This is distributed between a small glovebox, large door bins, a shelf above the front seats, a dashboard box (which fits an average-sized laptop) where an airbag would normally be (it's moved to the roof), and one on top of the dials if you don't specify the optional head-up display.
There's also a small tray ideal for a mobile phone (wireless charging is available here) located just beneath the heating and ventilation controls, keeping your valuables tucked away.
Citroen Berlingo infotainment system
The Berlingo uses a version of PSA's latest touchscreen media system featuring a large 8.0-inch touchscreen sitting proud of the dashboard and angled slightly towards the driver.
Its location makes it easy to reach and operate on the move, and it controls everything from the sat-nav and media to the phone and general car settings. The good news is you don't have to control the temperature and ventilation from this screen like you do in many of PSA's passenger vehicles.
It's not the slickest system – you'll find it easier to make your way around a VW Group touchscreen than one of these – and things like the graphics on the sat-nav display can be slow to render and respond when you go around corners. We missed a couple of turnings due to this, but that could well be down to driver error as well…

Citroen Berlingo trim levels and standard equipment
Kicking off with the Berlingo X, this van comes with:
Driver's seat with individual passenger seat
Automatic headlights with daytime-running lights
ESC with hill start assist and ABS
Remote central locking with deadlocks and separate cab locking
Full bulkhead
Driver's airbag
Electric front windows and electrically adjustable mirrors
Unglazed rear doors
Sliding side door (one side for L1, both sides for L2)
Next is the Berlingo Enterprise which adds:
Air-conditioning
Rear parking sensors
Electronic parking brake
Alarm
Heated mirrors that fold electrically
Tyre pressure monitoring
Height-adjustable driver's seat
Extenso modular folding passenger bench seat with load-through bulkhead and writing table
8.0-inch touchscreen with DAB, two USB ports, Apple CarPlay, Android Auto and MirrorLink
Hard plastic load area floor
Front foglights with cornering function
Above this is the Berlingo Driver, coming with:
Citroen Advanced Comfort package with Comfort driver's seat
Extra sound insulation
Automatic wipers
16-inch alloy wheels
Body colour bumpers, mirrors and door handles
Citroen Connect Navigation with multifunction steering wheel and voice recognition
Front and rear parking sensors
Surround Rear View camera
There's also the Berlingo Worker, which builds on the Berlingo X and is focused on utility:
Electronic handbrake
Grip Control with hill descent control
Underbody protection
Overload indicator
Tyre pressure monitor
Driver's seat with armrest and Extenso modular passenger bench
Front foglights with cornering function
16-inch steel wheels with mud and snow tyres
Ground clearance increased by 30mm
LED lighting in load area
Four mid-height load securing rings in load bay
Citroen Berlingo service intervals
Service intervals are variable dependent on use, but the van will notify the user when a service is required. Typically, the intervals are:
15,000 miles or one year – BlueHDi 75, BlueHDi 100 (Euro 6.1 engines)
25,000 miles or two years – BlueHDi 130 (Euro 6.2 engine)
Citroen Berlingo fuel economy
Frugal BlueHDi diesel engines return impressive economy
PureTech petrol engine is surprisingly frugal too
Lots of kit available, should be good value
With a range of frugal BlueHDi engines to choose from, running a Citroen Berlingo shouldn't cost too much.
The specific claimed fuel economy figures can vary between particular trim levels, reflected in the points below:
BlueHDi 75 – 64.2mpg / 114g/km CO2
BlueHDi 100 – 61.4-67.3mpg / 109-119g/km CO2
BlueHDi 130 – 64.2-65.7mpg / 113-116g/km CO2
>> Best small vans for fuel economy
These are some appealing stats (figures for the PureTech 110 aren't available at the time of writing, but it's unlikely be able to reach the lofty claims of the range of diesels), while CO2 emissions for the petrol could be similar.
All Citroen vans come with a three-year/100,000-mile warranty, although the first two years of this warranty allow unlimited mileage.
The previous Berlingo sold in huge numbers and features engines and components that have also been used for a long time, many of which have been carried over to this new model. This should be good news for reliability.
Newer parts are shared with PSA's more recent passenger vehicles and have proven dependable, although things like a laggy touchscreen could mean you'll need something like a software update through your dealer.
>> The UK's most reliable vans according to the FN50 reliability survey
Citroen proud of 20 available driver assistance systems
Surround Rear View Camera system helps visibility
EMP2 platform should mean it's safer and more solid
There are as many as 20 driver assistance systems available on the Berlingo – the most that has ever been available on one of Citroen's commercial vehicles, boding well for its safety rating.
Here's a list of the systems available; sadly most of them are cost options:
Head-up display
Adaptive cruise control with stop and go function
Active lane-departure warning
Driver attention alert
Coffee break alert
Traffic sign recognition
Blindspot monitoring
Distance alert
Active safety brake
Automatic high beam
Cornering lights
Hill-start assist
Side park assist
Reversing camera
Trailer stability control
Grip Control with Hill Descent Assist (on certain models)
Overload indicator
Surround rear vision
In terms of security, one of the biggest things Citroen is keen to point out about the Berlingo is that the hinges for the rear doors are hidden, which makes it far more difficult for any potential thieves to gain access.
Which Citroën Berlingo is best for me?
>> New Citroen Berlingo vans for sale
>> Used Citroen Berlingo vans for sale
Best Citroen Berlingo for running costs
If you want the Berlingo with the highest claimed fuel economy, the BlueHDi 100 in Enterprise or Driver trims will suit you best, with claims of up to 67.3mpg on the combined cycle. However, even the worst offender isn't far behind at 61.4mpg for the Worker version of this engine, so you won't feel shortchanged.
Figures for the PureTech 110 petrol engine haven't been released at the time of writing, but it's likely this engine won't be able to replicate the figures produced by the diesel engines, and will be better suited to town driving where it'll be more frugal.
All BlueHDi engines aside from the 75hp model come with stop-start as standard, which goes some way to increasing fuel economy and reducing emissions.
Best Citroen Berlingo for payload
If maximum payload is a priority, look for a Berlingo with 1000 in the name, highlighting that it's a model with a maximum payload of 1,000kg.
There's a total of eight Berlingo models available in this form – all of which are in Berlingo M length. Two come in Worker trim (BlueHDi 75 and 100), three in Enterprise trim (BlueHDi 100, 130 and 130 EAT8 auto) and three in Driver trim (BlueHDi 100, 130 and 130 EAT8 auto).
Best Citroen Berlingo for value/standard equipment
Entry-level Berlingo X models may be a bit sparse for some, so upgrading to the Enterprise will be a good option for many. It opens up more engine options, too, and comes with car-like levels of standard kit that will make day-to-day driving much easier.
If you need the more rugged option, the Berlingo Worker focuses more on utility with higher ground clearance, a more practical Extenso Cab as standard and Grip Control for use on a building site.
Best Citroen Berlingo for lifestyle/image
If it's more of a lifestyle angle you're after and you'll be spending more time behind the wheel, the top-spec Berlingo Driver will appeal with a focus on comfort for the driver, the most amount of gadgets inside and extra sound insulation for a quieter, more refined drive. It also has the most amount of colour coding and alloy wheels for a more sophisticated look.
Most popular Citroen Berlingo engine
The BlueHDi 100 is a popular engine and sits in the middle of the range, available with the greatest combinations of engine and payload, meaning more options for buyers. It also balances having enough power and torque for most situations without being too costly to buy in the first place.
After an insurance quote for a Citroen Berlingo? Try mustard.co.uk.