Peugeot Partner review (2021)
Award-winning small van that's versatile and good to drive
PROS
Compact dimensions yet large inside
Lots of cab storage space
Efficient engines, easy to drive
1,000kg payload potential
Overload indicator and other tech
CONS
Dashboard layout won't suit all drivers
Some hard surfaces in the cab
Fiddly air-con controls
Laggy touchscreen
Best tech limited to top spec models
Summary
The Peugeot Partner is the joint winner of the Parkers Small Van of the Year Award in 2021 and 2020. Want to know why? Read our 2021 Peugeot Partner review and we'll take you through all the pros and cons of this clever little van.
This latest Peugeot Partner was first launched into the UK in early 2019, making it one of the newest small vans on the market. Traditionally one of the bestselling light commercial vehicles in all of Europe, it tempts buyers with keen value, a great driving experience, impressive amounts of technology and high payload ratings.
What's new for the 2021 Peugeot Partner?
We're not expecting any major changes for 2021, but Peugeot is planning to launch an electric van version called the Peugeot e-Partner before the end of the year.
This will be based on technology similar to the bigger Peugeot e-Expert, and we'll cover it in full detail as soon as more information is available.
Family and other rivals
As ever, the Partner and the Citroen Berlingo are the same van underneath the branding, though the differences in the cabin are more obvious this time round, with the Partner adopting Peugeot's novel i-Cockpit dashboard layout and tiny steering wheel.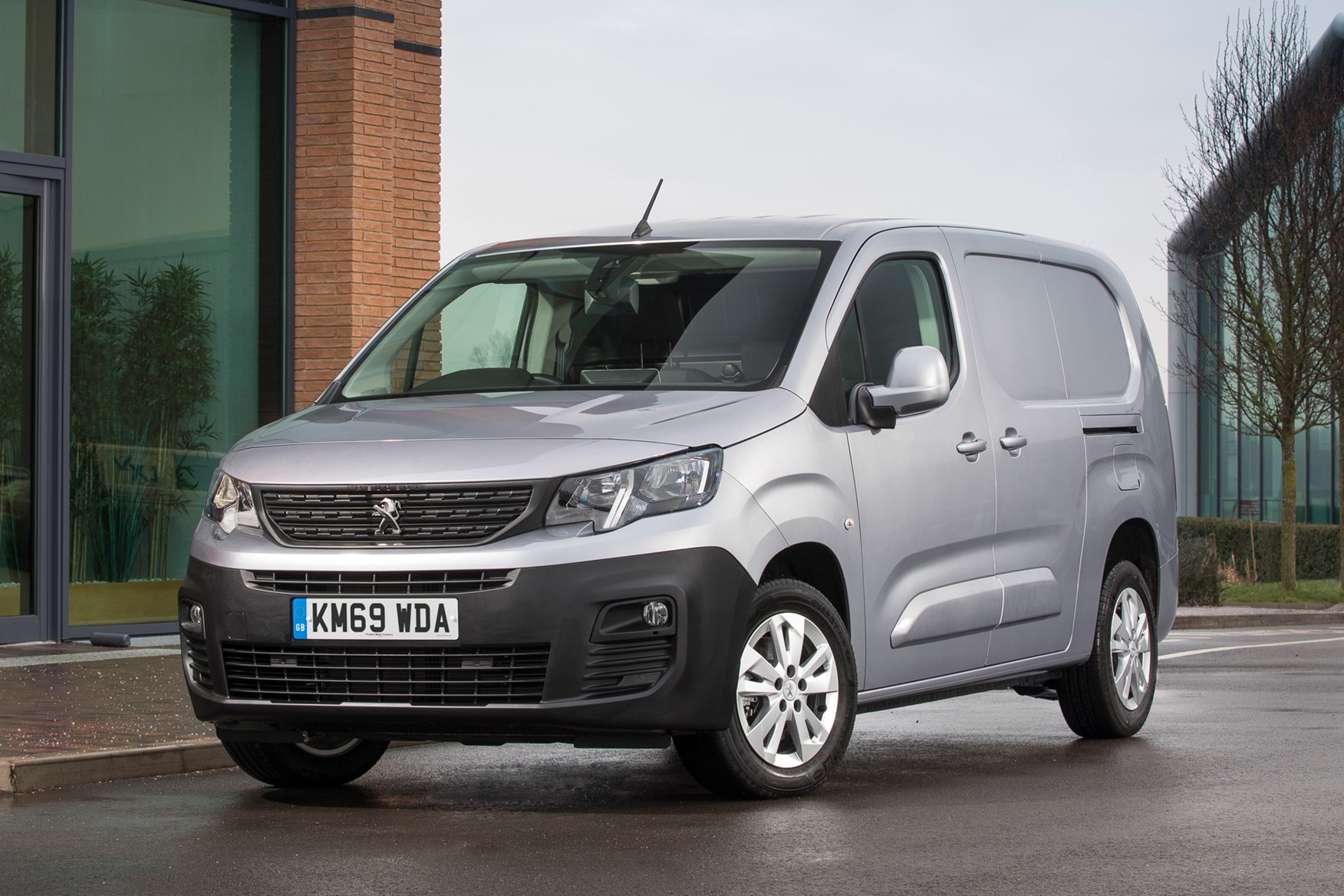 This Partner also shares its platform with the contemporary Vauxhall Combo Cargo (following the British brand's purchase by Peugeot's parent company the PSA Group in 2017), and there's a Toyota version badged Proace City as of 2020 as well.
In addition to this in-house competition, the Partner also faces stiff challenges from the Volkswagen Caddy and Ford Transit Connect, with the Ford typically being the bestselling small van among UK buyers. Other rivals include the Renault Kangoo and Fiat Doblo Cargo, though both are feeling their age at this point.
>> Find out more about the best small vans in the UK
Efficient BlueHDi diesel engines
The Partner launched in January 2019 with tried-and-tested 1.6-litre BlueHDi diesel engines found in the previous-gen model, producing 75hp and 99hp, plus a newer 1.6-litre BlueHDi 130 with 131hp at the top of the range – this is an engine you'll find in several Peugeot, Citroen and Vauxhall passenger cars.
However, the 1.6-litre engines don't meet the very latest Euro 6.2 emissions standards (in force from September 2019), so have now been replaced by newer 1.5-litre alternatives offering 76hp and 102hp.
There's also a PureTech 110 petrol with 110hp available to suit those who don't want diesel; a viable option for those using the Partner in town the majority of the time.
All come with manual gearboxes, while top-flight engines are available with an optional EAT8 eight-speed automatic gearbox.
Two body lengths and four trim levels
The Partner is available in two body lengths: Standard L1 and Long L2 (a bit simpler to understand than the Berlingo's M and XL), with extra length gained from a stretched wheelbase and extended rear overhang for the longer version.
The Partner comes in four trim levels: S, Grip, Professional and Asphalt. These mirror the options available on the Citroen Berlingo, giving buyers a choice between more utilitarian models intended for roles such as working on building sites, or slightly more luxurious versions to suit long-distance drivers who spend lots of time behind the wheel.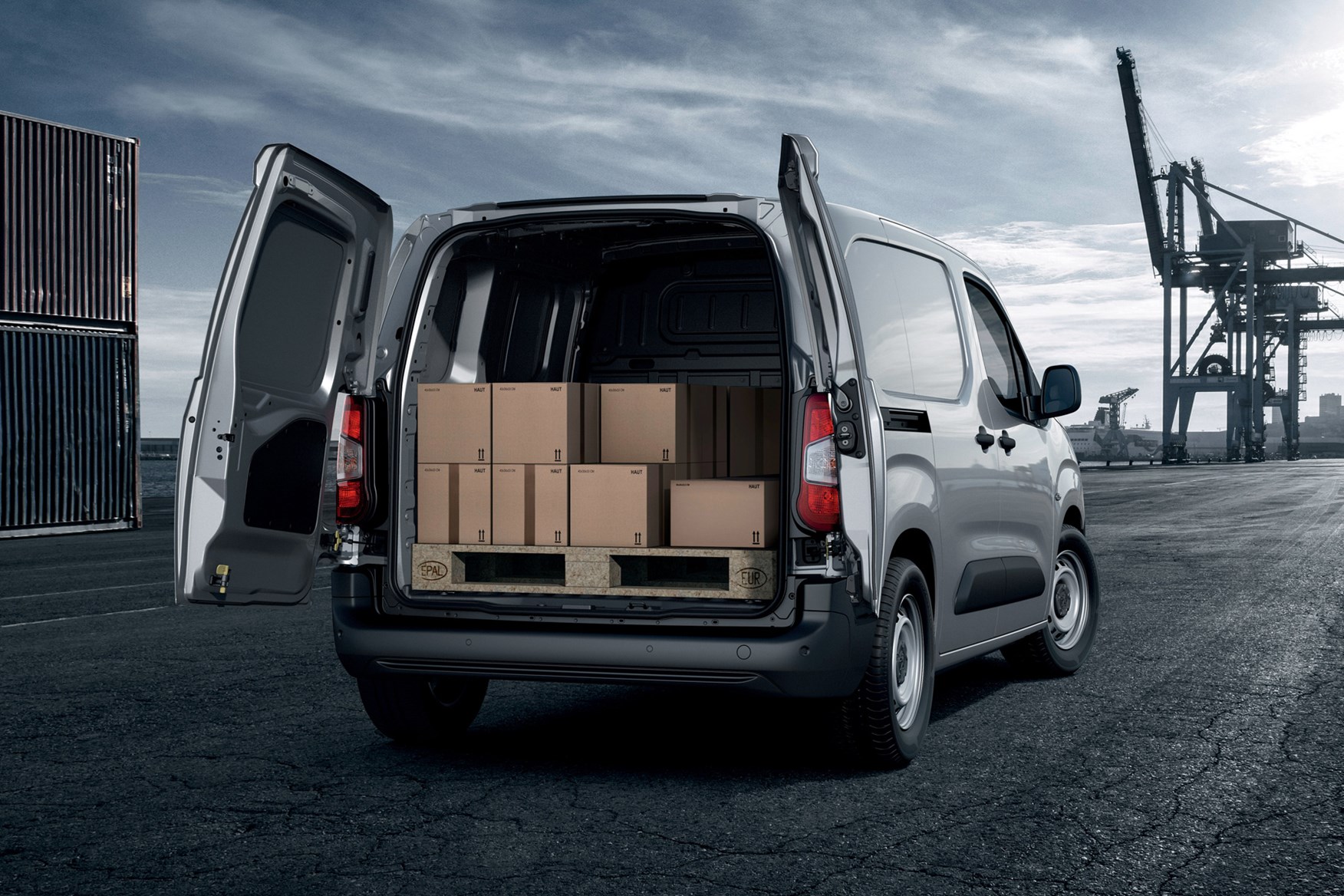 The Partner in Standard length will carry over 1,000kg in the back (depending on the model), with the Long model's limit 50kg less. Both will swallow a pair of Euro pallets - for more info see our dedicated Peugeot Partner Dimensions page.
Up front, Standard models can come with either two or three front seats, while as of October 2019 the Long model is available as a Crew Cab with a second row of seats, meaning you can have up to five seats in total.
The Crew Cab also includes a moveable bulkhead/grille partition, which means that it can be almost as practical as the regular van, thanks to second-row seats that can fold down when not required.
Unusual interior for the Peugeot Partner
If you're struggling to choose between the Peugeot, Citroen, Vauxhall and Toyota, it's likely to be the interior that makes or breaks it for the Partner over the other three.
That's because it features a version of Peugeot's i-Cockpit dashboard layout found in its cars, meaning you get a dinky steering wheel and high-set dials.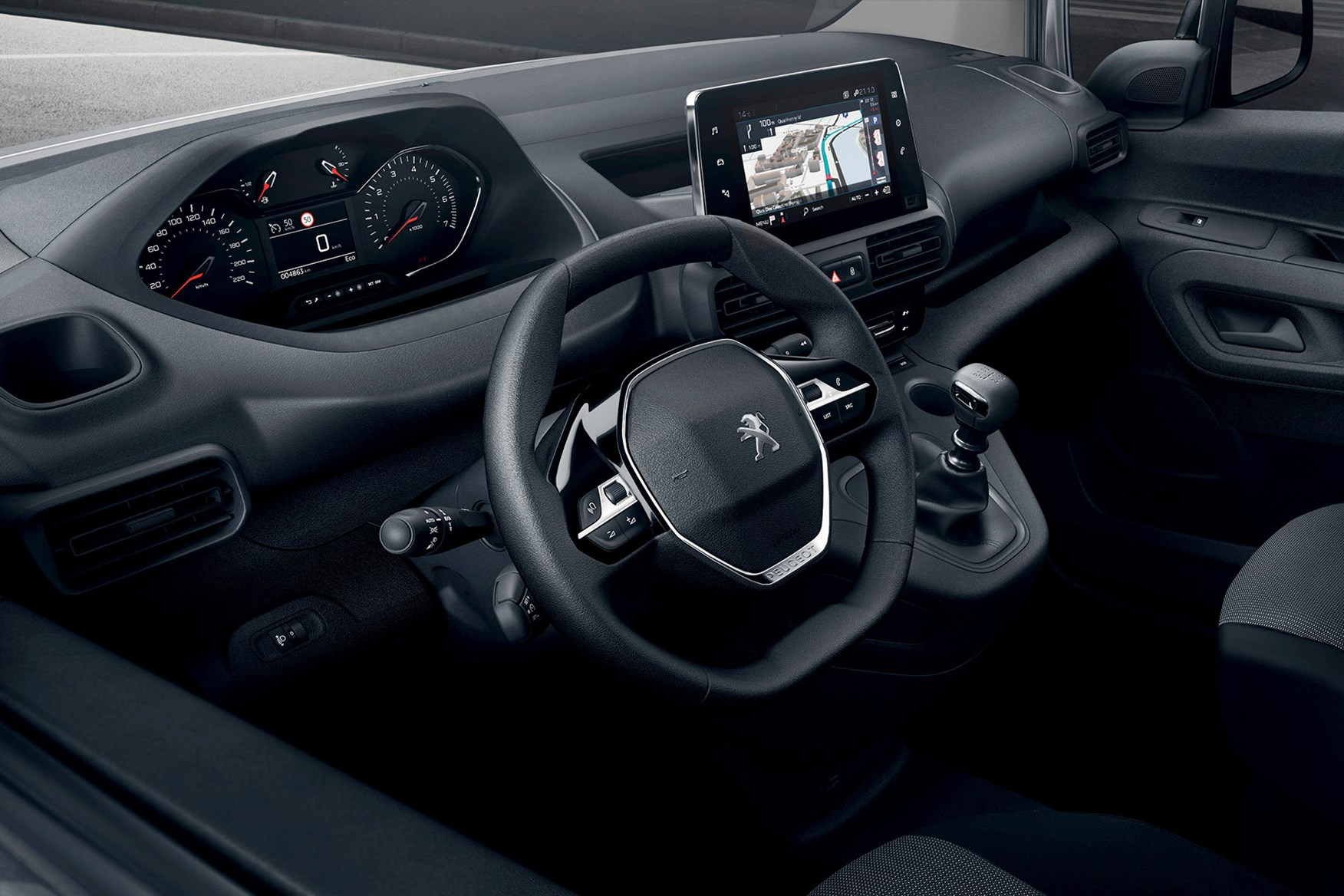 Some will find it easy to get used to, others not so much, as you have to be the right height and size to find a comfortable driving position – in some cases you'll find the top of the steering wheel obscures part of the dials.
Peugeot says this makes its cars feel sportier, but we're not sure that's a priority for van drivers, and the design is a bit of an acquired taste. As such, the more traditional layout found in the Citroen, Vauxhall and Toyota could convince potential Partner buyers to opt for them instead.
---

Peugeot Partner verdict
The Peugeot Partner has a load bay large enough for two Euro pallets, high payload ratings, a wide range of efficient engines, and a safe, secure drive. This is a substantial enough set of accolades to see the Partner join its family members as Parkers Small Van of the Year for two years running in the 2020 and 2021 Parkers New Car Awards.
Where the Peugeot distinguishes itself is with that interior design, as it has a layout that you might find difficult to get used to. Some may love this about it of course, but if you don't like change, or simply want a van that several people will be able to get in and drive without any form of mental adjustment, you're probably best going for the Berlingo, Combo or Proace City instead.
That said, the Transit Connect remains well worth a look, too, and since everything else about the Partner is identical to its siblings it will always be worth seeing what kind of deal the local Peugeot dealer can do for you.
Skip to our full verdict on...
Efficient and refined diesel engines
Three-cylinder petrol also available
Easy to drive, but dashboard may frustrate
Unsurprisingly, the Partner drives pretty much exactly the same as the Berlingo, Combo and Proace City, thanks to shared underpinnings and engines.
That means a range of efficient diesel engines that suit the Partner's size well, and a composed drive with neat handling and impressive manoeuvrability thanks to the (partially) new structure underneath. The front uses parts from the firm's latest EMP2 platform that underpins many Peugeot passenger cars, while the rear of the Partner uses the previous van platform.
Peugeot Partner engines and gearboxes
There were three diesel engines at launch in January 2019:
BlueHDi 75: 1.6-litre, 75hp @ 3,500rpm / 230Nm @ 1,750rpm
BlueHDi 100: 1.6-litre, 99hp @ 3,750rpm / 254Nm @ 1,750rpm
BlueHDi 130: 1.5-litre, 131hp @ 3,750rpm / 300Nm @ 1,750rpm
This range was updated for Euro 6.2 (also known as Euro 6d-Temp) in September 2019, which saw the two 1.6-litre motors replaced by similarly powerful but newer 1.5-litre alternatives:
BlueHDi 75: 1.5-litre, 76hp @ 3,500rpm / 230Nm @ 1,750rpm
BlueHDi 100: 1.5-litre, 102hp @ 3,500rpm / 250Nm @ 1,750rpm
BlueHDi 130: 1.5-litre, 131hp @ 3,750rpm / 300Nm @ 1,750rpm
We're yet to try the lower-powered BlueHDI 75 models, but we suspect this will lend itself best to city driving the punchier BlueHDi 100 and BlueHDi 130 models will be far better suited to out-of-town driving.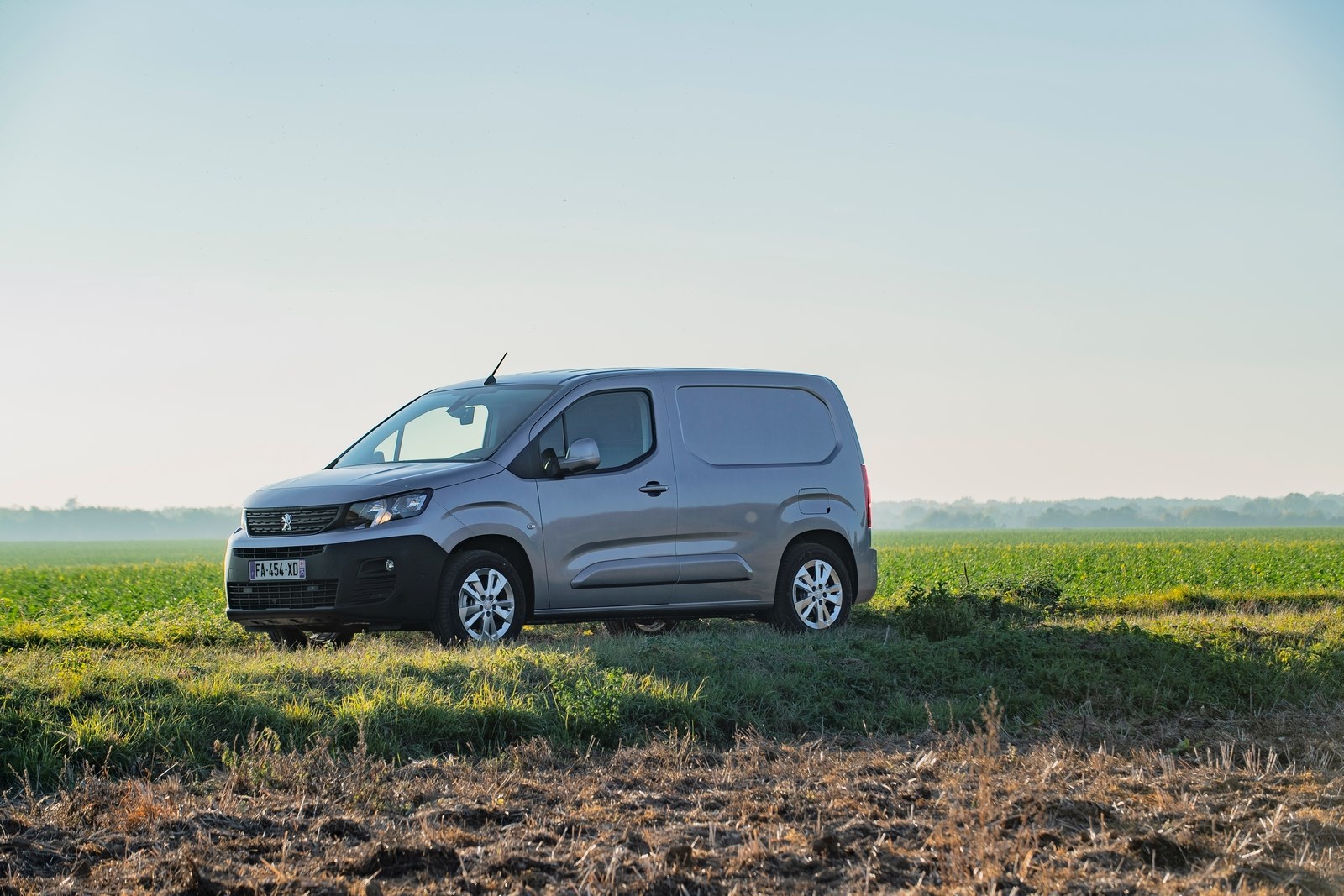 As such, the BlueHDi 100 is the bestseller, blending low fuel consumption with enough power and torque to be easy to drive on the motorway without feeling out of its depth.
The only issue with this engine is that it comes with a five-speed manual (as does the BlueHDi 75) meaning it can get a little noisy at motorway cruising speeds, leaving you wanting a sixth gear.
The BlueHDi 130 is the only one to get a sixth gear, giving it much greater flexibility on country roads and motorways. This also helps it to be more refined than the others (though all the 1.5-litre units are better than the 1.6-litre models), making it more relaxing to drive.
The six-speed manual gearbox feels a little slicker and more pleasant to use than the five-speeder, too. The 130 is also available with an eight-speed automatic gearbox – badged EAT8.
We're yet to drive this particular version but know from other Peugeot vehicles (including the larger Expert van) that this is a nice, smooth, efficient auto if you're prepared to pay the extra cost for it.
Is the Peugeot Partner PureTech petrol any good?
The PureTech 110 petrol is a 1.2-litre turbocharged engine with 110hp (5,500rpm) and 205Nm (1,750rpm), and is likely to prove a more niche choice than the diesels, which offer greater long-distance fuel economy and more torque.
However, the petrol could make sense to those using the Partner mostly in town, as petrol is better suited to short journeys than diesel, and should be cleaner in terms of harmful particulate emissions, too.
It's an eager engine, and though it needs to be revved, it's surprisingly capable of dragging itself up a hill thanks to remarkably strong pulling power. That said, it does become a little gruff when driven hard, and it will require quite a bit of gearchanging to ensure swift progress at all times.
What's it like to use the small steering wheel in the Peugeot Partner?
On the road, the Partner provides good visibility and tidy handling, which helps prevent it seeming too big or cumbersome on tighter roads, whether that's in town or on a twisty lane.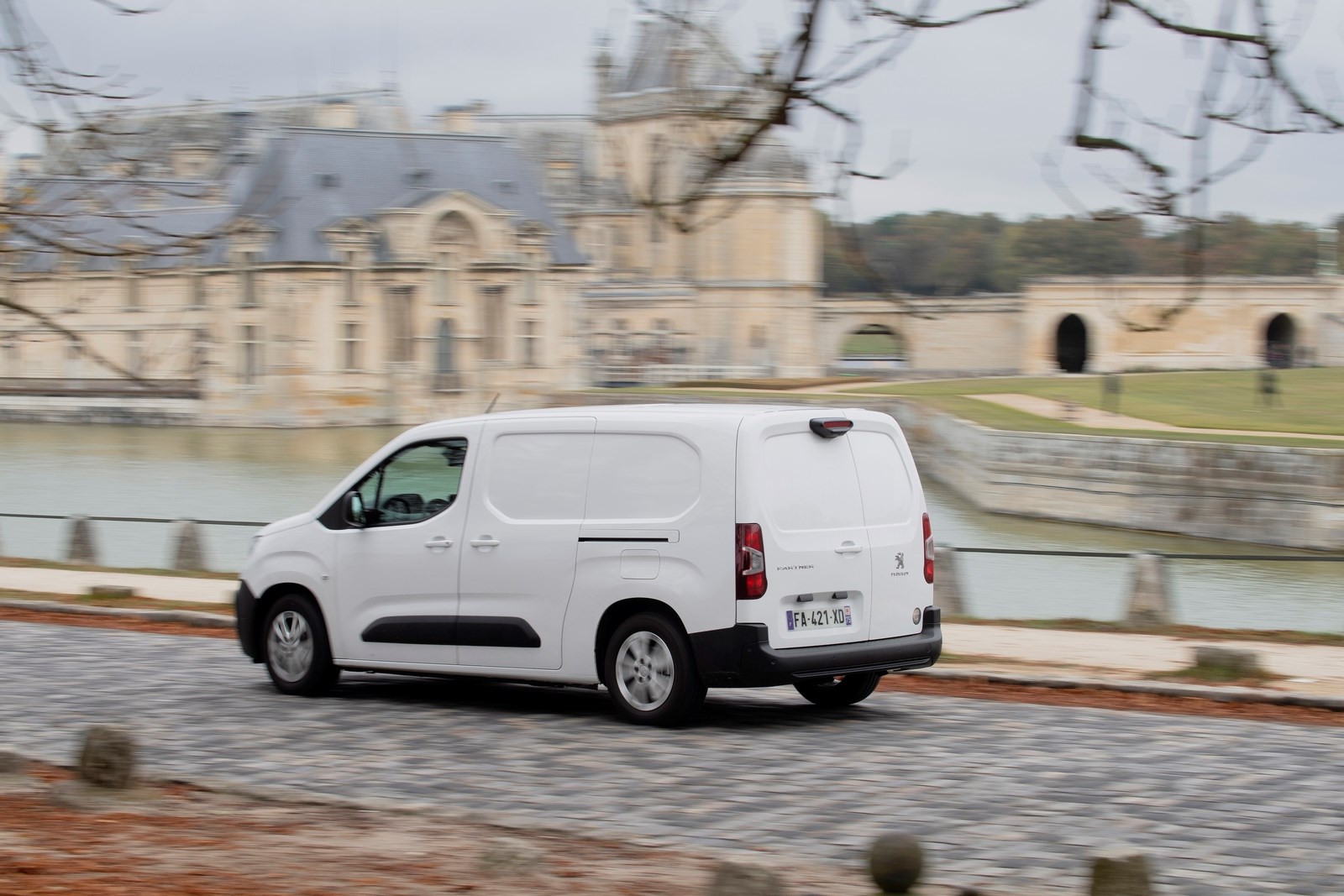 The steering is light and quick to respond to inputs, which makes manoeuvres easy. Much of this is down to the small steering wheel, which delivers quite a darty sensation when turning.
This can seem slightly odd at first, however, and you may find yourself turning too much initially. You'll quickly get used to it in everyday driving, but there's no doubt the alternative Citroen and Vauxhall versions of this same van, which feature conventionally sized steering wheels, both feel a little more natural.
How comfortable is the Peugeot Partner?
It's a comfortable van, with good seats and a compliant ride – but it's worth bearing in mind that the diesels, particularly the BlueHDi 130, seemed to ride better than the petrol over imperfections in the road surface when we drove them back to back.
Higher-spec models come with greater levels of insulation around the windscreen and windows, making them delightfully quieter. But the engines aren't especially noisy anyway, only becoming uncomfortably loud when you're really revving them. That's unlikely to be an issue for most, and the rest of the time it's a refined van that does well to isolate engine sound from the cab.
Wind noise around the large door mirrors is noticeable, but at least visibility is good.
Controversial i-Cockpit dashboard design
Still lots of storage in the cabin
Comfy seats and good refinement
Behind the wheel of the Peugeot Partner is where you'll notice the biggest difference between this and the Citroen and Vauxhall equivalents.
What's i-Cockpit all about?
The Partner is the first of Peugeot's vans to feature a version of the company's i-Cockpit interior design. That means it has a smaller-than-average steering wheel and an instrument panel that sits higher on the dashboard than a conventional set of dials.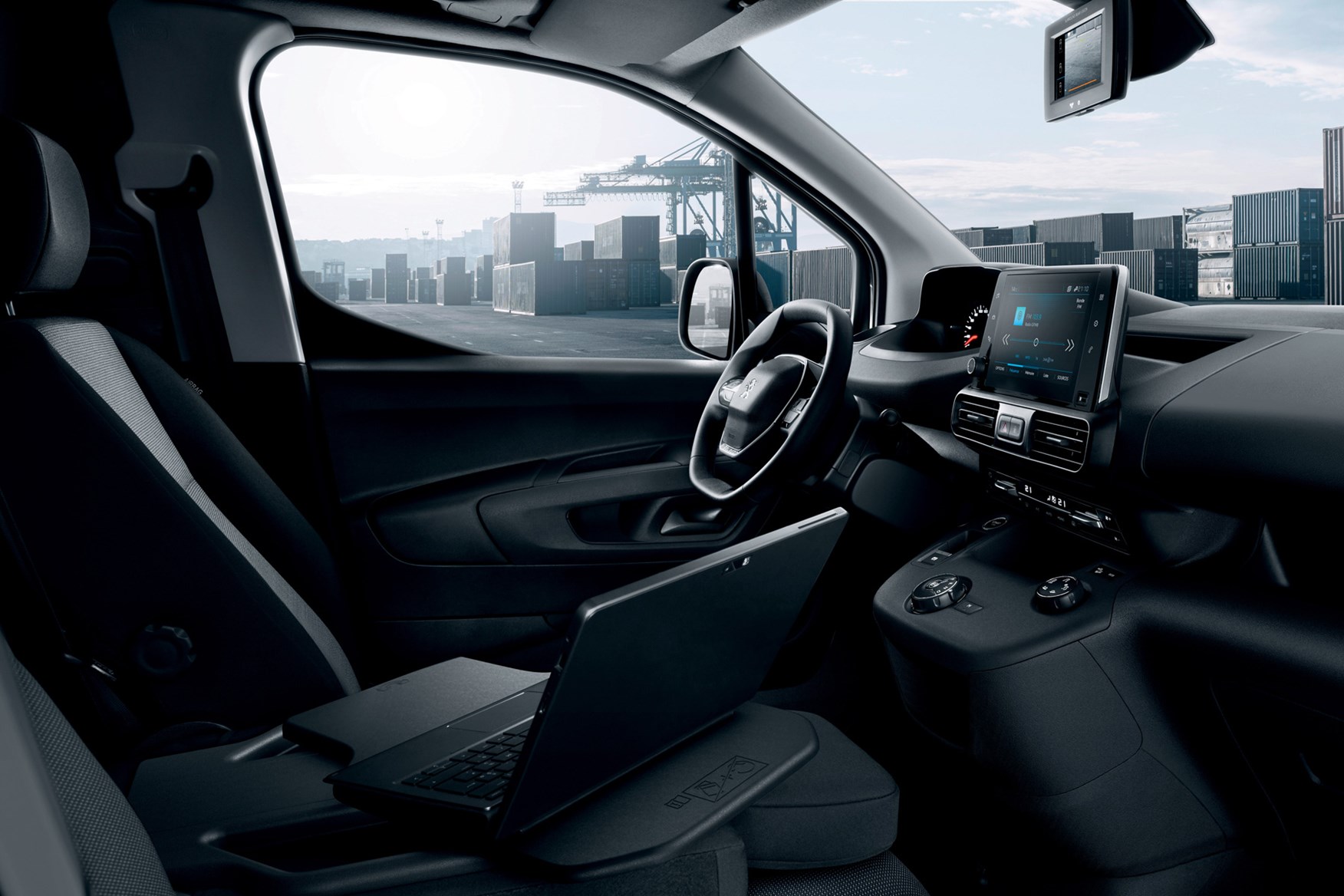 In its cars, Peugeot says this promotes a sportier feel, but we're not sure it's as effective on a commercial vehicle. It takes a little longer to get comfy and settled due to this set-up, and as you sit higher up in this van than you would in a car, it can feel a little unnatural. Taller drivers may also struggle with the steering wheel so close to their knees, while the top of the steering wheel can obscure the dials slightly for others.
In short, it's not as easy to jump in and drive as the Combo or Berlingo – we found we had to stop and tweak and fiddle with the steering column to get it just right, whereas there were no such issues with the others.
Plenty of storage space inside
The above aside, the interior layout is the same as its sister vans, with a large touchscreen infotainment system sitting proud of the dashboard and angled slightly towards the driver, meaning it falls to hand easily.
The air-con controls look a little tucked away – which they are – and can be a little fiddly to operate quickly on the move as they're also quite small and low down.
Storage is good, though, with a large shelf above the seats, a box on the dashboard where the airbag used to live (it's now in the roof), a small area beneath the dials and a place for your phone by the gearlever. The door bins are also large, while a pair of cupholders flank the dashboard by the windows.
High-tech features - but do they work?
We've already noted the touchscreen. But though it looks nice and modern, this can be a bit fiddly to use on the move, as it's not the most responsive thing and the software isn't as intuitive as some rival systems (such as those fitted in Volkswagen vans, for example).
Among the optional upgrades is the Surround Rear Vision package (standard on top-spec Asphalt models).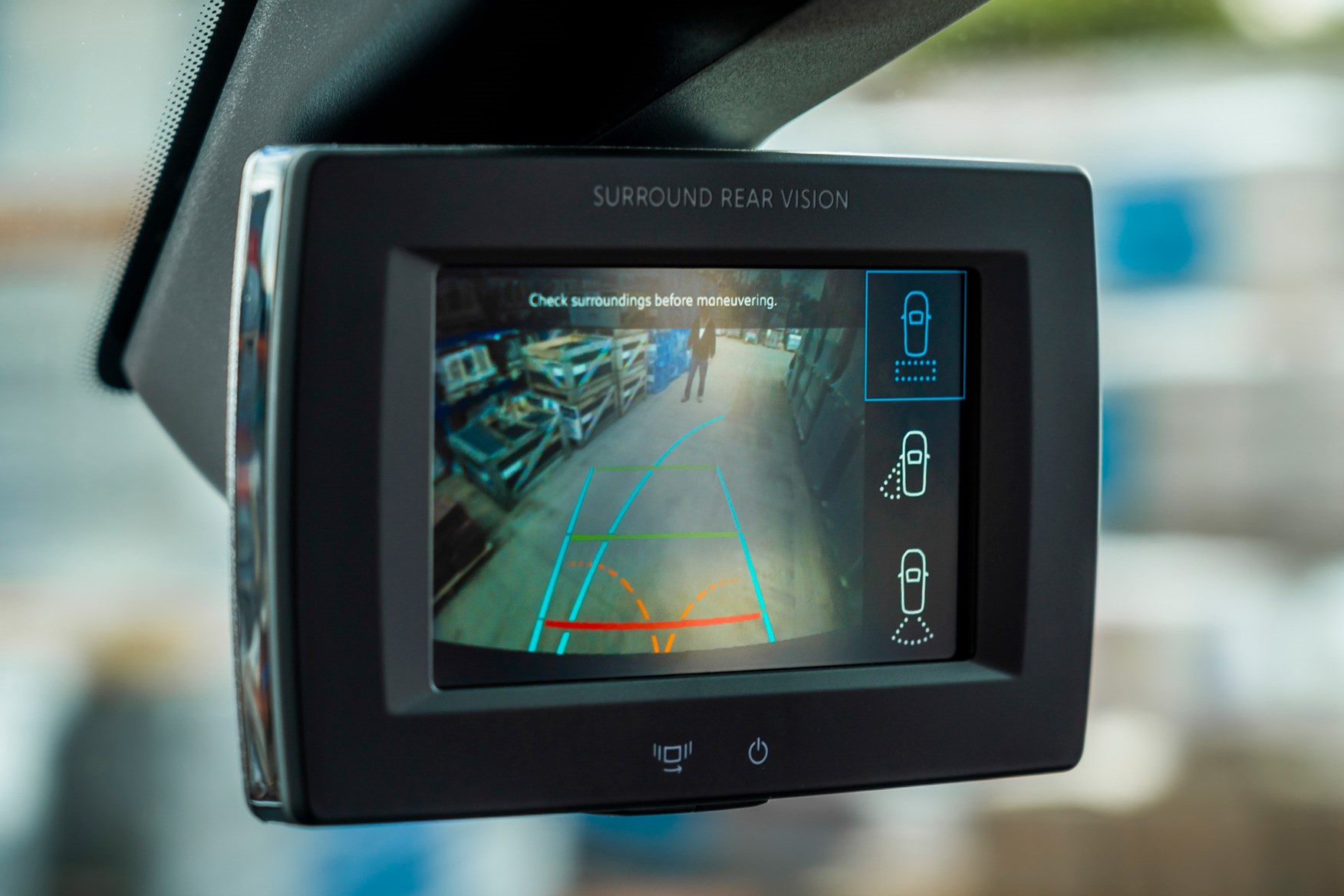 This is a camera system that offers a permanent view of the road behind via a screen where the rear-view mirror would traditionally live. You can also press a button to see a view down the passenger-side of the van, which is an effort to eliminate a blindspot.
The resolution on these cameras isn't very impressive, though, and they're not very good at dusk or in the dark (especially the side view one), so we'd probably suggest spending the money on a set of conventional blindspot monitors instead.
The Partner was also launched with much fanfare about a built-in overload sensor - called the Overload Indicator - intended to prevent drivers accidentally breaking the law by loading too much stuff inside. However, we're yet to see a functioning demonstration of this system...
Diesels all claim impressive economy
CO2 emissions pleasingly low
Should prove cheap to run
Most small vans promise good running costs, and the Peugeot Partner is one of the most modern designs around, with strong efficiency one of major selling points.
Peugeot Partner mpg
On a par with its sister vans the Berlingo and Combo, the Partner boasted impressive claimed fuel economy and pleasingly low CO2 emissions figures for its diesel engines at launch in January 2019:
BlueHDi 75 (1.6-litre) : 64.2mpg / 114g/km CO2
BlueHDi 100 (1.6-litre) : 61.4-67.3mpg / 109-119g/km CO2
BlueHDi 130 (1.5-litre) : 64.2-65.7mpg / 113-116g/km CO2
However, the introduction of newer emissions regulations in September 2019 has also seen a change in the way fuel economy is measured, with the new WLTP testing regime supposedly more realistic.
As a result, on-paper fuel economy figures appear to have fallen for the newest engines and now (as of October 2019) look like this:
BlueHDi 75 (1.5-litre) : 45.6-51.4mpg / 111-116g/km CO2
BlueHDi 100 (1.5-litre) : 46.3-54.0mpg / 110-113g/km CO2
BlueHDi 130 (1.5-litre) : 42.8-50.8mpg / 114-117g/km CO2
PureTech 110 (1.2-litre petrol) : 36.7-44.1mpg / 121-125g/km CO2
In reality, these vans will be just as efficient as they've always been. You should still take official fuel economy figures as the lab-based results they are, however, and expect to get fewer miles-per-gallon out in the real world.
All diesel Partners have a 17-litre AdBlue tank for emission purposes, which will require topping up as you drive.
Peugeot Partner service intervals
Service intervals are 15,000 miles / one year for the 1.6-litre BlueHDi 75 and 100 engines, moving to 25,000 miles and two years for the newer 1.6-litre BlueHDi engines.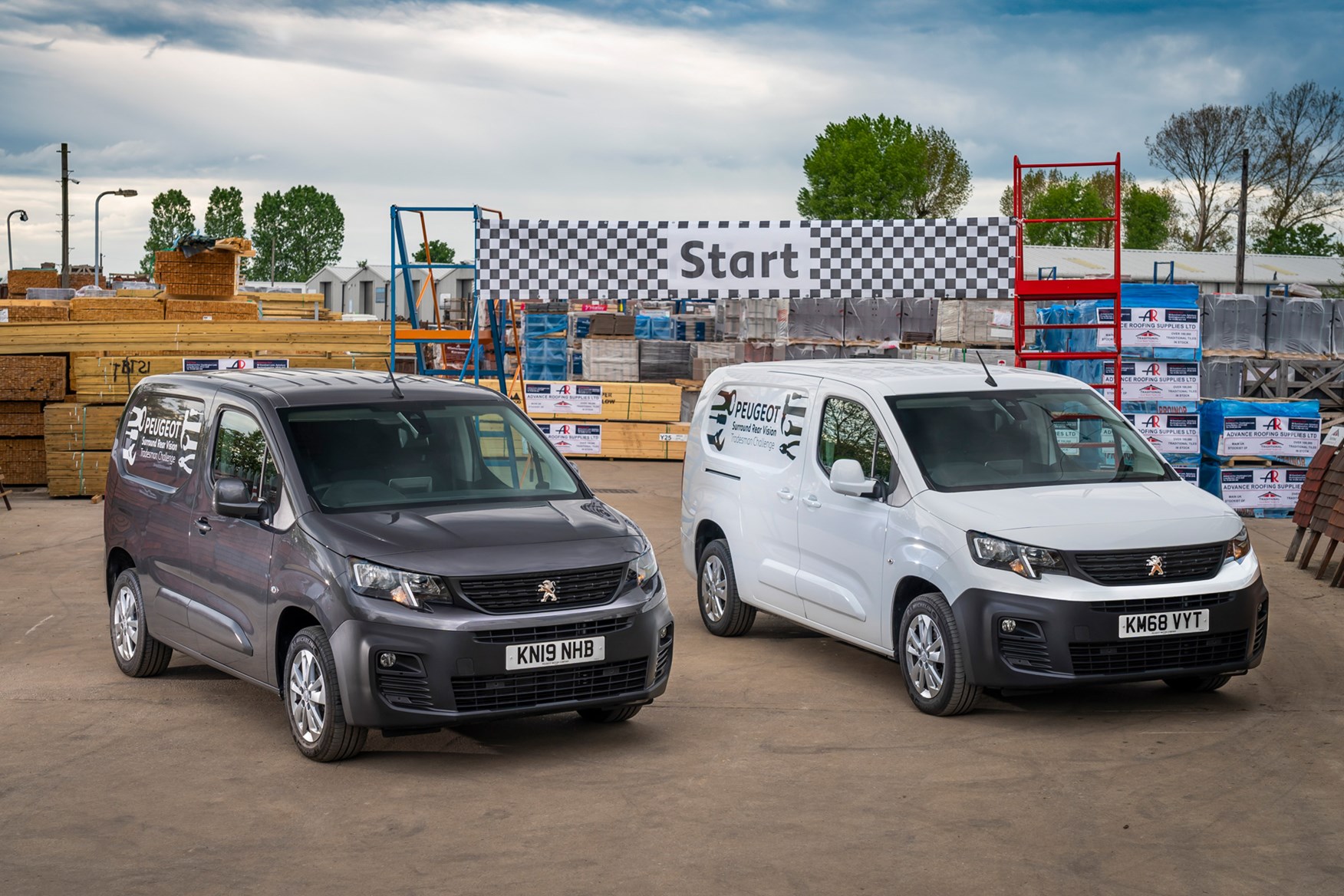 As with most modern vans, these are variable intervals, so if the vehicle detects that the oil is getting a little tired it will alert you that a service is required, even if it comes sooner than the official periods suggest it should.
Peugeot Partner warranty
The Partner is covered by a three-year / 100,000-mile warranty.
Peugeot Partner trim levels and equipment
The line-up kicks off with the Peugeot Partner S, which includes the following standard equipment highlights (at time of writing in October 2019):
Remote central locking with deadlocks and separate cab locking
Full bulkhead
Driver's airbag
Electric front windows and door mirrors
Two individual front seats
Automatic headlights
Bluetooth, USB and Aux-in
12v socket
Unglazed asymmetric rear doors and nearside sliding door (Standard length) or twin sliding doors (Long length)
Overheard storage shelf
Six tie-down hooks in load area
The work-site orientated Peugeot Partner Grip adds the following standard equipment highlights over the S:
Automatic electronic parking brake
Grip Control traction control system with hill-descent control
Underbody protection
30mm increased ground clearance
Mud and snow tyres
16-inch steel wheels
Overload indicator
Tyre pressure monitor
Driver's seat with height and lumbar adjustment
Multi-Flex modular folding passenger bench seat with load-through bulkhead and writing table
230v socket
Front foglights
Four mid-height load securing rings in load bay
LED lighting in load area
Alternatively, the more on-road orientated Peugeot Partner Professional also takes the S as its base, adding these standard equipment highlights:
Air-conditioning
Rear parking sensors
Cruise control with variable speed limiter
Automatic electronic parking brake
Alarm
One-touch electric windows with electric heated door mirrors
Tyre pressure monitor
Driver's seat with height and lumber adjustment
Multi-Flex modular folding passenger bench seat with load-through bulkhead and writing table
8.0-inch touchscreen with Apple CarPlay and Android Auto connectivity
Front foglights
At the top of the range is the Peugeot Partner Asphalt, based on the Professional but with these additional highlights:
Comfort driver's seat
Extra sound insulation
Automatic wipers
16-inch alloy wheels
Body-coloured rear bumper, mirrors, door handles and rubbing strips
Hard plastic floor protection
Peugeot Connect TomTom sat-nav system with voice recognition and multifunction steering wheel
Surround Rear Vision package with front and rear parking sensors plus rear and side (blindspot) cameras with dedicated 5.0-inch screen
The Partner uses mechanical components found in the previous-generation van, as well as newer parts found in many of the firm's passenger cars; all should be tried-and-tested, so with few problems are expected.
With the van only launched in 2019, however, it's a little early to make any judgements about this.
If anything does go wrong, a comprehensive three-year warranty should keep you rolling.
Some of the company's touchscreen systems can be a little slow to respond (as we've found), so make sure you're on top of any software updates to keep this performing as quickly as possible.
>> The UK's most reliable vans according to the FN50 reliability survey
Up to 20 driver assistance systems…
… but most cost extra
Clever camera systems and secure door hinges
This is a very modern van, and it is available with plenty of modern safety features.
Peugeot Partner safety equipment
As with its Citroen Berlingo partner (ahem), the Peugeot comes with up to 20 driver assistance and safety systems, albeit most available via the options list.
These include:
Electronic stability control (standard)
Adaptive cruise control with stop and go function
Driver attention alert
Coffee break alert
Blindspot monitoring
Distance alert
Automatic high beam
Cornering lights
Hill-start assist
Side park assist
Reversing camera
Trailer stability control
Grip Control with Hill Descent Assist (on certain models)
Overload indicator
Surround rear vision
Many of these will make life a lot easier on the road, including the Surround Rear Vision package (discussed in detail in the Interior section of this review), which boosts visibility at the back of the van where there would normally be blindspots and difficulty judging the rear corners.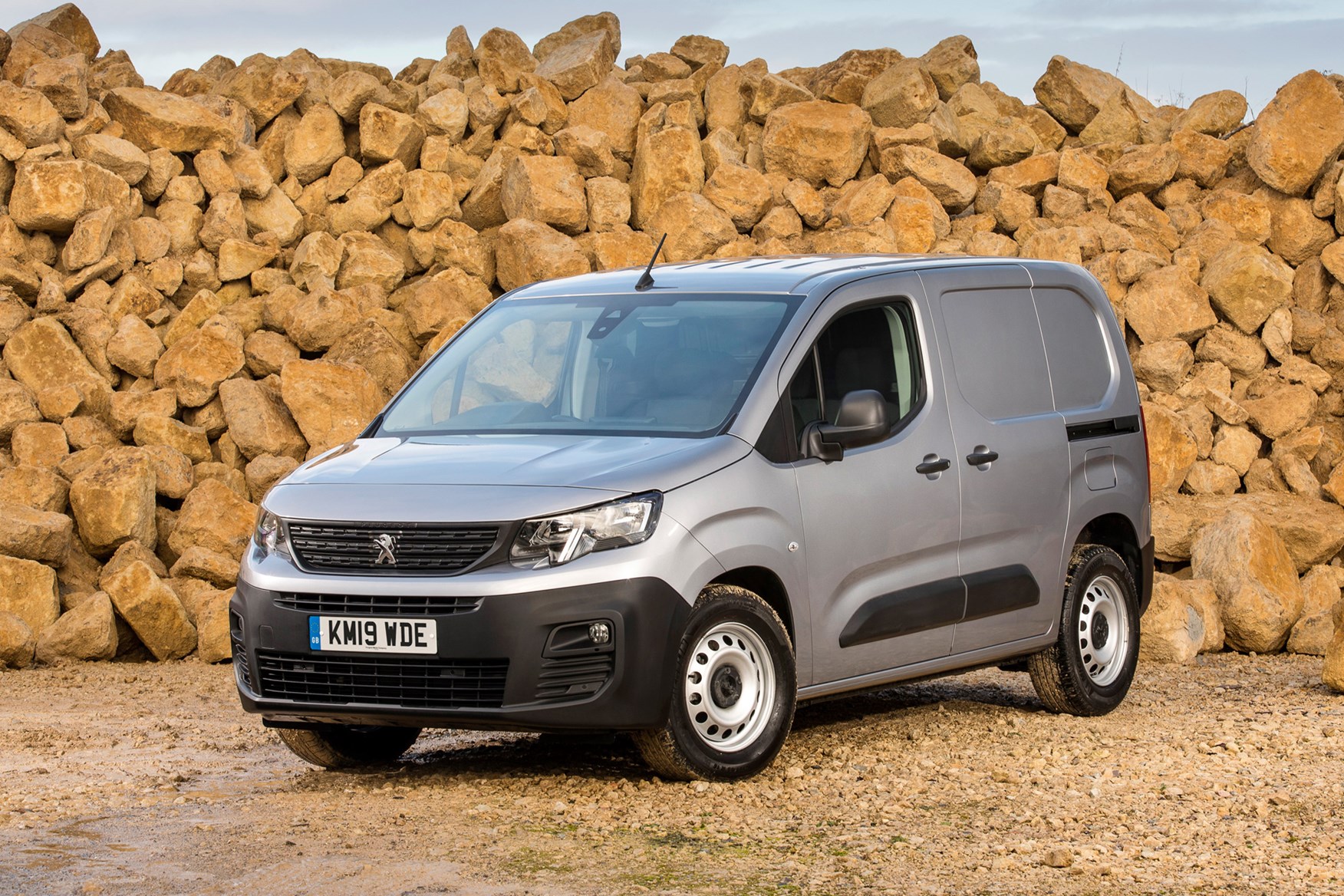 Similarly, the Overload Indicator has a warning light to let you know when the van is nearly at its loading limit, which then changes colour when the limit is exceeded.
In theory this will not only make the Partner safer for the person driving it, it'll also avoid fines from the police related to driving an overloaded van.
Peugeot Partner security
In terms of security, an alarm is available (not standard on all models) while the rear door hinges have been moved so they're hidden when the doors are shut. This makes it much more difficult for potential thieves to break into the van.
The remote locking - which is standard on all models - has a feature that allows you to only unlock the cab or the load area, too.
Which Peugeot Partner is best for me?
Still struggling to work out which Peugeot Partner is best for you? Maybe the following will help.
Best Peugeot Partner for running costs
The BlueHDi 100 versions typically offer the most competitive running costs - the extra power makes them less stressed on the road, reducing fuel consumption - though exact mpg varies with trim level and payload. For example, Grip models will likely prove less efficient than others due to their mud and snow tyres and raised ride height.
All BlueHDi engines aside from the 75hp model come with stop-start as standard, which goes some way to increasing fuel economy and reducing emissions.
Best Peugeot Partner for payload
The Partner has payload potential of over 1,000kg on some models - that's a whole tonne, a huge amount for a small van. Look for examples with 1000 in the model name for maximum strength, though note that not all of these quite make the magic one-tonne mark.
See our dedicated Peugeot Partner Dimensions page for more details.
Best Peugeot Partner for value/standard equipment
If you don't care about any car-like features or luxuries, the entry-level S will do the job.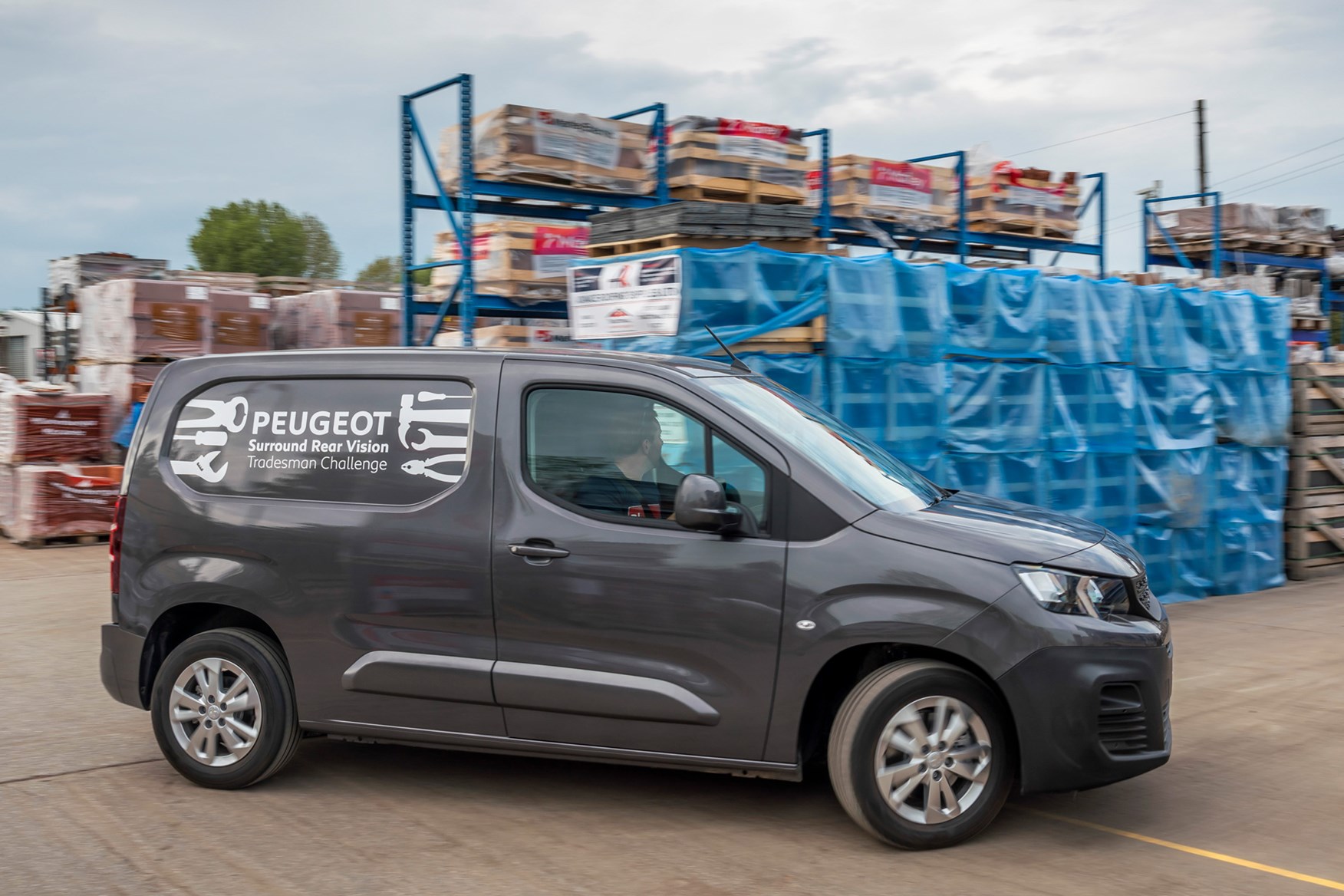 However, if you want more engine options, the Professional is a better bet, with every motor available in a variety of payloads, plus a large amount of standard kit.
Grip models are best if you need something a tougher; top-spec Asphalt models are well equipped and refined, but quite pricey.
Best Peugeot Partner for image
The Asphalt is the most car-like of the line-up, with a long list of fitted kit that increases driving comfort.
This is the one to go for if you're spending a lot of time behind the wheel, as all of those bits will add up to a more pleasant driving experience.
It also has the least van-like look, with attractive alloy wheels and more colour options.
Most popular Peugeot Partner engine
The BlueHDi 100 is the most popular engine available in the Partner - not only does it offer a good blend of performance and fuel economy, it's available with every trim level and in both body lengths.
However, for us the most versatile engine is the BlueHDi 130, making light work of long journeys. Plus it's the only one available with an automatic gearbox (if that's what you want or need).
After an insurance quote for a Peugeot Partner? Try mustard.co.uk.