Vauxhall Combo Cargo review (2020)
High-tech small van with high payloads and lots of options
PROS
Good value, with high payload ratings
Available with Overload Sensor and active safety kit
Varied engine range with plenty of cabin options
Crew van offers additional seating
More conventional cab than Peugeot Partner
CONS
Fiddly touchscreen infotainment system
Ventilation controls poorly positioned
Rivals more stylish
Petrol engines may be difficult to sell on
No hybrid or electric model... yet
Summary
This Vauxhall Combo Cargo is the joint winner of the Parkers Small Van of the Year award in 2021 and 2020. This detailed and in-depth 2021 Vauxhall Combo Cargo review explains why we rate it so highly while exploring the pros and cons of this van and rival models.
Introduced in late 2018, this latest Vauxhall Combo Cargo small van is technically identical, Vauxhall-branded version of the Citroen Berlingo van and Peugeot Partner van, which means as of 2020 it's also related to the Toyota Proace City.
Nonetheless, this review specifically covers the Vauxhall Combo van, detailing all its best bits, the less good areas, and what makes it stand out.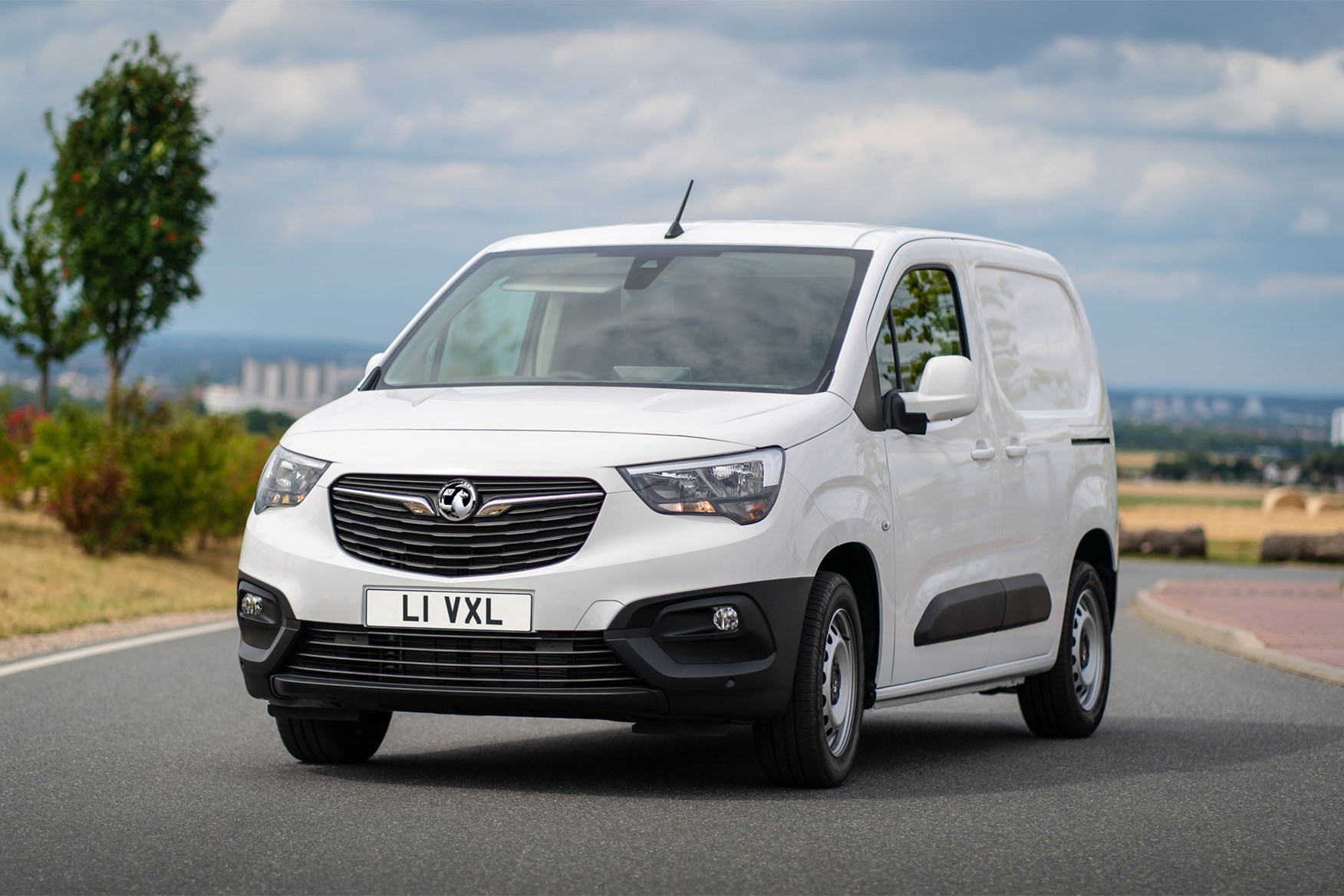 Capable of carrying nearly 1,000kg (1.0 tonne) in its most up-to-date specification, and available with high-tech features, including a system that warns you if the van is overloaded, this is a very modern van.
Rivals include the Ford Transit Connect, Renault Kangoo and Volkswagen Caddy.
>> Find out more about the best small vans on Parkers
What's new for the 2021 Combo Cargo?
While we're not expect any major changes to the regular diesel version of the Vauxhall Combo in 2021, this year will see the introduction of a pure-electric version, called the Combo-e.
This will share technology with the larger Vauxhall Vivaro-e - which impressed us so much that it won the 2021 Parkers Electrified Van of the Year award. Read more about the Vauxhall Combo-e electric van in our separate news story.
What is this Vauxhall Combo Cargo based on?
The previous Vauxhall Combo was based on the Fiat Doblo Cargo, but the 2018 model shares its platform, technology and much of its design with the latest Citroen Berlingo and Peugeot Partner vans. The Toyota Proace City joined the same family in 2020, too.
Built from aluminium and steel, and using a mixture of Peugeot-Citroen car and van parts, this gives the new Combo compact dimensions for its carrying capacity and modern fuel-saving features such as electric power steering, not to mention access to a whole host of active driver aids and other clever features.
There is also a passenger car version of the Combo, called the Vauxhall Combo Life.
Vauxhall Combo Cargo body variants and trim levels
The new Vauxhall Combo van comes in two body lengths - short-wheelbase (SWB) L1 and long-wheelbase (LWB) L2 - but only a single roof height (labelled H1).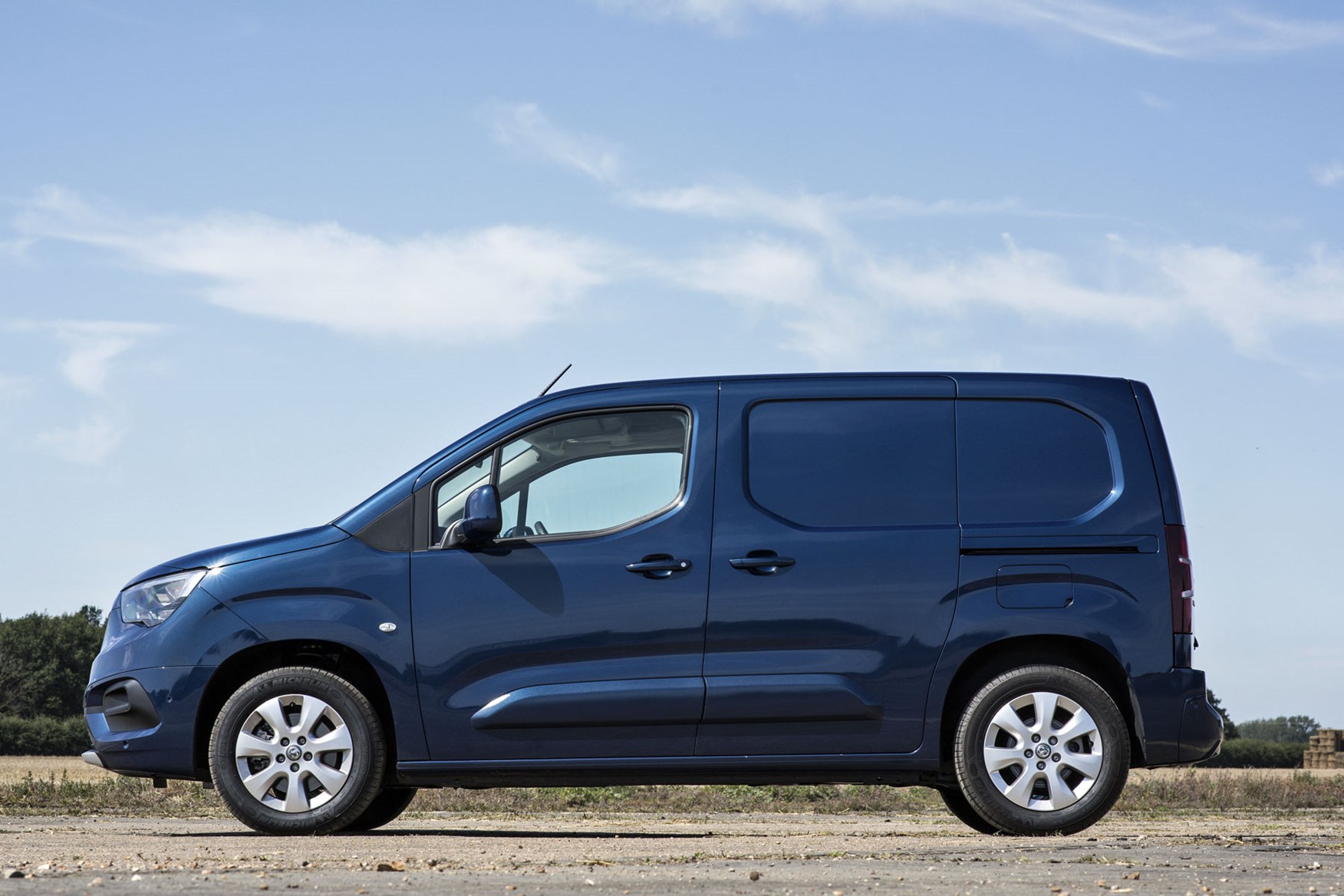 The long-wheelbase version also comes as a Crew van, capable of carrying up to five people, with a partition wall behind them to separate passengers and cargo. The rear bench can also fold down, while the partition can be moved and stored behind the front seats to maximise load space.
There are three trim levels: Edition, Sportive and LE Nav.
The Combo's French cousins offer four specifications.
Vauxhall Combo Cargo engine choice
At launch in December 2018, the Combo Cargo was offered with a choice of three turbodiesel engines:
1.6-litre Turbo D BlueInjection 75 – previous-generation diesel with 75hp and 210Nm of torque
1.6-litre Turbo D BlueInjection 100 – previous-generation diesel with 100hp and 250Nm of torque
1.5-litre Turbo D BlueInjection 130 – new diesel engine from Peugeot's car range with 130hp and 300Nm of torque
A turbo petrol engine joined the range in early 2019:
1.2-litre PureTech 110 – three-cylinder petrol engine with 110hp and 205Nm of torque
By September 2019, the old 1.6-litre diesel engines were dropped in favour of newer 1.5-litre units, resulting in a line-up fully compatible with Euro 6.2 emissions regulations:
1.5-litre Turbo D BlueInjection 75 – new diesel engine with 76hp and 210Nm of torque
1.5-litre Turbo D BlueInjection 100 – new diesel with 102hp and 250Nm of torque
1.5-litre Turbo D BlueInjection 130 – as before
1.2-litre PureTech 110 – as before
You'll be unsurprised to know, this selection matches exactly what's available in the Citroen Berlingo and Peugeot Partner as well.
All engines come with a manual gearbox as standard; in the two least-powerful diesel this gives you five speeds, the rest have six-speed transmissions. An eight-speed automatic is available as an option on the range-topping 130 model.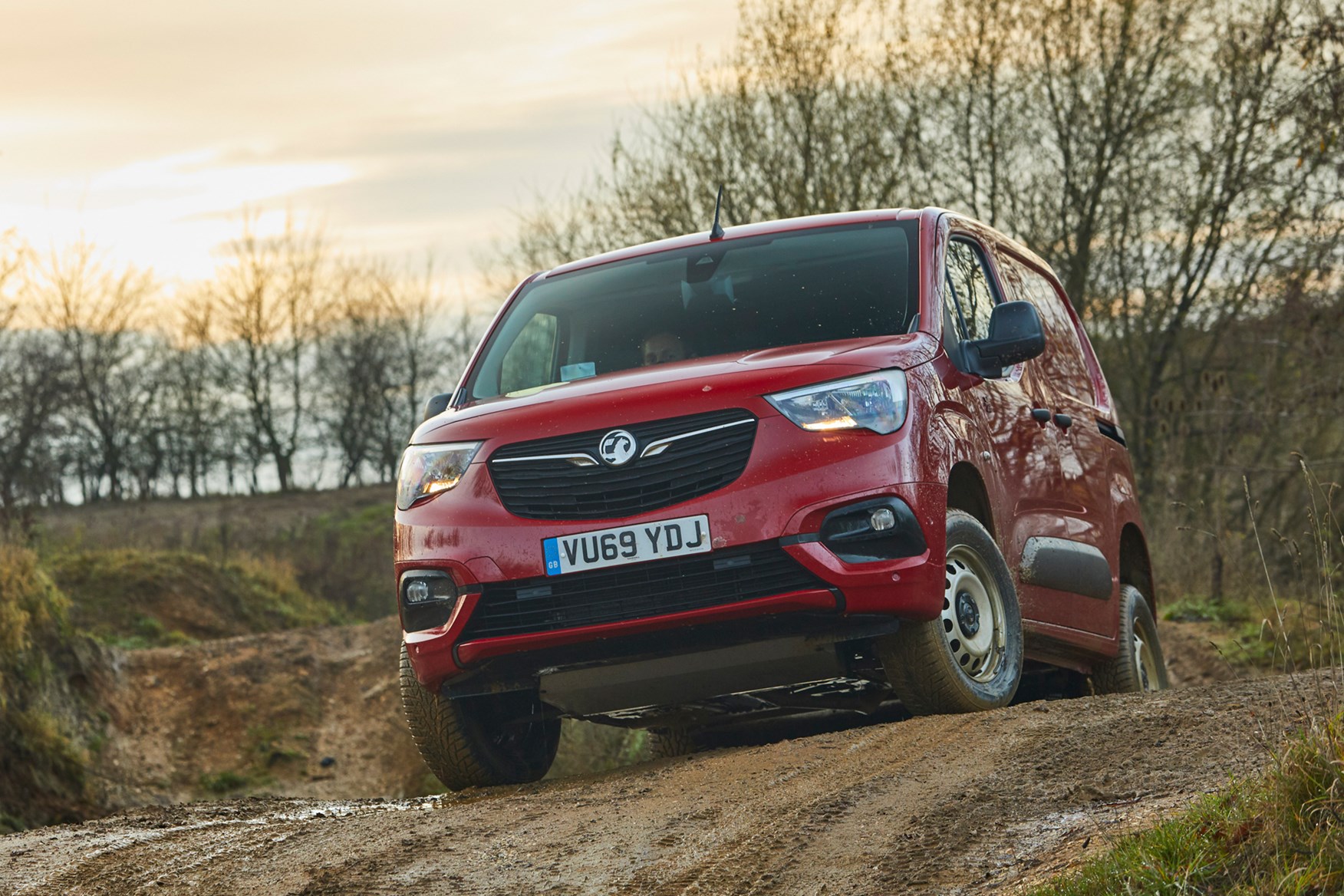 Unusually, you can also get a four-wheel drive (4WD) conversion of the Combo, which can be ordered directly from any Vauxhall van dealer. We've got a separate Vauxhall Combo Cargo 4x4 review, which covers this model in detail.
---

Vauxhall Combo Cargo verdict
Whether the Vauxhall Combo Cargo beats the Peugeot Partner, Citroen Berlingo or Toyota Proace City for you will likely come down to the slimmest of margins. They all offer a similar driving experience and practicality, but the Vauxhall has the most traditional van experience, and works well without any frills.
The Peugeot has its quirky i-Cockpit driving position, while the Citroen offers a more rugged appearance. In their latest versions, the French duo have higher ultimate payload ratings, too - albeit by just a few kilograms. The Toyota, on the other hand, comes with a five-year warranty.
How close your dealer is and what you can get for your money will probably help make the final decision. Whichever you pick you'll be getting a comfortable, highly functional small van, and collectively they go straight to the top of the class as our recommended starting point if you're shopping in this area of the van market.
Keep reading for our full review, or check out our long-term test of the Vauxhall Combo Cargo to find out what it's like to really live with while delivering supplies for the NHS.
Skip to our full verdict on...
Three diesel engines, plus petrol power
Comfortable and easy to drive for long periods
Diesels remain better suited for heavy cargo
The Vauxhall Combo provides a comfortable, easy-going driving experience, and comes with a choice of three diesel engines and one petrol engine.
The petrol is not expected to be a big seller, due to its poorer long-distance fuel economy, but may prove suitable for inner-city use.
Vauxhall Combo Cargo engine power output and torque
The entry-level diesel engines are labelled 75 and 100, which roughly equates to their horsepower levels. Both come with a five-speed manual gearbox.
The 100 variant offers an adequate amount of power for most, while the 75 version is best limited to low-speed, town environments with light cargo on board.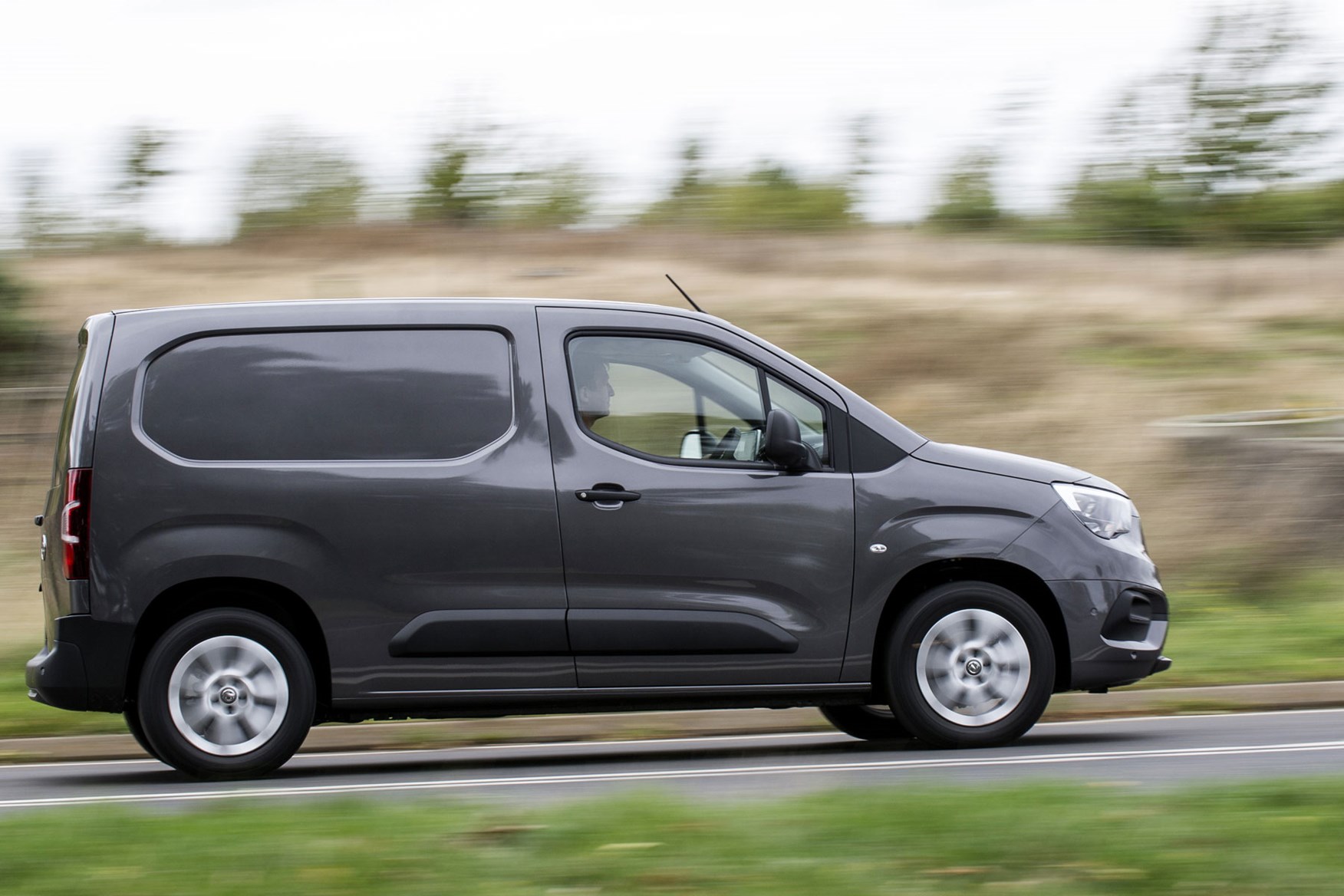 The 130 engine meanwhile provides 130hp and 300Nm of torque, and comes with a choice of six-speed manual or optional eight-speed automatic.
As you'd expect from those figures, this is by far the most vigorous version of this van, capable and comfortable right up to its maximum payload levels.
For all that it's fuel economy isn't so hot, the PureTech 110 turbo-petrol is at least as torquey as the most basic diesel, and will feel quite rapid if you don't mind revving it. Sounds a bit gruff when doing so, though.
By contrast, the diesels are surprisingly refined - especially the 1.5-litre versions, which use a more modern engine design than the 1.6-litre engines fitted in the earliest version of this Combo.
Vauxhall Combo Cargo handling and ride comfort
The Vauxhall Combo Cargo has been set-up with comfort in mind and manages to isolate the cabin from road imperfections quite well.
Softly padded seats and plenty of suspension travel work together to soak up larger bumps, and the result is a small van that serves up long-distance comfort pretty well - even if some may find the seats a little flat.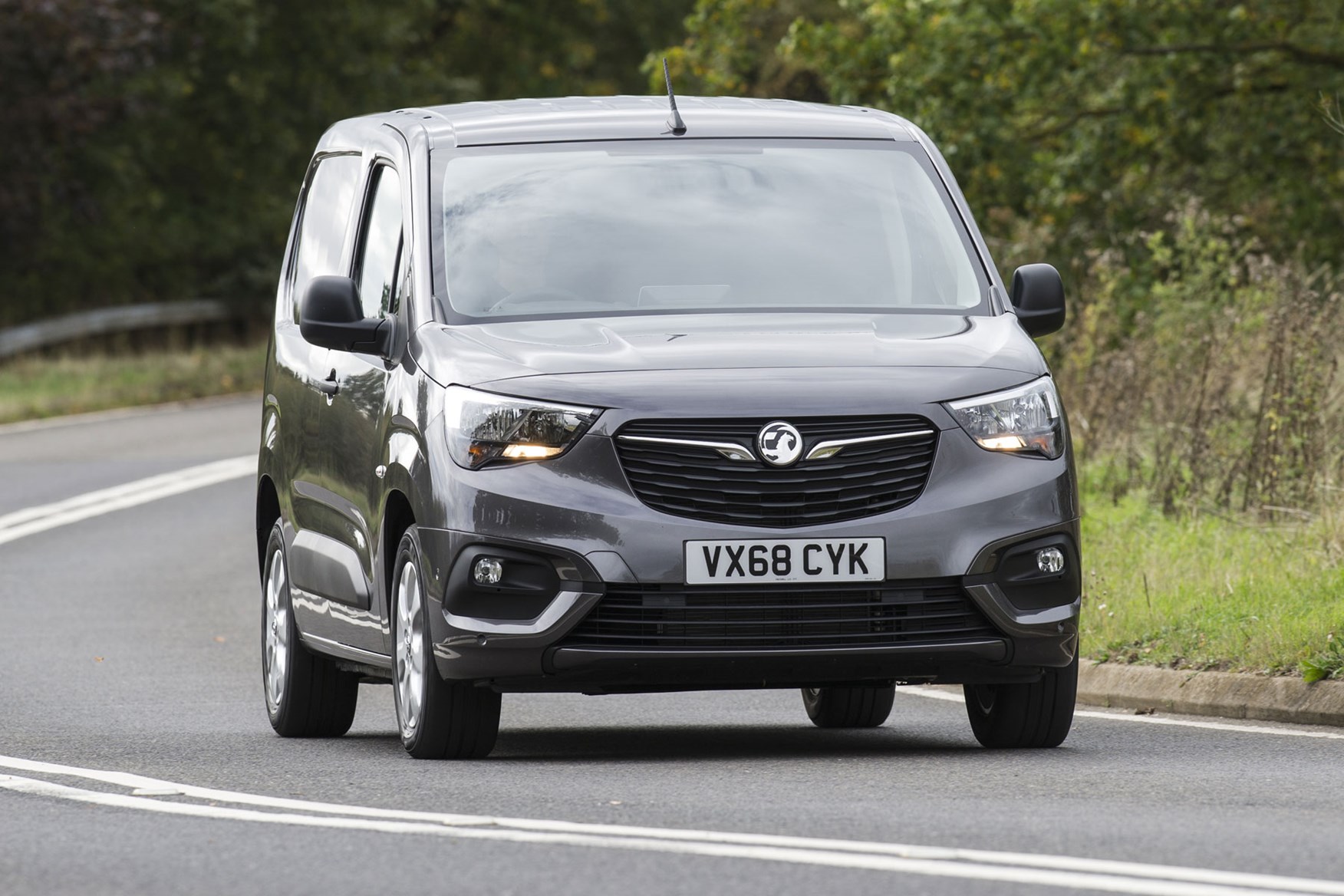 The Vauxhall Combo's handling will never be classed as sporty but it remains composed and car-like for a van, meaning it's not too top-heavy in the corners until you really push on.
For those who spend the majority of their time in town and city environments, the turning circle on the L1 short wheelbase is 11.0 metres, creeping up to 11.8 metres on the L2 long wheelbase.
Spacious cabin with plenty of storage areas
Few Vauxhall touches to make it stand out though
Five-seat crew cab available on long-wheelbase version
Climb into the driver's seat in the Vauxhall Combo Cargo and you'll find a spacious cabin, with a driver-focused dash angling the centre controls towards you.
It's a very conventional design inside, so if you can't get along with Peugeot's more unusual i-Cockpit layout in the Partner, this Combo Cargo will see you right.
However, other than the steering wheel, headlight controls and dials found in other Vauxhalls, there's little distinction between this and the Citroen Berlingo. Which means you do have to put up with the tiny controls for the ventilation system, buried in the centre of the dashboard and not very well lit at night.
Plenty of space inside
The dash-mounted gearlever and optional electronic handbrake switch help free up floor space, while the Vauxhall is the only one out of the three PSA Group vans to offer a heated steering wheel as an option.
A two-seater bench can also be optioned to replace the front passenger seat, allowing the Combo van to accommodate three passengers. The middle passenger will need to be particularly small, though, if you plan on using this feature regularly, as the pod where the gearlever is mounted reduces their knee room significantly.
However, the dual passenger bench does come with a load-through bulkhead, allowing longer items to be loader through a flap right into the passenger footwell. A protective bag is intended to keep the driver safe when using this, but you won't be able to fit any other passengers inside at the same time.
If you do need more passenger space, a five-seater Crew van option is available on the long-wheelbase version of the Combo.
Lots of in-cab storage
There's a good selection of storage areas dotted around the cabin, with space under the seats, in an over-head shelf and behind the instrument cluster.
A mid-level tray large enough for smartphones sandwiched between two gloveboxes in front of the passenger.
The dashtop-mounted glovebox also houses a USB connection and aux-in socket.
Vauxhall Combo infotainment system
The Vauxhall Combo uses the same touchscreen infotainment system as the Peugeot Partner and Citroen Berlingo. This means you get an 8.0-inch touchscreen with six shortcut keys on either side - but only on top-spec LE Nav models.
Sadly, the shortcut keys are quite small and can be quite hard to press on the move, while the sat-nav system can be a little slow to load and respond to commands.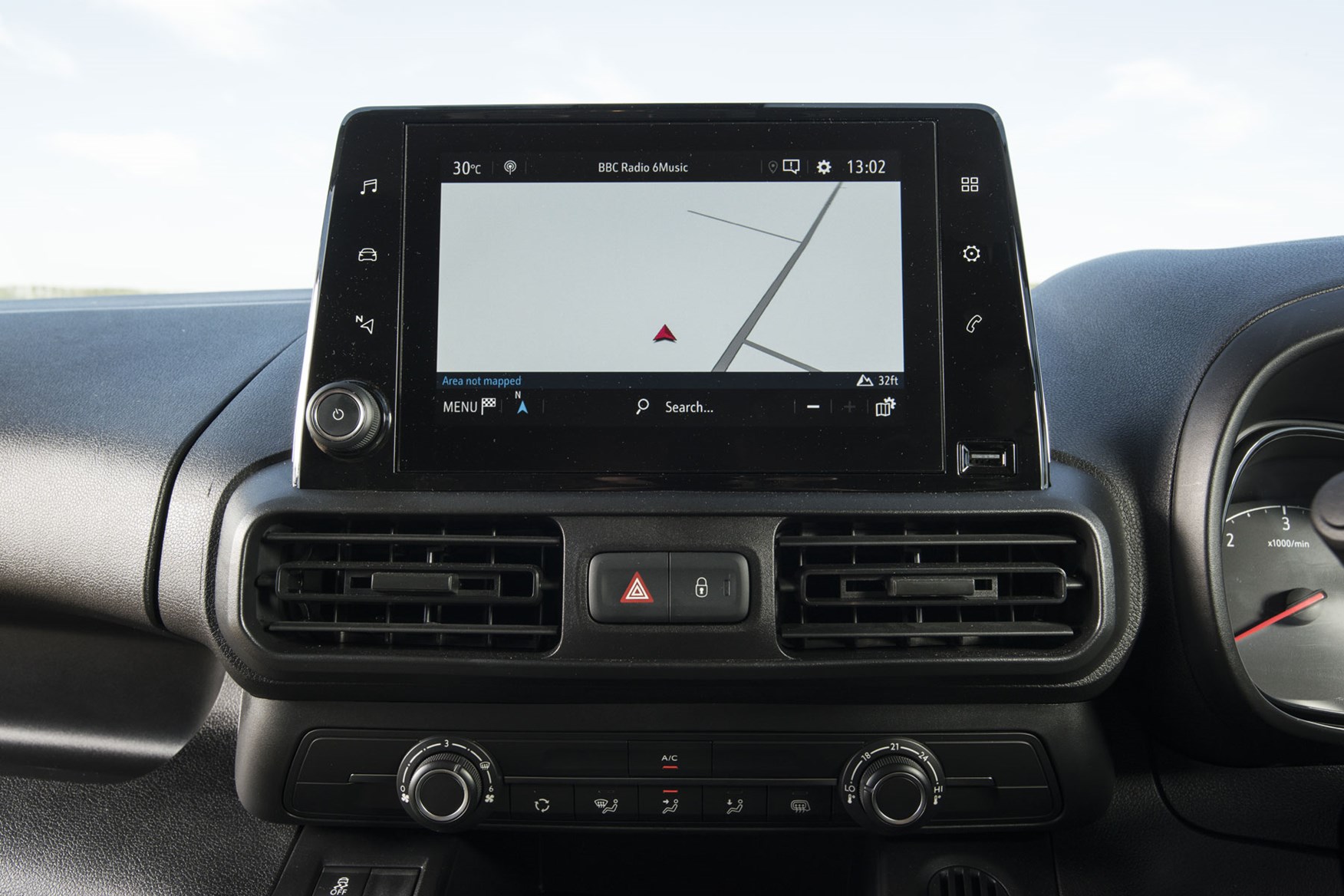 Apple CarPlay and Android Auto are also limited to top-spec models, but it's good that they are at least available.
Standard models come with a small monochrome display instead of the touchscreen, surrounded by small buttons for the DAB radio, USB socket and Bluetooth.
Surround Rear Vision camera system
Although it wasn't available at launch, in August 2019 Vauxhall added a Surround Rear Vision camera system to the Combo Cargo range as an option, identical to the system also available on the Partner and Berlingo.
This adds a permanent rear view camera and a permanent blindspot camera that shows a view down the passenger side; you switch between the two by pressing a button on the 5.0-inch viewing screen, located where a traditional rear-view mirror would go.
We haven't tried this system in a Combo yet, but we have sampled it in both other PSA vans.
We'd file the rear view under 'better than nothing', but the camera resolution is quite poor, which reduces its effectiveness, especially in low light. The side view is more confusing than useful, so we'd go for basic blindspot monitors instead. They're cheaper, too.
Turbo D diesel engines should prove frugal
Average warranty and servicing intervals
Good value, with plenty of standard kit
The Vauxhall Combo Cargo is a good value small van, offering low running costs thanks to its frugal engines, competitive retail pricing and a decent range of trim levels.
Standard equipment doesn't exactly correspond to the Berlingo and Partner, so make sure you're getting exactly what you want, whichever you go for.
Vauxhall Combo running costs and mpg
Since the Vauxhall shares parts with its Citroen and Peugeot platform-mates, they should be easy to replace and source, which should help keep maintenance costs down.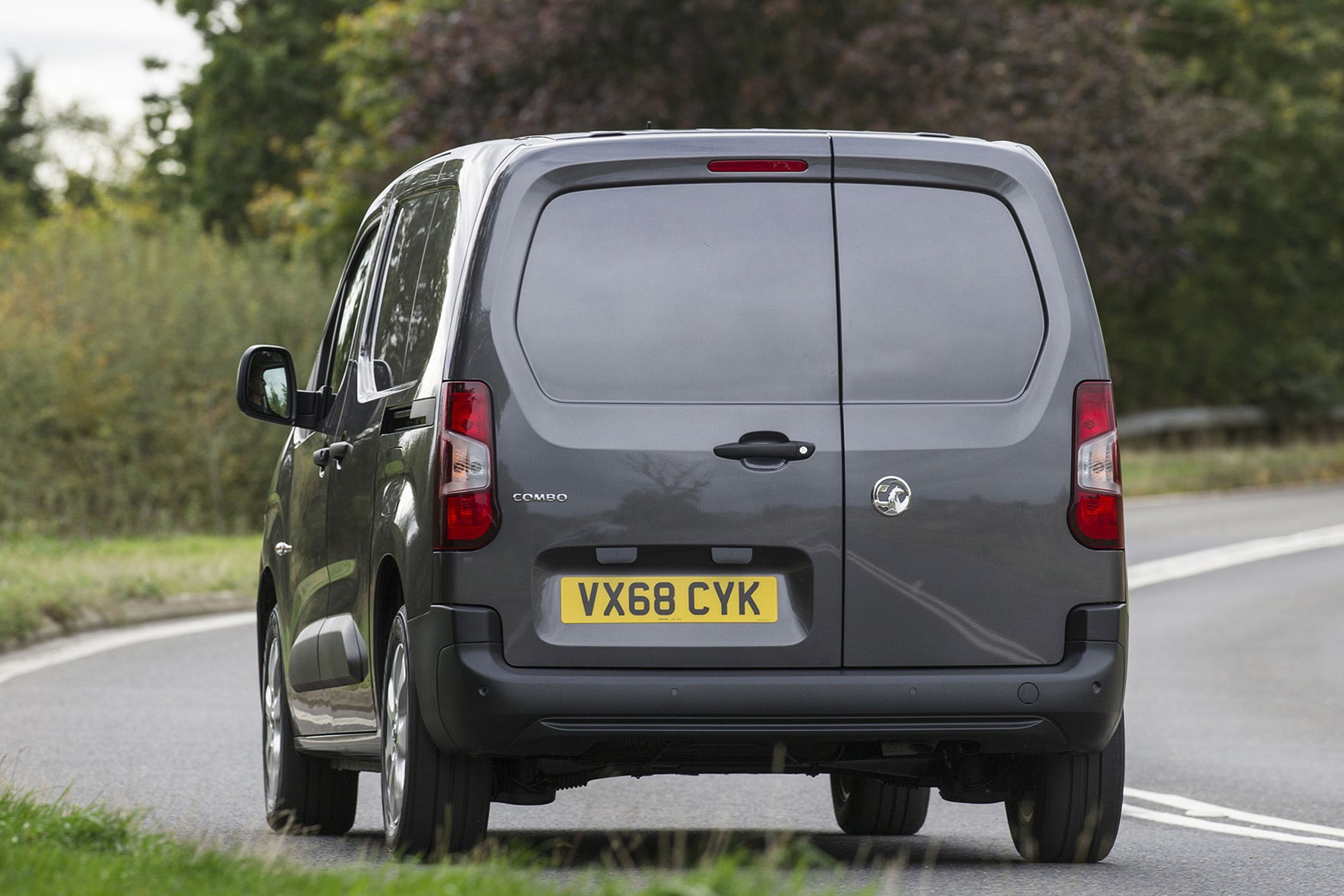 Vauxhall says that compared with the old Combo, the new model is at least 16% more fuel efficient, which in turn means it's 8% more economical than 'the closest relevant competitor' (which is a cute way of saying the functionally identical Peugeot Partner and Citroen Berlingo are likely to achieve similar mpg).
At launch, all diesel engines claimed to achieve over 60mpg. However, September 2019 saw a change in emissions regulations and the way fuel economy was measured, which means the on-paper figures have fallen somewhat to 40-50mpg.
This doesn't mean the Combo is suddenly less efficient than it was, though. Especially as the original 75 and 100 1.6-litre engines have been replaced by newer 1.5-litre equivalents that should prove more efficient still.
The petrol version claims 36-44mpg, depending on spec, and is likely to be the least efficient choice by some margin, particularly if you mostly do longer journeys.
Diesel models come with a 50-litre fuel tank, making room for a 17-litre AdBlue tank as well. Petrol models come with a larger 61-litre fuel tank.
Vauxhall Combo service intervals
Service intervals extend to 25,000 miles on 1.5-litre Turbo D engines which means lower mileage drivers will only have to visit the dealership once every two years, in theory.
The early 1.6-litre Turbo D engines require a service every 15,000 miles or one year.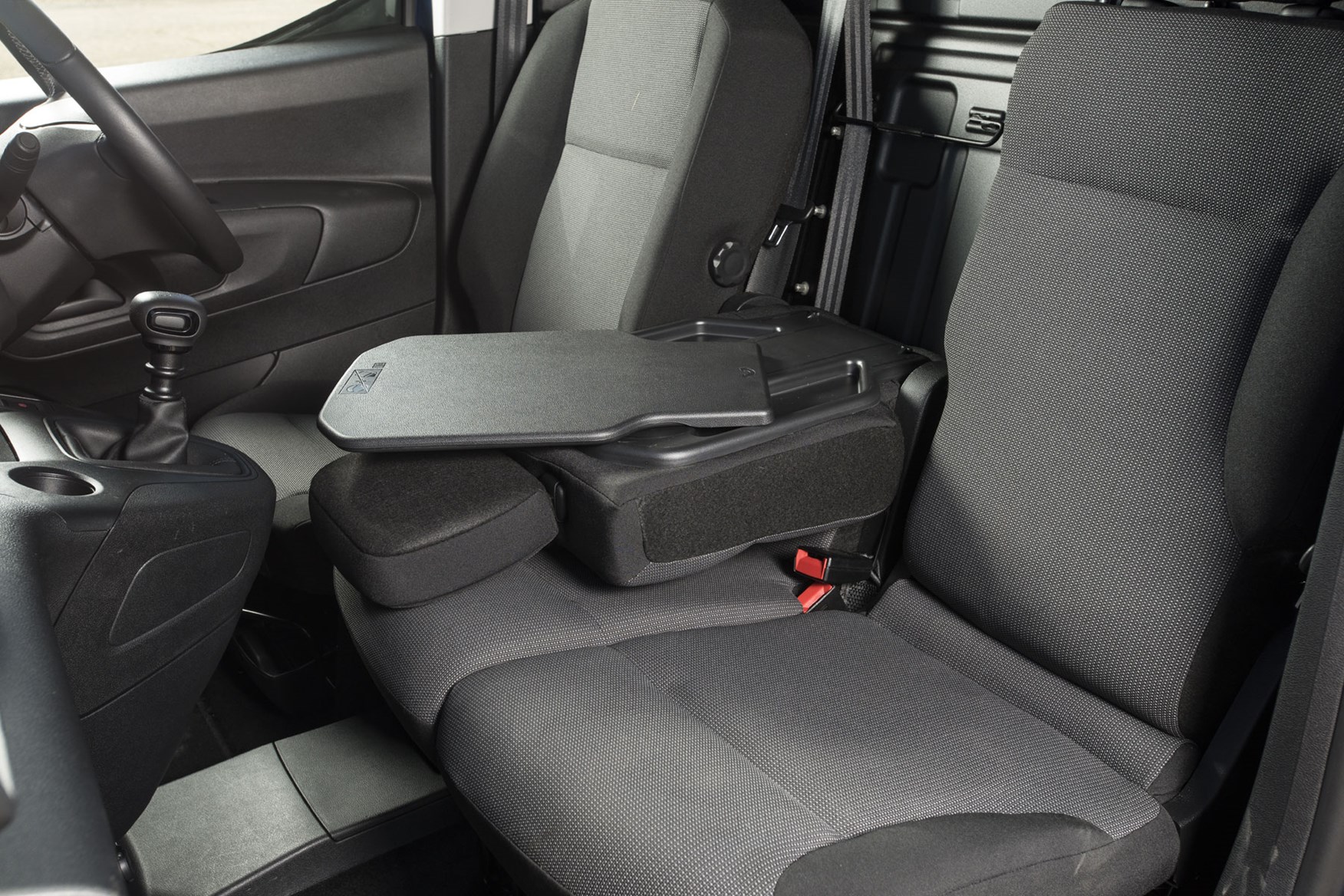 However, there are on-board diagnostic systems, so the van may decide you need to see the dealer sooner than those intervals suggest. Don't ignore it.
Vauxhall Combo Cargo warranty information
The Combo comes with a comprehensive three-year, 60,000-mile warranty as standard.
That isn't a huge amount of miles - the Peugeot and Citroen alternatives have 100,000-mile limits - but it is unlimited mileage in the first year.
Vauxhall Combo Cargo trim levels
The Vauxhall Combo van comes in a choice of three trim levels:
Here are the standard equipment highlights for each one.
Vauxhall Combo Edition standard equipment
At the time of writing, the entry-level Combo costs less than the previous version of the outgoing Combo. For that you get the following standard kit:
Four-way adjustable driver's seat
Under-seat storage on the passenger side
Full-width overhead storage shelf
15-inch steel wheels
Fixed steel bulkhead
Sliding side door on the passenger side
Overhead storage
DAB radio with Bluetooth and 3.5-inch display screen
One-touch electric windows
Electrically adjusted heated door mirrors
Vauxhall Combo Sportive standard equipment
The mid-range Combo Sportive also costs less than the old one. All of the following is included over the Edition – with air-conditioning and an improved driver's seat the key items for us:
Six-way adjustable driver's seat with lumbar support, armrest and storage
Four-way adjustable passenger seat
Reach and rake adjustment for the s
16-inch steel wheels
Air-conditioning
Metallic paint
Body-coloured bumpers front and rear
Rear parking sensors
Cruise control with speed limiter
Alarm
Vauxhall Combo LE Nav standard equipment
The LE Nav trim echoes similar models previously available on the Vivaro and Corsavan, and as the name suggests it includes satellite-navigation as standard.
Proven to be a popular trim level on the Vivaro, it also features a more premium exterior appearance, with all of the following items included in addition to the Sportive:
Body-coloured door mirrors
Body-coloured side mouldings
Front bumper with skid plate
16-inch alloy wheels
8.0-inch touchscreen infotainment system with Navi sat-nav, Apple CarPlay and Android Auto
Vauxhall Combo Crew van standard equipment
The LWB-only Combo Crew van is available in Edition and Sportive trim.
Its major feature is a second row of seats, but it also comes with a movable cage-style bulkhead that has two positions depending on whether the second row of seats is upright or stowed.
Vauxhall Combo Cargo optional equipment
There are a range of option packs available for the Vauxhall Combo van, including:
Construction Pack: 30mm raised suspension, Mud/Snow tyres and engine sump guard
Winter pack: heated front seats and steering wheel
FlexCargo Pack: load-through bulkhead, electronic parking brake, third front passenger seat
Safety pack: front camera, lane-keep assist, traffic sign recognition, autonomous emergency braking
Sight and Light pack: automatic windscreen wipers, automatic rear-view mirror (when fitted with rear glazed windows), high-beam assist for headlights
Parking pack: front and rear parking sensors, rear-view camera, Flank guard system, electric folding door mirrors, front fog lights with cornering function.
Individual options include wireless mobile phone charging, head-up display, LED lighting for the load area, fixed windows for the side and rear doors and electronic climate control.
Then there's the Intelligrip traction control system. Rotate the dial beside the gearlever to choose between Normal, Snow, Mud, Sand or ESC Off, depending on the road conditions to maximise traction.
A spare wheel is a no cost option, but this will eat into your payload.
How does the Vauxhall Combo's Overload Sensor work?
This is an absolutely brand new feature in the van sector, first coming to market on the Combo, Berlingo and Partner in 2019.
Available as a cost option on all Combo models, the sensor is there to prevent you accidentally breaking the law by unknowingly overloading your van.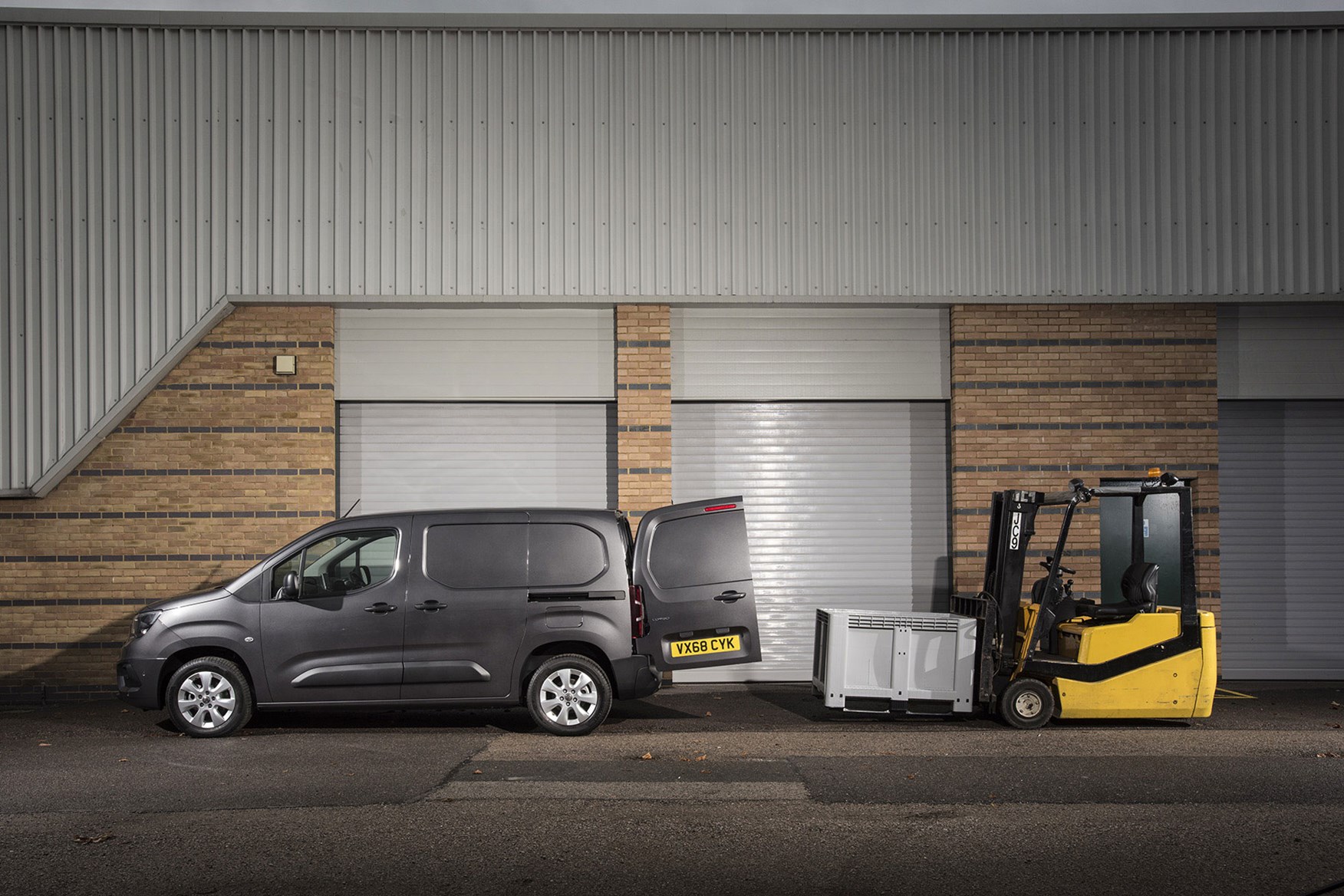 As such, the system boots up automatically whenever you start the Combo's ignition. If you've gone over 80% of the allowed payload, a white LED comes on to warn you that you're approaching the limit.
If you exceed the payload limit altogether an orange warning light with an exclamation light comes on.
You can also press a button in the load area to activate the sensor, so you can check how close you are to the limit while loading, hopefully saving you from having to take things back out.
Note: we are yet to see a test van with the feature fitted, so are unable to confirm whether it works effectively.
The Vauxhall Combo is currently too new for any common faults to have become apparent, but it uses tried-and-tested components found in other PSA products, so we're not expecting any major reliability headaches.
Full set of airbags available as an option
Lots of driver assistance tech available
How safe and secure is the Vauxhall Combo? Keep reading to find out.
Vauxhall Combo safety equipment
Starting with the all important airbags, only a driver's item is standard, with passenger, side and curtain airbags optional extras.
However, what really makes the Combo (alongside its Peugeot and Citroen cousins) stand out are the high-tech safety extras that are available.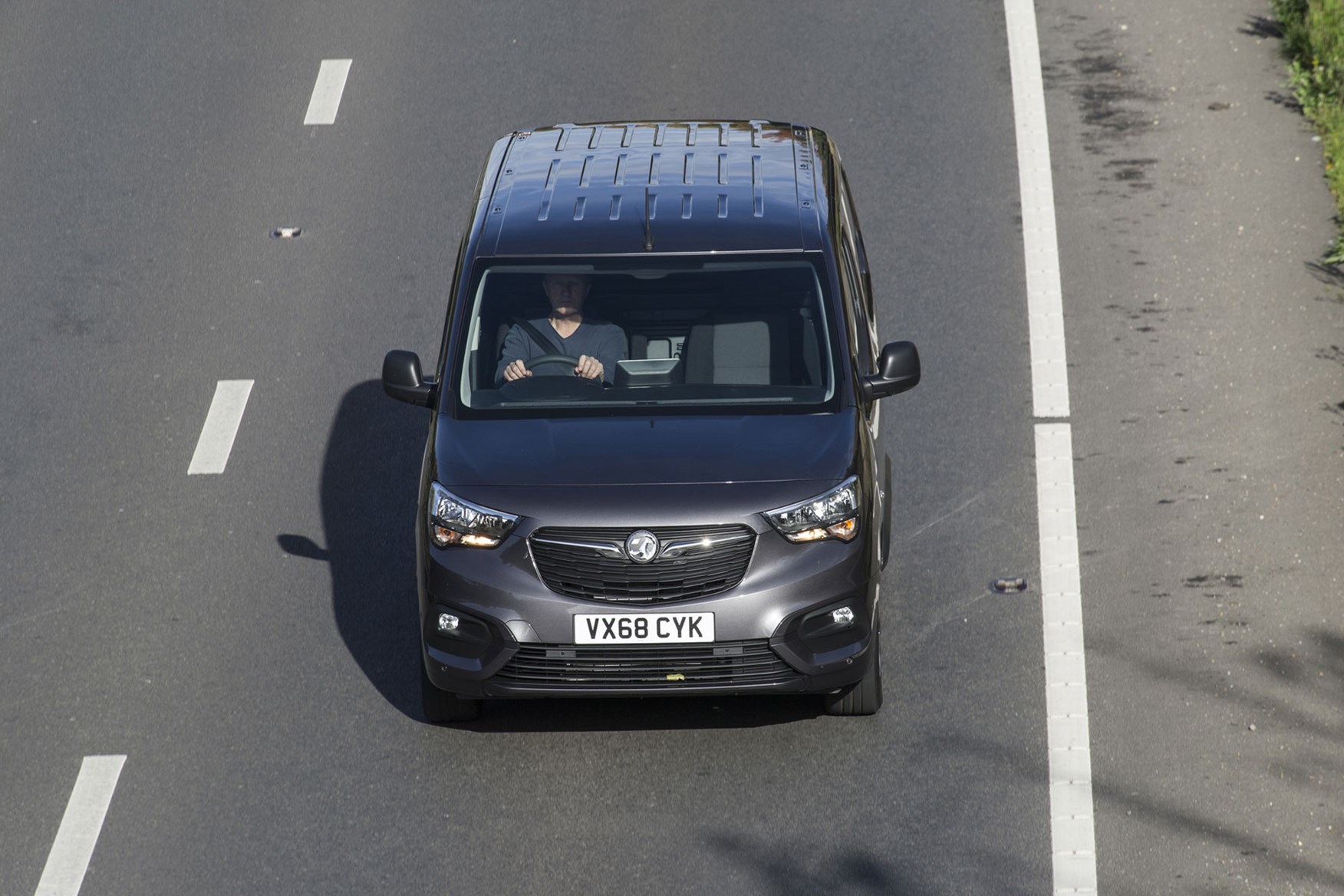 Highlight features include the Rear Surround Vision system (which we've covered in the Interior section of this review) and head-up display.
In addition to this, a new Flank Guard system uses the front and rear parking sensors to detect and remember objects that might be lurking out of sight to the side of the van, helping you to avoid accidental damage. This is only available on models with the touchscreen infotainment system.
Other driver assistance features include:
Lane Keep Assist
Hill Descent Control
Intelligent Speed Adaptation
Adaptive Cruise Control
Driver Drowsiness Alert
Something else to consider is the Intelligrip system; the Vauxhall version of PSA's Grip Control feature, this is an enhanced traction control system designed to deliver improved grip on slippery surfaces.
This is only available in conjunction with the Construction Pack.
Vauxhall Combo security equipment
All models come with remote central locking, locking wheel nuts and an engine immobiliser.
A remote control alarm system is fitted on Sportive models and above, as well as an indicator that displays in the cabin whether any attempt to enter or steal the vehicle has occurred in the driver's absence.
The rear door hinges are now integrated within the to reduce access to thieves.
Which Vauxhall Combo is best for me?
Still trying to work out which Vauxhall Combo Cargo is best for you? Here's a little more insight.
Best Vauxhall Combo for running costs
Those looking for the most economical Vauxhall Combo will be best to seek the short wheelbase L1 fitted with the mid-spec 100 diesel engine.
Best Vauxhall Combo for payload
At launch the some versions of the Combo were rated to carry over 1,000kg; this has been adjusted slightly, and now even the best model falls slightly under the magic one-tonne mark - leaving it slightly behind the Berlingo and Partner.
For full load area and carrying capacity details, see our dedicated Vauxhall Combo Cargo Dimensions page.
Best Vauxhall Combo for value / standard equipment
The entry-level Edition will be a bit sparse for most people despite the standard-fit Bluetooth connectivity, DAB radio and USB socket.
Move up to mid-range Sportive and you gain air-conditioning, rear parking-sensors, cruise control and an alarm system.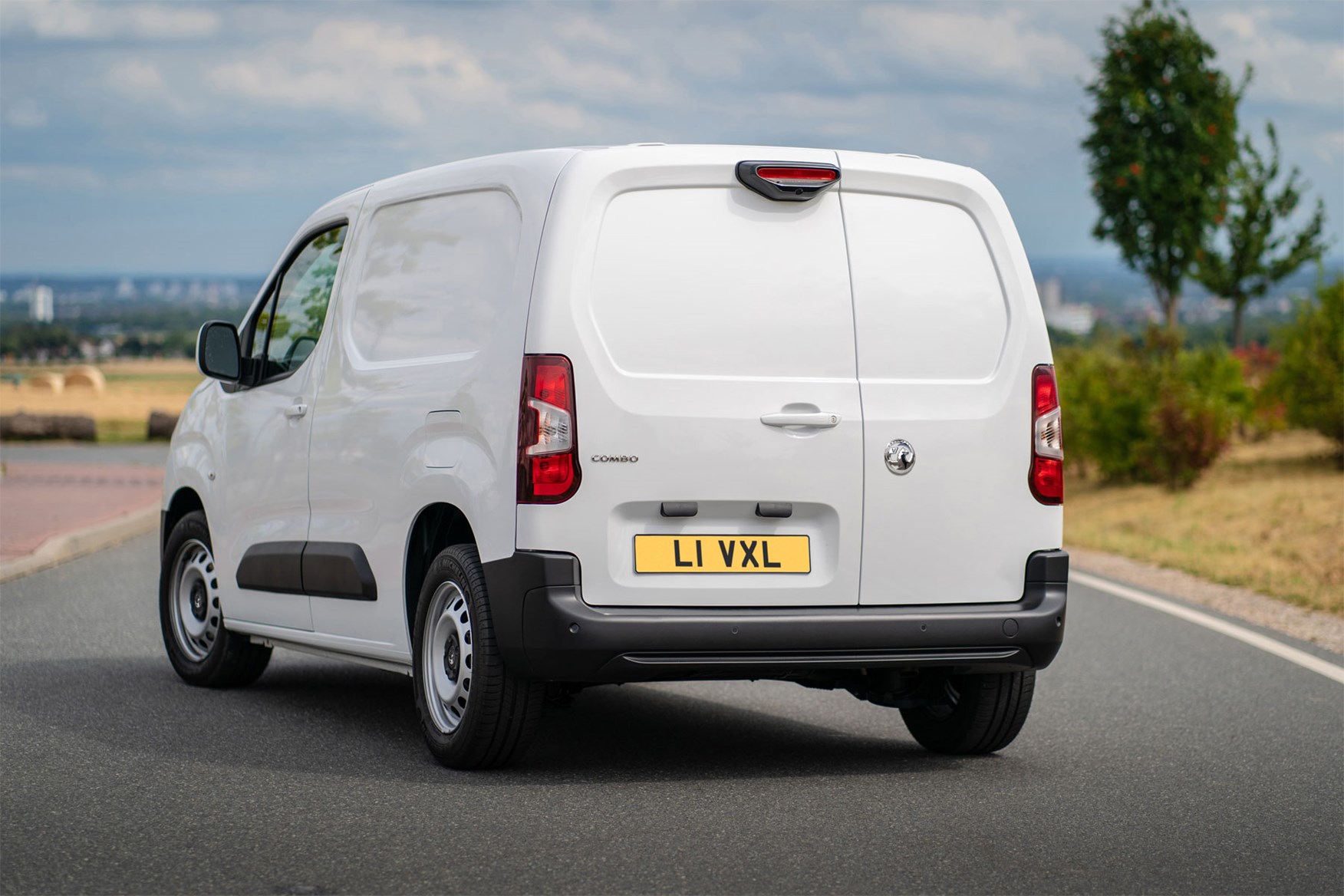 The top-spec LE Nav brings cosmetic changes and sat-nav with an 8.0-inch touchscreen; this can be optioned on all other models if you don't like the idea of painted bumpers..
Most popular Vauxhall Combo engine
The mid-level 100-grade diesel will be the one to cover the majority of bases for most users. It combines adequate performance with a high payload capacity and a 1,200kg braked towing weight.
The extra cost for the higher-performing 130hp version may be justified if you require an automatic or want the higher braked towing capacity of 1,500kg.
For more info
To find out more about what the Vauxhall Combo Cargo is like to live with, you can also read our long-term test, where it's been put to use as a delivery van for a professional courier firm over a period of 12 months.
Meanwhile size and capacity info is available on our dedicated Vauxhall Combo van dimensions page, and don't forget we have a separate review of the Combo Cargo 4x4.