Renault has given its third-generation Trafic van an extensive facelift for 2021, mainly focused on its interior and safety equipment. Still based on the same platform as the van introduced back in 2014, the Trafic's nonetheless a popular choice – though it doesn't often trouble the top 10 best-sellers list, Renault's sold 190,000 of them in the UK since launch.
We've driven the updated model in the UK, in nine-seat 'Passenger' variant – a rival for the likes of the Ford Transit Custom Kombi or the VW Transporter Shuttle. So this is not Renault's attempt to rival the Ford Tourneo Custom or Volkswagen Caravelle – despite the update, the Passenger is very much economy class rather than premium business.
>> The best medium vans to buy
What's new for the 2021 Trafic?
The changes start up front with a grille that's more upright and imposing than before. Stylistically it's very similar, featuring the same chrome bars running across its full width and the same enormous Renault diamond – but now the headlights flanking it are much slimmer – and on Passenger models, at least, are full LED as standard.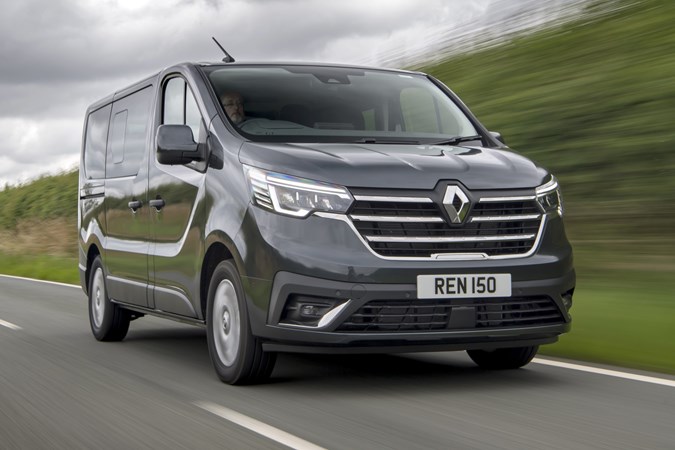 The bigger changes come inside, where the previous model's old-fashioned dashboard has been replaced with one that's far more upmarket-looking and car-like – indeed, it borrows several elements from Renault's latest passenger car range, including the steering wheel, gear-lever, climate controls, infotainment and dials.
What engines can I have?
There'll be three from launch – all four-cylinder 2.0-litre diesels badged Blue dCi. The range kicks off with a 110hp unit paired to a six-speed manual gearbox. With CO2 emissions of 189g/km and economy from 39.2mpg, it's marginally the cleanest engine available – though the Blue dCi 150, with 150hp, gives up only 1g/km and matches its economy while offering rather more useful shunt.
Although we're driving the six-speed manual here, the 150hp unit can also be paired to Renault's six-speed dual-clutch automatic transmission, which brings CO2 up to 194g/km and drops economy to 38.2mpg.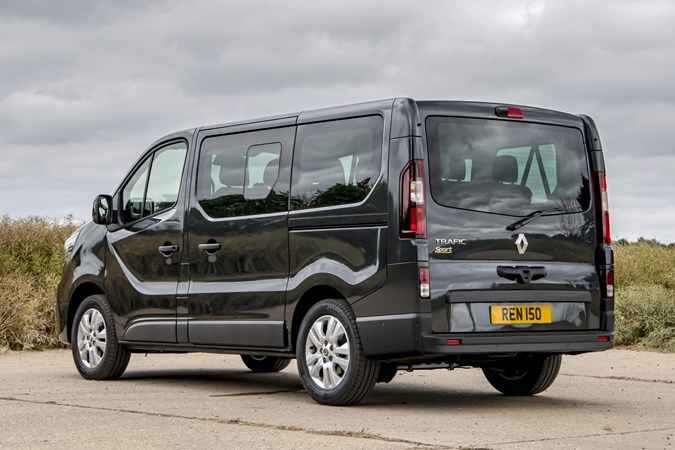 The most powerful unit in the range is the Blue dCi 170 with – you guessed it – 170hp. It's automatic-only and returns 37.7mpg and 196g/km.
What about trim levels?
The Passenger variant comes in two trim levels from launch – Business and Sport. The former offers remote central locking, cruise control, DAB radio with Bluetooth, steel wheels and full LED headlights.
Sport models, which cost an additional £2,850, adds an infotainment screen with Apple CarPlay and Android Auto, three years of connected navigation, air-conditioning, alloy wheels, body-coloured exterior fittings, fog lights and rear parking sensors.
Several option packs are available. Our 150hp Sport test van was fitted with the Technology pack, which adds keyless entry and a wireless smartphone charging pad in the dash – if you specify it on Business models, it also adds the infotainment touchscreen.
The advanced driver assistance packs offer the Trafic a glut of safety equipment it's never had before, including sophisticated tech such as autonomous emergency braking, blind-spot warning, adaptive cruise control and auto high beam. It's a shame more of these aren't standard equipment, though.
You can also specify the Trafic Passenger in two lengths, badged L1 and L2.
What's it like to drive?
Heavy. While many of the Trafic's rivals, including the Transporter and the Transit Custom, have lightened their controls over the years to make them feel more akin to a city car than a commercial vehicle, that's a memo that appears to have bypassed Renault.
The steering, gearshift and pedals all have a weight to them which goes just a little past the feeling of reassuring quality and into tiring. It's rather old-school and feels as though you'd grow some fairly hefty biceps after a slog across the city.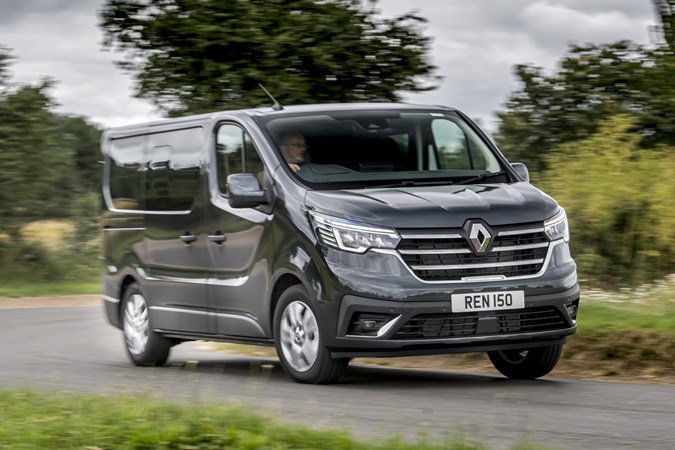 It's not all bad. The engine provides a wide torque band, so you don't need to spend all your time stirring the gearbox – and even in its reduced-power 'Eco' mode the 150hp model feels punchy enough.
It handles neatly, too, with accurate enough steering and only moderate amounts body lean when going round corners. The Transit Custom is still the best medium van to drive overall, but the Trafic doesn't embarrass itself.
What's the interior like?
The upgraded dashboard is a revelation in comparison to the rather Fisher-Price affair it replaces. Up front, the new Trafic feels every bit the modern van.
The infotainment screen is perhaps the biggest upgrade. It's standard on Sport models and well worth the upgrade, as it brings Apple CarPlay and Android Auto to the fray, futureproofing the Trafic's navigation software even after the three-year connected nav subscription expires.
There are also several USB ports up here so you can your passengers can charge in comfort, while storage is generous, including two lidded bins on top of the dash and a big glovebox. It's a shame the cupholders are still a bit small and shallow, though.
What's it like for passengers?
This Trafic Passenger doesn't rival luxury people-carriers – it's more of a van with seats, so don't expect much in the way of plushness or comfort in the rear.
What you will get are two spacious, three-seater benches, and two sliding doors for access.
Getting into the third row isn't as easy as it could be – only one of the middle seats folds forward, and even then access is only facilitated by the backrest leaning forwards a bit. We'd prefer to see the whole seat move out of the way so that larger or less mobile people can get into the rearmost seats with ease.
It's also likely to be fairly stuffy in the back – there are no air-conditioning vents, and the opening windows in the sliding doors are very small.
Comfort levels are reasonably high, though, with the bench seats proving soft enough that long trips aren't out of the question. And the surfaces back here are very hardwearing and wipe-clean.
Should you buy a Renault Trafic Passenger?
There's nothing particularly wrong with the Renault Trafic Passenger – it's spacious, not too bad to drive and returns decent enough fuel economy and CO2 figures. 
However, we're not convinced it's as good to drive or as comfortable to be a passenger in as a Ford Transit Custom Kombi or a VW Transporter Shuttle – and it's certainly no patch on pricier executive transports. 
Those upgrading from an older Trafic will certainly approve of the new dashboard and improved equipment, though, while the safety equipment available is quite impressive.
Its diesel-only lineup does rather date it compared to rivals where at least some form of electrication is becoming common, though, and we also think there are a few areas of the interior that could be better thought-out, such as access to the third row of seats.
Also read:
>> Our main Renault Trafic review
>> Is the best family car actually a van?
>> The best medium vans on sale now
>> The best electric vans on sale now